Smart Products
10 Best Garden Gym Pods to Upgrade Your Workout Routine
2,415 Views
Whether you're a professional cyclist or a powerlifter, you've certainly considered setting up a home gym at some point. There are numerous benefits to constructing a home gym pod in your garden, like avoiding the parking nightmare at gyms and the crowded locker rooms. 
You can work out in privacy and at your own speed with a home workout pod. A garden gym pod provides the ideal setting for spinning, running, and sweating away the stresses of modern-day life. 
Top Garden Gym Pods on the Market
Nothing beats the freedom of a garden gym pod and training in the outdoors. However, you want to keep your gym pod in good shape and invest in a long-term structure. Here are our best garden gym pod picks: 
1. Autonomous Gym Pod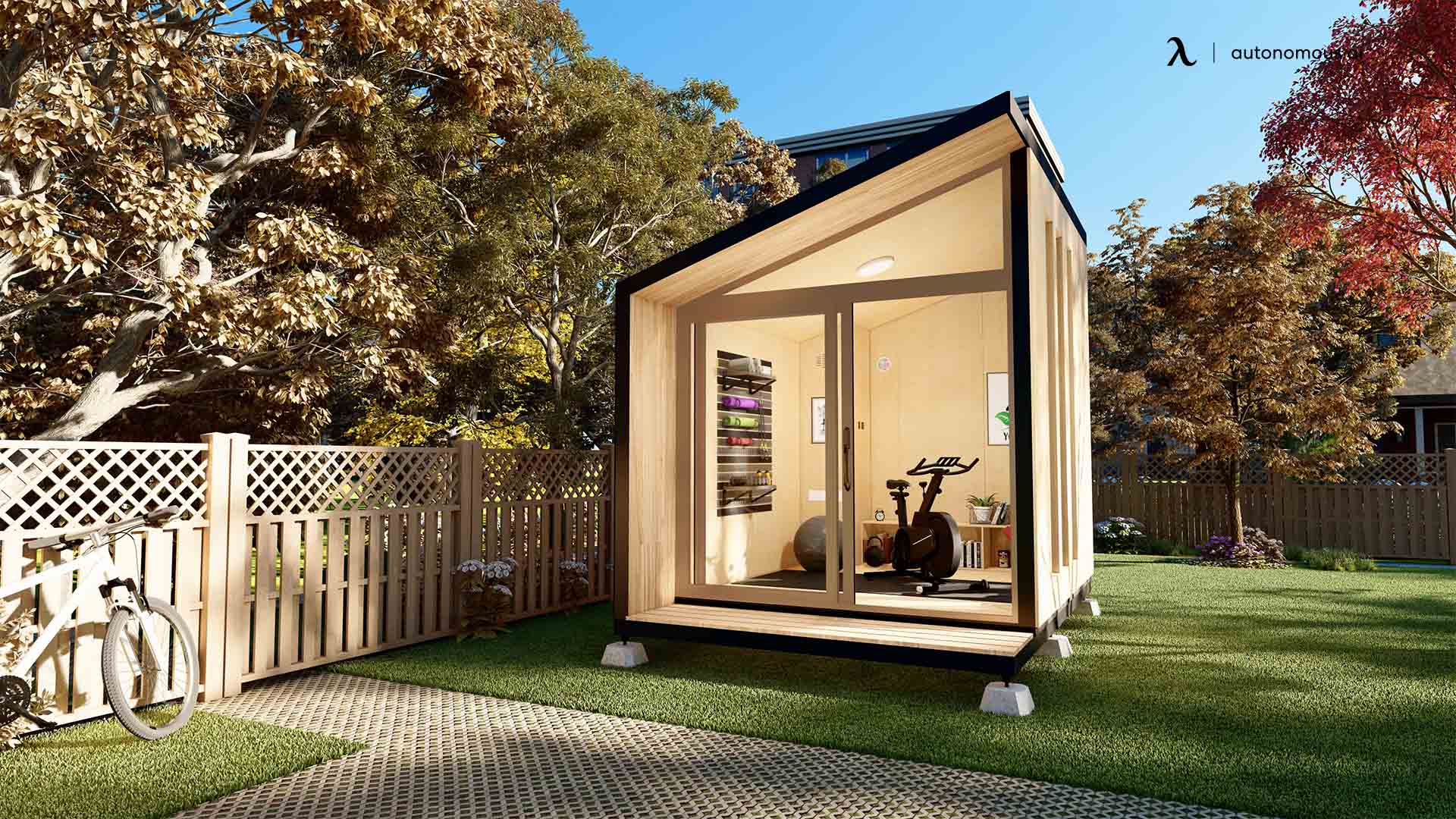 The Autonomous Pod is constructed from a range of durable materials. Its sound-proofing foam layer also resists heat and fire. All the glass is tempered and 8mm thick, ensuring that your workout is as peaceful as possible. 
Hiring contractors and obtaining building permits for home renovations or additions is a costly and time-consuming process that can take years to complete. The Autonomous outdoor gym shed comes with simple instructions for assembly and a building time of only a few hours. 
2. Green Retreats Pod
To fit any color scheme, there are five various hues to pick from with this product. It is fully insulated and lined with double glazing throughout. The pod is under 2.5 meters long, which meets current construction permit standards. 
3. Pod Space Neo Pod
If you're thinking of setting up an office, studio, or entertainment place outside, these amazingly stylish Neo Pods from Pod Space are excellent. 
The contemporary appearance gives way to a spacious and pleasant interior. Everything can be tailored to your specific needs while helping the environment. 
There are also additional foundation and groundwork packages available. 
4. Crane Garden Buildings
The Crane Garden Studio features floor-to-ceiling glass panels that bring in lots of natural lighting whether you're working, training, or relaxing. 
This home gym pod is made of high-quality redwood from the United Kingdom. It's fully lined and insulated, and the outside comes in four distinct color options. 
The pod is 3x3m in size, so you have plenty of room for your exercise gear. 
5. Shire Miami Gym
This garden gym shed is unpainted, and the decking isn't included, so you probably need to buy some extras. It's less expensive than some of the other choices on our list, and it's under 2.5m, meeting the planning permission rules. 
6. Mercia Premium Garden Room
Mercia is a compact workout pod that is excellent for gardens with limited space. Although there isn't much room for equipment, it does have tongue and groove roofs with glass windows. Without the help of a professional, this pod can be assembled by two individuals. 
7. PopUpHut
If you want to invest in a luxury garden pod, PopUpHut has an amazing design that is both unique and sustainable. This environmentally friendly pod has so many high-end features that it could be classified as a container home. Recycled cargo containers are used to create these amazing works of art. 
It might be used as a small home office, a guest room, a fitness room, or a crafting area. Because of the added insulation, you can use and enjoy it all year round, even in the winter. You can add a terrace module space to the front of the pod for an extra price. 
8. Palmako Log Cabin
This log house's massive bi-folding doors allow you to fully open the cabin. It comes with a five-year warranty from the supplier, and the double-glazed doors help keep the weather out. You must ensure that it is far enough away from the home to comply with the rules because it is taller than 2.5m. 
9. Garden Hideouts Garden Pod
Garden Hideouts' garden gym pods are sleek and have lovely profiles that blend in with any outdoor setting. It's pricey, but it's worth considering if you're looking for a ready-made luxury pod. 
They're made of tough plywood and come with double glass and thermal insulation. Choose from five different interior designs and choose the one that best suits your needs. 
Solar panels, outdoor decking that may be used for lounging, and inside seating that changes to a sleeping area are among some of the remarkable features. 
10.  Canopy Room
This canopy chamber is built with pile foundations, a 22mm reinforced chipboard floor, an energy outlet with two plugs, and a heater. It also has two sidelights and uPVC windows that open from the top. 
The exterior features a 1m softwood deck and a 1m canopy with spotlights. 
What to Consider when Buying a Garden Gym Pod
If you purchase a garden room, there are several factors to consider, especially if the area is going to be used as a gym. When suppliers deal with customers, they encourage them to consider the following factors to guarantee that customers end up with a building that meets their needs: 
1. How Tall Should a Garden Gym Pod Be?
Most garden rooms are built to be Permitted Development-compliant, which means they can only be 2.5 meters tall if they are within two meters of any border. If you have more room, you can extend the ceiling height by creating a dual-pitched roof building with a maximum ridge height of four meters under the Permitted Development rules. 
When purchasing a garden gym pod, the height of the structure is important. A 2.5-meter-high structure has just about two meters of internal floor-to-ceiling height. As a result, if you want to lift weights above your head, you must do so outside. If you are above six feet tall, even running on a treadmill can be difficult due to the elevated running platform and the head height. 
2. Do You Need Floor Reinforcing?
First, if you plan on adding a lot of home workout equipment to your garden gym, you should think about whether you need to reinforce the floor. SIPS panels are used by several garden room firms to ensure optimum insulative performance. 
Essentially, if a large weight were to be dropped on a SIPS floor, it would not only harm the underfloor heating (if provided) but also the floor's structure. It must be able to bear heavy weights and drops. 
3. Ensure Your Gym Can Be Used All Year Round
Face it, exercising outside in the cold isn't enjoyable! It's preferable to have an outdoor gym shed at the end of the garden that can be properly used all year! 
You want to purchase a workout shed that can be warm in the winter and cool in the summer. This requires adequate insulation. Furthermore, not every structure sold as a garden room is well insulated. 
4. Think About How the Building Should Look in the Garden
If you're going to give up a section of your garden for a backyard gym pod, it needs to look beautiful and blend in with its surroundings, no matter what you want to do with it. 
5. Space and Materials
Your choice of structure is determined by two factors: your budget and the amount of space you have available. Consider using materials that are weather-resistant, long-lasting, and strong enough to withstand heavy machinery and active movement. Many log cabins are ideal for backyard gym sheds. Custom garden gym sheds with reinforced flooring, walls, and ceilings, multiple plug connections, and temperature control can take things a step further. 
6. Power
A power supply is required for music, televisions, lighting, and heating. You can connect your house to your garden with a power supply. Additionally, you may add solar panels to your garden structure to make it more environmentally friendly. 
You need to connect your garden gym pod to a power supply in either case. Avoid having cables running through your garden since they can be a trip hazard and also potentially dangerous.
When it comes to constructing an outdoor garden gym room, there's a lot to consider. You may work out in complete privacy in any season with the appropriate setup. An investment in your health and fitness is a garden gym pod. Create your ideal fitness area and put an end to long lines waiting for equipment and costly gym memberships. 
7. Price
The cost of a home gym pod varies greatly depending on the materials used and the features included. Many brands provide construction and painting services, but these usually come at an extra cost. 
Additionally, the average costs of constructing a high-quality garden gym pod are estimated by leading experts. Garden rooms from Green Retreats start at $21 for a fully installed pod. 
What's included in that price? VAT, 2.3m French or sliding doors, expert base/foundation installation, opening window, internal wiring, oak laminate flooring, three double plug plugs, heating, lighting, and premium-grade insulation. 
8. Equipment and Layout
Your space can be limited since it's unlikely to build a large second house in your garden. You need at least an 8' × 10' room to set up a basic gym. Although it is still not big, 10'x10' makes things a little more comfortable. 
That means you can construct a somewhat full gym but not to the level of a professional gym. To survive the weather and avoid corrosion, use high-quality steel, plastics, and rubber. Here are some small room gym ideas as to which equipment you can use and still be able to store in your gym pod: 
Power rack

Barbell

Weights

Bench

Dumbells and rack
You can swap out the treadmill for another cardio machine of your choice. Weightlifting with free weights is the main focus of this home gym setup. You might replace the power rack with an all-in-one home gym machine if you want a different style of exercise. 
9. Comfort
A lot of people want to stay healthy and be in better shape; this calls for a trip to the gym. If you don't like working out in your gym, you might go less often, and as a result, you can't achieve the body you want by only going once a week. 
Before you begin building your outdoor gym, think about the ventilation, heating, insulation, and lighting. Those features are difficult to add after everything else has been completed, but they have a significant impact on the level of comfort in your garden gym. 
In anything but ideal weather, a shed has the potential to be very uncomfortable. Sheds frequently lack adequate insulation and ventilation. When the sun is shining, the temperature rises swiftly. If it's cold outside, it can be even colder inside your garden gym. This may lead to you not using your personal gym as frequently as you want. 
People frequently desire to exercise while it is dark outdoors. As a result, some lighting should be beneficial. There's no reason to limit your gym's use to the hours when the sun is shining. 
You can make your home gym pod much more pleasant to work out in with only a few tweaks, and there can be no excuses for not using it. 
Conclusion
Purchasing a garden home gym is an interesting investment that can allow you to reap the benefits of outdoor exercise. By buying your own gym in the yard, you can avoid the travel and pricey gym membership fees. You can design an outdoor gym to suit your demands based on the space you have and your budget. Craft your garden workout shed around your health and fitness goals from a simple set of weights to a more intricate design. 
Given that garden rooms may add up to $40,000 to the value of a home, it's also worth noting that constructing a multifunctional space that appeals to future owners can help attract homebuyers when it's time to sell.
Subcribe newsletter and get $100 OFF.
Receive product updates, special offers, ergo tips, and inspiration form our team.
WRITTEN BYAutonomous
We build office products to help you work smarter.