Workplace Inspiration
15 Creative Home Gym Ideas for a Fitness Person

Autonomous
|
Nov 21, 2021
1,886 Views
For fitness freaks, there is nothing more important than exploring newer home gym ideas. You don't need to make a heavy investment. Your home gym, accessible 24x7, makes for the perfect retreat for your body and mind to be overhauled. Prepare for a hectic day ahead, or come back to rest and remove that tiredness.
Are you running short on space? You don't have to worry as your home gym doesn't have to be an array of the full-fledged gym. Get yourself one or two main pieces of home workout equipment for stretch and flexibility. These can be portable and folding types to economize on floor space.  You can roll some of them under a bed or into a closet.
For cardio and other exercises, you can always consider a multi-purpose exercise. This can serve you stretches and manage your cardio and other needs. Know how to fit exercise into your day as you review some of the best home gym layouts.
Here are our top listings.
15 Creative Home Gym Ideas
As you set up your home gym, here are some great ideas for your benefit. Consider a range of home gym equipment that is the epitome of quality.
1. Maximizing Space
Where do you locate your home gym? Use an extra available room or your garage.  Repurpose your rooms or a part of them.  Consider portable equipment to be used outside in fair weather.  A home gym doesn't have to be replete with large and heavy equipment. 
How about multi-purpose exercisers as you explore workout room ideas. Consider sharing a gym with an office colleague or a friend in the same neighborhood.
Some folks tend to clean up the otherwise wasted attic. 
2. Rubber Flooring
Now jump, jog, do a cartwheel.  Save your body from floor shocks as you jump and hop or use the skipping rope. Ensure you have some amount of rubber flooring. The best is to use interlocking tiles for your floor for these reasons.
3. Mirrors
Mirrors reflect light to a maximum. They make rooms look larger and bright visually. Additionally, you can also see yourself exercising. Pleasing, isn't it? Go ahead and cover some parts of the room with mirrors. You can also add mirrors to the back of the entrance door and wardrobes.
Choose between several small ones installed with some spacing. Else consider one or two walls covered with mirrors end to end.
4. Glass Walls
If you are considering using a garage, an attic, or an extra room as your home gym, try installing glass walls.  Glass walls that are transparent bring in a lot of natural light into the room.  You get a feeling of freshness, and exercising is then a pleasure.
5. Folding Treadmill
Yes! You heard it right. Economize your floor space by getting a treadly treadmill desk set up in your home office gym.  More and more people are going in for such setups to save on time and space.   With the treadmill in your home office, catch on a jog in between breaks.
That conference call doesn't have to be boring any longer. Participate in your call and walk the treadmill, both together.  With a folding and portable treadmill, you don't have to block home space.
Set up the Treadly Treadmill and an electric standing desk. Pick your choice of the SmartDesk Pro or the Smart Desk Core.  Adjust the height at the press of a button. Dual, silent electric motors alter the desk's height between 26.2" to 52" or 29.4" to 48", respectively.  You also get four programmable settings.  Set up your computer system to capture your face for a video conference call with the desk height raised.
Catch more home office ideas to explore.
6. Storing Exercise Bands
Stop! Don't lay the bands on a shelf! Get hold of a pegboard or a hanger rack. Save yourself in space. Use the vertical space by installing a rack to use the hangers or pegs to hang your resistance bands or body exerciser bands.
Dry out the sweat or wash and hang them to dry in your gym!  Catch the freshness when you exercise next time.  Isn't it one of the better gym room ideas?
7. Décor
Brighten up that space. Do up the walls with bright colors to bring in freshness and raise your positive hormones. As you exercise, your home gym can set the tone for the day.
8. Music
You just cannot miss adding music to your home gym design. Connect your Iphone to the folding Treadly treadmill. Else use a simple Bluetooth speaker to pump up the volume. You surely don't want to wake up your family members or the neighbors.
9. Peg Boards
Now store home exercise equipment on pegboards. Save on floor space as you use the vertical space. 
10. Whiteboards
Make your exercise plans. Write it on a whiteboard on the wall. Leave messages for yourself. Or record your timings and exercise completions.  Stay connected as you exercise.
11. TV / Screen
Focus on your exercise routine. Cut out the commercials and those boring adverts.  Play your favorite workout videos. Follow the experts to get the right moves.
12. Posters
Here is another thing you can input in your home gym ideas. Stay tuned up and motivated with posters that have motivational quotes.  Put up posters of your favorite sports person. Get great wall space to relax your mind with beautiful sceneries or visuals that relax you. Some folks prefer to set up a small area to meditate or do yoga!
13. Watch
Keep time with a large wall clock or set up alerts on your smartwatch. Set your exercise routine and remember to move to different exercises.
14. Bins
Many folks miss out on a bin for used towels and a rack for fresh towels.  Stay fresh and hygienic by having towels in your home gym.
15. A mini-fridge
Keep yourself hydrated with a water dispenser or some cool beverages in your home gym ideas. Grab a drink to cool down. Store your bio drinks for use.  Add a few cold towels to manage that leg cramp.
Now choose from a range of work from home exercise equipment. 
Wrap-up
Your home gym is an essential part of your daily routine. Your home gym doesn't have to be a caved-in and cramped room any longer. Set it up for your comfort and convenience with above home gym ideas. Brighten it up to raise your mood. Stay updated with a TV for news as you exercise. Enjoy your fitness routine!
Video ads for product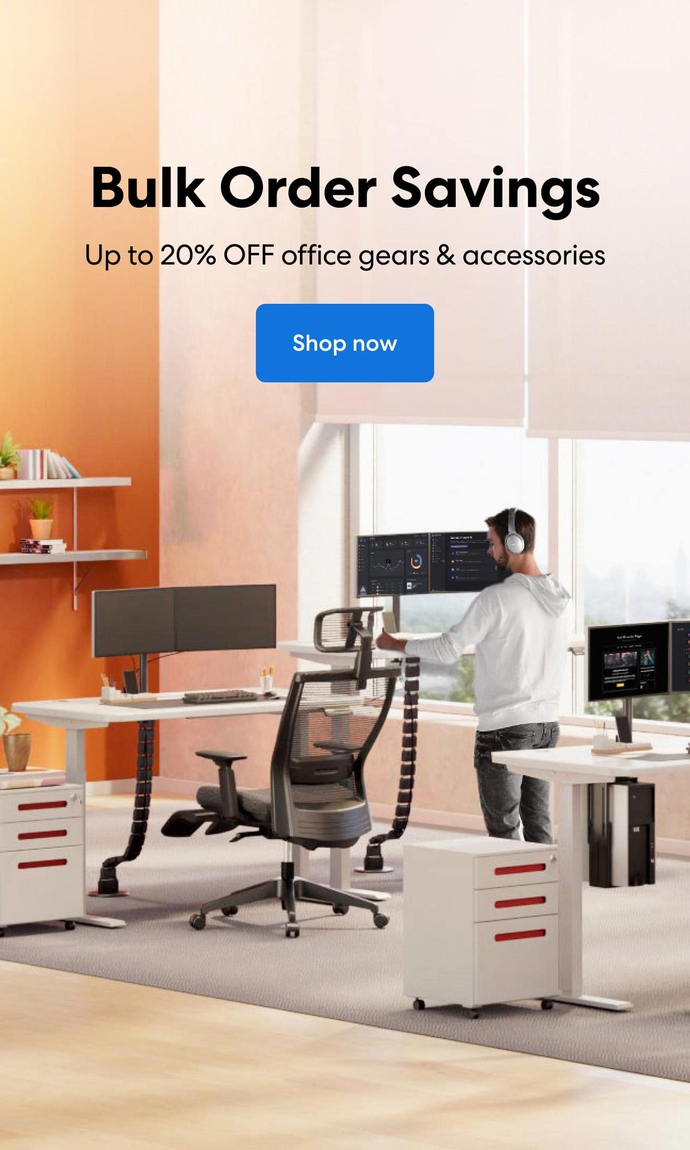 Subcribe newsletter and get $100 OFF.
Receive product updates, special offers, ergo tips, and inspiration form our team.