Maybe you have an awkward corner in the office you are looking to fill, or you could have a new employee who needs a right corner desk in their cubicle. A right-handed corner desk is the ideal space saver in workplaces around the world. 
It's not only a great space saver but, in most cases, it gives you enough worktop surface area for all computer equipment. A standard L-shape is all you need in a bare office cubicle, but if you are looking for something a bit more ergonomic, an adjustable standing desk could work for you. 
You can find a range of products that perfectly suit your criteria, allowing you to work in ultimate comfort. Most of these products come with a two-year warranty, and all are tested for sturdiness and durability. 
These desks have been proven to increase office ergonomics due to easy accessibility to files and drawers situated on the return side of the tables. It's good to note that ergonomic injuries are the leading problem that office workers struggle with worldwide. Ailments like these are often widespread and a complete pain in the butt.  
A study shows that over 60% of office workers suffer from ergonomic injuries while on the job. It is imperative to look after your health and well-being to have better performance and productivity. 
If you are looking for a right-handed L-shaped desk, you have come to the right place. Today we have listed the top 18 right corner desks you are going to love. 
What Color Desk Should I Choose?
It all depends on the style of your office, but a black desk setup is a good start and can fit into any workspace. Another great tone to use is blue. A color proved to help boost productivity and induce calmness. 
The great thing about choosing a desk color is that you have unlimited choices. 
Is a Right Corner Desk Worth It?
Absolutely 'yes.' Especially if you are looking to save space and have all your valuable documents nearby, you can find something on this list, and you are going to love the VIP products available. 
These desks can easily fit in any awkward corner and look stunning in the process. It can be perfect for people who like to spread their work over a larger surface area. In most cases, these tables have a more extensive surface area than a traditional work desk. 
There are tons of desk setup ideas that you can use for inspiration when deciding to purchase one for your office or cubicle. Keep reading and learn about the most recommended right corner desks on the market.
Top 18 Right Corner Desks in 2021
1. Autonomous SmartDesk Corner
This entry is the SmartDesk Corner by a reputable company that's name is Autonomous. The company meticulously produces some of the best ergonomic furniture in the industry. 
Everything that leaves its factory is made to last for years and includes a minimum two-year warranty. It is a right corner computer desk that is adjustable at the press of a button and can be used in standing or sitting positions. 
An ultra-larger worktop can house multiple monitors or provide space for photos of your loved ones. It's the perfect corner standing desk that genuinely deserves a spot on this list.  
2. Harbor View Corner Computer Desk
Here you have a multiple computers desk that looks aesthetically pleasing and has enough work area to store up to four monitors. The desk has a cherry finish that looks incredible and is resistant to heat, stains, and scratches. 
Some features include a keyboard and mouse tray, which can be stored under the desk. It can also be positioned on either side of the table, adding to the customizability. 
There is an added CPU storage compartment for those who like a clean-looking office space. An attractive selection of drawers is available for all your storage needs. It is a beautiful right corner computer desk from an American manufacturer that people worldwide know and love. 
3. Monarch Left or Right Corner Desk
The Monarch corner desk comes in a host of different colors, ranging from grey, dark taupe, cappuccino, and white. It is the perfect computer desk that offers a great combination of modern open design and storage. 
There are three drawers and two shelves which provide enough space for all your essential documents. It has a thick panel construction that is stable and durable while still looking modern in any office space. 
4. Monarch Corner Desk and Shelf Combo
The customized version of the Monarch desk is here with an additional shelf for more storage. Although this is a small and compact design, it does not lack sturdiness, and it is also super easy to assemble. 
Because this right corner computer desk is smaller than most it is often recommended for a small adult or a child. It fits nicely in a minimalistic home office that has a few people working in it. The space-saving design is perfect for those looking to get the most out of an affordable L-shaped gaming desk.
5. Leick Corner Computer and Writing Desk
Another small and minimalistic right-handed desk on this list is one from manufacturer Leick. This table emanates style and is relatively inexpensive to similar models in this category. The company has remained a favorite amongst office workers due to its design. 
There is a CPU stand to keep your computer tower off the ground and neatly tucked away. However, there are only two drawers for storage, but that's another reason this desk comes in at such a low price. 
It is meant to be a right-handed corner desk that is perfect for writers or graphic designers. 
6. Reversible Hutch and Chair Corner Desk
This classic right-handed desk is a tiny desk that can fit in a small cubicle and includes a cabinet plus a chair. It's a fantastic option for more miniature adults and comes as a complete package that is easy to assemble. 
The cabinet is removable and can store all your art supplies, pens, or photographs of your loved ones. A practical cable management system helps to keep your laptop and computer wires tidy. 
Coming in at a budget-friendly price, this is a chair and desk combo that can fit into any office corner. 
 7. Topsky L-shaped Workstation and Corner Desk
Topsky is a new manufacturer that has risen in popularity with its high-quality office furniture. The company has made a name for itself by selling affordable office equipment that is sturdy and easy to assemble. 
What we love about this right-handed desk is the large surface area it offers. You can store multiple monitors and still have enough space to do your writing work. 
It's made from a solid MDF board, and the legs are steel, making this one of the sturdiness tables on this list. Unfortunately, there are no drawers or shelves for storage, but the worktop makes up for that. 
8. Merax WorkStation and Computer Desk
The Merax is functional and clean, with a minimalistic design that can complement any office environment. Its feet are adjustable, which makes it great to use if your workspace has uneven flooring. 
There is a high-quality worktop made from E1 standard wood and melamine, which is durable and robust. It comes in three finishes that are oak, black, and white. All have a polished finish which makes these desks feel rather executive. 
A great feature of this outstanding right-handed L-shaped desk is that assembly only takes around 30 minutes. 
9. Unfinished Corner Desk by International Concept
This desk is constructed from Para wood, which has a similar strength and durability to maple. It has a design that is minimalistic, small in size, and lightweight. If you are a DIY enthusiast, this is the perfect desk for you.  
The desk's surface takes exceptionally well to paint and is made from solid wood. Excellent for someone who wants to create a custom piece of modern office furniture. 
If you don't mind getting your hands dirty and looking for a weekend project, maybe it's time to invest in this table from International Concept. 
10. Simple Living Wood Corner Computer
As the name suggests, you get a simple desk that sells for around $100. It has a traditional style that could fit into an antique shop and includes a matching chair with various beautiful finishes. 
The wood right corner computer desk is perfect for someone looking for a basic design that can fit in an office cubicle. There are two shelves which can store your books and documents. The single drawer is small but provides just enough space for your files and stationery. 
This right-handed L-shaped desk is made from the highest quality wood materials and gives you stability and reliability where it matters most. 
11. Hudson Cube and Corner Desk Combo
This right-handed L-shaped desk is a favorite among people looking for a stunning modern cube shelf and budget-friendly desk combo. If you have a smaller office space, this table can fit perfectly in it. It is a bright contemporary right corner desk with decent storage for your files and folders. 
The small size makes the desk easily mountable wherever you want to put it, and the cube bookshelves extend along your wall. It's made from melamine and is durable enough to last a few years.  
Although it is so light, it's surprisingly sturdy and offers a perfect combination of functionality and beauty. 
12. Arundel White Executive Desk
If you are someone looking to feel like a boss, this is the desk for you. It offers a high-end style that is eye-catching with a beautiful white finish. The design almost seems to float with its shelf, which retraces as a keyboard and mouse tray. 
You get a stunning desk featuring a filing and pencil drawer, two cabinets, and a housing unit for the CPU. It also has a few ports available that can help you keep your wiring tucked away neatly. 
Choosing this right-handed corner desk to make any office environment feel more professional. 
13. Arundel Modern Executive Desk
An upgraded version of the previous desk, this one comes with an executive wood finish that is minimalistic. The design was voted number one in many awards and is known as one of the best office desks. 
It is eye-catching and complements a modern workspace perfectly. You are going to be hard-pressed to find something that is as high quality as this. 
14. Carlisle Desk and Return
The Carlisle is a suitable right return desk that includes a cupboard and drawers for all your essential documents. Its assembling is easy, and the metal legs offer sturdiness and stability in any office environment. 
The rounded shape of the desk might seem like it can't fit in a corner, but it surprises you and fits nearly anywhere. It has a pencil and filing drawer that offers plenty of storage while still being attractive and functional. 
15. Sussex Desk and Return
Another beautiful desk from a little-known company called Sussex has design elements similar to the Carlisle, such as its fixed wide style. There are different size options, so choosing the one that suits you is easy. 
The veneer wood livens up your workspace with its natural feel and large worktop. On the return side of the table, it has a filing and pencil drawer so that you can store your favorite work tools. It is a design that works great as a floating desk or in a corner. 
16. Tangkula Corner Desk
The Tangkula has a simple design with a modern approach that is perfect for writers or graphic designers. That is what you receive when purchasing a desk from this fantastic company. 
This right return desk has one drawer for all your pencils and a filing with two small shelves for books or ornaments under the worktop. It is the perfect desk for someone who works in a small office or cubicle. 
17.  Bestar Hampton Corner Desk
One of the larger right corner desks on this list is the Bestar Hampton Corner desk. It has plenty of storage options for people who have lots of documents or files to store. There is an elevated shelf for your computer monitor and a convenient side cupboard to keep folders.  
The surface area of the tabletop is large and can be used for anything from drafting to writing work. 
It fits perfectly into any right-handed corner in the office and offers a sleek, modern, and executive feel. 
18. Sauder Corner Desk
With a vintage look and excellent wood finish, the Sauder corner desk can suit older-style offices. There is enough storage to satisfy even the most prolific hoarder. It has a cupboard and three drawers for all your essential work items. 
You are going to find a convenient mouse and keyboard tray that can be stored neatly under the desk. The worktop is significant in size and provides enough surface area to hold multiple monitors. A well-placed cable management system takes care of all your wiring needs while keeping everything neat. 
Choose this right corner desk if you want something that offers stability and class while providing optimum storage capacity. 
Conclusion
Whatever right corner desk you decide on, make sure that it fills your criteria. You want something that suits you and your office space. Be sure to thoroughly research the desk you intend on purchasing, as this helps make a better decision. 
Right-handed corner desks not only help boost productivity but also can liven up any workplace.
Video ads for product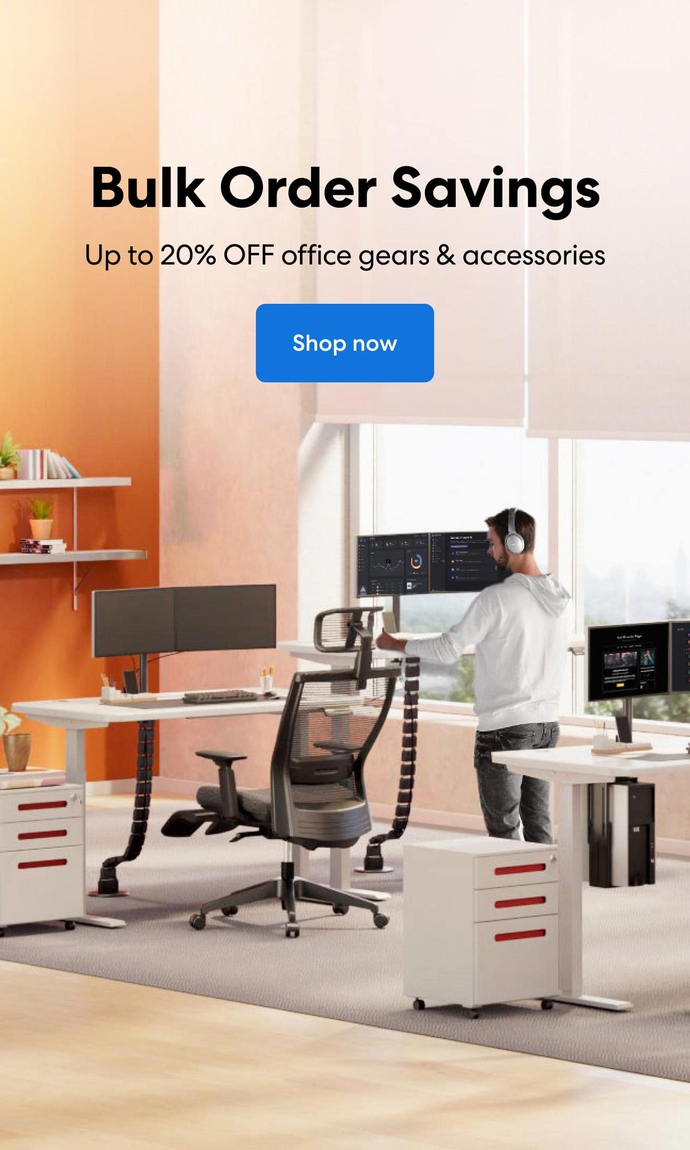 Subcribe newsletter and get $100 OFF.
Receive product updates, special offers, ergo tips, and inspiration form our team.