Smart Products
Top 20 Big and Tall Office Chairs for Fat People to Buy 2023

Autonomous
|
Jul 27, 2021
6,681 Views
We are all different, and all those who work in an office have the right to an ergonomic office chair to help support their bodies in a way that prevents injury. However, finding the perfect tall chair for standing desks can be quite difficult. 
Therefore, we have compiled this list of the top 20 office chairs for fat people, to help you buy an ergonomic chair that is best for you. 
Chairs for People Who Weigh up to 300 Pound
1. ErgoChair Plus by Autonomous
The ErgoChair Plus is the best chair for any individual because it can hold up to 300 pounds and is composed of breathable material. The backrest reclines to an astounding 25 degrees and has 11 locking configurations. Because the backrest is uniquely designed to bend with your spine to provide maximum, tailor-made support, this chair provides incredible support. 
Another essential feature of this chair for fat people is the range of seat adjustment. It has a seat height that can be adjusted from 16.9 to 20.9 inches above the ground, ensuring optimum support while you switch between a sit-stand position. 
Its elegant fishbone design promotes natural ventilation, which is especially advantageous for individuals who work in hot environments. Tall and heavier people sweat more readily than their shorter or thinner colleagues because their bodies demand more energy. 
2. ErgoChair Pro by Autonomous
If you are looking for a superb ergonomic office chair for fat guys, the ErgoChair Pro is a terrific option because it provides lumbar support, has a backrest that reclines to a 22-degree angle, and has five lockable positions. It also provides crucial lumbar support and has a load capacity of 300 pounds (136 kg), making it the ideal office chair for heavy people. 
The ErgoChair Pro is a fantastic option, as you can adjust the seat height from 18.11 to 20.1 inches from the ground. This allows you to comfortably switch between sitting and standing without having to adjust your standing desk. Autonomous also gives you six different color choices, so you can choose a chair that matches your office design. You also get a two-year warranty. 
This computer ergonomic chair is also made from breathable mesh material, and has adjustable support for your head, neck, and arms. 
3. NOUHAUS ErgoDRAFT Tall Office Chair
The ErgoDraft has a weight capacity of 275 pounds, making it a leading office chair for an overweight person. Because it is an effective ergonomic chair with a tall cylinder underneath, the Nouhaus ErgoDraft chair is the ultimate chair for larger people. 
It boasts an adjustable headrest for neck support, a synchro tilting backrest that can recline up to 135 degrees for back relaxation, and casters that lock in place to prevent undesired movement. The only drawbacks include a lack of integrated lumbar support, and a lack of color choices. 
4. SmugDesk Mesh Drafting Tall Office Chair
With a maximum weight capacity of 300 pounds, this chair is an ideal desk chair for fat guys. The seat adjusts from 25.2 to 33.9 inches from the floor, and the PU casters provide solid movement. The seat is comfortable, and constructed of breathable material, and the foot pedals are height adjustable. 
While its ergonomics leaves much to be desired, the SmugDesk office chair is a good computer ergonomic chair for those on a budget. 
5. MOOJIRS Adjustable Height Ergonomic Drafting Chair
The MOOJIRS is distinguished by its curved backrest, which provides suitable support for your lower back, and provides a welcome break from standing. The back and seat are made of mesh, so you can stay cool even when it is hot outside. A great feature is the waterfall seat, which relieves pressure on your legs while you are up high. 
With a weight capacity of 300 pounds, this one is one of the best chairs for fat people. 
6. Hbada Ergonomic Executive Office Chair
The Hbada is a luxury chair for fat people, featuring leather seating, and a good height adjustability range. It also has armrests that can be raised up and out of the way for easy storage underneath your standing desk. 
It has a pneumatic seat height adjustment lever, a 125-degree recline, and a weight capacity of 330 pounds. 
7. Adjustable Height Office Stool for Active Workers from the Learniture Store
This standing desk stool, which can hold 300 pounds, is meant to improve posture, balance, and stability while also allowing gentle movement to promote focus and attention for busy users. 
The adjustable stool has a height range of 18.5 to 28 inches with a pneumatic gas-lift seat. It has a triangle seat shape, and allows for a full range of motion, including tilting, rocking, and wobbling. This is rated as one of the best chairs for fat people.
8. Swivel Round Rolling Height Adjustable Stool by KKTONER
This round office stool is made of imitation leather, and is height adjustable, making it ideal for use with standing workstations. It offers a 20.7 to 26.8-inch height adjustment range with an adjustable footrest. With a weight capacity of 300 pounds, it's an excellent choice for an office chair for a fat guy.
9. Sadie Big and Tall Office Chair
The Sadie Big and Tall Office chair has made it onto this chairs for fat people list because it has a weight capacity of 400 pounds, and a good height adjustability range, making it suitable to use with a standing desk.
A distinguishing feature of this best computer chair for fat person is adjustable armrests that allow you to get the maximum level of comfort and support for your head, neck, arms, and back. It also features built-in lumbar support, smooth-rolling casters, and a cool mesh backrest.
10.  Ergonomic Office Chair for Gaming by Defy Desk
The average person spends 18 years of his or her life seated, so it is no surprise that we all suffer from agonizing neck or backaches.  Defy desks have perfected its ergonomic double S-shape waterfall Dreamer high back chair after years of testing, delivering the best neck and lumbar support to help the body stand tall and proud.
It has a weight capacity of 300 pounds, to make for a great big and tall office chair.
Big and Tall Office Chairs for Heavy People with Weight Capacity of up to 400 Pounds
11.  Grace and Grace's Drafting Chair
This office chair for an overweight person has a comfortable cushion with an ergonomic back and footrest. The dense sponge pad seating is coated with the finest soft PVC leather, and the fashionable ergonomic backrest works perfectly with the back and spine to relieve pain, allowing you to focus on your job. 
It has a weight capacity of 400 pounds, and a seat height adjustment range of 19.5 to 27.5 inches. Unfortunately, it does leave much to be desired, as it does not include arms or headrests. However, the chairs for fat people do slide understanding desks easily, and it is affordable. 
12.  BenchPro Deluxe PU Big and Tall Office Chair for Standing Desks
The BenchPro Delux is a height-adjustable office chair with a higher load capacity than the usual office chair. With a 21-to-31-inch height adjustable range, and a 450-pound weight capacity, it is made of nylon, steel, and polyurethane.
The chairs for fat people come with an adjustable backrest, foot ring, and a 10-year warranty. It has lumbar support as well, and several drawbacks, including unpleasant seating and no armrests. 
13.  Big and Tall Office Chair by the BestOffice Store
This is the best computer chair for a fat person weighing under 400 pounds. Features of this ergonomic office chair include fully customizable settings, a six-position PU padded armrest, straightforward pneumatic controls, and lumbar support to relieve back pain, and support the spine's curvature. 
The chairs for fat people are easily set up, and the BestOffice Store gives you a choice between four color options.
14.  SPACE Seating Big and Tall Office Chair
When using a standing desk for a tall person, you would benefit from the Space Seating Tall Office Chair. This sturdy chair has a basic, and clean design with a 400-pound weight capability, making it ideal for heavier customers.
When thinking of a chair of its size, the Air Grid has a good number of adjustability choices. The lumbar support, for example, can be adjusted to fit tightly against your lower back. You may also alter the breadth and height of the armrests. 
It is reasonably priced, and meets the fundamental requirements of comfort, flexibility, and support. The customer service is also amazing. 
15.  HON Wave Executive Chair
The combination of big and tall properties – high weight capacity and ample width – plus adjustment and positioning options found only on high-end ergonomic chairs makes this office chair for an overweight person stand out from its competitors. 
With a reinforced resin base that can swivel, and glide easily on five robust casters, the chair can handle up to 450 pounds, and keeps you stable and mobile. Lumbar support, tilt lock and tension adjustment, and a pneumatic seat-adjuster are among the other features. 
However, it may not provide the perfect fit for all users. 
16.  Clatina Executive Chair
Look at the Clatina Big and Tall Executive office chair if you are on the lookout for a low-cost office chair for fat people that can support up to 400 pounds. 
Although there are limited adjusting choices, this chair has a clean, minimalist, and modern appearance. It has tilt tension, for example, but you cannot lock it in a reclined position. In addition, the armrests can only be adjusted in height. 
Nonetheless, this is a high-quality chair that complies with ANSI/BIFMA safety standards for larger users. You also receive plenty of ventilation thanks to the comfortable mesh backrest. 
Ergonomic Chairs for Users Who Weigh up to 500 Pounds
17.  Hercules Series Big and Tall Black Mesh Drafting Chair
The Flash Hercules is one of the industry's most popular big and tall chairs, with a weight capacity of 500 pounds. 
This drafting office chair by the Flash Furniture Store is a sound option for an office chair for the overweight person. It has a seat adjustability range of 20 to 26 inches and has a breathable backrest with built-in lumbar support. 
The chair does not feature a back or armrests, nor an adjustable foot ring. It is still a stable chair for larger people and can be assembled rather easily. 
18.  Vinsetto Large Fabric Office Chair
Most of the chairs for fat people in this collection are made of leather, or a mix of mesh, and synthetic materials. Therefore, finding a chair like the Vinsetto Big and Tall, which is covered in fabric with a gray linen finish, is a breath of fresh air. 
The Vinsetto has a sturdy metal base, and a heavy-duty gas lift that adjusts the seat height from 21.25 to 24.25 inches. This chair does not allow you to recline back into a locked position. However, you can rock back and forth, and modify the rocking resistance with a tilt tension adjustment knob, but you cannot tilt back into napping mode. 
19.  Steelcase Leap Plus Big and Tall Chair
The Leap Plus, while more expensive than the other chairs on our list, adds another level of comfort and adaptability to the large chair category. Everything about this chair is designed to move with you, keep you comfortable, and encourage a healthy posture. 
From the flexing seat edges and full armrest adjustability, to the adjustable lumbar support, and breathable fabric options, you get a chair that can support up to 500 pounds. 
20.  Anda Seat Kaiser Two Big and Tall Gaming Chairs
The Anda Seat Kaiser Two big and tall reclining office chair is a great choice for comfort and stability. Starting with the weight capacity, the Kaiser Two has a solid steel frame that can support well over 350 pounds, with a maximum load capacity of 441 pounds.  
It has often been described as a luxury chair for gamers and one of the best office chairs for heavy people, with leather memory foam seating, and a backrest that can tilt up to 160 degrees! It is also ergonomic, with lumbar support, a backrest, headrest, and armrests. 
Final Thoughts
While it may be difficult to select the right office chairs for fat people if you are larger in stature, you need not spend hours searching through office chair specifications. Consult this list of the top 20 big and tall office chairs for fat people to buy in 2021.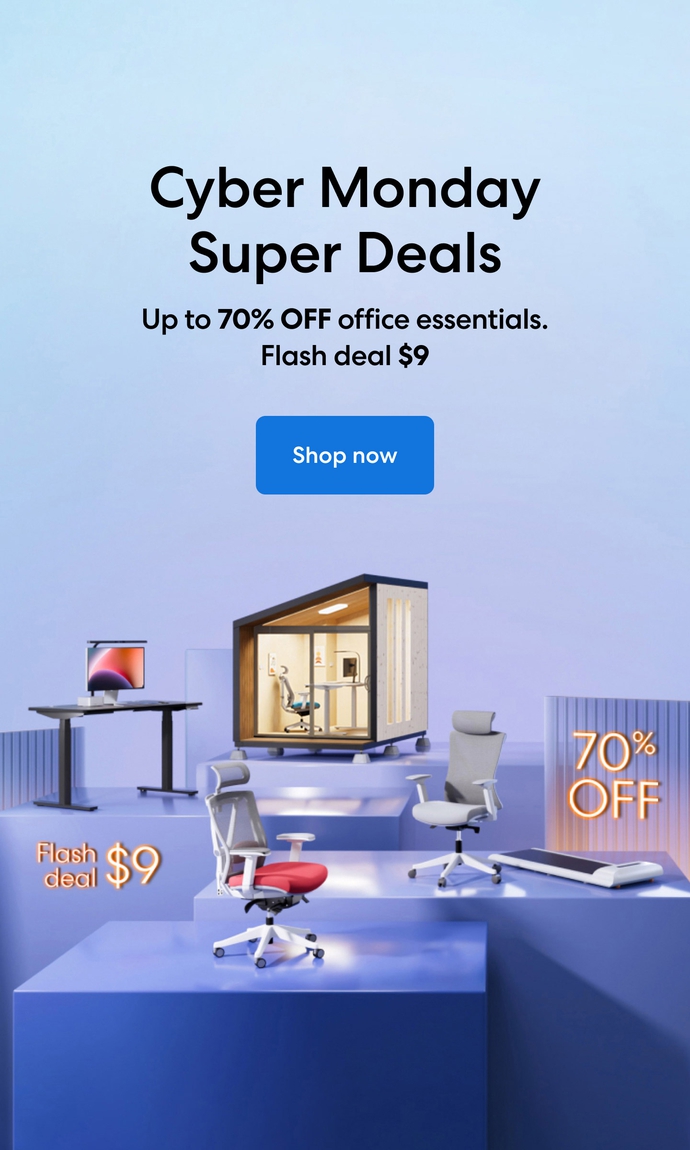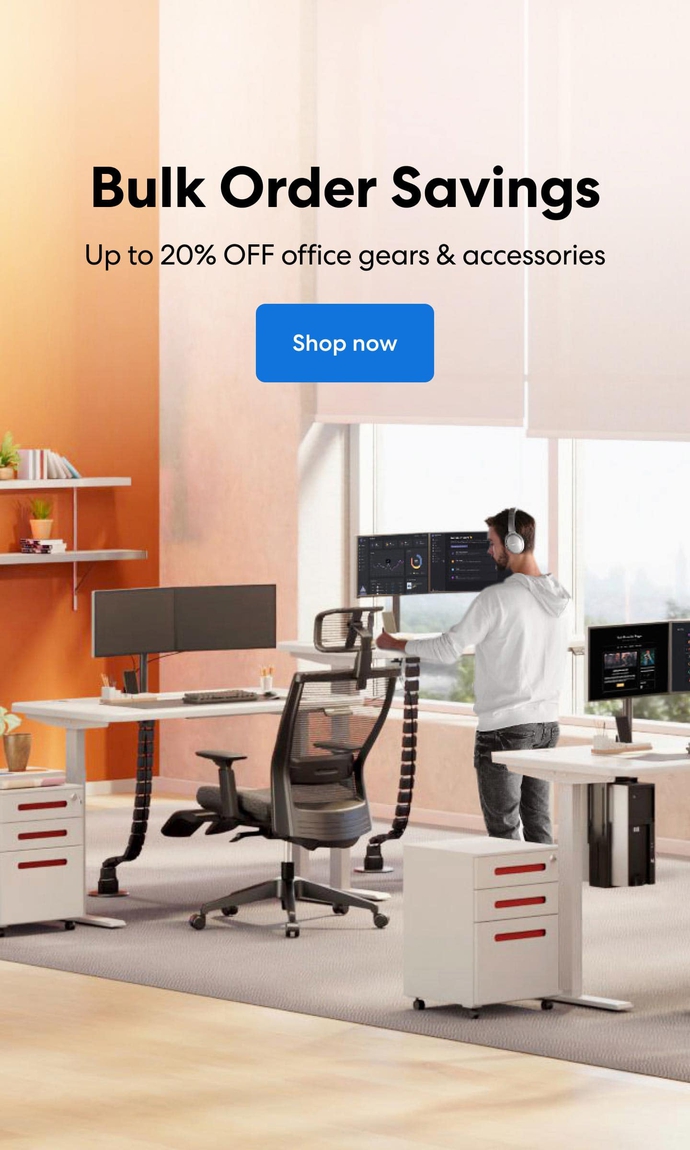 Subcribe newsletter and get $100 OFF.
Receive product updates, special offers, ergo tips, and inspiration form our team.