If your workspace needs a durable, well-made desk that meets performance and safety standards, a commercial office desk may be the ideal choice for you. These desks can improve your workflow and make it more comfortable to work for long periods.
Additionally, they have a wide variety of styles, features, and materials. There's something for everyone – from simple steel desks to modern height-adjustable ones. This article lists the top 20 options among them to let you find the best fitting one for your office.
Choosing a Business Office Desk
When it comes to commercial desk furniture, almost anything goes. An executive desk can give your office a luxurious look, but a modern height-adjustable one might have some quality of life features you don't want to pass up.
Regardless, it's all about what best fits your office. For that reason, there are four main things you should consider when selecting any desk: size, space available, ergonomics, and budget.
First, how much storage do you need? Think about every piece of equipment and other supplies you need to place on top or inside the desk. This way, you may determine precisely how big your ideal business desk needs to be.
For example, you need enough space for your monitor, keyboard, and mouse if you have a desktop computer. Likewise, if you hoard many office supplies, files, or even desk decor, you might prefer a desk with drawers, shelves, or a hutch.
The next thing to consider is space restraints. If you already know where you are placing your desk, measure the space to understand how large your future commercial desk furniture may be. There's a suitable option available for every place, even without considering that most desks today have several table top sizes available.
If you constantly sit and work at your desk, getting an office standing desk might be ideal. These have many different features, so picking one might be a little trickier than usual.
Nonetheless, there shouldn't be an issue if you ensure it has enough weight capacity, adjustment range, and tabletop size. Stability is also essential but harder to gauge. Fortunately, every height-adjustable desk in the list is highly reliable and stable.
What you can afford also plays a large part. Some options are pretty economical, but others easily go above $1,000. Additionally, if you're the type that enjoys doing things by yourself, working with a DIY corner desk or a standing desk frame might be a fun little project that lets you take a break from the usual routine. It also allows you to configure the desk to fit your office space perfectly.
Top Commercial Office Desks for Your Workstation
1. Autonomous SmartDesk Core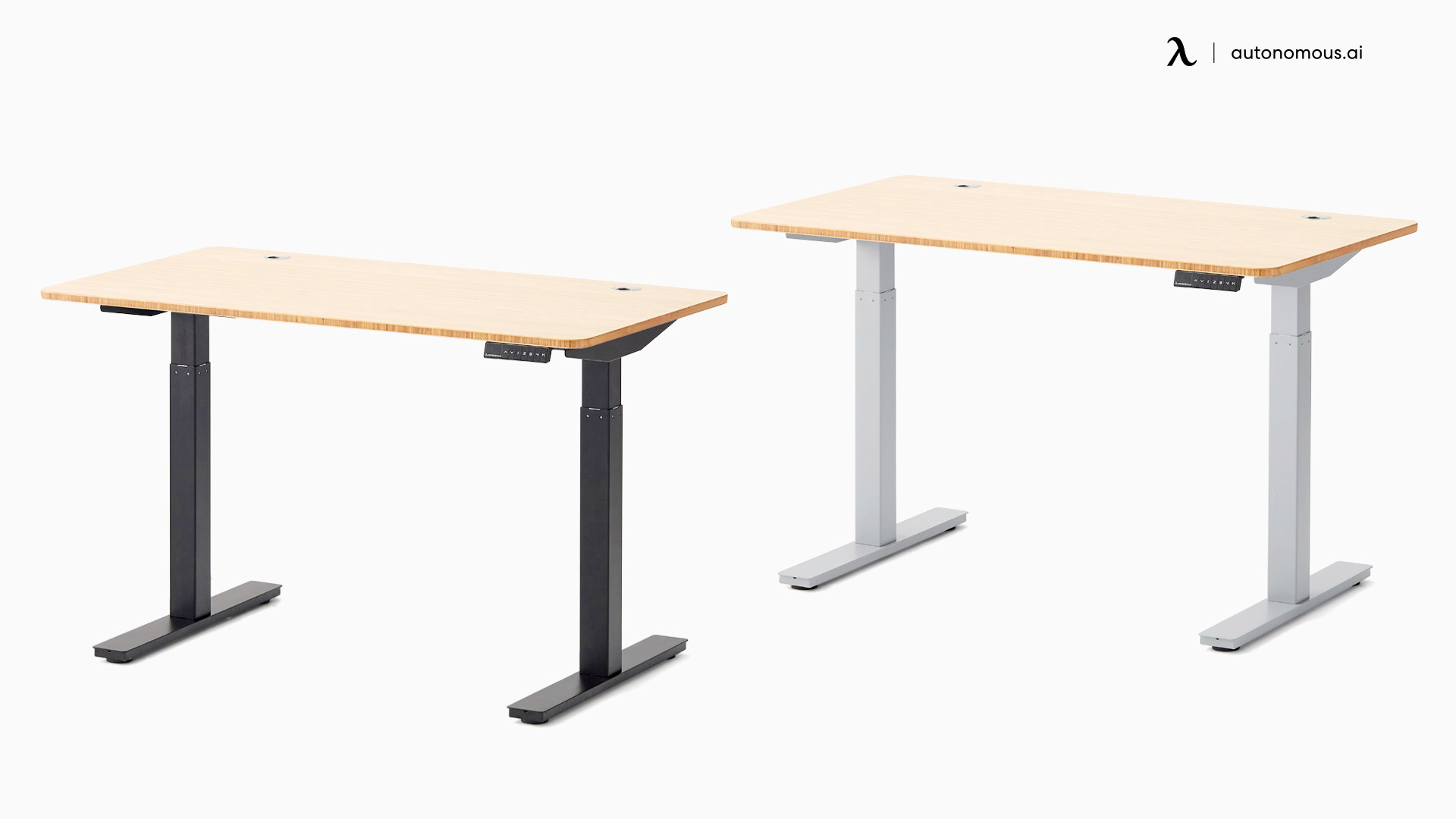 The SmartDesk Core is an excellent commercial computer desk for your business or home office. Autonomous designed this desk with your well-being in mind, so it has many features that can enhance your productivity. It has a minimalistic design that blends well in most spaces and an impressive vertical travel range of 26".
This business office desk has a regular desktop option that's 53" long and an XL one that's 74". It can lift 265 lbs with ease and has four programmable settings that let you change positions quickly. If you're looking for an ergonomic commercial office desk to upgrade your office, this one is among the best options. Additionally, with the store-wide Autonomous desk discount code, you can save some expenses on all of this brand's furniture.
2. Autonomous SmartDesk Pro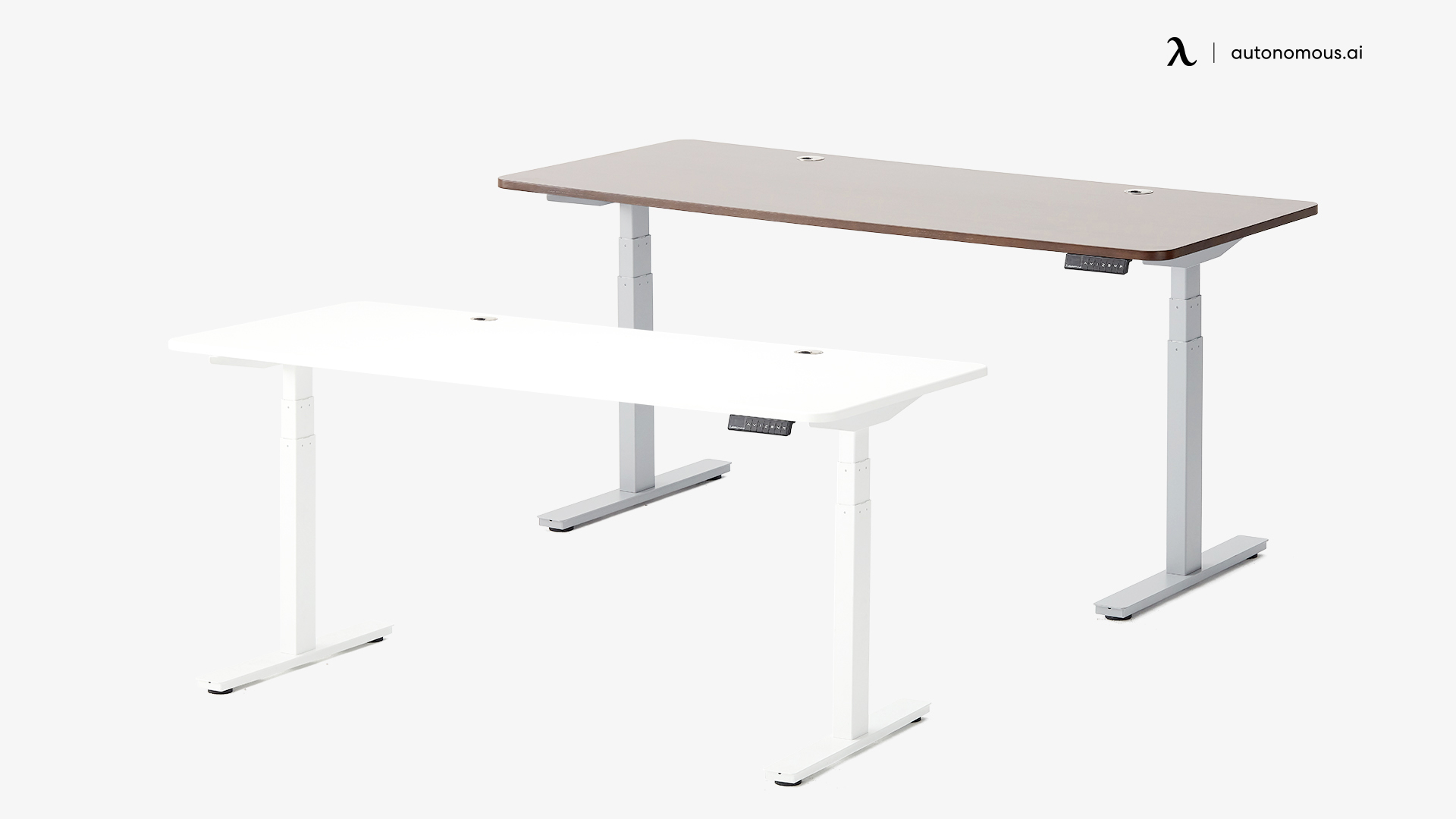 This smart desk from Autonomous also features the same excellent height range of 26" and desktop sizes that the Core model has, but its other features are better overall. It has an upgraded dual motor that can lift 310 lbs quicker and quieter and the same four-button programmable controller, but it switches between positions faster.
If you're looking for a reliable, stable standing desk, the SmartDesk Pro might be ideal for you. Additionally, you can choose to purchase the DIY standing desk frame by itself if you want to set up a custom tabletop.
3. Autonomous SmartDesk Corner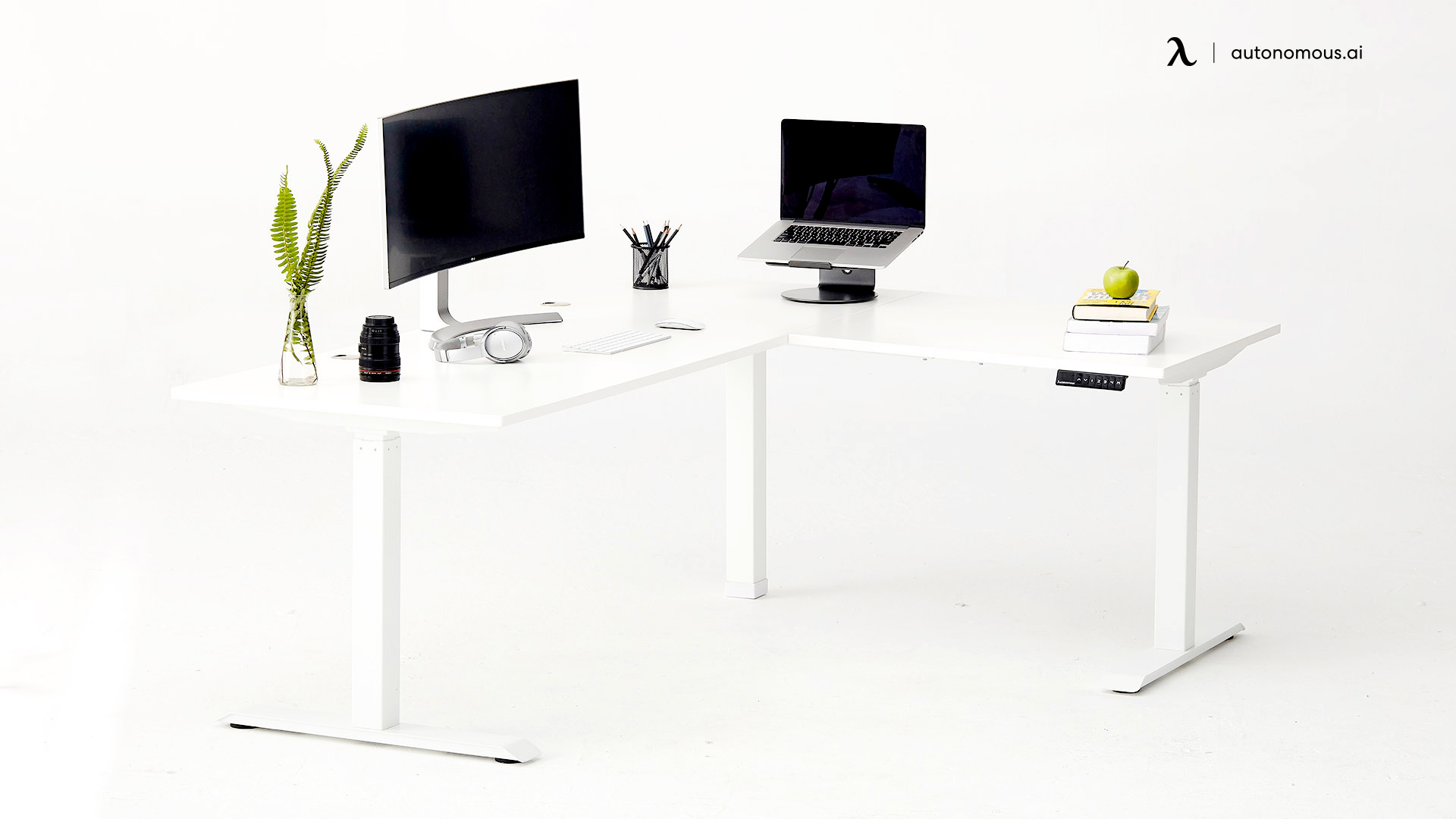 If you're looking for a cutting-edge, ergonomic L-shaped desk, check out the SmartDesk Corner. This versatile business computer desk can fit in almost every corner, thanks to its modular segments. It has a triple motor system with a 19" height range that's virtually silent and can lift 400 lbs.
Like the other models, it features a responsive keypad that lets you save up to four positions. Afterward, all it takes is a button press to glide you into the preset position. This combined 77" length and 64" width desk ensures you have all the space necessary for your equipment. It comes with a cable tray, but you can purchase a filing cabinet or a privacy panel to customize it a bit more.
4. Flexispot Adjustable Standing Desk Pro Series
This commercial computer desk has three different desktop sizes available that range from 48" to 60". Furthermore, it lets you select between three frames, the best one being the inverted three-stage one. This one has a 26" vertical travel range that reaches 50" when it's fully extended.
Its advanced lifting system and structure allow it to lift 275 lbs with the touch of a button. Additionally, it can save up to three height presets and provide friendly alerts to remind you when to stand. The Flexispot Pro Series has three different tabletop materials, including bamboo, solid wood, and laminate.
5. Sauder Orchard Executive Desk
This business office desk provides ample desktop space and many drawers that let you store essential documents. It has a large middle drawer with metal runners and safety stops where you can place a keyboard, two full drawers that can hold letter, legal, and European hanging files, and another four extra small ones. It can support your computer, office supplies, and more with ease.
6. NewHeights Elegante XT
The NewHeights Elegante is an excellent commercial office desk with numerous sizes and shapes available, making it easy to find one that nicely fits your office. It includes a four-button programmable switch, standard wire management options, and even a six-outlet power strip.
The business office desk has a 27" vertical height range that reaches a 51" stretched position. Its two-leg frame can hold 300 lbs, while the corner model can withstand 450. Also, you can opt for cross-support for further stability. This is an incredibly versatile commercial office furniture, but its cost is somewhat prohibitive, regardless of size. The frame alone can go for over $2,500.
7. OUTFINE Computer Desk
This minimalistic commercial computer desk has many features that make working incredibly comfortable. It has three open shelves that fill most of the space below the desktop and a handy drawer. These let you store your computer case, paper documents, books, and more.
The OUTFINE business office desk has iron cross bars that give it stability and adjustable feet that ensure it stands straight on any floor. It comes with a monitor stand above the tabletop that has enough space for several peripherals besides your display. The desk comes in two sizes, 47" and 55", and has four colors available.
8. Bush Furniture Cabot L-Shaped Desk
This L-shaped business computer desk provides 60" of workspace in either direction with 24" and 20" of depth on the left and right sides, respectively. It has an integrated four-port USB hub to plug your devices, two drawers, and a fluted glass door. This scratch-resistant desktop can support 200 lbs and has six finishes available. It's suitable for a multi-monitor desk setup.
9. UPLIFT V2 Standing Desk
With this commercial computer desk, you can maximize comfort and productivity in any workspace. It has a 25.3" to 50.9" vertical height range that can accommodate almost everyone and a lifting capacity of 355 lbs, thanks to its three-stage legs.
This commercial office desk frame is compatible with 42" to 80" wide desktops, so space is no issue. It has a simple keypad to raise and lower the desk by default, but you can outfit it with an advanced one with multiple programmable settings. The UPLIFT desk comes with a free wire management tray, two anchor plates, and three free accessories of your choice, including a LED desk lamp.
10. ApexDesk Elite Series
The stunning Elite Series desk from ApexDesk comes in two sizes, 60" and 71", and has a laminated table top with multiple colors available. It has a unique structure with a fixed crossbar and a powerful dual motor lift system with a 29" to 49" height range and 235 lbs load capacity.
This business office desk also features a controller with four programmable presets and a cable tray. Additionally, you can get a matching 47" side desk If you need the extra space.
11. Steelcase Ology
Steelcase designed this commercial desk furniture to support the well-being of all users, making it an excellent desk for every situation. It has various top shapes, including some L-shape arrangements, and they all have the same 27.3" to 46.4" height range. You can also opt for an extended range that goes from 22.6" to 48.7".
It has several ergonomic features that improve work physiology, such as soft edge profiles, antimicrobial additives, and a handy integrated rail. This commercial office desk has many additional standing desk accessories and cable management options as well.
12. TOPSKY Computer Desk
This practical commercial computer desk has a 55" scratch and stain-resistant tabletop. It comes with a single 8.5" depth multifunctional shelf that's easy to access and a metal grommet hole for wire management. Additionally, it has adjustable feet to compensate for uneven floors.
13. Martin Furniture Hartford Double Pedestal Desk
This 70" double pedestal desk features a weathered, vintage finish and other classic elements. It has six suspension ball-bearing drawers and a concealed, drop-front storage where you can place your keyboard or put away your laptop once you stop using it. Additionally, the commercial desk furniture has two grommets that can create a clean look by hiding unsightly wires.
14. Bush Furniture Somerset Office Desk
This commercial office desk is an ideal choice for your home or office. It has a scratch-resistant desktop with a 200 lbs weight capacity and wire-management grommets. The desk also has two box drawers where you can store miscellaneous supplies and two full-extension file drawers that can hold letter-size files.
15. iMovR Lander Desk
This business computer desk has several ease-of-use features that you don't usually find in a conventional standing desk. Additionally, it arrives almost entirely assembled, so it might be a good option if you don't have time to put a desk together or find it hard to do it.
It has two quiet motors that lift 360 lbs and a height range of 24.5" to 50.5". The lander desk has several tabletop colors and sizes available, but none have a cable management kit. However, it does have some grommets and other features that make up for it.
16. Fully Jarvis Standing Desk
The Jarvis commercial office desk uses environmentally-friendly materials. It has various top sizes that range from 30" to 78" and three frames available. The frame with the highest height range is the three-stage one that goes from 24.5" to 50". This commercial computer desk has a weight capacity of 350 lbs, regardless of frame and tabletop, and a simple paddle to adjust the height that you can upgrade to an OLED programmable handset.
17. FATORRI L-Shaped Industrial Office Desk
The FATTORRI desk has an industrial-chic design that keeps your workspace on-trend and inspires you to work to your best ability. It has a 59" tabletop and a reversible 55" side table. The commercial desk furniture has many multifunctional shelves where you can place your computer case and office supplies, but it doesn't come with any cable management option.
18. Sauder Harbor View Corner Desk
This L-shape business computer desk has three finishes that can upscale the look of any workspace. It features a slide-out shelf with metal runners that's ideal for your keyboard and mouse. Additionally, it has a cabinet that can store a computer case, a grommet hole, and three drawers. The lower one can hold letter and European size files.
19. Vari Electric Standing Desk
This electric standing desk has a powerful motor that operates quietly built inside its heavy-duty T-frame legs. The package comes with every tool you need to assemble the desk, and the process is more straightforward than others.
This commercial office desk has three tabletop sizes ranging from 48" to 72", a digital controller with four customizable settings, and a 25" to 50.5" vertical height range.
20. CubiCubi L-Shaped Desk with Hutch
This multi purpose commercial computer desk fits well in any space. It has a solid metal frame, a triangle strut that ensures stability, and a clear tabletop that's easy to clean. This L-shaped business computer desk has a handy storage shelf that's within arms reach and a small table that can serve as a base for your monitor or laptop.
The Bottom Line
There are many types of commercial office desks, so it's up to you to decide which one suits your workspace the best. Remember to think about your equipment, space available, and whether you want ergonomic features before deciding.
Get exclusive rewards
for your first Autonomous blog subscription.

WRITTEN BYAutonomous
We build office products to help you work smarter.
Coming at You Live from Autonomous' Social Media!
Please fill the information below.
Thank you!