2020 has seen a dramatic rise in the number of people cooped up in an office for work all day. With so many people now working from home, having a good high back ergonomic chair is more important than ever. Even for those that worked a desk job before the world went on lockdown, you now have to try and replicate that at home. People tend to be shocked at just how difficult the transition is. Thinking that it's no big deal is understandable, but working from home instead of the office comes with a lot more challenges than you realize. One of these challenges comes in the form of comfort. If you thought you were going to be doing your work from the bed or couch, think again.
To actually get a productive day out of yourself, you're going to need to be set up at a desk. While the desk that you're using is one thing, the chair is just as important. If you were working an office job, then you know how painful 40 to 50 hour weeks and not getting much of a chance to stand up maybe. If you didn't work a desk job, then you're in for an awful realization. You're putting a bad curve on your back, your shoulders get hunched, you end up with sore legs, and so much more when you have to sit for the majority of the day.
Ergonomic office chairs help to combat this. Tall back office chairs help to prevent it. Therefore, we're going to be talking about the top 20 high back executive office chairs in 2020 so that you can work from home without worrying about being in pain.
What Is a High Back Chair?
High back office chairs are sometimes called "executive chairs." Generally, they have backrests that extend farther up to the upper back. Many newer models also contain a headrest and a neck rest.
Usually, these chairs provide more support to the lower back with lumbar features. However, the goal is to protect the upper back and shoulders by leaning back and feeling the support. Often, they are more adjustable than a mid-back or low-back chair.
A high back office chair is typically the right choice for people who sit for long periods and aren't mobile while they're seated. For example, if you often sit and type, you're in one position for the duration. However, those who often have to turn and twist to answer phones and perform other tasks might not like the high back office chair in Canada.
Those who suffer from back pain and must sit most of the day should consider tall back office chairs. Make sure they have height adjustments and lumbar support for the best comfort!
Why Choose a High Back Office Chair?
In most cases, a high back chair looks different than a mid-back version. The high back office chair is easily noticed because it includes a headrest, making it a bit taller than others.
Usually, the best high back office chair provides more support to the upper back, shoulders, and neck than other options. Compared to other chairs, these are also easier to adjust and have more choices for that, too.
If you usually sit down for long periods, you need this type of chair. On top of that, they are great for anyone who suffers from back pain.
Since there's a headrest included, you can relax the neck and reduce pain in that area. Plus, you're less likely to slouch because your body is fully supported.
Things You Must Consider Before Buying a High Back Chair
You've already decided that a tall office chair for standing desk is ideal for you. Now, you've got to figure out what you should know before buying it. Though the products we listed here are sure to be of great value, it's important to know why these were the top 20 options.
Neck Support
Most chairs don't offer neck support, even with a headrest. In a sense, you're resting your head, which also protects the neck and keeps it in an appropriate position.
However, some chairs do offer neck support with a special indent for your neck. They may look a bit odd, but they're sure to protect your neck and relieve neck pain. Chairs that have headrests that curve with your neck are highly adjustable. In a sense, they're perfect for different tasks, especially if you find yourself slouching throughout the day.
Usually, it's essential to choose a headrest with a neck curvature. However, you must ensure that it has a height adjustment feature so that it hits at the right spot on the neck. Otherwise, it's sure to make you even more uncomfortable than you already are!
Head Support
Adjustability is also important for the head support feature. If the headrest is stationary, it might not fit your head or makes it uncomfortable to use.
You may also want to think about the padding on the headrest. This can make it more comfortable to use for long periods. However, it may backfire on you because they aren't as breathable. Choose a mesh style for the best results. They're often flexible to support your head and allow for more airflow to prevent you from getting sweaty.
Back Height
It's important to consider how high the backrest is. Remember: there are different styles of high back chairs, and they're not all the same. If you want one to support your back entirely with the neck and head, consider your options carefully.
A good way to figure out your optimal back height is to measure yourself from the base of the neck to the tailbone. This tells you how tall your back is. Then, search for high back chairs that are within that range.
However, if you get a measurement of 23 inches (for example), you don't want to go over that if you're using a headrest. This indicates your chair back is too high, and the headrest isn't likely to do much good. We recommend choosing a back height of about 22 inches for the best results.
How You Plan to Use the Chair
In most cases, you should think about how you might use the chair. If you type a lot, you're sitting upright. However, you may still want to take breaks throughout the day. With a headrest and neck support, you can do this from your chair. That way, you get to rest your body without having to go sit elsewhere.
Those who often talk on the phone during their workday may also appreciate a high back chair with appropriate neck/head support. You can lean back and still have good posture.
20 Best High Back Ergonomic Chairs for Office Workers
1. ErgoChair Pro+
The ErgoChair Pro+, despite being close in price point, blows everything before it out of the water.
You get a sleek design that comes with a massive amount of adjustability. The tilt, height, and even how forward the seat is can all be changed.
The chair also features a unique fishbone ergonomic design. This lets the chair excel when it comes to actual lumbar support when compared to the other entries on this list.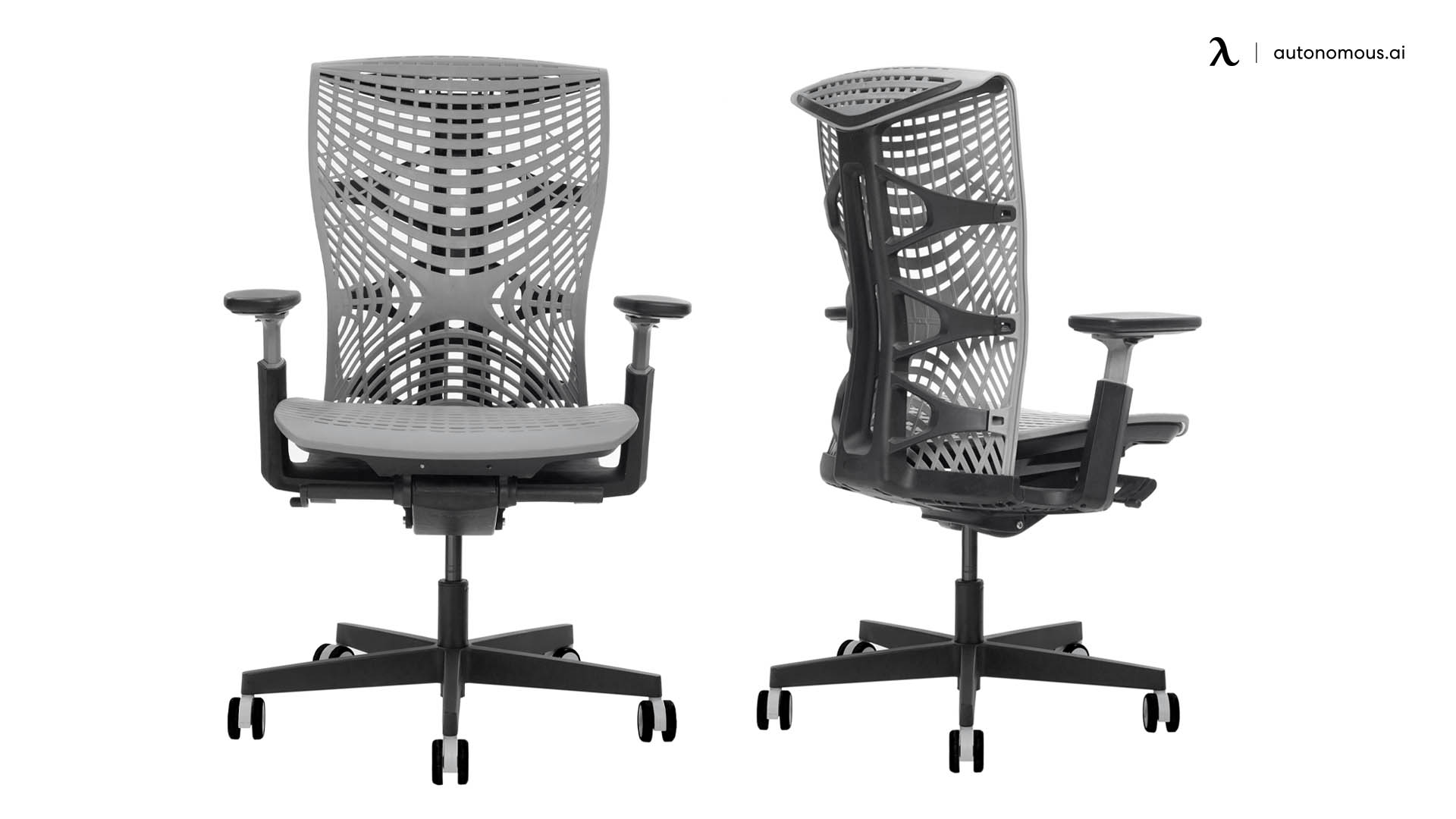 2. ErgoChair Core
Like the ErgoChair Pro+, the ErgoChair Core is in a league of its own compared to most ergonomic high back office chairs.
This ergonomic computer chair comes with an adjustable headrest and footrest and can be reclined back to let you lie down and have a snooze in it.
The leg rest is also retractable, which is an exceptional feature.
The chair doesn't feature fishbone support, but it still has some of the best lumbar support technology on the market.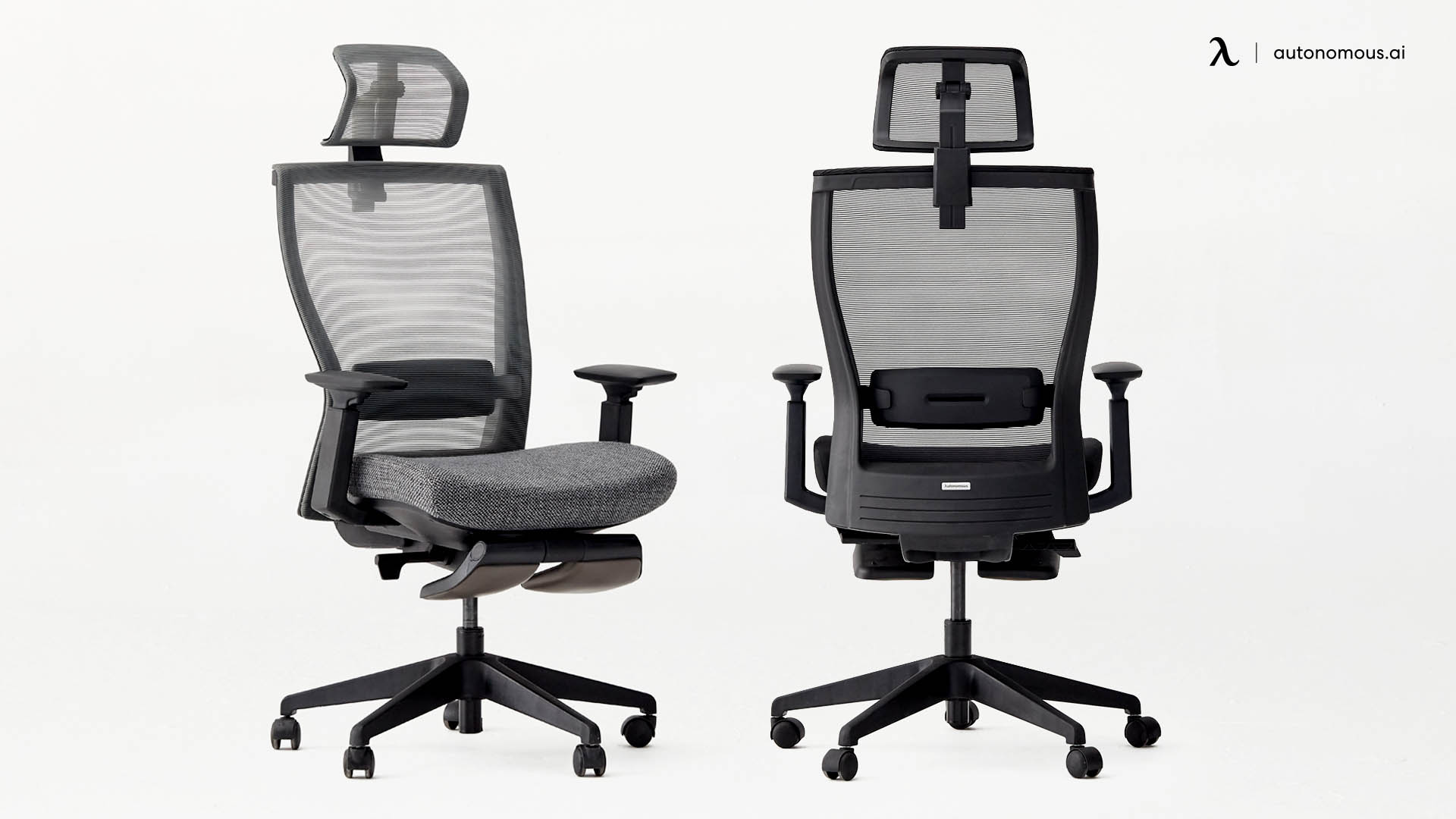 3. ErgoChair Pro
The ErgoChair Pro is the best high back chair on the market, and it's not even close.
It has an adjustable and lockable armrest, an adjustable headrest, a breathable backrest, and a cushion made from high breathability foam for maximum comfort.
The lumbar support system also features flexible integration technology. The chair actively responds to the needs of your back, meaning it offers constant top-level back support.
The chair looks incomparably clean and sleek, too, leaving no doubt as to what the best chair around is.
4. Office Hippo Ergonomic Chair
The Office Hippo chair is opening our list mainly because it's very basic. There are no fancy features or anything like that. Instead, it's just a solid ergo high back office chair.
It's back is designed to provide additional lumbar support. This means that it's designed to mimic the natural shape of your back, which is invaluable in an ergonomic chair.
The recline of the high backrest is adjustable, so you can recline in it if you want to. You can also, of course, adjust the highest of the seat.
The lumbar support is adjustable via a hand wheel, which is a nice touch, especially for a chair at this price point.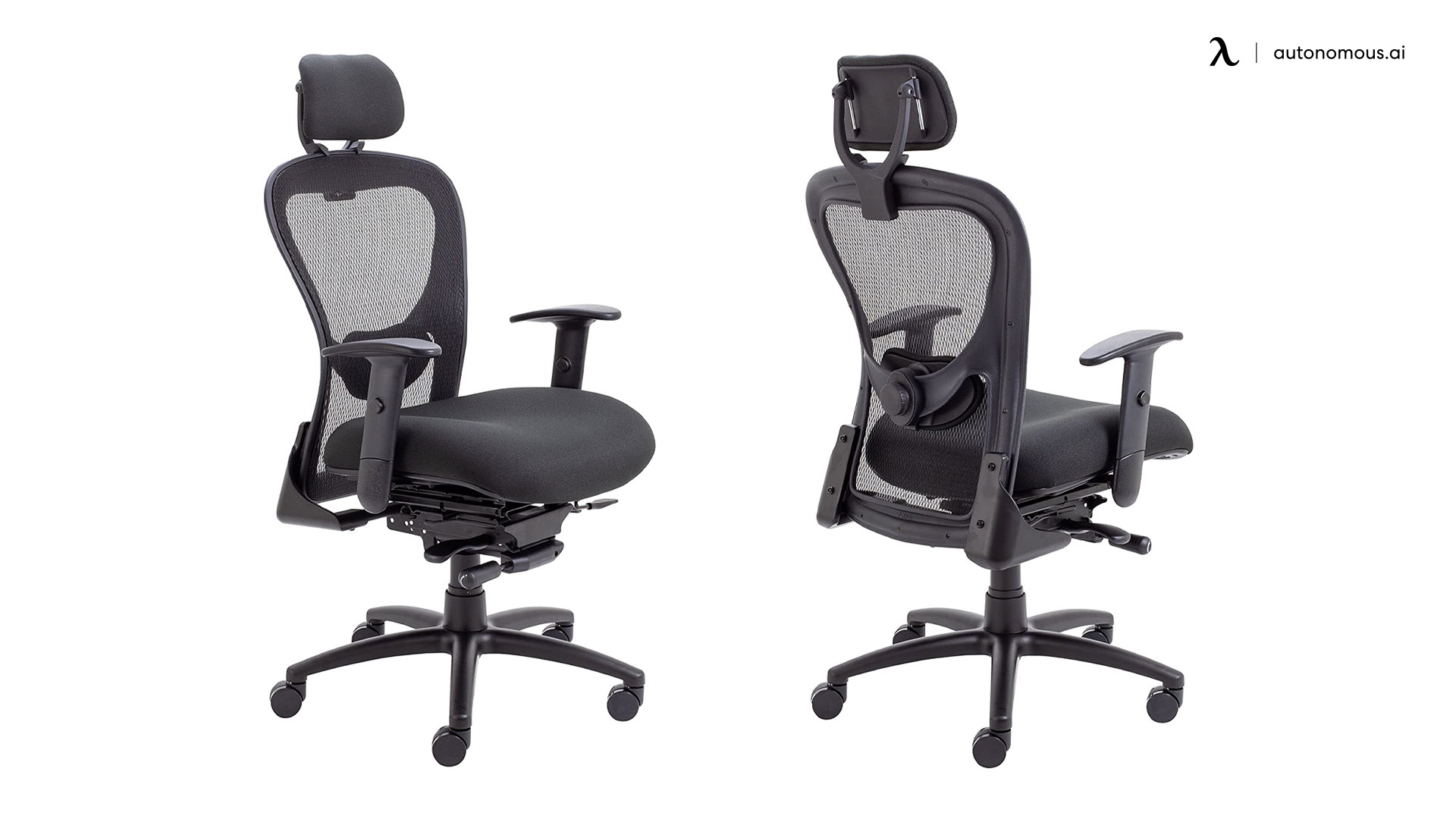 5. IntimaTe WM Heart
The IntimaTe WM Heart is one of the most affordable, but don't let that put you off.
Like most of the other chairs, we're going to talk about, the tilt of the backrest is adjustable. However, this chair also comes with adjustable armrests. You might not think much of that now, but if you work as someone who is typing all day, this feature is invaluable.
If you don't like armrests, though, you can fold them out of your way, too.
The IntimaTe WM Heart also comes with additional head and neck support. The high back design extends to give you full upper body support, which is wonderful considering how affordable this chair is.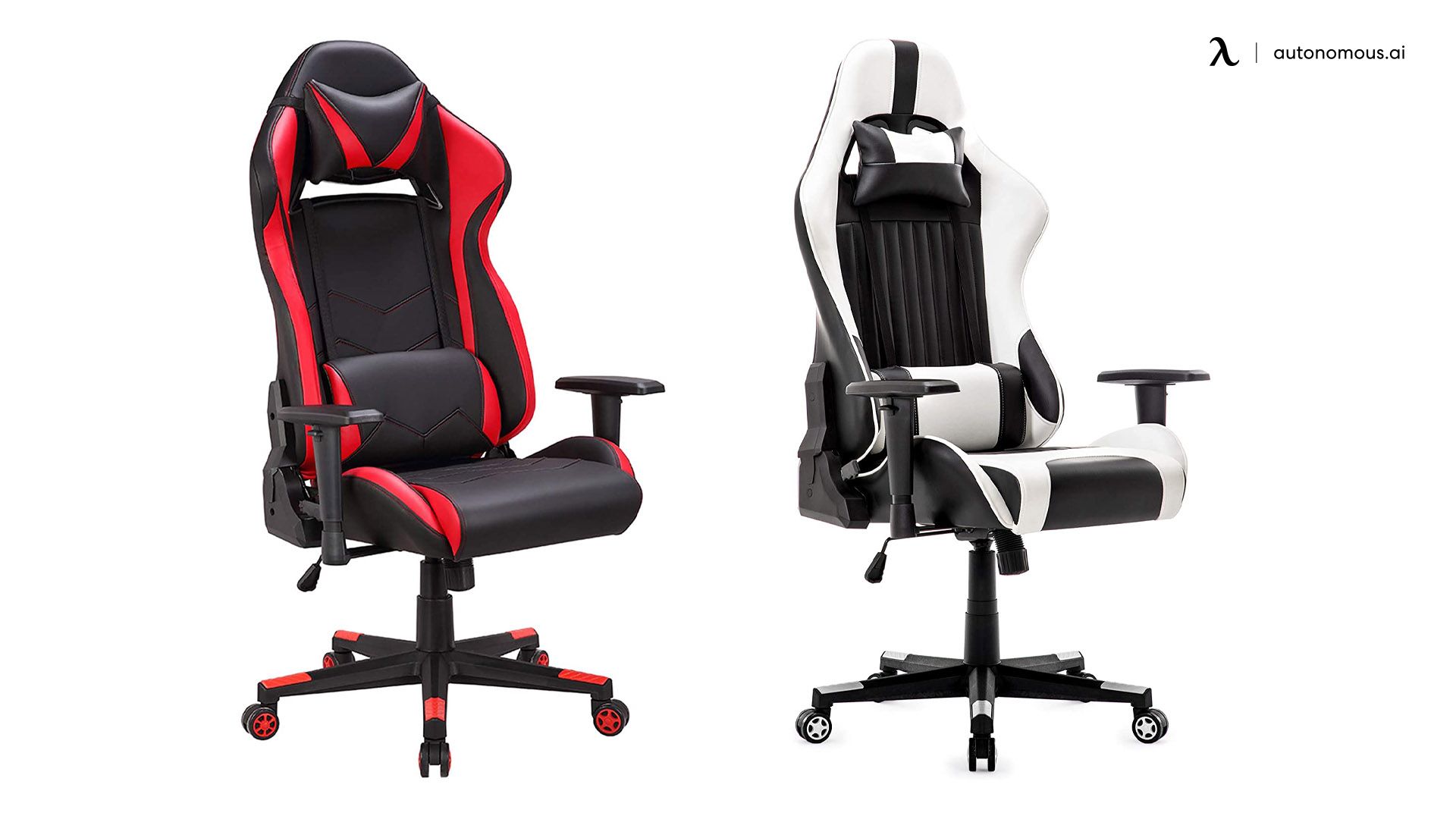 6. Herman Miller Aeron Chair
The Herman Miller Aeron clocks in at a much higher price point than the other two on the list, but that generally means it's of a higher quality.
The high back design is made from quality mesh materials, and the construction for the frame is very solid.
It comes with adjustable armrests to complement the lumbar support, too.
There is an optional headrest that you can get for the chair, but it costs more to add on, which is a little disappointing.
7. Hbada Office Chair
The Hbada high back ergonomic chair is another one that is very affordable, considering the quality.
It's a particularly sleek looking chair, especially when you get it in white. The ergonomic backrest is great, especially how comfy it fits over the lower spine.
It comes with armrests, which is always a big plus, and you can move them out of the way, too.
The back of the chair is made from a high-density mesh material, which is very breathable and perfect for a cramped little office.
8. MFavour Ergonomic Office Chair
If you've ever been a fan of gaming chairs, then this entry might interest you. It's not exactly a gaming chair, but its design is very similar.
It comes with armrests, although you can't adjust them, which is very annoying.
The lumbar support is one of the higher full back designs, offering support up your back through to your neck.
The tilt of the chair, as well as the height, is adjustable. All of this makes the mfavour a decent entry considering the affordable nature of it.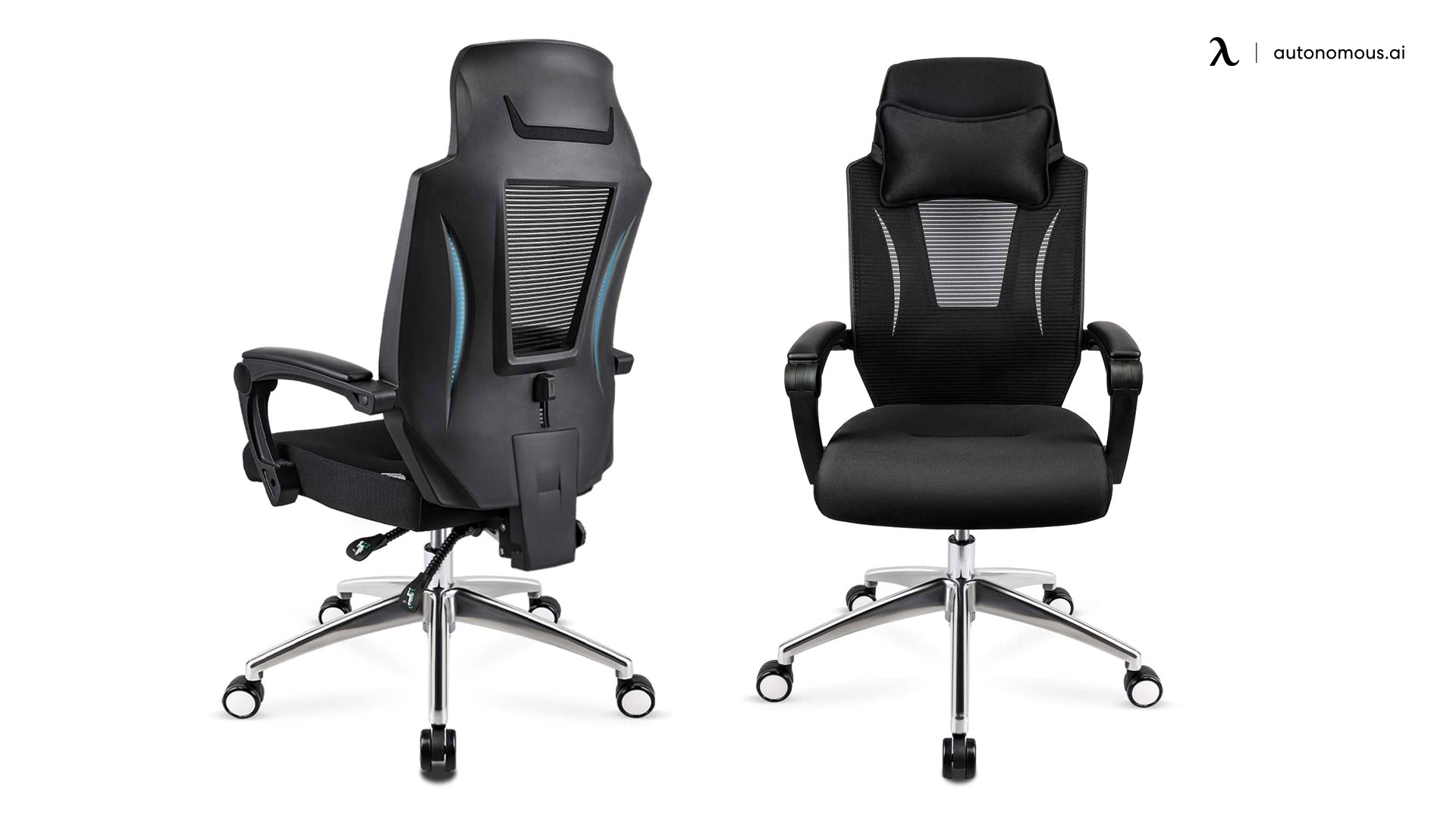 9. Mastery Mart
The Mastery Mart is a fairly basic high back ergonomic chair, but it does come with an adjustable headrest.
The armrests can be lowered, although you can't get rid of them altogether.
The back of the chair is made from a good quality mesh, with the lumbar support being adjusted with a wheel under the chair.
It isn't the prettiest looking office chair in the world, but it gets the job done.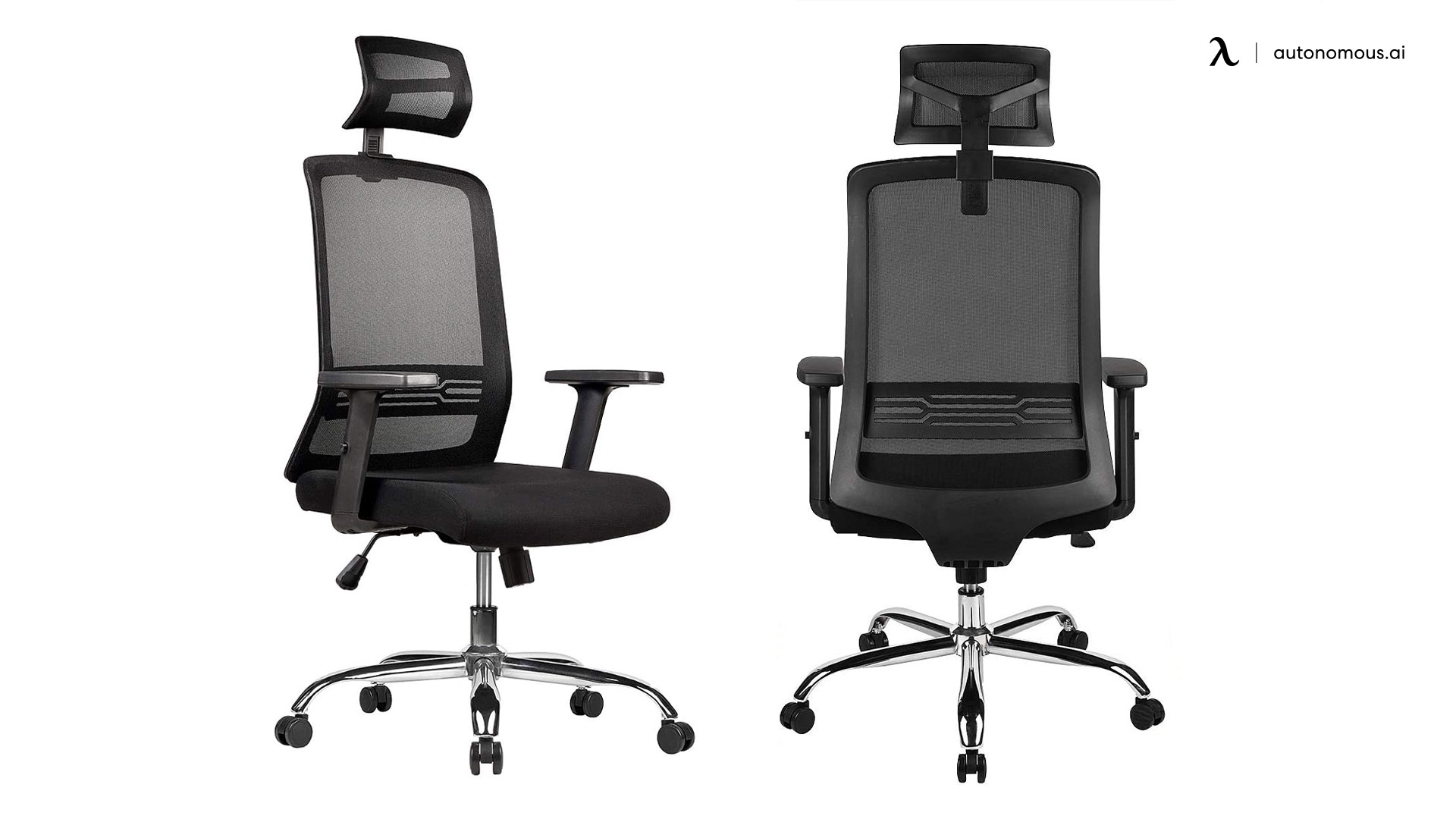 10. KLIM K300
The KLIM K300 has a unique, smart high back ergonomic chair design that looks surprisingly elegant in an office setting.
As an ergo high back office chair, though, it doesn't have much in the way of adjustability, but it does have some solid back and neck support for the price you're getting.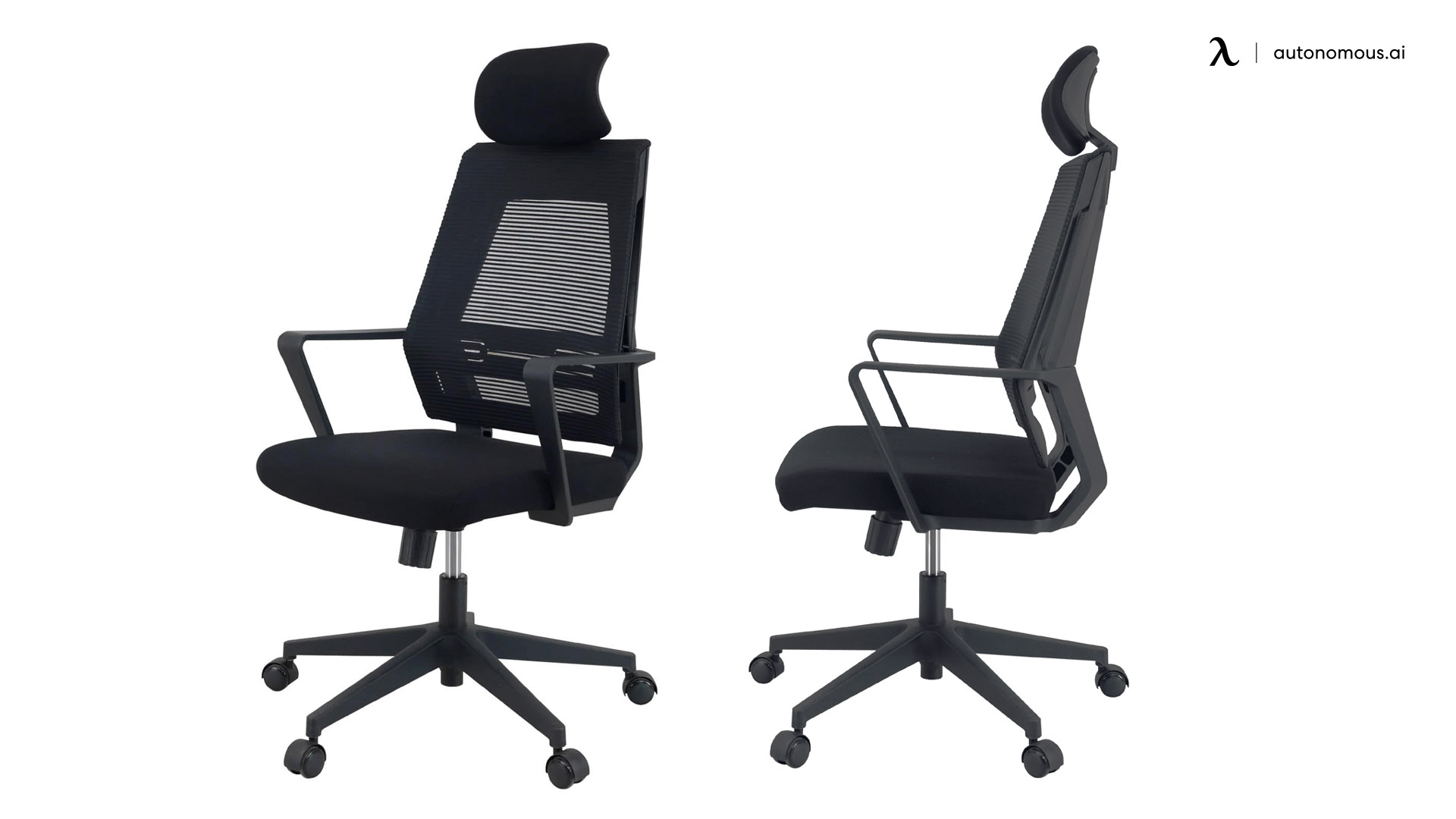 11. GTPLAYER Gaming Racing
This is an actual gaming chair. Surprisingly, oftentimes gaming chairs are far better than office chairs in terms of ergonomics.
The headrest is incorporated into the high back design, so it's not adjustable. However, you do get adjustable back tilt, height, and armrests.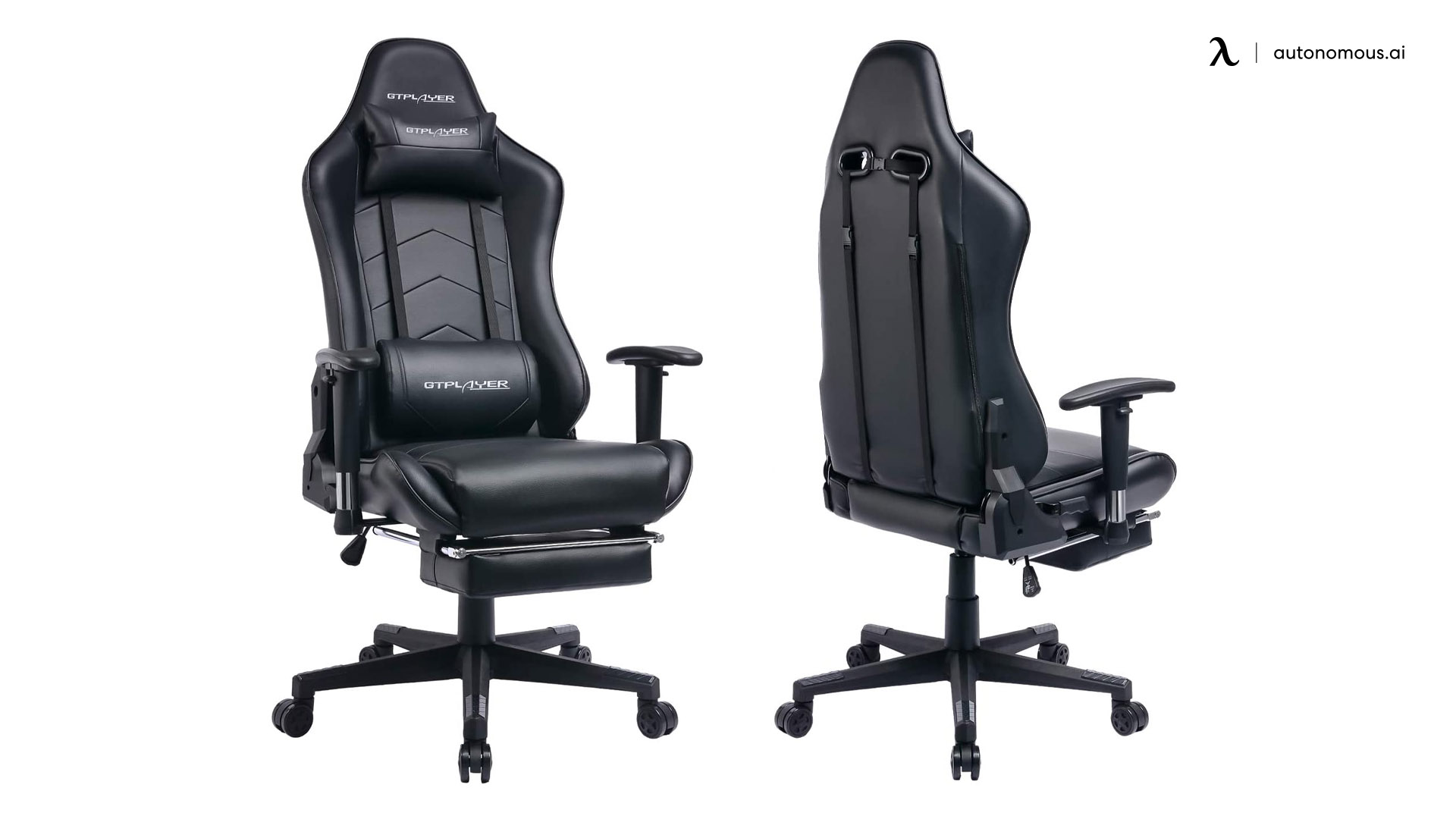 12. Panana Ergonomic Office Chair
The Panama is the most affordable high back office chair on the list by a mile, which is surprising given that it comes with an adjustable headrest.
As you might expect of a chair at this price, it's nothing to write on about. However, what you're getting for such a small investment is incredible.
The back of this high back office chair is made from a breathable mesh material, with nonadjustable armrests, but an adjustable tilt.
The lumbar support isn't adjustable, though, which is a bit disappointing.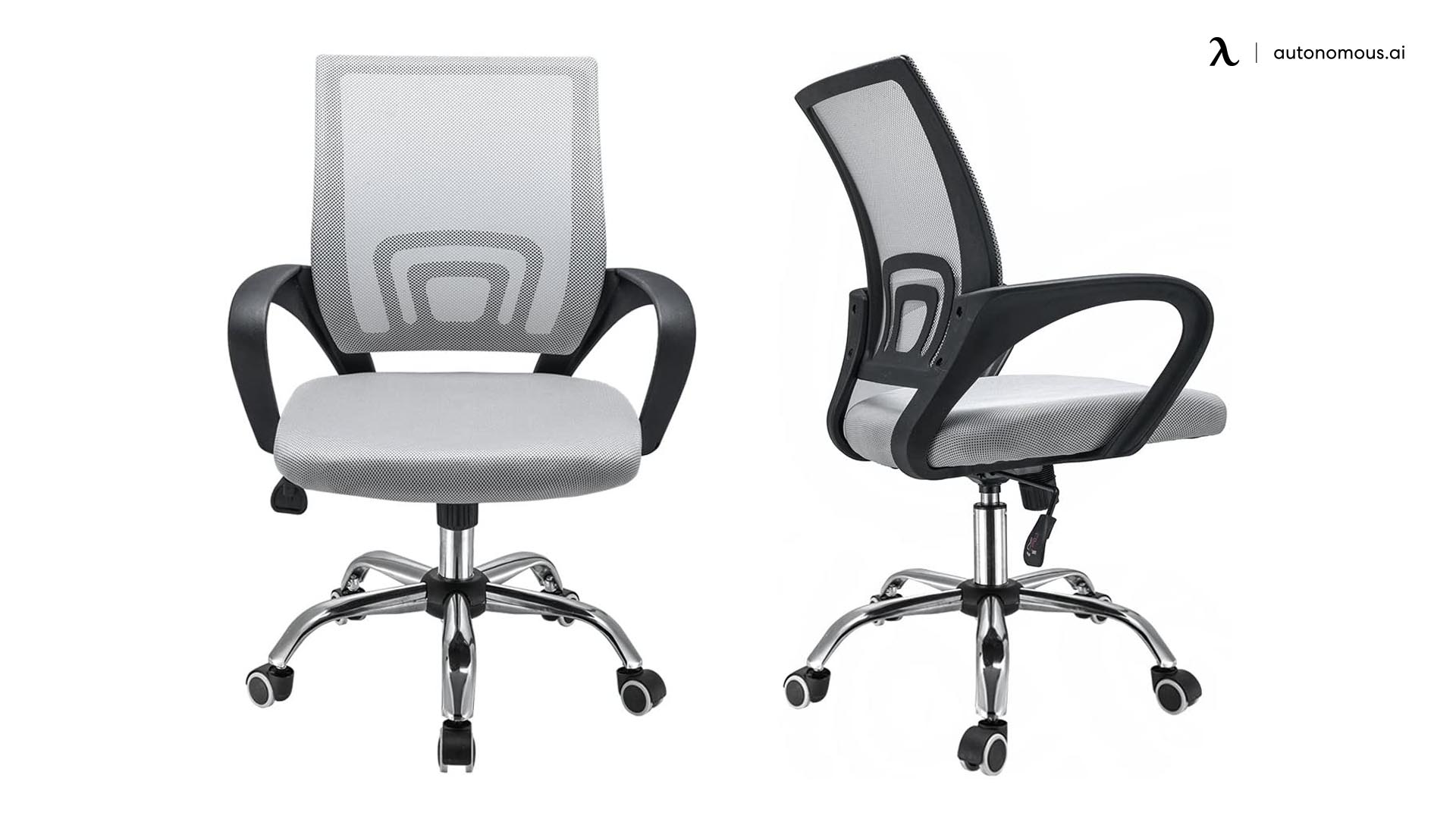 13. Vinsetto Office Chair
The Vinsetto has a very different look and feel to the rest of the chairs we've talked about. It wouldn't look too out of place in a modern living room, so if that isn't your thing, then skip ahead.
The back and the headrest are not adjustable or tiltable, but the ergonomic design of the high back means that it isn't a big problem.
It does have tension controls for the chair, though, and as a bonus, it comes with a massage cushion for your lower back.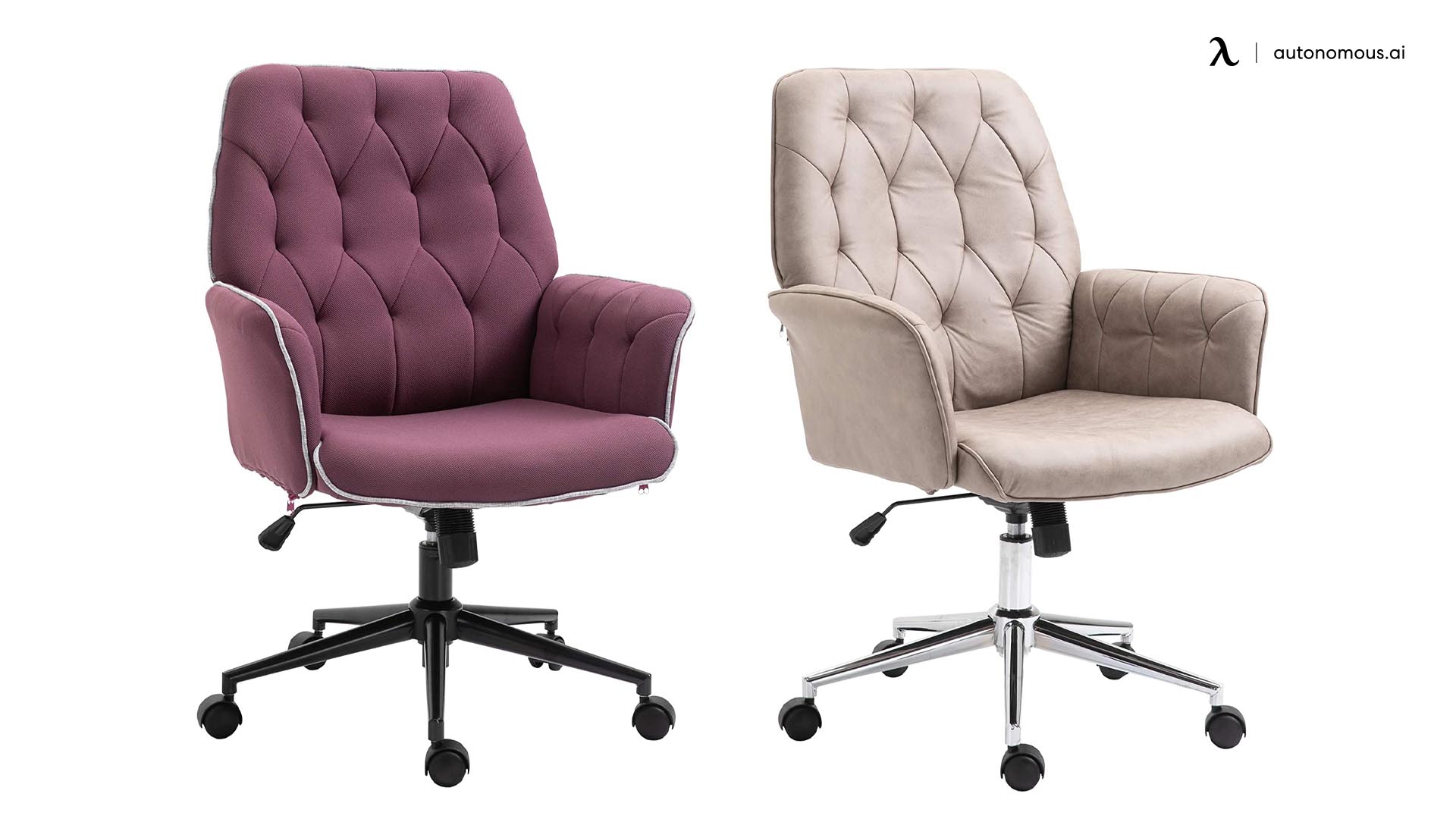 14. SONGMICS Executive
The SONGMICS Executive is a comfy, although not very breathable high back ergonomic chair.
It is made from thick foam, so you're not going to be getting as much support from this chair, but it is very comfortable.
Despite that, the back of the chair still has an ergonomic design, so there's nothing stopping you from opting for this chair.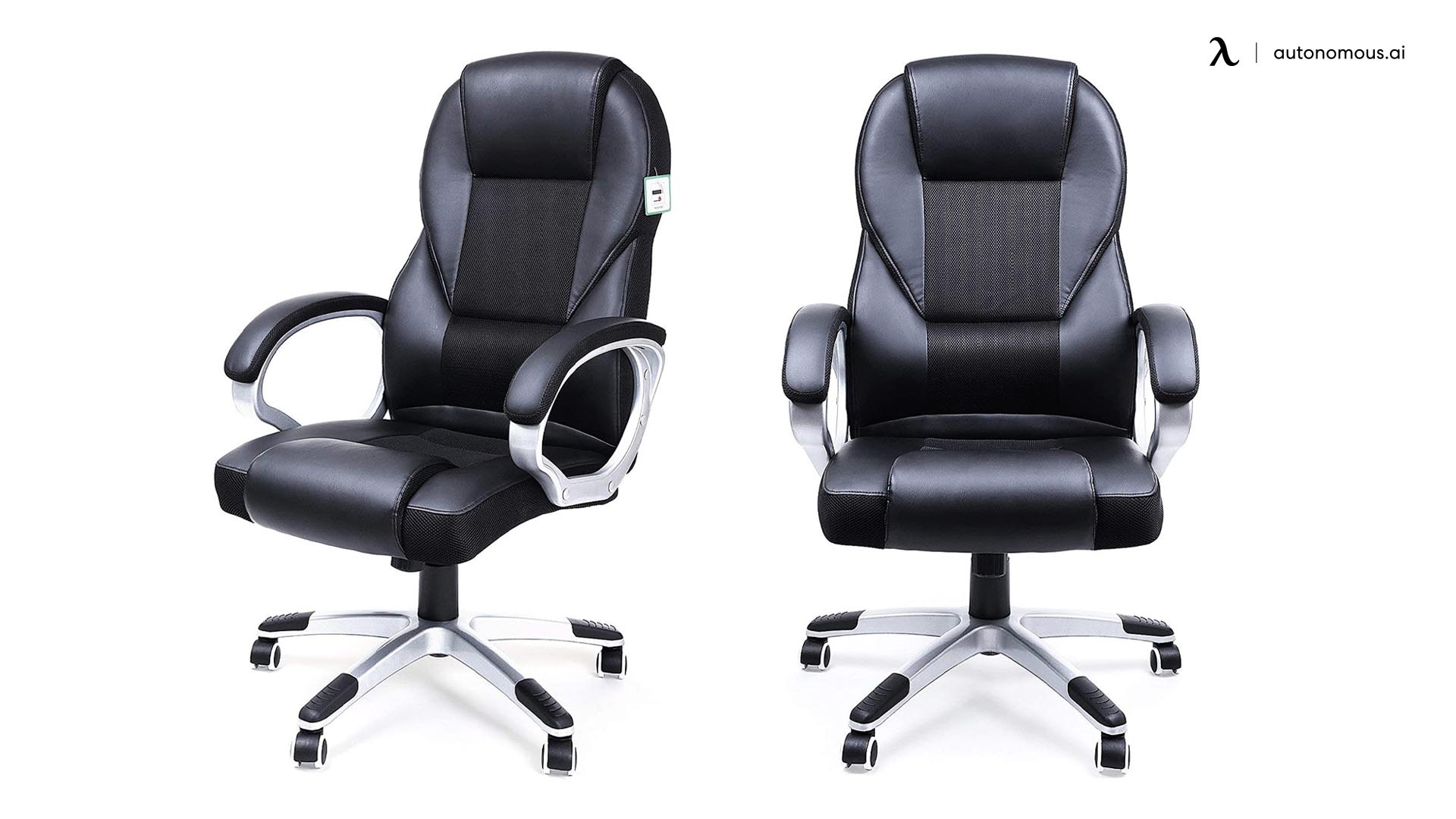 15. ACVCY Ergonomic Office Chair
This is one of the lowest-priced tall back office chairs on the list.
The high back ergonomic chair design itself is made from a nice, light mesh. However, the neck rest of the hair is made from a comfortable cushion material.
The lumbar support of the chair isn't adjustable, which is annoying, but the height and back tilt is.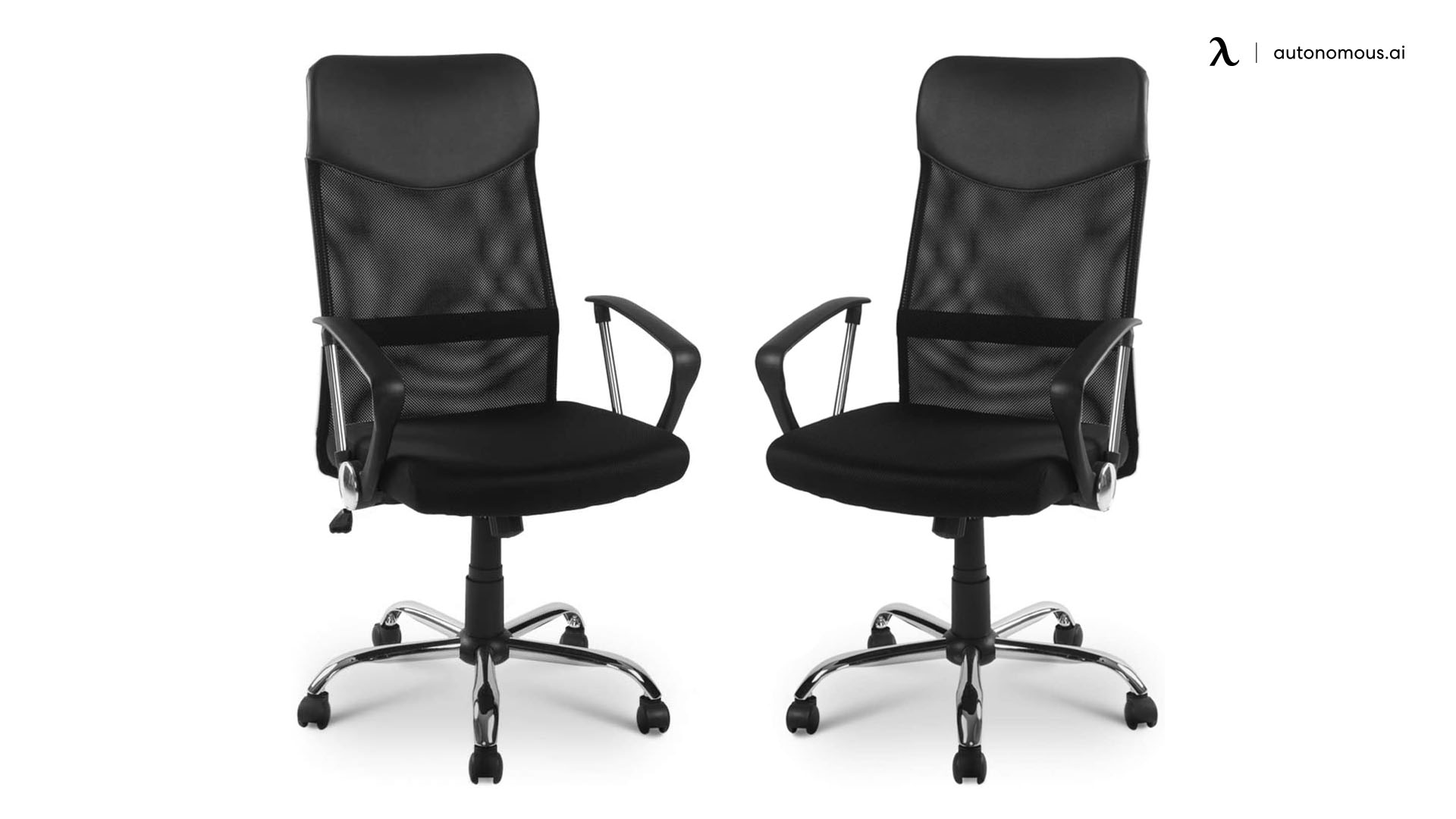 16. Cherry Tree Recliner
You read that right. This Cherry Tree chair brands itself as a recliner, and it's not hard to see why.
You really wouldn't bat an eye if you saw this decorating a living room. The gray, padded design of this high back executive office chair ensures that it nails the reclining factor, while also making this chair incredibly comfortable.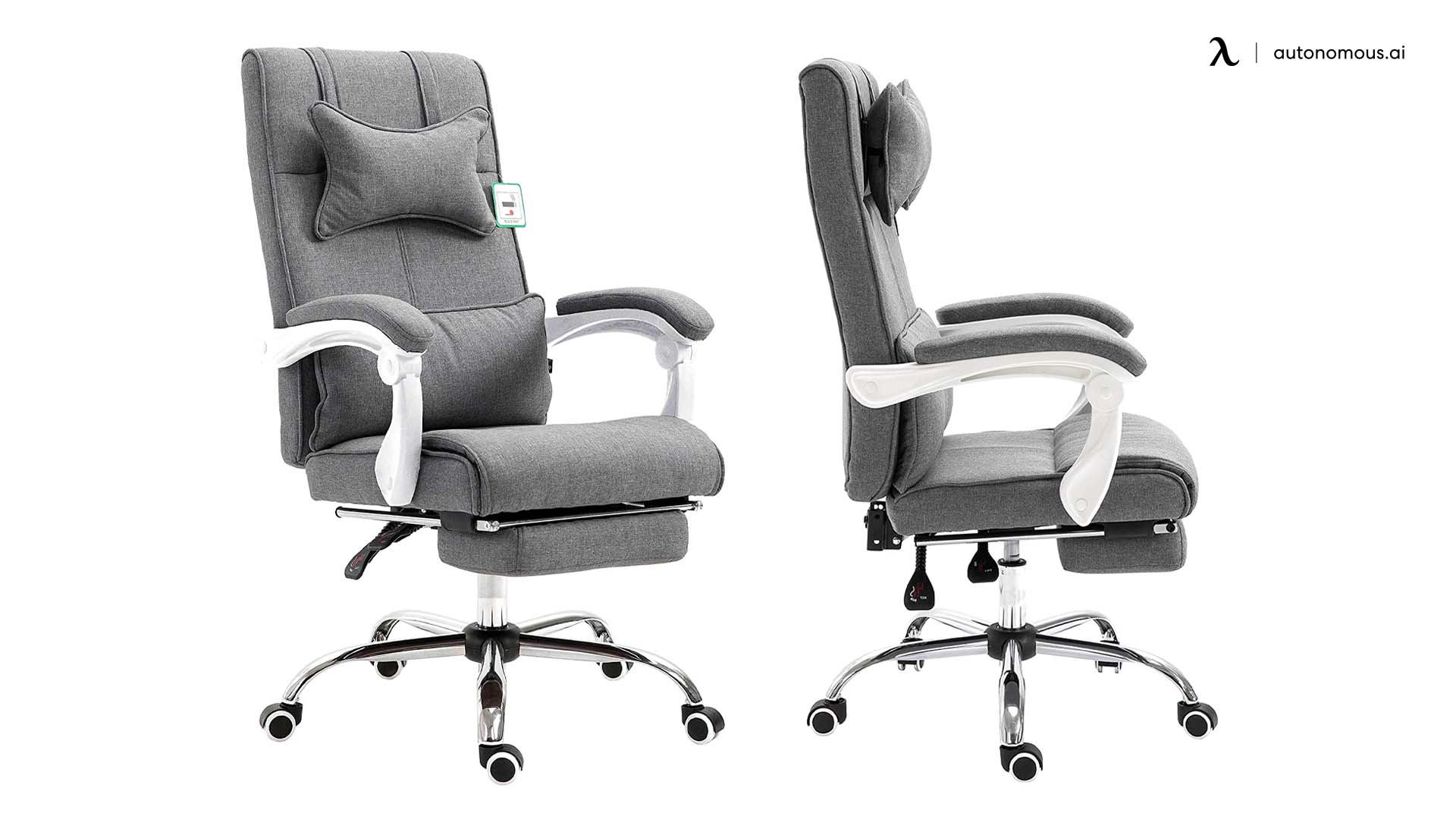 17. SONGMICS Office Chair
Yes, another SONGMICS high back office chair.
Like the previous one, this chair has some good features considering whereabouts it is in the price range of ergonomic chairs.
You have adjustable tension, height, and back tilt.
The neck support is a part of the chair, so you can't alter that. You can, however, move the armrests out of your way if you don't want them.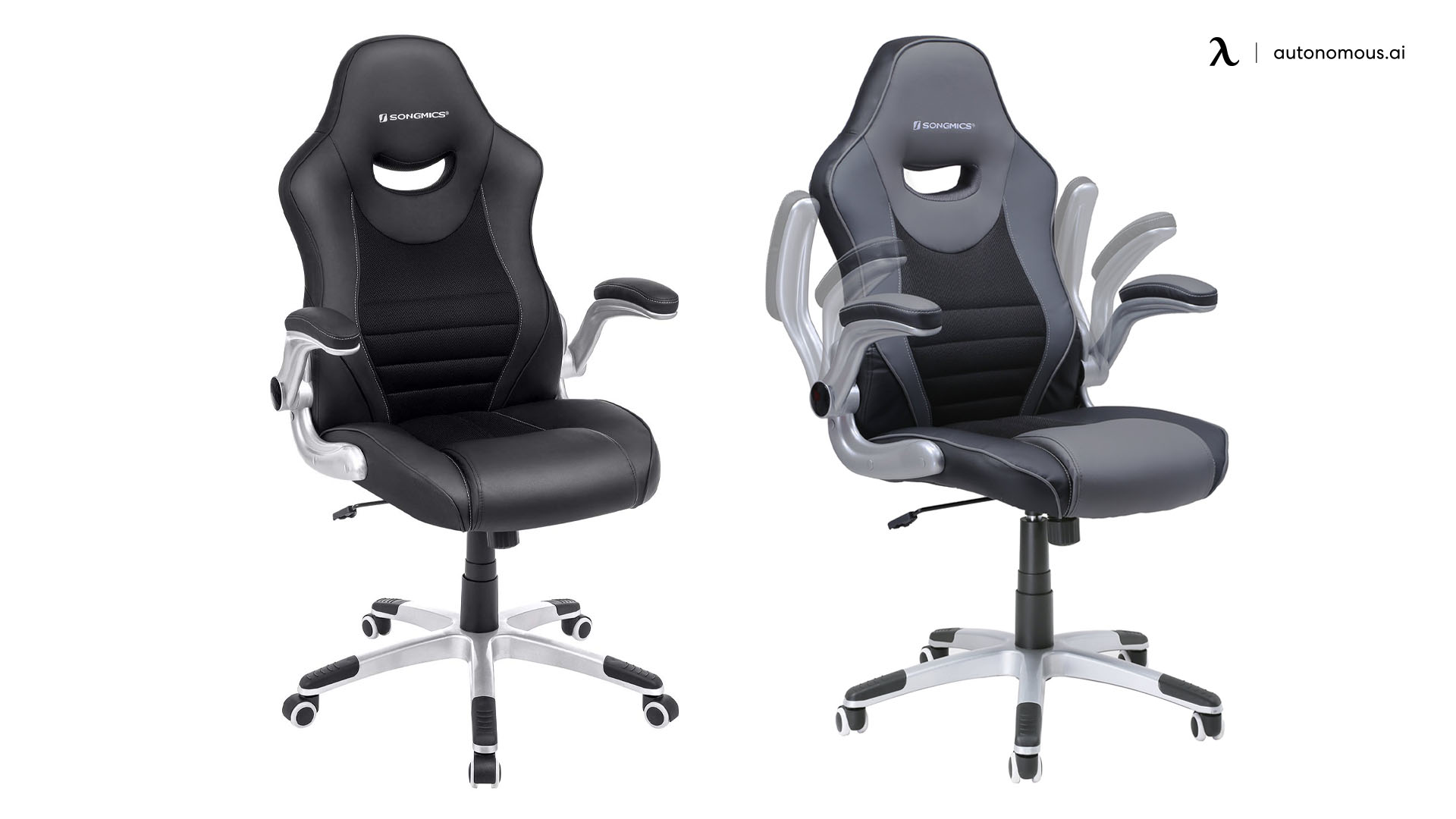 18. YAMASORO Ergonomic High Back
The YAMASORO looks like something you would expect to find in a spaceship, especially when you get it in white.
The unique design of this high back office chair mixed with how the designers have opted to color this chair makes it one of the most aesthetically pleasing on the list.
Practicality wise, the chair doesn't disappoint either. It comes with back tilt, a tension wheel, adjustable height, and armrests that can flip out of your way.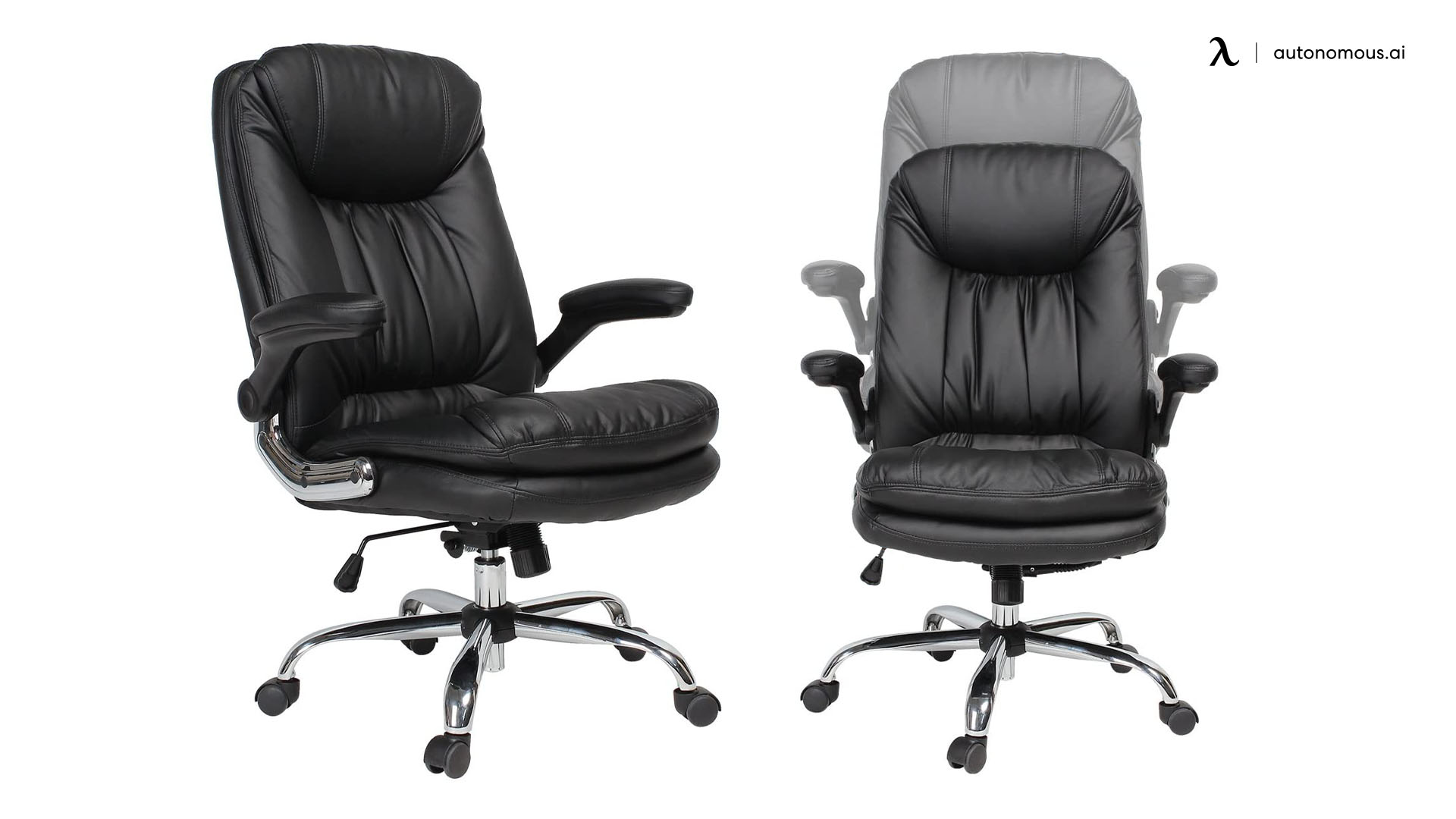 19. INTEY Ergonomic Office Chair
The INTEY is a solid all-rounder that isn't going to break the bank. It's a particularly heavy-duty chair with a strong mesh backrest and integrated neck support.
This chair comes with a surprising amount of customizability. The height of the lower back support and neck support is adjustable, as is the tension of the chair, the tilt, the armrests, and the height of the chair.
20. Cedric Ergonomic Adjustable Office Chair
The Cedric Ergonomic Chair is one of the better ones on our list for balancing price with quality.
It is ergonomic chair with adjustable armrests, and most notable, an adjustable headrest already installed on the chair.
The lumbar support on the chair has an adjustable handwheel, with the back being made from a high-quality mesh material for breathability.
The chair even has a bar at the back to hang your coat from, which is just a cherry on the top of what is already a great chair.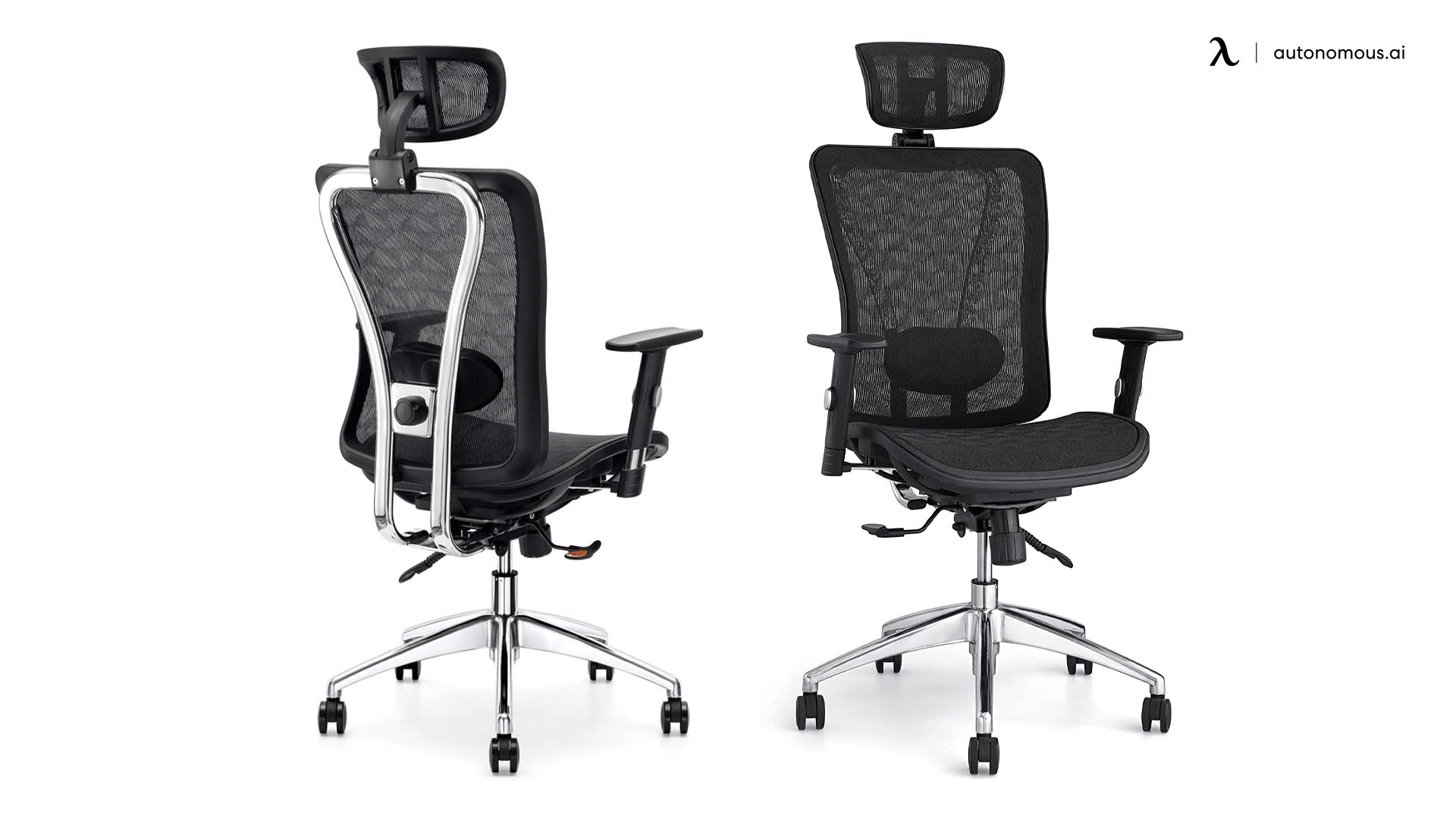 Pros and Cons of High Back Ergonomic Chairs
High Back Ergonomic Chairs
You get unrivaled full-body support.
You get better lumbar support systems.
It's comfier.
It's better for your posture.
High back chairs can be expensive.
It can be difficult to assemble your chair if you've never done it before.
High back chairs take up more space.
If the armrests aren't adjustable, the chair isn't going to fit into a lot of offices.
The Wrap Up
Opting to invest in an ergonomic chair, whether you're going for a high back or not, is a monumental decision, especially so if you're working from home now.
Without a proper high back office chair, you're going to find that your back and sides begin to hurt a lot more. If you ignore this and power through, you're going to be causing serious long-term harm to your body.
Being unable to stand for long periods of time, poor posture, and terrible lower back pains are only the beginning of your worries.
Spending just a little bit of extra cash on a good chair is going to save you from that world of hurt.
Even if you're concerned about the pain, a good sitting posture prevents you from destroying your posture. Getting a proper chair is worth it for that, alone.
We hope you've found our top 20 list helpful, especially suitable office chair for tall people. While we'd argue that the Autonomous chairs are leagues above the rest, there is a very wide market out there, so don't be afraid to do some shopping for yourself.
Get exclusive rewards
for your first Autonomous blog subscription.

WRITTEN BYAutonomous
We build office products to help you work smarter.
Coming at You Live from Autonomous' Social Media!
Please fill the information below.
Thank you!