Smart Products
Top 7 Common Problems with Buying Used Office Chairs

Autonomous
|
Oct 23, 2022
1,091 Views
Buying a second-hand ergonomic, high-quality office chair is a budget-friendly option. In fact, there is a wide market for pre-owned furniture nowadays, which includes items from top global brands. 
It makes sense to get a used ergonomic office chair when you see an advertisement that it's being sold for 50% of its original cost. 
However, many people still hesitate to choose old office furniture over brand-new ones. They are generally right in many cases. Purchasing second-hand office chairs might come with some risks, especially if it is your first time shopping in the pre-loved furniture market.       
What Should You Consider Before Buying a Used Office Chair?
Before you buy a used office chair, there are a few things you should be clear on: 
Create a list of the functions that you want your office furniture to have.

Compare prices of different models online or with your local dealer.

Try to check the chair in person to look for any defects.

Look at the return policy if you find any problem after buying the second hand office chair.

Check with the seller to see if the faulty parts have been replaced.

Even though you will save money with a used chair, you must set a budget. 
The 7 Common Problems with Used Office Chairs
1. Short Lifespan
You should think twice before purchasing a used office chair if you need a long-lasting product. An item's life cycle often gets shorter over time. It's a no-brainer that the chair might have lost some of its key features, like comfort and durability, after prolonged use. 
Remember that you will use the chair daily at work for a long time, so get it right. A preloved office chair that has been around for a very long time is something you should not purchase. 
You should always try to buy an ergonomic chair that is in good shape and will retain its features and functions for years to come.  
2. No Warranty
'No Warranty' may be the most significant problem and the main cause of why many people are still hesitant to purchase a used desk chair. 
A desk chair is mostly sold long after the warranty period from the original manufacturer has passed. Even if the product is made by a reputed company and has a long warranty that is still in effect, there is a chance that the seller lacks the essential documentation to let you contact the manufacturer directly if your old chair malfunctions.   
3. Missing or Unoriginal Parts
Office chairs are made with unique and special materials to ensure comfort and stability. A person might need to repair or change its parts if the chair develops problems. 
Finding the original materials to complete the repairs is difficult and costly. Therefore, many re-sellers choose to fix those chairs using non-original components before selling them to you. The non-original parts will compromise the chair's quality and its capacity to support your body.
You might not be able to tell if the parts are unoriginal initially, but you will see it when you use second-hand office chairs. 
Additionally, some sellers could offer you the chair without all the parts in exchange for a price reduction, but don't fall for it unless you want to fall off the chair. 
4. Breakage and Defects
A used computer chair usually has minor things that don't function as they should. The more a chair is used, the more common this becomes. Office chairs will eventually begin to deteriorate.
Perhaps the seat foam has decompressed and has reached its lowest point. Maybe the backrest's locking mechanism has broken, or perhaps the armrests no longer adjust in four different directions as they were intended to.  
When it comes to a piece of furniture that is used so frequently, like an office chair, there are several potential problems. Although the item may be described as in perfect condition by the seller, it could still arrive with malfunctioning parts. 
Try to see second hand office chairs in person to see their original condition. This is the best technique to find imperfections or problems in a chair. However, remember that there may still be issues that are only apparent once you start using the chair frequently. 
5. It Might Not Be Affordable
You might believe that purchasing a used office chair will save you money, but if you do the math correctly, maybe it won't. Most people choose used office chairs because they can't afford the price of a new one. 
However, you shouldn't simply concentrate on the used office chair's initial cost. You won't be able to use an old office chair for as long as a new one; you'll probably need to replace it soon. It's better to learn to put value before cost when making a financial decision. 
6. Unclean Upholstery
Purchasing a used computer chair is kind of a gamble in terms of how well the upholstery will hold up. You cannot know who sat in the chair or how frequently. Possibly, the person used the chair to eat, and as a result, something may have spilled on it. There is also a possibility of bad odor from the chair. It is best to have the chair cleaned professionally before using it. 
7. Limited Design Choice
If you want to match your office chairs with your brand's aesthetic, then second hand office chairs won't meet your needs. 
You don't get different designs, styles, colors, or configuration choices in the used office chair market. Since the chairs are from different places and countries, it will be challenging for you to find comparable models and designs if you're purchasing them in bulk. 
Therefore, if possible, buy new office chairs rather than reusing old ones if you don't want to give the impression that your workplace is low budget. Consider purchasing from reputable retailers who recycle chairs into high-quality furnishings like new office chairs. 
Get a New Office Chair for Your Workspace: Top 10 Options
1. ErgoChair Pro
Autonomous launched the ErgoChair Pro about five years ago as an affordable office chair with a headrest. Every part of this chair is designed to improve mobility and reduce pain. It features 22° of recline and adjustable tension with five key positions that are lockable, which are made to support your lumbar area and maintain the stability of your spine. 
Additionally, it is covered in a breathable woven mesh for mild resistance that helps to improve posture. 
You can stretch out and recline the chair without straining your legs, thighs, or lower back because the back and seat move in unison at an ergonomic 2:1 ratio. End the day at your office with the same energy level you had at the beginning with this ergonomic chair. 
2. ErgoChair Core
The ErgoChair Core is more comfortable than your couch. With this lumbar support office chair, you can always get excellent, tailored back support. It has only two levers, making it easy to adjust support for any posture. This chair makes it simple to move around because your body needs movement. 
It is gently curved to assist your spine's natural curvature. You can maintain good posture, whether you're sitting straight in a focused state or leaning back to come up with ideas for your next project while using this chair. It is the best office chair for long hours of sitting work. 
3. ErgoChair Plus
ErgoChair Plus is one of the most dynamic office chairs that is engineered for people who want to move around in their chairs. You can twist around, lean back, or stretch to the side. There is no edge to trip over in this computer ergonomic chair. The entire back of the chair dynamically adapts to your posture. 
It has responsive webbing that is denser in the lumbar region to provide the right amount of flex to accommodate the specific contours of your spine. With 11 simple lockable positions, you can effortlessly adjust the tension over 26° of reclining to your preference. Other office chairs prescribe the ideal posture. The ErgoChair Plus allows you to discover your own! 
4. ErgoChair Recline
Overall, the ErgoChair Recline provides true head-to-toe comfort with a movable headrest and an extendable leg rest. This reclining ergonomic chair is great for the spine as it responds to your body weight and keeps the spine stable. The back is subtly arched to provide adjustable lumbar support. 
It has a breathable mesh back that is weaved for strength and designed for maximum airflow. The chair's back stretches a little to encourage movement and conforms to your body to distribute pressure and weight evenly. 
5. AvoChair
Here, the AvoChair is an ergonomic office chair that is stylish and practical. It has simple, flowing lines meticulously designed with health in mind and inspired by nature. This chair mixes man-made and natural elements to create a contemporary sitting option that encourages good posture. It is the best ergonomic chair with an airy elastomeric mesh back that provides ample relaxation. 
The idea behind its design was to eliminate sharp edges, leading to a soft waterfall-style roll-off at the front and elliptical arm pads. AvoChair's minimal design integrates a sophisticated mechanism into the base's robust diecast aluminum alloy construction. You can lock in your preferences to discover the ideal seat height, arm position, and reclining tension. 
6. KERDOM Ergonomic Chair: Breathable Mesh Cushion
This KERDOM Ergonomic Chair is your fun chair on wheels. Its casters are constructed of sturdy polyurethane chair wheels, industrial-grade steel, and accurate ball bearings that won't damage, discolor, or scrape your floor. You can glide safely and carefree even on the carpet. 
The eco-friendly office chair offers correct lumbar support and four support points for the head, back, bottom, and hands. All your needs will be accommodated since the seat height, headrest, and backrest are easily adjustable. You can arbitrarily adjust the angle between 90 and 130 degrees to satisfy diverse requirements. 
7. Northread Conference Ergonomic Chairs
This chair has a mid-back design and a reinforced framework mesh back support that offers you more comfort as you work. The translucent, permeable mesh on the back of this ergonomic mesh office chair allows air to circulate, keeping you cool. Its built-in lumbar support enhances the posture and helps avoid back strain and muscle fatigue. 
You can lean on the chair to re-energize when you're tired from sitting, so you'll have more energy to handle your hectic schedule.  
8. Logicfox Ergonomic Office Chair: Saddle-shaped Mesh Seat
The Logifox ergonomic office chair has a solid and durable backrest frame with an elastic adjustment, allowing you to lean comfortably. With three locking configurations and a 40° seat tilt range, the recliner gives your body a nice adjustment. The ergonomic saddle-shaped seat cushion reduces leg pressure during extended sitting periods. 
Its 3D armrests include a 35° rotation adjustment in addition to up-and-down, front-and-rear, and other adjustments. The multi-functional adjustable soft PU armrests are cozy and relieve pressure on your shoulders.
9. KERDOM Office Chair: Waterfall Seat Edge
Finally, the KERDOM office chair has an ergonomic backrest that relieves pressure on the back by conforming to the lower back's natural curve. It has a flexible, supportive, and breathable high-density mesh back with a thick, padded seat cushion. 
10. Steelcase Leap Chair
This office chair's seat has good padding, and many users find it to be comfortable. The seat is smooth and free of any edges that would restrict mobility. Your back will receive excellent support from the backrest. The Leap's excellent back support offers a dual adjustment lumbar support mechanism and a natural S curve for your back. 
Conclusion
It could be difficult to decide between a new and a used office chair. However, you can enjoy all the advantages of used office chairs and avoid any potential drawbacks if you thoroughly examine them. You can get the cheapest ergonomic chair for your office if you know what you need and expect from your office furniture.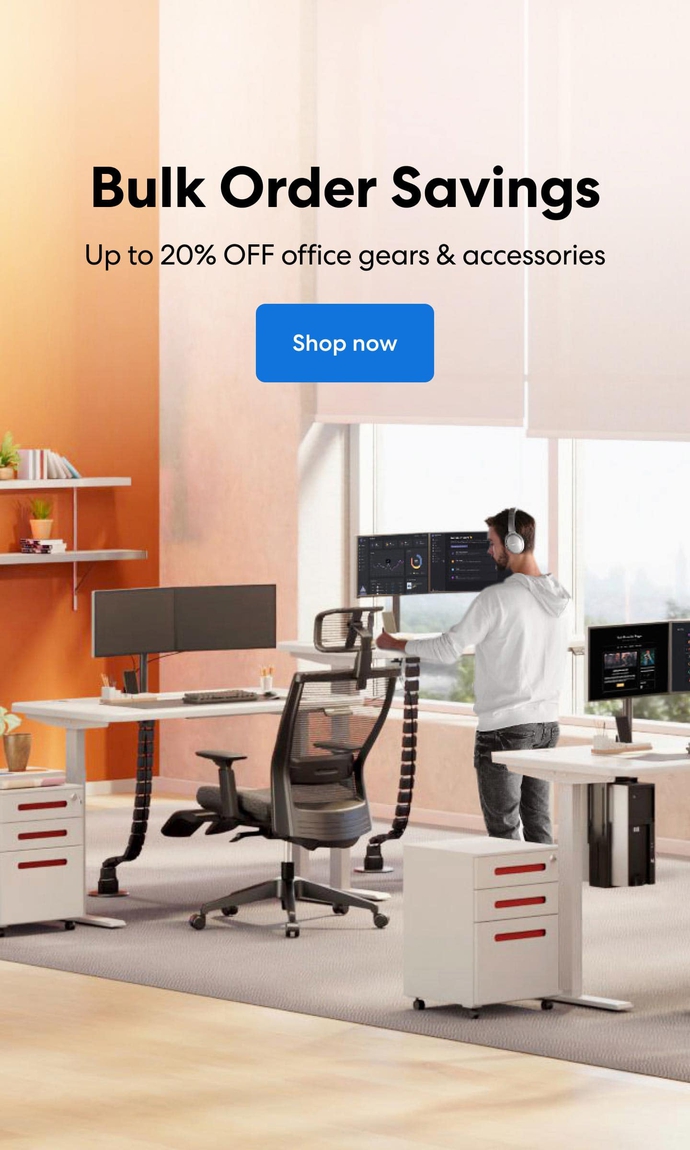 Subcribe newsletter and get $100 OFF.
Receive product updates, special offers, ergo tips, and inspiration form our team.