Workplace Inspiration
Top Bedroom Layout Ideas with Desk for Any Space

Autonomous
|
Jan 28, 2022
2,237 Views
Getting up, getting dressed (or not), making coffee and heading to your desk to start your day. Doesn't that sound wonderful? Working from home indeed has its perks: no commute, fewer interruptions, and more control over your workspace, just to name a few. However, it also forces you to make deliberate decisions about the most efficient way to work and how your workspace can assist with these bedroom layout ideas with desk.
When planning or setting up your bedroom arrangement with a desk, here are some things to keep in mind.
List of a Bedroom with Desk Layout Concepts
Your desk
Ensure that your desk faces outwards in your small bedroom with a desk layout. It would help to face your Pillar desk toward a window or wall.  
Trestle tables suit wide spaces well, but they do not provide the same storage as most other desks. However, you won't need much storage on your home standing desk if most of your work and documents are online.
Your chair
Chairs need to be set up correctly with your desk placement in the bedroom. Sitting in the right chair while working can make a big difference to your health and comfort. The chair's aesthetics in your home office bedroom setup is more important if you won't be using it very often. It doesn't matter what kind of chair you choose; you will need one that's supportive and comfortable, preferably one that's ergonomically designed.
Location
Distinguish the areas. Work and relaxation areas should be separated – it's easier to follow the Feng Shui office layout to get this part right. It is easy to separate your desk from your bed if you have room. In addition to creating a distinction between work and play, there are other strategies you can use. It depends on what works best for your cozy home office, but you can avoid checking email after hours and keep a regular start and finish time.
Separating work and sleep areas using a curtain or screen is also an effective method. Close the curtain when you're done with your work as a signal that the day is over. Using plumbing anchors, the center of this space attached a long copper pole to the floor and ceiling, attached an Ikea curtain wire and then hung some curtains.
Other furniture
Furniture that can serve multiple purposes should be considered. A small home office desk can make an excellent bedside table if you're working with limited space. However, in terms of combining two parts of your life, this is potentially risky. When you're done working, shut down your laptop or turn off your computer, and remove all papers and work-related items until you're ready to use them again.
Closet space for storage
Here is one of the important bedroom layout ideas with desk for you. A closet where you can shut your desk and computer when you're done is a great idea. In addition to the ease of closing the door when you are done working, there will also be no visual impact on the rest of the bedroom from the office.
Documents, stationery, and other work-related supplies are dependent on the type of work you do. In the hope of being as minimalist as possible, you could scan all your important documents to your computer and get rid of the originals (after backing them up). If paperwork is inevitable, keep everything organized and accessible by combining shelves and file storage.
Décor
You cannot miss decoration in your bedroom layout ideas with desk. Decorate with a theme. Though you may want to separate the two areas, the fact remains that your workspace may impact the feel and appearance of your bedroom. If you choose an ergonomic desk and chair that do not contrast too heavily with the rest of the room, you will help the room feel more cohesive.
It would help if you could create a sense of harmony with your aesthetic while also maintaining some separation between work and rest to keep your sanity! Having art above the desk or a carefully chosen ornament that ties in colors from the rest of the room will help to unify the room's flow. This will also boost your work environment's vibrancy and inspire you.
Add a glass tray and fake flowers to your nightstand to transform into something deceptively sophisticated. You can turn the attention from your unkempt laundry to your well-crafted arrangements by using an upscale setup.
Try a Murphy Bed
A Murphy bed is suitable for various small spaces and various purposes, but it is most suitable for an office in the bedroom. As a result of the bed being inserted into the wall, the space feels more like an office than a common room. Avoid working on your laptop while lying in bed by putting the bed away.
The bed level can be adjusted. A sunken bed like the one shown here looks super cool and is an important way to separate work and rest areas. Beds that are not level with desks make rooms feel more spacious.
Lighting
Add additional fixtures for added brightness or have adequate lighting. There is nothing more demoralizing than working in a dark or fluorescent-lit environment. Proper lighting is essential to your vision, productivity, and self-esteem. In your bedroom, place your desk near a window where you can enjoy beautiful natural light.
If there is a glare from the window, you can partially open the blinds. If there is no window, choose overhead lights or desk lamps that are bright but not too bright. Your computer screen should be free from the glare caused by lighting. One way to prevent glare is to use task lighting behind the screen.
Multipurpose your workstation
Take into consideration how others will use the space. How many other people will be using the workspace? If this is the case, you should configure it exclusively according to your preferences and needs. However, if you are sharing the workspace with a friend or partner, your needs must also be considered.
Make sure the workspace won't be too cramped if you're using it with someone else. It is best to separate the two chairs and areas as much as possible if there is adequate space. Discuss how you can keep each other from getting distracted or annoyed while working.
Conclusion
Hope this article is useful for you. It's everyone's dream to have a separate office than a bedroom-office combination. However, if it isn't possible, a bedroom workspace can be a good desk in bedroom layout option. Planning is necessary to make the workplace as productive as possible. Let's start now!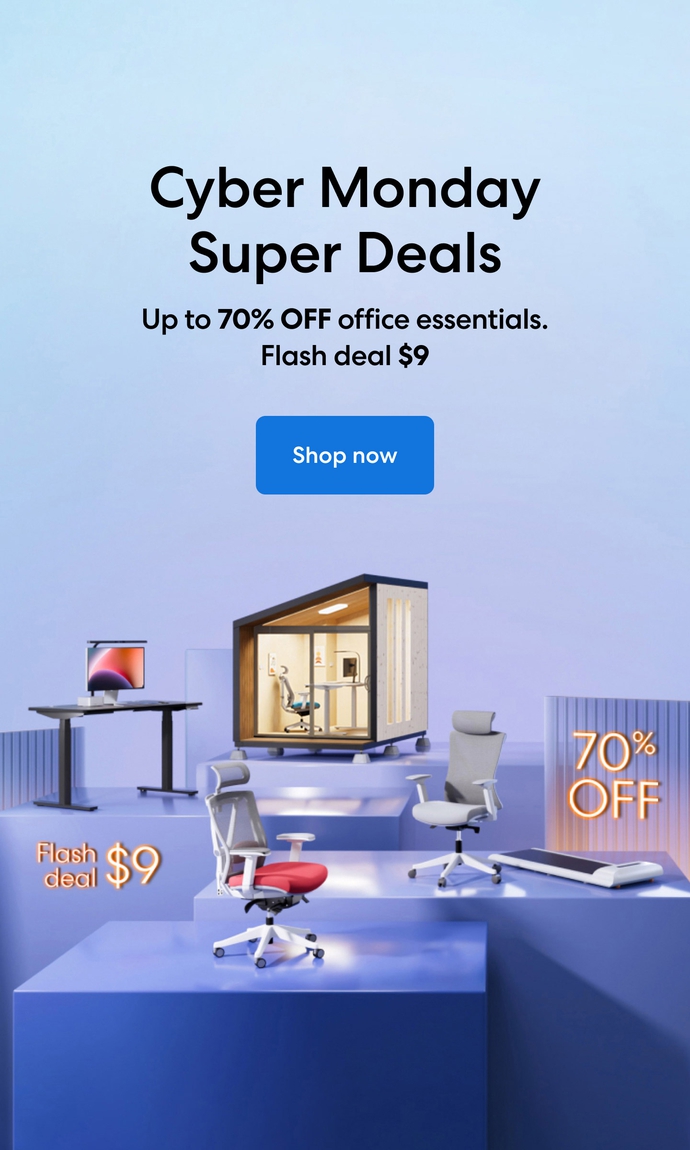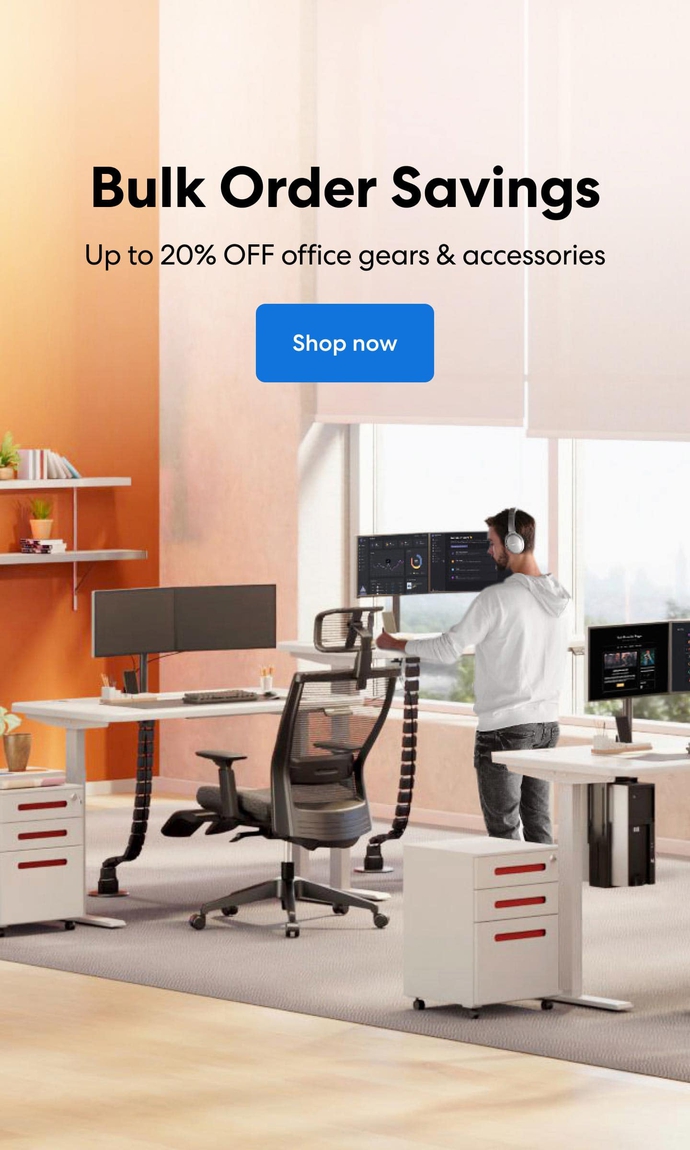 Subcribe newsletter and get $100 OFF.
Receive product updates, special offers, ergo tips, and inspiration form our team.