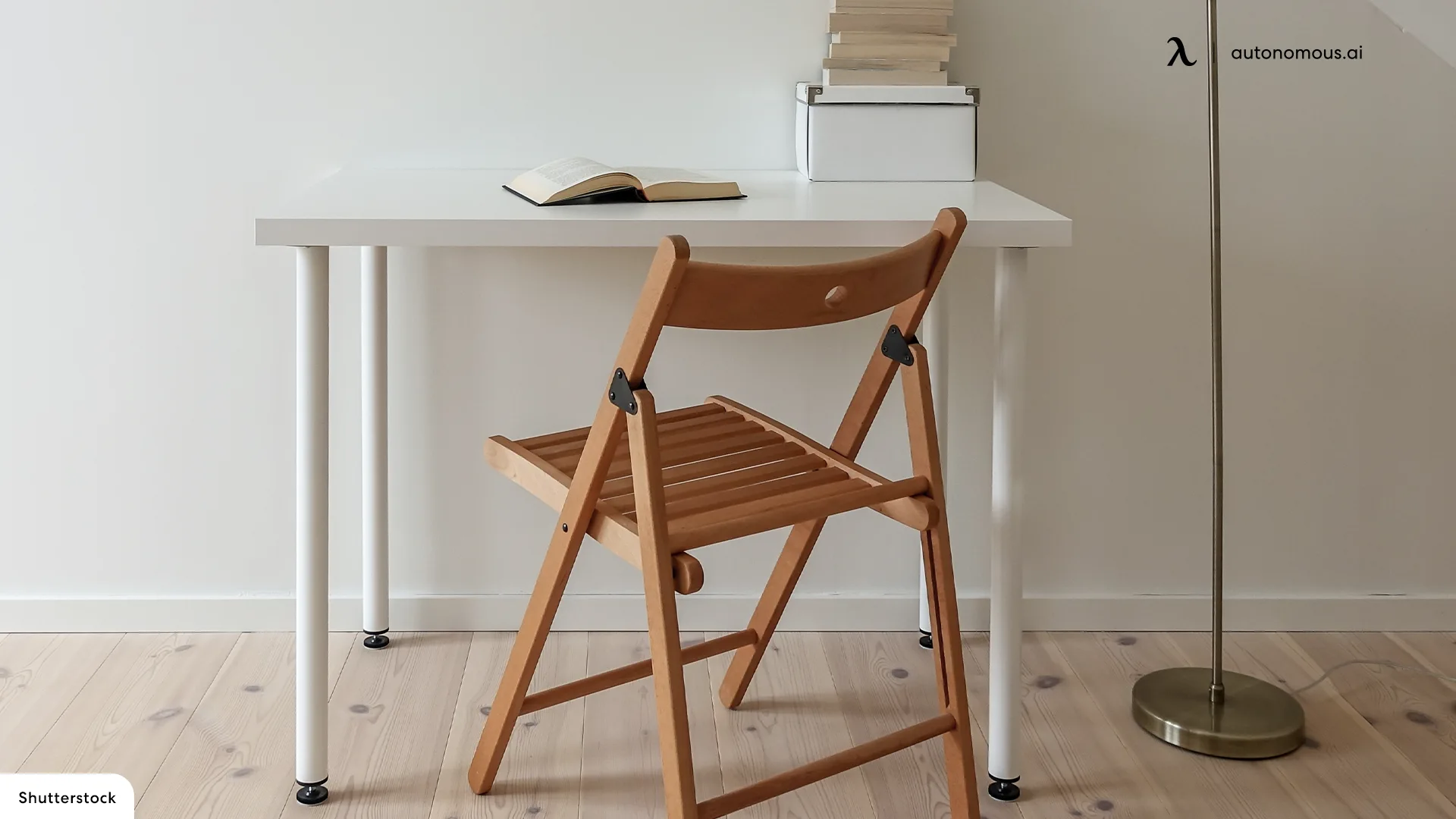 Smart Products
Top Reviews: Foldable Back Office Chairs 2022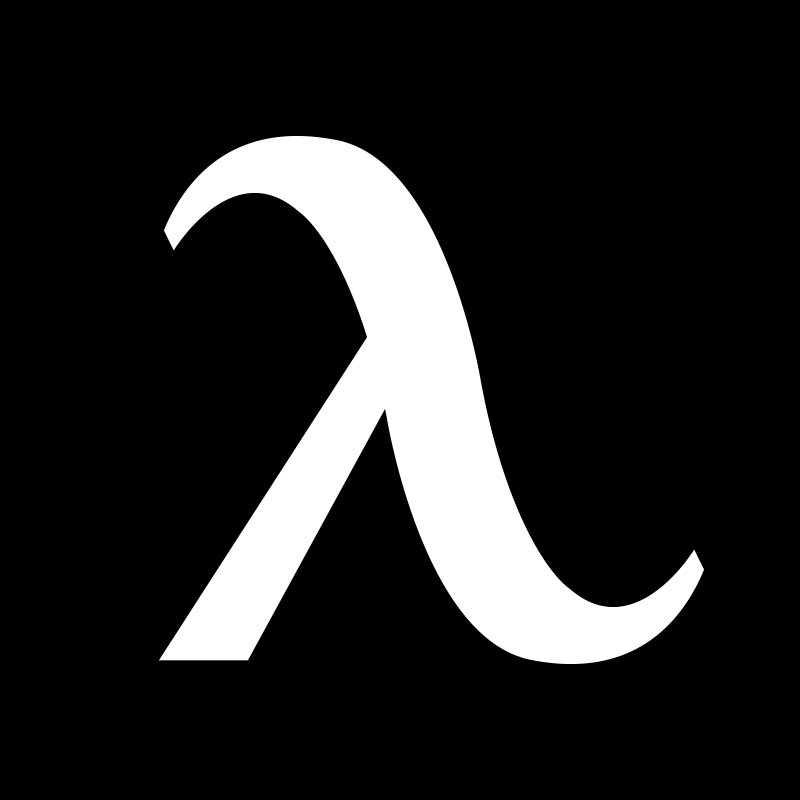 Autonomous
 | 
May 2, 2022
WFH means back pain, neck pain, and shoulder pain. Many people have been struggling with remote working these past few months, so you are certainly not alone. As we began the quarantine process in March, consumers began shopping for all types of ergonomic office foldable back office chairs.
Our conventional wisdom states that "a good chair is worth giving up some apartment space for" since sitting in an ordinary chair for an extended time will cause many health problems. An oversized office chair will not work if you have a small space.
Despite the availability of several affordable alternatives, finding a folding office chair with back support is more challenging. Here are some other ergonomic products we found online to make your current seating more comfortable.
Pros and Cons of Foldable Back Office Chairs
Pros of Foldable Back Office Chairs
Space-saving
Fits into any space
Options, and colors available
Affordable
Cons of Foldable Back Office Chairs
Lighter frame with weight limitations
May not have all the ergonomic features
Might not be fully adjustable
Might not feature a longer warranty
Listing & Reviewing
1. Autonomous ErgoStool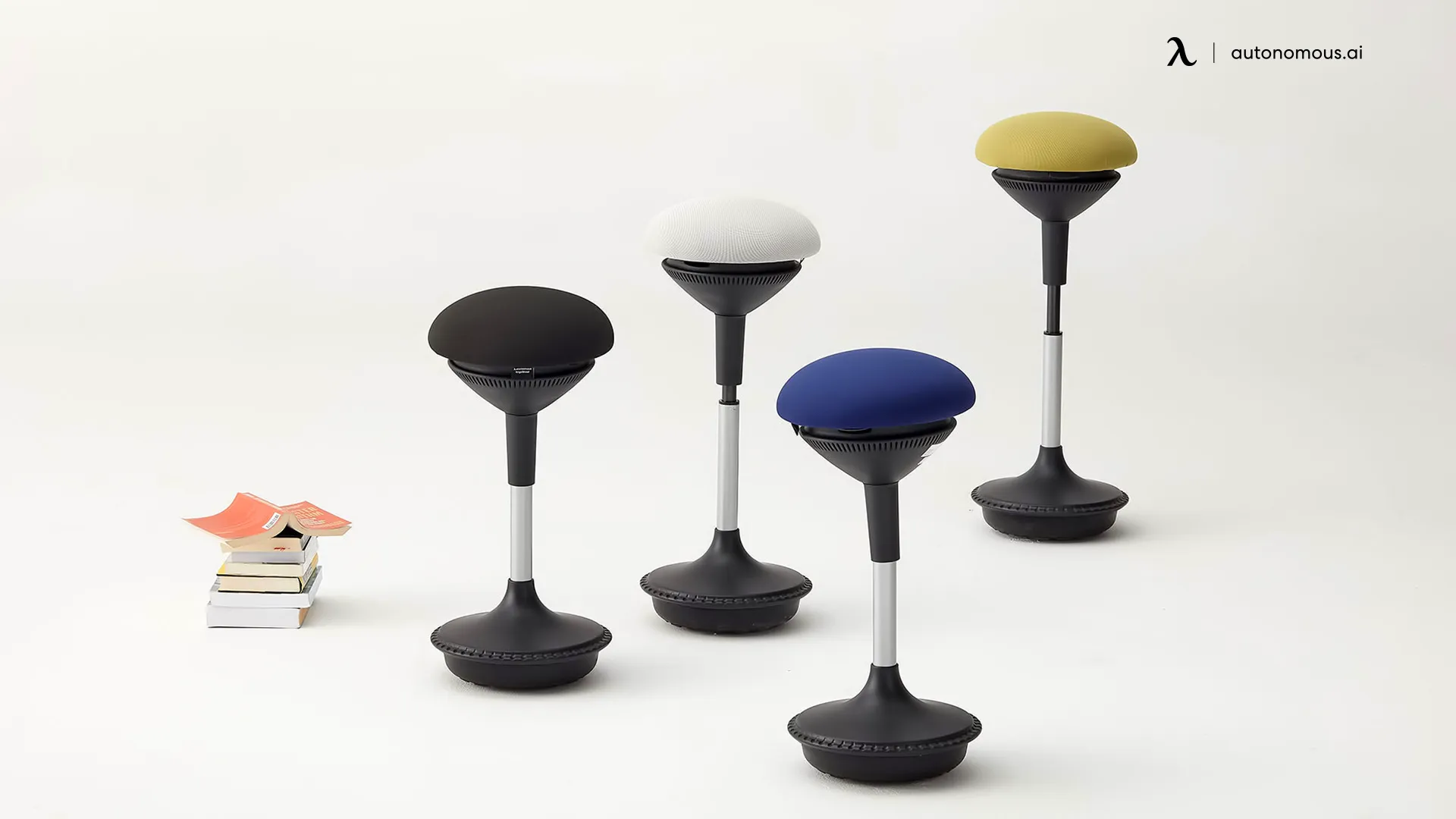 Despite not being an eco-friendly office chair, an ergonomic stool is one of the most comfortable office chair options for a small space. Besides being easier to store, stools also encourage active sitting, which can help you maintain good posture and strengthen your back and core. There are 10 inches of height adjustment available to customize it for your body type and desk setup.
2. FreeFlex Deluxe Breathable ProGrid Back chair from Office Star
It might not be easy to locate an ergonomic folding back desk chair that combines many features: adjustable armrests, adjustable height, swivel capability, good lumbar support, and folds up. There aren't any Aeron folding office desk chairs on our list, but there are a few options if you're willing to compromise. Chairs like this offer some benefits, such as good lumbar support and a fold-up seat for easier storage. You can adjust neither the armrests nor the height of the ergonomic folding office chair.
3. Mesh Back Nesting chair from In Stock Chairs
And on this flip-up chair, you do get armrests (but they cannot be adjusted) with the essential lumbar support. Although the chair's height is not adjustable, it is almost certainly a more ergonomic option than what many people may currently be sitting on, such as on a couch at the edge of a bed, making chiropractors cringe. This computer ergonomic chair has another benefit: It keeps your knees and hips at 90-degree angles, good for your posture.
4. Nesting office chair from Ziggy
In addition to allowing you to sit in a more upright position, this reclining ergonomic chair will also allow you to follow the 90-degree sitting rule. Keeping all of your knees, hips, and elbows bent at 90 degrees is its main purpose. Besides having armrests, flipping up, and wheels, the ergonomic chair has a breathable, flexible mesh backrest that reclines slightly.
The seat cushion of the best ergonomic chair must be customizable – and that's just what you get in this model (available in seven other colors), making it one of the nicer-looking chairs on this list.
5. Ergonomic Kneeling Chair from Papafix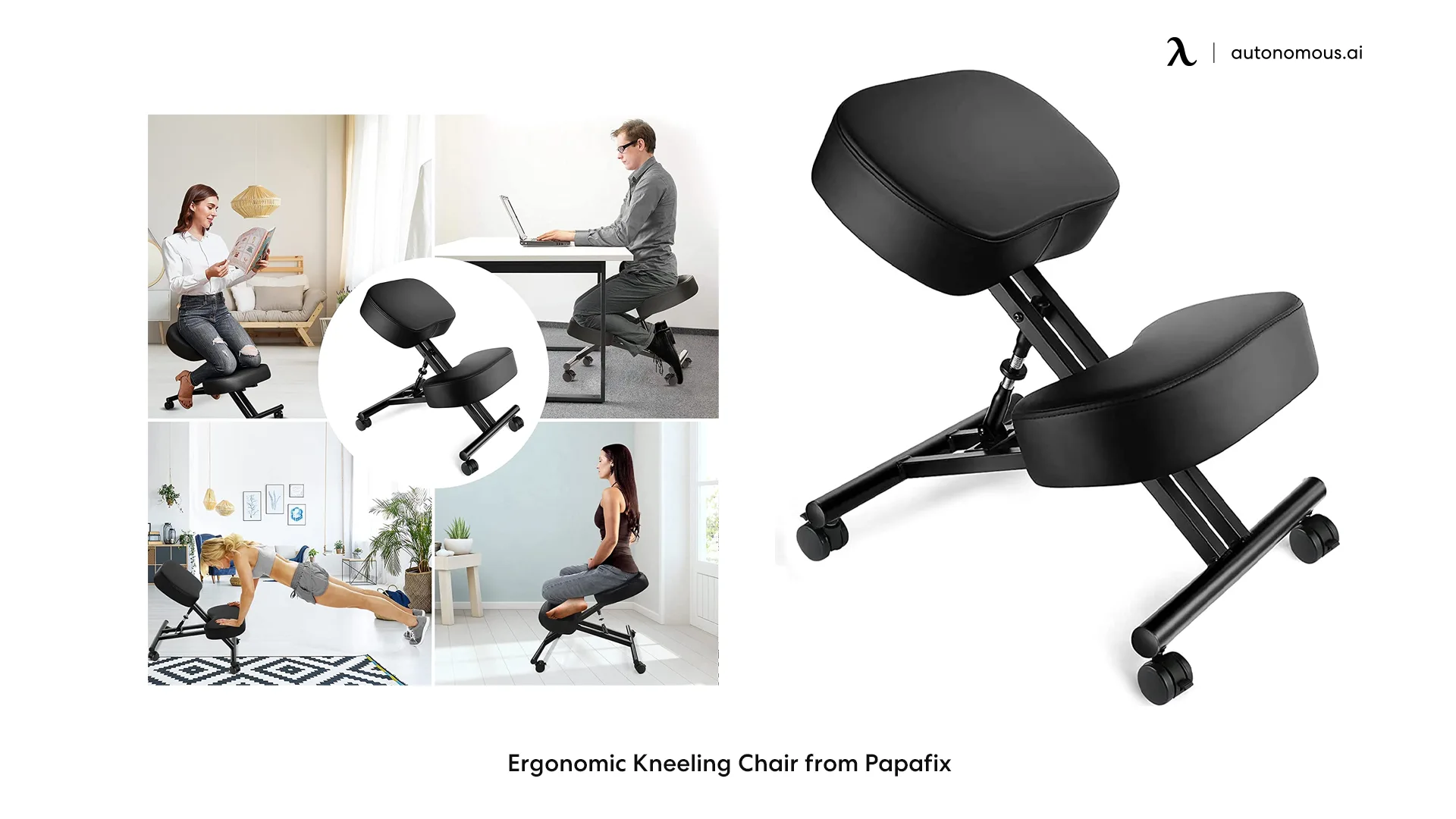 Despite not being foldable, you can also stow away this kneeling chair out of sight (whether in a closet or under a desk or table). Despite not being foldable, it does have an adjustable height, with the lowest height being 21-inches.
It's pretty much everyone who can benefit from kneeling chairs, except individuals with knee or leg issues, who should probably avoid them. Getting used to it may take some time, so it's a good idea to ease into it - try it out for short periods at first.
6. Lumbar Support Chair from Easy Posture
If you cannot use the above options (either because of space constraints or a limited budget), there are lots of accessories you can explore. Even though these office accessories can improve your seating situation significantly, they won't be able to replace a bad chair. A chair's support for the lumbar region is essential to its ergonomic design.
Our recommendation for adding some to a chair that folds - including the one you already own - is this attachment. It has a very comfortable seat, and it curves into the lower back near the base of the spine as a gentle nudge. It can also be easily attached to a chair of your choice - and, more importantly, removed as needed.
7. Premium Steel Folding Chair with arms from Tengyi Store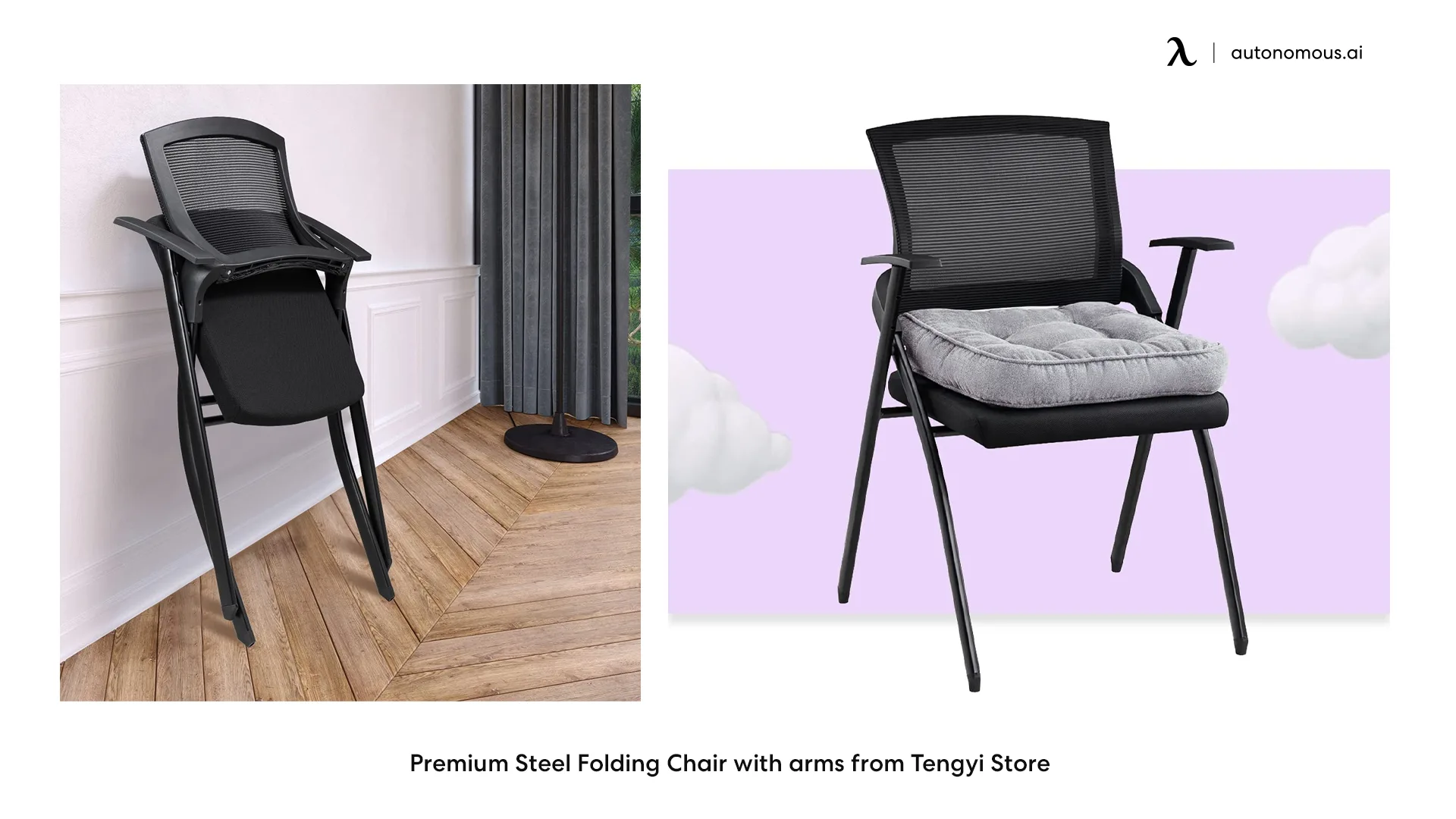 It is featured with 2" of high-resilience sponge and a density of 35kg/m3 for a softer and more durable feel. The T-up foldable back office chair is built with steel and hardwood and provides long-lasting durability, not easily damaged or cracked.
Its mesh back measures 12.6in (tall), 18.5in (wide), and a 135-degree radian. Spend some time sitting on your back, breathing and relaxing your muscles in the office. You can usually fold folding chairs approximately 7" wide, and these folding chairs can be folded manually into an upright position, making them easy to store and easy to clean.
You can also easily stack them up for future use. Solid premium steel frames support the folding chair. Legs are designed in a V-shape for enhanced stability and can support up to 330 pounds.
8. Easy Install Mesh Ergonomic Chair from CJS KIRO
With just four steps, this ergonomic design high back mesh chair can be assembled without tools in no time at all. In use, flip the backrest up and fold it down to gain more space. Other ergonomic features include a waterfall high density molded foam that is comfortable to use for longer periods.
Featuring adjustable lumbar support, the backrest is made of mesh. It is not only ergonomic but also offers regular chair functions, such as swivel, tilt, high seat adjustment, adjustable lumbar support, as well as an easy installation process that takes less than 10 minutes. A maximum weight capacity of 250 pounds is supported. All kinds of uses can be accommodated by this chair, such as the Commercial office and home office.
9. Contoured Compact Swivel Chair from Calico Designs
This easy-to-assemble foldable back office chair has a minimalist design inspired by Scandinavia, a classic pick for a home office. Its contoured, heavy-plastic back folds down easily to fit under a desk and is attached already to the seat.
This foldable back office chair features durable, steel five-star base and swivel casters so that you can move freely. The thick, padded, swivel seat is constructed with breathable, easy-to-clean fabric and high-density foam that provides hours of comfort.
The plastic contoured back folds flat so that you can conveniently store it under the desk. It is height-adjustable from 19 to 25 inches, has a padded 17-inch seat pan, and can swivel. It features smooth caster wheels on a 2-inch metal base and is also sturdy.
Hey, you have special pricing through your company.
Get exclusive rewards
for your first Autonomous blog subscription.
WRITTEN BYAutonomous
We build office products to help you work smarter.
Coming at You Live from Autonomous' Social Media!