Work Wellness
Say Goodbye to Aches and Pains: 10 Best Recliners for Back Pain
2,255 Views
Is it bad for your back to sit in a reclining chair or sofa? The mattress's firmness depends on the person's weight and position. Those who are heavier should have it firmer, while those who are lighter should have it less firm. Based on these factors, you can tell whether it conforms to and supports your spinal curves.
In most cases, if you raise your legs without leaning backward on your best recliners for bad backs, the curve in your lower back flattens, which can be harmful if you do it for long periods. Head pieces that shove your head forward flatten your neck curve, which isn't good if sustained for an extended period. It is not necessarily bad for your back to sit in a reclining chair or the best recliners for back pain.
Why Should You Invest in a Recliner for Bad Backs?
As you sit on furniture that isn't ergonomic or supports your back, your posture is ruined because you slouch. You will strain your back if you sit on a chair or sofa without adequate lumbar support. You should be able to sit comfortably when your lower back is properly supported when you are seated at your sit-stand desk.
Are recliners good for your back? Using a recliner from a reputable brand can help you avoid this problem. You will find that these recliners offer good ergonomic support that will improve your posture. Recliners can be very helpful for the elderly who have difficulty getting up and sitting down. By relying on the automatic function, they can relax while no one else has to do anything for them.
Additionally, recliners are useful for those with limitations on their mobility, such as those recovering from illness or surgery or sleeping in a recliner for lower back pain. By choosing the right type of recliner from the right store, you can relax well without experiencing back pain. Furniture doesn't have to be bad - how you use it determines its quality.
It is not recommended to sit for prolonged periods since it goes against the principles of an active lifestyle, even if you have the best recliners for back pains. In the long run, no recliner will hurt you if you use it well, whether at the end of a long day, after a good workout, or in between them. It will provide you with all the relaxation you need.
Back pain can be caused by slumping and hunching, and standing upright. The good news is that reclining doesn't cause back pain. According to research, recliner seating is better for the back than upright sitting. The use of a recliner while sleeping is generally safe. The risk of falling asleep in a recliner is very low if you find it comfortable.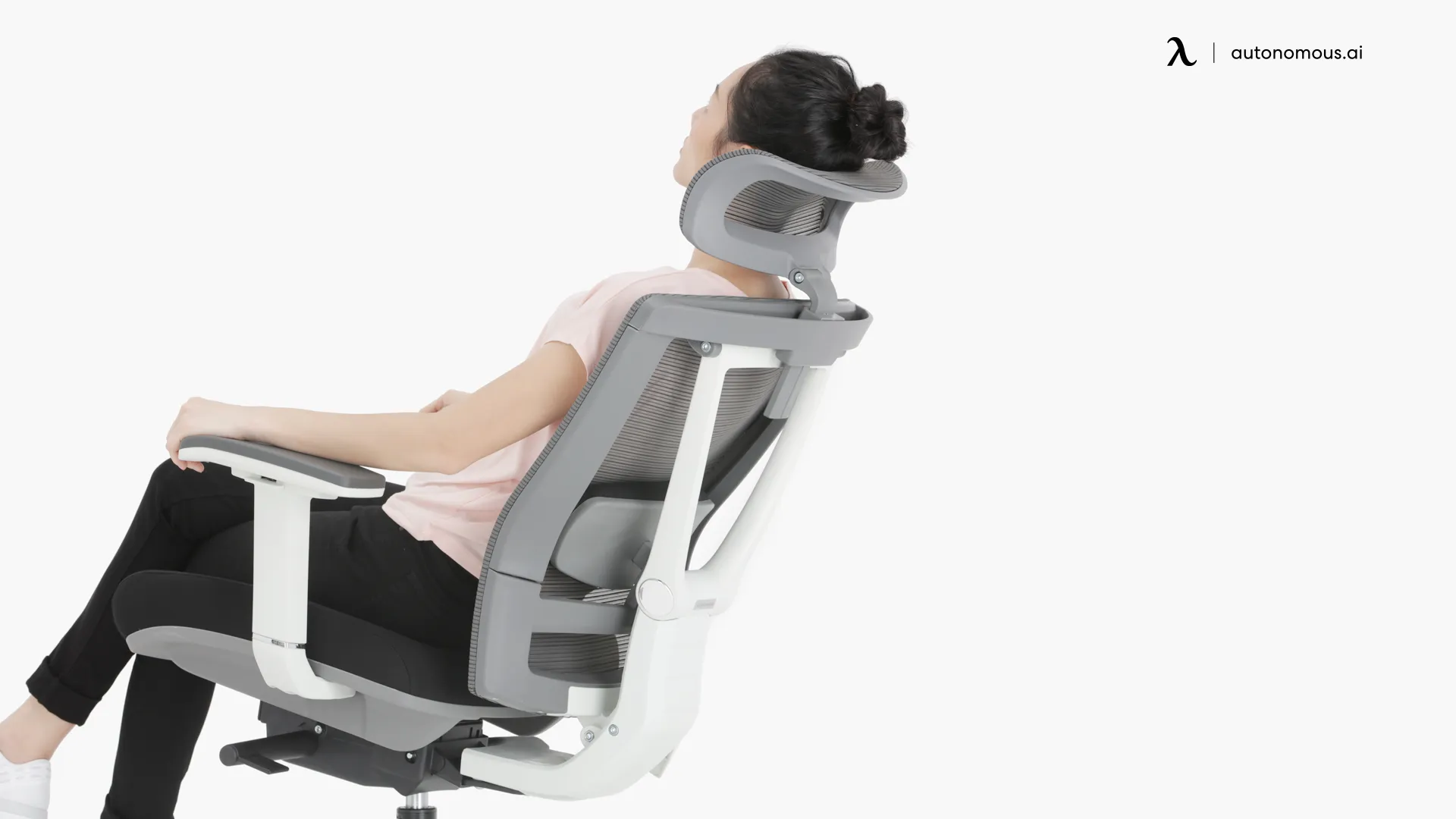 Investing an Ergonomic Reclining Office Chair
The use of recliners can relieve back pain in some cases. In such a case, your recliner should not be causing your back pain, as it should provide you with lumbar support, elevate your feet above your heart level, fit your body size appropriately, and provide you with proper lumbar support. You should get an ergonomic chair with adjustable lumbar support proven to help your back if your recliner causes you any pain.
First, sitting for long periods in a chair that doesn't support your body properly can lead to poor posture and strain on your muscles and joints. Over time, this can cause pain and discomfort in your back, neck, shoulders, and hips.
An ergonomic reclining office chair is designed to provide proper support for your body while sitting, allowing you to maintain good posture and reduce strain on your muscles and joints. The chair's adjustable features, such as lumbar support, armrests, and seat height, can be customized to fit your body's unique needs and preferences.
In addition, a reclining office chair can help alleviate pressure on your spine, which can improve circulation and reduce the risk of developing a herniated disc. The ability to recline also helps to take some weight off of your lower back, which can be particularly helpful for those who spend long hours sitting in the same position.
Chair Angle
The angle of an ergonomic chair with a recliner is one of the things that helps your back. Most chairs are designed at a 90-degree angle, whether they are work chairs, dining chairs, or office chairs. Before ordering the office chair for lower back pain, make sure your weight is correct. Legrests and headrests are huge benefits; you can add headrests and leg rests for an additional $60.
Back Supports
Lumbar support is another benefit of recliners for your back. An important part of spinal health is lumbar support, a type of support for your lower back. In most cases, chronic pain in the lower back is caused by a lack of knowledge about how to care for it properly.
We can develop a habit of slouching while sitting because we slouch so much. We will become tight in some muscles and stretch in others over time when our spine is not in the correct position. Small joints in the spine and ribs may eventually become stiff and painful. When you sit in a chair that supports your spine correctly, you will have less chance of developing back pain. If you can adjust a chair to fit your body, you will be able to reduce back strain. Neutralizing your spine involves the following steps:
Your hips should be tilted forward while you are sitting

Retilt them backward

The midpoint between these two positions should be found. It should feel like all your weight is resting on your sitting bones when you sit.
Legs at the Right Place
You can also elevate your legs above your heart level with a reclining ergonomic chair. We're sure you can tell immediately when you lift your legs that it feels better. This is because elevating your legs relieves pressure on your leg veins and encourages blood flow. You can even do this with the right standing desk exercise.
Top 10 Best Recliners for Bad Back
Did you know that 8 out of 10 people have experienced chronic back pain at some point during their lives? The contributing factors of back pain are improper back support and sitting posture. When the spine is not in alignment, primary signs of back pain can be witnessed among people.
A recliner with lumbar support greatly helps in this case. It offers the ultimate support and comfort by keeping your spine straight and offering a padded sitting experience. Here are the top 10 best recliners for back pains that provide you with the best way to sit with lower back pain and enjoy life to the fullest.
1. Autonomous ErgoChair Recline
What is better than a reclining office chair with a footrest that allows you to work comfortably? The Autonomous ErgoChair Recline is an adjustable-height chair that offers the utmost comfort and lumbar support. You can lock the back in three different positions, even though the tension cannot be adjusted. A contented nap can be had at its largest tilt. A big difference between ErgoChair Recline and other Autonomous chairs is ErgoChair Recline's lower weight capacity of 250 pounds as opposed to 350 pounds.
It includes a comfortable foam seat and a mesh back, making the chair suitable for hot climates.
2. Autonomous ErgoChair Plus
The ErgoChair Plus is the best recliner for bad backs, especially when working in front of a computer. It can withstand a weight of around 300 pounds. Do not worry about getting screwed up since it has a 5-year warranty.
3. Skyline Decor X30 Gaming Chair: Slide-Out Footrest
This reclining gaming chair with a footrest allows you to play for hours without even feeling an inch of pain. It is the perfect gaming chair for streamers and gamers. The contemporary seat-style chair offers proper back posture and lumbar support.
4. Techni Mobili LUX Ergonomic Executive Chair
This best recliner's high back design for back pain ensures that your spine remains in the ideal posture. It has a tilt-locking system that keeps you at the right angle. Thanks to its ultra-layers of padding, the chair allows you to sink in.
5. KERDOM FelixKing Ergonomic Chair Pro: Additional Footrest
Make a statement of style and class with this KERDOM reclining chair for back pain. The chair has a tiltable backrest, adjustable headrest, and excellent lumbar support to meet your needs best. The mesh back allows you to stay cool during hot weather. The chair relieves your muscles and gives you the comfort level you have always dreamed about.
6. Skyline Decor X40 Gaming Chair: Slide-Out Footrest
The Skyline Decor X40 Gaming Chair is a type of chair designed specifically for gamers, and workers as well. It comes equipped with a slide-out footrest, which is a feature that allows the user to stretch out their legs and rest their feet comfortably. This footrest can be easily adjusted to suit the user's height and preferences, and can be slid back into the chair when not in use.
The chair itself is designed with ergonomic features to support the user's body during long gaming and working sessions. It has a high backrest and adjustable lumbar support to promote good posture and reduce strain on the back. The armrests are also adjustable to provide support for the user's arms and shoulders.
7. Techni Mobili Medium Back Executive Office Chair
The Techni Mobili Medium Back Executive Office Chair is a type of office chair designed for individuals who work at a desk for extended periods of time.
The chair features a medium-height backrest and a padded seat cushion for added comfort. It also has a tilt and height adjustment feature to allow users to customize their seating position. The chair's base is made of durable materials and has smooth-rolling caster wheels for easy mobility.
8. Nuu Garden Outdoor Reclining Chaise Lounge
Reclining floor chairs are best if you are on a break from work. This ultimate Nuu Garden back pain recliner is made of aluminum and strong fabric. The premium materials contribute to its toughness and ability to last longer.
This recliner for back pain is perfectly suitable for all weather conditions, thanks to its powdercoat finish. It can hold a weight of up to 300 pounds. The chair is quite easy-to-assemble and comes with a 1-year warranty.
9. KILLABEE Gaming Chair with Footrest
This reclining gaming chair with footrest has an electric USB massager that gives your insides the treatment they deserve. It greatly alleviates back pain and provides you with an all-day-long sitting experience. It has padded seats with ultra-soft cushions.
10. Homall PU Leather Reclining Office Chair
The last but not the least back pain recliner on our list is the ultimate Homall PU leather reclining chair. This chair has a 360 swivel and extended footrest that allows you to have a quick nap no matter the place. It has a comfortable headrest pillow and a lumbar cushion for comfort and support.
Conclusion
The best recliner for back pain depends on your use. The above list will provide you with an option that you will love. These back pain recliners are best for curing chronic back pain and boosting your productivity levels at work or gaming. Thanks for reading!
Subcribe newsletter and get $100 OFF.
Receive product updates, special offers, ergo tips, and inspiration form our team.
WRITTEN BYAutonomous
We build office products to help you work smarter.