Are there tangible benefits to sitting on a tall office chair? Some people may sense that having one of these tall chairs is just a power move. That may have been the case with the popular large office chairs in other generations, like the ones typically found in fancy law firms.
The current tall ergonomic chairs on the market can provide tangible benefits that were unreachable with traditional options. These are just office chairs for tall people. Modern tall chairs are meant to feature adequate back support.  
Many chair designs that were popular in the past failed to provide a steady position that would allow a person to remain comfortably seated for a long time. Popular materials such as leather or upholstery can be comfortable for a short while. Sitting on one of these chairs on a hot day, though, can become a sticky, sweaty experience.
Now that you've better understood what modern high desk chairs are not, we can talk about what today's top options offer. The term ergonomic chair is being thrown around a bit lightly these days. Ideally, the right office chair for a tall person will be ergonomic.
Back support is the key element that makes office chair with lumbar support ergonomic. People sitting on a chair tend to lean forward without the proper backrest. That's not a position that will feel comfortable in the long run. Sitting on a chair that's a bit too soft or that can get itchy is something that you should avoid.
These chairs that have made the list as the best tall office chairs the market has to offer share most of these traits. They mostly feature a backrest that will help the spine remain straight. Positioning is essential to ensure you don't come out of your workday with debilitating back pain.  
Best Tall Office Chairs, High Desk Chairs with Reviews 
1. Autonomous ErgoChair Pro
There are quite a few things to like about this high office chair. The first thing that will likely stand out to most people who've been searching for chairs for a while is the quality and the price tag. There are simply not a ton of quality options within this price range.
The second thing that will likely catch your attention is the size of the backrest on the high desk chair. It's going to be able to cover most people's full back. This is truly an office chair for a tall person. Now, what's the potential downside to this particular option?
If one element could make some people shy away from this tall office chair, it has to be the mesh fabric. Putting this type of fabric on office chairs is a good idea. It's meant to ensure the person sitting on the chair doesn't get too hot. When it's a hot day, some people are going to be sweating in that chair.
The mesh fabric can be an asset or an issue, depending on who you ask. What's undeniable is that the seat cushion for this tall desk chair is much thicker than what you'll find in other options. This feature makes sitting on these chairs for an extended period much more comfortable.   
Apart from that, though, it features five different lockable positions. This is an interesting element, for sure. Many people get the sense that ergonomic chairs just allow you to sit up straight. That's not the case, at least not with this Autonomous option.
This feature that allows people to find the most comfortable position is one that's surely appreciated. Another cool feature is that the armrest can be adjusted at a set height. Having adjustable armrests is certainly not something that can be found in most options.
Finally, an element that's unique to the Autonomous brand is that this posture chair can be ordered through their bulk order program. You can get great discounts on their products through that program when you're trying to furnish an entire office space. The low price of this chair can get even lower.
Pros
It's a quality chair at a very affordable price.
The back and the armrests can be adjusted to match the desired height.
Cons
Mesh fabric isn't everyone's favorite option.
Too many movable parts may not be great for durability.
2. Autonomous ErgoChair Recline
This is another Autonomous option that provides some of the same benefits that are present with the ErgoChair Pro option we just talked about. Yes, the bulk order program that the brand runs also includes this particular chair. That's not the only benefit that both Autonomous chairs share.
The ErgoChair Recline also fits the bill of being a high-quality item at an affordable price. In fact, it's even less expensive than the previous Autonomous option. The main reason for the price drop is that this desk chair with headrest doesn't feature the five lockable positions.
However, it is a chair that's meant to allow people to be able to recline comfortably when they need to. The footrest option can be a nice touch but may not be ideal for employees in particular workplaces. Some employers may find that position a bit disrespectful.
The footrest feature can make this high desk chair a great asset for a home office setup. It can allow you to find a position that you're comfortable with especially if you're working out of a laptop and not necessarily a full desktop setup. These footrests can also turn inward to allow a person to sit up straight in this chair without trouble.
We mentioned that this chair doesn't have the five lockable positions the other option offers.
That can actually be a good thing, though. The office chair for tall people reclines with ease, meaning the design has fewer moving parts. One of the things that concerned us with the other option was the moving parts.
With fewer moving parts in a chair, there are fewer chances of something going wrong. The counterargument to that is that it may be easier to fix a minor issue than if this chair's reclining mechanism completely fails.
These Autonomous chairs are made from quality materials. That's the saving grace that makes it okay to make the purchase without having to second guess some of the durability concerns. Both office chairs for back pain are quality products that serve both office and home office spaces.
The seat is pretty much the same one featured in the other Autonomous chair. Again, the mesh can be hit or miss. On the bright side, it's a seat thick enough to help people deal with long hours.
Pros 
One of the best-value products on the market.
The reclining mechanism is going to be a joy for many users.
Cons 
Some employers may not love to see people using the footrests.
The mesh fabric can be a good or bad thing.
3. NOUHAUS ErgoDraft Drafting Chair
This is yet another affordable option, this time from a different brand. The chrome finish in the chair's base gives it a nice touch. If there's one element that the chair prioritizes, it's the headrest. It can be adjusted to fit whatever the user is looking for. 
The NOUHAUS tall office chair allows the user to adjust the height of the armrests. That's one of the most underrated features of some of these high office chair options. It's a great thing to have when you're lifting the chair to make sure it fits a taller person comfortably.  
There are a couple of things that seem to not be in this chair's favor, at least compared to the other two options on the list so far. This chair also has a mesh seating cushion. If that's something that we weren't massive fans of in the other chairs, it's even more of an issue in this option.
It's a much thinner cushion that can take a toll on anyone sitting here for a long time. The backrest does, in fact, bring decent ergonomic features to the table. What it doesn't have is a lot of give. Don't expect to be able to lean back too much in this particular chair.
One thing that stands out about this chair is that the manufacturer provides a recommended height range for people who want to use this tall desk chair. According to NOUHAUS, people between the heights of 5'4 and 6'2 can fit comfortably in this chair. You may want to look at different options if your height isn't within this range.   
Returning to the chrome base, we'd say it's thick and high quality. There shouldn't be a major problem with moving this chair up and down as much as you'd like to. Another cool element is that the wheels lock. That can really be a plus, especially when there are slippery floors. 
The price tag of this chair is lower than the other two options. Is it worth it to save $80 and potentially downgrade in certain elements? That's a personal answer that each buyer has to figure out for themselves. 
Pros
The chair is more affordable than the other options.
It features lockable tires.
Cons
Reclining on this chair can be a problem.
The cushion isn't too thick and can be uncomfortable for some people.
4. Concept Seating 3156HR
The first thing that stands out about this tall office chair is it's a much more traditional option. This chair could've been perfectly in style in the 90s and early 2000s. That doesn't mean that it's a bad option. There are certainly interesting elements about this particular chair that make it appealing.
It has a much wider seat cushion than all the other options on the list. Some people are truly going to appreciate that. What it adds in the width department it takes away in ergonomics. The backrest is proportionally wide. It's not that the chair is going to look weird.
The seat cushion is also much thicker than what you'll find on most of the other options on the list. This allows the chair to be a better option for people who find that extra padding on the seat more comfortable. The entire design of the chair is meant to cater to taller and wider bodies. That's something that's hard to find in today's office chair market.
Furthermore, it probably won't help your back remain straight throughout the day. Although, some people out there argue these backrests are much more comfortable. The lifting mechanism on the chair is also very traditional. Everything about this chair screams old-school.
The price on this chair is nowhere near as friendly as some of the other options on the list. You should also remember that they charge an extra fee if you want the chair to come with a headrest. The headrest that can be added to the chair does not have many modern ergonomic features.
One of the interesting elements about this tall desk chair is that it comes in different colors and materials. It can serve as the large leather chair we discussed at the beginning of the article. There are also options in bright red fabric that can provide a vintage appeal that some people may be on board with.
There's just no way to say that this is a modern option. The chair does feature certain elements that can help distinguish this chair from one made 20 years ago. Additionally, the person who will truly be able to enjoy this chair, will be someone who misses how things were at that time.  
Pros  
A great option for people looking for wider chairs.
There's an element of customization that isn't there with other options.
Cons 
Not the cheapest option out there.
It lacks plenty of modern ergonomic features. 
5. Herman Miller Aeron size C
If there were a middle ground between the first three options and the fourth chair on the list, this option would be it. It's a wider chair, at least in the Size C option. That makes it similar to the Concept Seating chair we looked at earlier.
The size C chair will also be a better fit for taller people. If so, you'll likely want to order the option with the height-adjustable armrests. These will allow anyone sitting in this high office chair more control over their position. The problem is a lot of these extra elements will make the chair more expensive.    
What this Herman Miller chair does feature are more modern ergonomic elements. That's very evident in the backrest and headrest. There is a warning that we want to throw out here about this tall office chair. The chair is fully customizable.   
It's not bad that the chair can be customized to fit specific needs. The problem is coming out here and saying something like this chair comes with adjustable armrests. It may or may not come with that feature, depending on the version that you want to buy.
There's another element that we also want to point out. The base price for the Size C chair is less expensive than the Concept Seating option. The price tag could be higher with all of the add-ons that can be implemented on this chair.
This brings us to the next important question about this office chair for tall person. Does it make sense to ensure that this chair features all of the best elements the brand offers? Is paying north of $3,000 for an office chair a good idea?
That price tag is going to make a lot of people shy away from this option. This doesn't mean we're dealing with a bad office chair here. It just means that it will be hard to justify the hefty costs for some people and even some companies. If the idea is to buy multiple chairs for an office space, the first three options are just better overall solutions. 
Pros 
Wider chair with all of the modern ergonomic features.
It can include elements like adjustable armrests for an extra fee.
Cons 
The base version of this chair is completely different from the one with all of the best features.
Getting the chair just right may be more expensive than it's truly worth. 
How to Define Tall?
With more people than ever working on their computers at home or in offices, sedentary health, and comfort have never been more of a priority. But due to their size, some people have a hard time finding a chair that actually helps them.
First, it's important to outline how we define tall in this buyer's guide. Tall is a subjective measurement. If you're surpassing the standard average height of 5.9 feet, you're considered tall. With that settled, let's delve into the features to look out for while buying a tall office chair. 
Features to Consider When Looking for a Suitable High Office Chair for Tall People
The two main factors to watch out for while looking for a tall office chair are maximum seat height and depth. These two factors are vital as they directly influence chair comfort and the overall health of the person sitting on it. 
Maximum Seat Height
Most chairs don't come with a seat adjuster that helps tall people to adjust the chair to the appropriate height position. It leaves tall people vulnerable to flexing their knees or extending their legs while seated. The posture puts your body into an awkward position. The ideal maximum height for an office chair for tall people should put your knees at 90 degrees while your feet are placed on the ground. 
Seat Depth
Tall people have a longer femur bone compared to other people and would, therefore, need a seat to have greater depth to ensure comfort. The best depth that a seat for tall people should have is 19 inches, but if you find a comfortable office chair for long hours that gives users more depth, it can be even better. 
Bottom Line!
Being tall comes with advantages, but looking for suitable furniture for tall people can be a struggle. With the above 20 best office chairs for tall and big people, you'll be better positioned to make an informed decision. It'll help avoid that awkward look of your knees being flexed, and the larger portion of your thighs exposed past the edge of the front seat. Moreover, it will curb the effects of prolonged use of an improper chair on the body.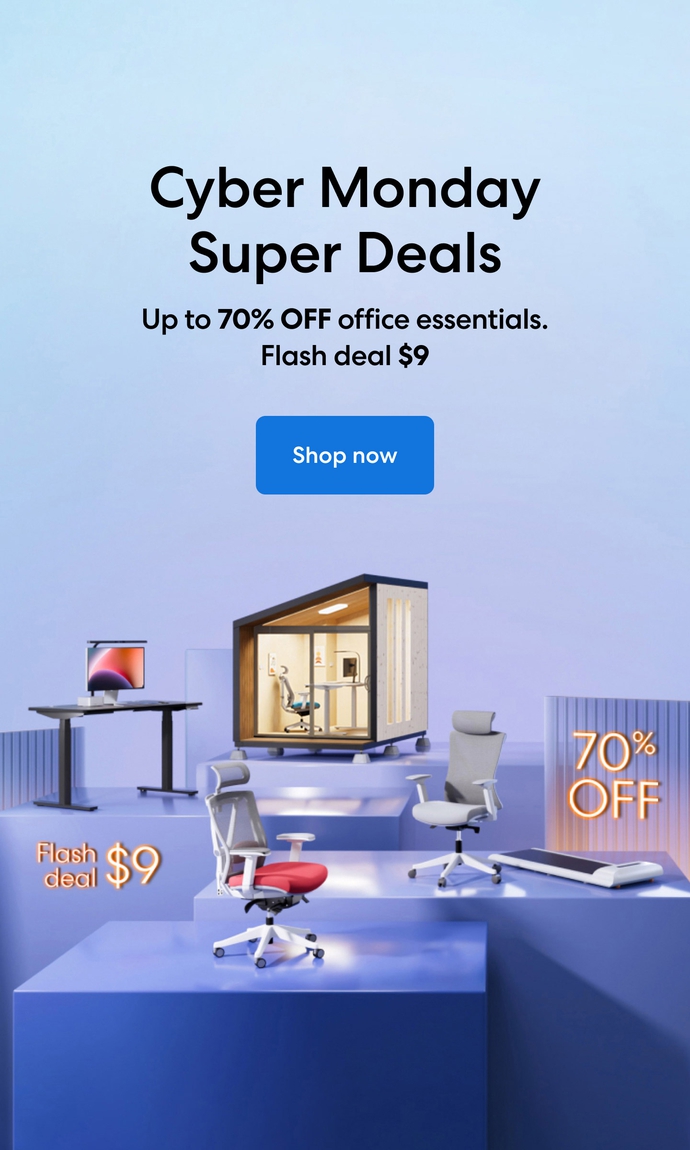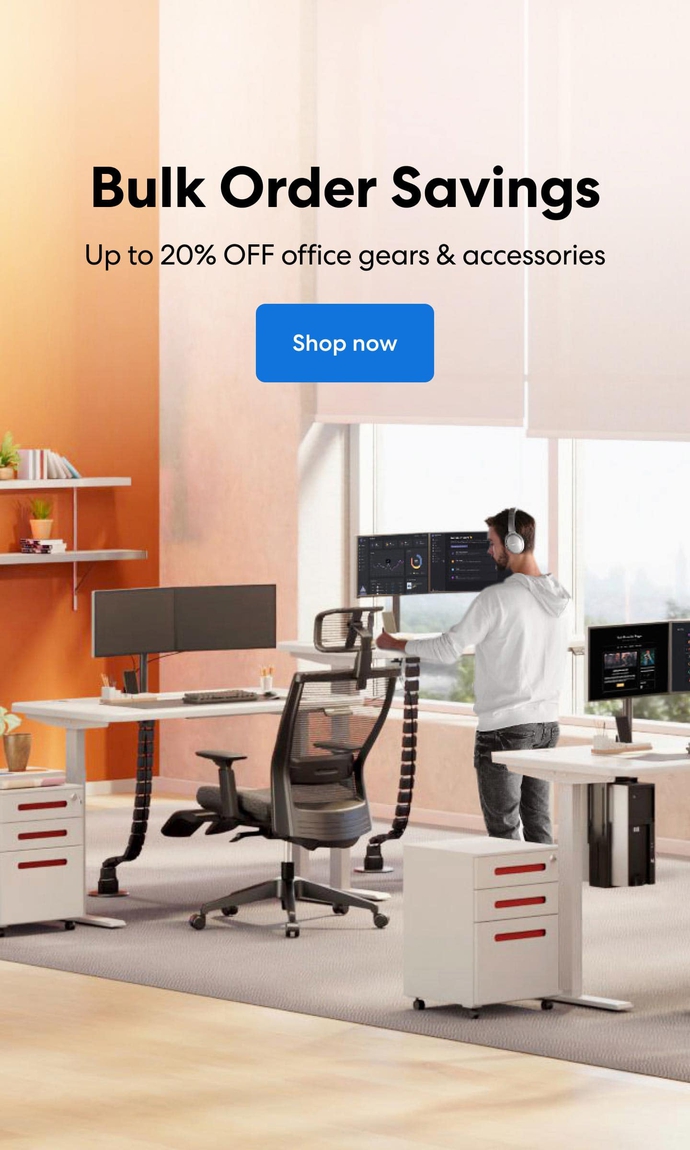 Subcribe newsletter and get $100 OFF.
Receive product updates, special offers, ergo tips, and inspiration form our team.