Workplace Inspiration
Transform Your Room with 15 Wall Painting Ideas

Autonomous
|
Oct 2, 2022
1,320 Views
Are you preparing to give your house a new paint job to improve its appearance? When adding a touch of personality to your home, ensure that you choose the proper paint color and finish for the job.  
Before deciding, consider these 15 paint ideas to make your office wall decor for the living room look stunning. 
Types of Wall Paint Ideas
You should understand the different types of paint you can use according to your environment. 
Acrylic Emulsion Wall Paint Design
These types have a water base, making them popular for home wall paint design ideas. 
Pros
Emulsion paint dries quickly and emits low-volatile organic chemicals. It comes in several finishes, including silk, matte, and satin. 

The paint is durable and resilient.

You can easily wash stains off the surface of emulsion paint using a moist cloth or soapy solution. 

It can withstand mildew and fungal infections.

Another benefit is the inclusion of anti-yellowing chemicals, which guarantees color stability and prevents fading in the sunshine.

The acrylic base of this paint makes it elastic and very resistant to cracking.
Cons
Before using emulsion paint on your structure, you have to apply a coat of primer for the best effects.

The glossy finish highlights any flaws and surface roughness.
Enamel Wall Paint Design
This wall paint design idea has a solvent base too, but is made of oil instead of water. 
Pros
The paint is long-lasting and glossy. This gives it a rich appearance when used on walls.

It is best used for structures in moist and humid environments. 
Cons
Enamel paint is not elastic like emulsion paint. This is the reason why it develops cracks when used for painting.

It takes longer to dry.

The smell is another drawback. People with allergies and lung issues may have to stay away when freshly used.

Paint brushes used for working with enamel paints must be cleaned with solvents such as turpentine afterward.  
Distemper Wall Paint Design
This wall painting idea is made from lime, water, chalk, and various coloring additives. It is commonly called whitewash.  
Pros
Distemper paint can be applied directly onto plastered surfaces without the necessity of a primer. This is why it is also known as cement paint. 

When exposed to sunshine, these pains do not crack.

It is very affordable and suitable for interior and exterior walls. 
Cons
Distemper paint tends to come off when wet. This makes it not entirely washable. 
Textured Wall Paint Design
Textured paint is water-based and produces peculiar effects when applied to walls using methods such as stippling, sponging, ragging, distressing, brushing, ragging, etc. It is excellent for creating something like an office accent wall. 
Pros
An accent wall covered with textured paint can have a rustic appearance or resemble materials like marble.

It is typically thicker than other paints.

This paint is excellent for hiding little flaws, such as uneven or damaged walls and cracks. 
Cons
This type of paint is more expensive compared to other common ones.

Matching the paint color with the surface is difficult. There might be a subtle difference.

Textured paint is only suitable for experienced painters. 
Metallic Wall Paint Design
Metallic paint is best used on accent walls. This is because it contains tiny metal particles, including stainless steel, copper, bronze, and aluminum.  
Pros
Its finishing gives your interior a high-end and expensive appearance.

Metallic paint is an excellent substitute for wallpaper. 
Cons
Despite the high cost of this paint, you only need to use a small part to make a striking impact on your walls. 
Tips for Choosing a Suitable Color for Wall Paint
When deciding on the best paint color, begin with the ones you like. Don't be constrained by conventional color palettes for specific decorations when you have those you adore.  
You can base a color scheme on your favorite and use it as a palette to paint the entire house. 
Here's how to learn the meaning of your favorite hue and how to use it in décor: 
Find inspiration for the paint color you choose.

Use it to create a palette with color theory.

Try your hand at neutral paint colors.

You can select a paint color based on a print.

Seek inspiration outside too.

Consider colors inspired by history and stories.

You should consult a color expert.

There are applications to help you through this process. 
15 Wall Painting Ideas for Your Space
1. Always Include the Ceiling
The innovative accent walls and painted ceiling concepts have become incredibly popular. Plain white overhead painting is getting passed in favor of a more colorful style. This option is excellent regardless of whether you are going for something aggressive or calm. 
White on the ceiling feels stark in contrast and disorienting because the wallpapers are colorful. A matching ceiling paint color complements the whole room. 
2. Don't Fear Color Blocking
The current color-blocking craze is about creating abstract shapes on your ceilings, walls, and other surfaces while using basic yet striking mural designs. 
According to designer Prashan Chauhan, "The living room is a visual delight right from the doorway. With a splash of colors and an experimental blocking, you can use your floor and walls as the palette to express yourself."  
Many gaming room wall color schemes follow this idea. 
Color-block wall paint ideas combine with your furniture to create a bolder environment in contrast. 
3. One Color Is Not a Bad Idea
The term "color drenching" describes a relatively recent paint trend in which the walls and ceiling are painted the same. 
Your entire area can be a single color, incorporating doors, trims, crown moldings, and more. 
The result? Blending the lines between the walls and ceiling doesn't just create a minimalist canvas for decoration. This also gives the impression of a bigger space with a contemporary appearance. You can consider it for your fascinating cubicle decor ideas. 
It's a modern way to address home and office decor. Leave the wall paint design monochromatic or add an accent that stands out against the one-color backdrop. 
4. Two Tone Transitions
One of the hottest ways to update a space is using two-tone walls with a rail running in between the colors. Dados are architectural moldings frequently found in Victorian, Georgian, and Edwardian homes.  
Their original features have been retained or restored in modern design concepts. They are creative ways to employ different wall coverings or colors in the same area and help separate the lower and upper portions of a wall.
5. Match the Wallpaper and Skirting
Painting skirting is a simple method to alter the colors in your bedroom. You can use this wall paint idea when the redesign is not a total do-over. 
According to interior designer Octavia Dickinson, cornices and skirting don't have to be an off-white color. Also, eggshell and gloss finishes don't have to be reserved only for woodwork.  
Use it to modernize your space and frame wallpaper. 
6. Explore Hues
Applying one color in several shades can be a remarkable design element. It feels like a current update though it is a classic method for decoration. 
You can create a spacious feeling in a lounge room by combining drapes with paint hue.  
Some colors look excellent during the day and transform into something warm and welcoming at night. This effect is usually achieved by lighting a lamp to complement them. 
The walls, architectural accents, arched doorways, and window reveals should all feature hues of the selected color. This gives the space a more modern edge while making it more coherent. 
7. Contrast Rooms That Are Adjacent
A brilliant technique to achieve a flow of hues across an area is to choose different colors in adjoining rooms. You should also consider how room colors seem when seen from one another.  
It is exceptional to see how a stunning jade green bedroom can be adjacent to a strawberry-pink corridor. 
Consider the interaction between the spaces when choosing colors for two adjacent rooms. The human eyes are drawn to warmer hues, so use a magenta, coral, or terracotta as a leading color to naturally sway viewers in that direction.  
Paint the next room with a colder color, such as blue, green, or teal. This adds some layers and complexity to the setting. 
8. You Can Never Go Wrong with White
Going all white is one of the most popular interior decoration choices. Whether it is an excellent wall painting idea and concept is met with different opinions. 
You can feature flashes of glossy white marble for kitchen walls and polished silver for the utensils. This creates a space that may not be conventional. 
People with old townhouse apartments can paint their kitchens soft white. It is a warm and delicate version of the color.  
Also, you can try a brighter matte white while painting the beams with a glossier and somewhat warmer shade. 
Prepare your Sega projector if you fancy this wall painting idea. The wall color makes them perfect to be used as projection screens. 
9. Focus on Your Door Frames
Nothing can bring a traditional space to life and instantly upgrade it like a splash of glossy, vibrant colors. The paper white walls of a Victorian home can have vivid blue gloss door trimmings. 
Choosing vibrant colors for your door frames can make the room more exciting. 
A white wall creates a subtle elegance that makes it the ideal foil for bolder colors on the door frames. 
10. Your Window Frames Should Always Capture Sunshine
You can also experiment with paint on the frames of your windows. Decorative colors can help you embellish them as attention-grabbing elements.  
They also help your windows match other woodwork elements in your space. This makes your room feel well-planned and coherent to visitors. 
Utilize the same color on your ceiling and trims to make your wallpaper stand out. If the frame colors match your compact desk, the latter will blend in with the background. 
It can be overwhelming or chaotic when your wall paint and other colors compete for highlighting. Try to blend seemingly irrelevant elements like the door frame with other items in the space for the walls to get emphasized. 
11. Shine with Some Gloss
Drawing from your favorite eateries and design-focused hangouts is a fascinating method to bring a little of that social energy home. Inspiration for paint concepts may be found everywhere.  
Gloss is returning and appears to be a major interior design trend for 2022. The ability of this wall paint to reflect light helps to brighten spaces with low light conditions. 
This wall painting idea increases the amount of sunlight that enters the space. 
12. Paint Shapes
Gone are the days when shapes and patterns on walls were considered childish. In fact, it is the concept surrounding this type of color and shape combination. 
Workspaces have realized that the playful nature of this design helps employees calm down and relax better. They can playfully tap into their creativity to become more efficient.  
There's so much inspiration to take from such spaces just by focusing on a single pattern. This wall painting idea is playful, adding a whimsical touch. Yet it feels chic and grown-up. 
It's simple to recreate such a look, requiring just a bit of paint and your creativity. 
You could get technical with tape, but some designs require that you use freehand. Just lightly draw your design pattern with a pencil and then start painting.  
13. Renew Old Floor Boards with Color
The classic effect of painted floorboards can be achieved in many ways. You can use simple bleached boards to checkerboard or striped flooring. 
Paint the floor in an accent color to add a lot of drama to the room. This draws attention to the floor, so you can keep the remainder of the space neutral. 
Using gentle nude browns like taupe or fawns are also not bad ideas. A neutral white is preferable to one with blue undertones, which could make the room feel sterile. White walls are always an option if you run out of ideas.
14. Old Furniture Deserve Some Paint Too
Repurpose your standing desk and office chair with striking accent colors to give it new vitality. Bright colors such as yellow, blue, red, and emerald green are excellent for energizing such elements.  
They'll go well with the prevalent gray and navy blue neutrals that have become common in many homes. 
15. Sometimes Go Bare
Walls made of raw plaster have a lovely texture and give your house a soft, earthy splash of color. They offer a perfect canvas for more vibrant hues to stand out, from pastels to striking neon. 
Conclusion
The wall painting design ideas discussed in this article can help you bring new energy into your living or working space.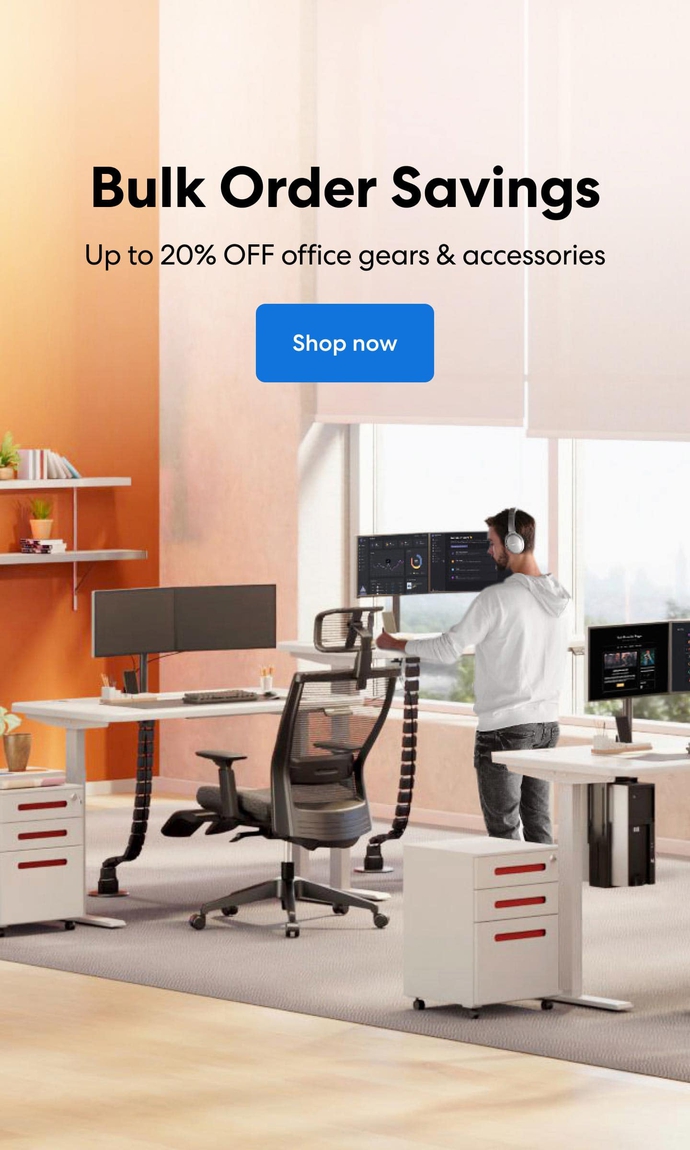 Subcribe newsletter and get $100 OFF.
Receive product updates, special offers, ergo tips, and inspiration form our team.