Workplace Inspiration
Ultimate Setup with 5 or 6 Monitors for Trading, Coding
5,360 Views
As a trader or a coder, you will never like having a confined single monitor setup to view multiple sheets of candlesticks and evaluate data and codes. Therefore, the use of multiple monitors has become quite common these days. As a professional trader or coder, you would like to have a 6 monitor setup or a 5 monitor setup to ensure that you can manage big data.
Nevertheless, understanding the right ways of placing your monitors at the correct angles and positions is a difficult task for several office workers. There are also certain other things to consider like your computer's graphic cards, the type of monitor, etc. As newbies, you may not understand these aspects of the technical details.
However, here we have elaborated the multiple monitor setup in the best way possible to ensure you understand the ins and outs of all types of laptop and monitor setup. We have first discussed a few basic guidelines that you should know before planning a 6 screen monitor setup; later, we talked about the equipment you will need to create the best setup.
Thus, we suggest you stick with us until the end to learn everything about a 5 or 6 screen monitor setup. Let's learn how to connect 6 monitors to one PC! Now, let's begin. 
Aspects to Evaluate Before Planning a 6 Monitor Setup
It is better to know the aspects that are to be evaluated to ensure whether you can plan a multiple monitor setup before you get multiple monitor screens and execute your setup. That's why we have discussed them below for you. 
Graphic Cards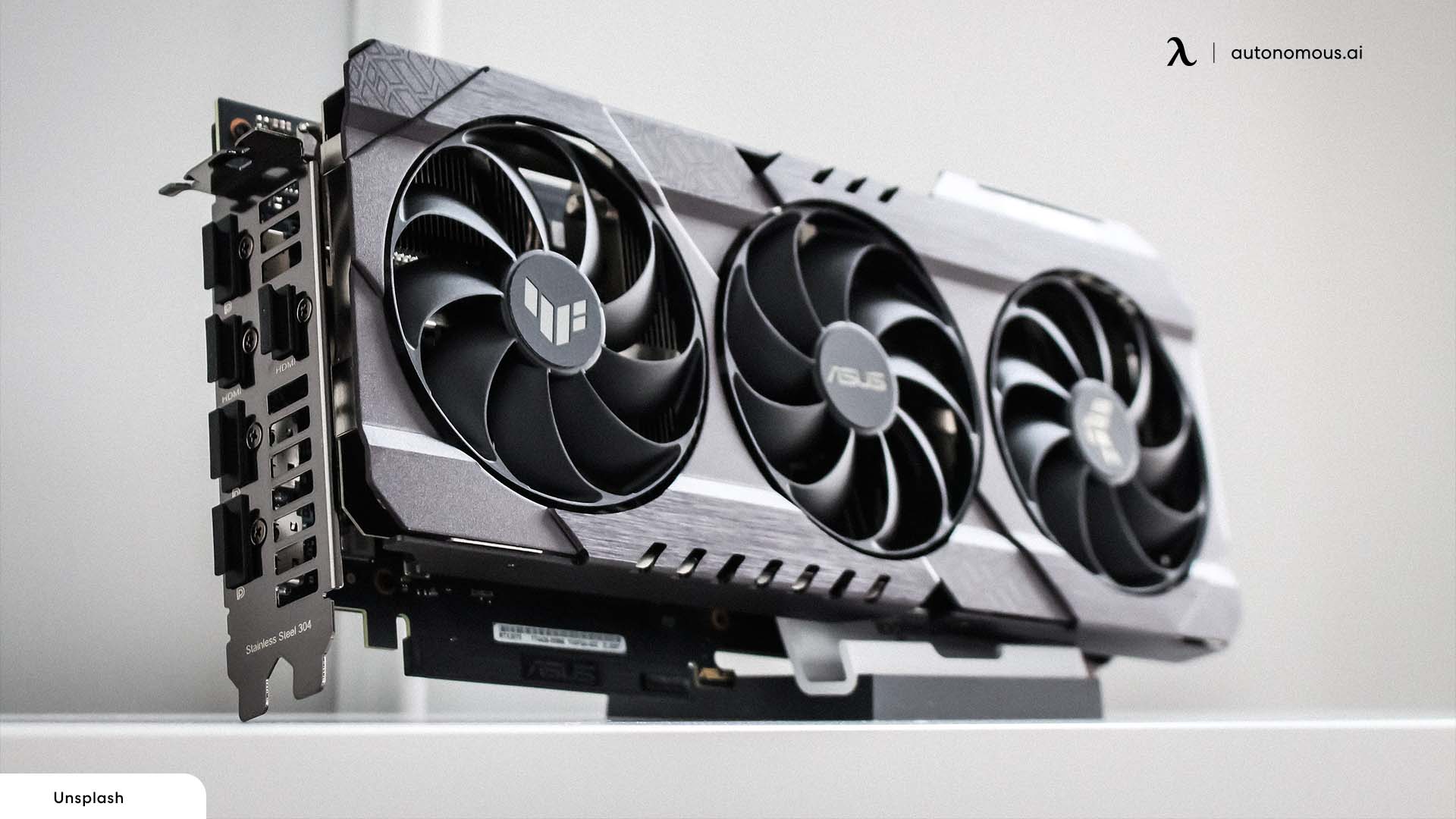 The first thing that you need to check is the graphic card(s) or graphic ports your PC has. The most known types of graphics ports are DisplayPort, DVI, HDMI, and VGA. If you only have two video ports, it means your PC lacks a discrete graphics card.
Generally, the CPU's motherboard has an integrated graphics card that can easily run a dual monitor setup. If a graphics card is there, you will see three ports apart from the ones on the motherboard. Nevertheless, the ability of the computer to power a 6 screen monitor setup is not defined by the number of ports. It rather varies with the graphics card that your computer has.
Every graphic card has a different degree of acceptance for multiple monitors. You can check yours by going from the control panel to the device manager to display adapters. This will get you the name of your computer's graphics card.
Once you have the name, you can google if it is suitable for a 6 monitor setup. If it's not, you should buy some additional graphics cards to meet up your requirement to devise such a big setup. 
Monitor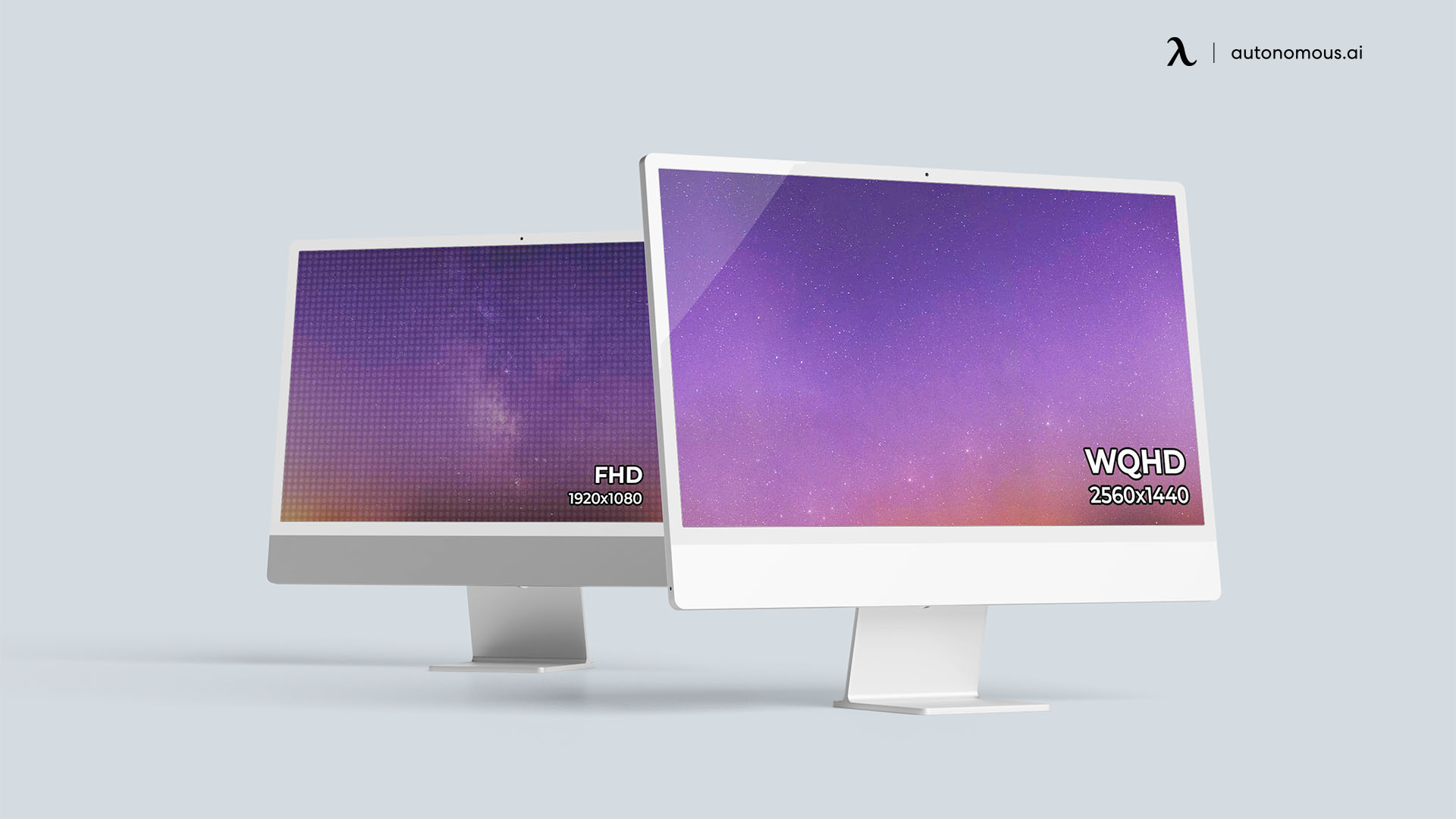 Choosing the right monitor is the next most important thing to do. This requires the evaluation of certain aspects too. The first and foremost is the size, and the next important aspect is the resolution and speed that the monitor has.
You are also supposed to check for the input ports in your monitor so that you can connect them with your PC. It is better to have them on your monitor already because getting the conversion cables is itself a hectic task. Once done so, you can move to the next basic aspect of evaluation, i.e., the Windows model that your PC has. 
Windows Model
Once you have checked your monitors and the graphics card, you are all prepared to evaluate the Windows model that you have so that you can enable all screens upon connecting them to your computer. If you have Windows 7 or 8, you will have to right-click on the display and select Screen Resolution to open the panel to enable multiple monitors.
And if you have Windows 10, you will have to go to display settings where you can configure the monitor screens you wish to activate. You can also select your monitor's orientation and select which monitor you wish to have as your main display. 
List of Required Equipment
Now that you know the aspects that you are supposed to evaluate, let's look at the accessories or equipment you will require for the complete 6 screen monitor setup. 
Mini-DisplayPort to DVI Adapters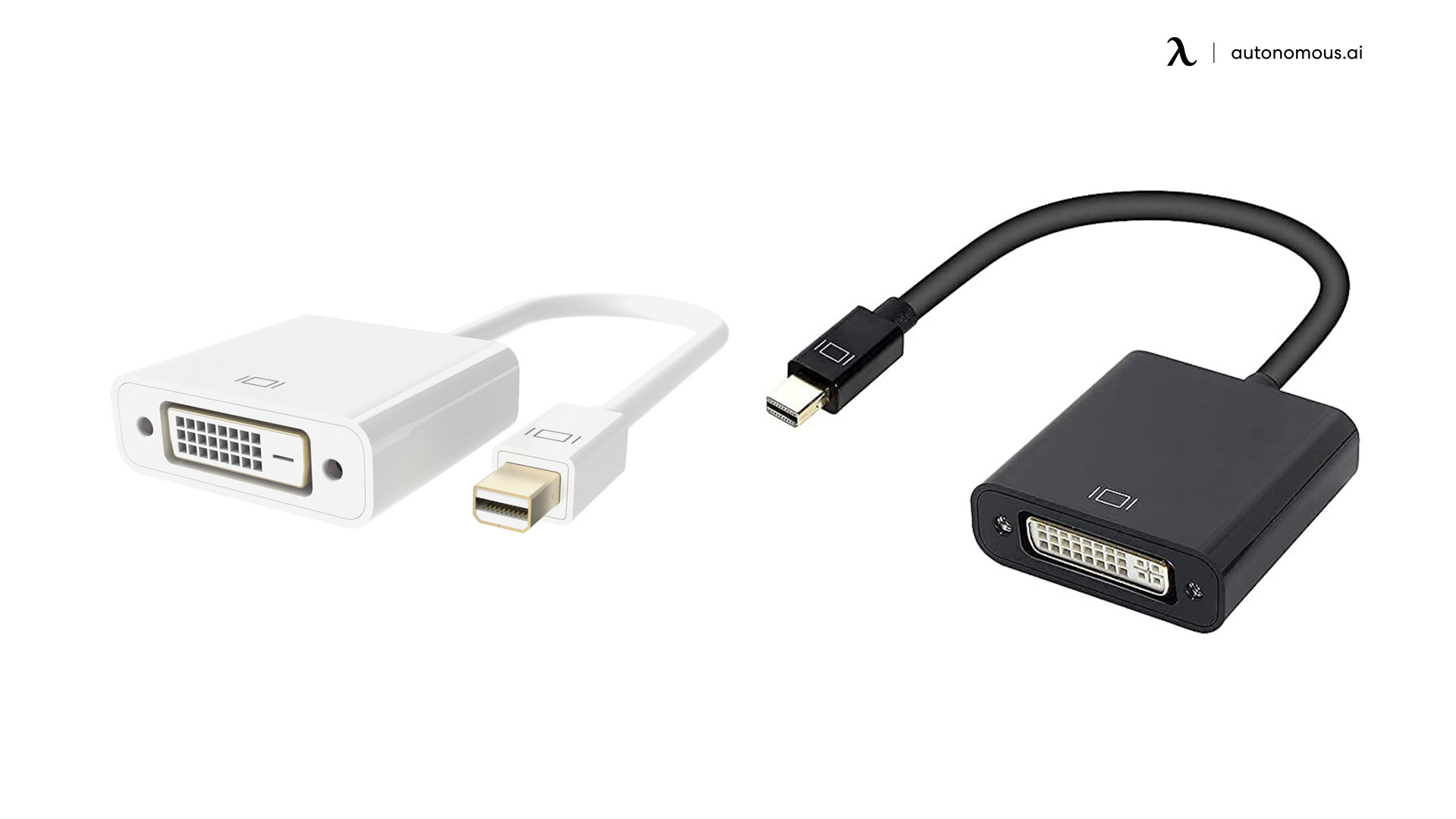 The Miniport or Mini-DisplayPort to DVI adapters are important when you have to power as many as six monitors in your office setup. So, it is vital to get yourself one before you begin with your work. 
Monitors
Choosing the right monitors is ideal. You can either select curved monitors like Gaming Screen PXC327 of Pixio or go for a flat-screen version like PX275C Prime Productivity Gaming Monitor. Both these options have the ideal features that one would require in their 6 screen monitor setup. Their high-end quality is the proof why we suggest them for such a big setup. 
Monitor Stands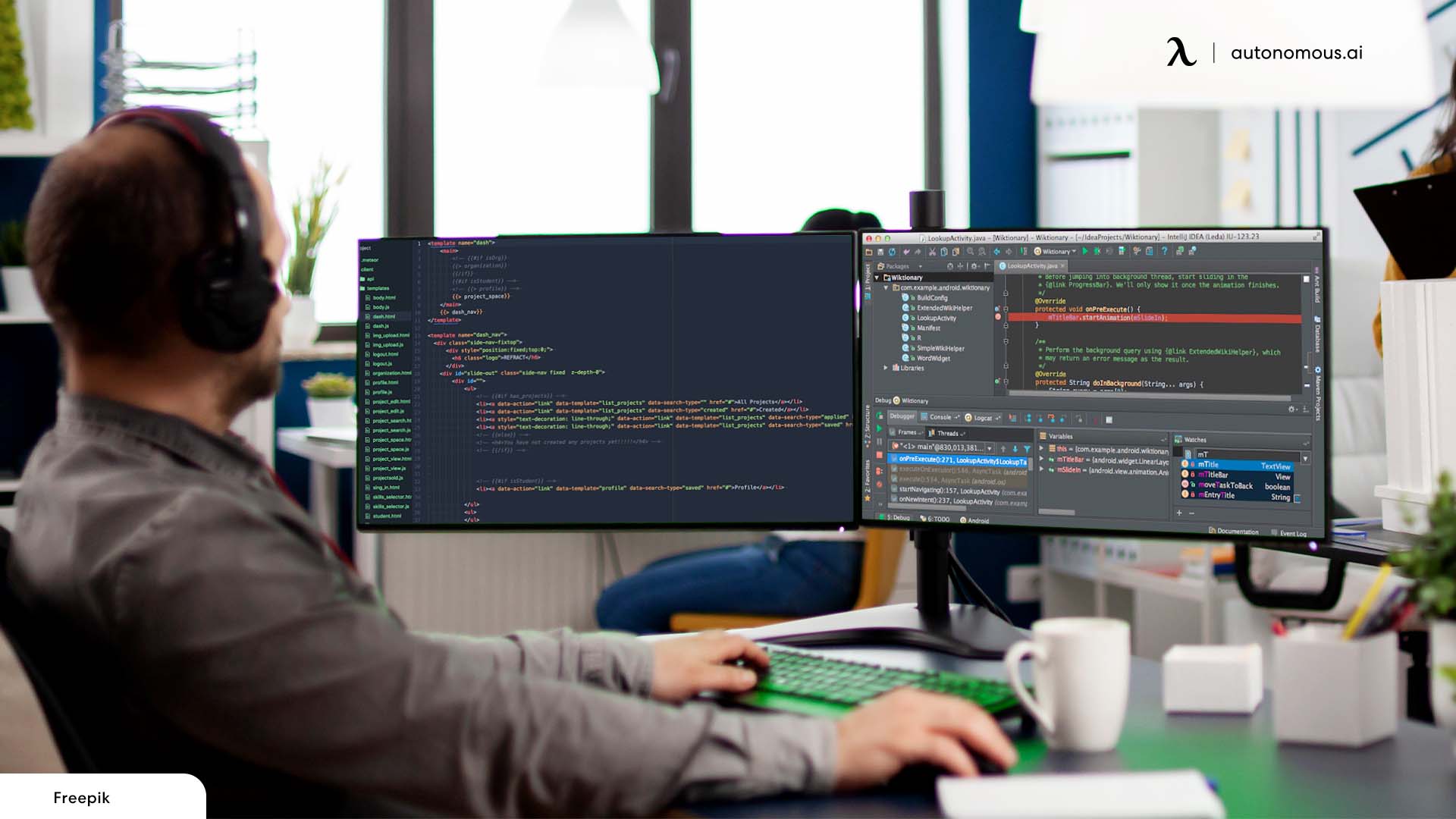 Getting a dedicated monitor arms desk mount is vital when you have 6 monitors. You may wish to put three in one line and three above them. You may even think of placing them all in one line or some other orientation. You will need either a few dual monitor arms or single monitor arms in each of them. 
Standing Desk
Once you have all that we mentioned above, you will need some space to organize your setup well. In our opinion, you should get an L-shaped standing desk that can occupy 6 monitors. Such a desk is ideal for staying active and productive during work hours. 
Computer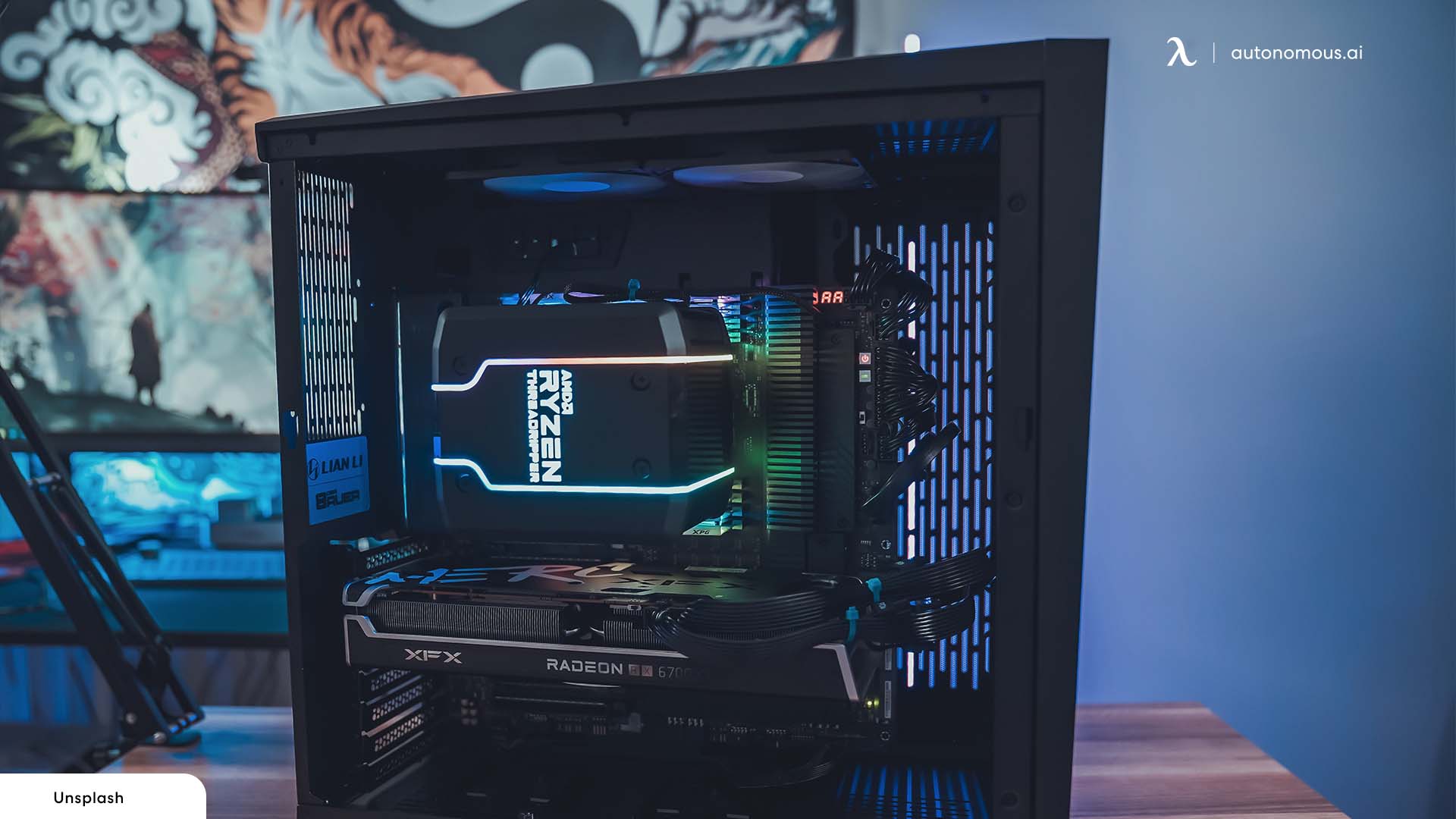 Now that you know the basics of the 6 monitor setup, it is important that you get yourself a high-end computer to connect everything so that you can have a high-end performance. It is always ideal to use the latest model to ensure you get the desired graphics card and have a better experience trading and coding.
Subcribe newsletter and get $100 OFF.
Receive product updates, special offers, ergo tips, and inspiration form our team.
WRITTEN BYAutonomous
We build office products to help you work smarter.