Gaming desks are generally overlooked, but these additions are the foundation of every gaming setup. This is because a gaming desk is a sturdy area where you can place all of the gaming equipment you would like to incorporate into your setup.
Many factors need to be considered when purchasing the best gaming sit-stand desk. Ergonomics is one element that should be included in these considerations. This is because employing the right ergonomics in your RGB gaming setup can offer exceptional benefits. Your comfort and productivity can be enhanced by such ergonomics.
Nonetheless, the market is filled with various electric gaming desk models. This can make it challenging to find the right option for your gaming setup. That's why we have taken the liberty of creating this list of the best gaming adjustable desks to help make your decision easier. Continue reading to find out everything you need to know.
Why Should a Gamer Choose a Standing Desk?
It's no secret that avid PC gamers spend hours in front of their desk. This makes these gamers just as vulnerable to the adverse effects of sitting for long periods as many office workers are. That's why these gamers can receive many amazing benefits when using a gaming sit-stand desk. Here are some of the most prevalent advantages:
Enhances engagement and focus – Sitting for more extended periods can cause muscle tension, discomfort, and restlessness. However, an adjustable desk allows you to stand and stretch while still playing. Blood circulation also improves, which promotes productivity and focus.
Improves your health – You might be neglecting your health and wellbeing by sitting at your desk playing games. Some of the most common adverse effects of this include muscle strain, poor circulation, brain fog, weight gain, and neck pain. However, increasing the amount of time you stand each day can greatly reduce your risk of metabolic syndrome and chronic disease while also alleviating neck and back pain.
Naturally limits your playing time – When you're seated while gaming, you can easily lose track of time. Hours can feel like minutes. However, standing while you're gaming makes you more aware of the time passing.
What Are the Considerations You Should Make When Choosing a Gaming Standing Desk?
When it comes to choosing the best gaming adjustable desk, you need to consider a few things. Here are some of the most crucial factors you should consider when picking a gaming sit-stand desk:
Functionality: The various gaming desk accessories included in your gaming sit-stand desk should be considered before you make a purchase. You might want additional compartments or drawers for storage or cable trays for better management.
Health and ergonomics: Specific features can be included in the design of your height adjustable gaming desk to promote comfort and overall well being. Such additions might be an adjusting height feature, built-in monitor arms, and more.
Material: The quality and feel you're looking for should be considered when choosing a standing gaming desk. Wooden or plastic desktops are the most well-liked while stainless steel frames offer enhanced stability and durability.
Weight capacity: The number of items you would like to place on your height adjustable gaming desk dictates the weight capacity you require. Your goal is to purchase a gaming sit-stand desk that's sturdy enough to hold all your equipment.
Style: You can't forget about how your gaming standing desk looks. You want to find a design that best fits your desired aesthetics. It's highly recommended to choose designs that are simple and versatile, as this allows your gaming equipment to become the focal point in your setup.
What Is the Best Gaming Adjustable Desk?
The market is filled with endless standing desks for gamers. This can make it challenging to find the best gaming adjustable desk. You shouldn't feel overwhelmed by these many choices, even though we understand that this wide selection can make it daunting to find the right one.
That's why we have conducted extensive research to find some of the most well-liked standing gaming desks to help make your decision easier. Here are our top 10 picks for the best gaming adjustable desk:
1. SmartDesk Core
The SmartDesk Core is known for being an essential gaming standing desk. It's equipped with various features that help increase your well-being and all-day productivity. The desk has a height-adjustable range between 29.4 inches and 48 inches. Four programmable settings make this desk convenient when transitioning from a sitting to a standing position.
Moreover, this Autonomous height adjustable gaming desk can lift up to 265 lbs with ease. You also have the option of a regular-sized desktop or an XL version. This ensures that the SmartDesk Core can fit your required gaming equipment without compromising on quality.
Its solid steel frame and electric dual motor help provide exceptional performance. These features also ensure amazing durability while the motorized system is especially well-liked for its fast transition rates and limited noise generation. Finally, this structure is globally vetted for safety and strength by BIFMA, UL, and EMC.
2. SmartDesk Corner
Autonomous is a leading manufacturer of ergonomic furniture, which is why many gamers prefer to add these products to their gaming setups. However, you might require more space than the SmartDesk Core can provide. Luckily, you have an alternative choice: the SmartDesk Corner. As the name suggests, this is a corner standing desk that provides you with more space without compromising on quality.
When investing in the SmartDesk Corner, you gain twice the amount of space while also receiving a whisper-quiet triple motorized system. This allows you to move from a sitting to a standing position without much noise generation. Additionally, these transitions can be conducted rapidly, as this motor can make height adjustments quickly.
The robust steel frame of this height adjustable gaming desk ensures your setup remains stable and sturdy while you're gaming. You also have a wide height adjustment range of 29.4 inches to 48 inches. This comes with four programmable settings for easy adjusting. The inclusion of modular segments also ensures you gain the perfect fit. 
3. ApexDesk Elite Series
Your chosen desk shouldn't hold you back when you're gaming, which is why the ApexDesk Elite Series is a great consideration. This gaming standing desk is equipped to adjust to your specific needs. The generously sized desktop includes a cutout, allowing you to remain closer to the monitor.
You receive a ton of space when purchasing this sit-stand adjustable desk. At 60 inches wide and 30 inches deep, you can easily fit your monitors, full keyboards, and mousepads. You can even fit a set of computer speakers (if you don't use headphones) without feeling like your desktop is overcrowded. All these features make it a great option for your gaming design ideas.
4. Eureka Ergonomic Captain X Series
If you're shopping on a budget, the Eureka Ergonomic Captain might be the right choice for you. However, you're required to sacrifice a few features. Nonetheless, many gamers would say this sacrifice is worthwhile because of the accommodating price and suitable space offered in this design.
When choosing this Eureka model, you gain adjustable feet that allow you to set the right level and height. You also receive an attachable cup holder, massive mousepad, rack for game controllers and disks, cable management features, and a headphone hook. Hence, including this desk in your gaming setup is bound to offer exceptional aesthetics without breaking your budget.
5. Respawn RSP-1048
If your gaming setup isn't the largest, you might not want to invest in a massive gaming standing desk. You might want to include this gaming setup in your single bedroom or studio apartment. In such instances, you want the Respawn RSP-1048. 
This height-adjustable gaming desk is equipped with enough space to house your full-sized keyboard, large monitor, and mouse while still offering ample room. You can also move closer to the monitor, thanks to the slight curving cutout. The mousepad covering is also a great addition while cable management is offered, making this Respawn model a great addition to any smaller gaming setup.
6. Secretlab Magnus
Secretlab has proven that its manufacturers know their way around a gaming battle station with its line of exceptional gaming sit-stand desks and chairs. One of these amazing gaming furniture pieces is the Magnus model. 
When purchasing this model, you're offered a clean setup. The back-edge feature has a slot running the desk's full width to help you manage your cables and keep your gaming setup neat. There's also a lower tray that you can use to hold a power strip. The metal frame ensures your setup remains sturdy and stable while you're gaming. These endless features make this gaming standing desk an exceptional option.
7. Arozzi Arena Gaming Desk
This Arozzi Arena Gaming Desk is designed especially for those who are rocking multiple monitors. It gives you plenty of space to run up to three panels. This design even accommodates gaming monitors that are ultrawide. Additionally, it's 31-inches deep for added convenience. 
You also have a mouse pad surface for this gaming standing desk. Meaning, you aren't likely to run out of space for your mouse. If that isn't enough, this surface is waterproof. However, it's a little more expensive than the other models on this list. 
8. Herman Miller Motia Gaming Desk
Sitting is widely known as the conventional way of enjoying a long session playing your favorite game. However, it doesn't have to be the most comfortable way of conducting games. This Herman Miller height adjustable gaming desk model is equipped with various features that offer an unmatched standing experience. 
You gain a substantial surface that's 30 inches deep and 60 inches wide. This ensures you receive the space needed to house your keyboard, monitor, mouse pad, and many other pieces of equipment. This desk even includes a smudge-proof and soft-touch design for added comfort while you're gaming.
9. Uplift V2 4-Leg Standing Desk
Are you looking for an electric gaming desk that's free from any wobble? If so, this Uplift model is equipped with everything you need. The gaming standing desk is equipped with four motorized legs that work to offer enhanced stability.
 However, that isn't all. These legs offer an exceptional weight capacity of 535 lbs. This is enough to carry more than your gaming equipment without any problems. Heck, the ground underneath this standing desk is likely to collapse long before the desk does.
10. Thermaltake ToughDesk 500L RGB Battlestation
If you have a lot of gaming equipment, a standard sit-stand desk might not work. However, this L-shaped gaming desk can offer you all the space you need while also helping you set up different gaming stations. You can choose to work on one side while playing on the other.
You receive a considerable amount of space, as this desk is equipped with the primary section being 62 inches by 31.6 inches. The side section provides you with even more surface area to place your equipment. The entire structure is equipped with a powerful lift mechanism that can adjust from a height of 27.5 inches to 43.3 inches. 
Wrapping It Up
A height-adjustable gaming desk is an amazing choice for your setup because of the exceptional adjustability features offered in this design. These desks are also convenient because you can easily move into a seated position if your legs are tired from standing.
Additionally, gaming standing desks come with accessories and other customization options. These include laptop mounts and anti-fatigue mats. This allows you to create the perfect gaming setup that fits your specific preferences.
Autonomous' amazing electric gaming desks are enjoyed by office workers and gamers alike. This is because of the wide and spacious surface offered in these designs that can accommodate two to three monitors. You also gain a versatile design and durable construction when purchasing a gaming standing desk from Autonomous. This makes these models the best when included in gaming setups.
Video ads for product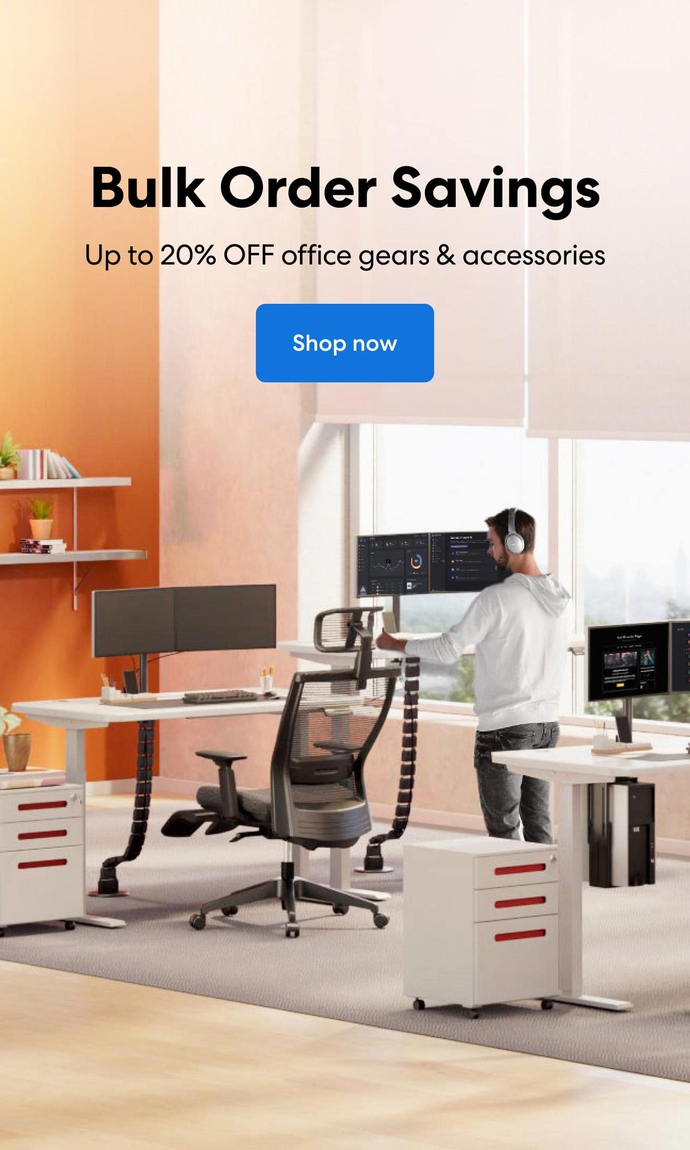 Subcribe newsletter and get $100 OFF.
Receive product updates, special offers, ergo tips, and inspiration form our team.