Are you an exercise enthusiast but don't have time to go to a fitness center? Do you want to install a home gym but live in a tiny room? Don't worry! Many tools can help you stay fit wherever you are without taking up too much space, including a foldable treadmill. 
In recent years, these devices have become very popular because they allow people to work out at home or on the go. Just imagine! You can take your compact treadmill and do some exercise during your vacations or when you visit your relatives. It's just amazing! 
If you are here, you've probably heard about these wonderful tools and all their benefits. However, there are a few more things you should know before buying a folding treadmill or any other home gym equipment. Keep reading and discover them here! 
Aspects You Should Consider When Buying a Foldable Treadmill
These exercise devices are highly beneficial for those who love to work out as they are ideal for doing cardio exercises more conveniently. Compared to stationary bikes or ellipticals, you only need to take your folding home treadmill and easily store it under your bed or sofa. 
Plus, you can take the portable treadmill anywhere you need to go! Some workaholics even take these tools to the office and store them under the desk to stay more active while they work or during their breaks. 
However, you shouldn't get carried away. Even if you're so excited about finding the perfect foldable treadmill, you should consider some aspects before going to the store or placing your order online. The most important are:
Space: What Size Folding Treadmill Do I Need?
The foldable treadmills were designed for small spaces. However, before purchasing one, you should consider if you have the necessary space to store it and when you must fold or use it. 
You should also consider the ceiling's height. When you use the treadmill, you will be raised several inches above the machine. Therefore, you must make sure that it fits under that space, especially if the room has a sloped roof. 
In other words, you should take a measuring tape, calculate the space available, and compare that information with the folding treadmill's dimensions. The objective is to choose a model that is a good fit for the storage space and the area of ​​use. 
Another important detail is how you plan to use the machine. Did you know that there are portable mini treadmills? In addition to being cute, these are the options that people usually look for to equip their offices or workspaces with tools to exercise. 
Moreover, you should remember that most folding portable treadmills do not fold completely but will have a V-shape when folded. 
Cost: Can I Find a Treadmill That Suits My Budget?
Fortunately, yes. There are many exercise machines available on the market today as more and more people care about their health and physical appearance. That means you can find plenty of options, including an affordable compact treadmill that fits your budget. 
If you have a limited budget, you should look for manufacturers that offer products at lower costs or look for smaller machines. Most of the time, prices for smaller treadmills tend to be lower. You can even find a much cheaper mini folding walking pad that could be more functional than the original designs. 
Therefore, what you need to do in order to find the best foldable treadmill within your budget is to know how much money you really have and conduct your search accordingly.
Stability: Is My Portable Treadmill Durable?
In addition to cost and space, another important step is to check whether the machine is stable and has a solid structure. As a general rule, cheaper treadmills tend to have flimsier frames. 
However, that doesn't mean all cheap options are low quality or will break on first use. Try your folding treadmill or check out its reviews to see if it's sturdy and worth the investment. 
Design: Is it Easy to Fold and Move?
If you are thinking of buying the best foldable treadmill, you need something that you can carry or fold for easy storage, right? Therefore, you must make sure that the option you choose fulfills this purpose. 
A compact treadmill should be small or foldable enough to fit under your bed! If folding the machine is difficult, something is wrong there, and you should consider other models. 
The same thing happens if you choose a portable treadmill. Finding a machine that is easy to move around is an important factor for those with busy days or very small spaces. 
Some models have built-in wheels, making them easier to move around the room for easy storage or transport with you if you have a busy day but don't want to miss out on your cardio session. These are the ones you should try to find! 
How Do I Know Which Type of Foldable Treadmill Is Best for Me?
If you have already checked all the aspects listed in the previous section and are determined to buy a foldable treadmill, there's one more step you need to take: find one that suits you. 
Can you find a folding home treadmill that meets your needs? Fortunately, yes, you can! As mentioned, there's an ocean of exercise machines out there. Therefore, finding the perfect one should be a piece of cake. 
All you have to do is consider your needs, preferences, and lifestyle. It is also important to consider the treadmill's features. Most manufacturers include a list of instructions on the machine's packaging. Don't ignore it! 
Manufacturers' instructions often include important information such as the amount of weight the foldable treadmill can support. 
Choosing the best foldable treadmill also depends on your lifestyle. Are you usually busy and spend a lot of time in the office? Perhaps a portable treadmill that you can take wherever you go is the best option for you. 
10 Best Foldable Treadmills You Can Find on the Market
Now that you know all the aspects to consider in order to find the best foldable treadmill, you might be wondering where you can find it. Well, you have come to the right place! Here is a list of the best options available: 
1. WalkingPad Foldable Walking Treadmill C2
Technology has advanced in every possible way, and this compact treadmill proves that fact! Did you know that there are smart exercise machines? The WalkingPad C2 is one of them. 
This foldable and easy-to-store walking treadmill makes working from anywhere simple. Thanks to this innovative machine, you can go for a walk without leaving your room! In other words, it's the best option for those days when you don't feel like going out or the gym seems further away than ever.
Furthermore, in addition to being foldable, this treadmill has technological features for smart connection, foot-sensing speed control, and a four-layer structure for greater resistance. It's definitely a great choice.
2. WalkingPad Double-Fold Walk-Run Treadmill X21
Are you looking for more comfort and convenience? The WalkingPad X21 is ideal for you! It is the first compact treadmill with double-fold technology and was awarded the German Red Dot Award and IF Design Award for its quality!
Thanks to its user-centric design, you can control all functions directly from the handrail. Did you finish your exercise session? You just have to fold it and easily hide it anywhere.
Additionally, the WalkingPad X21 has a digital display, NFC pairing, and can be used with a smart digital monitoring app. It's amazing! 
3. WalkingPad Foldable Walk-Run Treadmill R2
Most people looking for a portable treadmill need it to fold easily for quick storage. Are you one of them? Fortunately, you can find the perfect one here. 
The WalkingPad R2 is a convenient foldable treadmill to exercise from wherever you are without wasting a second! Whether you have a busy day at the office or don't feel like leaving the house, this exercise machine is all you need! 
Some of its most important features include a patented 180-degree folding design, a four-layer treadmill, foot-sensing speed control, and a connection to a smart app. 
4. WalkingPad Foldable Walk-Run Treadmill R1 Pro
Do you like to exercise while you watch your favorite series or the music videos of the bands you love? If so, the WalkingPad R1 Pro is the foldable treadmill you've been looking for.
Although it has a conventional shape, this machine can be folded and fits in spaces as small as under your bed. Plus, it has a sleek design, so it looks good in any space, even if you don't have time to fold it away. 
Besides that, it comes with incredible technological features, including a patented 180-degree foldable design, a smart app connection for those who want to monitor their exercises, foot-sensing speed control, and more! 
5. WalkingPad Foldable Walking Treadmill A1 Pro
Do you prefer a more modern and technological option? You can also find it here! The WalkingPad A1 Pro is everything you need to go for a walk without leaving home while enjoying a unique experience driven by state-of-the-art technology. 
This folding treadmill is smart and can connect to a WalkingPad Kfit app to view exercise data, time, speed, calories burned, and more! Also, it comes with a remote control, so you can do your daily exercises without spending time on settings or other things.
This amazing portable treadmill is very sturdy and supports up to 230 pounds in weight. Plus, it has foot sensor speed control for a smoother experience. 
Do you want to keep it under your bed or take it to the office? It fits into the smallest of rooms thanks to its patented folding technology and has a scroll wheel that makes it easy to move. 
6. NordicTrack EXP 7i
Do you want to run a few miles quickly at home without taking up a lot of space? The NordicTrack EXP 7i is a good option. It is durable, strong, and can support up to 300 pounds. 
Plus, it goes up to 12 mph with up to 12% auto incline. However, it's a bit expensive. 
7. Compact Treadmill Treadly 2
Since it's only four inches thick, this portable treadmill can be stored almost anywhere, even under the couch! Its biggest draw, however, is that it can connect with other Treadly 2 devices for a shared exercise experience. 
Unfortunately, it only reaches five mph in speed. In other words, it works perfectly for brisk walking but is not ideal for running. 
8. Folding Treadmill Xterra TRX3500
With a 3HP motor, it is an excellent folding home treadmill for those looking for machines that can handle high speeds. Plus, it has a 60-inch running deck, so it's one of the most comfortable options you can find on the market. 
Do you prefer smart models? It can connect to fitness and Bluetooth apps for a more personalized and technological experience. 
9. Horizon T101 Treadmill for Beginners
Are you a beginner? There is also a perfect treadmill for you! The Horizon T101 is ideal for people who are not used to walking or running on exercise machines. 
It has a modest 2.5 HP motor and can go up to 10 mph with a 10% incline grade. You can learn to use the treadmill like an expert with this one! 
10. Folding Flat Treadmill Sunny Health & Fitness SF-T7718 Pro
While most folding treadmills are designed for walking, this machine is perfect for runners! Unlike other models, it folds upright, which means you can't store it under the bed but in your closet, for example. 
It also has a modest motor and can only hit nine mph, but it's a good option for those looking for large treadmills for comfort. In addition, it has nine built-in apps to combine workouts. 
Final Thoughts
As you can see, finding the best foldable treadmill is entirely possible. If you want to do it, you only have to consider aspects such as the available space, your needs, and your budget to choose the perfect one! 
Besides that, if you want to know if one of the models Autonomous has for you is worth the investment, you can check the WalkingPad reviews to know other people's opinions on these machines.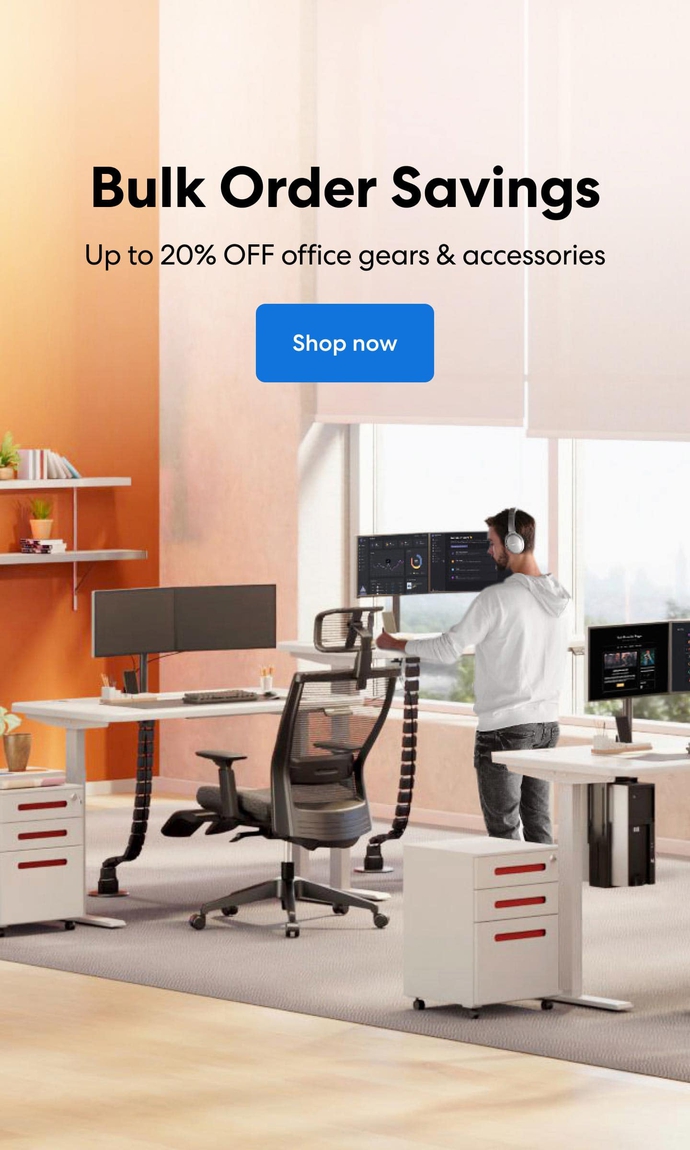 Subcribe newsletter and get $100 OFF.
Receive product updates, special offers, ergo tips, and inspiration form our team.