Smart Products
Wholesale Office Desks - Best Standing Desk Price from Autonomous

Autonomous
|
Apr 9, 2023
13,870 Views
Is your office in need of new office furniture? Are you renovating and looking to spruce up the space with durable yet affordable pieces? Then wholesale is the way to go. Workstations are key elements in having an effective free-flowing office.
Having quality, comfortable office furniture and decor can promote ergonomics, employee wellbeing, productivity, and performance. As an office designer or business owner, getting wholesale office desks or other wholesale office furniture types can be a cost-effective option to explore. You achieve two objectives by catering to ergonomic demands while minimizing business expenses. 
Before buying and selecting an office desk, you must ensure the desk meets your specific needs. Why would you want to go with the office standing desk with adjustable features, for example? It must help your team to perform its duties to the best of its ability. Other factors that influence the decision are the desired aesthetic appeal, size of the office, personal work needs and comfort, how people work, functionality, and your work-based needs.
The popularity of standing desks has been increasing over the past few years because they benefit your health and can lead to increased productivity. Using several criteria like lift capacity, user reviews, speed, adjustment range, overall value, we've been testing standing desks for years.
Generally, a well-priced standing desk will range between $500 and $700. With wholesale office desks prices ranging from $150 to over $2,000, this range of standing desks is good for almost any budget. It can cost about $200 to convert a regular desk to a standing desk.
Office Standing Desk Bulk Order from Autonomous
If the idea of wholesale standing desk purchases has caught your eye, then Autonomous has you covered. The company is known for the best ergonomic furniture to fit any office setup. It doesn't matter if the needs are traditional or home-based.
Additionally, the pricing starts at competitive levels to fit almost any office budget. Ordering in bulk with Autonomous can save you quite a bit, which gives you something to spend on the office chairs that are next on the agenda for your organization. 
You can visit Autonomous' website and browse through the catalog to see some of the best chairs available under the bulk order section such as the following items for your wholesale office desks.
1. SmartDesk Commercial
The ultimate standing desk - Autonomous SmartDesk Commercial designed for healthier workplace is offered at bulk deals now. Experience the perfect blend of functionality and convenience with this exceptional standing desk. Enjoy its whisper-quiet operation, making it ideal for any office environment. With its effortless usability and straightforward assembly process, you can set up your workspace in no time. Stay worry-free with the built-in anti-collision technology, ensuring a safe and smooth transition between sitting and standing. Plus, you'll have peace of mind with the impressive 10-year warranty.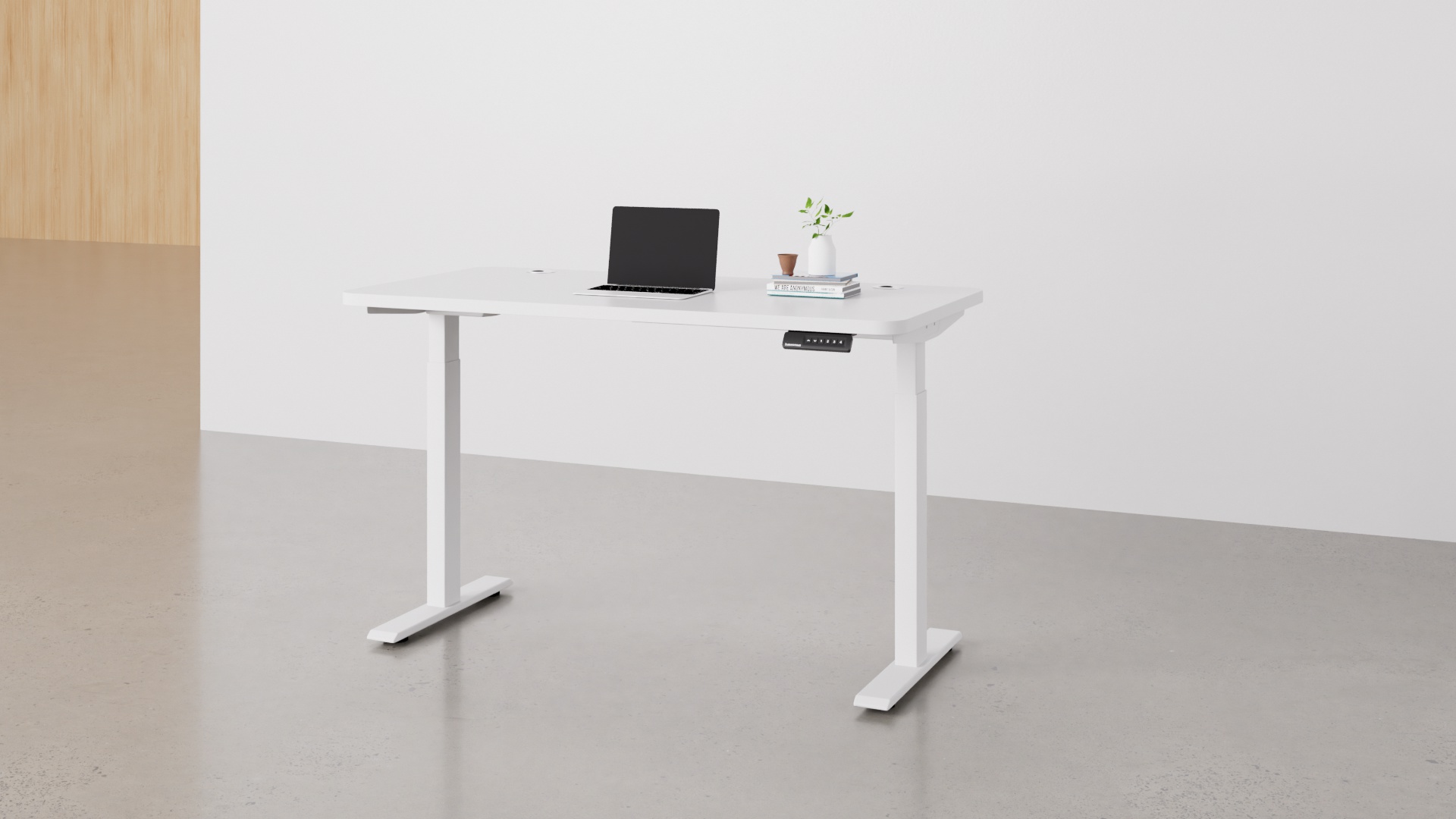 Top dimension
Small Top: 43"L x 24"W x 1"H
Classic Top: 53"L x 29"W x 1"H
Frame dimension
23.6"W x 43" - 59"L
Height range
With top: 29.3" - 48.5"
Without top: 28.3" - 47.5"
Materials
Top: Warp-proof MDF wood, Solid wood
Frame: SPCC steel
Colors
Top: White, Black, Walnut
Frame: White, Black
Weight capacity
250 lbs
Warranty
10 years for frame
1 year for top
2. Autonomous SmartDesk Pro
This SmartDesk Pro mainstay in the Autonomous stock is a motorized standing desk that has one of the best height ranges on the market. It is versatile and suited for both your traditional office and home setups. These desks are built to ensure productivity and comfort, which are both wins for your workforce. 
Sturdiness and having a quiet motor are two traits that also sets it apart from the others. You have a selection of tabletop colors and frame styles. The best part is you don't need to consider only the preset options. High customization is available for your needs. 
Your wholesale office desks purchases are covered by warranties on both the top and the frame. The assembly is incredibly easy, and the unit is certified on different levels. For this desk, the standard price sits at $699, but ordering in bulk is going to see you get a much better deal on each desk.
3. Autonomous SmartDesk Core
The SmartDesk Core is known for its heavy-duty steel frame, and its vigorous and smooth dual motor lifting. It is designed to boost your productivity and energy levels almost immediately by contributing to comfort and increased energy. It also does not have a steep learning curve. With an assembly time of 20-30 minutes and a tremendous warranty, this desk sits at $499. 
The color scheme of this commercial office desk is extensive, and the unit is made of warp-proof MDF wood. There's an extra-large option if you need the top to have an even greater working space for multiple monitors and other peripherals. There are a ton of reviews too, which should help you understand the value you are getting and there's also a 30-day trial period that you can take advantage of to assure yourself that you've chosen the right piece of furniture for the office's needs. This is such an excellent wholesale office desks option for your workplace.
4. Autonomous SmartDesk Corner
Do you have corner space that you're looking to capitalize on? Are you also looking for something beautiful by practical at the same time? If so, then why look any further than the Autonomous SmartDesk Corner? With its silent triple motor system that can carry up to 440 pounds easily, this desk is designed to optimize space and handle heavy loads.
It's very unlikely that you have such heavy office equipment, but if you do, that should be no problem for this commercial office desk. As you can tell, this desk is suited for employees with corner spaces based on its shape. Additionally, you can choose where the long and short sides go during assembly, as the design is not static. Choose from preset tabletop and base color combinations or feel free to customize things to your liking. 
This efficient L-shaped standing desk costs $999, but of course, should you go with a bulk office desk order, your price becomes significantly less per unit. 
Wholesale Office Desk & Chair Combo from Autonomous
Standing Desks that can be adjusted in height and help you stay healthy at the workplace. Reduces muscle pain and strengthens core muscles when you use a stand-up desk with an adjustable height.
Standing desks differ through their levels of customization, affordability, ease of adjustment, weight capability, and overall best use in most workplaces. Find wholesale office desks alternative to traditional office furniture with our selection of adjustable standing desks.
1. Blackaholic: SmartDesk Pro (All Black) & ErgoChair Pro (All Black)
Try this wholesale desk deal when you are looking for a quality desk that will increase your productivity. It may be of interest to gaming executives or executives who want to maximize their workspace efficiently. There is enough space on the Smart Desk Core for various things, including items that weigh up to 265 pounds. You can customize your bulk office desk price bundle as well as get free shipping. 
A desk can be made to look unique by personalizing its colors when you buy wholesale desk. Similarly, desktop sizes can range from 40 to 73 inches, depending on whether you select the XL or regular model. You can change the desk's height by 2.3 inches using the frame, which will save you time while sitting and standing.
The SmartDesk Core has been bundled with the ErgoChair Pro as part of this wholesale offer. It also includes adjustable arms, the seat, and the angle of the backrest. The back and headrest are fully covered with mesh. On the soft, lightweight mesh seat, you even have a mesh covering.
2. White Addicted: SmartDesk Pro (All White) & ErgoChair Plus (Grey)
For those who do not need something too heavy-duty but need something that still meets their needs, the SmartDesk Pro is an excellent option. There is a discount on this desk at the moment. Gaming corner desks, and workstations that must withstand extreme conditions, such as basements and garages, should use this durable, quiet, tall, and strong desk. Dual monitor support is available with a 6-foot workspace. An XL version of this desk is also available.
Despite having such a minimalist aesthetics desk design, the SmartDesk Pro offers more flexibility and height range than the Smart Desk Core and offers the same minimal design. It is generally more expensive than the SmartDesk Pro, but the benefits, such as the long warranty, more storage, autonomous customizations, etc., make it well worth it.
The ErgoChair Plus will easily replace your old office chair. A lumbar pad-adjustable seat and lumbar pad provide comfort to the seat. Additionally, while the chair is reclining, the back can be counterbalanced through an adjustment.
It is breathable and comfortable because it is constructed with mesh. Its wide seat and room for your legs to move that make it ideal for people weighing 350 pounds. The armrests can be raised and lowered in either direction; they can also be adjusted on either side.
3. Frenzy Fruit: SmartDesk Core (Walnut Top) & AvoChair (Suntan)
If you want to buy wholesale office desks that will help you work more efficiently, try this. It is a brilliant choice for those who seek an ergonomic workspace. With space for almost anything - right up to 265 lbs - the Smart Desk Core offers plenty of desktop space.
Aside from that, the price starts at USD 759 with free shipping, and you can customize it to fit your needs. Your desk can be customized by selecting the colors it is painted in.
You can also choose between an XL or regular desktop, each available in a range of sizes from 40 to 73 inches. It takes just 2.3 seconds for the top to move by 2.3 inches on the standing desk frame, with desk decor included- think of all the time you'll save up when you switch from sitting to standing.
Its $299 price makes it the perfect choice for classrooms, boardrooms, and smaller spaces, at a special price of $284.05. This well-built, oval-shaped chair is light, comfortable, and has nice features. The arms, legs, and height can be set accordingly. Also, the mesh backrest is made from an elastomeric material and embedded in a plastic grid. Diecast aluminum alloy is used to construct the AvoChair, which can support up to 250 lbs.
4. Cool Bamboo: SmartDesk Core (Bamboo Top) & ErgoChair Pro (Grey)
In this wholesale office desk, we give you these two items for less. The seat height, backrest tilt, depth, headrest angle, and backrest tension can all be adjusted on this chair.
You can change the color of the chair, and the design of the chair is very minimal. During the summer, you won't sweat because the backrest is fully meshed, and all controls are concealed beneath the seat. Wheels provide mobility.
A SmartDesk Core desk can be ordered in various shapes, sizes, and prices, ranging from $319 for a single desk to $739 for a double desk. There are two packages, one containing the top and one containing the frame. Both packages weigh more than 100 pounds.
Bamboo table tops come in two sizes, and their smooth surface is both beautiful and durable; unlike white/black tabletops, bamboo doesn't scratch easily. A dual motor system has been implemented now. It is now able to safely handle weights of up to 300 pounds in an incredibly quiet manner.
5. Basic Combo: SmartDesk Core (All White) & ErgoChair Pro (Grey)
SmartDesk Core helps you work more efficiently. Standing desks are motorized, so you can sit at them or stand at them. A wide selection of finishes is available for MDF wood or bamboo desktops, including walnut, black, white oak, and simple white.
Extra-large tops have dimensions of 70.5 inches by 30 inches, compared to 53 inches by 29 inches for classic tops. The tops come in a variety of finishes, all with a matte finish and a scratch-resistant surface. There are three color options for black and white frames.
For the extra-large top, you can choose from black and white colors; when it comes to the classic-sized top, you can choose from black, white, dark bamboo, and green. It was designed to provide the user with the best ergonomic support possible and BIFMA certified.
Due to its curve-shaped design, this design of modern office furniture can accommodate most body types. In this way, the core is supported and encouraged. The armrests and seats can also be customized. The chair features 62 springs as well as a TPE headrest that is both elegant and convenient.
Wholesale Office Desk Buying Guide
While going for an office furniture bulk order for the workplace is likely to save you some money, you can't jump in and do so blindly. Wholesale office desks can also be a mistake if you don't plan and think about the context effectively. Create a checklist or a buying guide with all the requirements and needs. Most office desks are made from wood veneer, while others come in glass, laminate, and steel, for example. The material would be one of the things that lead to your eventual decision.
The type of desk is also important as there are various sizes and styles you can choose from such as L-shaped desks, U-shaped desks, regular adjustable standing desks, executive desks, and reception desks. Furniture wholesalers allow you to shop with confidence by offering several options to fit your budget and office atmosphere. 
Factors and Scenarios to Consider before the Big Purchase
Discounted Prices and Series
Office desks are typically expensive, so it would be good if you can take advantage of any discount the wholesalers may have. Buying the desks in bulk is almost universally known as the best way to secure discount pricing. This principle carries over into other areas of purchases too, which is why businesses tend to be on the lookout for bulk opportunities. 
Consider viewing the complete wholesale office furniture series of the desk being purchased. Sometimes, the desks are a part of a series or collection and can include other amenities and items that are beneficial, such as bookcases, ergonomic office chairs, stands, and lateral file cabinets. 
Features
Features are what set a good commercial office desk apart from the rest and that is not just on an aesthetic level. Depending on the features and specifications you require, the cost and the perceived value can both fluctuate. You must walk the line of features vs price delicately since you want to make your purchase where the two are most optimal as a set.
Certain attributes such as build quality, keyboard tray presence, weight limit, type of wood (assuming the desk is a wooden one), surface area, edge design, and finish can reflect on the price and sway your eventual decision. 
Modern workers now require numerous devices to be plugged in such as laptops, tablets, desktops, and phones. These are most optimally used when they are plugged into the same location, which means desks with ports are automatically desirable.
Additionally, the staff members are left with other ports for desk accessories, such as their electric sharpeners and lamps. The convenient port placement allows for employees to practice proper cable management.  
Some may see these requirements as extras, but there is nothing wrong with them. Much of the workday is spent sitting around the desk, so the benefits of flexibility and higher productivity are often worth the price tags that they come with.
Office Working Model and Setting
Your work model is important to consider when buying office furniture. Do you have a flexible working model or a traditional one? If most of your workforce operates on a hybrid schedule where they spend a considerable amount of time out of the office or travel a lot, you might not need a desk for those employees.
Alternatively, they may have many supplies at the office, which means investing in a commercial office desk or bulk office desk with lockable drawers and compartments can offer them some privacy and security. 
If your company uses the hot-desking or hoteling system, then buying wholesale office desks can be a great investment. You can get numerous desks to facilitate the criteria of either system at a reasonable price.
For a growing organization with ever-changing employee roles, a standard office desk may be more of a hindrance than it is helpful. You might want to consider getting a modular desk style instead. Not only are these desks multifunctional, but they also adapt to various office setups.
Office Chair
While the aim is to get wholesale office desks, consider the budgeting for office chairs too. People do need to sit, after all. Even those who are using standing desks should not be expected to stand for the whole day. The most effective way to work under such circumstances is to implement sit-stand sessions in acceptable intervals.
Chairs must be reasonable based on the desks' height. There are also the matters of appearance, comfort, and support. Are they encouraging and stimulating good posture?
Remember, your employees spend a great deal of time seated inside the office. A human resource manager should have employee's best interests at heart, as should business owners. As such, you must tackle office furniture fatigue, reduced blood flow, and reduce the chances of employees feeling stressed and unproductive.
You're not a doctor, but you don't need to be to address these issues. The only requirement is that you care enough to select furniture pieces that are conducive to good health.
Employee Preferences
If your employees are the type who have two or three computer monitors on their desks and handle a lot of paperwork daily, a desk with a spacious top and keyboard tray works well here. You could even achieve this in corners by using an L-shaped unit.
You can ask yourself these questions as you finalize the purchase:
"Can this

commercial office desk fit into our style and portray the desired image?"

"Does this desk meet our personal requirements?"

"Can the desk comfortably fit into the office considering the size of each workspace?"

"Can I get this desk with the budget allocated?" 
Once you can provide adequate answers to the questions, then you are on the right track to make the wholesale office desks order. 
Autonomous Employee Purchase Program
Get great deals on new office furniture wholesale for your entire staff with our employee discount program! Employers can take advantage of the Autonomous Employee Purchase Program to receive special discounts on office furniture wholesale orders for teams and colleagues using their company credentials. New products such as this are offered in this manner with free trials and extended warranties. Choosing when to access the account and billing your company is all you have to do.
Using this EPP plan for employer, employers can plan their WFH teams by offering them business-only pricing on all products, and the more they buy, the bigger the discount. You can choose and approve your orders with just one click, thanks to our simplified buying process. Most importantly, your team is free to focus on what they need and make the most of remote working and employee well-being. It is up to you how you set equipment limits and order quantities.
Make Your Order Today!
Making wholesale office furniture online on the Autonomous site is quite simple. You start by filling out a form with basic information detailing the name of your organization, the contact number, an email address, and the company size. After that, you can expect a call back from a representative to discuss the price and other elements of the potential purchase agreement with you.
Bulk office desk orders are not new, and this is one of the best times to capitalize on their availability. While buying greater numbers of office furniture at the standard price can be very intimidating, things become that much more optimal in bulk. There are many health complications and other issues afflicting office workers consistently.
Therefore, the need for ergonomic furniture is non-negotiable. Whether you are an office designer, business owner, or human resource employee, ensuring that the team has the best equipment should be a priority. Thankfully, the solution is right here, and you don't need to go searching too far to ensure your workforce is in good spirits and health.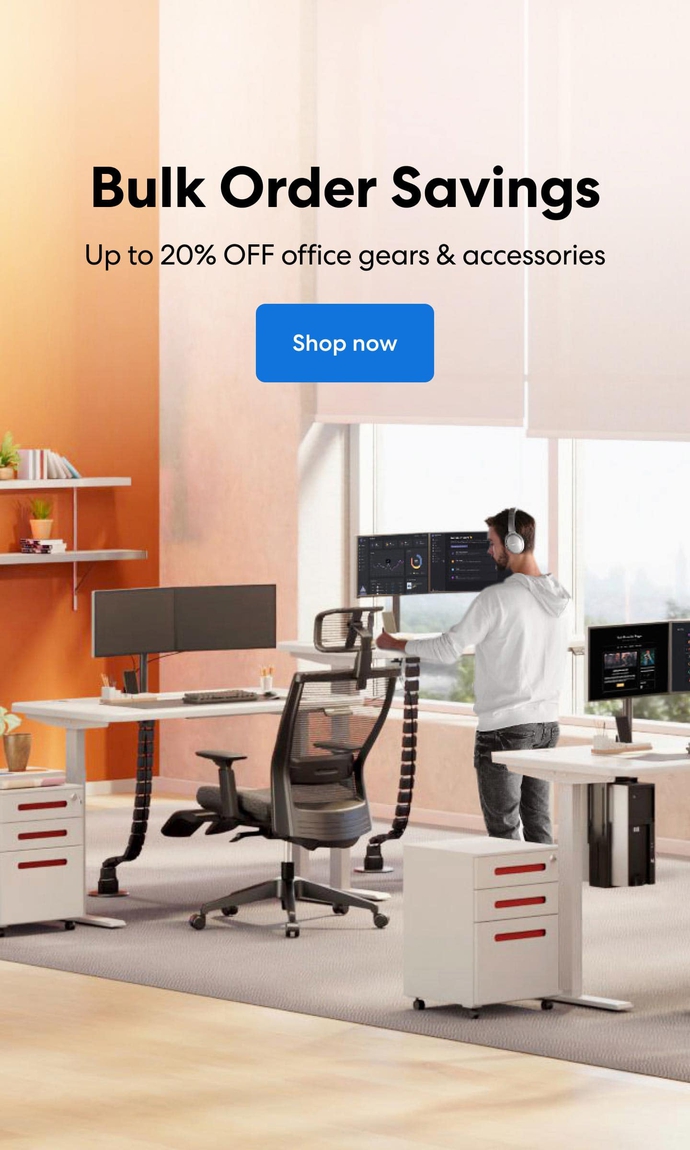 Subcribe newsletter and get $100 OFF.
Receive product updates, special offers, ergo tips, and inspiration form our team.