Of course, being effective at work is beyond mental creativity, it's a blend of several factors that coalesce to bring out the best in you. Undeniably, there's the aspect of physical comfort, and this goes a long to affect your mind and predisposition towards work.  Suffice to say, for optimal productivity at work; you need the perfect work desk.
Until recently, office workers have gotten accustomed to using the traditional work desks, which conditioned them to work while sitting only. Evidently, working on these desks for long hours has had a subtle damaging effect on their spine and back muscles. Obviously, makers of these desks never considered the possibility of working while standing. Well, with the emergence of ergonomic standing desks, which support ample flexibility at work, that's in the past now. So, whether you want to work while sitting or do your thing while standing, there's no limit you can't explore.
Maybe you're hearing about this for the first time. Or perhaps, you've been contemplating if getting an ergonomic would be beneficial to you; be thankful you stumbled upon this article. In the end, we're sure you'd have enough reasons to replace your old working desk with an ergonomic standing desk.
The Benefit and Importance of Ergonomic Standing Desk
Let's begin this journey to enlightenment by providing you with sound reasons why you should opt for an ergonomic standing desk;
Increased productivity
A lot of factors hinder productivity at work, and not having a conducive workstation is one. No matter how hard you try to use a lopsided work desk, you'd end up being frustrated. Working tirelessly with little or no flexibility is bound to affect your health too. For these reasons, opting for an ergonomic standing workstation is the best idea.
There are several benefits attached to being able to stand while working. No rule mandates you to work every time you sit. What you desire is productivity, but you'd always lag on that if you don't go for an ergonomic alternative. Soothe your pain, ease your mind and work with no stress induced by your work environment.
Eliminates fatigue and back pains
By natural configuration, there's a limit to how long you should sit or stand. Once you breach this limit, you're bound to suffer the consequences – there's no escaping it. This is why when you sit for too long when working, at some point, you'd feel a sharp pain in your spine. Maybe that's even the reason why you keep visiting the clinic to get back pain treatment, who knows?
Ergonomic standing desks can help you eliminate fatigue and all kinds of discomfort you could experience while working on your butt all day. By being able to stand at some point, they ease your back pain. As a result, you can work for as long as you desire without any fear of kickbacks.
Efficient space management
There's no way you would miss your old desks once you change them to ergonomic height desks – no way in the world! Instead, you'll be delighted all day long that you made the right decision. 
Ergonomic height desks, ergonomic standing desks, or whatever you choose to call them come with enough space. Hence, they allow you to set up an adequate workstation. Whatever gadgets or machines you want to have around you while working (except for the conspicuously big ones, though) would fit nicely on your stand desk or underneath it. These ergonomic stand-up desks carry the idea of efficient space management.
Apt cable management
Cable management plays an important role in your office. Having toggled cables around can be frustrating, especially if you're working with high-tech computers, printers, fax machines, and all. It's pretty hard to keep the cables together. Ergonomic sit-stand desks help you never to bother about this issue. It comes with unique cable alignment mechanisms that help to keep your cables intact and off sight.
It's you-centered
An ergonomic sit-stand desk is all about you. From the point when the idea was conceived to its formation stage, the design was made exclusively for your comfort - its flexibility in terms of usage attests to this too. Unlike the traditional types, you have options to sit, stand, tilt or take on whatever postures that soothe you while working. Thus, they provide the best working conditions to help you task your mind to quality delivery. Not only what you need to do matters when it comes to work, how you work also counts. Would it not then be in your best interest to opt for an ergonomic height desk that is made specially for your comfort?
It's the wave of the moment
Many office workers, freelancers, and home-workers are beginning to appreciate the irresistible qualities of ergonomic standing desks. Every day, ergonomic desks are gaining ground as more people are getting to know about them and the benefits they offer. It's only a matter of time; ergonomic standing desks are sure to flood every workspace. 
The Best Ergonomic Standing Desks for You
Look no further for the best ergonomic standing desk!  We've selected the best quality ergonomic standing desks for you to choose from. We know what having those around would do for you, your health, and productivity; thus, we have saved you the stress of having to fish for the very best; Here are the best 10:
1. The Autonomous SmartDesk Corner
This is an ergonomic corner desk that comes with astonishing features. It belongs to the family of L-shaped standing desks designed to fit nicely into your office corners. This product is exclusively designed to let you have a taste of what an exciting working experience is all about.
SmartDesk Corner features an adjustable system that you can use to alter the level of the desk to a desired height. It is made with the finest steel, which possesses the anti-rust capacity to provide a durable and long-lasting effect. What's more, it provides more than enough space for you to set up a top-notch workstation. There's enough room for as many gadgets as possible.
2. SmartDesk Core
This product belongs to the category of home standing desks that are specially and specifically created for your home workspace. This ergonomic standing desk gives you the possibility of having a flexible and super functional workstation at home. With the SmartDesk Core desk, you can have a replica of what you have in your office at home. The experience is bound to synchronize.
Freelancers who also work from home can also enjoy the ergonomic benefits of standing desks. You can work for as long as you desire without any side effects on your back or spinal cord afterwards. Super-charge your workspace with this tiptop SmartDesk Core. It excels in terms of space and is your surest bet to having a dynamic workspace at home.
3. SmartDesk Pro
Whether you want to use this ergonomic height desk at your home office or in a proper office space, it's indeed a superb option. The SmartDesk Pro desk is one of the best quality ergonomic sit-stand desks you can have. It comes with an exclusive design that lightens up your workspace. It is aesthetically appealing and allows for high-end flexibility.
What makes this ergonomic stand-up desk distinct and peculiar is the elegant design. More so, its frame and top come from the best materials. Please take advantage of the benefits offered by this product by getting it to augment the aesthetic appeal and functional flow of your workstation.
4. Uplift Custom Sit and Stand desk
Coming with uplifting qualities is the Uplift Custom Sit and stand desk perfectly engraved for corner spaces. This ergonomic sit-stand desk supersedes traditional work desks in all areas. It gives room for more space and adds an appealing touch to your workstation. More so, it's the best option if you want to take care of scattered cables. 
There's no glitch when using this product as it has been equipped to take care of your standing or sitting needs. Its height dimensions have been correctly calculated; thus, it gives no strain or sprain to your leg or butt muscles when standing or sitting.
5. IMovR Lander Desk
Indeed, this top-quality ergonomic desk is reserved for users with high taste. It's one of the grandest desks in the market. The desk is an adjustable standing desk with impressive qualities and perks. It's a premium product that has been designed to offer its users unparalleled comfort and convenience.
Additionally, it comes with a high price tag. This is because it is designed with a trio-intention of comfort, luxury, and style. It takes little time to assemble the desks, and the technique for assembling the product is seamless. With regular and periodic maintenance, this ergonomic height desk can be used for a long period.
6. Jarvis L-shaped standing computer desk
Talk about an excellent corner configured desk, this corner standing desk is simply the best. It's a high-end quality desk with fantastic spatial designs. Built for optimum efficiency, this standing desk offers ergonomic benefits that are second to none. Indeed, it has been built to impact millennials.
Guess what?  Jarvis L-shaped standing computer can carry heavy computer gadgets. It can carry gadgets that weigh up to 530lbs and more. It has a fantastic three-legged design, L-shaped, that fits perfectly into any corner. Also, this product is perfectly optimized for efficient cable management. It comes with standing desk tips in its manual to help you maximize its use. Without mincing words, it's undoubtedly a product for the best minds.
7. Eureka Ergonomic L-shaped Standing Desk
This ergonomic sit-stand desk is exclusively built for corner configurations. It features a crisp electric motor design that helps to adjust its height at a fast rate. It can hold up to 530lbs in weight and can reach 50 inches in height. Eureka ergonomic standing desk is a perfect buy for you. 
It's a China product that has been specifically designed to thrill its users. While a lot of China's standing desks have been criticized for being made of inferior quality material, Eureka ergonomic desks prove this assumption wrong.  For its operations, it uses a state-of-the-art robotic configuration. Surely, it's a classy product for geeky and classy users.
8. Uplift Curved L-shaped Stand-Up desk
Going further, part of the best ergonomic desk is the Uplift curved desk. Its curvy design gives it a physically appealing look. Apart from being nice to behold, it comes in just a single size and has a well-stabilized base. In terms of balance, this product is one of the best. 
The ergonomic stand-up desk is built for durability, and its corner configuration is apt. If properly maintained, it can outlive its earmarked warranty years twice. It's a great design and a fantastic choice for your home space or office.
9. The Multi-Table L-shaped Standing Desk
The Multi-table ergonomic sit-stand desk has a distinct feature, and that is its affordability. It's a pocket-friendly option. Don't get this wrong! The fact that it's cheap does not mean that it's of inferior quality. Although, we must say that in terms of quality, it's lower than other products mentioned in this write-up.
However, apart from being highly affordable, it features an amazing space management top design that can be used to set up a moderate computer station properly. It also gives room for more objects to be placed atop it. It can be adjusted to desired height level and also fits well to any corner.
10. X desk custom L series
Aside from having a unique design in its three-legged frame, the X-desk also features a remarkable desktop space.  It is corner-optimized and comes with a sophisticated robotic tech.  It can adjust its height just by a button press.
This ergonomic stand-up desk is perfect for both residential offices or commercial offices. Its cable alignment is highly functional and useful for tucking in toggled cables. It gives a little bit more room in terms of space, and it's pretty easy to set up. You can create a compelling workstation by opting for this product. It's worth it! 
Wrap Up
Do more with no stress at all by opting for ergonomic standing desks. They are your best choice if you intend to continue to work for long periods without having to worry about back pains, muscle sprain, fatigue, and all. You should get one now!
Video ads for product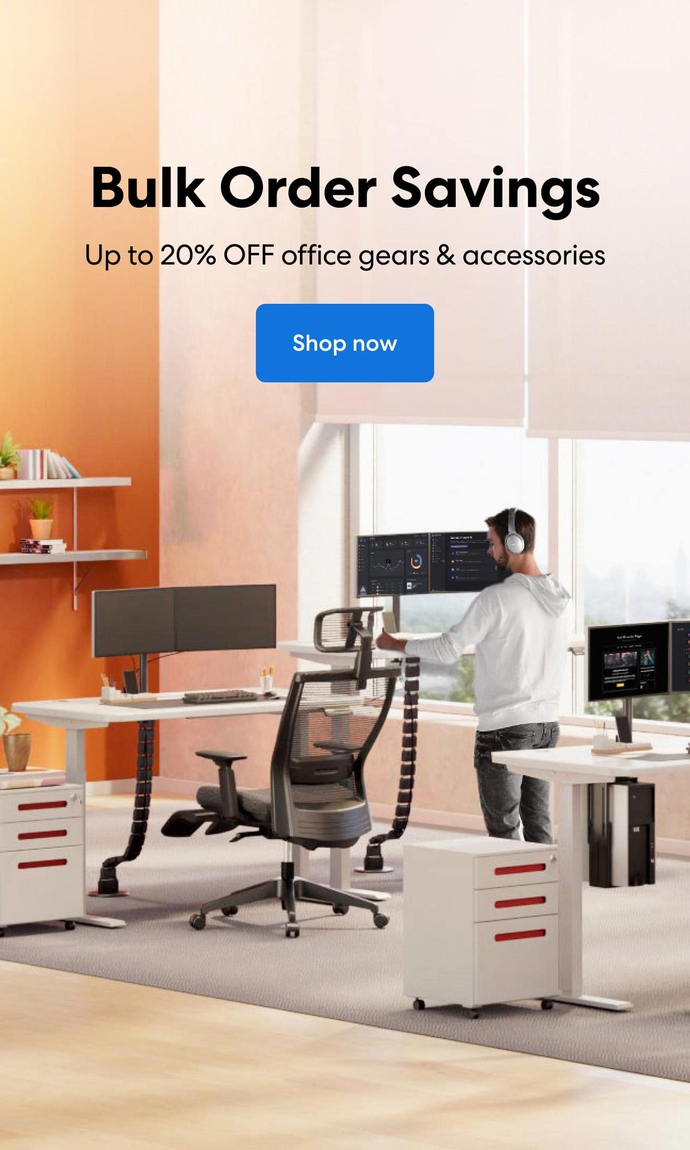 Subcribe newsletter and get $100 OFF.
Receive product updates, special offers, ergo tips, and inspiration form our team.