Latest Updates
Best 7 Manual Standing Desk Options: Which One Should You Choose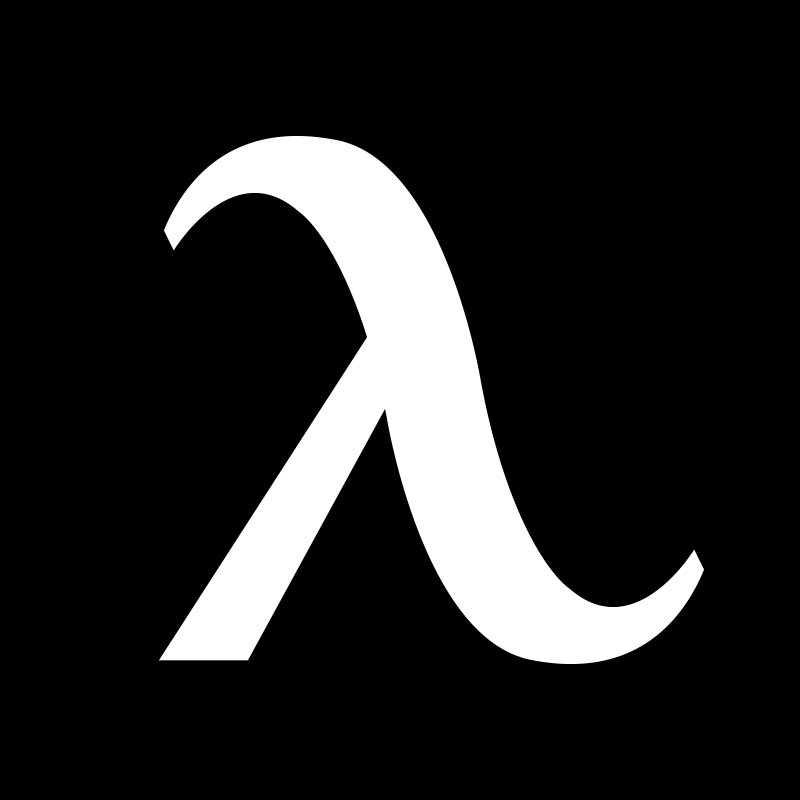 Autonomous
 | 
Oct 28, 2020
People working remotely know how hard it is to sit all day. You could go over to a coworker at the office and talk to them, walk around on your lunch break, and more. Now that you're working from home, it's harder to do these things. Ultimately, a manual standing desk might be the best choice for you. We're going to take a look at seven different choices to help you see which manual height adjustable desk options are available.
Top 7 Hand Crank Standing Desk for Office
1. DEVAISE Hand Crank Manual Standing Desk
The DEVAISE brand offers a crank adjustable desk that is sleek and modern. It's also ergonomic, so you can have better posture, less neck/back pain, and boost your productivity.
Of course, it features a hand crank, which is to the right of the desk in the front. It's always there as a friendly reminder to stand or sit when the time arises. You can load the desk with everything you require, up to 100 pounds. Then, just turn the crank the right way to lower and raise it as necessary. This manual standing desk goes from 29.5 to 45.5 inches.
You're going to like the sturdy legs. They're in the classic T-shape, with one on each side. That way, you know the desk isn't going to tip over while using it. Plus, the feet of the desk are adjustable to make sure that it's even. Consider using a level to ensure that the feet are positioned correctly so that you can raise and lower the desk as needed.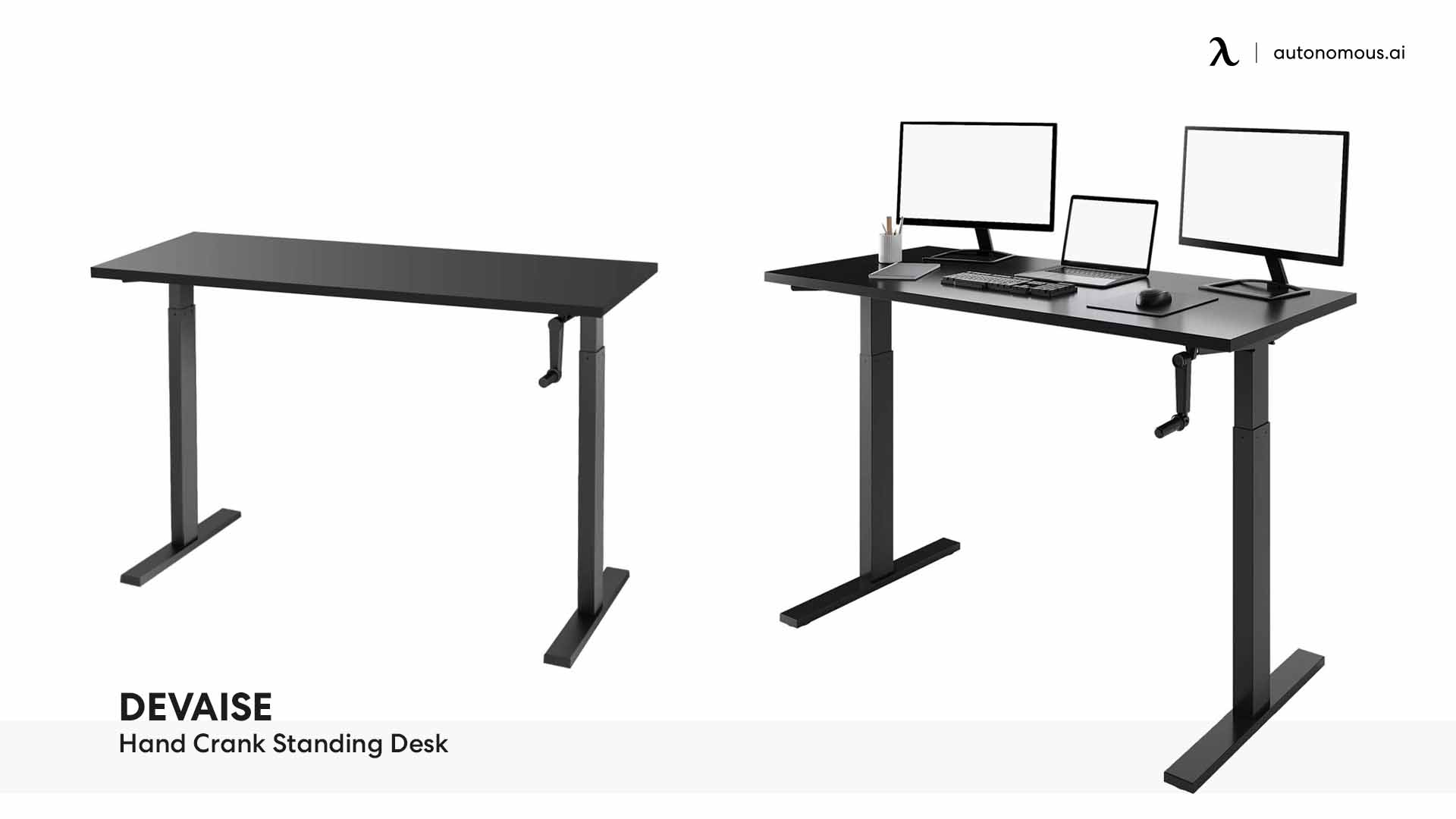 Pros:
· Ergonomic design
· Stable and sturdy
· Easy to assemble
Cons:
· Easy to bump the crank; durability concerns
· Difficult to crank
· Heavy design
2. BestOffice Hand Crank Standing Desk
When you want something that's strong and durable, the BestOffice brand has you covered. Its crank adjustable desk goes from 28.5 to 43.5 inches and doesn't require a motor. In fact, most people can crank it up to its highest setting in just about a minute.
Using it allows the arms to stay at the appropriate 90-degree angle, even when typing. Plus, the computer monitor stays at eye level as you stand up or sit down. Ultimately, it is going to minimize your discomfort throughout the day and improve posture. This also indicates that it is going to help you stay productive and be efficient.
The workspace of the desk is quite spacious and is 47 inches wide and 23.5 inches long. You can fit two monitors and a keyboard, as well as everything else you need to do the job. Plus, you're going to like that this manual standing desk is scratch-resistant and waterproof because it's made of engineered wood.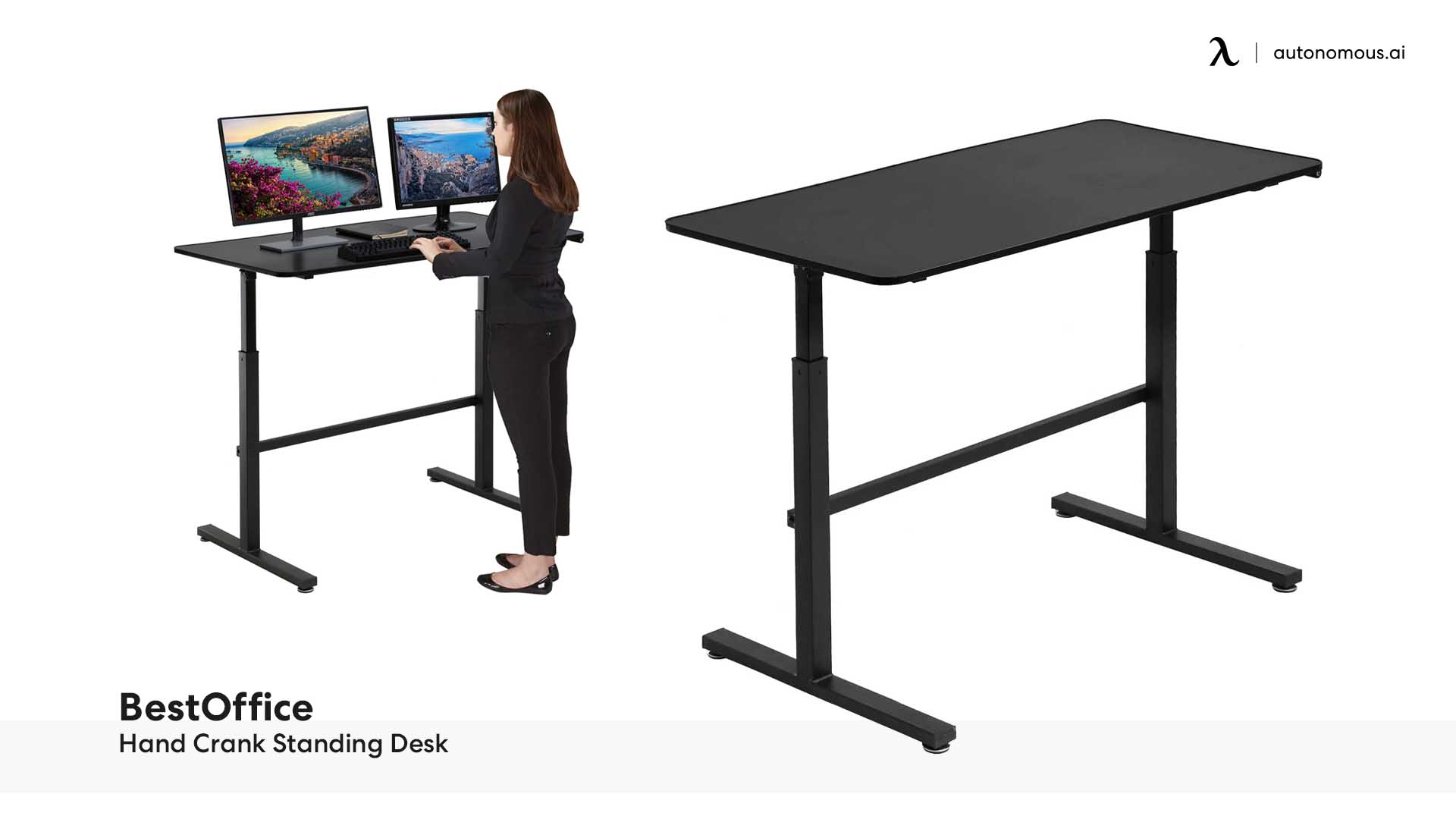 Pros:
· Smooth cranking motion
· Ergonomic design
· Large workspace
Cons:
· Thin build design
· Not very sturdy
· Excessively loud cranking noise
3. DEVAISE Hand Crank Standing Desk in White
The DEVAISE brand is such a great choice for many people having a work-from-home schedule, so there are two products we reviewed. This crank adjustable desk comes in white or black and is designed for sturdiness. Right away, you can see that there is a mesh-style metal bar between the legs so that the desk doesn't sway from side to side.
You may also note the crank is quite small. This serves two purposes. First, it is set to the right side, so it isn't going to be bumped as easily when you go to sit down. Second, it's easier to turn and get it to the right height for your specific needs.
We are especially happy that the crank can go on either side of your desk. Therefore, if you prefer to place it to the right of the wall, you can still utilize it. This also works well for left-handed people.
Pros:
· Easy to assemble
· Simple to crank
· Left- or right-hand capable
Cons:
· Gets wobbly at high heights
· Doesn't go as low as desired
· Crank appears fragile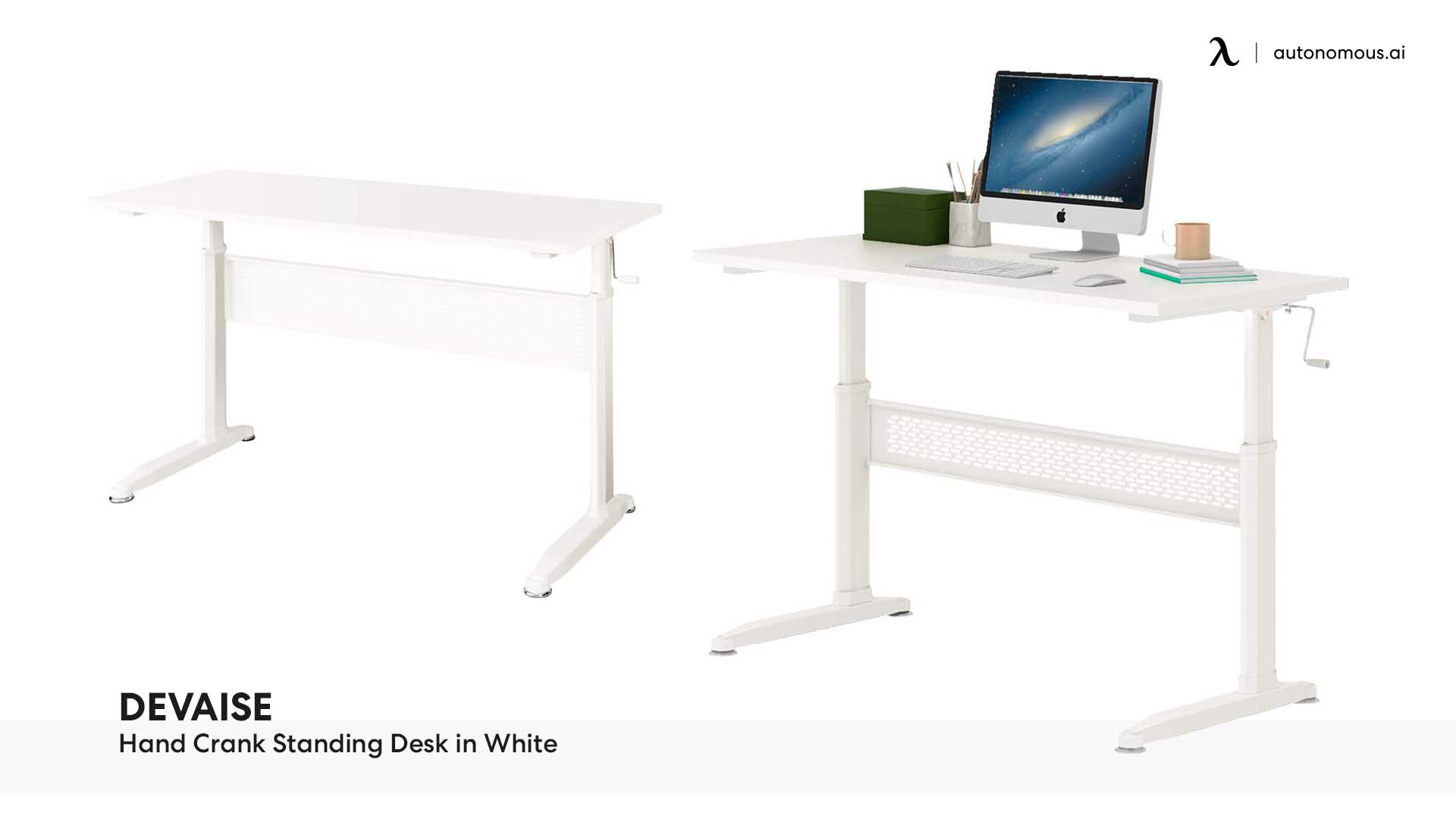 4. Vivo Hand Crank Standing Desk Frame
Do you already have a tabletop available? If so, then you may prefer a crank adjustable desk frame like the one from manual standing desk Vivo. Of course, those who don't have a top can pay a little extra to get the frame and tabletop. Regardless, the frame is adjustable from 39 to 61.5 inches, which gives you the ability to have a very spacious desk if you've got the room.
The height can adjust from 29 to 48 inches tall. Consider a tabletop thickness of about ¾-inch or more.
Of course, it's manual, so you get the crank system. It sits at the front of the desk and doesn't require a lot of effort to use. Make sure that you're standing or sitting the way you're going to work before trying to adjust it.
Its legs offer telescopic height adjustments, so it transitions from sitting to standing (and vice versa) in less time. Plus, this desk can handle 132 pounds of equipment because of the steel construction and thicker legs.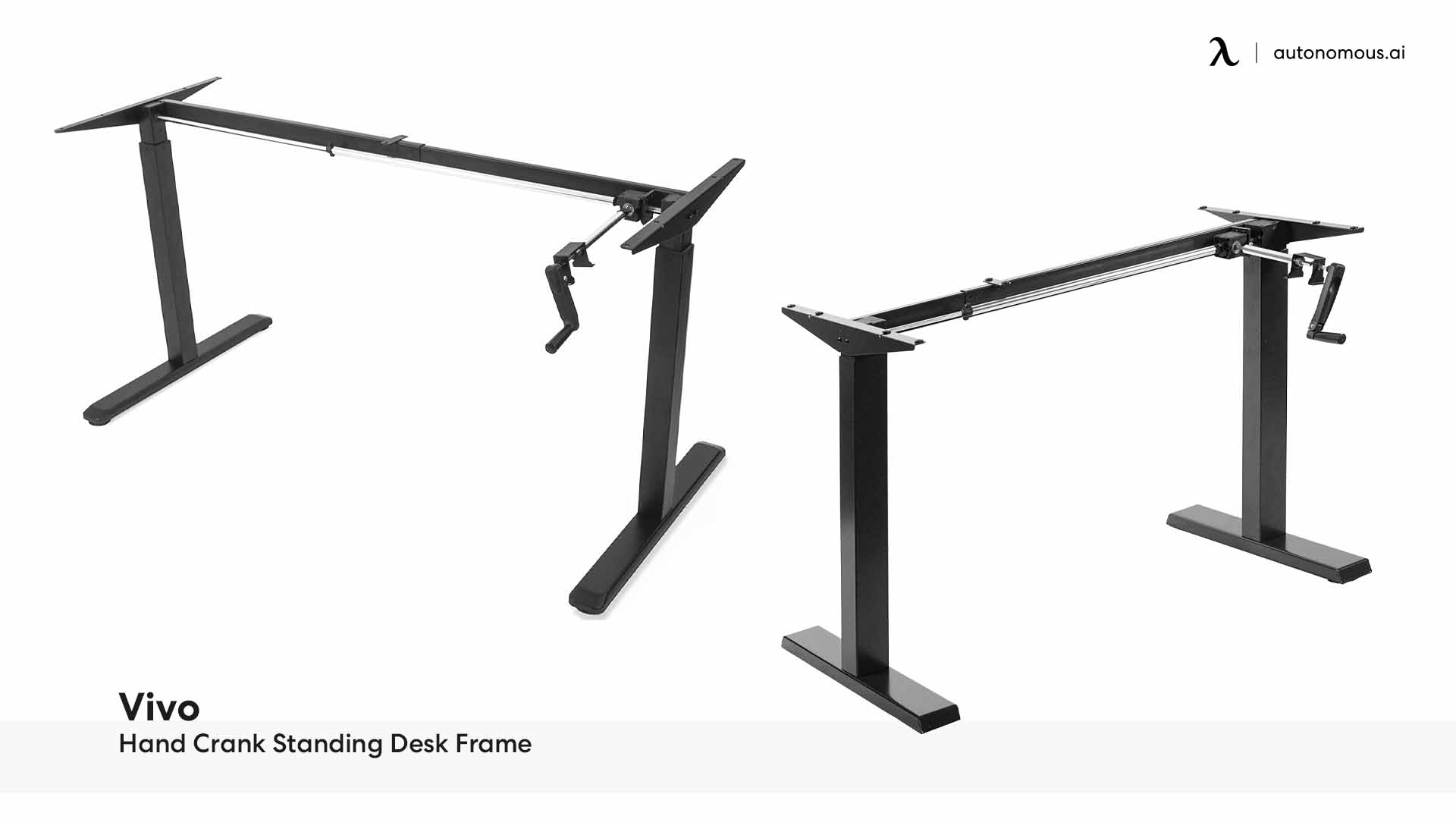 Pros:
· Adjustable frame
· Handles 132 pounds
· High-quality materials
Cons:
· Doesn't go low enough for ergonomics
· Tabletop available for added cost
· Stiff crank
5. BestOffice Converter Hand Crank Standing Desk
Those who prefer the sleekness of black are sure to like the BestOffice brand. This converter crank adjustable desk is designed to take you from a seated position to standing in a minute or so. Of course, it can take longer if you're taller.
It has adjustable feet to ensure that it's even at all times. If your carpet has a few bulges or the floors are a bit uneven, you can still use this desk effortlessly.
Many times, desks have the crank right in front. While it's easier to access, it's also easier to break. This desk has the hand-crank to the side, making it much safer and longer-lasting.
You're going to like that it's wide enough to house a laptop, keyboard, mouse, and some odds and ends. Consider having a cup of coffee while you work, some pens and paper to write on, and whatever else you require.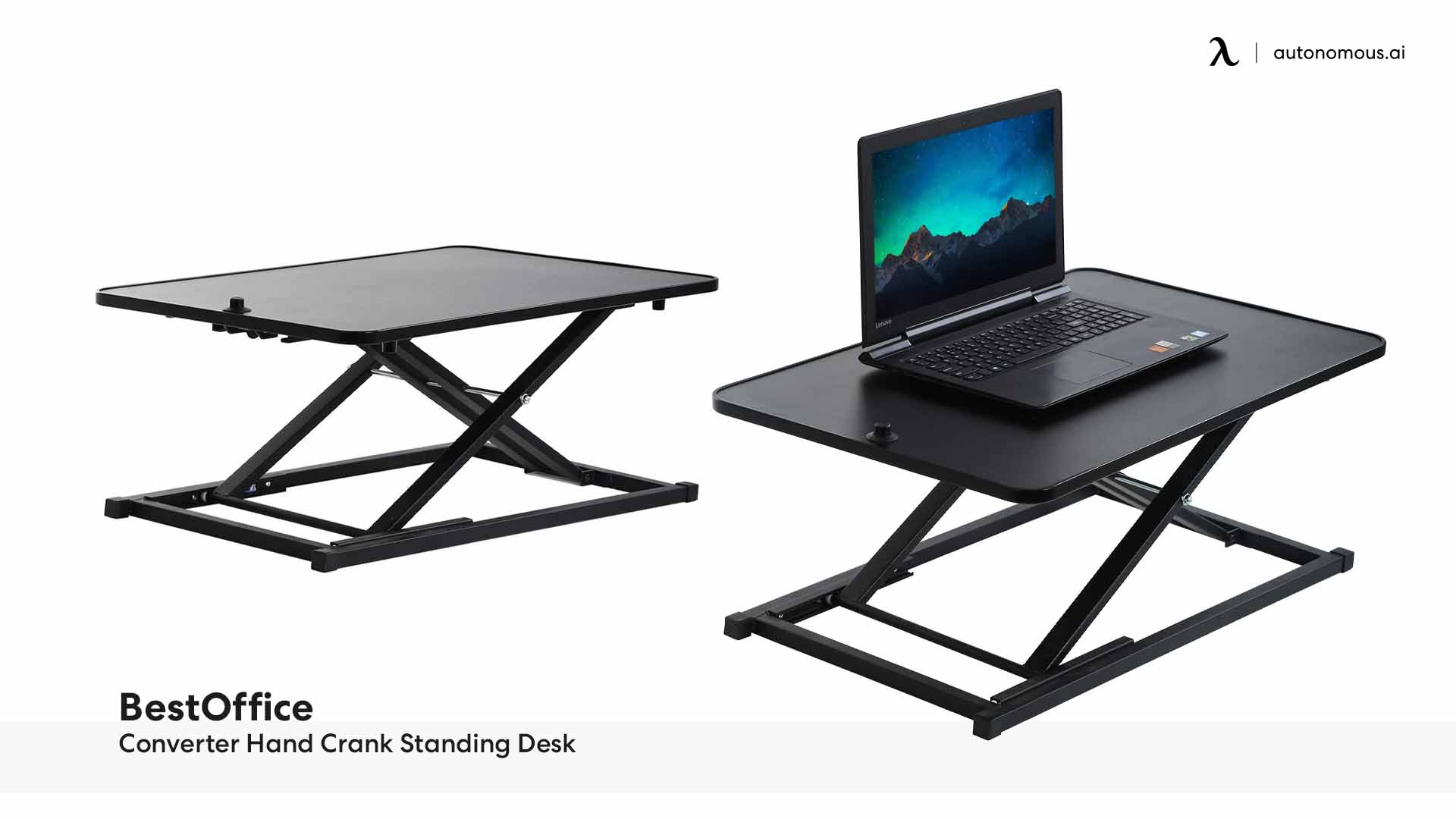 Pros:
· Easy to assemble
· Durable
· Value for money
Cons:
· Unstable in standing configuration
· Shaking occurs when typing
· Requires multiple cranks
6. Vivo Hand Crank Manual Standing Desk Set
When you want active standing instantly, the Vivo brand of a crank adjustable desk might be suitable. The crank is quite large, so it's easy to turn and is quite noticeable. There's never any risk of running into the crank. Of course, you can fold it inward, which adds to the safety feature and saves space when you're not moving the table.
The surface is 43 inches wide, which makes it perfect for a laptop, keyboard, and multiple monitor setup. You can also house a small plant or some picture frames to liven things up a bit.
Plus, the height range of the table goes from 30 to 50 inches tall. Of course, this is suitable for most people, but those who are shorter may have a few issues with it. This table holds a whopping 154 pounds of weight, which is much more than the other models. Therefore, you can keep what you need right on the desk with you.
Pros:
· Efficiency
· Adjustability
· Holds 154 pounds of weight
Cons:
· Can be wobbly with more weight
· Doesn't have grommets for cord management
· Crank appears flimsy (made of plastic)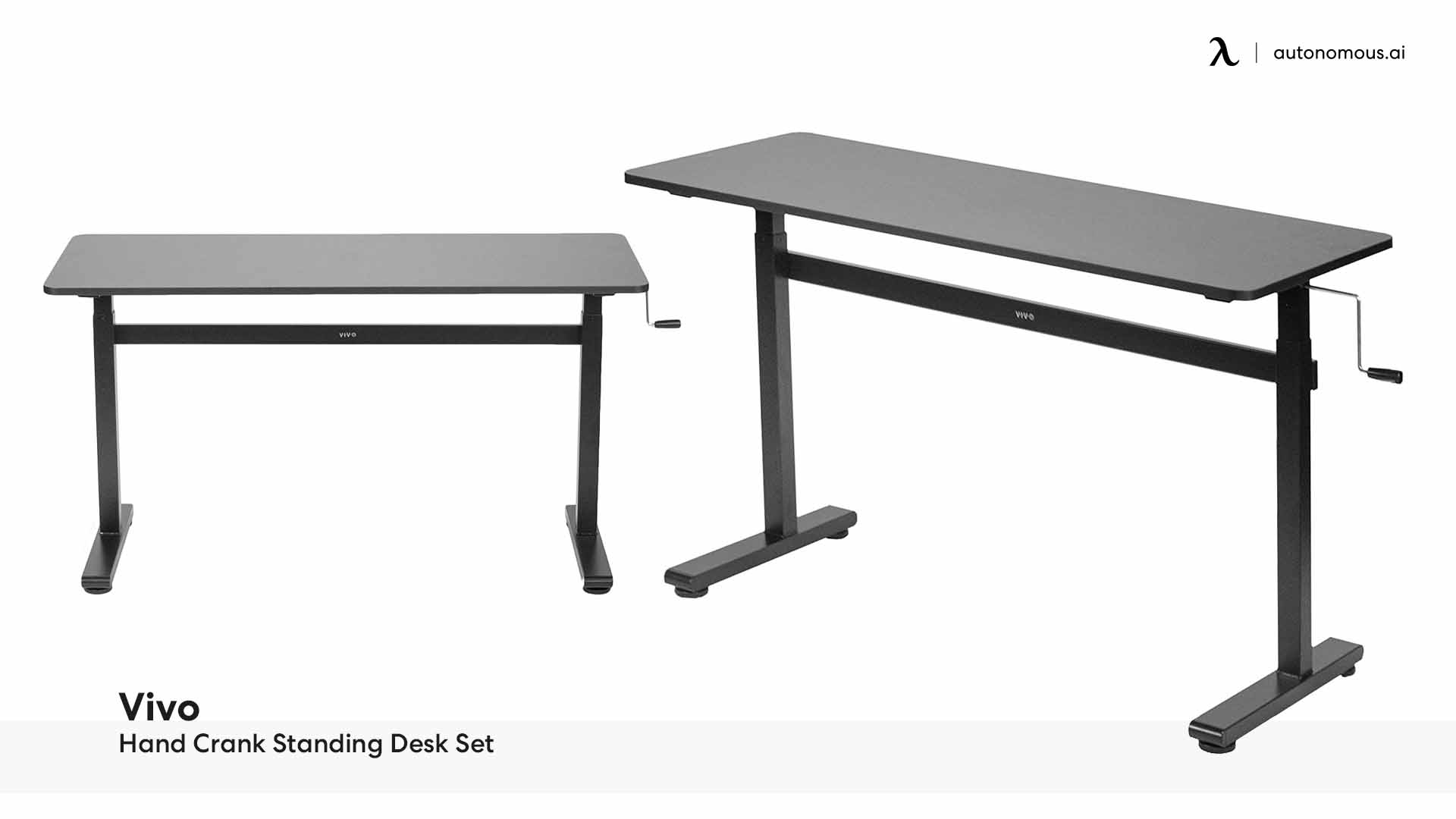 7. Vivo Three-section Hand Crank Standing Desk
Vivo is a popular brand, and it has a three-section crank adjustable desk, as well. This one is an ergonomic workstation with a concave edge. This ensures that you can get closer to the desk without being uncomfortable.
Of course, the table surface is over 63 inches long, making it suitable for two people or large office space. It's going to be incredibly easier to get everything set-up effectively with so much room.
Though there are three different sections, you can't remove them. All three have to be used at the same time, as it's a system.
You can enjoy height ranges from 29 to 48 inches tall. There's little effort required to find the most optimal settings for your needs.
Pros:
· Solid steel frame
· Concave middle
· Sleek and stylish
Cons:
· Finish easily scratches
· Non-folding crank
· Takes a lot of effort to move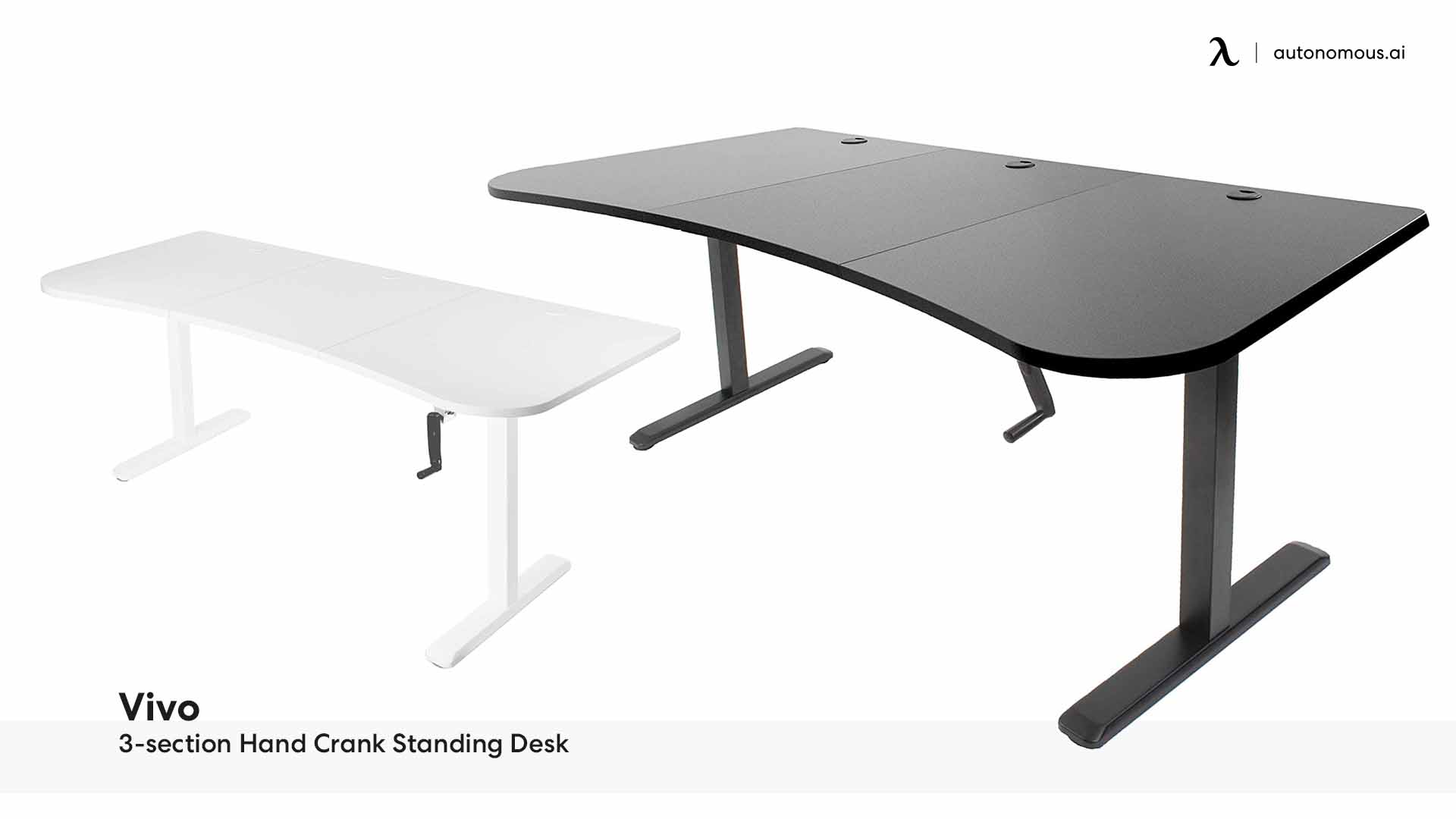 Is a Manual Standing Desk Worth It?
Everyone knows that there are many standing desk health benefits. In fact, if you stand just three hours each day for five days each week, you can burn over 30,000 calories within the year. That could equal an entire pant size. Many people find that standing periodically throughout the day also reduces pain in the body while allowing more oxygen and blood to get to the brain.
However, the question is not whether a standing desk is healthier to use. We're focused on whether a manual standing desk is the best or if you should choose an electronic one. Let's take a look at the considerable advantages and drawbacks.
Advantages of Hand Crank Adjustable Desk
A manual standing desk is often less expensive because you don't have a motor or touchscreen capabilities. If you and another person utilize the same manual adjustable desk throughout the day, it's much easier to change the settings. However, you can do the same with electric standing desks much faster.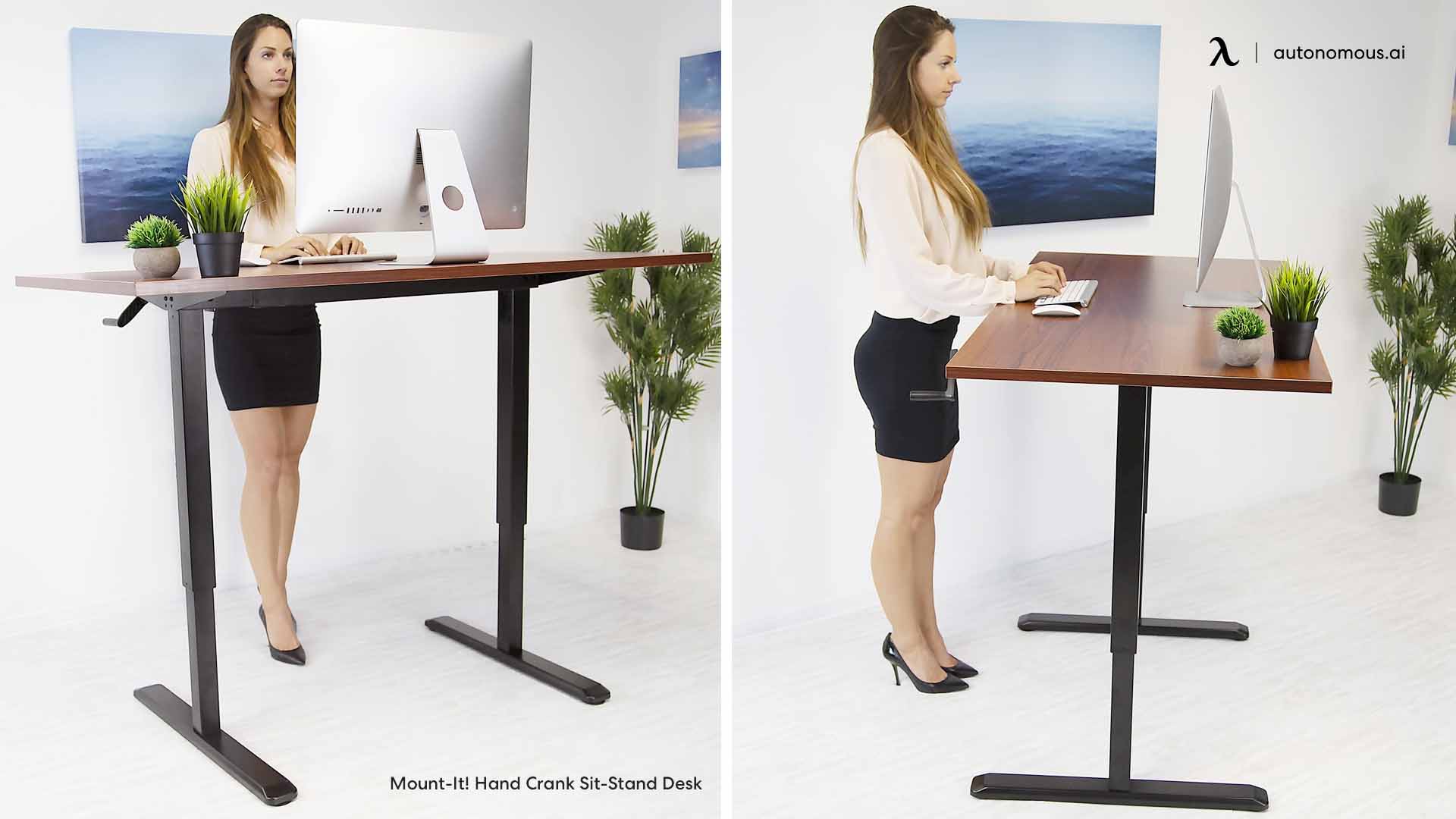 Disadvantages of Manual Desk
With a manual adjustable desk, you must turn a crank. Generally, it takes 38 turns to go from a seated to standing position. This also requires you to determine the right height for your specific needs. Often, this is hard to do because you're bent over slightly to utilize the manual standing desk. You're also searching for the ideal height each time you have to transition using the manual height adjustable desk.
You might also have to deal with the crank being on one side and not raising the manual height adjustable desk evenly. This happens frequently, and it isn't much you can do about it. It's important that you can sit and stand throughout your day, and you want a single desk to help you achieve your goals.
Also, you're unable to program the manual adjustable desk, so you have to change it by hand each time.
Why Use an Automated Standing Desk like the SmartDesk Core from Autonomous
Electronic or automated standing desks like Autonomous SmartDesk Core might be a better choice than the manual height adjustable option. You just push a single button, and it adjusts to one of your preset or programmed heights. This allows you to stand and continue working effortlessly. Whether your hands or full or you're on the phone, you can still adjust it.
Generally, you press and hold the button or hit the preset one. With a manual adjustable desk, you must continuously crank it until you get your desired height. Plus, you may have to deal with being a crank too high or low because of the way the manual standing desk works.
Remember, you're cranking the manual standing desk by hand, so it might stop just a little short. This may require you to go a little higher. Both of these scenarios can hurt your back and neck. The goal here is to reduce your risk of pain, so a manual height adjustable desk might not be suitable for you.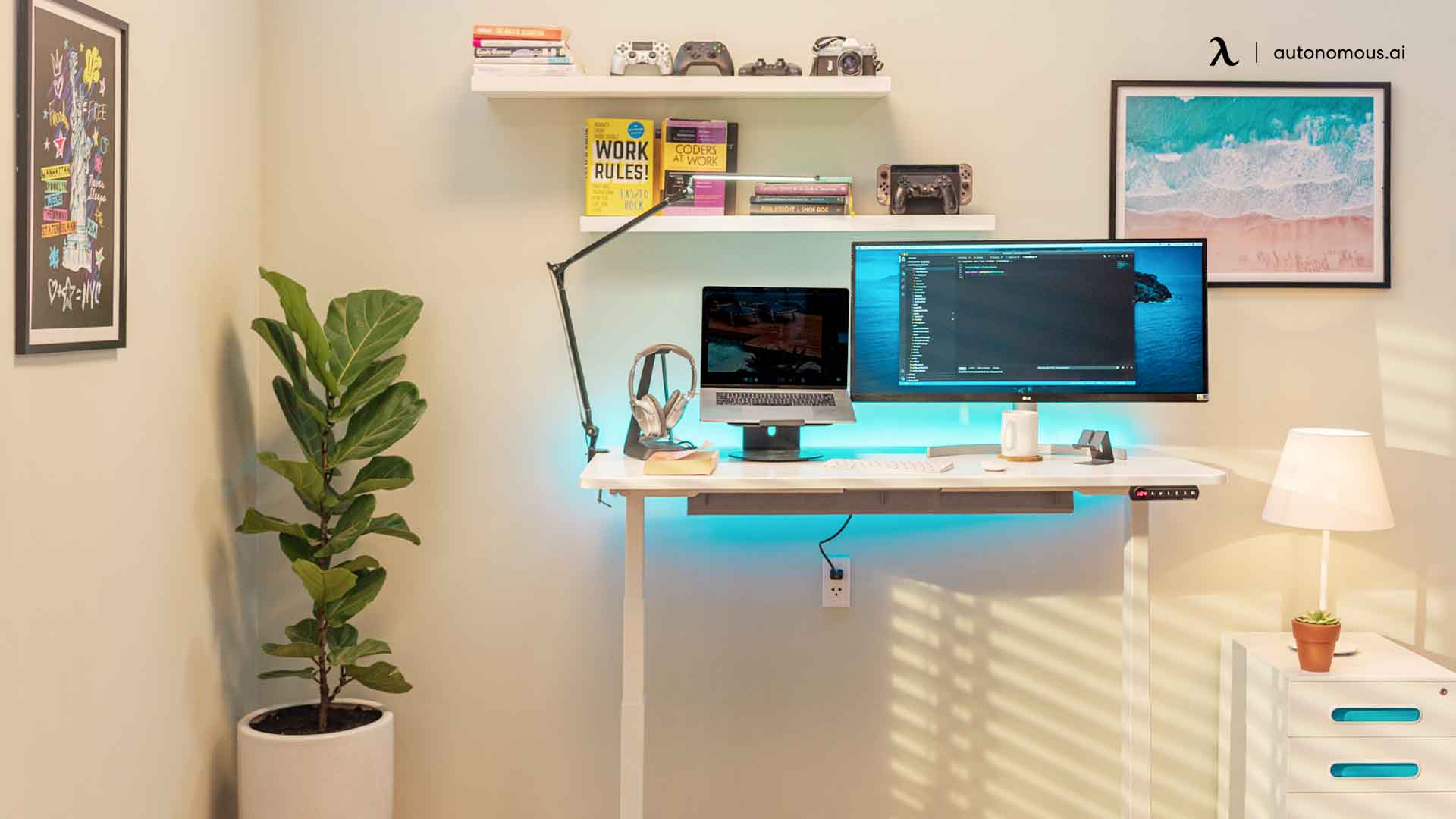 Differences between an Automated and Manual Standing Desk
Automated standing desks can be more expensive than the manual adjustable desk. However, you must look at it in terms of value to determine if paying more for automation is right for you.
Those who have just begun working from home may find that a manual height adjustable desk allows them to test the waters before they make a large purchase. Still, you might be better off going with the electric ones initially so that you're not spending money on the manual adjustable desk and then switching out for a different brand.
Both the automated and manual height adjustable desk are going to make noise while working. However, electronic versions are often softer. Also, they feature a more fluid motion, so it's not jerking and moving your equipment around on top.
Of course, there are many more mechanical components with an automated standing desk. This means that you are sure to have problems at times. Still, most manufacturers offer excellent warranties. Typically, a manual adjustable desk has a guarantee of fewer years if one is included at all.
Conclusion
When it comes to standing desks, you've got endless choices available. Today, we focused on the manual height adjustable desk, but we do feel that they leave many things to be desired. If your goal is to make life easier for yourself while you work at home, an electric standing desk, like the SmartDesk Core or even the brand new SmartDesk Pro with new features and upgrades might be the better choice. Now, though, you can compare a variety of manual options to determine if any are as good as the ones from Autonomous.
Get exclusive rewards
for your first Autonomous blog subscription.
WRITTEN BYAutonomous
We build office products to help you work smarter.
Coming at You Live from Autonomous' Social Media!