Latest Updates
Top 20 Manual Standing Desks with Reviews & Ratings
15,139 Views
People working remotely know how hard it is to sit all day. You could go over to a coworker at the office and talk to them, walk around on your lunch break, and more. Now that you're working from home, it's harder to do these things. Ultimately, a manual standing desk might be the best choice for you.
Even though humans are not supposed to sit for long periods, most spend a significant amount of our working lives camped at an office work desk. According to a study, sitting for an extended period increases the risk of chronic illnesses by 10percent to 20percent, as well as early mortality. The health advantages of the finest standing workstations for folks who spend all day at their PCs cannot be overstated.
For instance, research indicates that those who utilize crank desks experience less difficulty and pain. Though ergonomic standing desks are only the first step, you must also take intervals between your work to keep your muscles moving and get your blood circulating. These breaks in between will help you stay active in general.
We're going to take a look at seven different choices to help you see which manual height adjustable desk options are available.
Top 20 Hand Crank Standing Desks for Office
Working while being at ease can be a wonderful thing for your mental and physical health. Therefore, swapping your sedentary lifestyle with an active one with standing desks could be extremely healthy because these manual standing desks promote body movement as you can switch from being seated to standing while you work.
If you spend a lot of time at your workstation, you've searched for techniques to make it much more inviting and lively. With a standing desk, you may carry out a variety of positions during the day to remain physically active. The greatest crank height adjustable desks for work and home are listed here.
Here are some of the best crank height adjustable desk options for you to explore:
1. EUREKA Ultra Long Standing Desk: Manual Height Settings
This height-adjustable workstation from the Eureka Ergonomic store measures 60 inches and has 5 height settings. It is perfect for a variety of users. Effortlessly and quickly identify your bone structure's most efficient and comfy options. This Eureka stand-up desk's dioxin emissions are much less than those mandated by international regulations, and its scratch-resistant covering keeps the desk's top appearing brand-new even after regular usage. This 60-inch treadmill desk is 47" x 24" x 24"–32" altogether. This workstation has room for a computer, a printing machine, two displays, and a few houseplants.
2. EUREKA IM63 Curved Desk: Additional Storage & Manual Height Settings
This computer workstation has 4 different elevation settings, so you can constantly find the right elevation for you. This 63" big desk has a tabletop that measures 63" x 27" (L*D) and can hold up to three displays. Additionally, a complimentary, sizable mouse pad that is of good quality, detachable, and is also sanitary, has also been included with this private work desk.
You will have access to this manual standing desk's 24/7 internet customer help. Guaranteed free replacements of components for any quality issue within three years. We are always available to you.
3. ApexDesk Standing Desk: Pneumatic Lift Mechanism
This non-electric standing desk from the ApexDesk store features two gas cylinders for pneumatic adjustability. No energy source is required on this workstation, and there are no unsightly cords to manage. Additionally, it has two built-in casters in the back for easier mobility and sturdy construction with a suspension bar for increased stability. Raise the desktop at the front and easily wheel it wherever you need it.
Its rectangular top is composed of MDF and 3D lamination. The top may be easily fitted and often restored without causing harm because metal hooks are already placed. The crank desk comes with only a very minimal amount of assembly required. For installation, just 6 fasteners are required for the top and 14 for the base. A 30-minute construction cycle is normal.
4. Modernsolid Folding End Table: Height-Adjustable
Due to its great build quality, variety of dimensions and textures, add-on attachment possibilities, and durable frames, Modernsolid store's workstations are among the most well-liked ergonomically designed standing desk options that are available. This crank desk has several pre-drilled attachments mounting holes, allowing you to customize it with items like a foot hammock, desktop Computer holder, under-desk storage cabinet, transparency panel, and a full-blown lounge chair area for you to relax in. These are just a few examples.
5. Mount-It! Height Adjustable Rolling Stand-up Desk
Height may be adjusted on this ergonomically designed transportable stand-up workstation by the Mount-it! store, allowing for both standing and sitting positions. It may be utilized as a speaker's platform and is suitable for use as a stand-up personal computing office workstation. The four stages on the mobile pc cart may hold speakers, a PC base, a display, a MacBook, a keyboard, a printing machine and a keyboard.
The elevation of the two highest shelves is ideal for placing any input devices in an ergonomic position. Similarly, it can support 132 kilograms, holding roughly 33 lbs on each shelf. The upper two platforms have 11 locking periods and a height adjustment range of up to 17 inches.
6. Mount-It! Large Height Adjustable Rolling Stand up Desk with Monitor Mount
The Large Height Adjustable Rolling Stand Up Desk with Monitor Mount is a versatile and functional workstation designed to provide an ergonomic and efficient working environment. It offers a spacious and wide work surface with dual monitor mounts, allowing you to comfortably work with two monitors simultaneously.
The manual standing desk is equipped with locking casters, making it easy to roll and maneuver the desk to different locations. Once you find the desired position, you can lock the casters in place to ensure stability and prevent any unwanted movement.
The desk features four surfaces, providing ample space for working and storing office equipment. This allows you to organize your essentials efficiently and keep your workspace clutter-free. Whether you need to place a laptop, documents, or other accessories, you'll have plenty of room to do so.
The height of the tabletop is adjustable, ranging from 37.25" to 55". This flexibility allows you to find the ideal height that suits your comfort and working preferences, promoting proper posture and reducing strain on your back and neck. Additionally, the monitor mount height is adjustable from 54.5" to 72.25", enabling you to position your monitors at eye level for optimal viewing angles and reducing strain on your eyes.
7. FinerCrafts Desk Converter with Anti-slip Pads
This crank desk workstation by the FinerCraft store has a strong twin motor structure that enables better height changes between 28" and 47" (ideal for most individuals), all while operating at a pace of 1"/second and making only 50 dB of vibration. This desk has exceptional stability and can sustain approximately 250 lbs due to the strong desk structure constructed of commercial-grade steel. It also has a digital screen handset with 4 programmed memory elevation level settings, making it perfect for household and workplace sharing. All three workstation sizes provide ample space for numerous monitor setups, allowing you to stretch out and focus on the tasks.
8. DEVAISE Hand Crank Manual Standing Desk
The DEVAISE brand offers a manual sit-stand desk that is sleek and modern. It's also ergonomic, so you can have better posture, less neck/back pain, and boost your productivity.
Of course, it features a hand crank, which is to the right of the desk in the front. It's always there as a friendly reminder to stand or sit when the time arises. You can load the desk with everything you require, up to 100 pounds. Then, just turn the crank the right way to lower and raise it as necessary. This crank height adjustable desk goes from 29.5 to 45.5 inches.
You're going to like the sturdy legs. They're in the classic T-shape, with one on each side. That way, you know the desk isn't going to tip over while using it. Plus, the feet of the desk are adjustable to make sure that it's even. Consider using a level to ensure that the feet are positioned correctly so that you can raise and lower the desk as needed.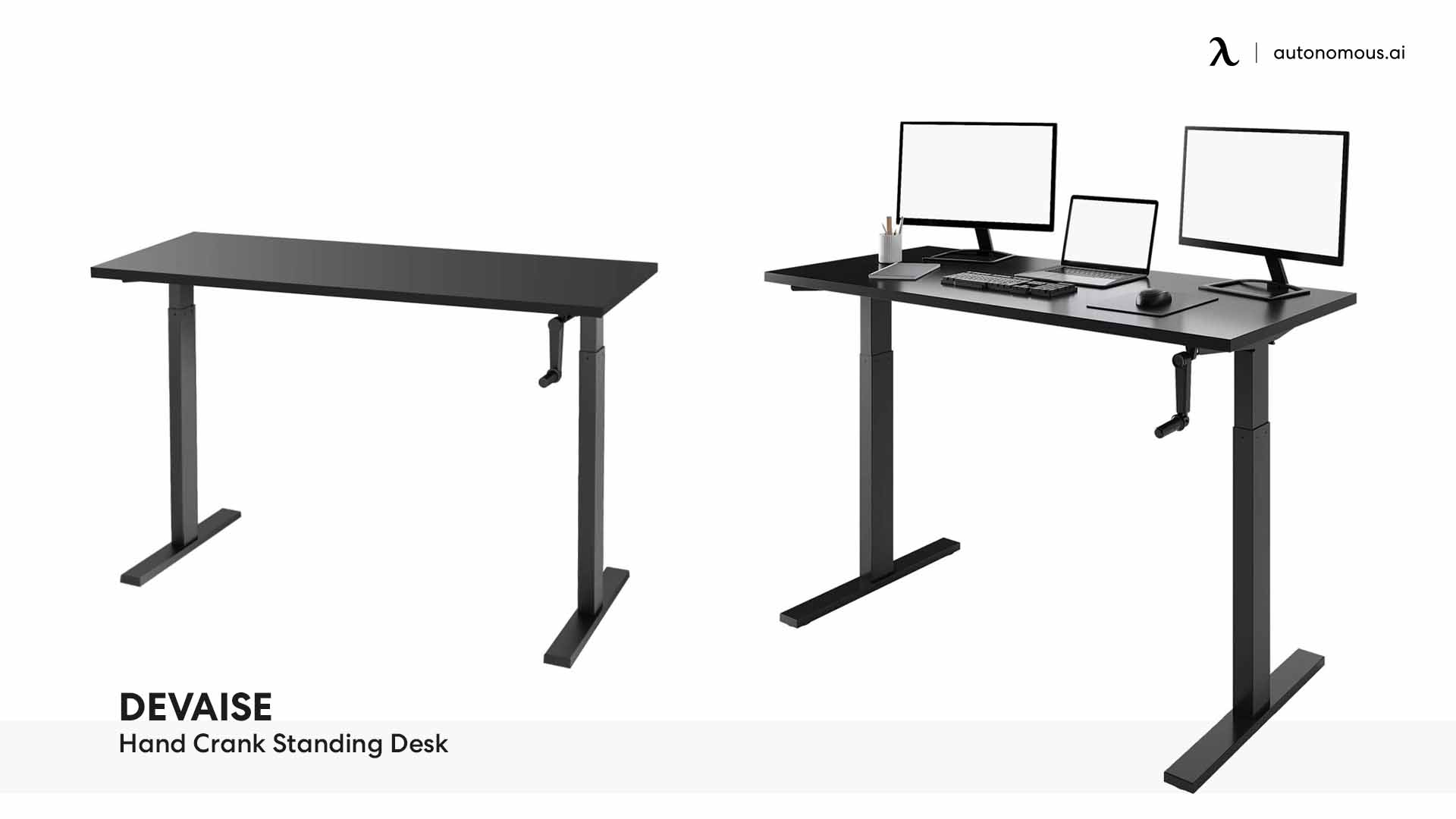 Pros:
Ergonomic design
Stable and sturdy
Easy to assemble
Cons:
Easy to bump the crank; durability concerns
Difficult to crank
Heavy design
9. BestOffice Hand Crank Standing Desk
When you want something that's strong and durable, the BestOffice brand has you covered. Its manual sit-stand desk goes from 28.5 to 43.5 inches and doesn't require a motor. In fact, most people can crank it up to its highest setting in just about a minute.
Using it allows the arms to stay at the appropriate 90-degree angle, even when typing. Plus, the computer monitor stays at eye level as you stand up or sit down. Ultimately, it is going to minimize your discomfort throughout the day and improve posture. This also indicates that it is going to help you stay productive and be efficient.
The workspace of the desk is quite spacious and is 47 inches wide and 23.5 inches long. You can fit two monitors and a keyboard, as well as everything else you need to do the job. Plus, you're going to like that this crank desk is scratch-resistant and waterproof because it's made of engineered wood.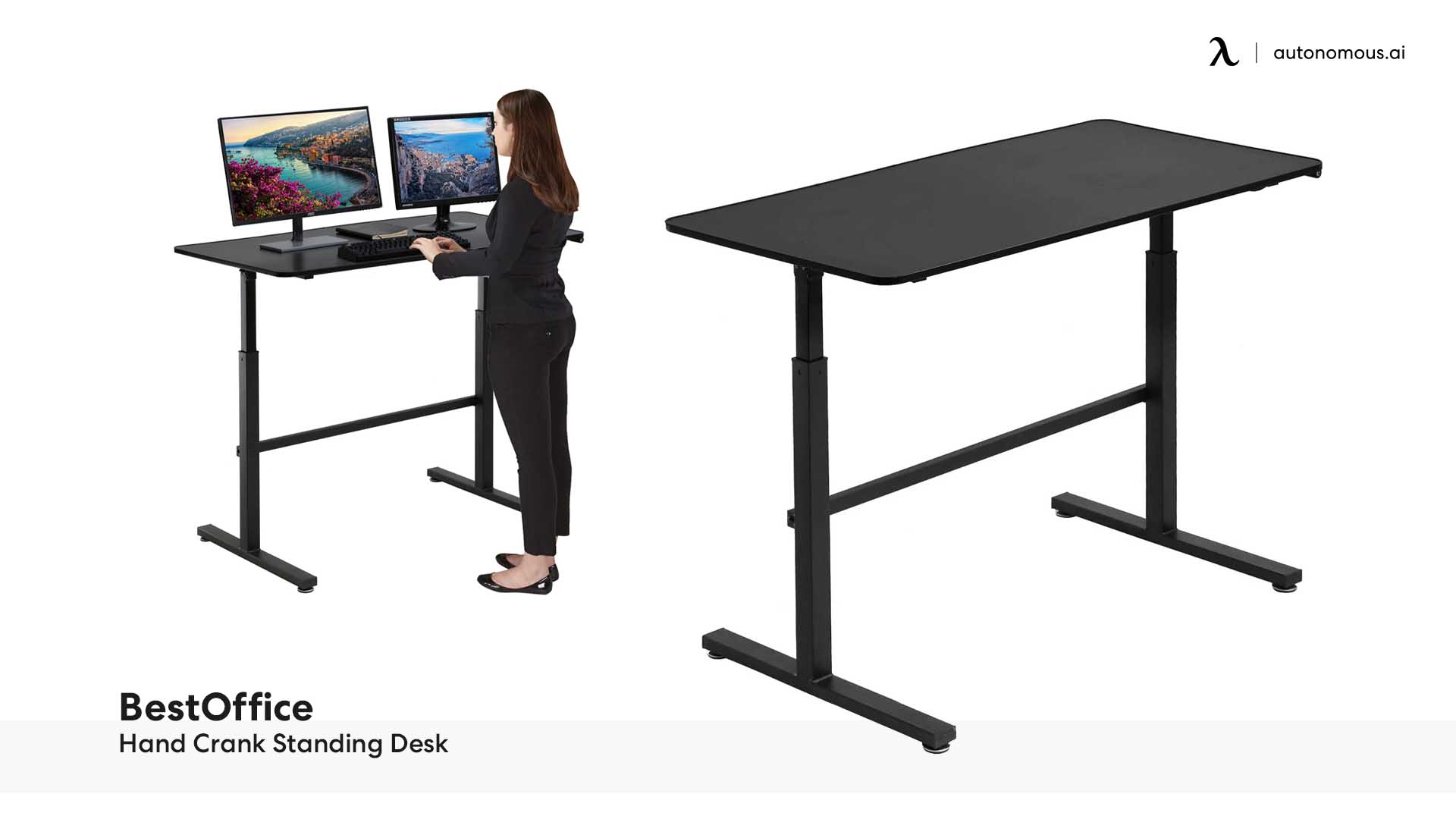 Pros:
Smooth cranking motion
Ergonomic design
Large workspace
Cons:
Thin build design
Not very sturdy
Excessively loud cranking noise
10. DEVAISE Hand Crank Standing Desk in White
The DEVAISE brand is such a great choice for many people having a work-from-home schedule, so there are two products we reviewed. This manual sit-stand desk comes in white or black and is designed for sturdiness. Right away, you can see that there is a mesh-style metal bar between the legs so that the desk doesn't sway from side to side.
You may also note the crank is quite small. This serves two purposes. First, it is set to the right side, so it isn't going to be bumped as easily when you go to sit down. Second, it's easier to turn and get it to the right height for your specific needs.
We are especially happy that the crank can go on either side of your desk. Therefore, if you prefer to place it to the right of the wall, you can still utilize it. This also works well for left-handed people.
Pros:
Easy to assemble
Simple to crank
Left- or right-hand capable
Cons:
Gets wobbly at high heights
Doesn't go as low as desired
Crank appears fragile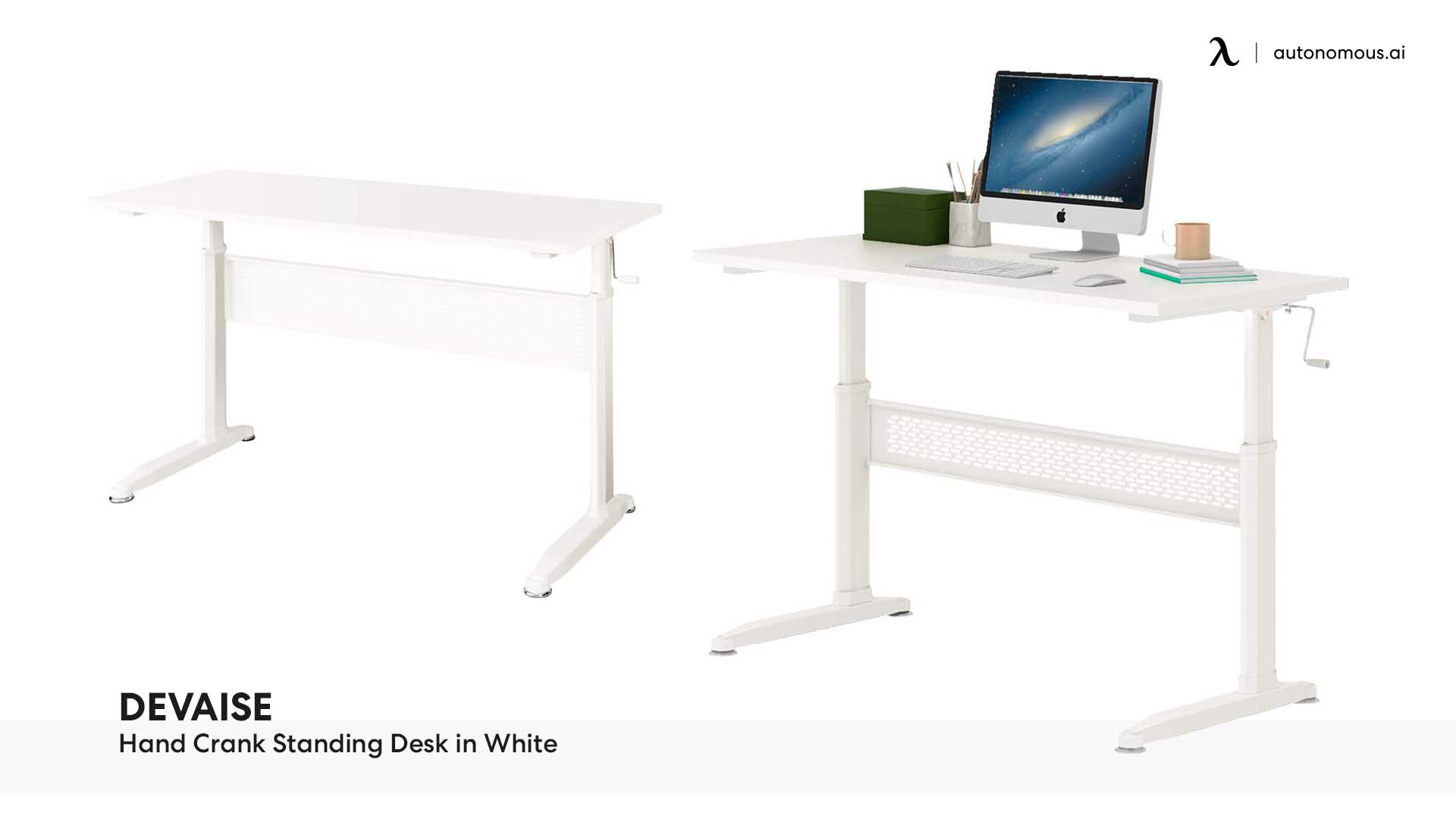 11. Vivo Hand Crank Standing Desk Frame
Do you already have a tabletop available? If so, then you may prefer a manual sit-stand desk frame like the one from manual standing desk Vivo. Of course, those who don't have a top can pay a little extra to get the frame and tabletop. Regardless, the frame is adjustable from 39 to 61.5 inches, which gives you the ability to have a very spacious desk if you've got the room.
The height can adjust from 29 to 48 inches tall. Consider a tabletop thickness of about ¾-inch or more.
Of course, it's manual, so you get the crank system. It sits at the front of the desk and doesn't require a lot of effort to use. Make sure that you're standing or sitting the way you're going to work before trying to adjust it.
Its legs offer telescopic height adjustments, so it transitions from sitting to standing (and vice versa) in less time. Plus, this desk can handle 132 pounds of equipment because of the steel construction and thicker legs.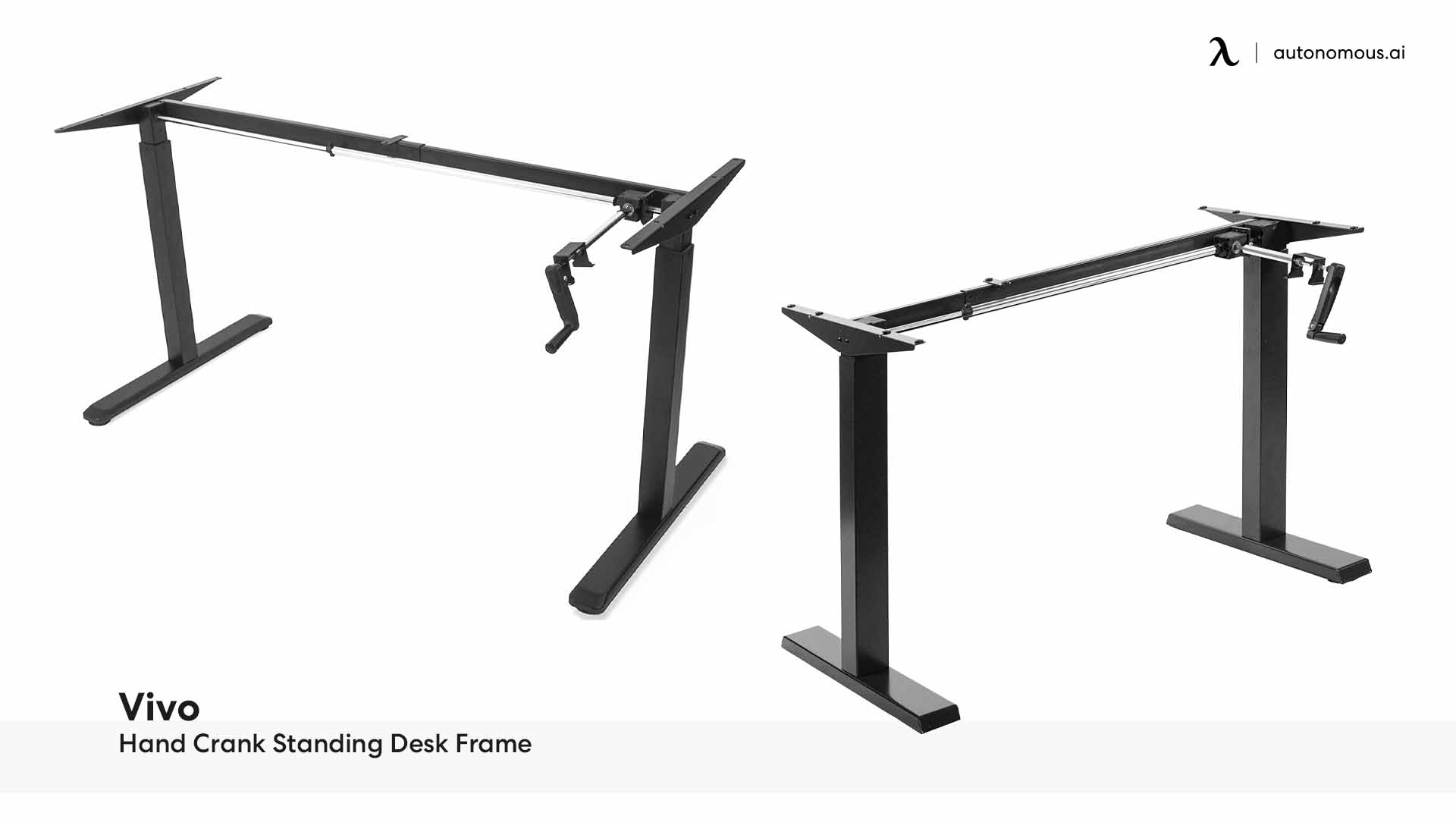 Pros:
Adjustable frame
Handles 132 pounds
High-quality materials
Cons:
Doesn't go low enough for ergonomics
Tabletop available for added cost
Stiff crank
12. BestOffice Converter Hand Crank Standing Desk
Those who prefer the sleekness of black are sure to like the BestOffice brand. This converter manual rising desk is designed to take you from a seated position to standing in a minute or so. Of course, it can take longer if you're taller.
It has adjustable feet to ensure that it's even at all times. If your carpet has a few bulges or the floors are a bit uneven, you can still use this desk effortlessly.
Many times, desks have the crank right in front. While it's easier to access, it's also easier to break. This desk has the hand-crank to the side, making it much safer and longer-lasting.
You're going to like that it's wide enough to house a laptop, keyboard, mouse, and some odds and ends. Consider having a cup of coffee while you work, some pens and paper to write on, and whatever else you require.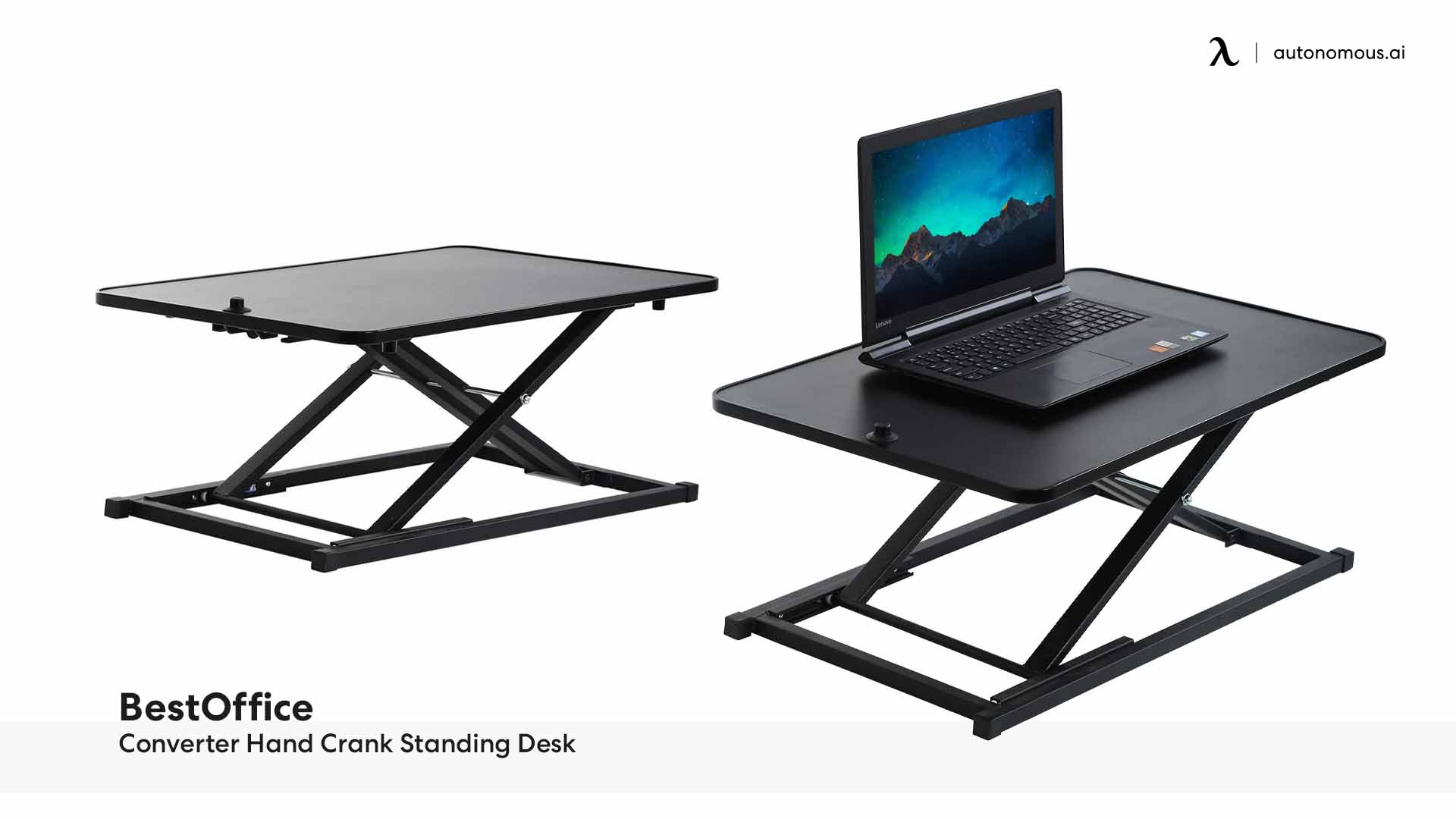 Pros:
Easy to assemble
Durable
Value for money
Cons:
Unstable in standing configuration
Shaking occurs when typing
Requires multiple cranks
13. Vivo Hand Crank Manual Standing Desk Set
When you want active standing instantly, the Vivo brand of a manual rising desk might be suitable. The crank is quite large, so it's easy to turn and is quite noticeable. There's never any risk of running into the crank. Of course, you can fold it inward, which adds to the safety feature and saves space when you're not moving the table.
The surface is 43 inches wide, which makes it perfect for a laptop, keyboard, and multiple monitor setup. You can also house a small plant or some picture frames to liven things up a bit.
Plus, the height range of the table goes from 30 to 50 inches tall. Of course, this is suitable for most people, but those who are shorter may have a few issues with it. This table holds a whopping 154 pounds of weight, which is much more than the other models. Therefore, you can keep what you need right on the desk with you.
Pros:
Efficiency
Adjustability
Holds 154 pounds of weight
Cons:
Can be wobbly with more weight
Doesn't have grommets for cord management
Crank appears flimsy (made of plastic)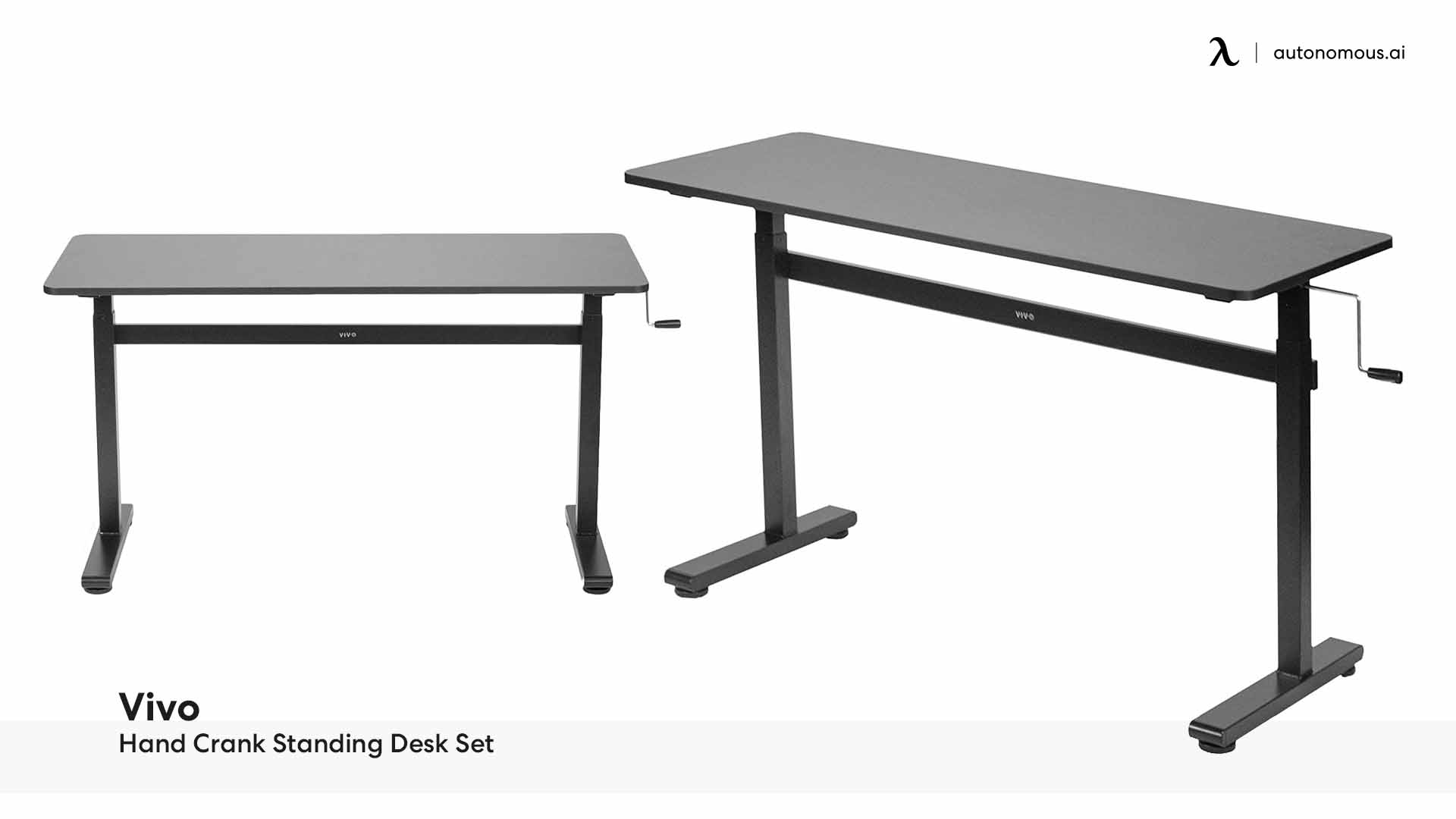 14. Vivo Three-section Hand Crank Standing Desk
Vivo is a popular brand, and it has a three-section manual rising desk, as well. This one is an ergonomic workstation with a concave edge. This ensures that you can get closer to the desk without being uncomfortable.
Of course, the table surface is over 63 inches long, making it suitable for two people or large office space. It's going to be incredibly easier to get everything set-up effectively with so much room.
Though there are three different sections, you can't remove them. All three have to be used at the same time, as it's a system.
You can enjoy height ranges from 29 to 48 inches tall. There's little effort required to find the most optimal settings for your needs.
Pros:
Solid steel frame
Concave middle
Sleek and stylish
Cons:
Finish easily scratches
Non-folding crank
Takes a lot of effort to move
8. Manual Standing Desk by Mount-It!: Hand Crank Control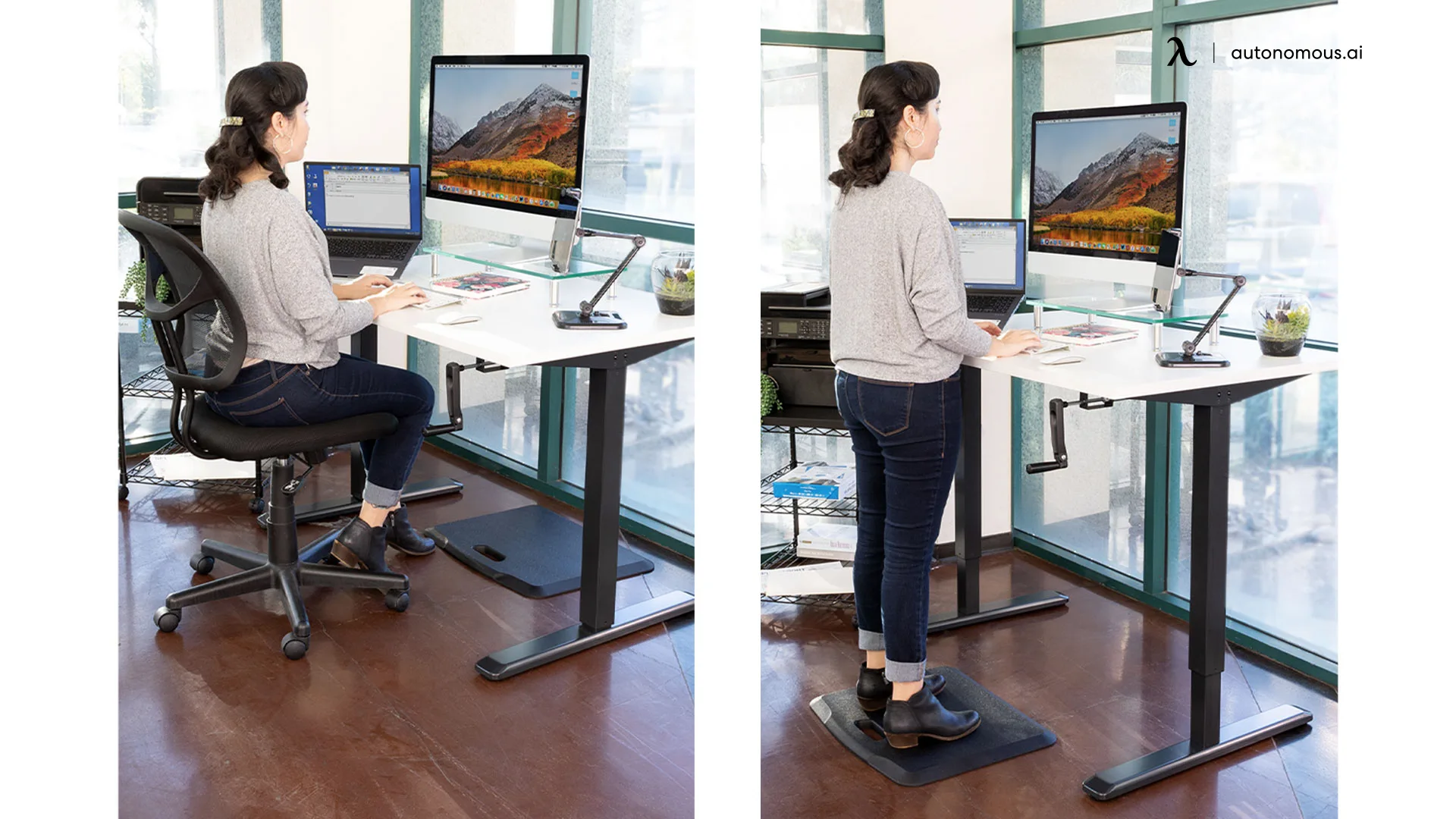 The Mount-It! hand crank sit-stand desk may easily be modified to your preferred elevation for improved circulatory system and posture. While working, the flexible table legs can decrease neck and shoulder strain. This steel-framed desk gives you the comfort you require while working.
15. Some Gas Spring Desk Converters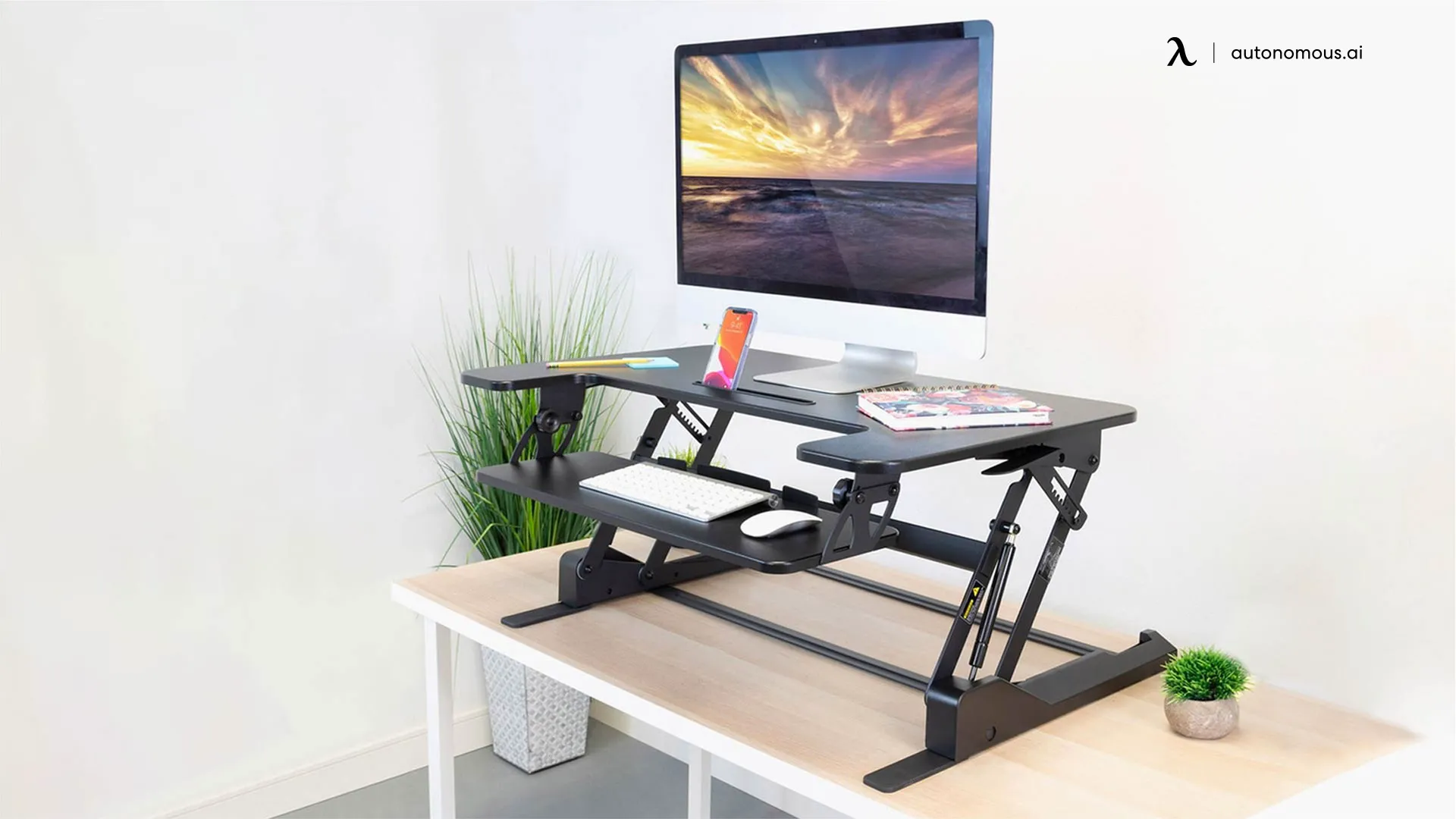 Once you add a wide standing desk converter into your daily routine, you will notice changes in your comfort and overall well being, especially with this gas spring desk converter! This table comes pre-assembled, so you can start using it right away. This desk allows you to work in a much more optimal and pleasant position, reducing the strain on your eyes, neck, and shoulders that comes with sitting for long periods.
16. Bamboo Standing Table by Jarvis
At its highest elevation, this small standing desk converter retains its sturdiness and does not shake. The table can support and raise over 300 pounds when in operation, and the engine is silent and inconspicuous. It also has a digital handset with four altitudes presets for convenient and simple height adjustments during the day. Two electrical control grommets are also included in the desktop, constructed of high-quality bamboo.
17. FlexiSpot EN1B Electrical Height Adjustable Workstation
The debate over crank vs. electric standing desks is a long one, but an electric adjustable table stays smooth, sturdy, and silent throughout height shifts. The desk's supports are double galvanized steel tubes, which gives it its outstanding sturdiness, and the desktop is made of eco-friendly variable fiberboard. It is also available in various colors to match your office's current look.
18. Standing Desk Converter, Stand Steady X-Elite Pro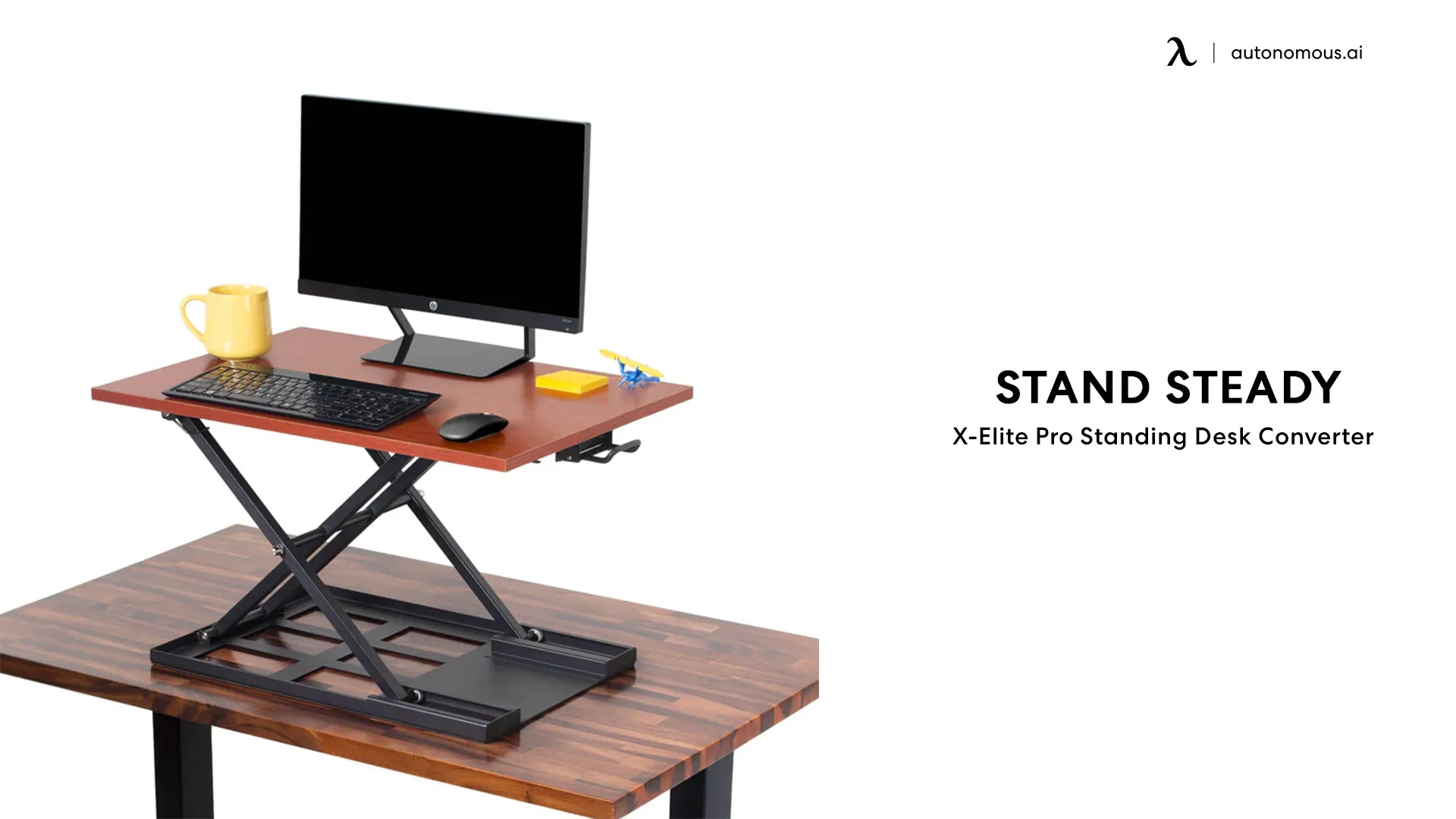 If you do most of your work on a notebook or a laptop, you'll like the small form of this ergonomically designed converter. It's big enough to fit your gadget, a display, an extra keyboard, and some documents without becoming a jumbled mess.
19. ApexDesk Elite Convertible Standing Desk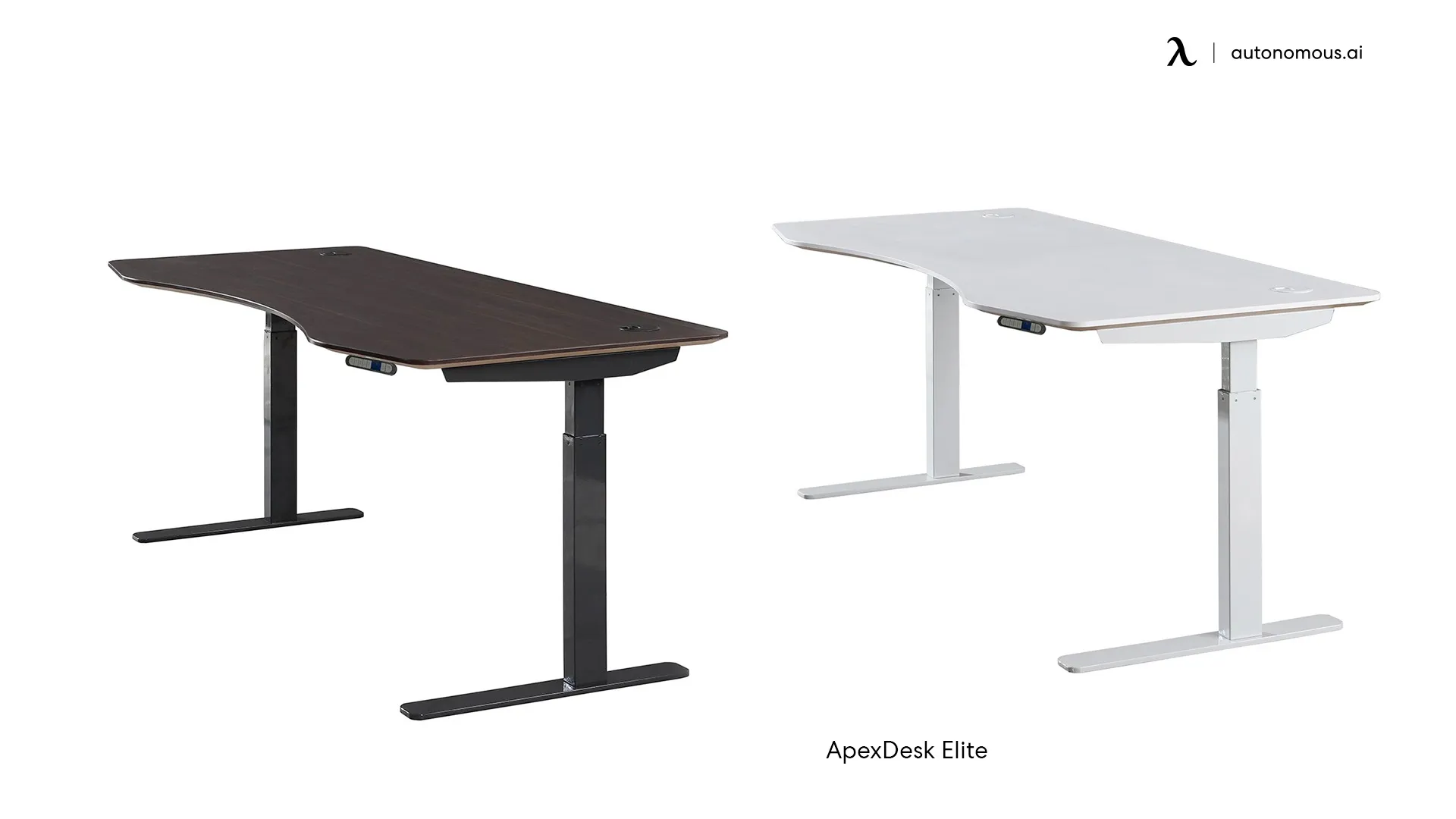 If you need a bit more space at your desk to get things accomplished, we suggest the Apex manual rising desk since it is made to endure with top-quality components, a dual-motor elevating mechanism, and a central beam for added stability.
20. Standing Desk UPLIFT V2
The flexibility features of this stand-up desk attachment are difficult to top. Dual engines drive the elevation adjustment system, allowing the table to adjust swiftly, precisely, and silently.
What is A Manual Standing Desk?
A manually operated standing desk, such as a crank desk, will save you money if you're looking for a customizable workstation and don't mind putting in a few seconds of extra work every time you wish to move from being seated to standing. Manually controlled workstations alter height requiring no motors, circuitry, or power connections, in contrast to the increasingly popular electric-adjustable standing workstations. Hence, manual desks are a little less expensive than electric ones.
The sole disadvantage of manual workstations is that they adjust more slowly and take more exertion from the person to raise and lower. There is a range of quality between the various products that are offered, similar to how there is in every field, with a select few goods standing out beyond the rest.
We've researched by inspecting, analyzing, and writing comprehensive reviews on the most well-liked height-adjustable manual desks, including adjustable crank desks.
As the dangers of sitting for extended periods become more apparent, office seating arrangements have been considered. Due to their desk employment, those who work in offices have little option but to maintain an unhealthy life. Manual height-adjustable desks, on the other hand, have offered such persons a fresh spark of hope.
These crank standing desks, which let you sit or stand while you work, might even become the office conceptual design of the future. Let's look at the pros and cons of sit-stand workstations to see how beneficial they are in terms of health.
Is a Manual Standing Desk Worth It?
Everyone knows that there are many standing desk health benefits. In fact, if you stand just three hours each day for five days each week, you can burn over 30,000 calories within the year. That could equal an entire pant size. Many people find that standing periodically throughout the day also reduces pain in the body while allowing more oxygen and blood to get to the brain.
However, the question is not whether a standing desk is healthier to use. We're focused on whether a non electric standing desk is the best or if you should choose an electronic one. Let's take a look at the considerable advantages and drawbacks.
Advantages of Hand Crank Adjustable Desk
A crank height adjustable desk is often less expensive because you don't have a motor or touchscreen capabilities. If you and another person utilize the same manual adjustable desk throughout the day, it's much easier to change the settings. However, you can do the same with electric standing desks much faster.
Switching between standing and sitting on a

manual sit-stand desk soothes muscle stress and stiffness, particularly in the periphery of the body, such as the thigh, hamstrings, and lower back issues.

Compared to sitting, standing enables a larger quantity of calories to be burned. Even if standing is not like going to the gym, that is still a preferred idea over sitting.

Moving between sitting and standing positions occasionally increases one's focus and energy. Long periods of sitting and working might make you feel tired and sluggish. When you're chronically tired, an adjustable workstation allows you to get up and complete your job with greater enthusiasm.

Sitting for long periods may wreak havoc on your posture, causing neck tightness, shoulder soreness, and backache, among some other issues. Balancing at a sit-stand workstation is a great method to retrain your muscles and keep your posture in check.
Disadvantages of Manual Desk
With a manual adjustable desk, you must turn a crank. Generally, it takes 38 turns to go from a seated to standing position. This also requires you to determine the right height for your specific needs. Often, this is hard to do because you're bent over slightly to utilize the manual standing desk. You're also searching for the ideal height each time you have to transition using the manual height adjustable desk.
You might also have to deal with the crank being on one side and not raising the manual height adjustable desk evenly. This happens frequently, and it isn't much you can do about it. It's important that you can sit and stand throughout your day, and you want a single desk to help you achieve your goals.
Also, you're unable to program the manual adjustable desk, so you have to change it by hand each time.
Standing for long periods may take a heavy toll on the lower legs. Muscle discomfort and exhaustion may result as a result of this. To overcome such issues, it's a good idea to split your time among standing or sitting positions on a

rising manual desk.

When working at a sit-stand table, your footwear options are limited. You'll need the type of shoes to sit and stand properly while you work. Heels will be a lost art.

Just as lengthy periods of sitting can lead to poor alignment, so can extended stretches of standing if one's posture isn't maintained. The physique and the workspace must be aligned properly for optimal standing position.

Standing desks are useful when working on computer monitors. Sit-stand desks will not be the best solution if you operate on a laptop. When working from a standing posture, one is generally more prone to bend in at the laptop screen, resulting in bad posture.
Using Electric Standing Desk for Better Productivity
Electronic or automated standing desks like Autonomous SmartDesk Core might be a better choice than the manual height adjustable option. You just push a single button, and it adjusts to one of your preset or programmed heights. This allows you to stand and continue working effortlessly. Whether your hands or full or you're on the phone, you can still adjust it.
Generally, you press and hold the button or hit the preset one. With a manual adjustable desk, you must continuously crank it until you get your desired height. Plus, you may have to deal with being a crank too high or low because of the way the crank desk works.
Remember, you're cranking the non electric standing desk by hand, so it might stop just a little short. This may require you to go a little higher. Both of these scenarios can hurt your back and neck. The goal here is to reduce your risk of pain, so a manual height adjustable desk might not be suitable for you.
Differences between an Automated and Manual Standing Desk
Automated standing desks can be more expensive than the manual adjustable desk. However, you must look at it in terms of value to determine if paying more for automation is right for you.
Those who have just begun working from home may find that a manual height adjustable desk allows them to test the waters before they make a large purchase. Still, you might be better off going with the electric ones initially so that you're not spending money on the manual adjustable desk and then switching out for a different brand.
Both the automated and manual height adjustable desk are going to make noise while working. However, electronic versions are often softer. Also, they feature a more fluid motion, so it's not jerking and moving your equipment around on top.
Of course, there are many more mechanical components with an automated standing desk. This means that you are sure to have problems at times. Still, most manufacturers offer excellent warranties. Typically, a manual adjustable desk has a guarantee of fewer years if one is included at all.
Conclusion
Lastly, manufacturers developed standing workstations to address the issue of a sedentary position at our workstations in the modern world. But excessive standing might sometimes be uncomfortable. Most specialists concur that a hybrid strategy that enables you to switch between sitting or standing altitudes is your top pick, although there is currently no clear-cut medical advice regarding how long you must sit or stand.
Select a crank height adjustable desk that can be adjusted so that you have seamless alternatives at the simple push of a button so that you can change it up depending on how your physique is feeling at any particular time during the day.
When it comes to standing desks, you've got endless choices available. Today, we focused on the manual height adjustable desk, but we do feel that they leave many things to be desired. If your goal is to make life easier for yourself while you work at home, an electric standing desk, like the SmartDesk Core or even the brand new SmartDesk Pro with new features and upgrades might be the better choice. Now, though, you can compare a variety of manual standing desks to determine if any are as good as the ones from Autonomous.
Subcribe newsletter and get $100 OFF.
Receive product updates, special offers, ergo tips, and inspiration form our team.
WRITTEN BYAutonomous
We build office products to help you work smarter.