Smart Products
Why Do Office Chairs Usually Have 5 Legs?
1,308 Views
Most (if not all) office chairs on wheels there are in the market have five legs. However, do you know the reason behind this design decision?
The main purpose of an office chair's five legs is to keep the seat stable while the seat is in use. Office chairs can work with only 3 chairs, but the National Institutes of Health recommends five-point chair bases so the seat can be as stable as possible, preventing the chair from tipping or causing other problems.
Office chairs are universally built with five legs. It's extremely strange to find an office chair with a lessened number of legs out there. Have you ever wondered the reason for this?
There is more to the answer to this question. If you own an ergonomic office chair and would like to know the mechanisms behind its metal chair legs, jump to the next section.
A Regular Chair Typically Has Four Legs. But Why?
Office chairs comply with the function of a basic chair, along with a few other mechanics that help the user remain comfortable during their work sessions. Most chairs come with four legs because it makes it easier for the whole unit to carry more weight. Each leg will carry less weight, which means that the user's weight will be uniform.
Additionally, it's easier to build chairs with four legs because each leg is integrated into the final product at a 90-degree angle and has the same length, providing symmetry and a more aesthetically pleasing look to the finish.
Although chairs with three legs exist, a four-legged chair can support the user even further, making them less prone to accidents.
The Reason Why Office Chairs Have 5 Legs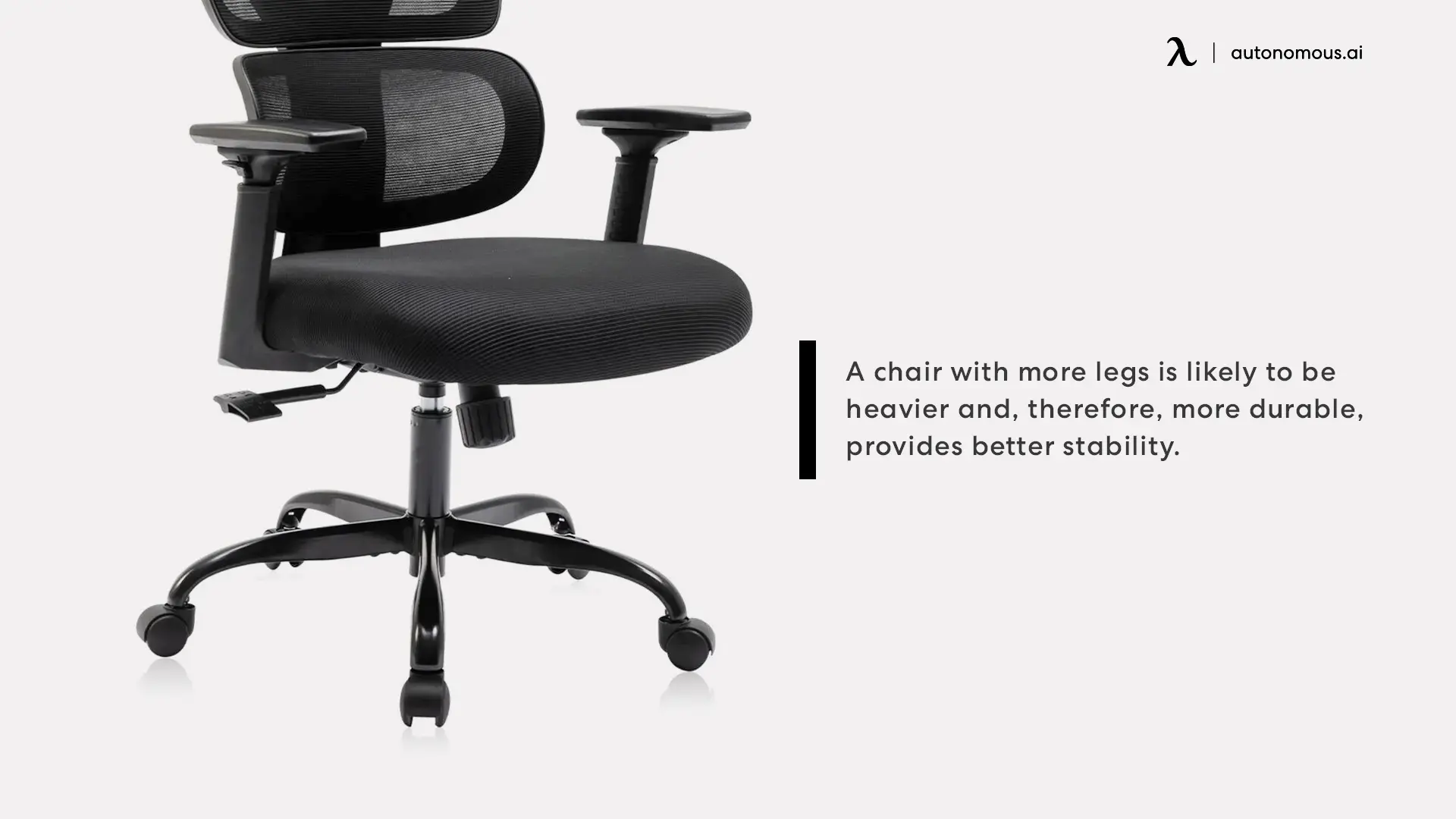 We know that chairs usually have four legs because it makes them easier to design and build. Furthermore, they also provide more stability to the user, keeping them comfortable most of the time. When it comes to office chairs, the reason why they have five legs is directly related to the office chair wheel base.
For starters, a hydraulic center post is always included in the design, and such a base makes it possible to choose a particular number of legs. Here's why office chairs with five legs reign the market since their introduction in the industry:
A chair with more legs is likely to be heavier and, therefore, more durable.

A chair with more legs provides better stability.

Desk chairs with wheels are longeval because the user's weight is distributed uniformly.

Last but not least, an odd number of legs provides protection against wobble.
All of these aspects make office chairs on wheels with five legs more appropriate for an office environment. They keep the user comfortable at all times while also providing them with all the stability they need to remain still for a prolonged period while they work on their responsibilities.
Why Are There Desk Chairs with Wheels?
Most office chairs have wheels. This design was first brought up by Charles Darwin, who integrated casters into his office chair so he could go from one place to another faster during his investigation. Let's not forget that Charles Darwin spent most of his life studying and researching plants and animals. However, chairs with wheels were not available yet in the 19th century.
Darwin wanted to be able to move while he was still sitting. Hence, he came up with an innovative design that could help him move around without necessarily getting up. Since then, almost all office chairs worldwide have included casters.
Replacing Your Office Chair's Wheels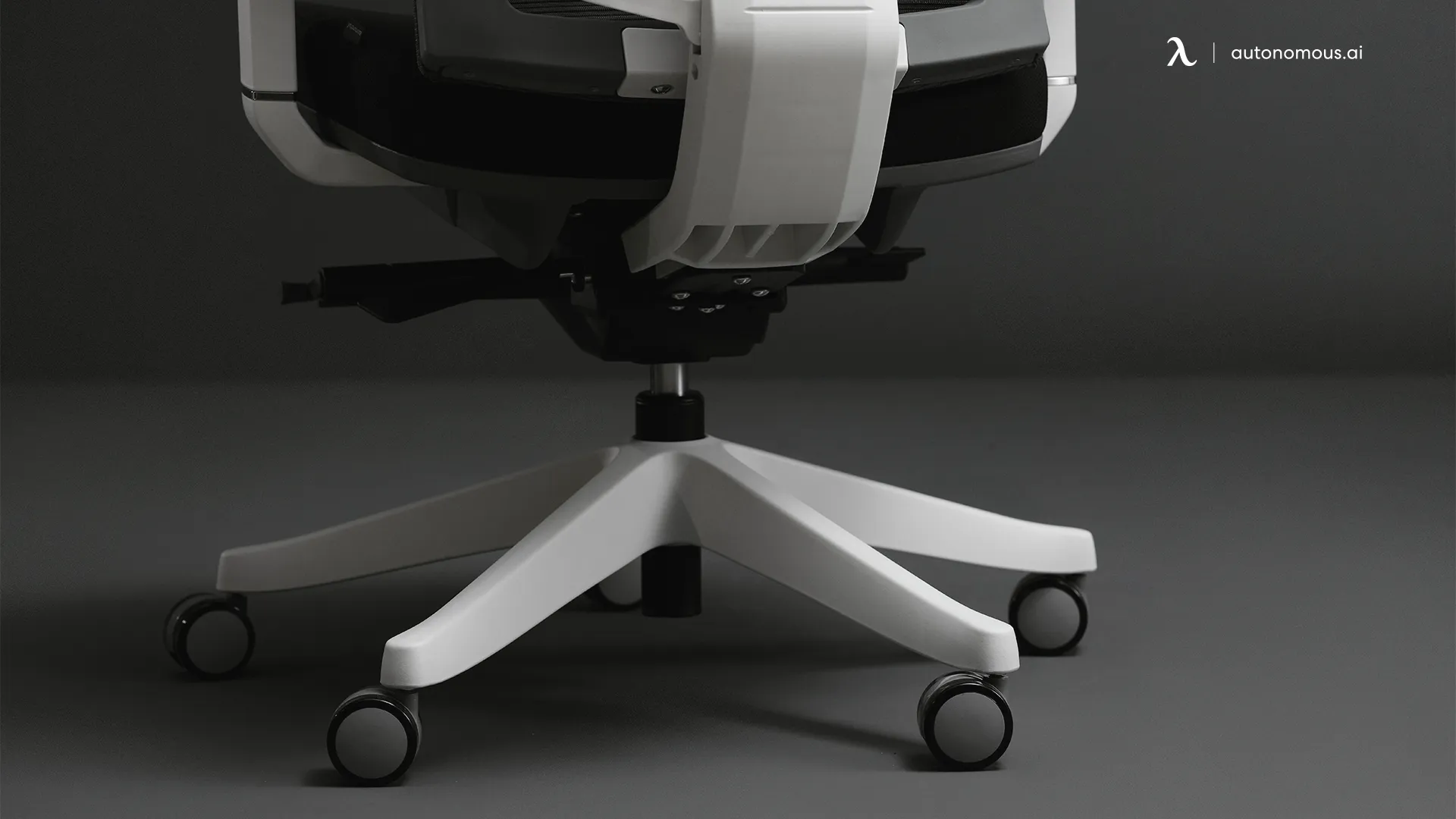 Not all wheels are built the same. Some of the office chairs on wheels are too harsh on certain floor types, such as tile or hardwood. In that case, you always have the option of replacing such wheels and using "softer" casters. This way, you will be able to preserve your floor and continue using your chair comfortably.
If you have a hardwood floor, perhaps you may want to take a look at some hardwood floor chair casters. Other floor types may benefit from rollerblade office chair wheels or perhaps KERDOM rubber chair casters. There are many other options out there that were designed for specific types of floors, too.
You won't have any problems while replacing your new office chair casters, not even if you're dealing with a heavy-duty office chair base. Office chair wheels are universal products, which means they're pretty much compatible with every office chair out there.
Alternatives to an Office Chair on Wheels
Regular office chairs on wheels are not the only option you have to sit comfortably in your workstation. You can also choose an ergonomic desk stool, which may provide similar stability but might be appropriate for specific work environments, such as artists that require more mobility. Ergonomic stools can be affordable and almost as comfortable as a regular office chair.
You can also opt for exploring other types of chairs, such as kneeling chairs. However, office chairs on wheels are the standard at the moment due to how convenient and easy to find they are.
Conclusion

An office chair complies with the basic function of a regular chair but adds a few extra features to make it more appropriate for an office environment. An office chair on wheels provides the user with more mobility at the workplace.
Office chairs have five legs because they provide the user with more stability during use, preventing the chair from wobbling and "trembling" during its use if they happen to be on an uneven surface. Furthermore, this design makes the office chair more durable.
It's almost impossible to find an office chair that doesn't have five legs at the moment. However, if you're looking for a different option for whatever reason, ergonomic stools might be for you.
Whether you're looking for a new ergonomic chair, an ergonomic stool, or perhaps new casters for your chair, we recommend you to take a look at the Autonomous Employee Purchase Program. You will be able to obtain office accessories, ergonomic chairs, stools, and desks at special pricing. Hence, if your office is not fully-equipped yet, now is the time to do so!
Subcribe newsletter and get $100 OFF.
Receive product updates, special offers, ergo tips, and inspiration form our team.
WRITTEN BYAutonomous
We build office products to help you work smarter.