Covid-19 affected many things in our daily lives, and most importantly, the working routine has seen the greatest change. From working 9 hours in confined and crowded workspaces to setting up home offices, everything changed. If you hated this change and had anxiety while working from home, you need a proper home office setup and build a standing desk for your own.
Having your own working space in homes gives you peace and a suitable workplace. If you are looking to make your own standing desk at home or finding ways to ace that homemade adjustable desk, you must know the benefits of a DIY standing desk. Building your own standing desk is a cost-effective solution to get suitable office ergonomics for your home office. This article will help you to make a DIY height adjustable desk at home. Rather than going outside and surfing through the hundreds of choices to find the best adjustable standing desk for you, making your standing desk is a breeze.
What Is A Standing Desk?
A habit that seems very common as it may not even ring a bell is slowly killing all of us. Sitting for a prolonged time increases the chances of early death by 19%. This alarming rate indicates almost all employees are at a greater risk of dying early because something they don't even know is killing them. Sitting while working is a rule that has been going on for decades, and no one would have thought otherwise.
But thanks to office ergonomics and healthcare professionals who have spent years learning about the harmful indicators in the workplace. And sitting is one of them.
A standing desk is a simple and smart tool to deal with this problem. A standing desk is usually a height-adjustable desk that can allow you to work while standing. This allows your body muscles to relax as you don't have to slouch or even retain any tension in your shoulders. The standing desk takes off the weight from your lower back and improves the blood flow to the lower body.
It also burns calories. Standing desks are made to make employees strong and more productive in the workplace. This eliminates laziness as the employees don't lean against their chairs or sit in uncomfortable positions to damage their spine. If you are a person who loves DIY, let's try making your own standing desk!
Health Benefits of Standing Desk
The health benefits of a standing desk extend to the entire body. From controlled blood pressure to reduced blood sugar level, there is no way you should underestimate the positive impacts of a standing desk in the workplace.
Reduced Back Pain
Building a standing desks station helps you mitigate back pain. Gone are the times when back pain was just associated with people above 50 years of age. Now almost 80% of adults suffer from back pain at least once in their life. All thanks to poor seating and unnecessary strain on your back muscles. Using a standing desk lifts off the extraordinary weight from your lower back, and your muscles can relax. People who use the standing desk as a part of their work routine experience 50% lesser back pain.
Regulated Blood Sugar
The blood sugar levels rise considerably after a meal. And it is common to have heavy lunches in the workplace or even snacking constantly while brainstorming. This could lead to uncontrolled sugar levels in the blood as well as acidity. Standing can regulate the sugar level as it burns almost twice the number of calories.
Decreased Risk of Heart Disease
We often damage our hearts little by little, and sometimes the damage cannot be reversed. Our heart health is majorly affected by the pressure we put on our bodies. Many studies have proven bus drivers to be almost three times at greater risk of having a heart attack. On the other hand, bus conductors who stand all day have stronger hearts.
Standing can help your heart to pump blood to all parts of the body easily. It also reduces the cholesterol level in the body. On the contrary, tasks that consume zero to minimum energy and lower the human body's metabolic rate are the major contributors to heart diseases and long-term issues.
Lower Risk of Obesity
Nobody wants to become obese. Obesity is the door to many other harmful diseases that disrupt the entire body's function of a human being. Standing while working can burn more than 800 calories each week compared to sitting on a common day. And even an hour-long exercise cannot fight the negative impacts of sitting all day long. Imagine pushing your health with something as bad as sitting.
Better Mood
One would wonder how standing up affects the mood, but working while standing has shown various positive impacts. Since sitting is known as a sedentary task, it also seriously negatively affects a person's mood. The improved mood and stamina and the relief from back, hip, and neck pain are expected to increase productivity and mental alertness.
When the body as a whole is in great condition, it performs more effectively, and it is reasonable to assume that efficiency would increase as a result. Workers who have tried working while standing have witnessed a rise in their energy levels and improved productivity instead of sitting.
Making Your Own standing Desk vs. Buying a Standing Desk
To build a standing desk in your home office has many benefits over purchasing the readymade ones from the store. Although a standing desk 'do it yourself' has many challenges but with the right tools, practice, and skills, you can easily build the most suitable standing desk for you.
Cheaper
Making your own adjustable standing desk will be cheaper for you in many aspects. For instance, if you have a suitable table or even a tall corner table in your home, you can easily modify it to a standing desk. Even though the number and popularity of standing desks in the market are increasing day by day, still buying a new one may cost you a handful.
On the other hand, if you are making your own standing desk at home, you can save up on the shipping charges. As a standing desk is no tiny object, considering its weight and dimensions, you will have to pay delivery charges based on the distance and the product you chose.
Customized
The market is full of choices of standing desk do it yourself suitable for your home office or even a conventional office. But what you don't get is customization. Sure the mechanism of a standing desk is easily understood, but there are many personal preferences or modifications a person could like in it. For instance, with a DIY standing desk, you can control the lowest and tallest height of the desk. You can also set up some drawers or side shelves to keep your items.
By making your own standing desk, you can also choose the relevant load capacity for your work desk. And if you are planning to get a standing desk for your home, you can modify it for multi-purpose uses. Not to mention the color, you can choose and paint any color you like.
DIY Crafts
Standing desks are simple and it's really easy for you to build a standing desk. You may want to make various cable holes or a desk that fits right into the corner of your home. Your working space could be tiny, or you might be setting your workstation under the stairs. Nobody knows your home as you do. And making your own standing desk allows you to play with the options.
You can add or subtract the many desk accessories in a standing desk. This will ensure that you are investing only in the things that you need.
Easy to Build
Scientific research and many studies prove the benefits of a standing desk. Though it seems like a magical product, it is not that hard to understand it rationally. A standing desk is easy to build. Sometimes you need a standing desk platform, and sometimes you need a suitable standing desk frame. You may also make up your existing work table into a standing desk.
What Are the Best Standing Desk Frames?
The best standing desk frame is the one that perfectly fits your needs and isn't very heavy on your budget. If you are setting up a home office, there is no point in investing hundreds of dollars on a standing desk when you can start with something as cheap as a standing desk frame.
Electric Standing Desk Frame
An electric standing desk frame is more suitable as it does not require height adjustment in a work desk. An electric standing desk does not need a manual system to increase or lower the work desk's height.
The electric system works automatically. It is also less noisy and easy to operate. This saves a lot of time and is even ideal for a beginner who does not know how to operate a lever or a mechanically adjustable crank. However, electric standing desk frames are a little expensive.
Manual Standing Desk Frame
You need to use the manual lever or crank system to play with the height of this standing desk do it yourself frame. Sometimes the manual standing desk is manufactured with a dual-motor system, and sometimes even a single motor is enough. Either way, this type of frame is cheaper as compared to an electric standing desk frame.
SmartDesk Frame
Smart Desk Frame is a popular product for people who love to build their own standing desks at home. While making your own standing desk, this product offers durability, strength, and an easy DIY project. A great smart desk frame is available in many colors, and you can depend on it for strength and reliability in the long run. These desk frames are usually powered by strong motors that make the movement swift, noise-free and easy.
How to Build an Adjustable Height Desk?
Frankly, standing desks are not cheap, but the cost of not having one is even higher. If you cannot find the best standing desk in your budget, you can surely find the best DIY standing desk in your budget and capability. The great news is there are many ways to make a standing desk at home. Not all of them require days of work and lots of withdrawal from your ATM. You can choose the cheapest option available and still help your body grow stronger and better while you get rid of sitting.
Modify your Dresser
If you have a dressing table that matches and complements your height and eye level when making your own standing desk, then you have got a great deal for yourself. You can take out the drawers and use them as a standing desk or even leave the drawers as they are. Or if the top is not suitable, you can just buy a standing desk platform and make things work with it.
Buying A-Frame
A standing desk frame is the main thing that does the magic, and buying just a frame does not require you to break the bank. A standing desk frame is easy to make into a standing desk with just the right platform. The best part is that you can choose the width and length of the platform as you like, and depending on the frame type and lifting capability, you can modify it to bear various loads.
Raise your Existing Desk
This is a great hack to build a standing desk for some cheap and smart standing desk ideas. However, you will get a fixed height standing desk with this rule. If you cannot afford a standing desk frame nor buy a standing desk platform, then consider adding extra height to the bottom of your existing desk. You can add some thick additional feet or even place some blocks underneath to reach your eye level.
Kitchen Counter
Many kitchen counters are sufficiently tall. If you are one of those blessed people, you don't need to spend even a dollar. Move your workstation on the top of a clean kitchen counter and set up your office there. You can sit every once in a while if you get tired, and the best part? You are nearest to the fridge. Although there might be some disturbance as your family cooks delicious meals while you work and need to focus.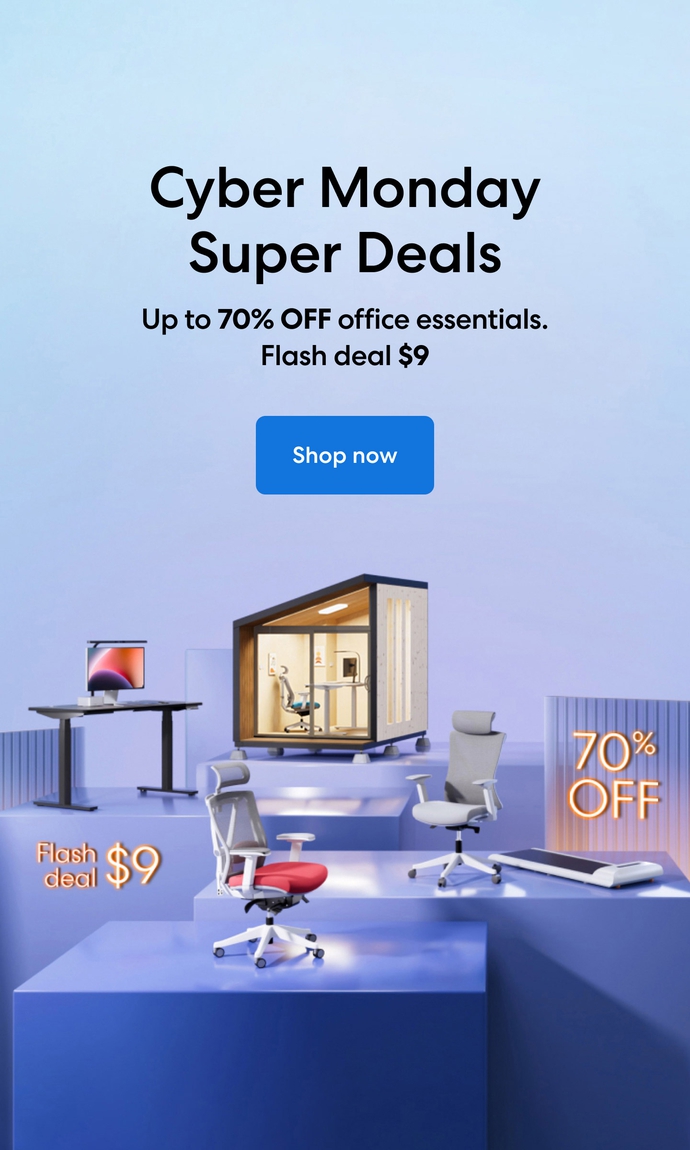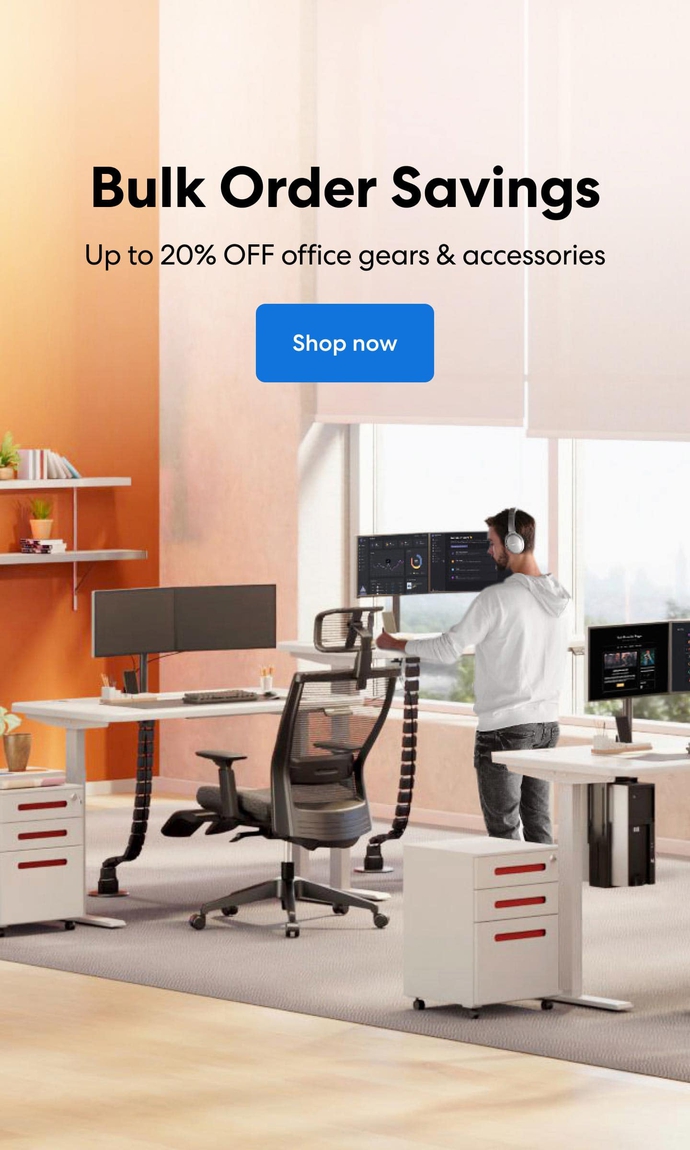 Subcribe newsletter and get $100 OFF.
Receive product updates, special offers, ergo tips, and inspiration form our team.