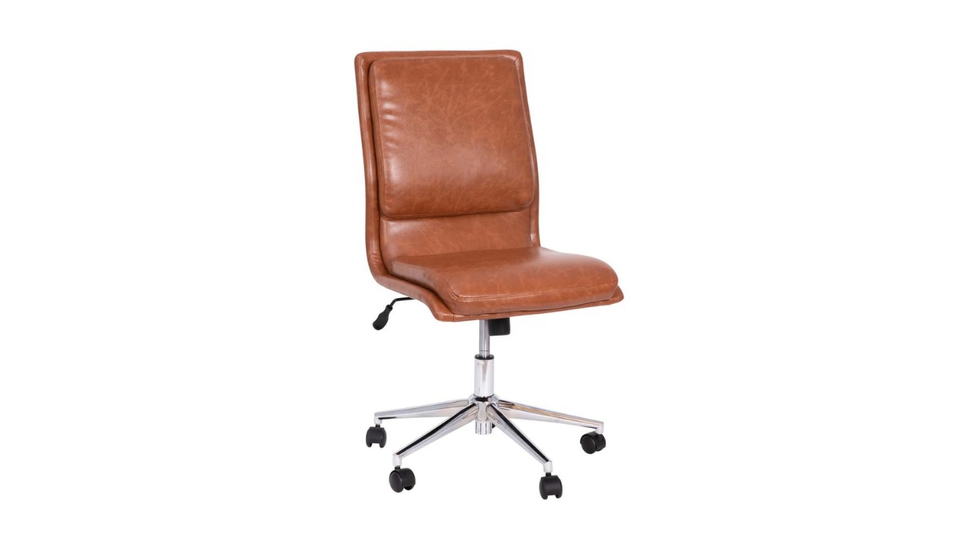 Skyline Decor Armless Swivel Task Office Chair: Adjustable Chrome Base
Color: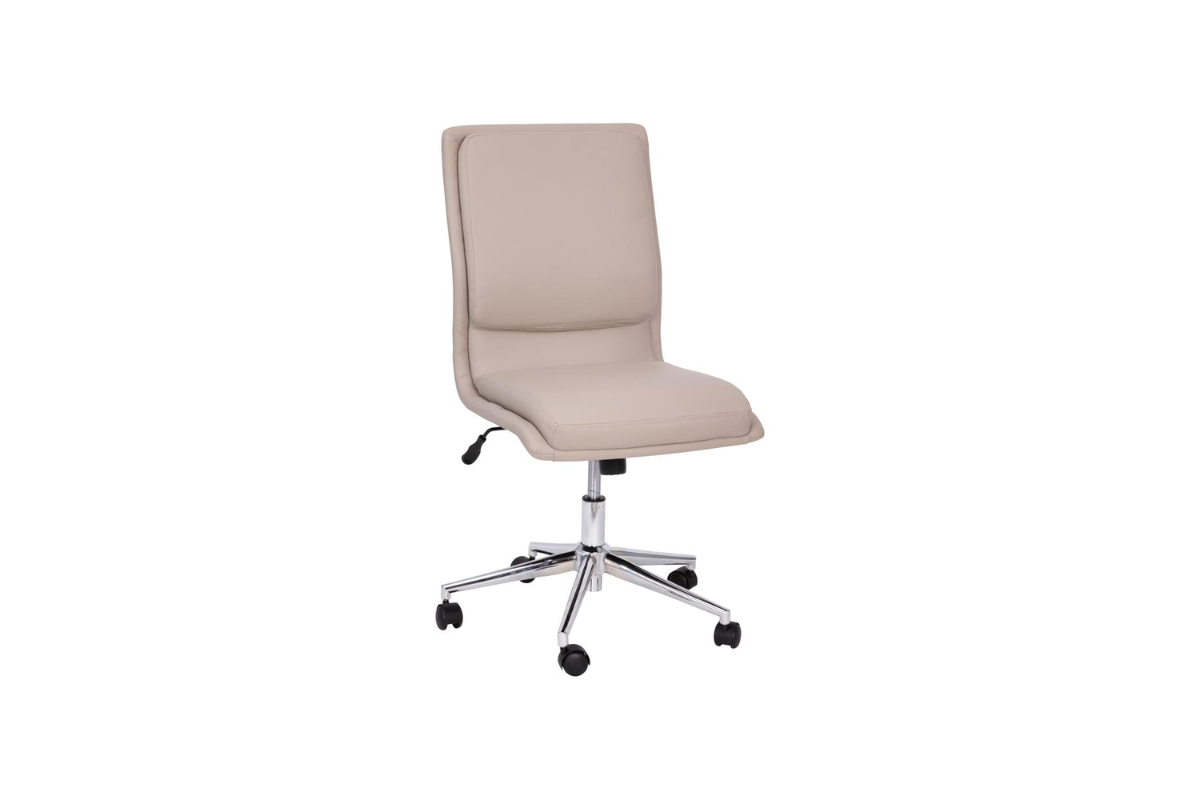 Not available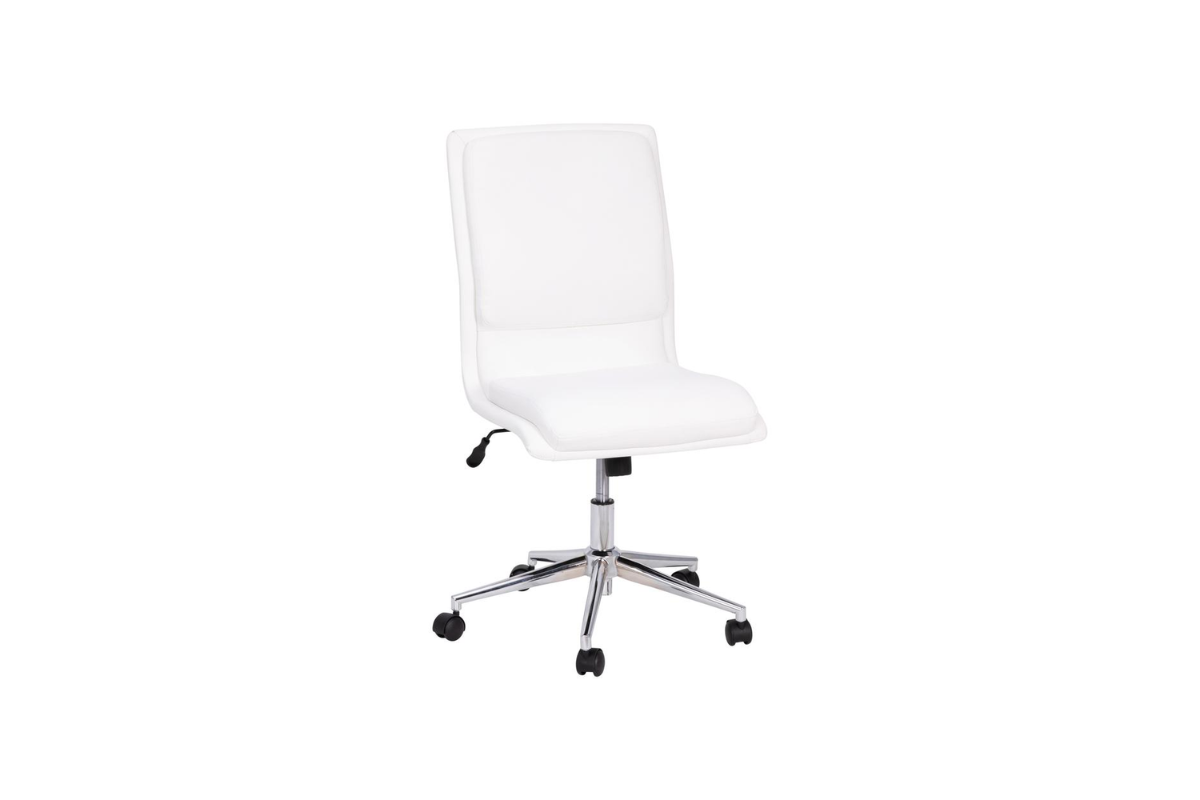 Not available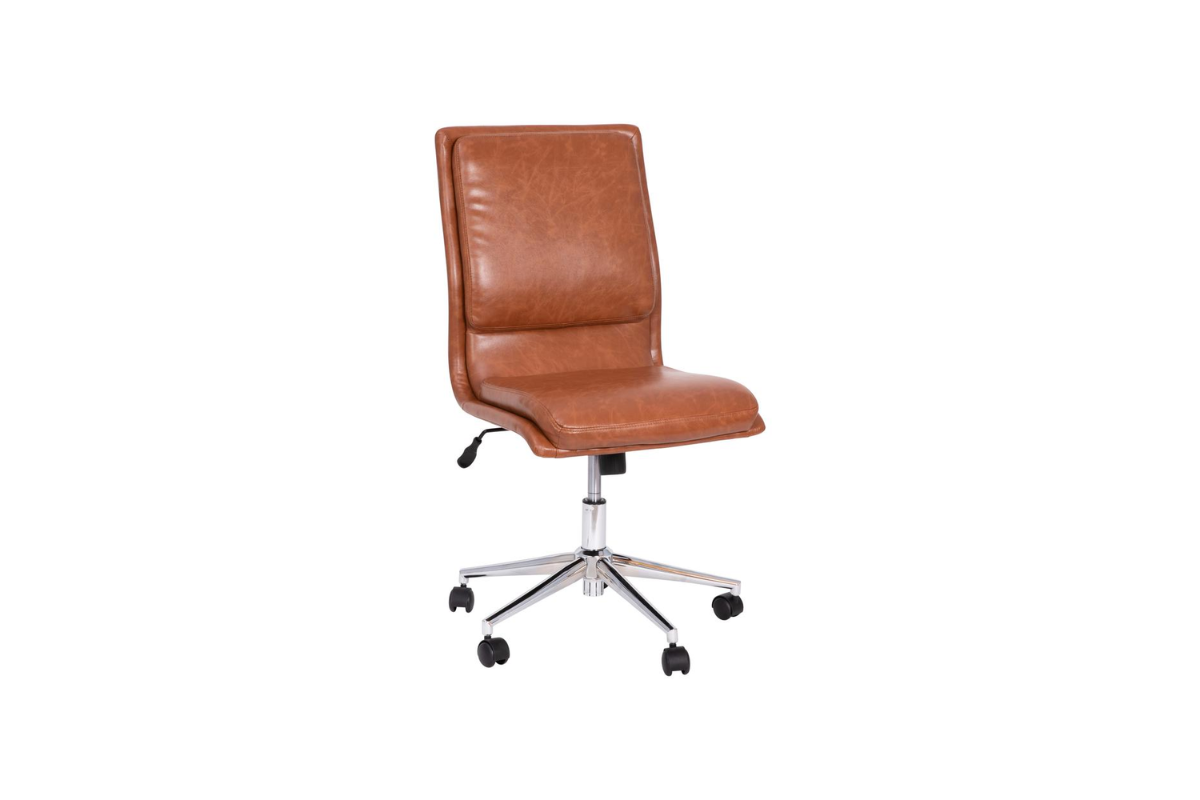 Not available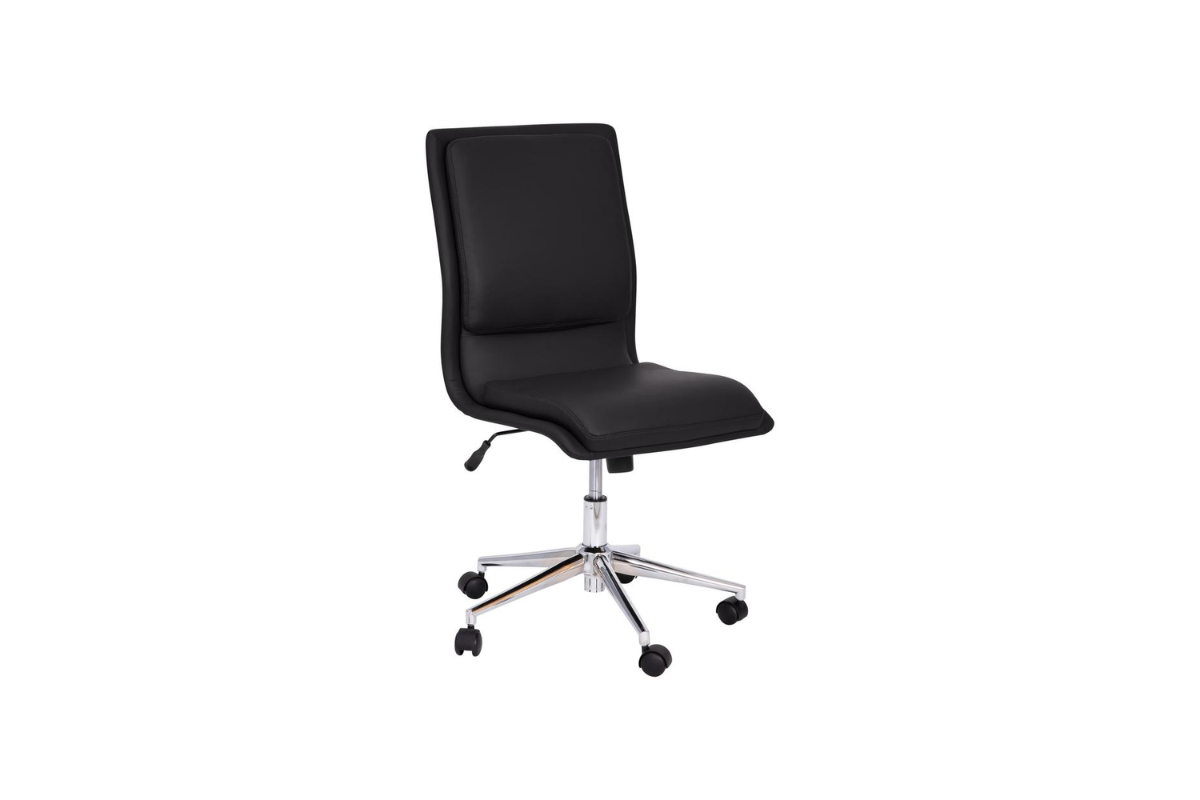 Not available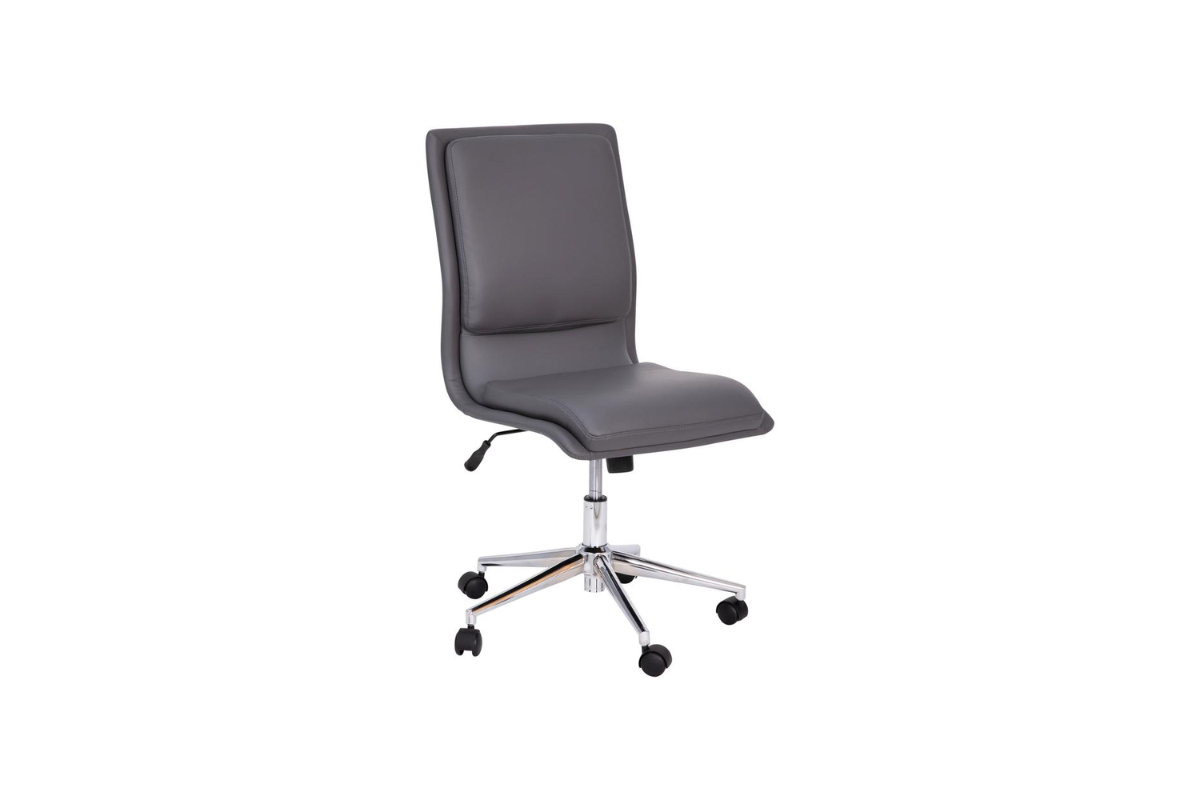 Not available
Buy now
Add to cart
FREE shipping Dec 10 - Dec 12. FREE 30-day returns.
Sold and shipped by Skyline Decor
• Modern Armless Mid-Back Upholstered Swivel Office Task Chair • Soft and Durable Luxurious Taupe LeatherSoft Upholstery • Plush Foam Padded Back and Seat • 360° Pneumatic Height Adjustable Swivel Seat • Premium Solid Wood Seat Holds up to 250 LBS. Static Weight • 5-Star Chrome Base with Dual Wheel Casters • Cleans with a Solvent-Based Cleaner, No Water • Quick and Easy Assembly in Under 10 Minutes
• 1-month warranty
Fabulous form meets practical purpose in the elevated style of this mid-back office task chair. Plush foam padding in the back and seat is enveloped in luxurious LeatherSoft upholstery for an upmarket look in a commercial workplace or home office. LeatherSoft is leather and polyurethane for added softness and durability. The space-saving, armless design allows this elegant chair to tuck beneath your desk or other workstation and lets you enter or exit from multiple angles. Premium materials and durable construction make this beautifully appointed swivel chair a must have for daily use. A solid wood seat and 5-star chrome base give a worry-free seating experience and hold up to 250 lbs. static weight capacity while the 360° swivel feature, along with dual wheel casters, provides excellent mobility to reach multiple work surfaces. Pneumatic seat height adjustment puts you at the perfect level to keep your feet flat on the floor for correct posture. Super easy assembly will have your new chair ready to go in under 10 minutes and a solvent-based cleaner will keep it looking brand new with no water needed. This swivel task chair is available in multiple colors to match any decor.
Deep dive into specs
About Skyline Decor Armless Swivel Task Office Chair: Adjustable Chrome Base
Many office workers have found that switching to a chair without arms improves their concentration and motivation on the job. Without armrests, an office chair is called an armless office chair. These not-so-heavy chairs were created to take up less room, so they're perfect for use in cramped workplaces or with low desks. The use of heavy duty office chairs and ergonomic office chairs is common in today's offices due to their minimalistic style and space-saving capabilities.
About Skyline Decor
Skyline Décor is an extensive home furnishings and decor retailer operating exclusively online. On their website, you may shop for anything from furniture to lighting to accessories. They take great delight in offering reasonably priced, high-quality goods that are both distinctive and fashionable, focusing on modern, contemporary, and minimalist designs. Skyline Decor also has an extensive collection of outdoor furniture and accents available. They offer a selection of patio sets with seating, tables, and umbrellas, perfect for al fresco dining or lounging.
Benefits Of An Armless Office Chair
More Space with Different Design
These armless desk chairs are more space-efficient since they don't have armrests and can be stored neatly beneath a desk when not in use. This is helpful in any workplace, but more so in cramped quarters. They might be the best office chair for back pain. Furthermore, armless desk chairs are typically lighter and easier to move about, making it simpler to reorganize your workplace or share the chair with coworkers. Armless task chairs are popular in modern workplaces because of their minimalist aesthetic. They may be found in various colors and designs and are often manufactured from lightweight materials like mesh or plastic.
Enhanced Movement, Comfortable & Easy To Move Around
Having no armrests restricts your mobility but allows you to sit in the most comfortable position. This is helpful for anyone who frequently rises from a seated position and those who just prefer to sit in a cross-legged position. Because of their reduced weight and portability, armless office chairs facilitate workplace reconfiguration and chair sharing. Comfortable sitting is guaranteed with armless office chairs thanks to thick foam cushioning and high-quality upholstery. A fabric office chair is still something people drool over.
The Armless Swivel Chair By Skyline Decor
This stylish and practical armless task chair serves dual purposes. It has high-quality LeatherSoft upholstery over soft foam in the back and seat for comfort and style. LeatherSoft is a hybrid material made from leather and polyurethane, which makes it both comfortable and long-lasting. Due to its ergonomic design, your back will feel super comfortable sitting on this armless swivel chair. Adjustable features on the armless swivel chair's back and lumbar support make it possible to find a comfortable position that supports your back in its normal arc. The chair can be swiveled a full arc and has many other adjustable features, including a height regulator and tilt tension knob. This chair's lack of arms makes it convenient for use in tight spaces, such as under a desk and facilitates entry and departure from all directions. It works wonderfully in either a professional or private workplace.
Tips To Protect Armless Office Chair
Cleaning: Keep the chair clean by dusting and vacuuming it frequently. Apply a moderate detergent solution or a dedicated upholstery cleaner to any problem areas. Remove any residual soap residue from the armless computer chair by wiping it off with a moist towel. Protection: Protect the floor and the chair's legs and base from damage by placing a chair mat under the chair whenever it is used on a hard surface. Protect the armless computer chair from direct sunshine and other heat sources to avoid fading or warping. Use a slipcover or other protective cover to shield the seat from dust, dirt, and spills when the chair is not in use. Do not harm the chair's upholstery by placing heavy or sharp things on it. Maintenance: Make sure the office chair is safe by tightening any bolts or screws. For effortless rotation, lubricate the swivel mechanism and any other moving elements. Double-check the wheels or casters of the chair. Regularly check these things on your office chair.