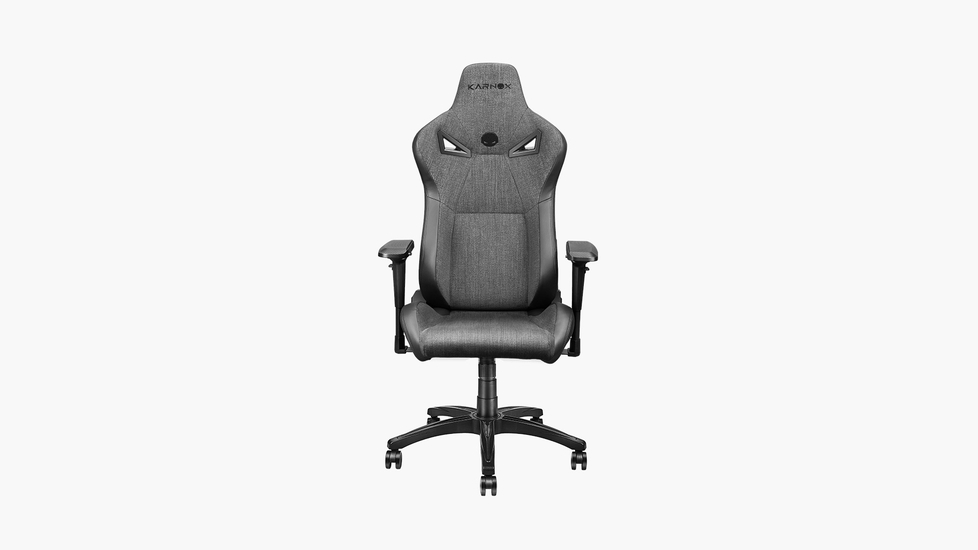 Karnox Slate Gray Gaming Chair
25 reviews
Visit our store
Color:

Not available

Not available
Buy now
Add to cart
FREE shipping Dec 08 - Dec 11. FREE 30-day returns.
Sold and shipped by Karnox
Karnox Slate Gray Gaming Chair at a glance.
Luxe grey Karnox Livorno Fabric spliced with rich PU leather wraps around high density contoured foam to form a gaming chair that marries sharp looks with peak performance.
• Head and lumbar pillow included
• Adjustable height and seat tilt
• 4D armrest
• 90°-155° reclining backrest
• High density mould shaping foam
• Class 4 gas piston
Deep dive into specs
Features
FAQs
Specs
reviews
5.0
Karnox LEGEND TR Fabric Gaming Chair: Comfort and convenience for your gaming sessions
The Karnox Legend TR fabric gaming chair has become one of the preferred options by gamers worldwide. It compiles some of the best features found in premium gaming chairs and everything you like from your traditional ergonomic chairs. This combination gives us one of the best fabric gaming chairs in the market. This grey fabric gaming chair is more than good-looking. It is equipped with numerous features that make it the perfect match for any gamer, regardless of the platform you play in or the aesthetic gaming setup you've chosen for your room.
Benefits of a Fabric Gaming Chair
It is comfortable and is equipped with support in the places that matter
There are plenty of reasons why the Karnox LEGEND TR Fabric Gaming Chair might be just what you need to make your gaming sessions more pleasant and entertaining. After all, a bad seat can affect your performance, mood, and health. Furthermore, we buy gaming chairs with adjustable armrests with the intention of it being a long-term investment. This gaming chair in specific can be one of the best additions to your gaming room. Gaming and office work aren't that different from each other. Both imply sitting for prolonged periods while focusing on a computer screen. Thus, these activities make you mostly put a lot of effort into your neck and lower back area. The Karnox LEGEND TR Fabric Gaming Chair is equipped with a head and a lumbar pillow to prevent you from dealing with lumbar pain, headaches or neck pain. This way, you can focus on the game you're playing instead of the discomfort that's attacking your body.
Durable, hardwearing and practical to improve your posture
Reading the keyword "fabric gaming chair" can be misleading for people who are not familiar with the gaming/ergonomic chairs market. However, the Karnox LEGEND TR Fabric Gaming Chair has been made with thick synthetic fabric to ensure its preservation throughout the years. While we're sitting either gaming or working, we tend to do rough movements. These chairs were designed to be as durable as possible. This way, the grey fabric gaming chair we're discussing is equipped with technology meant to give you an affordable, durable and practical option that will accompany you for several years. There's more to this chair than what meets the eye. Although fabric office chairs have been designed to help you improve your posture while keeping your body fully supported, the Karnox Legend TR Fabric Gaming Chair can do the same for a better price. Besides having head and lumbar support, this fabric gaming chair also includes height and seat tilt adjustments. Thus, you can personalize the seat for it to match your body proportions while making your gaming sessions a more "intimate" time. Furthermore, the reclining backrest can be adjusted from 90 to 155 degrees, which will let you change positions easily as you find it more convenient. If you thought this was all, wait until you learn that this is a gaming chair with 4D armrests.
Benefits of 4D Armrest Gaming Chair
Being able to reach your gaming desk accessories while keeping your arms comfortable is mandatory in ergonomic and gaming chairs. That is the main function of the armrests. Besides keeping your arms comfortable, they also allow you enough movement and the correct posture for you to be properly aligned while you're sitting on the chair. However, not all fabric gaming chairs have 4D armrests. The Karnox Legend TR Fabric Gaming Chair is equipped with 4D armrests. The main advantage of this technology is being able to adjust the height, position (forward or backward, left or right) and rotation easily. This way, you can change the position of your arms easily and adjust them based on your unique body proportions.
About Karnox
Karnox is a company founded in 2009 as a car seat manufacturer. In 2014, they added high-end gaming chairs to the list of products. All of their products are designed, taking into account the needs of professional players. Now, they've become one of the leading providers of gaming chairs worldwide. Their clientele includes gamers, office workers and businesses. Are you looking for the best seat for your gaming setup? The Karnox LEGEND TRR Fabric Gaming Chair can be what you need to take your gaming to the next level.