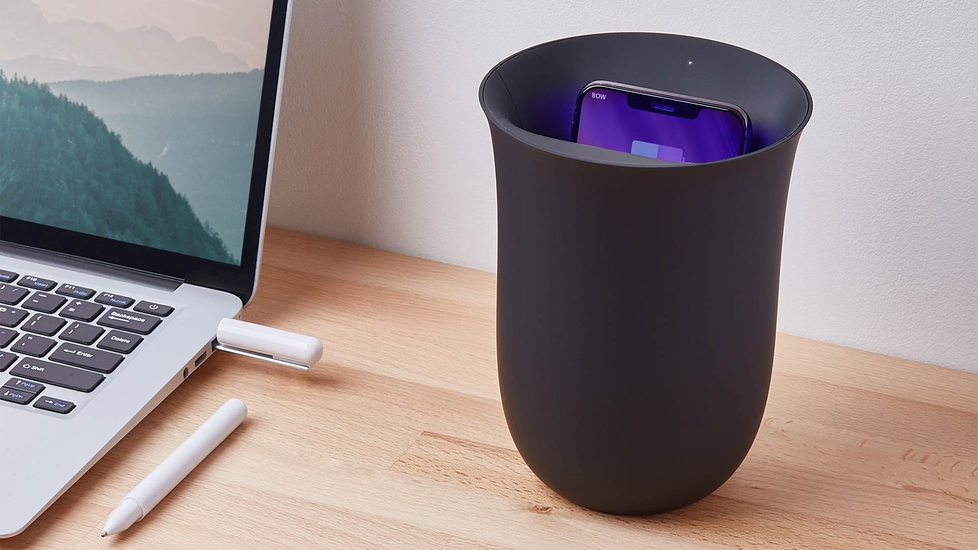 Color:

Not available

Not available
Notify me when this item is available
Enter your email below. We'll let you know when it's back in stock.
Bought by 2+ Google employees.
Sold and shipped by Group BOW
Lexon Oblio Charger at a glance.
Tasteful design, UV sanitization, and wireless charging, all in one beautiful tulip shaped vase. Every inch a conversation starter, this masterpiece of modern design discreetly kills any harmful viruses and bacteria on your mobile device.
• Art Deco European design
• Anti-bacterial UV light
• 10W wireless fast charge
• ABS plastic
• Rubber finish
• Foreign object detection
Deep dive into specs
Lexon Oblio Wireless Charger & UV Cleaner – Keep your phone clean and fully charged
The Lexon Oblio Wireless Charger & UV Cleaner has become one of the most popular office accessories in recent years. As its name mentions, it can charge your phone wirelessly while eliminating all the germs your smartphone contains within a few minutes. Thus, it can be an excellent resource for office workers and people who constantly move from one place to another. Besides being a useful resource, Oblio wireless charging station with UV sanitizer also acts as another piece of decoration at your workstation. Thanks to the European Art Deco style it has, you will be able to turn your current workspace into the best home office setup. Lexon Oblio wireless charging station & sanitizer will charge your phone at its fullest in only three hours. However, it is only one of the few benefits associated with it, as UV sanitizers and wireless chargers aren't often combined in the same device. Thanks to this innovative approach to wireless chargers, the Lexon Oblio Wireless Charger & UV Cleaner won a CES® Innovation Award in 2021, in the Health and Wellness category.
Benefits of using a UV sanitizer and wireless charger
This award-winning UV sanitizer and wireless charger are quite convenient at any workplace for multiple reasons. Here we mention some of the benefits that you'll enjoy after acquiring it. It's a Qi-certified device. Thus, it works with any device compatible with wireless charging. Thanks to the built-in UV sanitizer, you will be able to eliminate up to 99,9% of the germs that your smartphone accumulates. This antibacterial UV light with ionizer technology has been scientifically tested for effectiveness. The sanitizing cycle starts automatically. The interior illumination will let you know that your phone is being cleaned at the moment. Furthermore, the small LED light in the upper area will let you know if you've placed the phone correctly and the charge status. It supports phones with measurements of 8.3 cm (wide) and 1.05 cm (thick). It will let you know if any strange object is obstructing the interior of the device. It's also worth noting that this device was designed to help you take a break from your screen, allowing you to concentrate on what's happening right now – not only what your phone displays. In the meantime, your phone will be fully charged and sanitized.
How does the Lexon Oblio Wireless Charger & UV Cleaner work?
This sanitizer phone charger has become one of the home office essentials that any office worker needs to include in their workstation. It is quite helpful, beautiful and easy to manage.
1. Insert your phone in the visible cavity. Pay attention to the LED light it has in the upper area, as it will indicate if you have placed your phone in the correct position.
2. You can flip your phone after 20 minutes for a full cleaning cycle. It is because this device has been designed to clean one surface at a time, as the deep sanitizing technology is located at the front area of the device's interior. The UV-C LED will eradicate any microorganism your smartphone may have found. This technology has been proved to kill 99.9% of viruses, including H1N1.
3. After three hours, your phone will be fully charged, disinfected and ready to use.
Even if you're not familiar with the latest technological advances, you will be able to take advantage of the Lexon Oblio Wireless Charger & UV Cleaner. It'll take you less than one minute to figure out how it works, as its functioning is quite simple. The combination of these two devices can be helpful if we take into account the context we're currently living in.
About Lexon
Lexon is a company that has been providing office furniture, decoration and resources for decades. The team responsible for the Lexon Oblio Wireless Charger & UV Cleaner is Quaglio Simonelli, which is composed of Andrea Quaglio and Manuela Simonelli. The team is characterized for the Art Deco style they provide to each piece of furniture or decoration they create. Thanks to this, everyday objects can be both good-looking and useful without compromising one quality over the other. Many of the devices by Lexon have won important awards, which has put the company in a prestigious place compared to its main competitors.