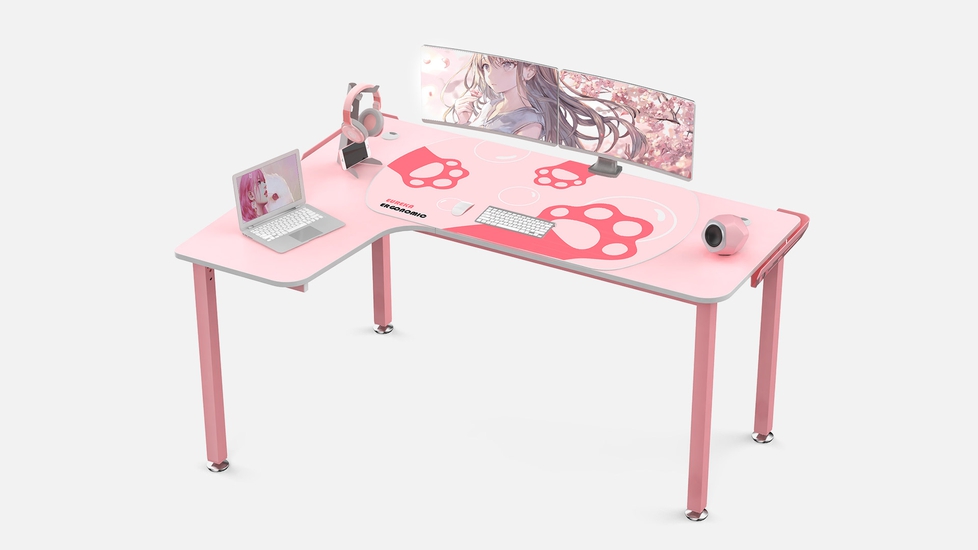 EUREKA ERGONOMIC L60 Computer Desk: Left Side, Pink
10 Commentaires
Visit our store
Livraison gratuite et flexible
Commande en grosEnregistrer jusqu'à 

13%
Acheter maintenant
Ajouter au panier
Livraison gratuite Dec 01 - Dec 04
Vendu et expédié par EUREKA ERGONOMIC

Price Match Guarantee
Fonctionnalités principales
• 60"W L-SHAPE CARBON FIBER TEXTURE TOP • CABLE MANAGEMENT BOX & TRAY • COME WITH A LARGE PIECE OF MOUSE PAD • CUTE AND LOVELY DESIGN
• 5-year warranty
L60 Computer Desk Design for Girl/Female/E-Sports Gamer
Plongez-vous dans les spécifications
Caractéristiques
Spécifications
FAQs
Commentaires
5.0
About EUREKA ERGONOMIC L60 Computer Desk: Left Side, Pink
It's not all about looks and first impressions when setting up your work or gaming space; the layout directly influences your productivity. Numerous studies suggest that the places we spend the most time in significantly impact our thoughts, and this is especially true of modern office architecture or gaming setups. Autonomous advice on designing and constructing the ultimate pink desk arrangement for gaming or productivity. Many women choose the feminine pink desk for their home gaming rigs, offices, or workplaces. Any place would benefit from the addition of a pink desk for its splash of color and hint of femininity. For your pink gaming setup, the pink computer desks may be found in a wide range of shapes, from classic workplace designs to L-shaped desks and even desks made explicitly for video gaming. An L-shaped pink gaming desk or a small gaming desk are common choices. Those who wish to make the most of their office space and need a large work surface will benefit significantly from this desk style. Also helpful for sectioning off a work area in a cramped office is an L-shaped desk. They also work wonderfully as a gaming setup because of the room they offer for several monitors and other gaming gear. It's crucial to consider the pink computer desk's practicality and longevity despite its cute pink color and design. Make sure the desk is sturdy, can be easily cleaned, and has enough space for your computer, books, and games.
About Eureka Ergonomic
The mission of Eureka Ergonomic, a provider of ergonomic office furniture, is to help its clients develop productive, healthy, and pleasant working environments. This vendor makes products such as office chairs, standing desks, monitor arms, keyboard trays, and more available. Their standing desk is a big seller because it helps combat health problems associated with sitting for long periods. With a focus on client satisfaction, Eureka Ergonomic manufactures ergonomic devices and gaming room decors that match your taste and vigor for gaming. They have everything you need to design a comfortable and productive office in one convenient location.
Pink Eureka Ergonomic L60 Computer Desk
The L60 Computer Desk has a spacious top with a carbon fiber pattern and a width of 60 inches, making it ideal for home and professional use. This pink gaming desk also features a wide mouse pad and a cable management box/tray to keep wires neat and tidy. Due to its feminine aesthetic, This pink standing desk is ideal for female players and fans of electronic sports. The L60 Pink standing desk combines form and function, making it suitable for home or business use.
FAQs
Are L-shaped desks more productive?
Increased efficiency may result from the L-shaped desk's greater working area and more freedom of movement. They make it possible to have multiple monitors, document holders, and other office supplies near one another.
Is an L-shaped desk good for feng shui?
The L-shape of an L-desk can be conducive to excellent feng shui since it provides a natural separation between the professional and personal areas of one's office.
Are L-shaped standing desks more stable?
L-shaped standing desks are a good choice because they are more stable thanks to their broader support and work surface. In addition to providing more room for various desk or tabletop gaming configurations, the L shape is also convenient for general office use.
Are L-shaped desks good for gaming?
The more room provided by an L-shaped desk is handy and beneficial for gamers. You'll probably wind up with many displays, a game console, a personal computer, and other pieces of hardware, so you'll need some extra space. An L-shaped workstation is optimal for computer gaming.
Is a L-shaped desk the same as a corner desk?
When it comes to fitting into a corner of a room, an L-shaped desk is not unlike a corner desk. A standard desk has four legs and two surfaces, whereas an L-shaped desk has two legs and two surfaces, with one significantly longer than the other. On the other hand, a corner desk is a single, triangular-shaped desk designed to fit into the corner of a room. While the corner and L-shaped desks utilize a corner of the room, the latter offers greater flexibility and space.