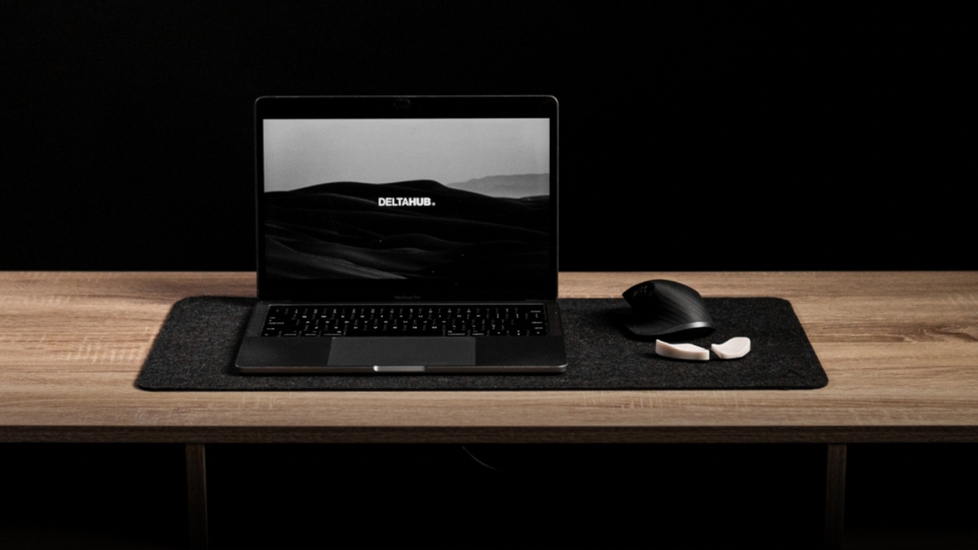 DeltaHub Desk Pad: Anti-slip and Easy-care
107 Commentaires
Visit our store
Livraison gratuite et flexible
Commande en grosEnregistrer jusqu'à 

4%
Size:

Not available

Not available

Not available
Acheter maintenant
Ajouter au panier
Livraison gratuite Dec 03 - Dec 05
Vendu et expédié par Deltahub
DeltaHub Desk Pad: Anti-slip and Easy-care en un coup d'œil.
There's nothing more annoying than a desk pad which moves all over the place. DeltaHub desk pads stay exactly where you put them.
• Minimalist desk pad design
• Soft touch felt
• Anti-fray sewn edges
• Anti-slip bottom
Fonctionnalités principales
Plongez-vous dans les spécifications
Caractéristiques
FAQs
Spécifications
Commentaires
4.8
You probably already know that having the proper desk accessories can greatly improve productivity. While it's true that a plethora of office-focused gadgets exists, putting too much strain on your budget is not the best use of your time or money. That's why it's important to minimize the clutter on your home office desk by picking only the tools you'll actually use. For instance, a desk mat protector, also called a desk cover mat, is a small but crucial office supply that shields your desktop from the inevitable spills, scratches, and other forms of wear and tear. The best one is the DeltaHub minimalistic desk pad. We all know that clutter can seriously stifle creativity in the workplace, so it's good to have a desk mat for the desk to help keep things neat and tidy. Consider your own preferences and the desired outcome carefully when shopping for a desk mat. We'll help you find the ideal computer desk protector mat for your home office by discussing some of the most well-known and widely available options.
What to Consider When Buying a New Desk Pad?
You've decided on a color, material, weight, and print for the desk pad, and those are all great choices; however, the size is often overlooked, and people usually prefer a minimal desk mat. The internet is no help because no one has the same home office setup as you do, nor does anyone have a clear mental image of what your desk looks like. We recommend you go for the DeltaHub minimal desk mat. We know it can be tough to look for the perfect black desk pad. The good news is that there is a desk pad size by DeltaHub that will work for you, whether you're looking to spruce up your office's conference table, protect a frequently used spot in your home, or do both.
Features of DeltaHub Minimalistic Desk Pad
Comfortable & Aesthetic
Make your office cozier with the addition of some plush felt black desk pad by DeltaHub. If you're looking for instant comfort for your forearms and a more streamlined workspace, look no further than this chic desk pad. A stylish way to keep your desk safe. This black and anti-slip desk pad is a simple and stylish way to safeguard your desk and office accessories.
Stays Put & Exceptionally Simple To Care For
Don't fret if your pad of paper on your desk shifts around. The anti-slip desk pad base guarantees that it won't move around, even under intense pressure. Superior durability in performance. Your arms, hands, and even the computer mouse move without a hitch by using this non-slip desk pad. The edges that have been sewn will prevent wear and tear and fraying for a long time. It's suggested that a simple vacuuming or wiping down with a damp cloth and some mild detergent be used for cleaning the non-slip desk pad. Try not to rub too vigorously. In particular, non-polar cleaners and alcohol-based cleaning agents should be avoided.
Benefits of DeltaHub Minimalistic Desk Pad
Protection & Cleanliness
With this anti-slip desk mat, you can protect your desk from damage caused by your keyboard, mouse, and even your own arm. Whether you have an expensive desk that you want to preserve or a low-quality desk that could use all the help it can get, this protective layer is useful. This anti-slip desk mat will do double duty as a surface protector and an organizer by giving your tools their own designated area on the desk. This office & gaming desk pad can be useful if you have a tendency to create clutter that grows to fill the available space. More than that, pads that conceal a secret compartment are a convenient addition.
Better Use of Mouse
In spite of the fact that optical mice have come a long way and can be used with some degree of reliability on many surfaces, there are still some desks that are not mouse-friendly. If you don't want to switch to a trackball, a desk pad will provide all the same functionality as a mousepad while also giving you more room to work.