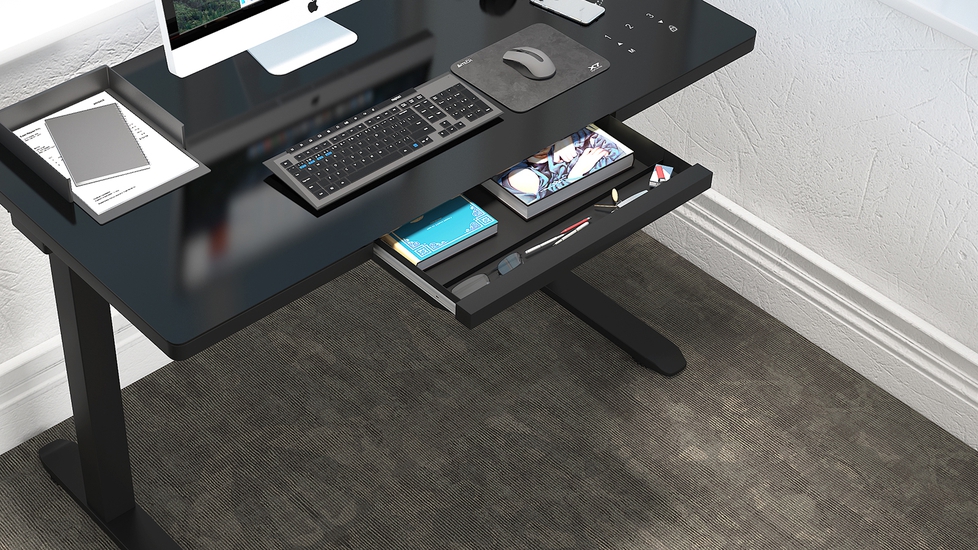 Northread Smart CompactDesk: Touchscreen & Chargers
Compact Desk: Glass Top with Drawer
Notify me when this item is available
Enter your email below. We'll let you know when it's back in stock.
Bought by 19 Microsoft employees
Sold and shipped by Northread.
• Height-adjustable from 27.9" to 45.6" • 3 programmable settings • Electric dual motor • Quieter at just 50 dB • Tempered glass table top • Solid steel frame
• 5-year warranty
This beautiful glass desk features wireless charger, tempered glass tabletop, power strip, storage drawer, USB ports, lock function and anti-collision function.
Deep dive into specs
All in control
Fashionable touch screen panel integrates up/down movements, LED display, 3 memory height presets for easy height adjustment and lock function to prevent accidental touch.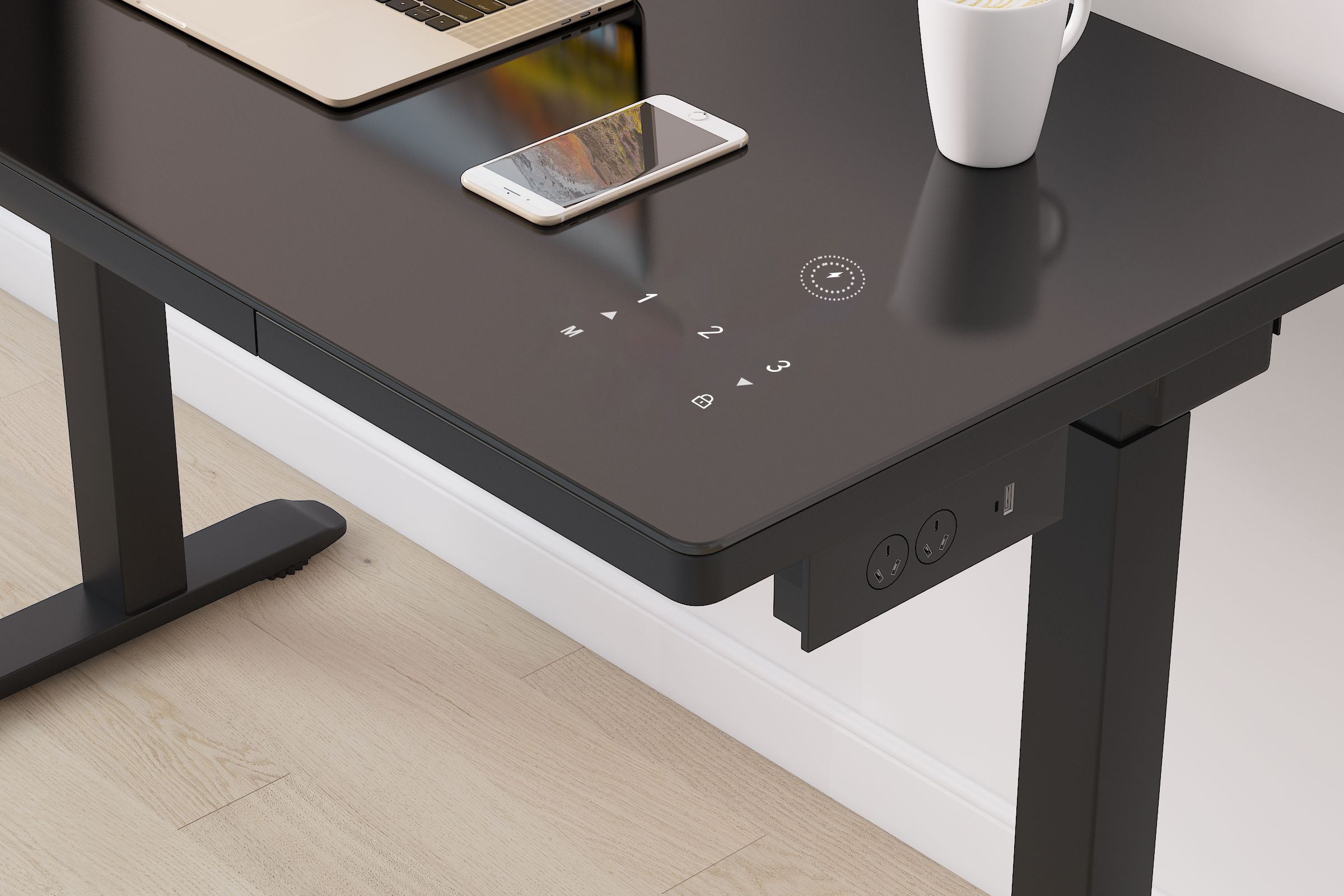 Keep your devices powerful all-day
Includes 1 USB and 1 USC inputs and 2 AC power ports with power plug and a hidden desktop wireless charger (5V 2A) witrh magnetic.Wanna keep the power bar out of your sight? It's done.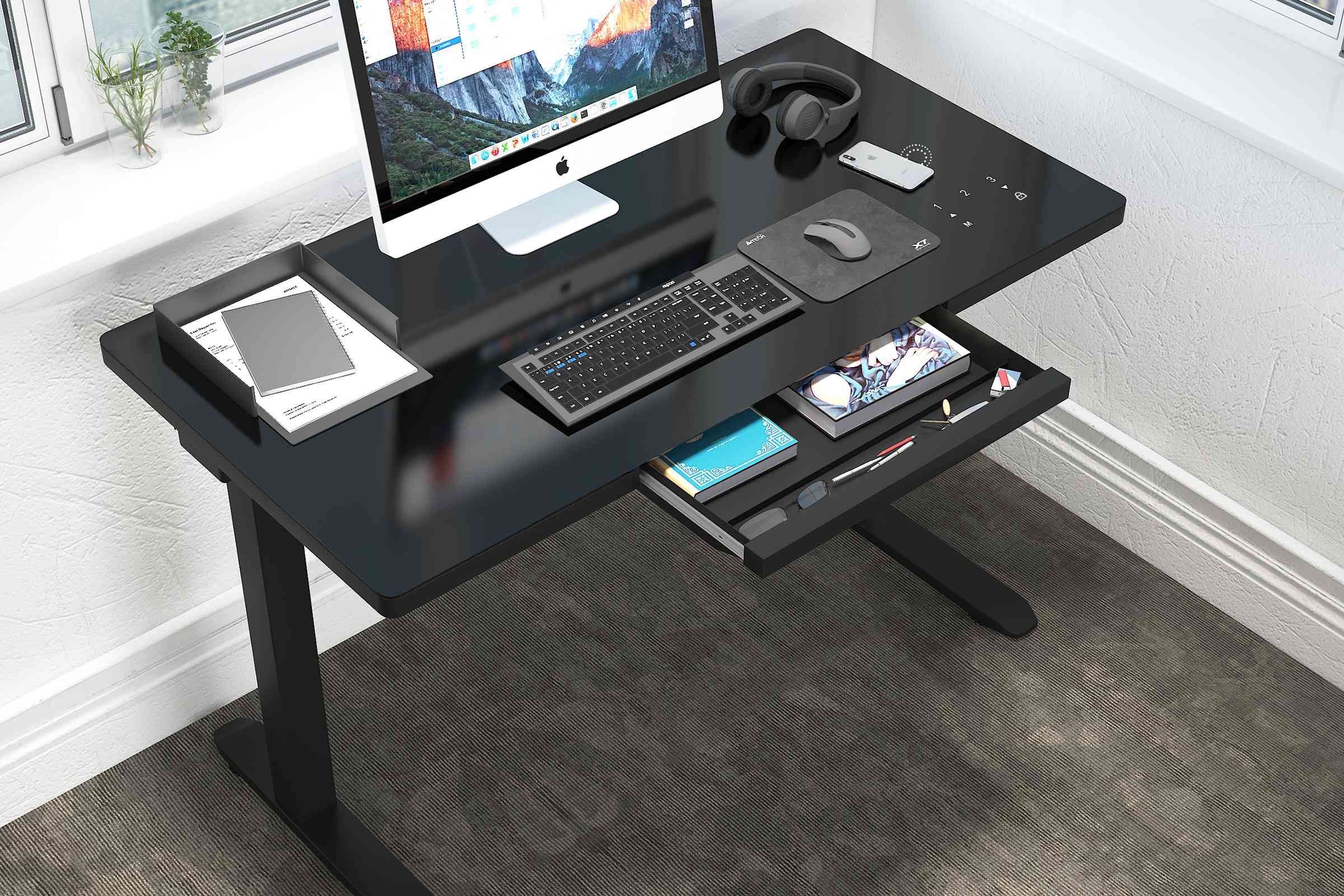 Smooth height adjustments
Easy lifting system offers smooth height adjustment with the range of 27.9" - 45.6" which can well suit your different requirements.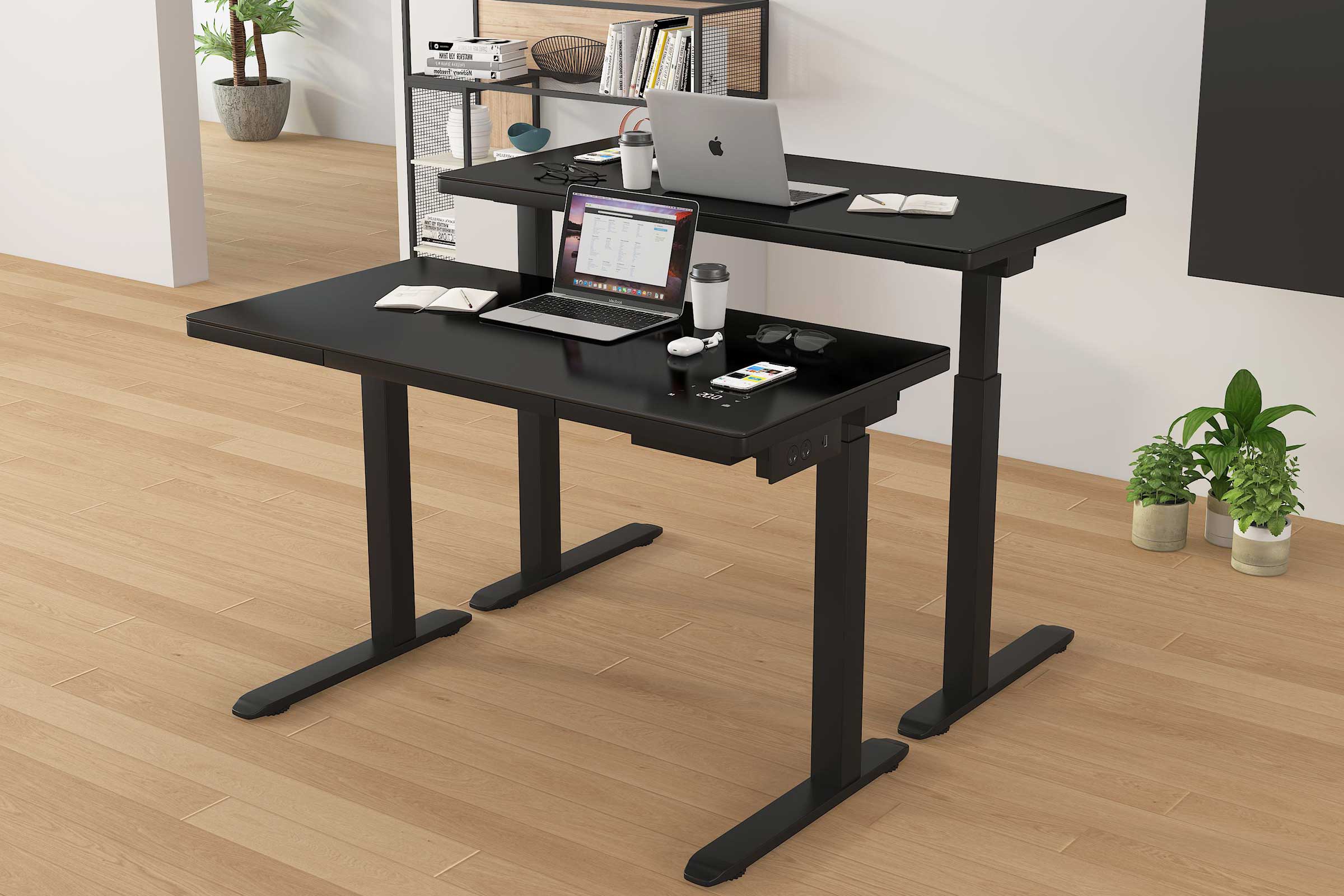 Meet all needs
The curved edges of the tabletop are more than just a beautiful design element; they ensure that your arms rest comfortably—sitting or standing.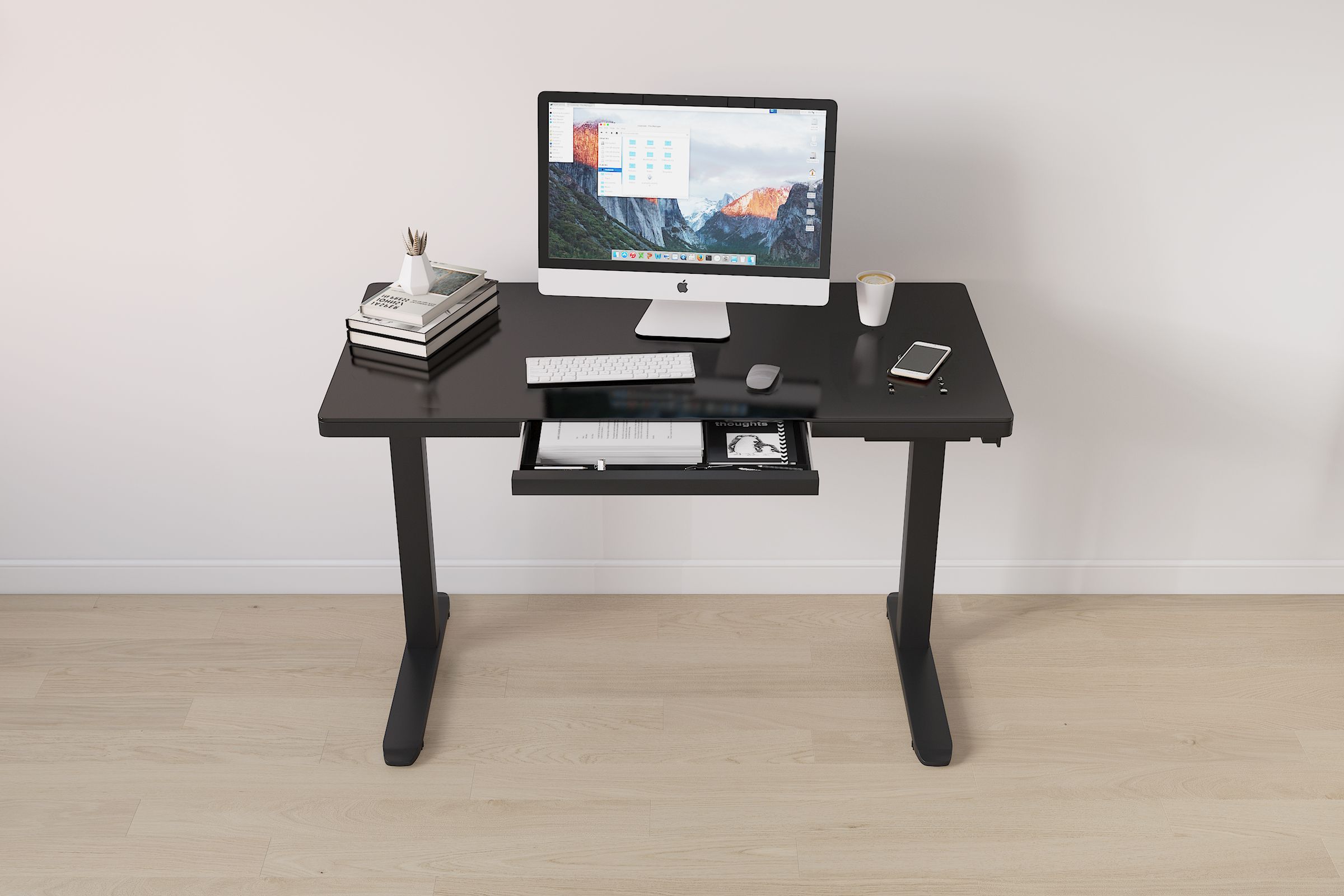 Are you looking to add some style and sophistication to your workspace? Look no further than a glass desk with drawers. Not only does a glass top desk add a touch of elegance to your office, but it also provides a sleek and modern look that is sure to impress. If you prefer to stand while working, then a glass desk with drawers is an excellent option. With a standing desk, you can improve your posture, increase your energy levels and boost your productivity. And when combined with a glass top, a sit-stand desk becomes an even more functional and attractive addition to your workspace. There are many types of glass top desks, a white glass desk, and a black glass desk as well.
What is Tempered Glass?
Tempered glass is a type of glass that has been treated with heat and chemicals to make it stronger and more durable than regular glass. The tempering process involves heating the glass to a high temperature and then cooling it rapidly. This creates a strong outer layer that is resistant to shattering and impact. Tempered glass is commonly used in furniture, such as desks, because it is less likely to break or crack, making it a safer and more reliable choice. Tempered glass standing desks have become increasingly popular, and you can choose either a white glass desk or a black glass desk to suit your preferences and complement your workspace.
What is a Standing Desk and its Benefits?
A standing desk is a type of desk that allows you to work while standing up rather than sitting down. Small computer desks are becoming increasingly popular in modern workspaces due to their numerous health benefits. By allowing users to alter sitting and standing position while working, standing desks promote better posture, circulation, and overall health. A glass desk with drawers can also help to reduce the risk of health conditions associated with prolonged sitting, and the extra storage space will help keep your workspace organized, tidy, and clutter-free. So make sure you get a desk with standard desk height and under desk storage. There are numerous benefits to using a standing desk, including:
Improved Posture & Reduced Health Risks
Sitting for long periods of time can lead to poor posture, which can cause back pain and other health problems. A standing desk can help improve your posture by allowing you to stand up straight and engage your core muscles. Prolonged sitting has been linked to a number of health risks, including obesity, diabetes, and heart disease. Tempered glass electric standing desks come with adjustable height settings, which allows you to customize the desk to your specific needs making it easy to find the perfect ergonomic position for your workspace, reducing the risk of strain and injury.
Increased Energy Levels & Boosted Productivity
Standing up while working can help increase your energy levels and reduce fatigue. When you stand, blood flow to your muscles increases, delivering more oxygen and nutrients to your body. Studies have shown that using a standing desk can help improve productivity by increasing focus and reducing distractions. When you stand, you are more alert and engaged, which can help you stay on task and get more done.
Northread Smart CompactDesk: Touchscreen & Chargers
The Northread Glass Desk with Drawer from Autonomous is a stylish and functional option for anyone looking for a standing desk with a glass top. Here are some of the key features of this product:
Electric Height Adjustment & Tempered Glass Top with Scratch-resistant Surface
The desk can be adjusted to different heights using a simple electric control panel. This allows you to easily switch between sitting and standing throughout the day. The desk features a 48" x 24" tempered glass top that is both strong and durable. The glass top is scratch-resistant and easy to clean, making it a great choice for a busy office. The tempered glass top of the desk is scratch-resistant, making it durable and long-lasting. This ensures that the desk will maintain its sleek and professional appearance even with regular use.
Built-in Drawer & Cable Management
The desk also includes a built-in drawer that provides extra storage space for your office supplies. The drawer is spacious and features a soft-closing mechanism, ensuring it closes smoothly and quietly. The desk includes a cable management system that keeps your cords and cables organized and out of sight. This helps to reduce clutter and improve the overall look of your workspace.
FAQs
Don't see the answer to your question?
How does the lock function operate?
There is a lock button on the touch screen panel.Press this button to lock the touch-screen. This will prevent accidentally engaging the controls after the desired height has been set. Press the button again with 3 seconds to unlock the touch-screen.
https://cdn.autonomous.ai/static/upload/images/common/upload/20220527/User_Manual-SPG_0260WTfbb1a02562.pdf
How do you preset heights?
First lift the desktop to the height you need to remember, then press the "M" button, and the display displays "S-", and "-" flicker, and then press the "1-3" button. You can complete the corresponding memory height settings. Memory height data is not reset with power on and power off.
How to use the wireless charging function?
Please make sure the phone center in the printing circle center area, when the location is matched, the electrical charging will be effected in 3 seconds. The wireless charger will pause charging temporarily when the height of the desk is being adjusted and the motor is in use.