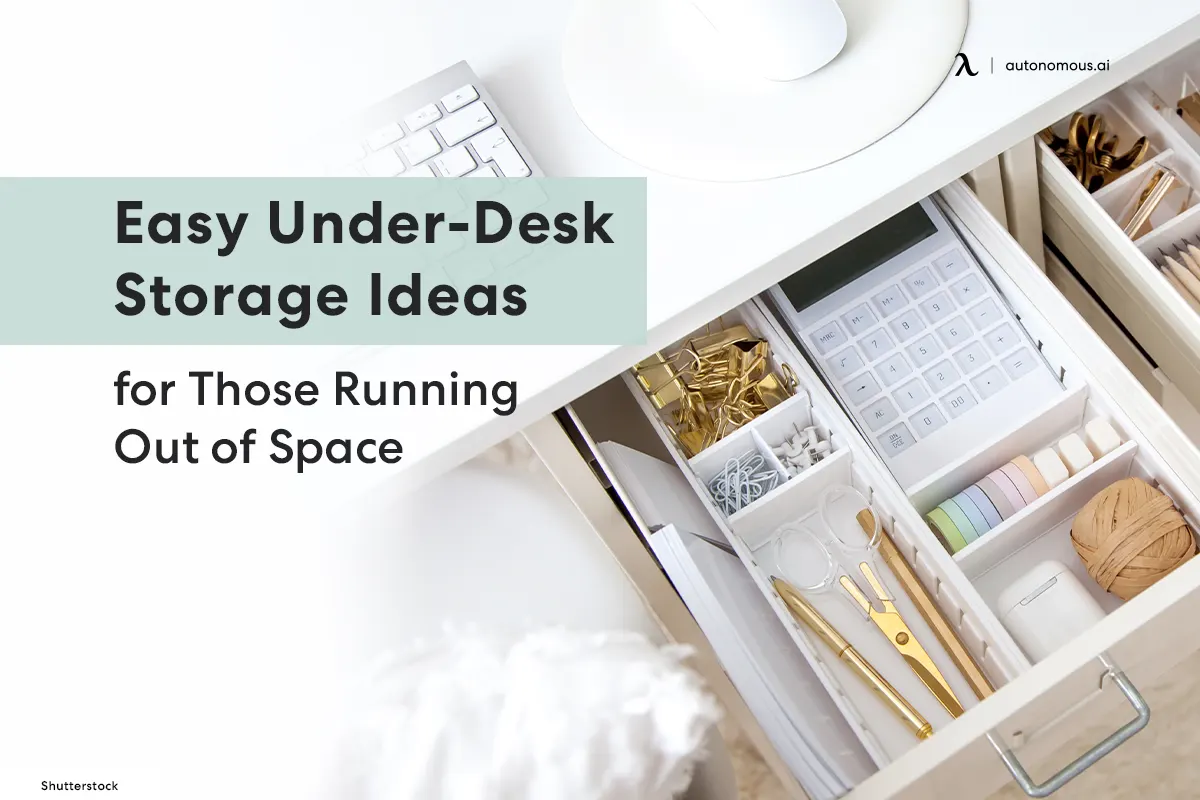 Workplace Inspiration
15+ Under-Desk Storage Ideas with Top Picks & DIY Guide

Autonomous
|
Oct 20, 2022
5,515 Views
Have you organized your office multiple times but still feel like it's running out of space? Don't worry! There's something that can solve that issue: under-desk storage. 
An organized workplace is crucial to having everything you need at hand, feeling more comfortable, and increasing your productivity. 
However, keeping order in small offices can be a bit tricky, especially when you don't know where to store all your office supplies or where to put your desk accessories. 
Fortunately, when storage space is insufficient or limited in your office, placing some organization tools under the desk could help! 
Do you think it could be the solution to make your workstation more spacious? Read on and find the best under-desk storage ideas here!
20 Easy Under-Desk Storage Ideas for Your Workspace
1. Use a Hanging Tray Organizer
Having important papers scattered all over your desk can be quite unpleasant, right? 
However, installing some traditional file storage tools is a bad idea if you're running out of space and need under-desk organization, as most are huge and only work well in large offices. 
Many people keep stacks of documents in their cabinets or drawers. However, this only adds to the clutter and creates an awkward feeling.
That's why you should consider modern desk-friendly options, such as hanging tray organizers, for example. 
You can find many models! If you choose one of quality and strong enough for daily use, you will be able to keep all your papers within reach but out of the way. 
It's the ideal solution to prevent documents from piling up on your desk surface.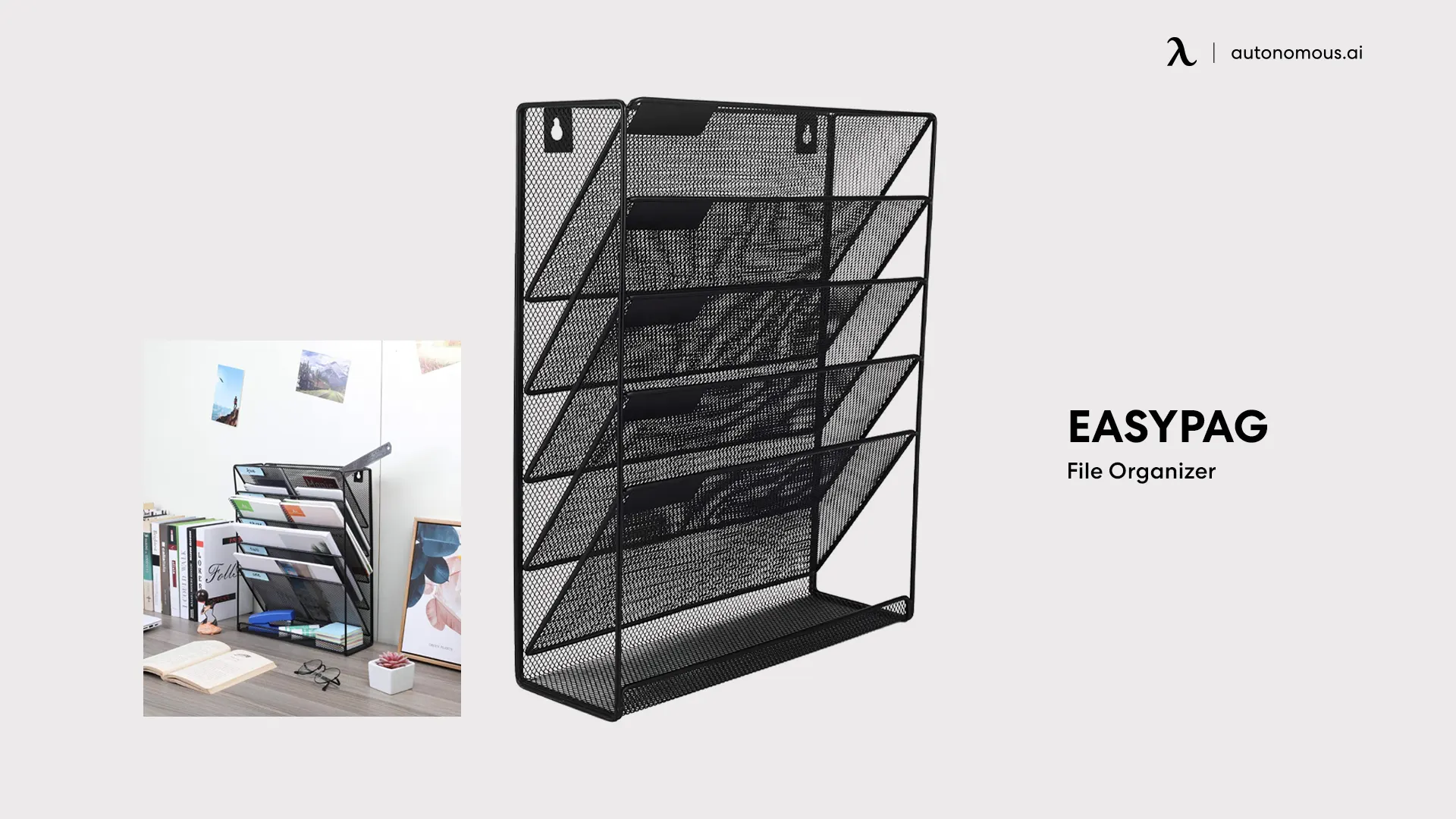 2. Look for Office Cabinets, But Choose the Small Ones
If you are old school and prefer drawers, you can find some smaller options that will help you save space. 
Whether you plan to put them under or to the side of your desk, small office cabinets are perfect for collecting your work tools and keeping your station organized without using huge furniture. 
Many models available on the market have wheels! If you choose these, you won't have to strain too much and spend hours trying to move your furniture the next time you organize your office. 
In addition, you can also find multipurpose models with more than one drawer and locking options to protect your goods. 
3. Get a Small Storage Shelf
Do you usually have little things scattered on your desk, such as your AirPods, cell phone charger, or flash drive? If so, a small storage shelf could be perfect for you! 
These under-desk organizers have become quite popular because they are practical and easy to install. You can stick yours under the desk in minutes and without much effort! 
Some people install small re-charging devices there, turning their workspace into a complete station where they can stay all day and maximize their productivity. 
However, try to keep it simple. Remember that you should not put heavy things there.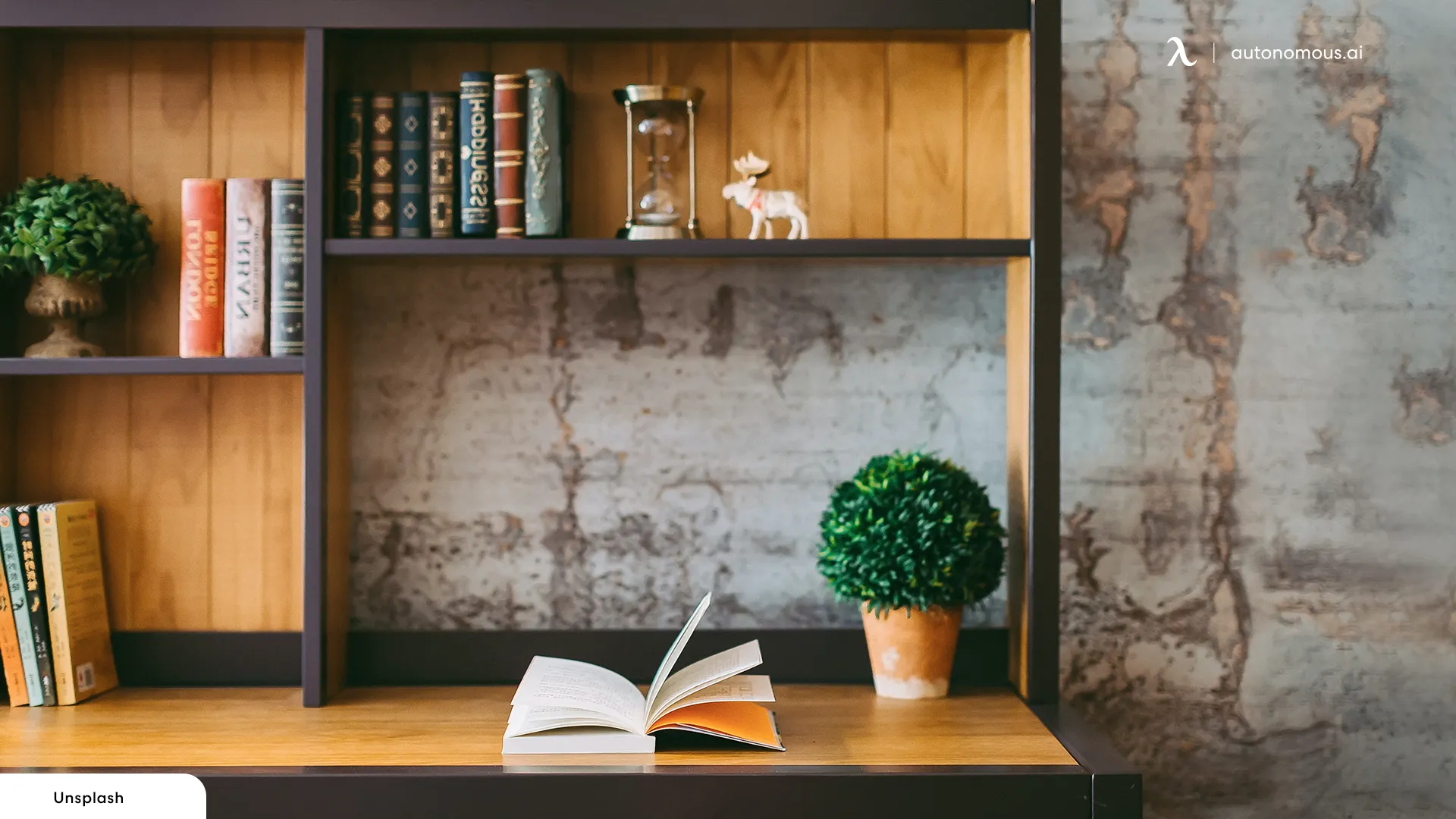 4. Cleverly Arrange Your Printer Using a Stand
Do you have a printer on your desk? It doesn't have to be there anymore! These devices are useful, but they are huge. Do you want to lose all that space to work and organize other tools? 
If you need to print important documents daily but think having a printer on your desk is a problem or want to clear the space there, you should try to find a stand. 
Printer stands have been designed to store your device and all the extra paper you need under your desk. 
When it comes to under-desk storage ideas, printer stands are among the best tools you can find. 
5. Get an Under-Desk Clamp-on Organizer
A desktop tray can be ideal if you need to organize your work tools, documents, or personal items. 
However, if you think smartly, the space that a tray occupies can be used to store more things. Why not find something to take advantage of the area under the desk? 
In this sense, if you are looking for the best under-desk storage ideas, you should consider a clamp-on organizer! 
Just attach this tool to your desk's edge and flip it out whenever you need to put something away or take something out.
6. Find Filing Cabinets with Wheels and Customizable Dividers
As mentioned, under-desk storage drawers are excellent options to save space if they are small. 
However, that does not mean you should choose a boring or basic option. If you do a good search in the market, you will be able to find a modern filing cabinet with enhanced features for a better under-desk organization. 
Besides having wheels, some come with lockable drawers that help keep your belongings safe, especially if your office is in a public place. 
Other options have customizable dividers. These are definitely the best you can find! In other words, you can organize the storage space according to your needs and preferences. 
7. Use an Under-desk Cable Organizer
Among other issues you can face in your office, there could be messy cables visible to everyone and taking up more space than you think. They're just annoying! 
Also, you'll likely have to buy surge protectors for your workplace equipment. However, these tools don't really do any good for your office's organization. 
Fortunately, there is something that can help you: an under-desk cord management tool! 
With a cable management system, you no longer have to see your workspace littered with unruly cables everywhere. 
These under-desk organization tools accommodate all cables to make your office look clean and uncluttered.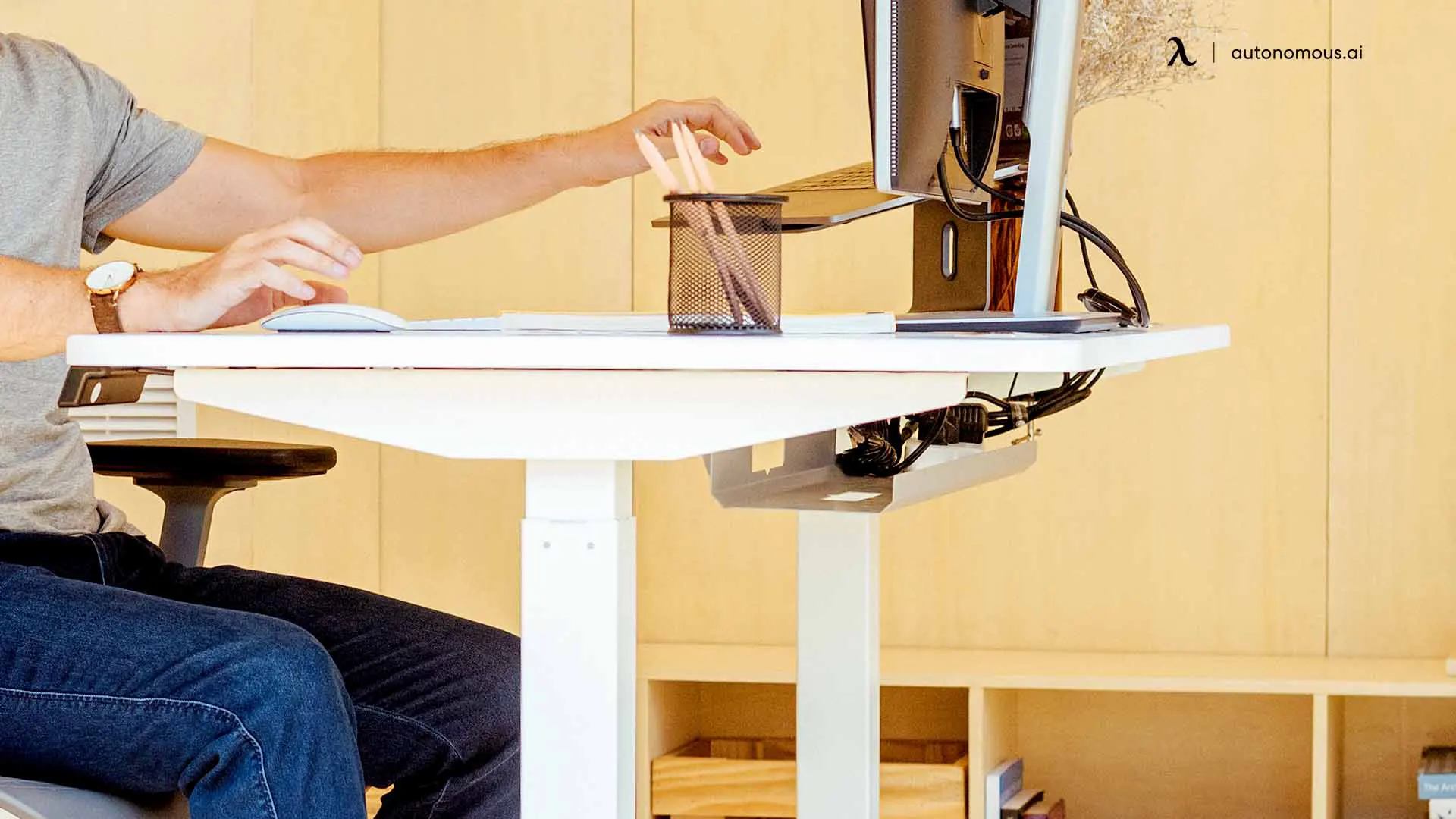 8. Get a Two-tier Open-cubby Bookshelf for Under-desk Organization
Do you like to read while you work or have your most important office supplies at hand? A two-tier open-cubby shelf is a tool you need! 
These pieces of furniture can be small enough to fit under the desk. In addition, they are the best options to store your favorite books or texts, especially if you like to read in your office every day. 
9. Choose a Standing Desk with Storage Solutions
What if you want to save time and don't want to spend more money on different tools? There's a solution for you, too. 
Sometimes, you want to make sure you have enough space from the moment you set up your office or just hope to find the best way to have more storage without spending a fortune on other tools. 
In those cases, a standing desk with storage is all you need! Therefore, in addition to having spaces to store your tools or belongings, these pieces of furniture have become very popular because they help those who spend hours working to alleviate physical discomfort. 
Therefore, if you have been looking for the best under-desk storage ideas, don't forget to check these options!
10. Place More Under-desk Storage Drawers!
If you really have too many papers or tools to store in your office, you can pick more than one drawer! 
Do you want something versatile and compact that can fit into a tiny space? A slim file cabinet meets all those characteristics! 
In addition, some designs also function as small mobile tables or even footrests, meaning you can save space originally intended for other tools. 
Are you looking for more storage space for personal items or some books? You can also find a 2-drawer file cabinet! Remember that you only have to keep your eyes open to find the best option. 
11. Get A Cable Management Box
To tackle those cable issues throughout the office, you can also use a cable management box! 
Besides keeping all cables organized and hidden, these tools are perfect if you want to charge your phone or another device without taking up space on your desk. 
These under-desk organization systems work well in small spaces because they don't require adjustments to the furniture you already have there. Also, they are very stylish.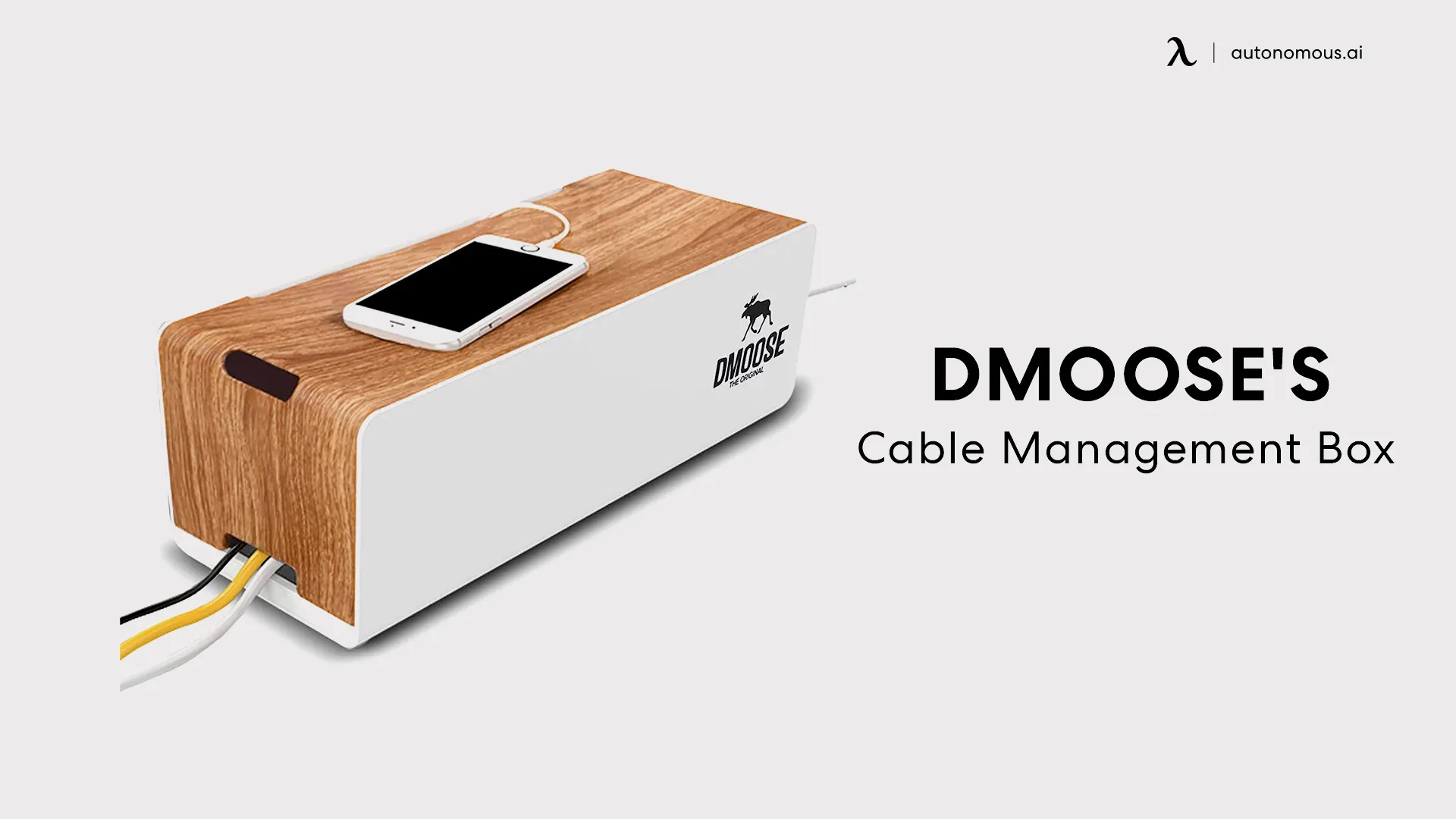 12. Find a Vertical Hanging Storage Unit
Do you need more under-desk storage ideas? If so, you can try to get a vertical hanging storage unit. 
You can slip these nifty tools over your desktop's edge to maximize a small workspace or just have more room to organize your belongings or office supplies.
The hanging storage units are ideal for tucking away pens, papers, notebooks, calculators, or anything else that takes up extra space on your desk. 
13. Buy a Slim Office Cart
This is another storage under-desk idea for you. Did you know that there are also some rolling carts that you can use in your office? If you don't have enough space there, they can become a mobile storage area. 
Rolling carts allow you to take advantage of space from front to back in your workplace, so they're great under-desk storage ideas. 
Plus, with their open shelving designs, carts provide easy-access storage options. You will have all your office supplies at hand, even the smallest ones.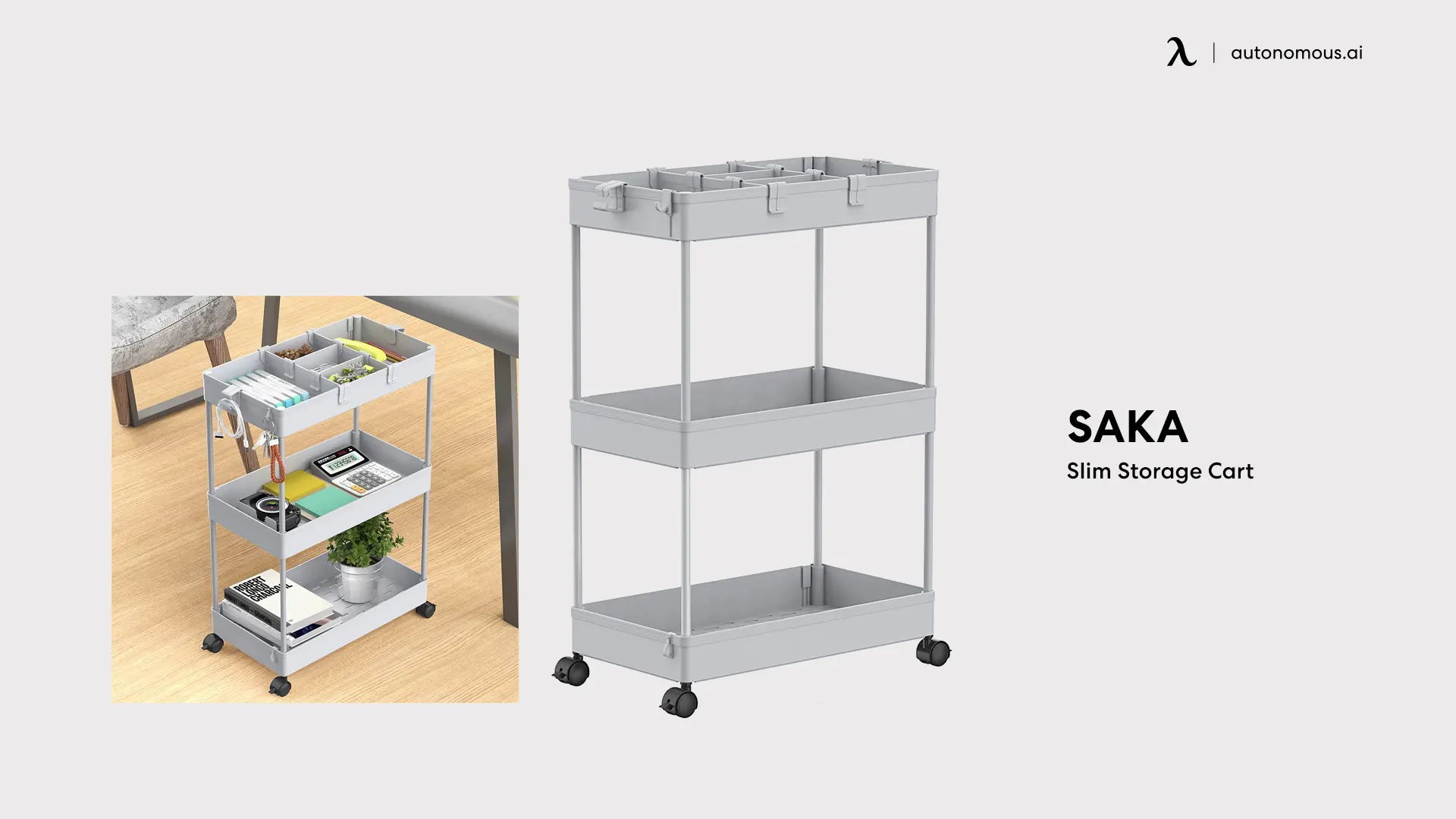 14. Install Keyboard Tray
There's nothing that can free up more desktop space than a keyboard tray, don't you think? 
If you get one, you will be able to install your keyboard under your desk and use the space above this piece of furniture to organize other tools or have a larger area to work. 
In addition, keyboard trays allow you to work at a more comfortable level and maintain a better posture, alleviating discomfort related to long work sessions. 
15. Look For a Foldable File Storage Box
If a desk drawer and a printer stand aren't enough to free up as much space as you need, look into a foldable file storage box! 
These boxes are perfect for those who need extra space to store documents or any other office supplies they don't use regularly. 
Also, if you don't need to store anything now, you only have to fold the box and store it in a drawer! 
Most options fit standard-sized file folders, and you can even find some fireproof ones! 
16. Use a Monitor Riser
While it's not an under-desk organizer per se, a monitor riser can help you clear up a lot of space on your workstation. 
Once again, these handy tools not only offer more storage space but help you improve your posture while working and feel more comfortable. 
Some monitor risers also incorporate small drawers, taking advantage of every inch to provide a complete storage solution. 
17. Find a Set of Small and Large Drawers
As you may already know, drawers are great for saving space on your desk, especially if you tend to keep pens, notebooks, or other small tools there. 
Therefore, you should not consider getting one but a set with two pieces! Most of them come with a small and a large drawer, so you will have space to store your tiny belongings, such as a flash drive or even your laptop! 
18. Find a Wall Outlet Shelf
In addition to cable management boxes, wall outlet shelves are ideal for making your workstation look neater and more spacious. 
These tools are designed to add more storage above the wall outlets under your desk or elsewhere in your office. 
Thanks to their design, these shelves allow you to keep devices that need power supply organized at all times. They are perfect for setting up electric pencil sharpeners, computer speakers, or other small tools. 
19. Get an Attachable Under-desk Hook
If your headphones or bag take up a lot of space on your desktop, an attachable hook might be just what you need. 
These under-desk organization tools are inexpensive and easy to install. You will only need a few minutes to attach and start using it!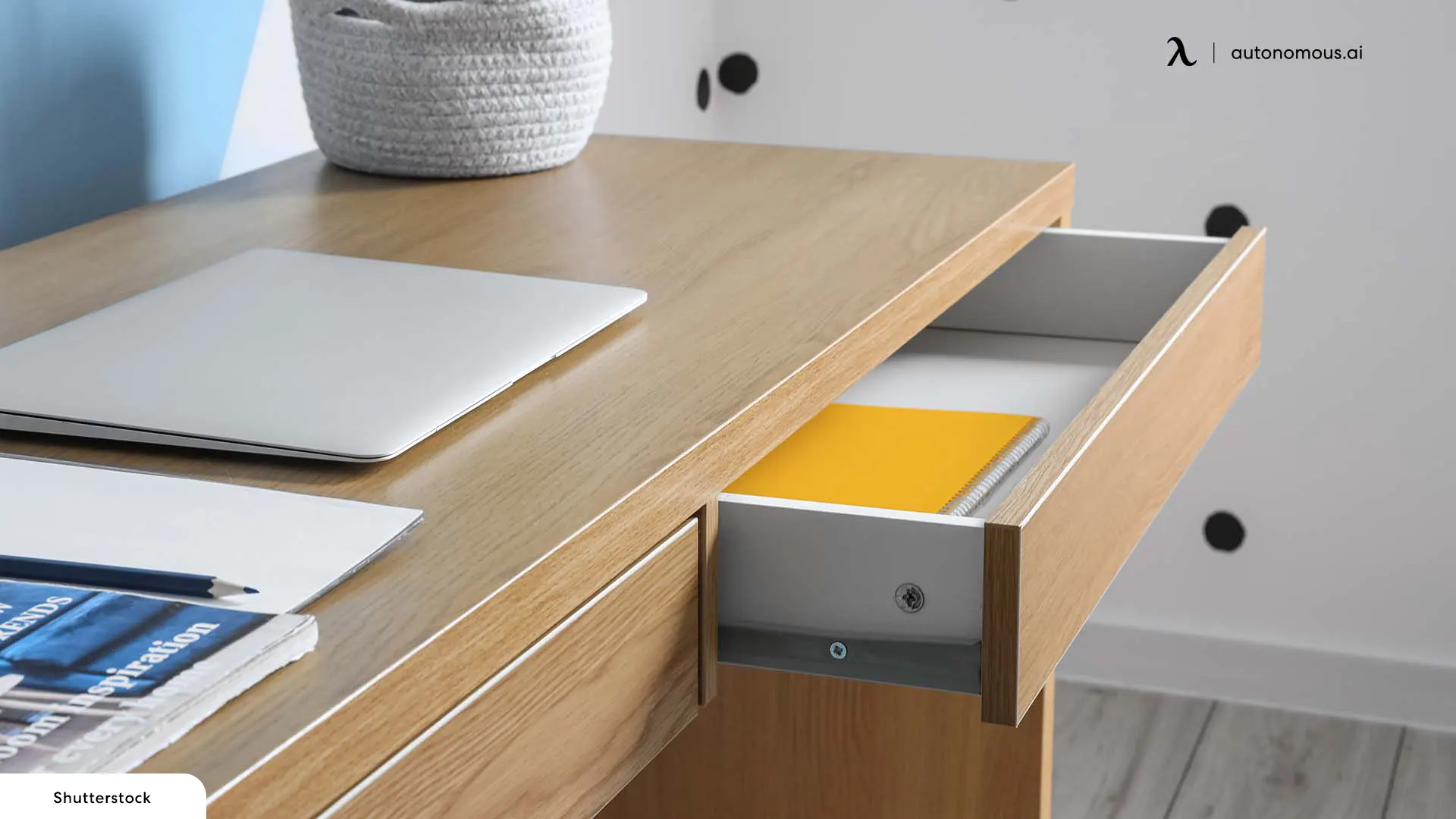 20. Find the Perfect Tool Combination!
Finally, you must remember that there's nothing limiting your under-desk storage ideas! Therefore, if you think that more than one option listed here is for you, go for them! 
As part of your workspace organization, you can purchase more than one tool and find a way to make all the pieces work together. 
You can have a desk with storage and a monitor rise, a filing cabinet, and a cable management system, for example. 
If you find a way to make them fit into your small space and complement its design, you can have multiple under-desk organization solutions!
Types of Under Desk Storage Solutions
When it comes to under desk storage, there are several options to consider. Each type of storage solution offers unique benefits and caters to different organizational needs. Here are some popular types of under desk storage solutions:
Drawer Units
Drawer units are a versatile and convenient under desk storage option. They typically consist of multiple drawers that can hold various items such as stationery, documents, and personal belongings. Drawer units help keep your desk surface clutter-free while providing easy access to essential items. They are available in different sizes and configurations, including standalone units or ones that can be attached to the underside of the desk.
Shelving Systems
Shelving systems maximize vertical space under the desk and are ideal for storing books, binders, or other items that benefit from being kept upright. Hanging shelves can be installed underneath the desk surface, providing an efficient storage solution that keeps items within reach. Adjustable shelving units allow you to customize the height and arrangement of the shelves, accommodating different item sizes and organizational needs.
File Cabinets
For those who deal with paperwork or need secure document storage, under desk file cabinets are an excellent choice. These cabinets are designed specifically for organizing and storing files, folders, and important documents. Mobile file cabinets with wheels offer flexibility, allowing you to move them around as needed. Pedestal file cabinets can be attached to the underside of the desk, maximizing space utilization while keeping important files within arm's reach.
Cable Management Solutions
One of the common challenges in maintaining an organized workspace is managing cables and cords. Cable management solutions for under desk storage help keep cables neatly organized and prevent them from tangling or becoming a visual distraction. Cable trays or cable management boxes can be mounted underneath the desk to conceal and route cables, reducing clutter and creating a clean and organized look.
These are just a few examples of under desk storage solutions available in the market. Depending on your specific needs and preferences, you can mix and match these storage options or choose the one that best suits your organizational requirements.
Remember to consider factors such as space availability, functionality, accessibility, and aesthetic appeal when selecting the type of under desk storage that aligns with your workspace and workflow.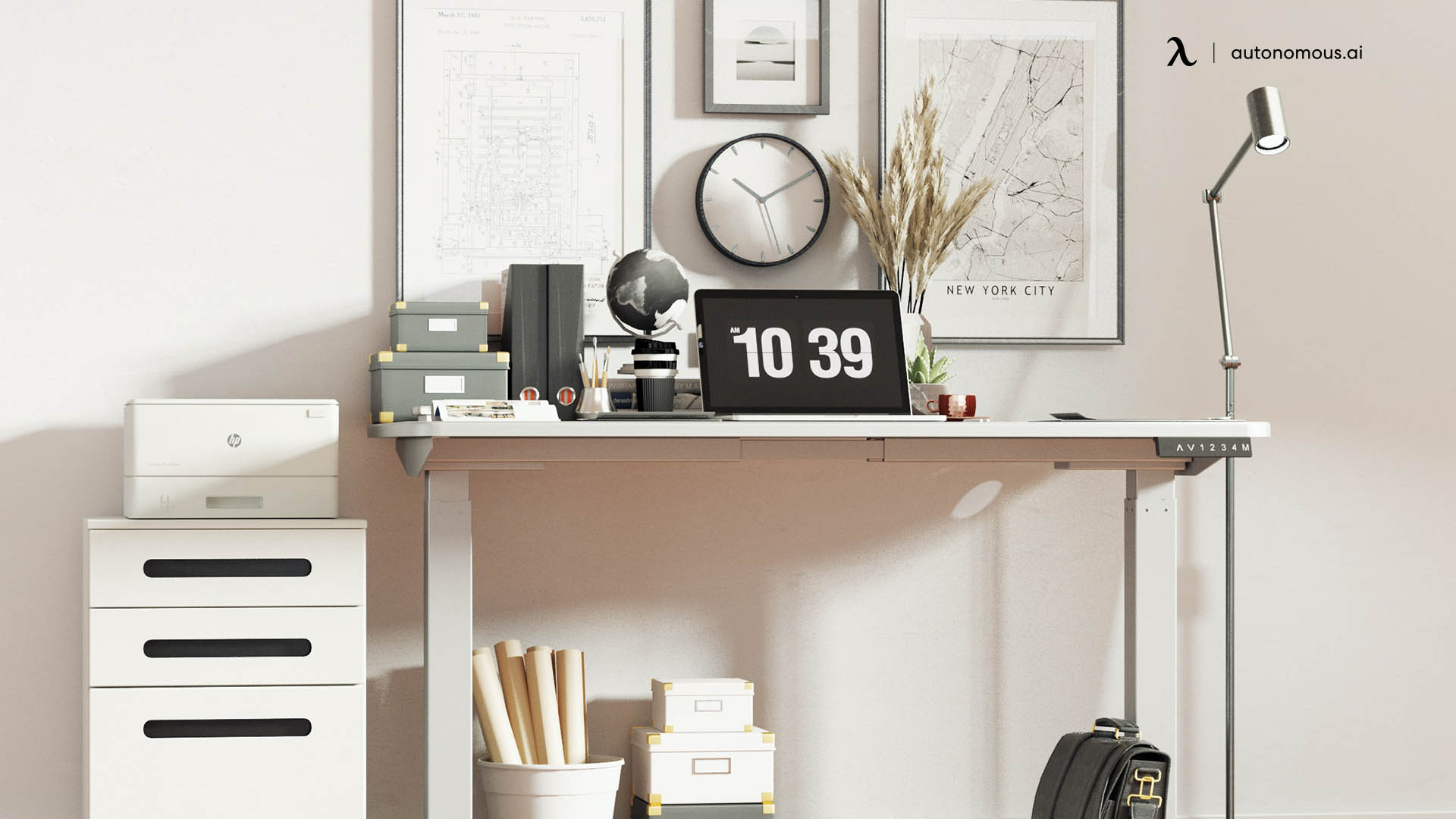 Best Materials for Under Desk Storage
Choosing the right material for your under desk storage is essential for durability, functionality, and overall aesthetic appeal. Different materials offer varying benefits and suit different organizational needs. Here are some of the best materials commonly used for under desk storage:
Metal
Metal is a popular choice for under desk storage due to its durability and sturdiness. Metal storage solutions, such as steel or aluminum, can withstand heavy loads and provide long-lasting performance. Metal cabinets and drawers are often resistant to wear and tear, making them ideal for storing heavier items or securely locking away valuable documents. Additionally, metal storage units can add a sleek and professional look to your workspace.
Wood
Wooden under desk storage options offer a timeless and classic appeal. Wood provides a warm and natural aesthetic, making it a popular choice for both traditional and modern office spaces. Wooden storage units, such as cabinets or drawer units, are available in various finishes, including oak, walnut, or birch, allowing you to match them with your existing furniture. Wood is also known for its durability and can withstand everyday use.
Plastic
Plastic storage solutions offer affordability, versatility, and lightweight construction. Under desk storage units made of high-quality plastics are often budget-friendly and easy to clean. Plastic drawers or containers are typically available in various colors and designs, allowing you to personalize your storage options to match your workspace decor. Plastic storage is particularly suitable for organizing smaller items, such as stationery or accessories.
Mesh
Mesh materials are commonly used for organizing and storing documents, files, or papers. Under desk storage options utilizing mesh allow for visibility and airflow, making it easier to identify and access your stored items. Mesh organizers or file holders can be attached underneath the desk, keeping your essential documents within reach while maintaining a neat and organized workspace. Mesh storage solutions are lightweight and often easy to install.
When selecting the material for your under desk storage, consider factors such as durability, functionality, aesthetics, and your personal preferences. Each material has its own advantages, so choose the one that best suits your organizational needs and complements your overall office decor.
By selecting the right material, you can ensure that your under desk storage is not only practical but also enhances the overall look and feel of your workspace.
Creative DIY Ideas for Under-Desk Storage Solutions
Here are some ideas for DIY under-desk storage:
Hanging file organizer
Attach a hanging file organizer to the underside of your desk to store important documents, folders, or notebooks. You can use hooks, adhesive strips, or even repurpose a magazine file holder for this purpose.
PVC pipe desk organizer
Use PVC pipes of varying lengths and diameters to create a custom desk organizer. Cut the pipes into appropriate sizes and glue them together in an arrangement that suits your needs. This can hold pens, markers, scissors, and other small office supplies.
Magnetic strip for metal items
Install a magnetic strip under your desk to hold metal items such as paperclips, scissors, or small tools. You can find adhesive magnetic strips at most hardware stores and easily attach them to the underside of your desk.
Shoe organizer or hanging baskets
Repurpose a hanging shoe organizer or hanging baskets to store various items. Hang it under your desk and use the pockets or compartments to store office supplies, cables, notepads, or other small items.
Drawer organizers
Purchase or repurpose small drawer organizers that fit the dimensions of your desk drawer. These can help you divide the space efficiently, making it easier to store and find items such as sticky notes, paper clips, USB drives, or charging cables.
DIY cubbies
Build a small set of cubbies using wood or cardboard to create a custom storage space under your desk. You can paint or decorate them as desired and use them to store books, notebooks, folders, or other items.
Pegboard system
Attach a pegboard to the side or back of your desk to add storage options. Install pegboard hooks, shelves, and containers to hold office supplies, headphones, cables, or even small plants.
Tension rod for hanging items
Install a tension rod underneath your desk to hang items such as cables, cords, or headphones. This keeps them organized and prevents tangling.
Remember to consider the available space, your specific storage needs, and the materials you have on hand when choosing the most suitable DIY under-desk storage solution.
Final Thoughts
Remember that the best office storage ideas should be adapted to your needs and tastes. Otherwise, you will have a lot of space to store your belongings but will not feel comfortable! 
Any desk organizer can work, but there are many alternatives and designs on the market. Take your time to choose the perfect one!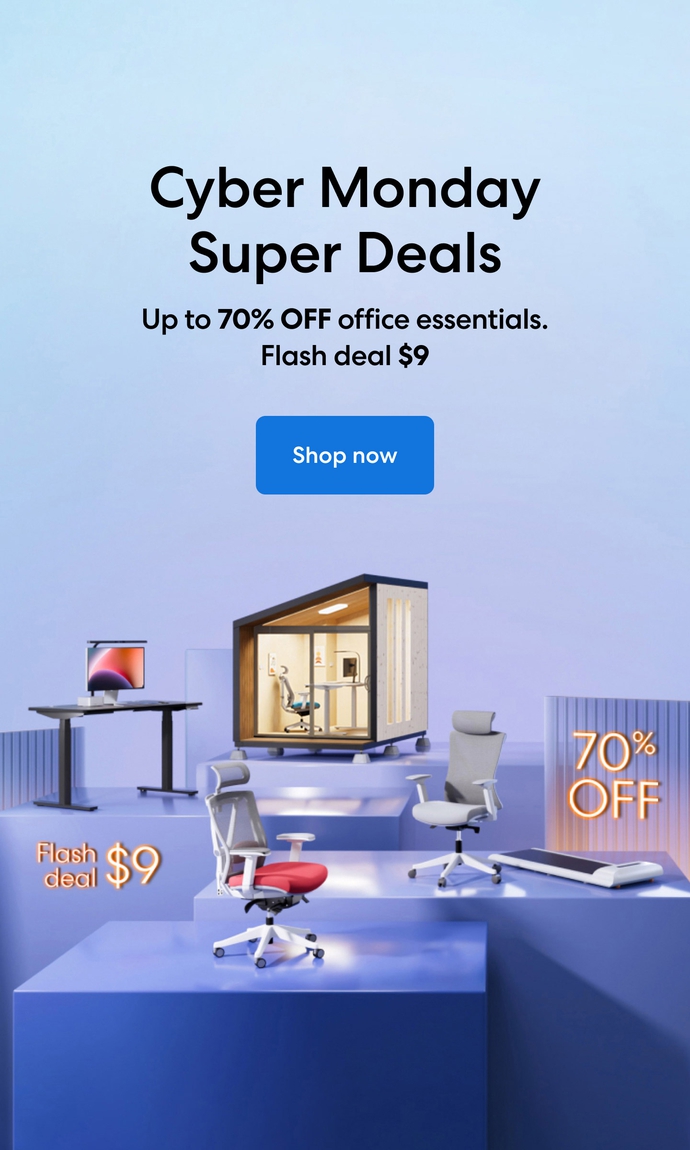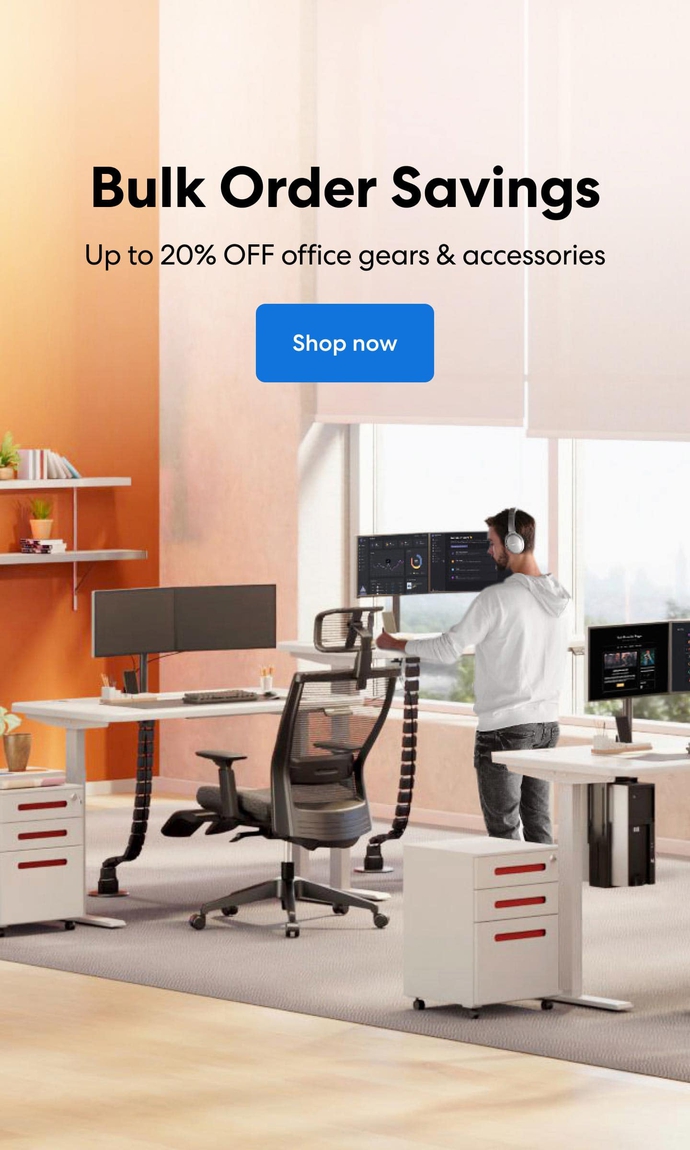 Subcribe newsletter and get $100 OFF.
Receive product updates, special offers, ergo tips, and inspiration form our team.