Many businesses have downsized their offices and have set several smaller workstations, including home offices. If you are among those workers working from home, chances are, you may not have a large spacious office room where you can set up your office and hold meetings. Usually, small apartments or homes have a 10x10 feet room, so in those cases, you have to create a specific 10x10 office layout.
Since an office has so many accessories associated with one another, you might find it difficult to think of some 10x10 office ideas on your own. What you are supposed to do here is to get creative with the little space that you have. But this seems like a big challenge. A small tip for you, if you want a saving, let's consider bulk office furniture!
We know that it may not be easy for you to plan a 10x10 home office on your own. Therefore, we have shared some of the most innovative layout ideas to help you understand how you can get creative in little rooms. So, let's have a look at what we have in store for you.
Some 10x10 Office Ideas to Optimize Your Space
1. Push Furniture to Corner and Bring the Office Desk in Center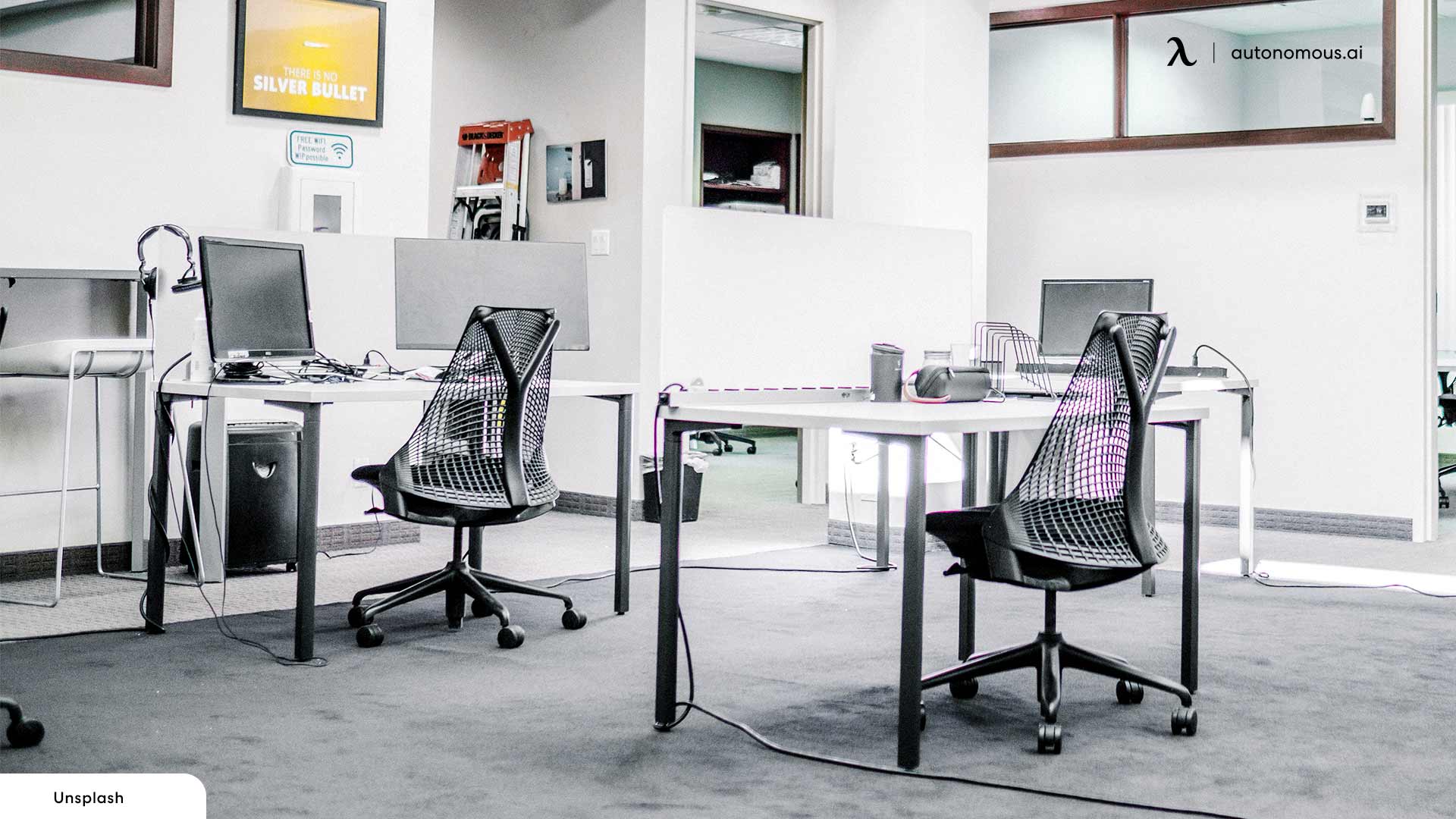 Having some furniture pieces in your 10x10 office layout dedicated for visitors is good; you might have some sofas in this regard. So, those of you who are short on space and wish to adopt a stylish and modern desk setup should place them a little differently.
Pushing these furniture pieces towards the wall and emptying the central position for placing your desk can make your small office look more spacious. You will also have the option of adding some expensive artwork onto the walls when you place your desk away from them.
2. Put Some Bookshelves and Add a Few Curtains
Adding curtains and bookshelves can help you give a homey look to your 10x10 home office. They help you have better storage and feel a sense of personalization in your office space, making you more comfortable working in a new place. You can also think of putting a few collectibles on these bookshelves to help you customize your office the way you like.
3. Install Built-in Walls with Shelves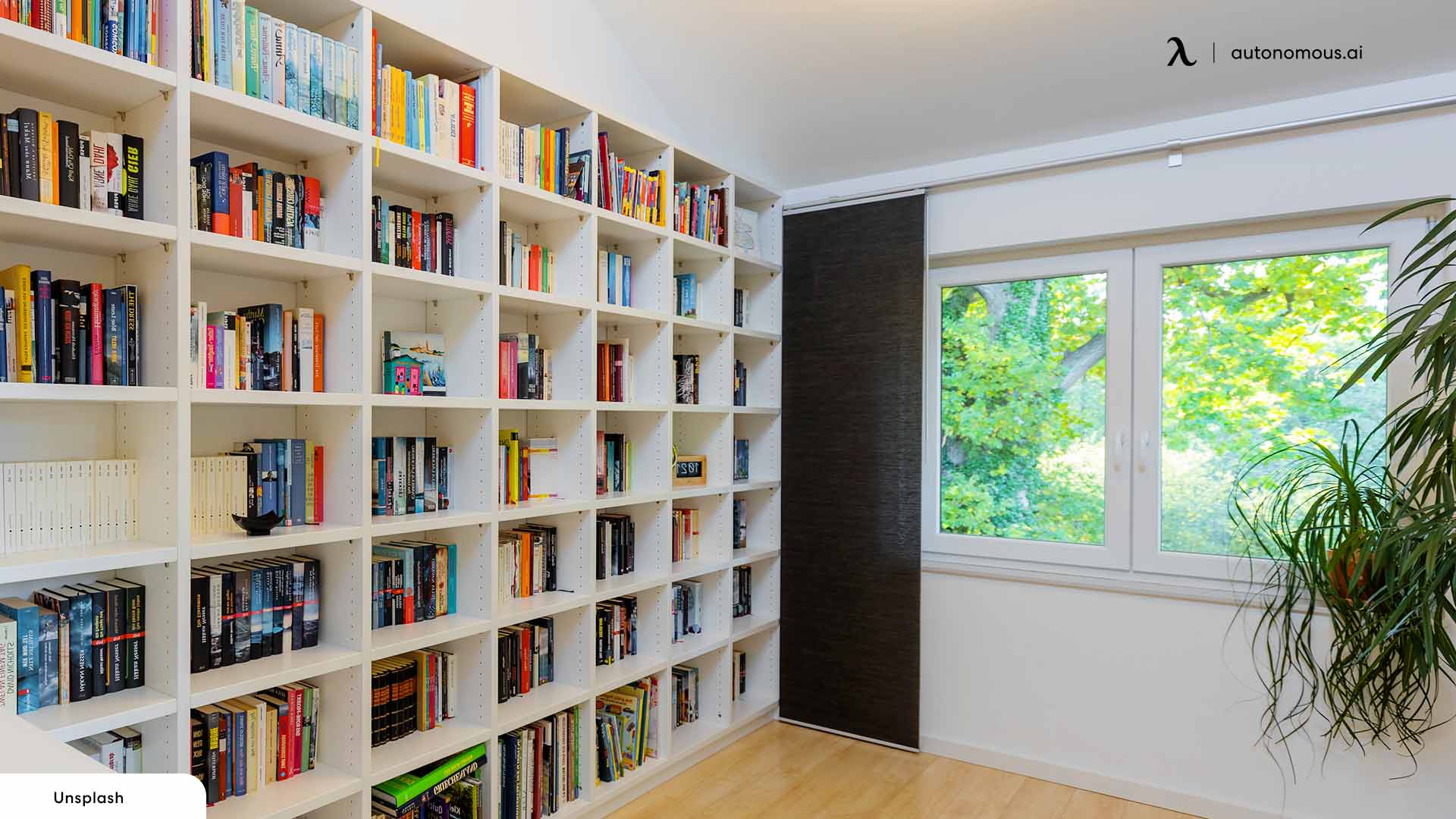 Built-in walls with shelves can be a great way of increasing storage space in a 10x10 office design. Often a small office space looks cluttered when you don't have enough storage space and most of your office accessories are lingering around the room.
Built-in walls provide you more room for storing your accessories while taking minimal space in your room. Thus, you have more space for placing your desk and any furniture if you wish to add them for visitors.
4. Add Cabinets at Either End of Your Desk
Suppose you can't have built-in walls, then storage cabinets can be the next best addition to your 10x10 home office. You may add a smart standing desk in your home office, but such desks usually do not come with adequate storage space.
So, adding some file cabinets in your 10x10 office layout becomes important. You can put them on the sides so that they do not take up much space in your room. You may also think of adding an L-shaped desk to provide a large tabletop for staying minimalistic and avoiding clutter.
5. Use Small Pieces of Furniture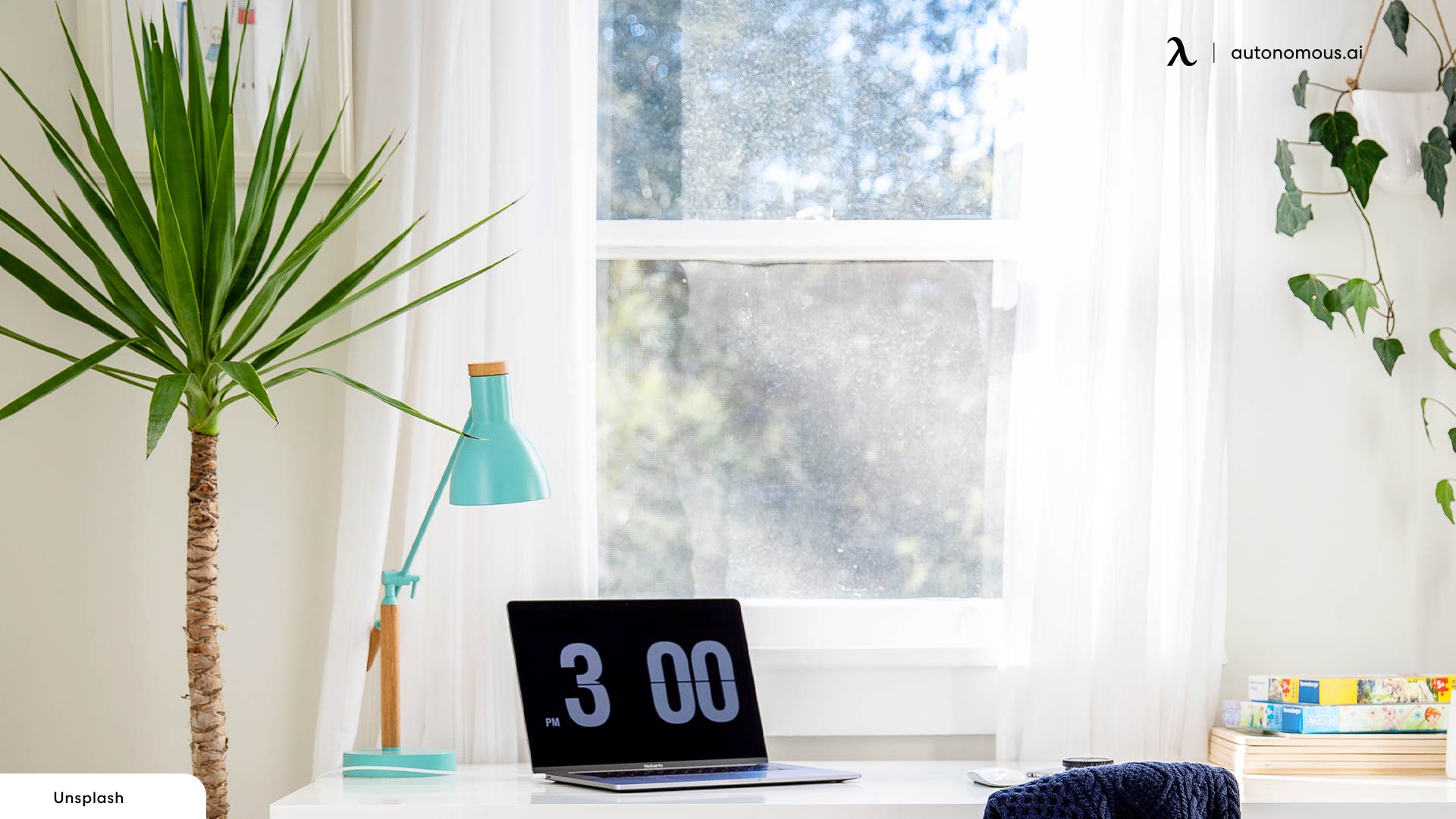 A clever way of designing a 10x10 home office is to choose small pieces of furniture rather than investing in bulky ones. The smaller furniture will take up less space; thus, you will have a wider and cleaner office setup that helps you stay focused on your tasks.
6. Place Some Plants at The Corner
Plants help you make your office airier. So, always invest in some of them to make your workspace more relaxing and airier. Suppose you have shorter space, like a 10x10 office design, and many accessories to manage. In that case, you may think of investing in some hanging plants so that there is more space left on the floor to place furniture and other important accessories like filing cabinets.
7. Place an LED Lamp Above Your Desk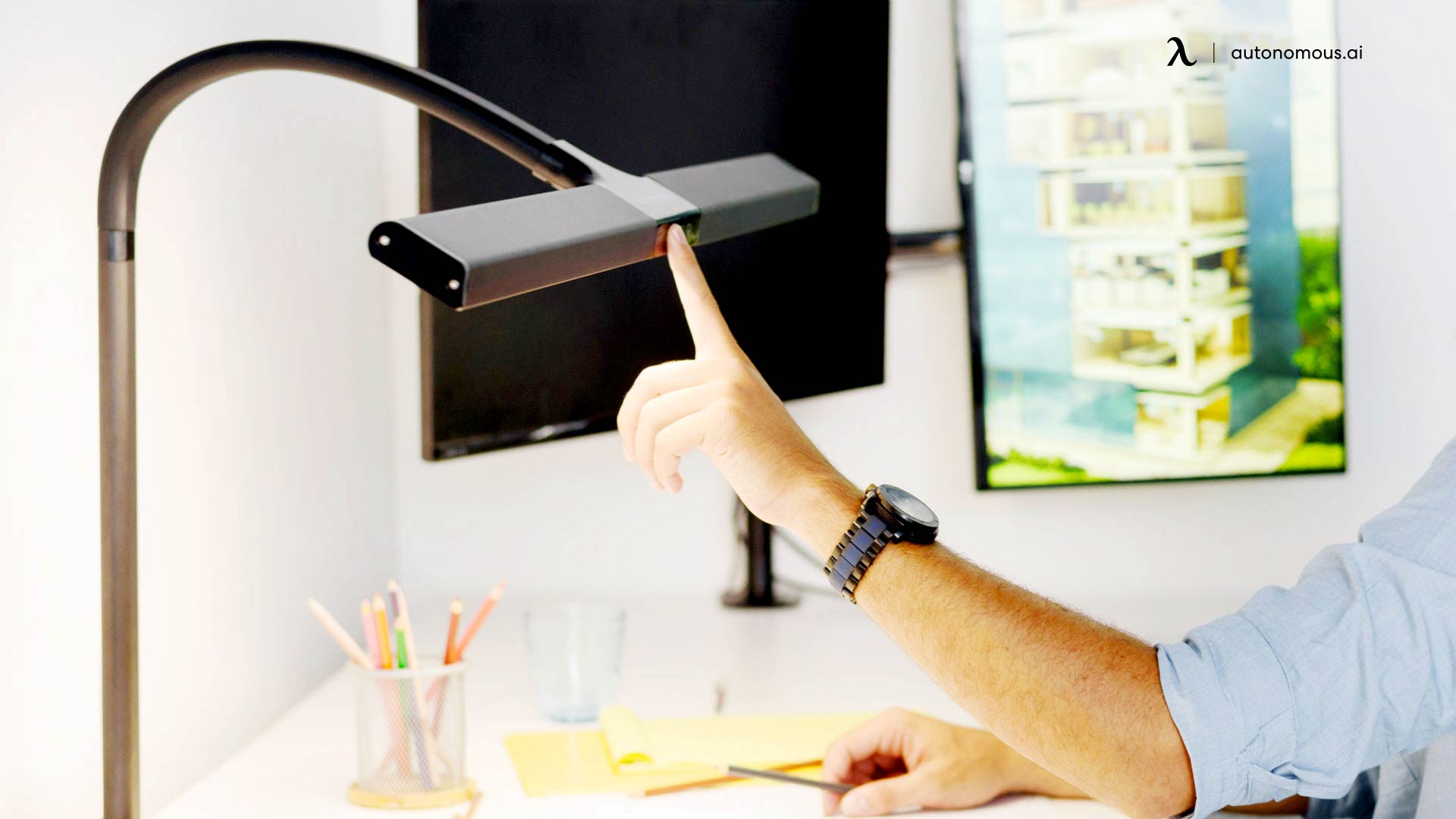 Placing an LED lamp can help you make your small office look brighter and more spacious. So, invest in a reliable LED desk lamp. You may think of placing it above your desk to have a brighter workspace.
8. Let Natural Light Enter Your Room
Having some entries for the natural light is always great for your office. Natural lighting keeps you more active throughout the day and ensures you stay more productive. So, choose a room that has some shafts or a window for the light's entrance. However, avoid sitting against the window as that might put a glare on your monitor's screen and create problems in your focus.
9. Install a Wall Mounted Table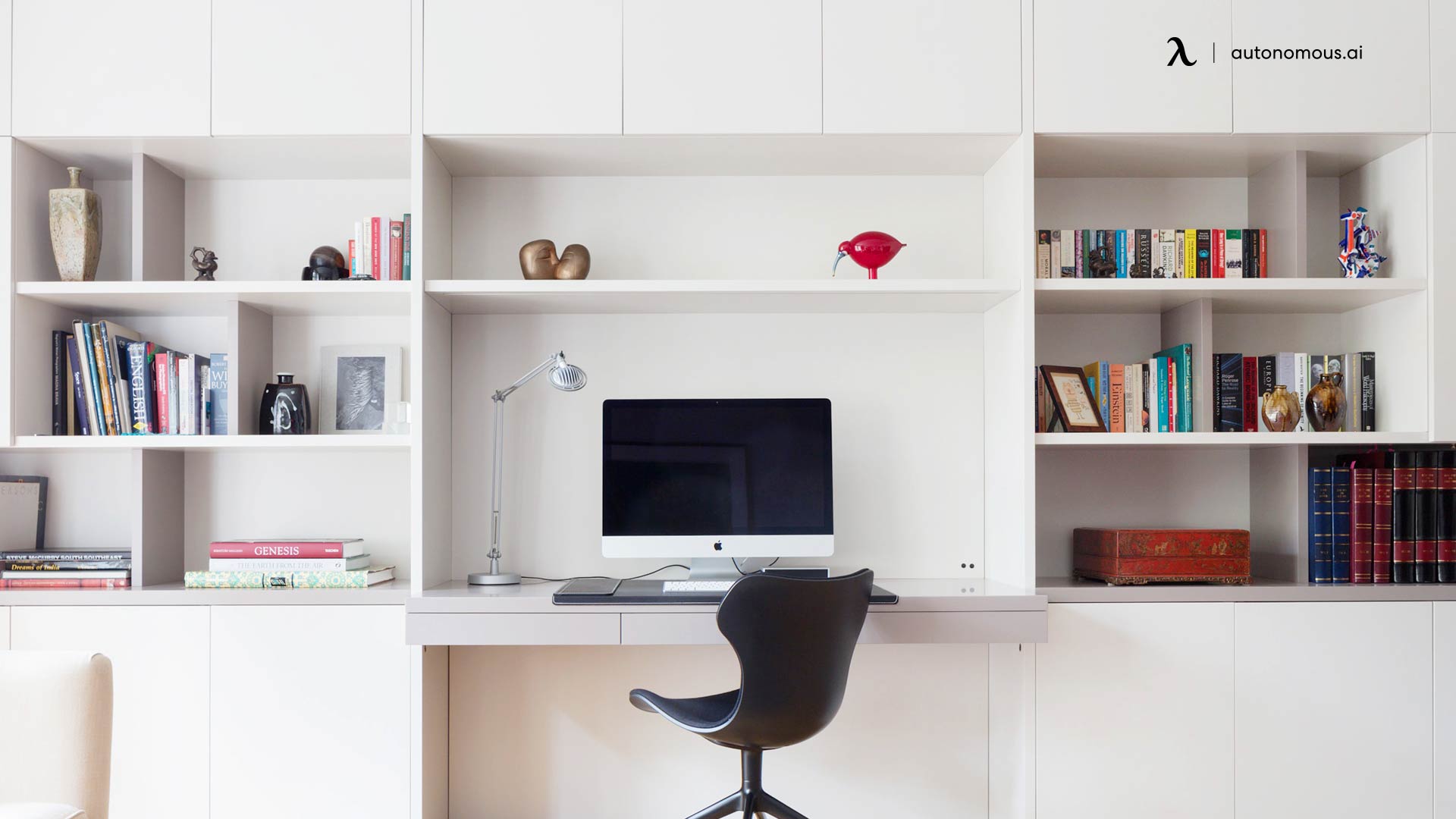 There are chances that you do not have much space on the floor and only have a portion of the 10x10 office layout. So, in such a case, you may think of installing a wall-mounted table so that you can save some space on the ground for your ergonomic chair that helps you stay active in a small space even.
10. Color The Walls with Bright Paint Colors
Bright colored walls and office desk décor can make your small 10x10 room look bigger. So, choose lighter colors that are not too harsh and give a calming effect. Such colors will help you have a relaxed and clear mind and ensure you focus on your tasks better.
Wrapping It Up
Going creative with a 10x10 office layout is not any rocket science. You can easily do that if you choose any of the creative tips that we have shared above with you. We hope this will help you manage your small space intelligently and get the most out of it.
Get exclusive rewards
for your first Autonomous blog subscription.

WRITTEN BYAutonomous
We build office products to help you work smarter.
Coming at You Live from Autonomous' Social Media!
Please fill the information below.
Thank you!