Without a smart speaker, it would be difficult to set up a smart home because they serve as the control panel for all your connected gadgets. You can cast old memories from Google Photos to Android TV boxes or operate several smart home devices with a single command, sparing you from having to navigate through dozens of different phone apps to do a simple task. It is also the perfect collectible item to add to your gaming accessories.
Even while smart speakers are essential for a connected home, the choices have increased, making it difficult to pick the best one. 
Although choosing between Alexa speakers and Google Assistant speakers may seem simple, each speaker has its own advantages, disadvantages, and sound quality. 
Some speakers allow you to use both Alexa and Google Assistant on the same device, while others feature a built-in Zigbee hub that you would otherwise need to purchase separately for things like smart lights. We have chosen the top smart speakers for your house from the variety of options available on the market. 
The Best Smart Home Speakers
1. Amazon Echo Dot
Even while the Amazon Echo (5th generation) may not seem like a significant improvement over its predecessor, a multitude of small quality-of-life enhancements make it the best smart speaker on the market. 
As an example, the new Echo Dot 5 includes a temperature and accelerometer. You can use the accelerometer to tap on the top of the speaker to complete simple tasks like pausing music and turning off alarms. However, the most intriguing component is the temperature sensor. 
You can make it a part of your various routines to take some automated actions based on your room's temperature. When it begins to get chilly indoors, for instance, you might command the Echo Dot to turn on the heating system.
2. Google Nest Audio | Best Sounding Smart Speaker
We were impressed by Google's mid-range Nest Audio speaker's improvements and cheaper starting price than the Home speaker it replaced. The Nest Audio performs well across highs, mids, and lows, with even the tiny details now clearly audible. 
This is due to the new, significantly beefier woofer-tweeter combo. Essentially, this is the best sounding smart speaker if you enjoy loud, bass-heavy music, and it completely justifies its higher price over the Nest Mini.
3. Sonos One
Those who want pristine quality in a compact design often choose the Sonos One (Gen 2) in the premium audio market. Furthermore, the Sonos One can keep its compact footprint while providing enough volume to be the life of your house parties since it doesn't have a battery. 
The sound output is crisp, with well-defined mids and highs, as you would expect from a Sonos speaker. Although the Sonos One doesn't have a lot of bass, many users enjoy music in which the bass doesn't overpower the other notes. 
Essentially, even though the Sonos One is an easy recommendation thanks to its relaxing acoustics and broad list of features, we still wish the speaker had Bluetooth connectivity, so you could stream music from your phone. 
Even with a speaker that isn't intended to be carried around, having the option to listen to your music without being online is a must.
4. Google Nest Mini
The Nest Mini, Google's smallest smart speaker, resembles its predecessor very closely, but don't be fooled by its looks. Additionally, the Nest Mini has more modern internals than the Home Mini, resulting in significantly better audio quality with a little more volume. 
This time around, the bass is significantly punchier, and the entire sound can easily fill the room. You can combine two Minis to create a stereo duo or multi-room streaming, much like with the Nest Audio. 
Furthermore, the Nest Mini is equipped with the same cutting-edge technology as the Nest Audio, enabling it to respond to almost any question you ask or to control your smart home's appliances with a single command. 
You'll appreciate the Mini if you often cast YouTube videos to a large screen because it is a product of Google and naturally works with Chromecasts (as well as other Home and Nest devices).
5. Bose Portable Best Smart Speaker
Bose is a renowned manufacturer of high-end home audio products that only recently experimented with smart speakers. The most recent Bose Portable Smart Speaker might not appear to be as large as the Sonos Move, but it has enough power inside of it.
You can hear every beat because the bass isn't overpowering, and it has the usual warm Bose sound with plenty of clarity across ranges. While most music listeners should find the bass to be satisfactory, people who like a booming sound may be dissatisfied. 
Bose chose a bottom-firing speaker design that releases sound in all directions, making it the best portable smart speaker for use at outdoor gatherings or in the middle of a room. 
Because it only weighs 2.3 pounds, the speaker is really easy to carry, and the speaker's convenient grab handle serves as a constant reminder that it is designed to be used on the go. We believe that this is the best portable Wi-Fi speaker on the market!
6. Amazon Echo Studio
This is another best wireless smart speaker for your consideration. If you want something that truly drowns out every other sound in the room, the regular Echo speaker is not going to cut it. The Amazon Echo Studio, which competes with the Apple HomePod at a more affordable price, is the company's best and largest Echo speaker. 
It's a large piece of hardware, making it unsuitable for nightstands and possibly unnecessary in the kitchen. Nevertheless, move it to a larger space or connect it to your TV to hear it roar! It's got five drivers positioned all around that shell to give you better directional audio output. 
As you might expect, Alexa also brings to the Studio all of its knowledge and skills. Additionally, the Studio has a built-in Zigbee hub that makes it possible to connect to smart home devices without the use of a separate hub. There are several more expensive options from Bose, Sonos, and Apple that sound better, but nothing beats the Studio for the price.
7. Bose Home Speaker
The Bose Home Speaker 500 is the best smart speaker if you want that distinctive Bose sound profile but don't necessarily need a portable smart speaker. It's a wired speaker that should be kept inside your home, as its name suggests. 
This speaker uses two drivers to provide a wide soundstage and 360-degree audio, and it could very well be the highlight of your house gatherings. 
You can call either Alexa or Google Assistant to communicate with the speaker since this Bose speaker supports both. The Home Speaker 500 can pick up your commands even when you're far away or in a noisy setting thanks to superior far-field microphones. 
While the top of the speaker has touch controls, you can also use the Bose companion app to modify device settings, group speakers together (stereo pairing isn't supported, though), and alter the bass and treble. The Bose Home Speaker 500 is undoubtedly more expensive than most futuristic speakers, but the sound quality makes it worthwhile.
8. Belkin SoundForn Elite | Best Wireless Speaker
This Belkin SoundForm Elite speaker is among the most versatile smart speakers that you'd want to keep on your nightstand. With an output of up to 10W, the top section of the Belkin speaker also functions as a wireless charger for your phone. 
Although it isn't blazingly fast, it is enough for overnight recharges and is compatible with most cell phones. 
The sound quality is maintained despite the addition of this extra feature. Although the SoundForm Elite isn't a particularly huge speaker, it generates rich low-ends that bass lovers will really enjoy, making it the best wireless smart speaker on the market.
9. Sonos Roam
Essentially, the Sonos Roam is the best portable smart speaker that you can carry around in your backpack and connect to a Wi-Fi hotspot to access Google Assistant or Alexa just about anywhere. It has the best sounding portable speaker in its class, according to reviews. 
Unlike most tiny speakers, it has a separate woofer and tweeter, which contributes to its higher audio performance. 
Besides having Alexa, Google Assistant, and AirPlay 2 compatibility, the Roam is a great choice because of all the other convenience features. It has a USB-C port for charging, but it also supports wireless charging, so you can just put it on any Qi charger and listen to music all day.
10. Denon Home | Best Home Smart Speaker
The Home 150 was first introduced by Denon as a standard Bluetooth speaker, but very soon it received a major upgrade when a native voice assistant was added to the compact but powerful speaker. This is why we consider it the best home smart speaker on the market! 
Now that the Home 150 has the new feature, you can ask Alexa anything. Moreover, Alexa enables voice-only audio playback, which was previously only possible with Denon's HEOS app. 
Nonetheless, the smartphone app is still useful for setting up Alexa and connecting two Denon speakers for stereo mode. If you prefer Bluetooth speakers, you should take a look at a Bluetooth speaker buying guide.
Buying Guide for the Best Smart Speaker
Sound Quality
While the best wireless smart speakers are capable of a wide variety of functions, you will mainly use them as audio output devices. Your speakers will be playing music and songs or audio from a television, computer, gaming console, etc. for most of the time. 
The speakers' audio quality is, therefore, the first thing you should take into account. Consider factors including where you want to place the speakers, the room's size, structure, and interiors, as well as whether there will be any echo or reverberation. 
Size and Portability
Essentially, the size and aesthetics of smart speakers may not make a huge difference in their performance. However, it will be ideal if the speaker doesn't take up much room and fits in well with your decor. 
In fact, a lot of speakers are so small and attractively made that you could even use them as décor when you install them in your home. 
Portability is a serious factor in addition to size, but it depends on your needs. The portability of a speaker is not a problem if you only need it for one room. However, you will need a speaker that can operate on Bluetooth and Wi-Fi and is cordless if you intend to use it outside or want to be able to move it between different rooms in your house.
Bluetooth vs. Wi-Fi
You have three choices when it comes to Bluetooth and Wi-Fi compatibility: Bluetooth only, Wi-Fi only, or both. Essentially, you can take your portable Bluetooth speakers with you everywhere you go.
However, it will play all audio from your phones, including ringtones and alarms, so you can't listen to music without interruption. 
Wi-Fi speakers have a greater range, allowing you to connect multiple speakers to the same Wi-Fi and create a system, and it filters out other audio from your phone. However, since you can only use these speakers in your home, the experience comes at the expense of portability. 
Pricing and Budget
Everyone has a different budget, and you alone are responsible for making that choice. To start, you need to conduct some comparative research if you want to make the best purchase possible within your means. 
Create a list of the products with the best reviews that fall within your budget and aesthetic of tech accessories. Outline their features and compare them, concentrating on the features you are really looking for.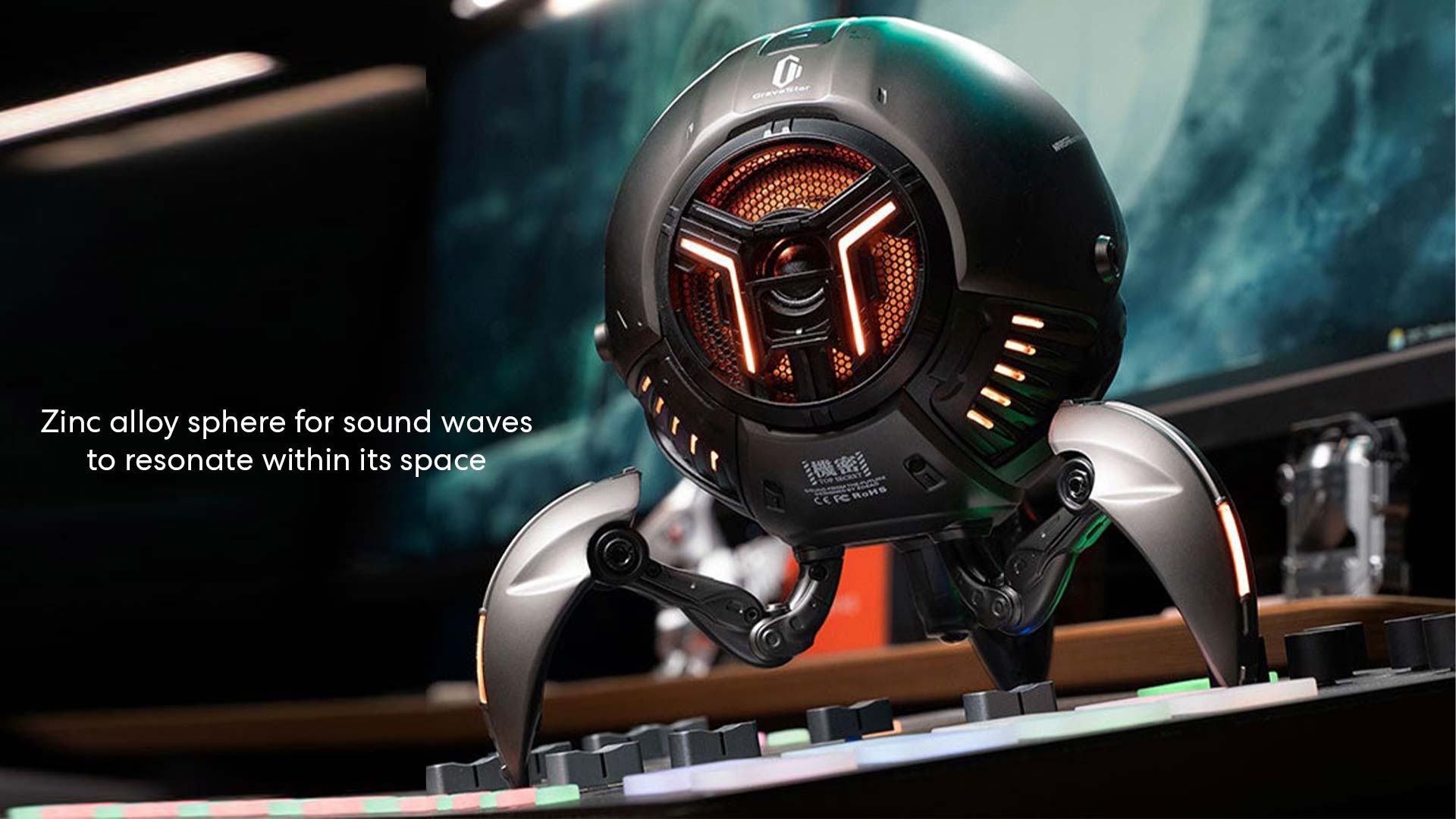 GravaStar Mars Pro Bluetooth Speaker
| | |
| --- | --- |
| Dimensions | 7.1"L x 7.9"W x 7.5"H x 5.55 lbs |
| Materials | Zinc alloy |
| Colors | Black, White |
| Battery life | Up to 15 hours |
| Power supply | 5V / 2A |
| Warranty | 1 year |
Buy the Best Smart Speaker!
The Nest Audio or the Sonos One (Gen 2) have deeper sound and a far more elegant look if you want a smart speaker to add to your desk accessories with high-quality tunes. 
Although the Sonos One has the advantage of being portable, so you can move it from room to room, the Nest Audio, in particular, performs pretty well for larger rooms as a stereo pair and costs half as much.  
Speaking of rooms, Sonos is the best smart brand or music service for multi-room audio, but it's a large investment.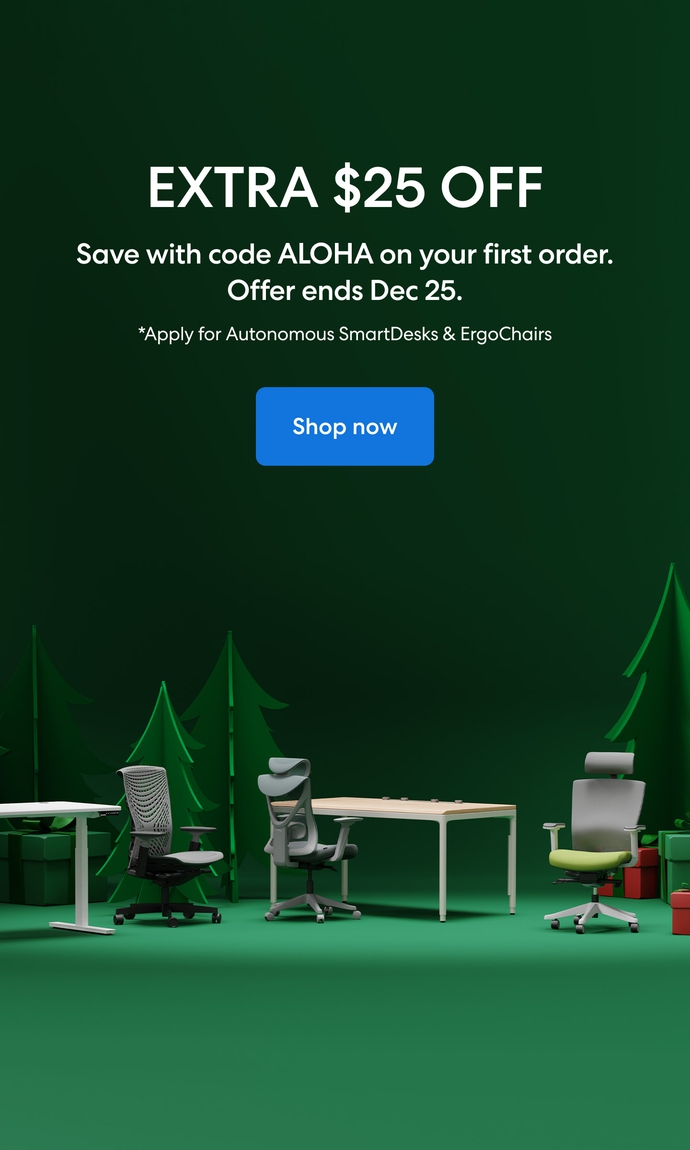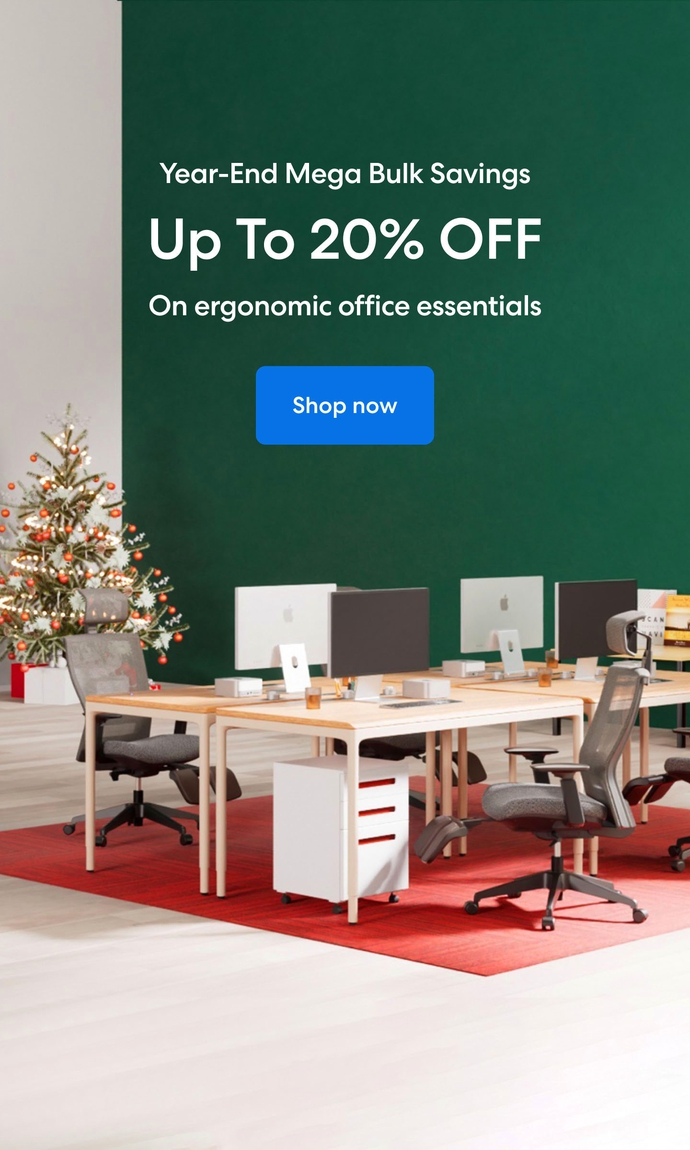 Subcribe newsletter and get $100 OFF.
Receive product updates, special offers, ergo tips, and inspiration form our team.