Workplace Inspiration
How to Arrange A Shared Home Office For Two?
3,351 Views
Setting up a home office for one person is a task in itself. So, how about setting up a shared home office for two – a friend, twin, sibling roommate, or spouse? It's a new addition to most homes as a majority of people have shifted over to working from home or freelancing.
A home office for two is the optimal working situation for most homes – of course, the way you configure them depends on the shared home office ideas. Those ideas originated out of a need to find something more comfortable, other than the dining table and couch. A shared home office is more ergonomic, provides comfort, and increases productivity. A properly designed one permits multiple people with changing needs to work at the same two-person home office comfortably.     
Benefits and Challenges of a Shared Home Office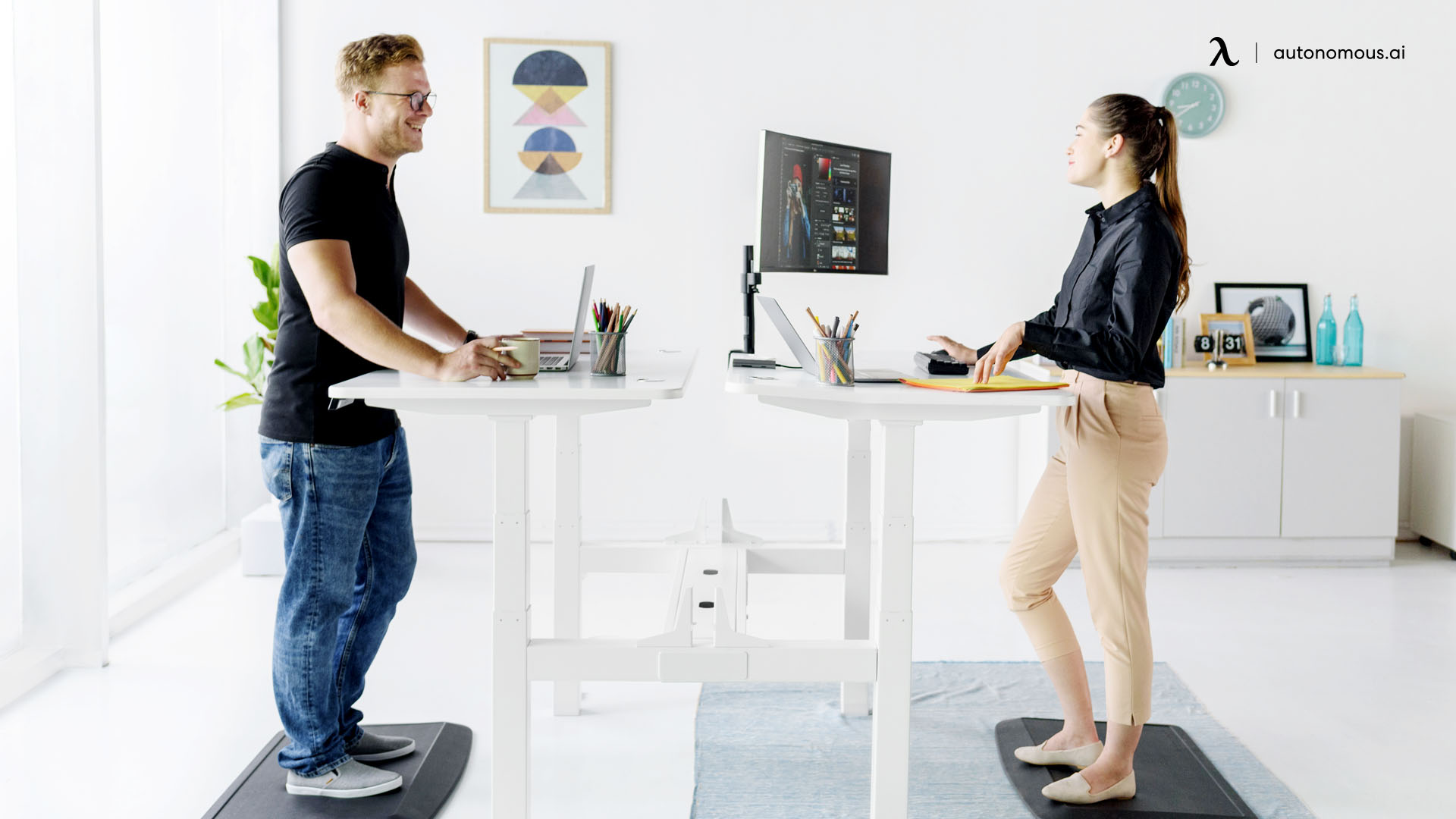 You might be rethinking renovating a shared home office space. Unless your home office is primarily for business or work at a client location, it is sensible to have a smaller office. Either way, certain downsides and plus points will make you reconsider a small room desk setup.
| | |
| --- | --- |
| Benefits | Downsides |
| Saving money on start-up costs/no buying or renting of business premises | Initial expenses in setting up business at home |
| Saving time searching for business premises | Limited area size and space to work with |
| Freedom from long term tenancy agreements | Expenses incurred when maintaining the surrounding area |
| Flexibility for balancing out work & family commitments | Tough to separate home and work-life |
| No time or money invested in commuting | Isolation/loneliness |
| Fewer distractions | domestic distractions and interruptions |
Setting Up Shared Home Office the Easy Way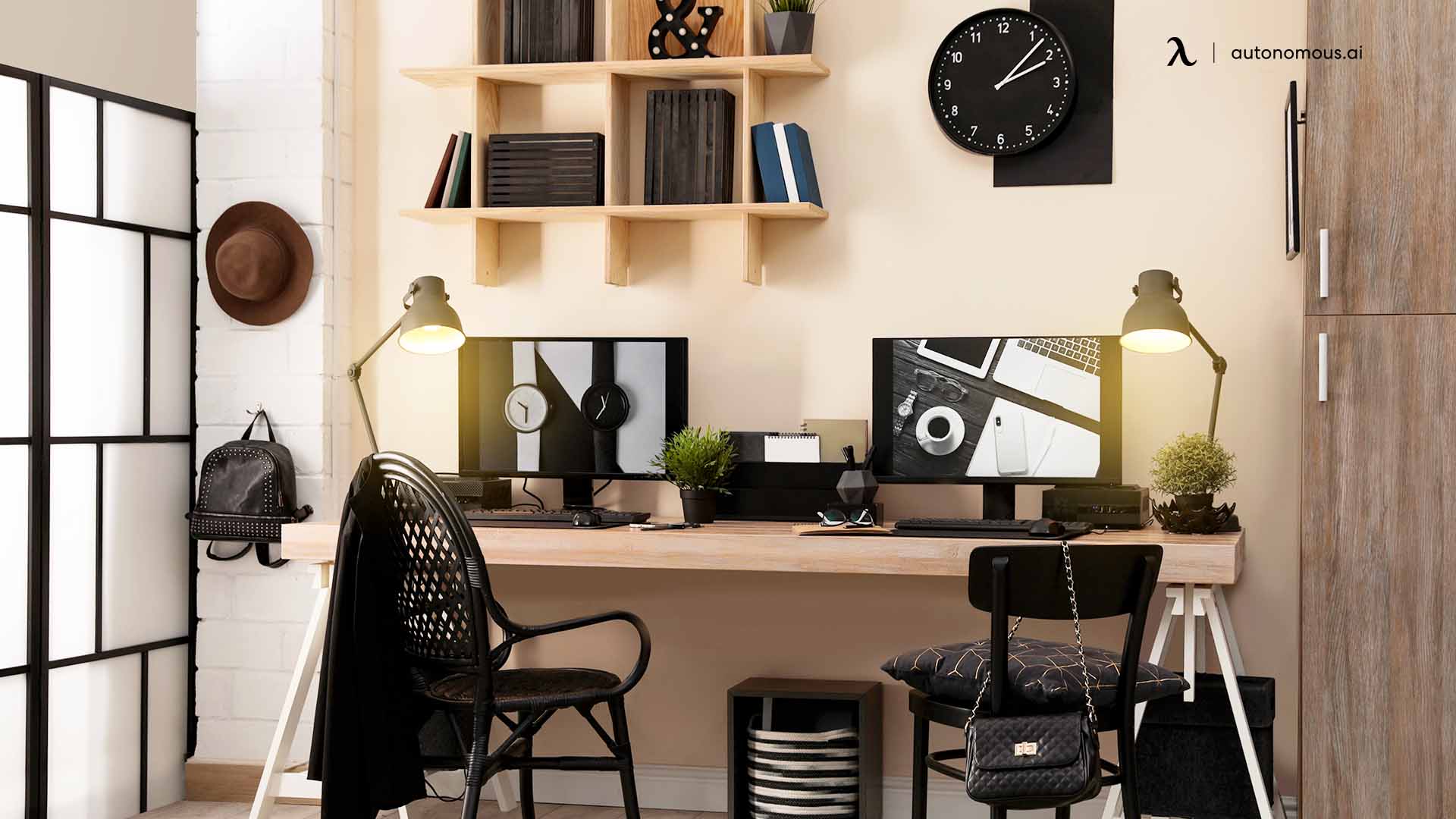 Even if you have limited space to work with, you can capitalize on flexibility. Then you can begin configuring a long-term solution. First, let's get started with the desk - a critical part of a nice office setup that keeps you productive.   
Your desk
We'd never recommend a normal desk for home use – it's big, chunky, and not ergonomic. The better and healthier option would be a home office standing desk. Today, it's pretty easy to do a lot of research on these desks – you get several sizes, styles, and fits that you can choose from. If it's the budget you're worried about, then know that the market has several premia, budget options, and a few in between. An adjustable standing desk comes as an electric one or a manual crank one. Certain desks have bigger surfaces for a triple monitor setup or anything else you may need.
Your chair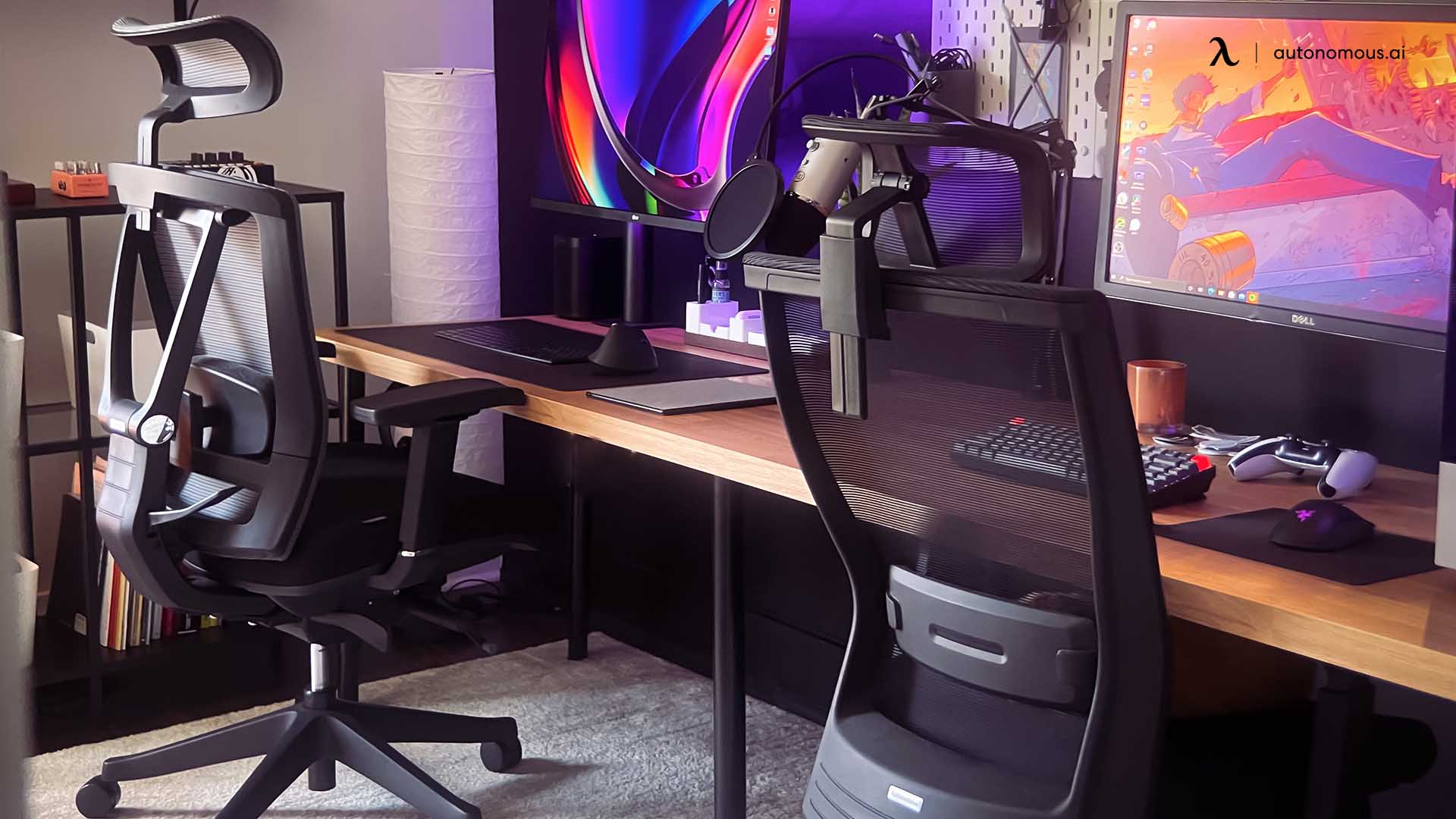 When you need to change during the day, you can alternate between standing at your L-shaped standing desk and sitting mode. For comfort, while seated, you need the right chair with armrests. The back panel should be curved to give your back more support, especially in the curved, lower portion. An ergonomic chair will also have points of adjustability on them located under the seat, the back panel, armrests, and base.
Your room
We all have our quirks when it comes to working. Some don't like people walking behind them as they work, others prefer open spaces for inspiration, others prefer taking lots of breaks. Think about your own quirks when setting up your room. If you plan on taking lots of breaks, then ensure that there is a lot of empty space around your desk setup. If you need open spaces, position the desk so you can see the rest of the room. And if you're easily distracted, they have the desk facing the wall, near a window.       
Sharing a room
If you plan to implement a shared home office, try to find a room that you dedicate for that purpose. Choose a place that inspires you and won't turn into a sterile office area. Incorporate some sitting places in it, other than the desk chair. Add items like a verandah seat, bean bag chair or a couch, or any other kind of creative sitting spot. This is where you can go when you're on a break, find inspiration and relax.          
Challenges in Sharing a Room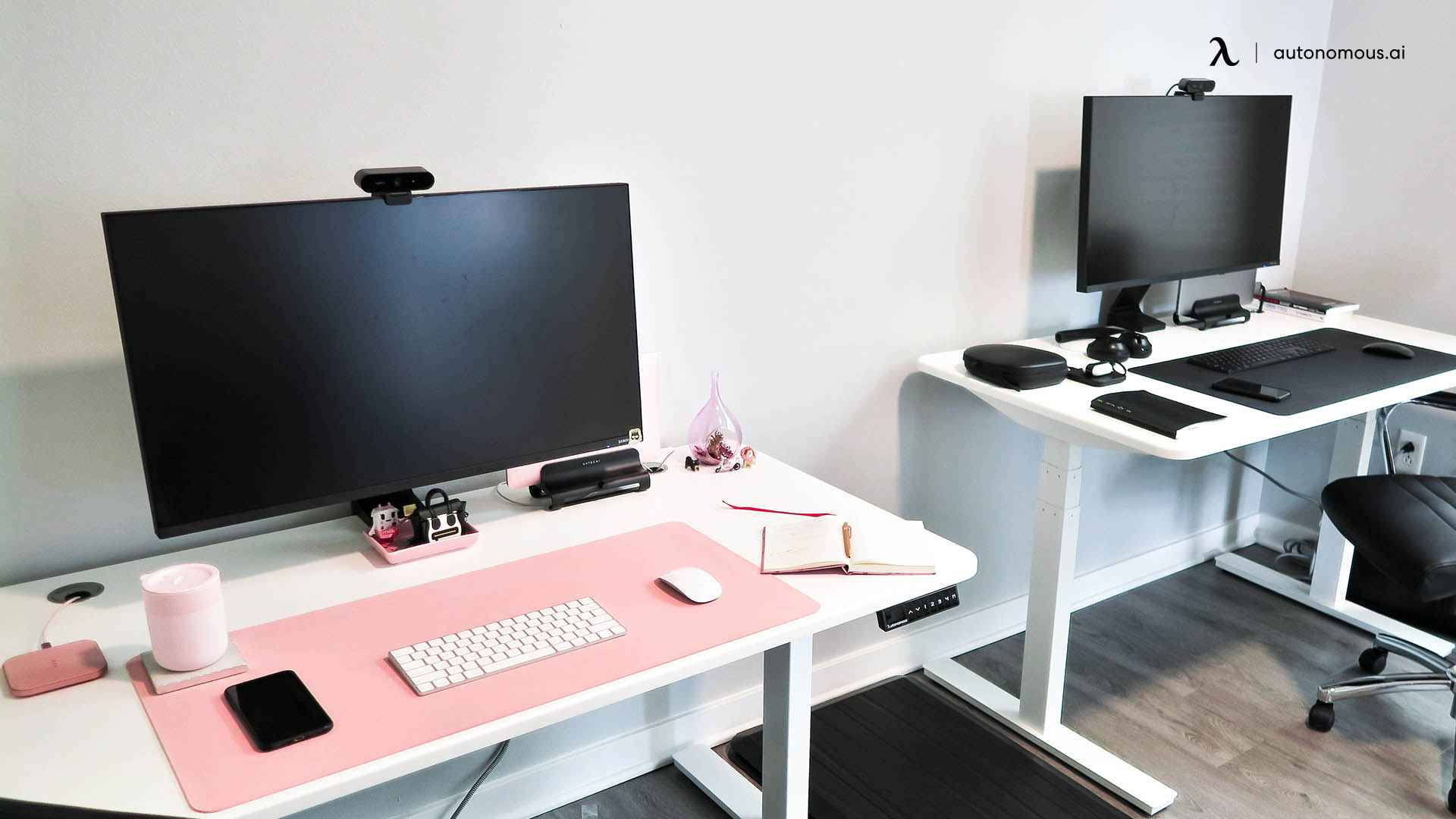 Some challenges of the shared home office do exist, but you shouldn't get overwhelmed. The key issues you may face when creating a suitable home office design is: 
Space and professional tools or requirements that each person needs.

The home office preferences each person requires in terms of working habits, sitting arrangements, etc.,

You are keeping enough space for all of your office furniture, no matter how space-efficient or compact it may be.   

You are ensuring that all pieces added to the workspace don't overwhelm the leisure or living space. 
Originally, the main concern is keeping more than one desk at home, assuming that both people will require this. However, you can consider adding a special duo-desk or a double-standing desk for your requirements as well. 
Your other concerns are that both of you might distract each other; you might be working on different schedules that aren't compatible or disruptive. Ongoing, frequent calls taking place at the same time will create a disturbance as well.      
Consideration Factors When Sharing a Home Office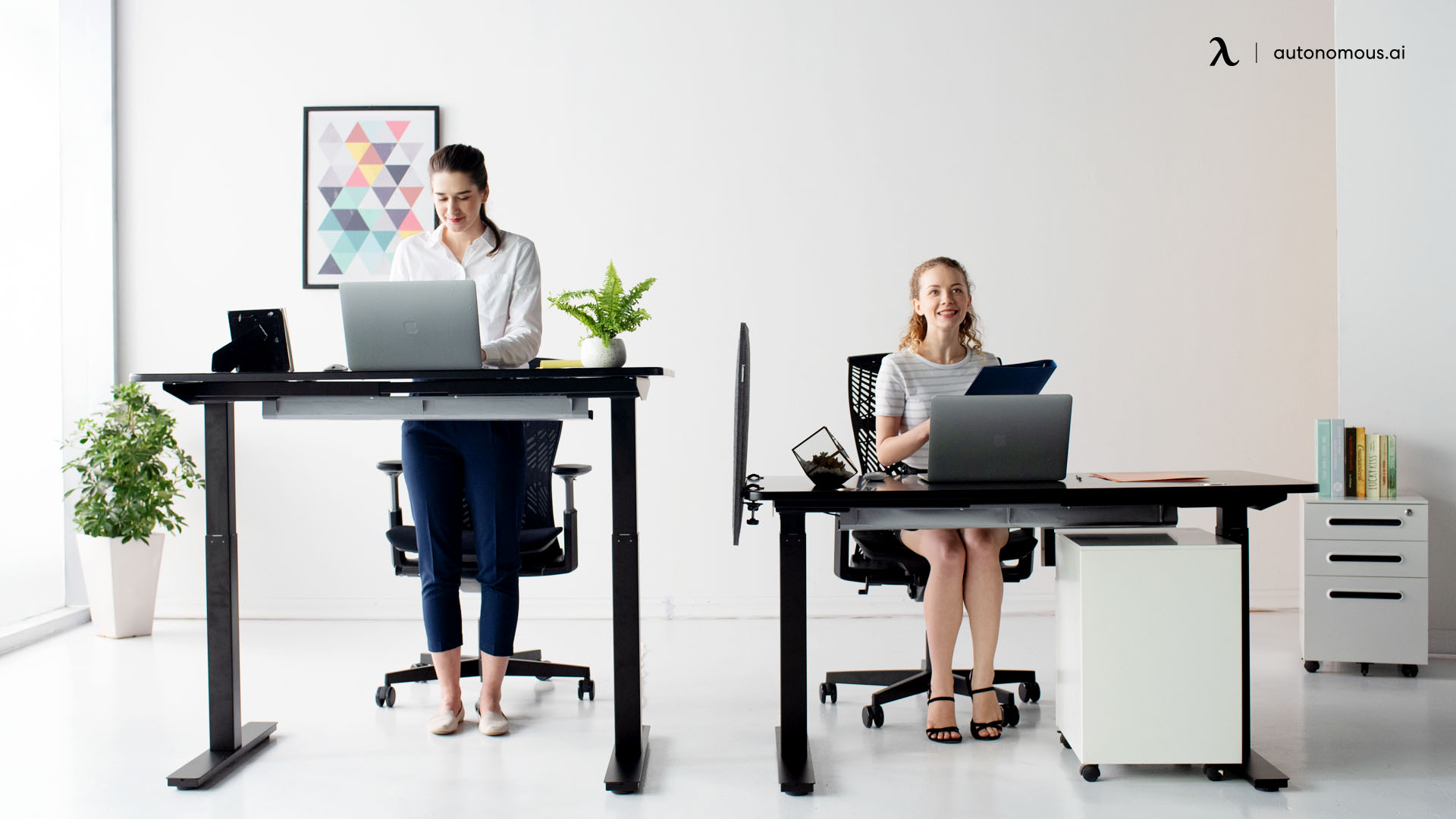 Before you begin a shared home office or two person home office and during the process of the same, what do you need to consider? These factors should be kept in mind when planning out your space.
Maintaining a sense of privacy that each person can enjoy.

Easy access to the shared, non-working areas for taking a break.

Comfortable closeness to fans, heaters, and ACs depending on the weather and your preferences.

How dark or bright should it be? Who prefers the natural light, and how much of it will be too blinding?

The appropriate amount of wall space required? Would both of you prefer to be situated in the corners or facing an open room?
Shared Home Office Ideas That Are Both Functional and Stylish
Working from home has so many benefits that many people don't ever want to leave their home offices. However, if you're currently working at a sharing home office, it would be best if that space was accustomed to the needs of both of you.
While reading some home office painting ideas is an excellent place to start, please note that your shared home office space needs to be functional and comfortable so you and your partner can work on your daily tasks without getting on each other's nerves.
If you're having a hard time trying to come up with some shared home office ideas, here we have a few designs that you can consider. Whether you like neutral home office décor or would like to have a boho desk at your workstation, you can be sure that you'll find the perfect home office space for two people.
1. Dual freestanding sit/stand workstation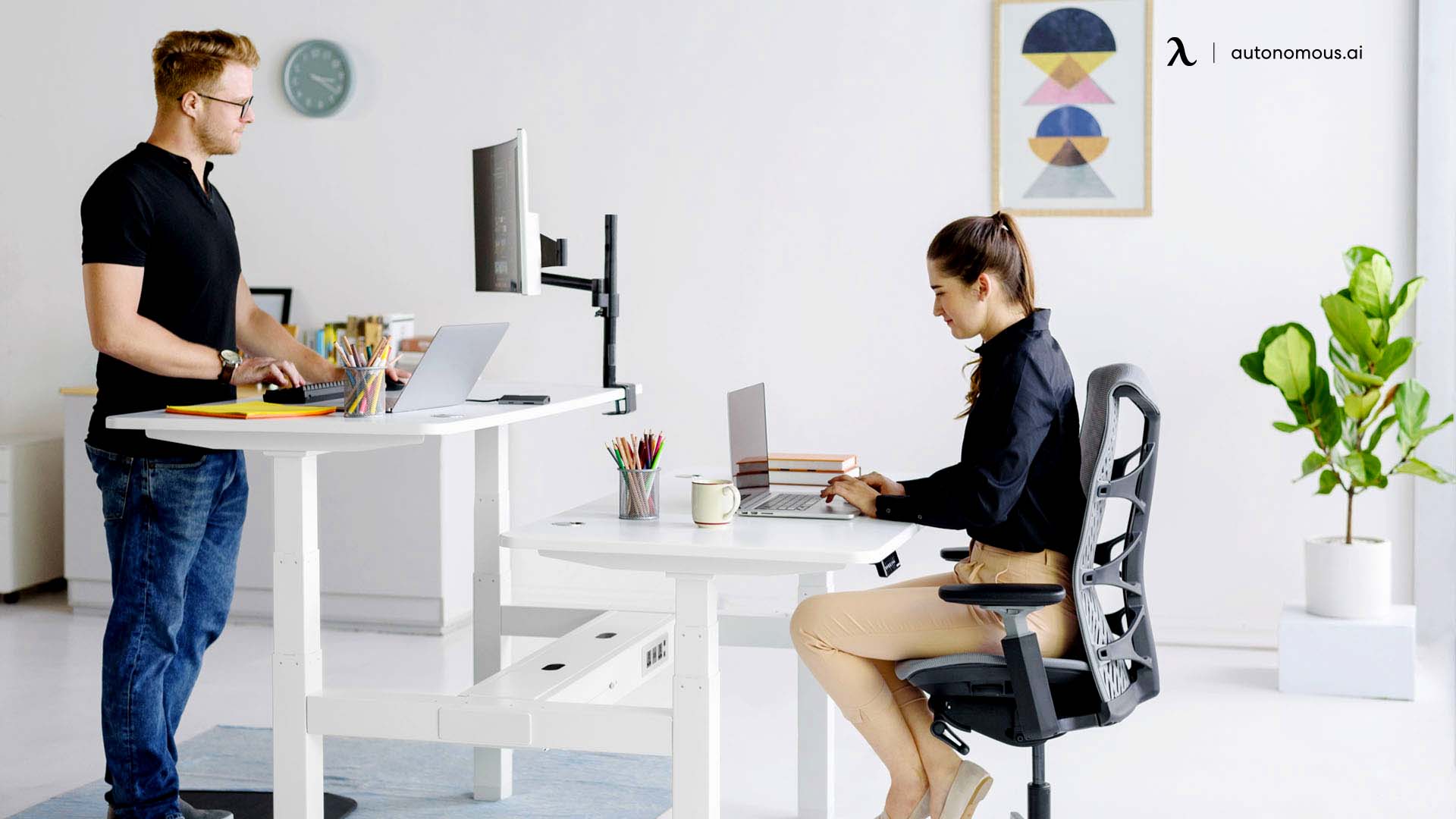 Using an adjustable standing desk for two can make your life easier. Plus, these desks have been linked to several life benefits, such as low sugar levels and decreased weight gain risk. Therefore, including a dual sit-stand desk such as the SmartDesk Core Duo can do the trick.
Thanks to its silent motor, this desk has two independent areas that the users can use as they please without affecting the other. Furthermore, its neutral color is easy to combine with any design that you may have in mind for your home office.
2. Shared home office setup with floating shelves
Floating shelves are always convenient at any office space, especially if you'd like a minimalistic approach to the design. Furthermore, they are inexpensive and easy to install.
You can achieve even better results if you use a t-shaped desk for two. It will help you divide the workstation into two different areas, while both of you can arrange the space in the floating shelves with the items you'll need throughout the day. It's pretty stylish and space-effective!
3. Scandi-style minimal shared desk setup
Like the previous design, this one has a more minimalistic approach to home office décor. This Scandinavian home office uses traditional Scandinavian furniture and neutral colors (black and white). It is a timeless look that you will love having at your workstation.
Instead of filling the workstation with functional items only, you can also opt for using desk plants to enhance the atmosphere. However, the fewer items you keep at the workstation, the better.
4. Shared home office setup with colorful walls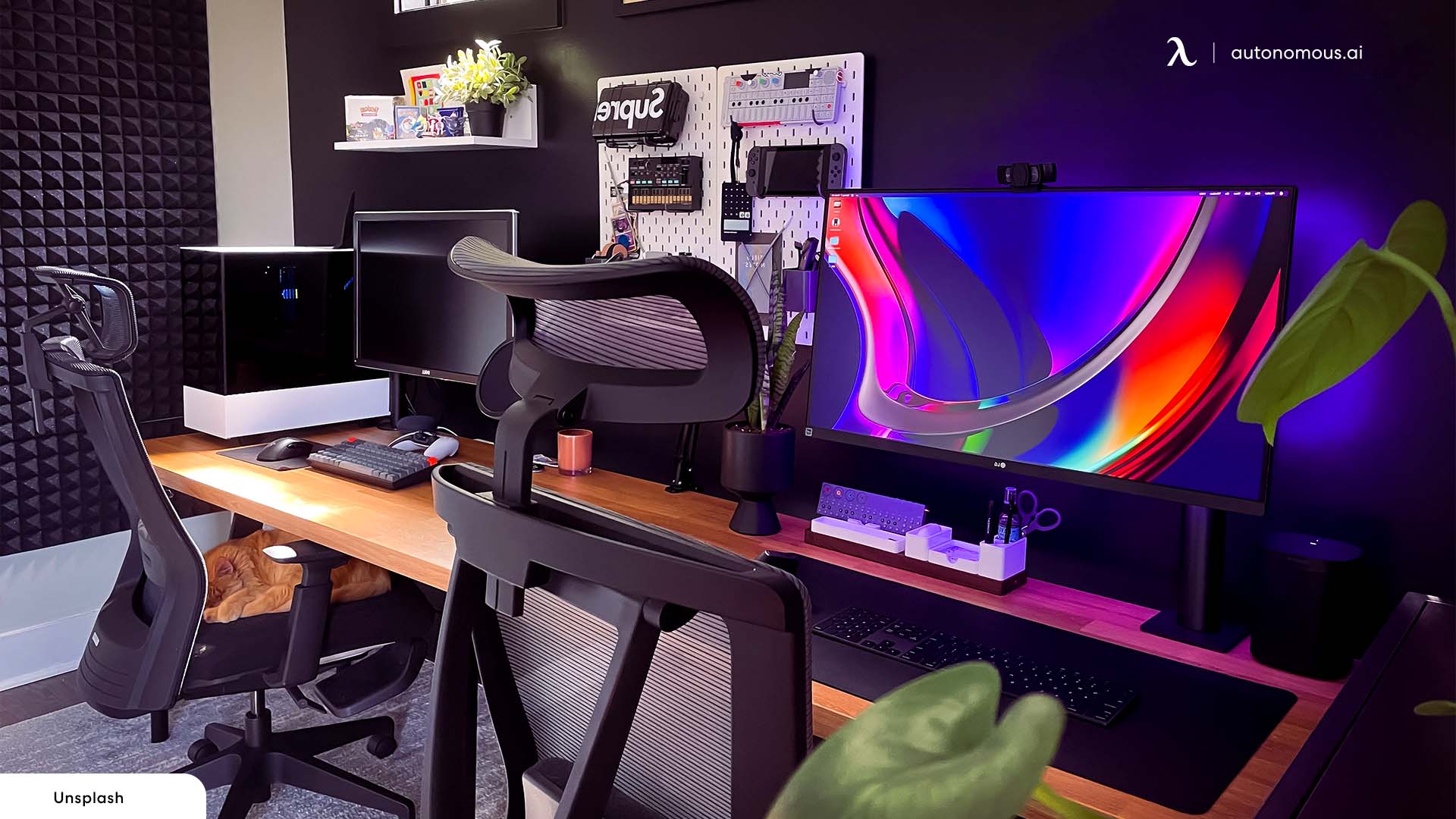 This home office for two uses vibrant colors for the walls and takes advantage of space by using a dual desk, such as a t-shaped desk. You can use certain office accessories to improve the privacy of your workstation, too.
We also recommend keeping the desk near a window for better results. Plus, you will also be able to prevent other health issues, like eyestrain.
5. Loft open home workspace
This shared home office design is placed on an apartment loft. All you will need is a wide desk so both of you can place all the items you need at the workstation without necessarily spending too much on a single piece of furniture.
Although this design is quite simplistic, it is quite stylish and looks exceptionally good if you can't dedicate a whole room to your shared home office. You can also visit Nicole McQuade's Chicago apartment for more information.
6. Back-to-back home office setup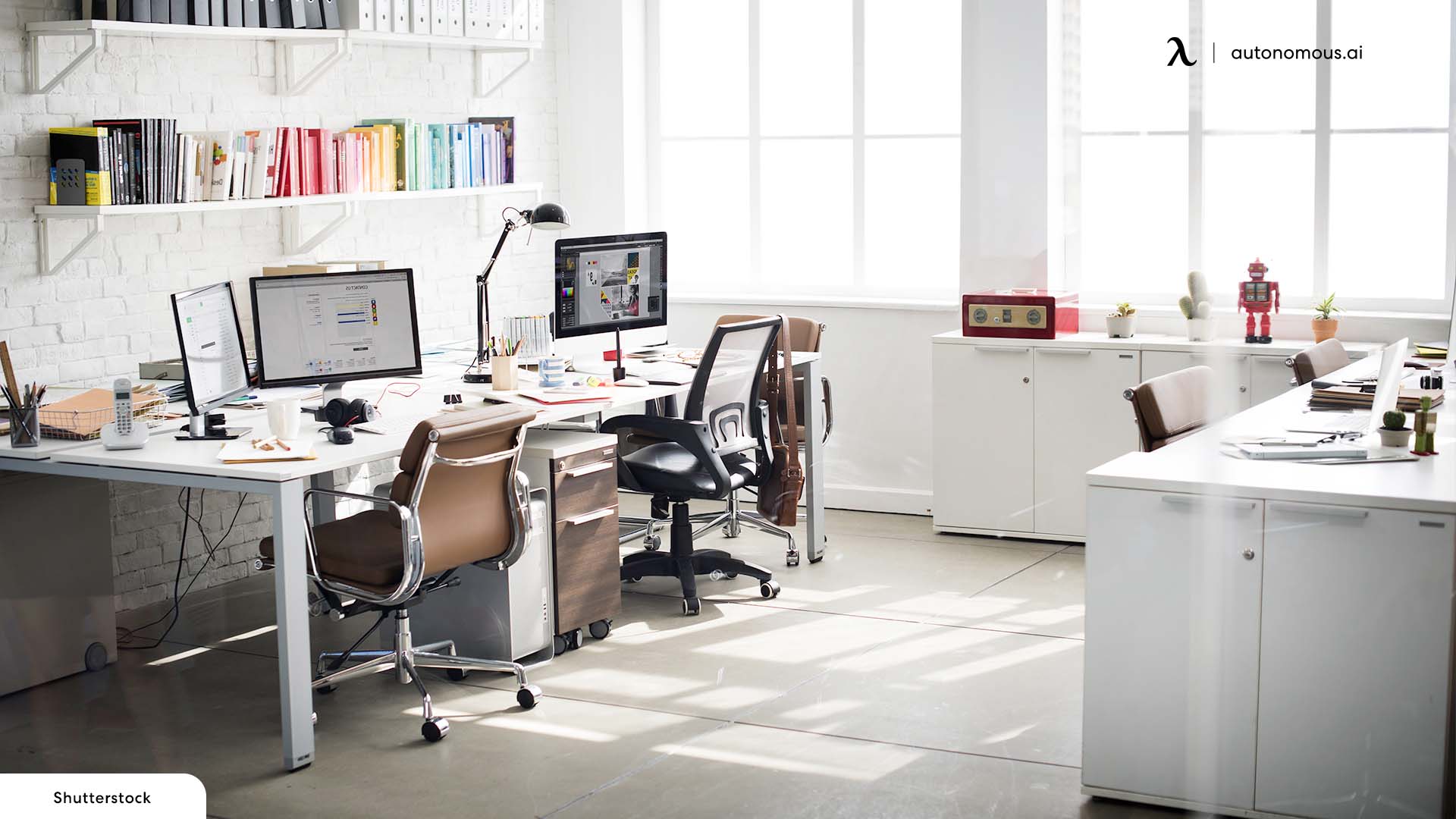 Instead of being side by side, you can also opt for a back-to-back arrangement. It can be helpful if you'd like to think that your workstation is still yours, as you both won't be aware of what the other is doing.
However, the main drawback of this setup is that either of you will accidentally pop up in each other's videoconferences if you're not using a room divider or a webcam backdrop. Despite that, it is still quite space-effective and convenient for multiple users.
7. Dual panoramic setup
A dual panoramic setup for your shared home office can be excellent if you want to have as much natural light as possible. It is also beneficial because you won't have to deal with light reflections on your screen. It is convenient for couples who work remotely and share their home office together.
It's also worth noting that this space is perfect for smaller spaces.
8. Neutral toned home office for two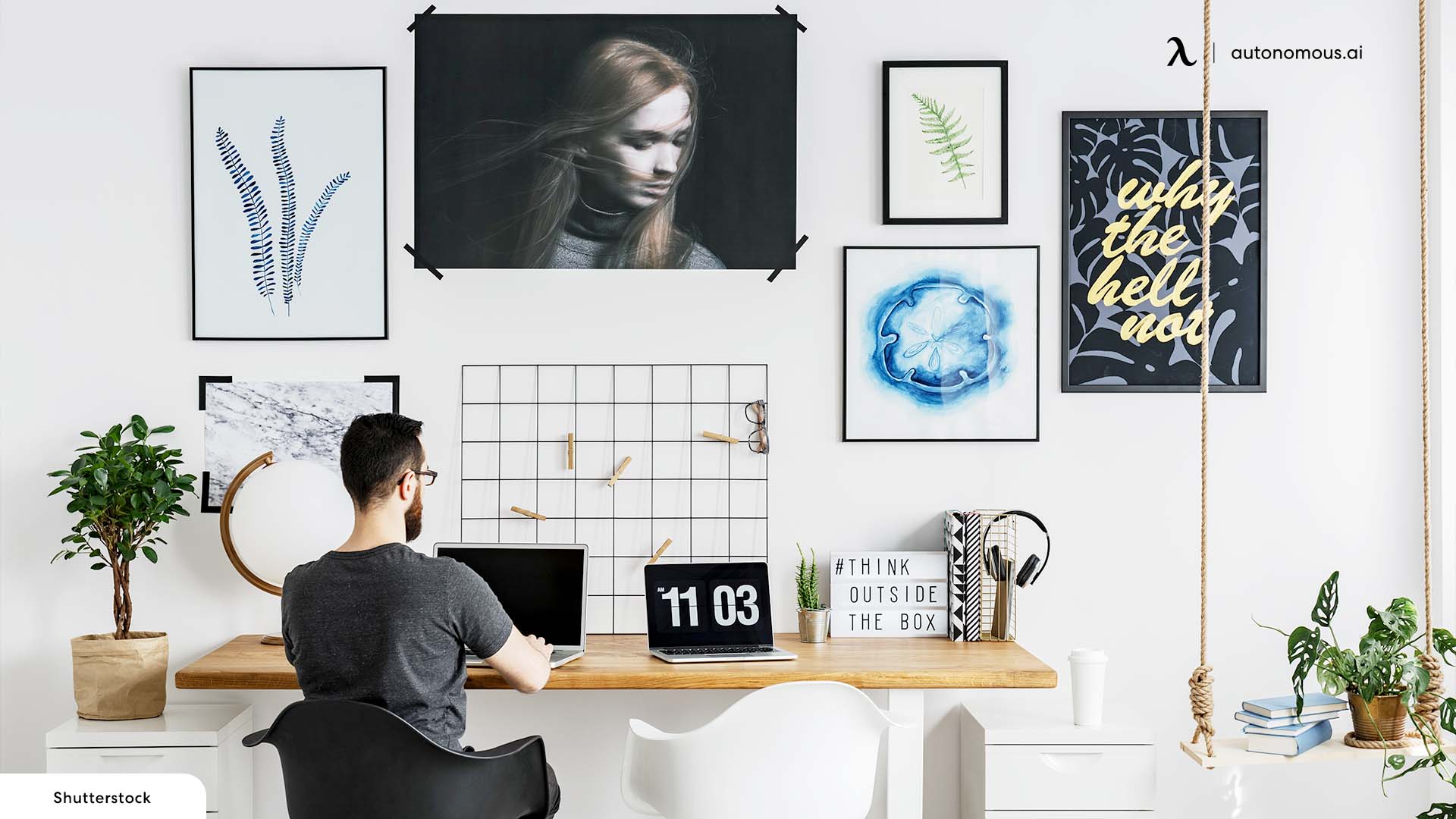 Neutral tones are perfect for a workstation. They're non-distracting and quite comforting. Plus, they're easy to combine with any office design you may have in mind. This side-by-side shared home office is perfect for people that prefer neutral colors and would like to have enough space at their workstations.
9. Pink dual workplace
Pink is a color associated with certain positive qualities, such as optimism, hope and tranquility. Although we know that this color isn't for anyone, you don't need to make your whole workstation white – including pink elements like paintings or wall decorations should be enough.
Pink also grants you enough creativity to build the workstation of your dreams.
10. Home office for two in a small kitchen space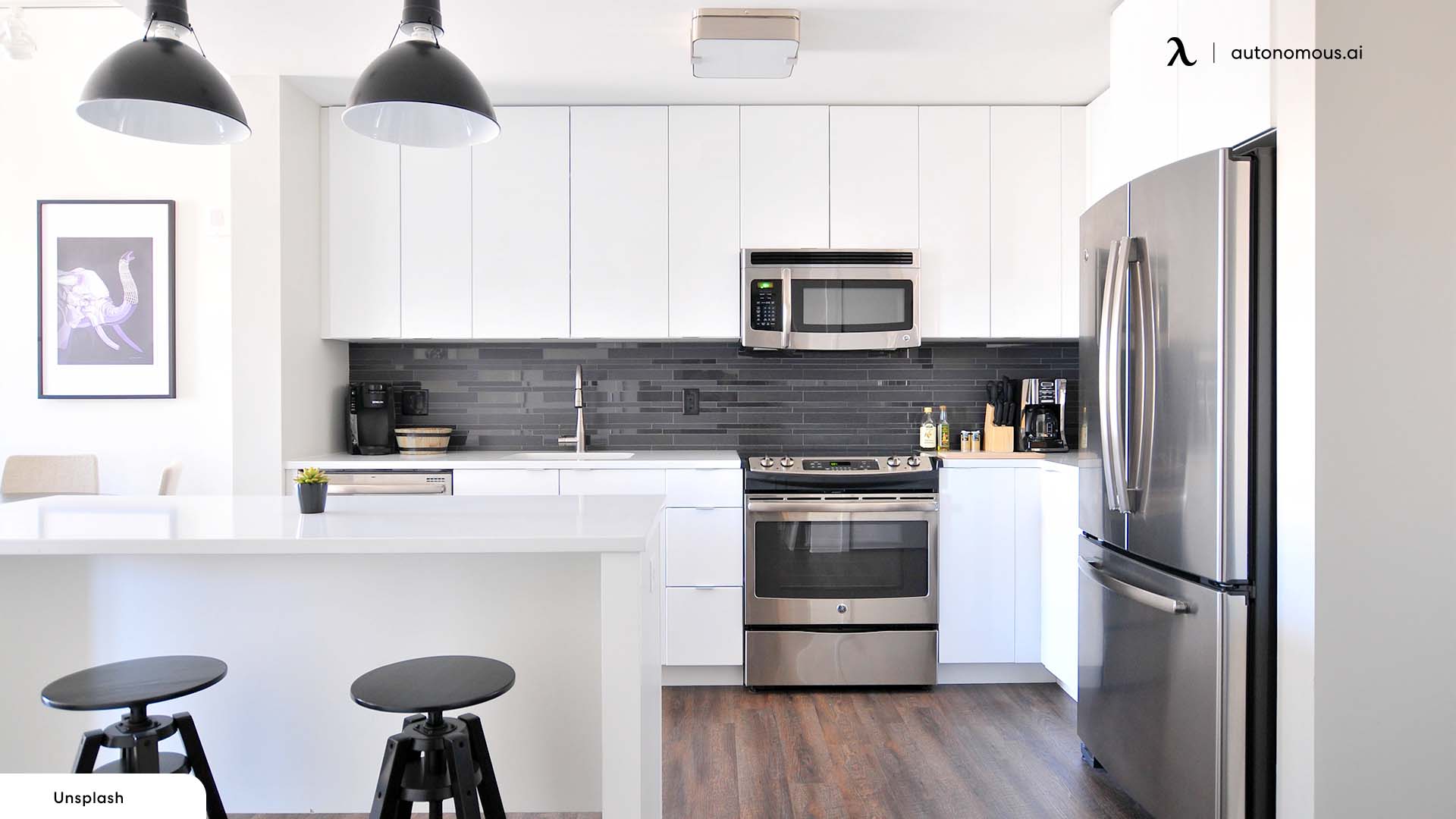 Sometimes, you can't build your home office in a specific room, but you can take a small space in another area to allocate your workstation. This is the case for this shared home office design, which takes advantage of the kitchen's light sources and uses two different small areas to create workstations appropriate for two workers.
11. Retro style two-person living room office
If you enjoy the retro vibes, then this workstation is perfect for you. Besides being highly functional and comfortable, this home office for two is quite simple and easy to achieve.
Along with a dual desk, you both will be able to work at your workstation comfortably throughout the day.
12. T-shaped home office desk for two
T-shaped desks are incredibly convenient due to all the space you will have available. You can use the remaining space in the back area of the desk for another purpose, such as an extra table where your children can do their homework.
13. Wave-shaped home office
A wave-shaped home office works better if you place it in a corner. Like other styles listed, you will be able to take advantage of space as much as possible while keeping the whole room good-looking. It's an excellent dark green home office that will remain timeless.
Keep up with Autonomous news
Stay informed, stay inspired with our new blogs.
WRITTEN BYAutonomous
We build office products to help you work smarter.