Smart Products
10 Ergonomic and Unique Desk Accessories For Your Workspace

Autonomous
|
Apr 4, 2022
1,922 Views
Desk accessories are essential items to add to your workspace, but not everyone understands their importance. Overall, they can enhance your productivity, prevent injuries, and help you work better if you can identify the ones you need the most. This guide offers you some information you should consider, and a list of the best items to buy! 
Why You Should Get Desk Accessories
There are many essentials you should get as an office worker. A fantastic desk, an ergonomic chair, and convenient lighting are just a few examples of this.  
Even though buying the ideal sit-stand desk is essential, there are other crucial additions you should keep in mind when you're setting up your workspace. Buying office desk accessories is essential, but you might not know why. 
When you have cool desk accessories, your table looks much more beautiful. However, aesthetics is not the only reason why you should incorporate them into your workstation.
Functionality and productivity can also increase if you have the best desk accessories. Incorporating convenient items into your workstation allows you to work faster and better, and you can only experience this once you buy them. 
Even though you need a high-quality chair and table, you shouldn't underestimate how much other items can help you. With fantastic ergonomic office accessories, you can be much more productive as well! 
Best Desk Accessories List
You now understand the importance of having ergonomic accessories for your desk. Thus, take a look at some of the items you should buy: 
1. Deltahub Wrist Rest
If you're an office worker, it means you spend hours in front of your computer. Nonetheless, this is not the only thing you do – you probably type the whole day long or at least a good part of it. 
When this is the case, you need something that can support your wrists and decrease the risk of suffering from common injuries, such as stiffness, pain, or even carpal tunnel. 
The Deltahub Wrist Rest is the ideal accessory to incorporate in this case, particularly because it can provide your wrists with the support they require. At the same time, it's an aesthetically pleasing addition to your workstation, so you never need to worry about your workspace looking unstylish. 
2. Monitor Stand
Another item you should keep in mind is a monitor stand, particularly in cases where your desk doesn't offer many adjustable features.  
A monitor stand allows you to adjust the height of your screen, and this helps you make sure that it's always aligned correctly with your line of vision.  
Buying a monitor stand can also provide you with extra desk space. Since you're putting your screen on the stand instead of the table, you can use that space to organize some of your office supplies or keep it clean and clutter-free to make your workstation look neat. 
3. Mount-It! Adjustable Laptop Stand
The world of desk accessories would not be the same without a laptop stand, particularly for office workers. Nowadays, most people own a laptop, whether or not they work in an office. 
However, if you're an office worker, you probably use your laptop for work and need a handy Mount-It! Adjustable Laptop Stand to help you place your computer in a convenient spot.
This is definitely one of the must-have desk accessories you should consider when you're setting up your workspace. If you want something convenient that can enhance the look of your surroundings, this might be the item you're looking for. 
Moreover, a laptop stand can benefit your eyesight and prevent neck strain. It helps you keep a healthy posture, which might be very beneficial in the long run. 
4. ErgoActive Lumbar Support
You now know about laptop stands, wrist rests, and more, but what about your back? If you're worried about it, the ErgoActive Lumbar Support is here for you! 
When you're a responsible office worker, you understand that getting an ergonomic chair is a necessity. However, there are ways to make your sitting spot even more comfortable and getting some office desk accessories that help you with it is probably one of the best strategies to try! 
The ErgoActive Lumbar Support is a fantastic accessory to your chair. It's a pillow, and all you need to do is place it in your lumbar area and start enjoying its effects on your lower back. 
5. Filing Cabinet
Office workers often need to organize a myriad of documents, and unfortunately, a lot of them don't have cool desk accessories to help them with that. 
Thus, buying a filing cabinet is a fantastic idea, especially if you want to keep your surroundings clutter-free. Although there are many desk accessories, not all of them offer the same benefits. Therefore, you must examine what you can get from each one and determine which one is the best for you. 
With a filing cabinet, you can quickly organize all your papers and documents. If you don't have much to sort out, it can still help you avoid clutter and be more productive while you're working, so it's always a fantastic addition to your workspace. 
6. Magnetic Desk Organizer
Clutter is the number one enemy of all office workers. It can hinder your productivity, make you lose precious time, and much more.  
When your desk is full of clutter, you might spend a lot of time trying to find the items you need to get through your to-do list. Additionally, it can hinder your productivity because you're constantly frustrated as you try to locate what you require to meet your deadlines. 
Therefore, any office desk supplies that help you avoid clutter and make your work life easier are worth looking into, and a magnetic desk organizer definitely falls into this category.
This model gives you an outstanding bamboo base, which is sturdy and long-lasting. Thus, it can be by your side for months or even years and you can still enjoy its benefits. 
The boxes' primary material is plastic, but since the model includes magnetic parts, the smallest items in your office can't get lost in the clutter of your desk. If you have pins and clips, for example, you can quickly organize them and make sure you always know where they are. 
Although this design looks as if it's something that many people would sell, it is patented in the United States, and you might not get a model that offers you so many benefits.  
7. Knodel Desk Pad
You deserve to rest your arms and wrists in something that's not plastic or wood. As was mentioned before, you're spending most of your day typing, so you need the best desk accessories to prevent injuries (a desk pad might do the trick!). 
Injury prevention is not the only benefit of having a desk pad, though. It also helps you be more productive because you can type faster if your wrists are comfortable while you're writing. 
This model fits comfortably on most desks because its dimensions quickly adapt to any table. Furthermore, it's easy to clean, so you can quickly take out any dirt that sticks to it. 
Lastly, the Knodel Desk Pad comes in six different colors. Therefore, if you want to change things up and add some vibrancy to your work surroundings, this desk accessory can help you with that! 
8. Microsoft Ergonomic Mouse
The mouse is probably the most important office desk supply after your keyboard and monitor. It's what you use to navigate through the web, check out your to-dos, and much more. Thus, you should guarantee that the one you have benefits your wrists and hands. 
An ergonomic mouse can completely change your life, especially if you get Microsoft's. Its design is ideal for any hand because it allows it to perfectly fit around it. 
In other words, if you get the Ergonomic Mouse by Microsoft, your hand doesn't hover over the buttons. Instead, it comfortably fits around them, which allows you to feel comfy even after hours of work. 
This cool desk accessories option is so excellent that it offers adjustable features as well as Bluetooth and a thumb rest on the left side. You can quickly change some of its characteristics if you want. A good example of this is adjusting its design to reduce the number of times you have to raise your pointer finger. 
9. Anker PowerWave 2 Wireless Charger
If you're an office worker, you probably use your phone a lot. Don't worry, no one's judging you - everyone does it! In fact, the average worker picks up their phone at least 58 times a day. 
The downside of picking up your phone so much is that it can strain your wrists and shoulders. In the long run, you might suffer from several issues, such as pain or stiffness. Therefore, getting some desk accessories that help you prevent this probably sounds like a fantastic idea. 
Buying this wireless charger means you get a specific spot where you can charge your phone up to its max capacity. The charger lifts your mobile so it's tilted, which means that it can sit at a comfortable angle where you can check it if needed. 
Another fantastic characteristic of the office desk supplies alternative is that it charges your phone at up to 15W, and this is the max charging speed for both iPhones and Androids. Therefore, you get a fantastic item that can enhance your productivity and prevent you from having injuries! 
10. Raise+ by Fluidstance
The last item on this list is Fluidstance's monitor riser, which might be the ideal addition to your workspace if you want to prevent neck and shoulder strain.  
Overall, office workers are at risk of suffering a lot of issues that regular people don't usually go through. You might have wrist pain that becomes carpal tunnel syndrome, leg stiffness and blood circulation problems, back pain, and so on. 
Therefore, preventing all of these issues is essential. Getting desk accessories to help you with this is a fantastic idea, particularly if you can avoid your body from suffering unnecessary pain.
The Raise+ is a monitor stand as well, and even though it's not as famous nor as convenient as the Mount-It, you should keep it in your list of must-have desk accessories in case you want a different alternative. 
Neck strain can seriously hinder your productivity and affect the way you work, so getting a monitor mount is essential, and you should prioritize it when you're buying your office desk supplies. 
Can Desk Accessories Enhance Your Productivity?
Office desk accessories can definitely enhance your productivity if you know how to choose the right ones and use them to your favor. In other words, you might get a lot of desk accessories and perks for your office, but if you can't identify the ones you need to be more productive, you'll likely end up working the same way you always did. 
Being an office worker requires you to pay attention to a lot of things, including your body. Thus, if you know how to do this, you're probably able to identify the accessories you need. 
A good example of this is knowing that you suffer from lumbar pain. If this is the case, getting something that helps with that is probably the best decision you can make. 
Should You Spend Money on Desk Accessories?
Absolutely – you should always spend money on something that can help you work better, and this is the case with most supplies for your office.
Some people believe that getting a monitor mount is superfluous, or that a desk pad is unnecessary. However, once you get the ergonomic accessories you need, you might realize that they can enhance your productivity and change your work life. 
Keynote Takeaways
Desk accessories for your office are necessary. You spend hours in front of your computer, so you need items that help you with your job. Now that you know about the best options on the market, get the ones you need!
Video ads for product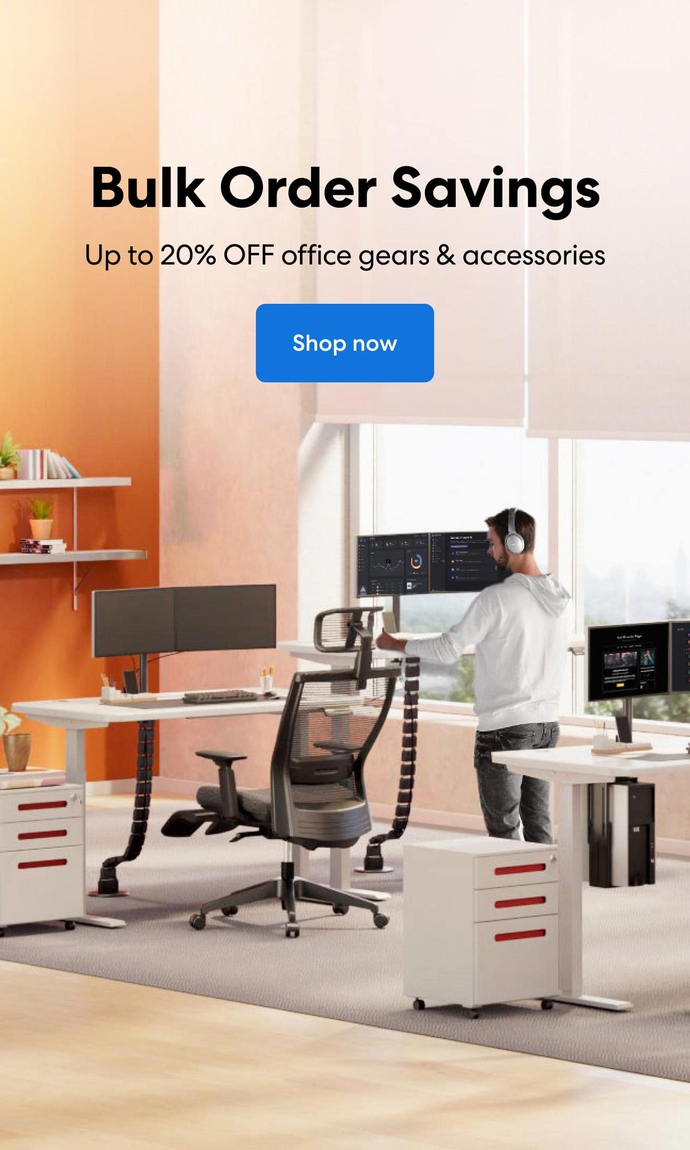 Subcribe newsletter and get $100 OFF.
Receive product updates, special offers, ergo tips, and inspiration form our team.