Workplace Inspiration
10 Interesting Home Office Accent Wall Ideas For You
3,005 Views
Ever since the pandemic locked us in our homes, your home office has become your personal workspace that you use to do all your office tasks. Since you spend a lot of time there, it is vital to decorate it in a way that pleases you. People often think about home office accent wall ideas when they are making such plans.
It is seen that your office's walls are where you usually start decorating it. Featuring accent office walls is one of the ways of successfully executing the decoration phase. There are multiple wall designs for offices, but the best one of all is the one that matches the color scheme of your home office.
Getting accent walls is the best way to decorate a dull home office because it gives your office room a new life.
Today, we have come up with the best office accent wall ideas to give you an idea of what you are supposed to do in your office space. We'd suggest you skim through this article to get know-how about these accent office walls.
So, without any delay, let's begin this venture. 
1. Floral Print Accent Wall Design
The floral print accent wall design is one of the best accent walls that you can think of going for. If you are artistic enough, paint the front wall of your office space on your own. You may think of drawing and painting some colorful flowers on your wall to give it a splash of colors. You may even look for other office wall painting ideas to get more creative here.
The second possibility that you can adopt to have a floral print accent wall design is that you buy a floral print wallpaper. There are multiple floral wallpapers that are available in the market, so you can pick the one that suits your requirement and budget. 
2. Contemporary Accent Wall
The contemporary accent walls have become the latest fad in home offices. You will usually find such accent walls in a modern home office. You may think of getting this wall painted with a nice texture of gray or black and putting up some wall lamps to make it look aesthetic. Making these alterations will make your office look aesthetic yet minimalistic. 
3. Decorative Home Office with Accent Walls
Another way of going creative with your accent office wall is to put up decorative items like photo frames or art pieces. You may think of adopting a wall design for your office or setting a specific theme for this selection. You may even choose to stay monochromatic. However, adding a splash of colors will make it look funkier and would suit people who love being artsier. 
4. Black Accent Wall Paint in Home Office
If you have a masculine home office, you might think of going for dark colors that men usually like. A black accent wall office would be an ideal choice for such office workers. Nevertheless, this office décor is not restricted to any gender, and you may go for it if black accent walls match your classy personality. 
5. Wooden Accent Wall Design
The wooden accent wall design is one of the most unique home office accent wall ideas. To adopt this wall design, you may think of putting up wooden tiles on your office walls or using wooden wallpaper. For the latter, you will only have to stick the wallpaper on your walls, so it will not require much work from your side. 
6. Cream Colored Office Accent Wall
If you are a fan of minimalism and neutral colors make you calm, you can think of going for the cream-colored accent office wall. Since this color is quite light, it radiates positive vibes and ensures you stay focused while working on your tasks. Nevertheless, if you find them too dull, you may think of putting up some complimentary frames to make them look better. 
7. Masculine Home Office with Accent Walls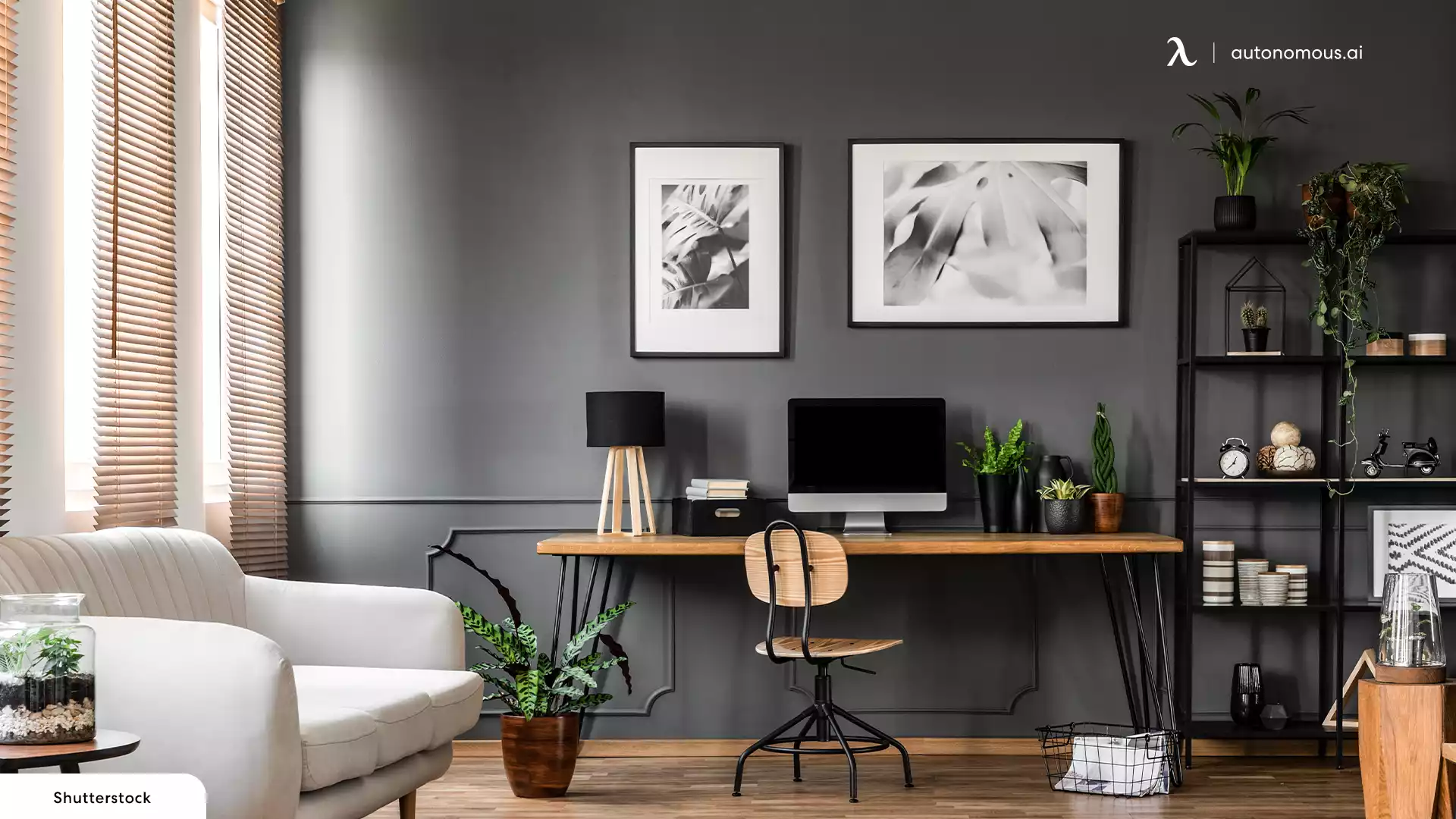 The masculine home office with accent walls is ideal for those office workers who wish to have a darker accent office wall. To adopt this office accent wall idea, you may think of painting your office walls with a dark texture or color like dark blue, black, brown, etc. All these accents will help you create an environment that will suit your mood. 
8. Bright Orange Accent Wall Paint in Home Office
The bright orange accent office wall is ideal for promoting a positive attitude in your home office. Bright orange is a color that you usually don't see when you are looking for home office designs. That's why you will find this accent more unique and let you make your home office look more exclusive. 
9. Nature Inspired Home Office Accent Wall
Nature-inspired home office accent wall colors are loved by all those office workers who are a fan of nature and greenery. You may think of setting up a green home office to make your nature-inspired walls complement your home office.
A green accent office wall will be a nice choice in this regard; however, you may think of going for some nature-inspired room wallpapers to make it look more aesthetic. 
10. Blue Accent Wall Paint in Home Office
Lastly, going for the shades of aqua is among our most-liked home office accent wall ideas. A blue accent wall paint in-home office will radiate positivity in your workspace and make it look pleasant overall. So, you may go for it if the shades of blue color make you feel calm and help you concentrate better on work.
Subcribe newsletter and get $100 OFF.
Receive product updates, special offers, ergo tips, and inspiration form our team.
WRITTEN BYAutonomous
We build office products to help you work smarter.