Clear borders, drab colors, and compartmentalization are critical to making a functional home office. It even applies to a masculine home office as well. If you're a guy looking to rejuvenate your home office and make use of available space, consider some masculine home office ideas. You may think it's easy to do that using some masculine home office décor or throwing some things together.
Ultimately, you're left with a big mess and may even add in things you don't require! We've got some of the best, easiest, most functional masculine home office designs here. These cater to a well-planned, distraction-free office space that keeps your business-ready and comfortable. They're also home office design trends that can help you build to entertain potential associates or clients too.
List of masculine home office ideas
Some men think that a laptop or PC on top of any flat surface forms a desk, and that will do! But, to be fully operational, you need a lot more than that and these men's office decorating ideas. These ideas are centered on creating a comfortable place, defining work and home boundaries, and making it easier to get into work mode.
The traditional look
This is one of the oldest and best-loved home office ideas for him. It is an aesthetic inspired by the 1960s, and that includes a lot of wood furnishings, leather accents, books on the wall, a well-stocked bar, and some cigars. The look might feel a bit too excessive, but it is very easy to make if your den already has a lot of traditional furniture. Clients might even appreciate a glass of Scotch and be impressed with this business presence.
Desk as a focal point
This is one of the best home office corner desk ideas; a way to redo your home office without investing in a new furniture desk, etc. Use the desk to get a new look by repositioning it in a way that it stands out from the rest of the room. When placed appropriately, you can bring the space together. The desk is a focal point from the functional perspective as well, especially if it's an adjustable standing desk. Additionally, you can use the desk to determine what kind of décor you would like to use – if any. You might need to readjust your surroundings, home office wall decor so that it blends with your new room look.
Choosing other furniture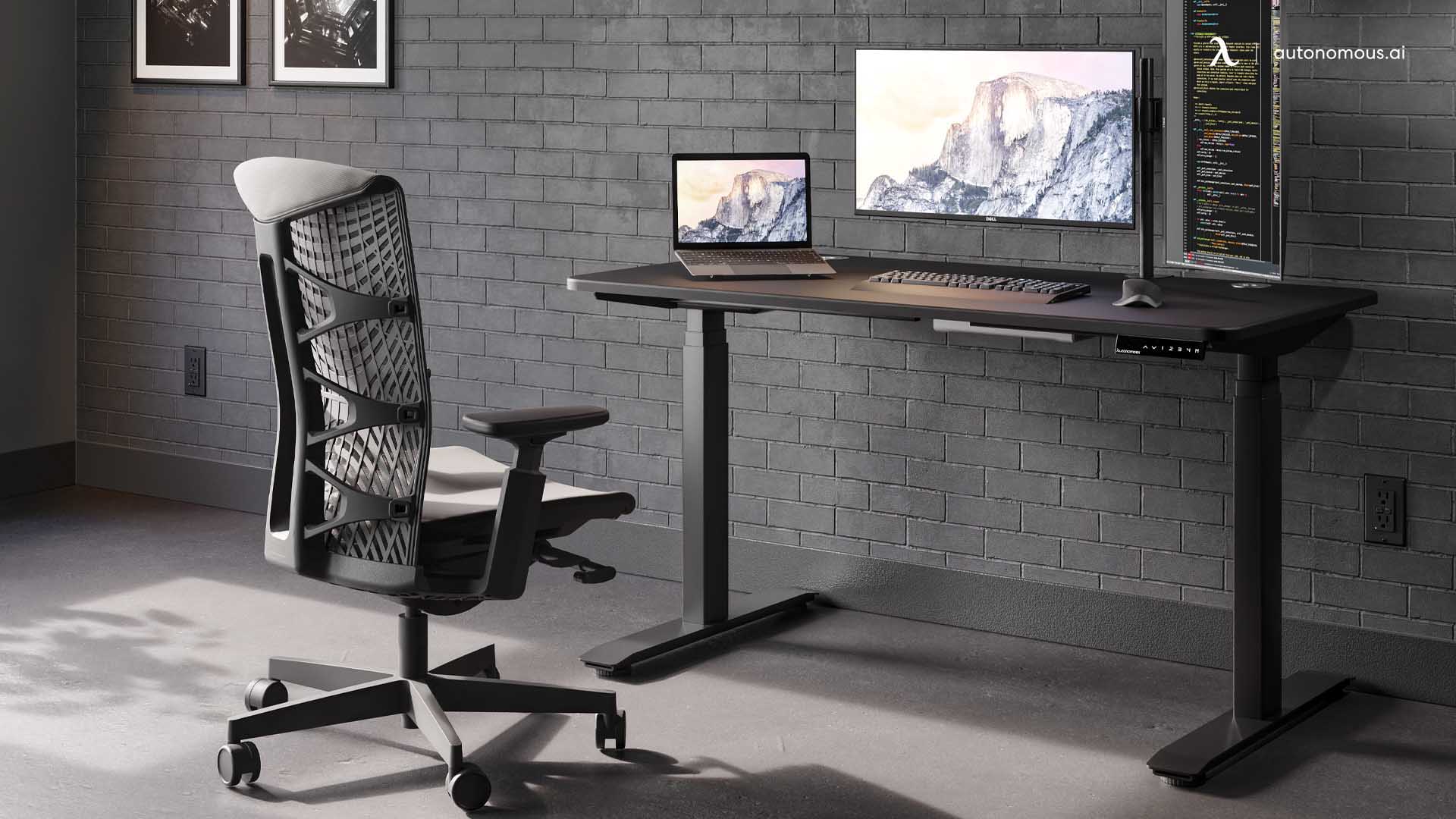 To make the most of the newly reinvented room, you need the right chair. Now that you've made your room look and feel more comfortable, why not buy an ergonomic chair to go with it? It is an important part in the masculine home office ideas. The wrong chair can lead to irritations, back problems, and inability to enjoy your room. There are plenty of chairs with masculine, distinguished looks that look smart and are comfortable. If you really wish to amp things up, then try a chair in quality dark leather.
A meeting area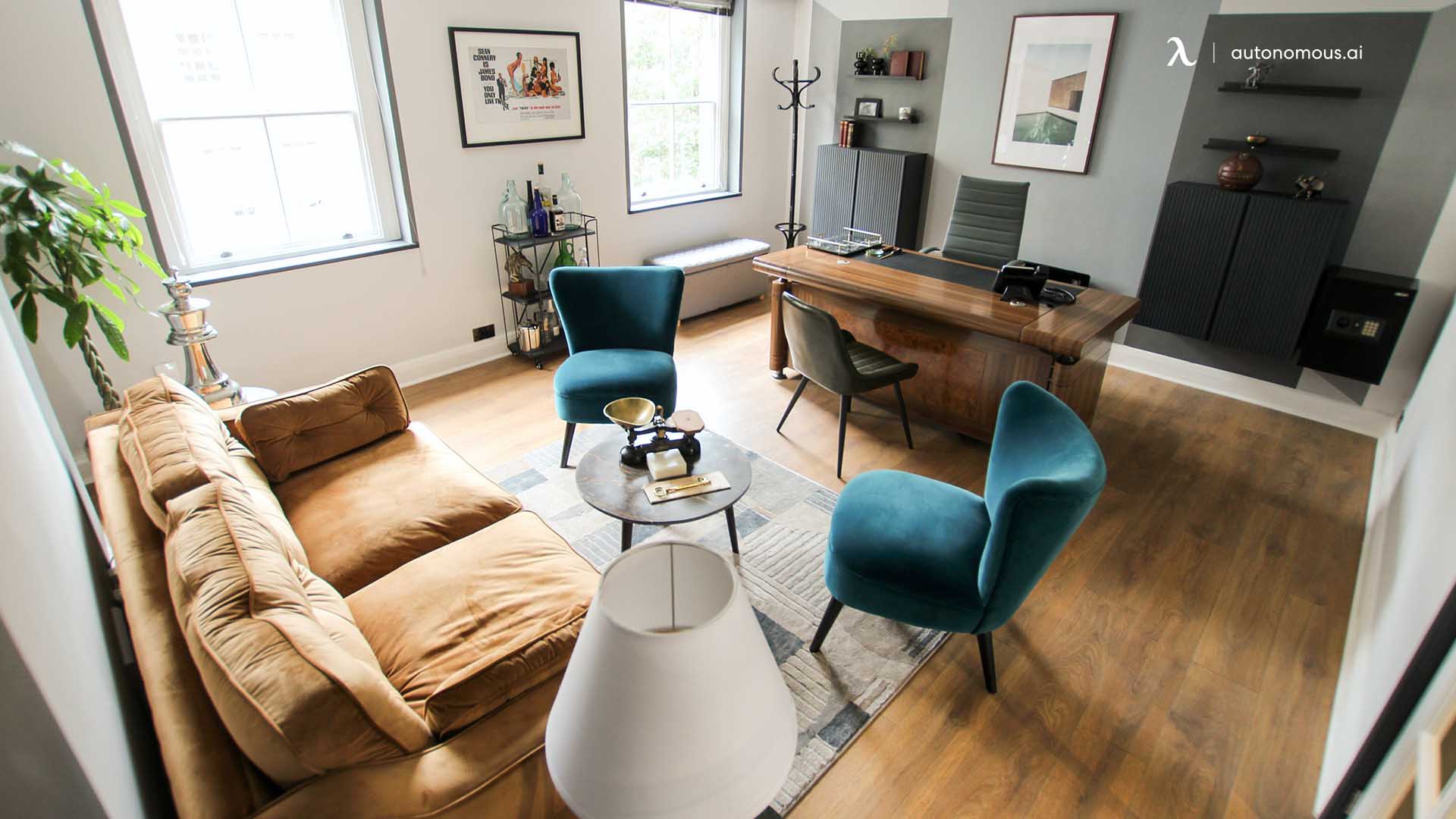 Sometimes your desk might get in the way of talking to someone on the other side of the desk. It's even more awkward when you use a one-person adjustable standing desk as well. If you have extra room to spare, why not set up a sitting area where it's easy to discuss things with clients. It provides your workspace with a very business-like feel and helps you really interact with colleagues, associates, or clients. Other times, this place can double as an area where you can rest or take a break.
Choosing colors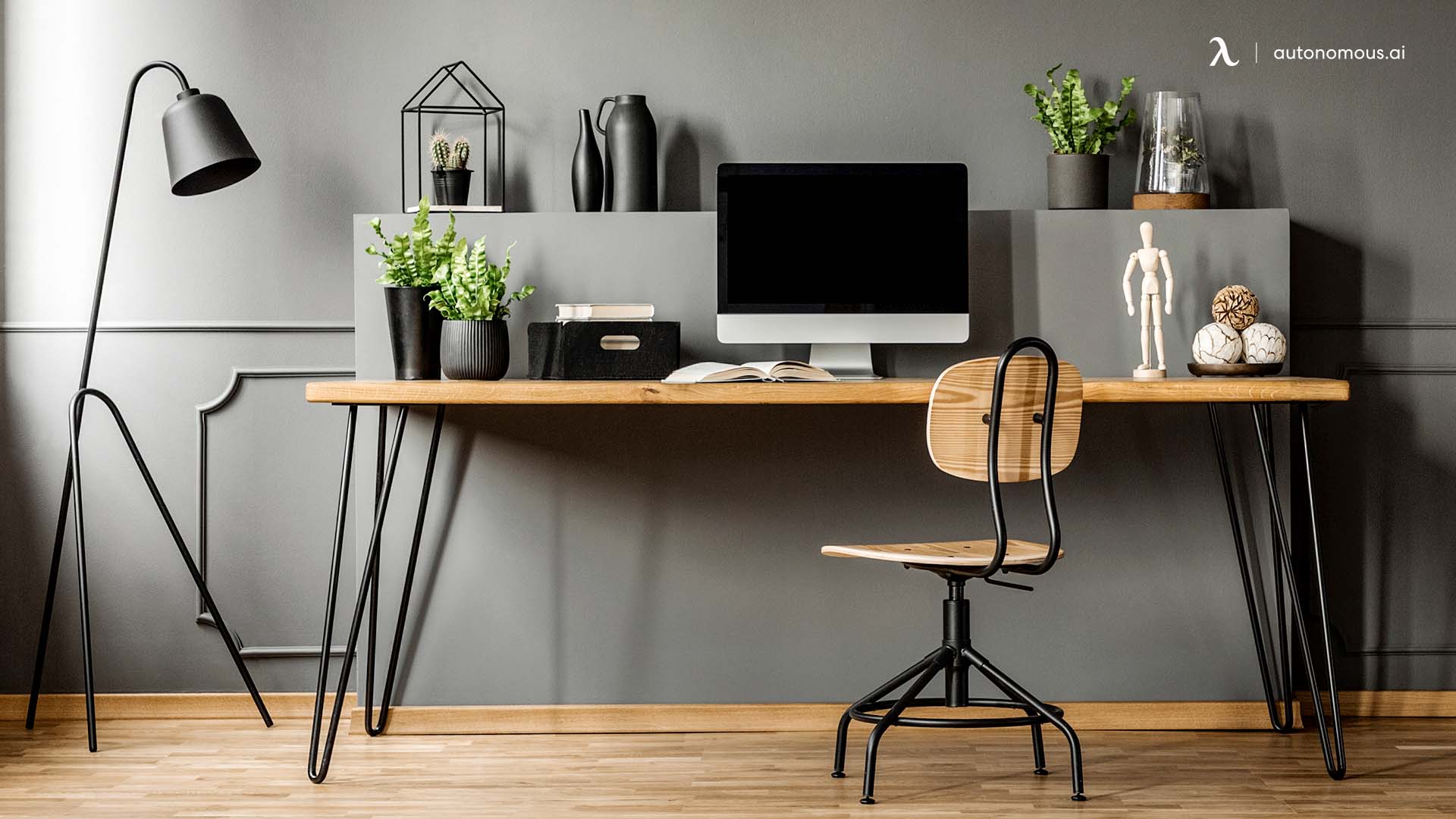 Certain materials and colors connote that touch of masculinity; even have a full black home office. The most obvious choices are the burgundy woods, dark leathers, and even some softer shades like grey. You can complement these shades with modern adornments, usually in gold, brass, and other metals. A guy's home office is normally free of brighter shades like orange, pink, yellow, and purple. If you do want colors, then try matching lighter accents on the seating and rugs. Try a calming, deep semi-gloss blue on the walls while keeping all other elements neutral.
Details in the décor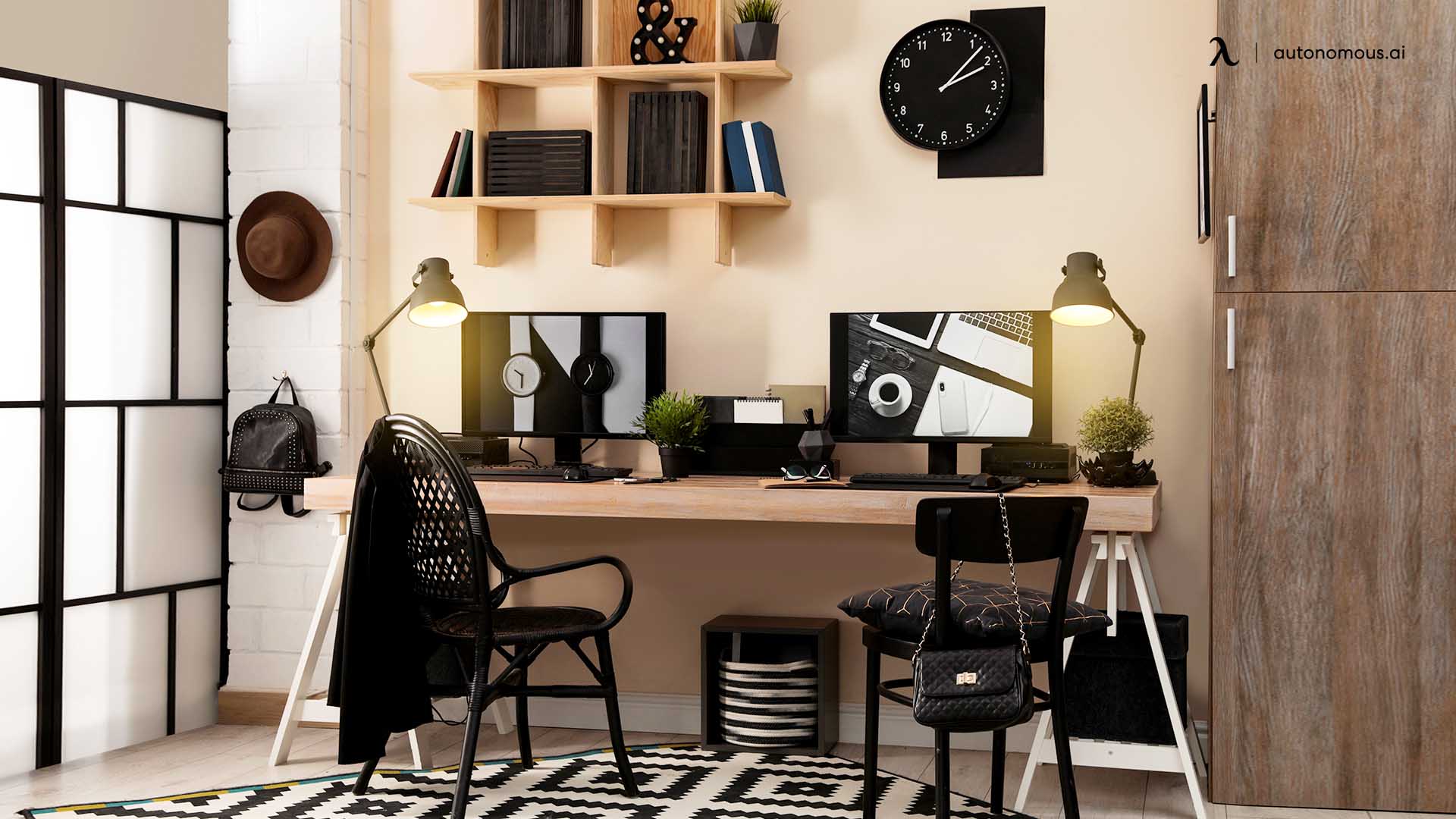 Your home office is a reflection of your personal style and interests. Add in those details to pull the new aesthetics together. These may include décors like lamps, plants, books, gadgets, artwork, and more. The important thing is to ensure that all décor matches your interest and hobbies. It should sync with the other furnishings and reinforce a uniform vibe. You can use wallpaper with a textured finish, use brown furniture or throw in a big patterned rug. Consider faux roman window treatments or shades that are affordable and very luxurious.
Adding a nice view
Make sure that you use the big window you have in your masculine home office ideas. If you have a spectacular view, then use it to its fullest potential and redesign the office around it. If you have a view of the town or city, then your home office can reflect a minimalist or modern look. If you have an outdoor view, then the office can look more rustic.
Adding a bar?
There's just one thing that's missing in the masculine home office ideas, now that you have the perfect bar! Based on your tastes and preferences, you can store a supply of liquor in a bar and use it when there is an occasion. You could use this addition to impress clients. Decorating this bar requires some thought: you have to ensure that it matches the overall office space vibe.
Get exclusive rewards
for your first Autonomous blog subscription.

WRITTEN BYAutonomous
We build office products to help you work smarter.
Coming at You Live from Autonomous' Social Media!
Please fill the information below.
Thank you!