Workplace Inspiration
Unique And Inexpensive Appreciation Gifts for Employees
2,097 Views
Most of your waking hours are spent with your employees. One minute you are setting new goals, the next, you are rushing through deadlines. However, spending so much time with your employees will require you to acknowledge their hard work. However, professional employee appreciation gifts aren't always a bed of roses: budgeting can be difficult.
Chaos and drama are common. It doesn't take long before nobody is interested in your employee appreciation gifts ideas. On average, you can spend between $15 and $75 per person per occasion on employee gifts, depending on the event and the recipient. However, there can still be exceptions when it comes to looking for good inexpensive employee appreciation gifts.
The Purpose of Giving Employee Gifts
There are several reasons why businesses and organizations give gifts to their employees:
To show appreciation: Giving gifts is a tangible way to show your employees that you appreciate their hard work and contributions to the team. It helps to build morale and create a positive work culture.
To improve employee well-being: Gifts that promote self-care, such as massages or gym memberships, can help improve your employees' overall well-being.
To recognize accomplishments: Employees can be recognized and rewarded with gifts like reaching a sales goal or finishing a big project.
Overall, giving gifts to employees is a way to show appreciation and appreciation, encourage loyalty and retention, and improve the health and well-being of employees.
Inexpensive Employee Appreciation Ideas
As a manager or business owner, showing appreciation for your employees and their hard work is important. But finding unique and affordable gifts can be a challenge. That's why we've compiled a list of inexpensive appreciation gifts for your employees that will make them feel valued and appreciated.
From a desk pad to an office footrest, these gift ideas are budget-friendly and sure to be appreciated by your team. You can also use them as welcome gifts for new employees because appreciation at the start can lead to something great.
1. Snack & Sip Box
Snack & Sip Box, what exactly is it? The perfect inexpensive appreciation gifts for employees bundled with healthy snacks, high-quality sweets, and fine wine. Your coworkers will enjoy receiving this employee gift while they're lounging by a cozy fire or on a comfy couch. The cheap employee appreciation gifts will support small batches and minority artisans.
The employees would love the wine, chocolate bark, lightly roasted almonds, and other organic snacks that strike the perfect balance of robust and bitter flavors. Furthermore, you will also have the satisfaction of knowing that your employees have supported a good cause with such cheap employee appreciation gifts.
2. Customized Desk Accessories
Every one of your most important employees will receive VIP custom office accessories! Personalized tech desk accessories they'll likely use daily: wireless speakers, portable chargers, heated mugs, water bottles, and weekend bags.
3. Specialized Lunchboxes
Offering employees a premium lunchbox is a great way to encourage them to eat healthily. It is possible to pack things that look impossible to transport, such as messy salads and soups, in bowl-shaped lunch designs. These are perfectly sized and shaped for hauling anything. Kids will love that they aren't limited to sandwiches anymore.
4. A Day Off
Ideas can be as simple as they are complex. Employees who are overworked and overstressed can benefit greatly from an extra day off. As a result, they will be able to watch a multitude of movies they haven't seen or enjoy a picnic with family and friends. Or maybe it will be a peaceful day for sleeping in. A day off from work is one of the few things employees love more than weekends and one of the best ways to motivate employees.
5. Offer Rxclusive Gift Cards
The popularity of gift cards is common knowledge. People can buy anything they like from their favorite brands using gift cards. Make sure you know what your employees like so that you can offer them gift cards or other employee recognition gift ideas that are personalized for them.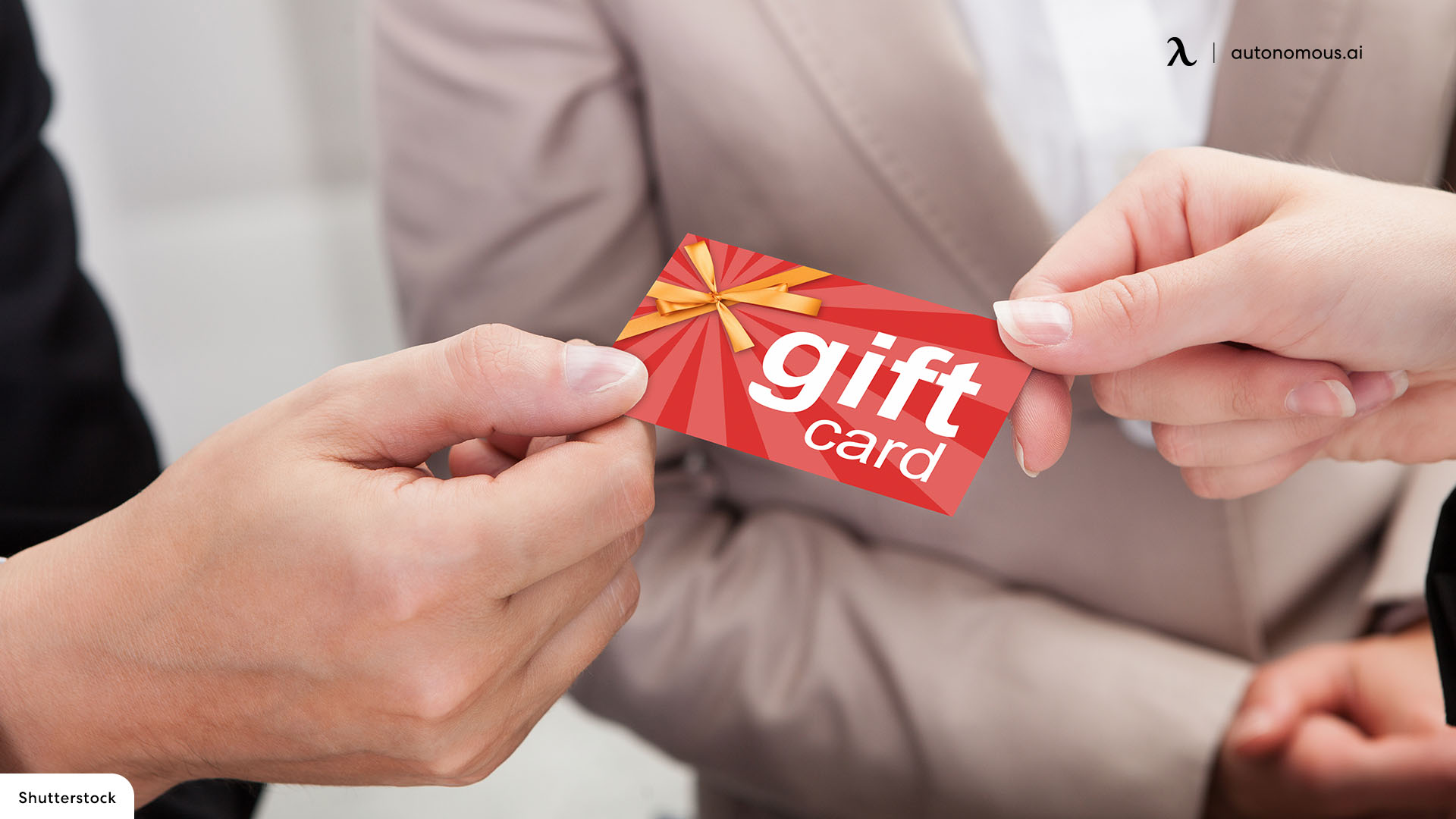 6. Hosted Lunch Events
People come together over food in a very natural way, and it is possible even as virtual recognition ideas. Team lunches are a wonderful way to build relationships among your team members. Hold them privately, without inviting your executive staff. Your employees may feel intimidated. Keep them out of the cafeteria if possible.
At this time, you should only pay attention to the people sitting in front of you. For at least 30 minutes, clear your schedule. Your employees will feel closer to you, and your employer-employee relationship will be strengthened due to our meeting together.
7. Subscriptions as Gifts
What if you could give someone the gift that never ends? Subscription boxes are the answer. Today, you can show your appreciation in various ways, from a monthly Netflix subscription to a news or magazine subscription. There's something in a box to suit everyone's taste today!
Moreover, it does not need to be expensive. This cheap employee appreciation gift could be a subscription to a magazine on a topic they would enjoy, treats for their pets, snack samples, and more. You can do this continually to keep your employees feeling appreciated.
8. A Redesign of the Break Room
Are you looking to improve employee morale while increasing productivity and boosting creativity? A breakroom could be the answer. Research published in Healthcare Design Magazine found that dramatic changes made to a health facility's break room reduced staff stress and fatigue.
Video game consoles and "lush" couches would be nice additions. Make each floor of their facilities have some really "tricked out" kitchens. Staff is offered Razor scooters at random in their office to keep them in motion to think better.
9. Assistance with Traveling Expenses
In addition to the workplace location, the cost of commuting is heavily influenced by the employee's location. Commuting to work might not be prohibitive for one employee, but it might be costly for another.
It's important to promote your actions across multiple modes of transport to appeal to the broadest audience. The office can arrange for subsidized taxis and bus fares so that the commute becomes a little bit easier for employees.
10. Benefits Exclusive to Employees
It is common for companies to provide perks to their employees: fully stocked kitchens, corporate team events, and MacBook Pros. Employee benefits are generally useful but not inspiring. Materialistic benefits fit the bill. What employees want is an exceptional working environment. Corporate rewards should be based on experiences rather than cash. A company can motivate and retain top talent by offering hikes near volcanoes or diving with dolphins.
11. Workspaces Tailored to Each Individual
Companies like Google and Airbnb understand the importance of a good workplace. Giants like Google and Airbnb have valued the physical environment of their offices above all else. Google and Airbnb have figured out the importance of the physical space of the office. Workers can also decorate their workspaces to build relationships within the company. Employees feel at home at work when there is an appreciation program.
12. Treats and Good Food
Free food is always a good thing for inexpensive employee appreciation ideas. Having good food to complement your interesting work is a must. But that rarely happens. Providing young employees with free lunch and coffee is an extremely effective and cost-effective way to motivate and control them. Besides desserts and ice cream, desserts are the only thing that relieves stress. A dessert buffet can be a lot of fun and enticing.
13. Team Members Day out
A team should play together. It is sometimes best to let off some steam without being under pressure to perform when it comes to your team. Members of the team can then appreciate one another, resulting in stronger teamwork. Your staff will have the time of their lives with everything from relaxing walks in the countryside to exciting challenges. Sometimes, they'll bring their optimism and enthusiasm back into the workplace.
14. Gym Passes
One of employee appreciation gifts, a gym pass can provide the ultimate way to help employees start living a healthier life if they love to exercise or are inclined to adopt a healthier lifestyle. Healthier employees are more productive, happier, and energetic, so this form of appreciation is beneficial to the company.
15. Offer E-Learning Classes
A career advancement goal is what motivates today's workers to seek recognition and rewards. E-learning is the ideal option for achieving this goal. E-Learning is the preferred modern method for upskilling and learning while allowing flexibility regarding time and place.
16. Detailed Thank-you Notes
You can write thank-you notes to your employees, expressing your appreciation for their hard work and contributions to the team. This simple but thoughtful gesture shows your employees that you value their efforts. Make sure to include details about why you are thanking them and how they have contributed to the team.
17. Gift Cards
This is one of the inexpensive employee appreciation ideas. Consider giving your employees gift cards to a local coffee shop, bookstore, or restaurant to show appreciation. This practical and budget-friendly option allows your employees to choose something they will enjoy. Consider asking for feedback from your team to get a sense of their preferences and choose gift cards that will be most appreciated.
18. Homemade Goodies
If you enjoy cooking or baking, consider making homemade goodies for your employees. This could be a batch of cookies, a loaf of bread, or a batch of granola. This is a personal and heartfelt way to show your appreciation and allows you to use your culinary skills.
19. A Day Off
Make your employees feel good by giving your employees a paid day off to relax and recharge. This is a great way to show acknowledgment and give your employees a break from the daily grind. You could offer this as a one-time perk or as a regular part of the benefits you give your employees. It is one of the best inexpensive employee appreciation ideas (as it is completely free!).
20. Office Plants
Give your employees a low-maintenance office plant, such as a succulent or a snake plant, to brighten up their workspace. Not only do plants add a touch of greenery to the office, but they can also help to improve air quality and reduce stress. Consider giving your employees a small pot or planter and a plant of their choice.
21. Personalized Office Supplies
Consider giving your employees personalized office supplies, such as office desk accessories with their names on them, like an Autonomous Anti-Fatigue Mat. This is a practical and budget-friendly gift that your employees will be sure to use daily. Personalizing office supplies is another great way to boost team spirit and make people feel like they belong.
22. A Comfortable Chair
A comfortable chair, like Autonomous ErgoChair Plus, supports proper posture and reduces strain on the back and neck. This is a practical and budget-friendly gift that can help improve the comfort and well-being of your employees. You can also check out some office chair accessories along with it to add as a cherry on top.
23. A Fun Team Outing
Plan a team outing, such as a game night or a day at a local amusement park, to show your appreciation for your employees. This is a great way to foster team bonding and build morale. Make sure to consider the interests and schedules of your employees when planning the outing.
24. Lunch or Breakfast on The Job
Treat your employees to a meal to show appreciation. This simple but thoughtful gesture allows your employees to take a break from work and enjoy a meal together. Consider offering a variety of options to accommodate different dietary preferences and allergies.
25. A Personalized Photo Frame with a Special Memory
A personalized photo frame with a special memory is a thoughtful and inexpensive gift for employee appreciation. This gift allows you to highlight a special moment or memory you shared with your employees, such as a team outing or a milestone achievement.
Consider choosing a personalized photo frame with your employee's name or a special message. This gift is cheap and easy to change, so it's a great way to show appreciation for your employees. You can use Eco4Life 10.1 because you can change the images on it, but make sure to include one when you give it.
26. Customized Water Bottles
Consider giving your employees customized water bottles with their names or the company logo. This is a practical and budget-friendly gift that your employees will be sure to use daily.
Customized water bottles are also a great way to boost team spirit and make people feel like they belong. You can give them a DYLN Alkaline Water Bottle, which is extremely useful and stylish as a gift.
27. Fitness Equipment
You can give your employees fitness equipment if they are serious about staying in shape or healthy; it can be a great gift to show appreciation. You can get them something like the Walking Pad Foldable Walking Treadmill C2 so they can stay fit and happy.
28. A Journal
A journal or planner can help employees set goals, track progress, and grow. Giving them this practical and budget-friendly gift demonstrates that you care about their success and well-being. A journal or planner makes for a thoughtful and meaningful employee appreciation gift. It's a simple but effective way to show appreciation and invest in your employees' personal and professional growth.
29. A Movie Ticket
This is one of the great and inexpensive appreciation gifts for employees. Movie tickets can be budget-friendly and delightful gifts for employee appreciation. They allow your employees to relax and unwind after a long day of work, which can help to improve morale and reduce stress. Movie tickets are also a flexible gift, as you can use them on various occasions, such as a team outing or as a reward for achieving a goal. Movie tickets are one of the best cheap employee appreciation gifts that one can give.
30. A Personalized Desk Organizer
A personalized desk organizer is an inexpensive and practical gift for employee appreciation that can help your employees keep their workspaces clutter-free and organized. Consider choosing a personalized desk organizer with your employee's name or a special message to show your appreciation and care for their well-being and productivity.
This gift can be used daily, making it a practical and useful choice for promoting efficiency and organization in the office. You can give them The Office Oasis Magnetic Desk Organizer, as it helps with office storage & organization. It is one of the best inexpensive appreciation gifts for employees, one that will cost a lot less than the happiness and value it will provide.
Keep up with Autonomous news
Stay informed, stay inspired with our new blogs.
WRITTEN BYAutonomous
We build office products to help you work smarter.