Smart Products
Top 15 Picks of the Best Standing Desk Balance Boards (2023)

Megan Collins
|
Apr 28, 2023
6,006 Views
Very rarely, do people stop and think about the long-term effects of spending 10 hours a day seated behind an adjustable office desk. Our bodies, as resilient as they are, will eventually start to suffer the consequences of such a sedentary lifestyle. That is the primary reason why you need a standing desk balance board to help cope with those long office hours. 
Adjustable home standing desks are fast becoming an office essential, and according to research in the United States, they are now some of the most sought after office accessories by employees. A standing desk on its own is beneficial to the human body, but when coupled with a great balance board, such as those available at Autonomous, it really becomes a must-have item for every office. 
Asked about their experience using a balance board, many employees reported higher energy levels and greater productivity than ever before. A lot of balance board reviews are available online, endorsing one product or another, such that choosing the best balance board for your workstation might prove difficult. That is why we have taken the time to review the 15 best balance boards, including a couple of great Autonomous products, for your convenience. 
What Exactly Is a Balance Board?
While there is no exact definition of a balance board, it can be best described as a flat, sturdy surface, with something placed strategically underneath it to cause instability, thereby forcing the user to constantly adjust their standing position. 
Balance boards have grown very popular in recent times, especially, after research has shown the immense benefits that they possess. Many studies have shown that even when people put in some exercise time at the gym after work, it is not enough to fully counter the effects of sitting for sustained periods, which is why working on a balance board is preferable. 
A balance board can certainly be used independent of any other office furniture, for example when used as an exercise accessory, but to get the full benefit, it is better to couple it with a good standing desk. This setup has a lot of benefits for you, some of which we shall now discuss. 
Benefits of a Balance Board
The importance of maintaining a healthy and active lifestyle while working has gained significant recognition in recent years. As more people transition to standing desks, the demand for accessories that promote movement and balance has increased. Standing desk balance boards have become a popular solution to combat sedentary behavior and promote better posture.
Making proper use of a well-designed balance board, coupled with proper exercises, has a lot of benefits for you, both in the short term and for years to come. Here are a few of the benefits of balance board you should expect: 
Improves balance
Strengthens leg muscles
Increases general motor skills
Prevents injury, especially for the ankles
Hastens injury rehabilitation
Improves body posture 
Great Balance Board Exercise Ideas
Having a good balance board for your standing desk is good, but you can still go a step further by adding a few basic exercise routines to your daily schedule. These exercises don't have to be complicated maneuvers or even time-consuming. Just a few simple moves and stretches will be very good for your body. 
Here is a list of some good standing desk exercise ideas that are easy to do, and will fit into any schedule: 
Board Tilt – A great and simple exercise for strengthening ankles. Good for beginners.
Round the Clock – Challenges your balance while strengthening your core and lower legs.
Balance Board Push-UPS – Exactly what it sounds like. Push-ups while supported on your balance board.
Balance Board Dumbbells – Similar to ordinary dumbbell curls, but done while balancing on your balance board to strengthen your legs.
Balance Board Squat – Great for burning fat, and strengthens your calves, hamstring, and quads.
Balance Board Abdominal Exercises – Simple exercises that can be done while sitting on your balance board to strengthen your trunk muscles.
Balance Board Calf Stretch – Improves stability by stretching legs while standing on your balance board. 
15 Best Balance Boards for Standing Desks
The health benefits of having a balance board as part of your ergonomic workstation have been clearly demonstrated, and all that remains is to choose the best type of board that suits your office and style. Let's look into the top 15 standing boards available in the market currently. We will also give you a blueprint for choosing the best balance board according to your needs and how to use one properly.
1. Revbalance Focus Standing Desk Balance Board
First on our list is one of the best balance boards on this list. The Revbalance Focus Standing Desk Balance Board from Autonomous embodies everything good about having a balance board. It is specially designed to engage a wide range of muscles in your body, with special emphasis on that all-important body core. 
Thanks to its ergonomic design, staying fit using this board does not interfere with your work productivity because the swivel action makes it the ideal motion board for standing desks. It also fits in perfectly with all those beneficial exercises discussed earlier. 
Design-wise, the Revbalance Focus Standing Desk Balance Board is so slick and ultra-modern, that it will fit in perfectly with any dynamic office setting. A heavy-duty base and grip-coated top deck make it ideal for even very heavy individuals while accommodating a wide range of shoe types. This whisper-quiet stand-up desk balance board does not need any air pump and comes with a three-year warranty. 
2. Autonomous Flow Board
If the ultra-slick design of the Flow Board from Autonomous is not enough to get you hooked, then its long list of enviable features surely will. Furthermore, if you are always multitasking and have an extremely busy schedule, then this is the right stand-up desk balance board for you. The Flow Board meets all the requirements of a great balance board while remaining as unobtrusive as possible. 
Energy, muscle memory, and productivity are all highly developed while using this balance board, with users reporting a marked improvement in all three after just a few days of use. The Flow Board is designed to stimulate the micro-movements of muscles, and regardless of whether you are sitting or standing, you are guaranteed to work the core muscles of your body. 
One unique thing about the Flow Board is how it combines elements from Yoga and Tai Chi in a bid to improve balance and awareness among its users. It is made of durable material and comes with a one-year warranty. 
3. Revbalance Fit Balance Board
Specially designed to harness balance as a fitness tool, and add a new dimension to your workout, the Revbalance Fit Balance Board is one of Autonomous' top sellers in this category. When using this board you can immediately feel the effect it has on your targeted muscles. This stand-up desk balance board is ideally suited for exercises but will work well with a standing desk too.
4. iMovR Gymba Ergonomic Balance Board
The simple design of the Gymba Ergonomic Balance Board belies the wide range of movements that are possible when it is properly used. There is very little, in terms of standing desk balance board exercises, which you cannot do with the Gymba. Even though the price is a bit on the expensive side, once you have used it for a few months, the results will be plain to see. 
5. Fluidstance Balance Board
When it comes to a balance of aesthetic appeal and environmentally friendly materials, there is no better board than the Fluidstance Balance Board. The natural materials used in its manufacture in no way diminish its robustness, making it suitable for all weight classes. Users of this balance board are quick to appreciate its 360-degree motion, stylish look, and eco-friendly materials.
6. Fitterfirst Active Office Board
If simplicity and functionality are what you are looking for, the Fitterfirst Active Office Board is the ideal solution. Do not let the plain design fool you though; this balance board can go toe-to-toe with some of the best boards on this list. 
All important features are available to ensure that the user gets the maximum benefits possible. There is no wastage in useless additions, which is why the price can be kept as low as possible. 
7. Pono Ola's Pono Board
Beginners who are not yet confident of their balancing capabilities or elderly users who might get injured from a fall should consider using the Pono Board. With supports on all four corners, this is a very stable and safe board to try out. However, experienced users would probably benefit from a more challenging balance board than this one. 
8. Fully Floatdeck Balance Board
The designers of this standing desk balance board were obviously concerned with simplicity above all else as evidenced by the plain style of the Floatdeck Balance Board. While it manages to cover the basic functions of a balance board well, users have complained about a creaking noise during use, and the bamboo material is another area of concern from an environmental standpoint. 
9. Vew-Do Zone Standup Balance Board
One of the most versatile balance boards we have reviewed is the Vew-Do Zone Standup Balance Board, which comes with unique interchangeable bases for added functionality. Although not ideal for prolonged desk use, it nevertheless provides very good balance and coordination practice. This is not the best option for beginner users though, who might find it a bit challenging. 
10. Backapp 360 Balance Board
Striking a perfect balance between affordability and effectiveness, the Backapp 360 Balance Board is a great option for those wanting to experience the benefits of good exercise while working with a tight budget. It is fully adjustable via its "magic screw" feature that gives it a wide range of versatility. Users of the Backapp chair made by the same designers will know exactly what to expect with this balance board. 
11. Skill Board
As the name implies, Skill Board is best left to experienced balance board users who will be able to manage to balance while doing some work. Basic desk operations such as writing and typing are made very difficult when using this board and many inexperienced users might find it impossible to do any work at all. 
12. Steppie Balance Board
Designed by a couple of the pioneers of balance board integration into office environments, the Steppie Balance Board offers great stability. While this sounds counterproductive, the designers maintain that this board has just the right amount of swivel to make it beneficial to the user while preventing it from being obstructive. Users who want only a mild workout that does not interfere with their work should go for the Steppie Balance Board. 
13. Indoflo Balance Board
Look no further than the Indo Original Flo Balance Board if you are looking for a standing desk balance board that offers the widest range of design, shape, and color options. It is intended to fit in perfectly with any office setting, with the detachable cushion being the only drawback. Besides that, the Indo Original Flo Balance Board is an all-around highly capable balance board. 
14. Uplift Desk E7 Motion Board
This is such a good choice for your beginners balance board exercises. If you can overlook the plain and boring design of the Uplift Desk E7 Motion Board, what you will find is a balance board that is actually not that bad when it comes to addressing the most important factor, which is the need to provide exercise and stimulus. The Uplift Desk e7 Motion Board is reasonably priced as well compared to other boards of similar design. 
15. StrongTek Professional Wooden Rocker Board
Last, on our list is a wooden board designed to stimulate and strengthen the muscles of your body's core. This standing desk balance board from StrongTek is portable and compact for use anywhere and anytime. It is made of sturdy Lauan wood and has a grip coating for easy use even when wearing socks. Planking and balancing enthusiasts will certainly appreciate the design features of this board. 
What to Consider When Buying a Standing Desk Balance Board?
Size and Shape
Standing desk balance boards come in various sizes and shapes. Consider the dimensions and ensure that it fits comfortably within the available space on your standing desk.
Material and Durability
Look for balance boards made from high-quality materials that can withstand daily use. Sturdy construction ensures longevity and prevents the board from wearing out quickly.
Surface Texture
The surface texture of the balance board plays a crucial role in providing stability and grip. Opt for boards with a non-slip surface to prevent accidents and ensure a secure footing.
Weight Capacity
Check the weight capacity of the balance board to ensure it can support your body weight. Choosing a board that can accommodate your needs and provide a stable platform is essential.
Adjustable Difficulty Levels
Some balance boards offer adjustable difficulty levels, allowing you to customize your experience. This feature benefits users at different skill levels, from beginners to advanced users.
Portability and Storage
If you frequently switch between workspaces or desire a portable option, select a balance board that is lightweight and easy to transport. Additionally, consider how easily it can be stored when not in use.
Price
Set a budget for your balance board purchase. Research different options and compare prices to find a board that offers the best value for your money.
How to Use a Standing Desk Balance Board Properly?
Start Slowly
When using a standing desk balance board for the first time, begin gently rocking to get accustomed to the movement. Gradually increase the intensity and duration as you become more comfortable.
Maintain Proper Posture
Keep your spine aligned and engage your core muscles using the balance board. This helps improve your posture and prevents strain or discomfort.
Find Your Balance
Stand in the center of the balance board with your feet shoulder-width apart. Distribute your weight evenly and find your balance point. Experiment with different stances to engage different muscle groups.
Incorporate Movement
Utilize the balance board to introduce movement into your work routine. Shift your weight from side to side, front to back, and in circular motions to engage your muscles and prevent stiffness.
Take Breaks
Remember to take regular breaks from using the balance board. Alternate between standing, sitting, and walking to prevent excessive strain on your muscles and joints.
Combine with Other Exercises
Enhance the benefits of the balance board by incorporating other exercises into your routine. Stretching, yoga poses, or simple strength training exercises can complement the use of the balance board.
Conclusion
There is no better time to take charge of your health than right now. With great standing desk balance board options from Autonomous such as these, long working hours can no longer be an excuse for not taking better care of your body.
Standing desk balance boards offer a dynamic and engaging way to enhance your work environment and promote better posture. Remember to start slowly, maintain proper posture, and incorporate movement into your routine for the best results. Take advantage of these standing boards' benefits and improve your overall well-being while working at your standing desk. Thanks for reading!
Video ads for product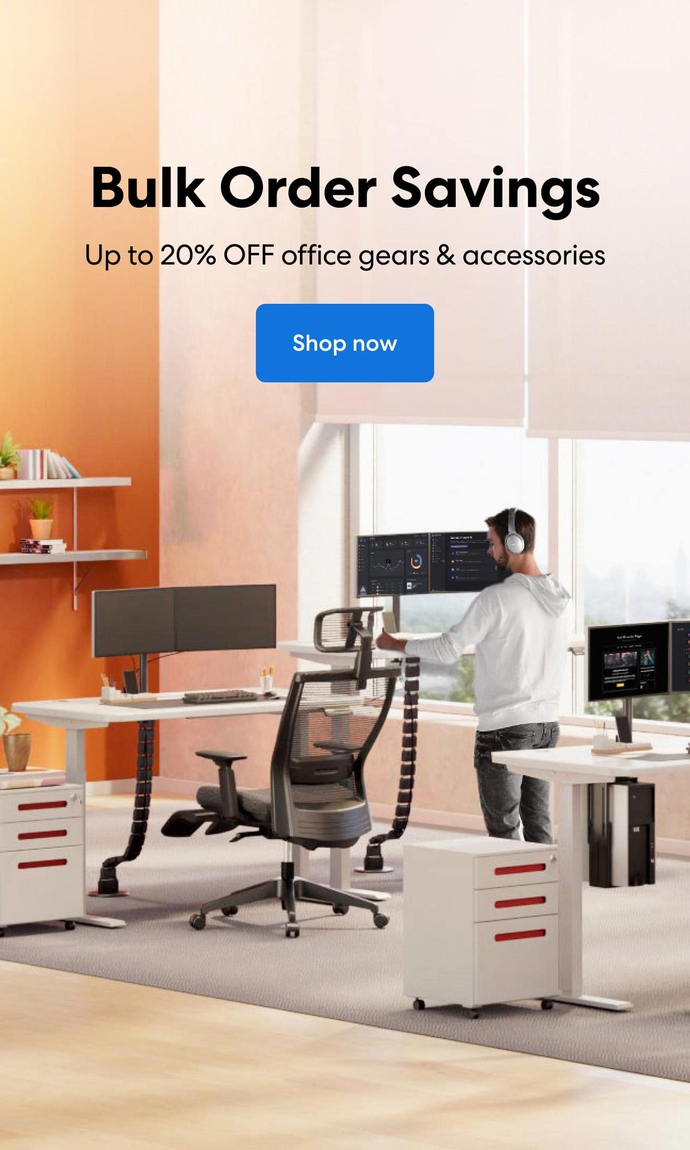 Subcribe newsletter and get $100 OFF.
Receive product updates, special offers, ergo tips, and inspiration form our team.