Smart Products
15 Best RGB Gaming Chairs of 2023 (with Pros and Cons)
1,927 Views
Most gaming equipment, including gaming chairs, have RGB illumination. However, aside from looking good, RGB lighting usually serves little purpose. Even so, RGB lighting can be useful in some situations. 
Some games use RGB lighting to depict in-game characteristics. The illumination color can be used to determine if a gamer's energy is low or if they have lost their ammo. 
Before diving into our 15 best recommendations, here is what you need to consider when choosing an RGB gaming chair. 
Choosing the Right RGB Chair for You
RGB chairs are cool gaming chairs that can help you stand out from the gaming crowd. Here are a few factors to consider when choosing an RGB gaming chair. 
RGB Lighting
Let's face it – you are buying an RGB chair for the lighting. Therefore, it is essential to consider what effect you hope to achieve and whether the chair you have chosen can provide the desired effect.
RGB stands for red, green, and blue, so RGB lighting is red, green, and blue led lights. There are several multiple kinds of LED lighting. Some are more effective and create less heat than others. However, some chairs use single LEDs for specialized colors to achieve the RGB effect, so you can choose your chair based on its RGB effect. 
The Chair's Design
This is another important consideration because most gamers take pride in building an attractive RGB gaming setup. Several gaming chairs have a racing car seat design, but not everyone likes this type of design, so choose one that appeals to your taste and matches your RGB gaming desk and gaming desk accessories. 
Intended Use
Consider what the chair is to be used for. A huge chair with brilliant, striking RGB lighting may take up too much room in the workplace and may cause some distraction to your coworkers. In the office, however, a more basic design with a modest RGB may work. 
If all you need is a chair to add to your gaming furniture, you can choose to go all out and purchase the finest, most spacious setup you can. 
Comfort and Ergonomics
The RGB chair you choose doesn't just need to look good, but it also needs to be comfortable and supportive enough to keep you pain-free during your long gaming sessions. Be sure to choose an ergonomic gaming chair that has a backrest with lumbar support to keep your lower back supported and a headrest to support the head and neck. 
Materials
When picking a gaming chair, the fabric it is composed of is an odd, but crucial aspect. You must evaluate the environment in which you live to select which fabric is ideal for you. 
If you reside in a hot or humid region, leather or polyurethane isn't the ideal choice because it can build up sweat and odor, which is the last thing you want when enjoying a good gaming session. 
Price
Gaming chairs can be costly, so be sure to set a budget when selecting your chair and choosing a chair within that price range. There are affordable RGB chairs on the market, so be sure to shop around before settling.
15 Best RGB Gaming Chairs for the Ultimate RGB Gaming Setup
Finding an RGB gaming chair isn't always easy. We have composed a list of our favorite gaming chairs to help you find the right one. 
1. Vertagear SL5000 Gaming Chair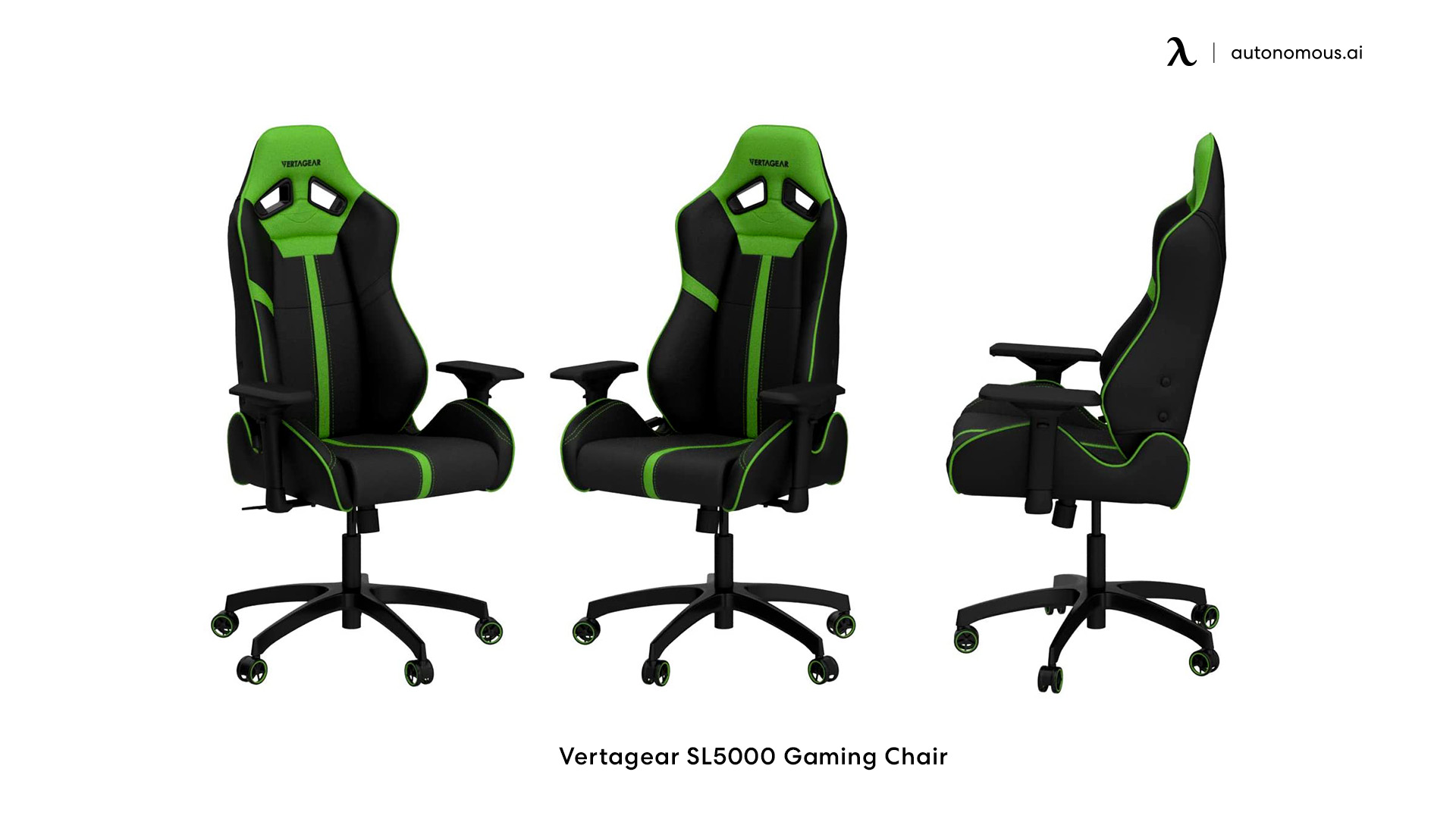 The Vertagear SL5000 Gaming Chair is the best RGB gaming chair for any gaming setup. You have the option of buying this chair as a regular gaming chair if you want to add a racing edge to your office chair or complete it with an RGB kit for the ultimate gaming experience. 
With great ergonomic features such as neck and lumbar support, a durable steel frame, a class-four gas lift mechanism, and a 140-degree recline, this RGB computer chair is a fantastic option. 
Pros of Vertagear SL5000 Gaming Chair
Tilt tension is adjustable

Includes a class-four gas lift mechanism for smooth height adjustments

The chair is covered in breathable HygennX material

It comes with a two-year warranty on the chair and a 10-year warranty on the steel frame

Excellent ergonomic features like lumbar and neck support

Comfortable seating

Recline of 80 to 140 degrees

Attractive design with impressive RGB lighting 
Cons of Vertagear SL5000 Gaming Chair
2. Goplus RGB Massage Gaming Chair
If you suffer from back pain or prefer a good massage while enjoying your favorite game, this is the gaming chair for you. This Goplus gaming chair is adaptable enough to be used not just for gaming, but also in the office.  
The backrest can recline up to 155 degrees for people who wish to kick back and relax while working or gaming. Add on a sliding footrest for added comfort for the ultimate relaxing gaming experience
Pros of Goplus RGB Massage Gaming Chair
Massage feature

Colorful RGB lights that are controlled with a remote

90 to 155-degree recline

Suitable for use as an office chair

Footrest available as an optional extra

Adjustable armrests 
Cons of Goplus RGB Massage Gaming Chair
Massage and lighting require USB power

No warranty 
3. Asus ROG Chariot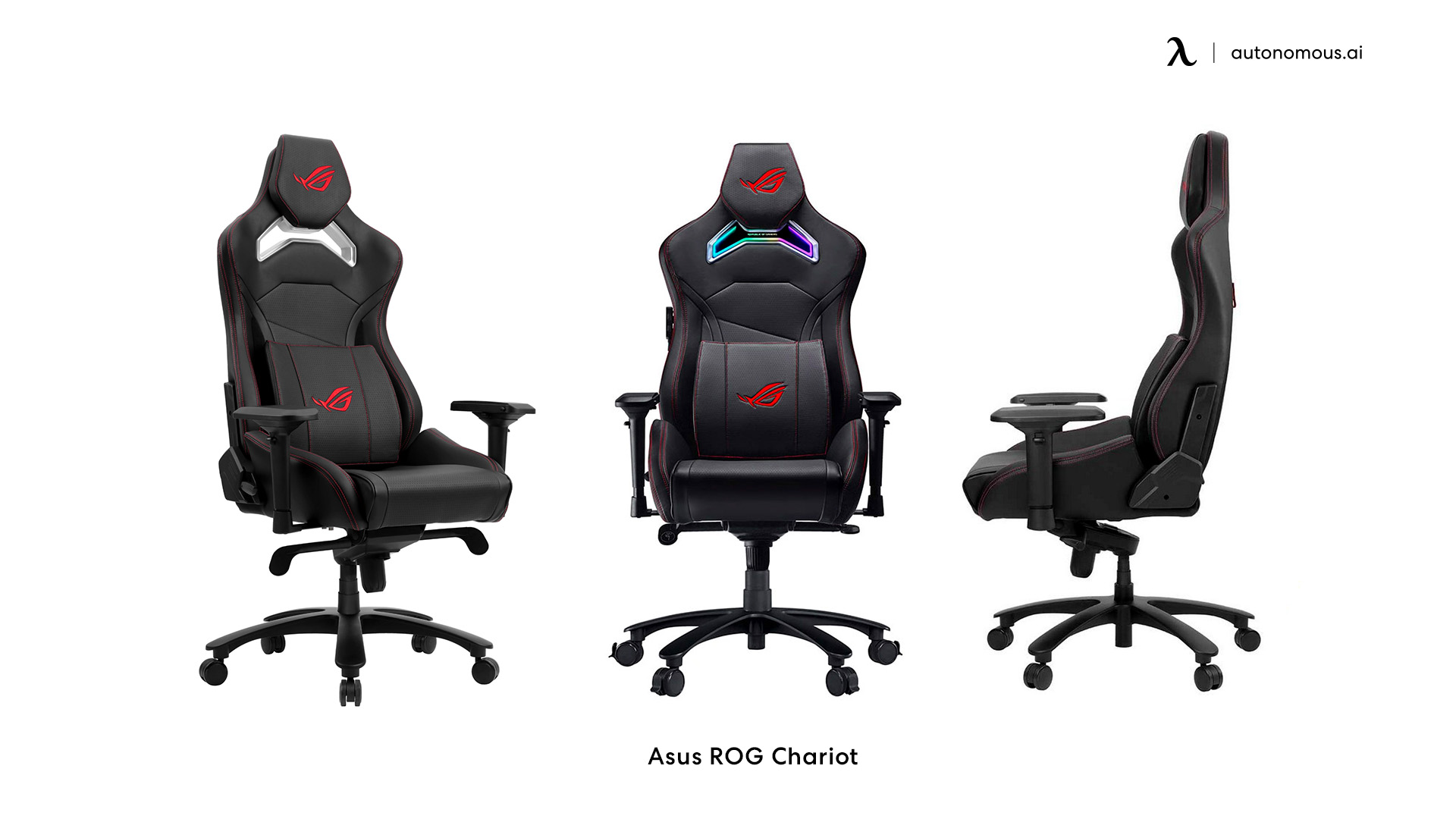 On both the front and rear of this cool gaming chair's headrest, there are two multi-color RGB lighting areas. A mirror with a silver frame substitutes the vents from a typical gaming chair. Furthermore, a special effect is created when the colorful RGB lights illuminate the mirror. 
Pros of Asus ROG Chariot
Unique RGB lighting design

Great build quality

The chair has a more elegant style than many other RGB chairs

Includes straps to store additional

gaming equipment

Built-in lumbar support

Includes a tilt lock 
Cons of Asus ROG Chariot
The headrest may be uncomfortable for some

Expensive option

 
4. Tourismo RGB Chair
If you often spend hours playing your favorite game, you need a comfortable and cool gaming chair that can help you get the most out of your game time. The Turismo has been designed for this purpose, with ergonomics in mind. 
It also has LED lights along its outside edges to help it stand out even more, and the opaque covering successfully conceals the lighting when they're not in use. 
Pros of Tourismo RGB Chair
Convenient controls for tilt and recline

Great lighting

Easy assembly

Good overall ergonomic support 
Cons of Tourismo RGB Chair
5. Uomax Racing Chair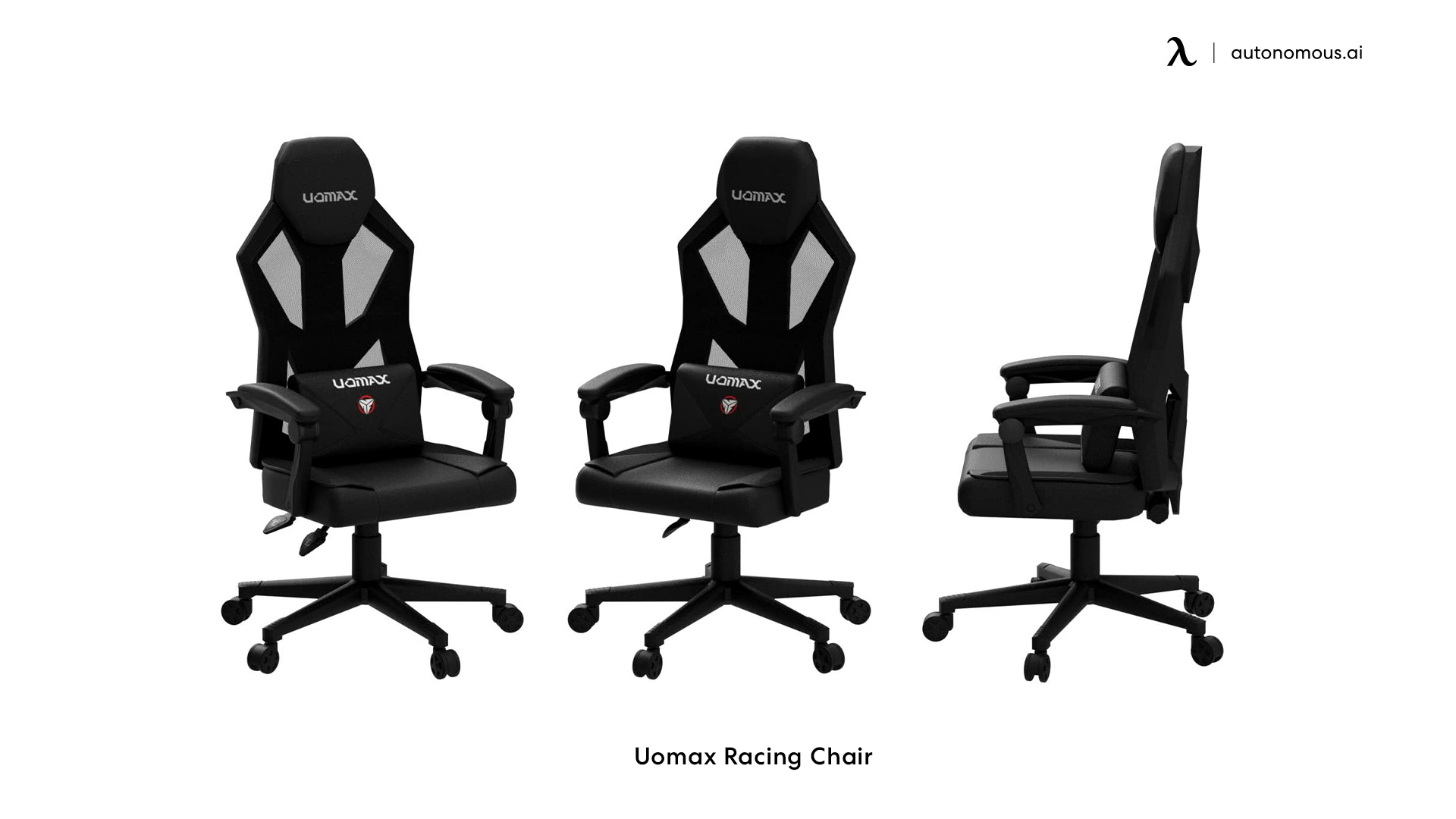 If you are an avid racer looking for something unique to suit your style, the Uomax Racing chair is a fantastic choice. It doesn't just look cool, either, but also provides outstanding comfort and support. The RGB lighting also takes this chair to the next level, and it doesn't cost a fortune either, so you are sure to enjoy this durable gaming chair. 
Pros of Uomax Racing Chair
Affordable

Visually appealing

Ergonomically designed 
Cons of Uomax Racing Chair
6. Youthup Gaming Chair
This cool gaming chair with RGB lighting has LED RGB lighting along the edge of the seat that is USB powered. A distinguishing feature of this chair is its optional extra Bluetooth speakers. When connected to your computer or gaming device, they create an immersive experience, putting you in that game. 
Pros of Youthup Gaming Chair
It comes with all the tools you need to assemble it

Additional Bluetooth speakers for the ultimate surround-sound experience

Comfortable seating thanks to the three-dimensional foam

Several color options to choose from

Neck and

lumbar support pillows included 
Cons of Youthup Gaming Chair
USB power requirement restricts movement

No instruction manual is included with the package

Poor customer service provided by the manufacturer 
7. Modern-Depo RGB Gaming Chair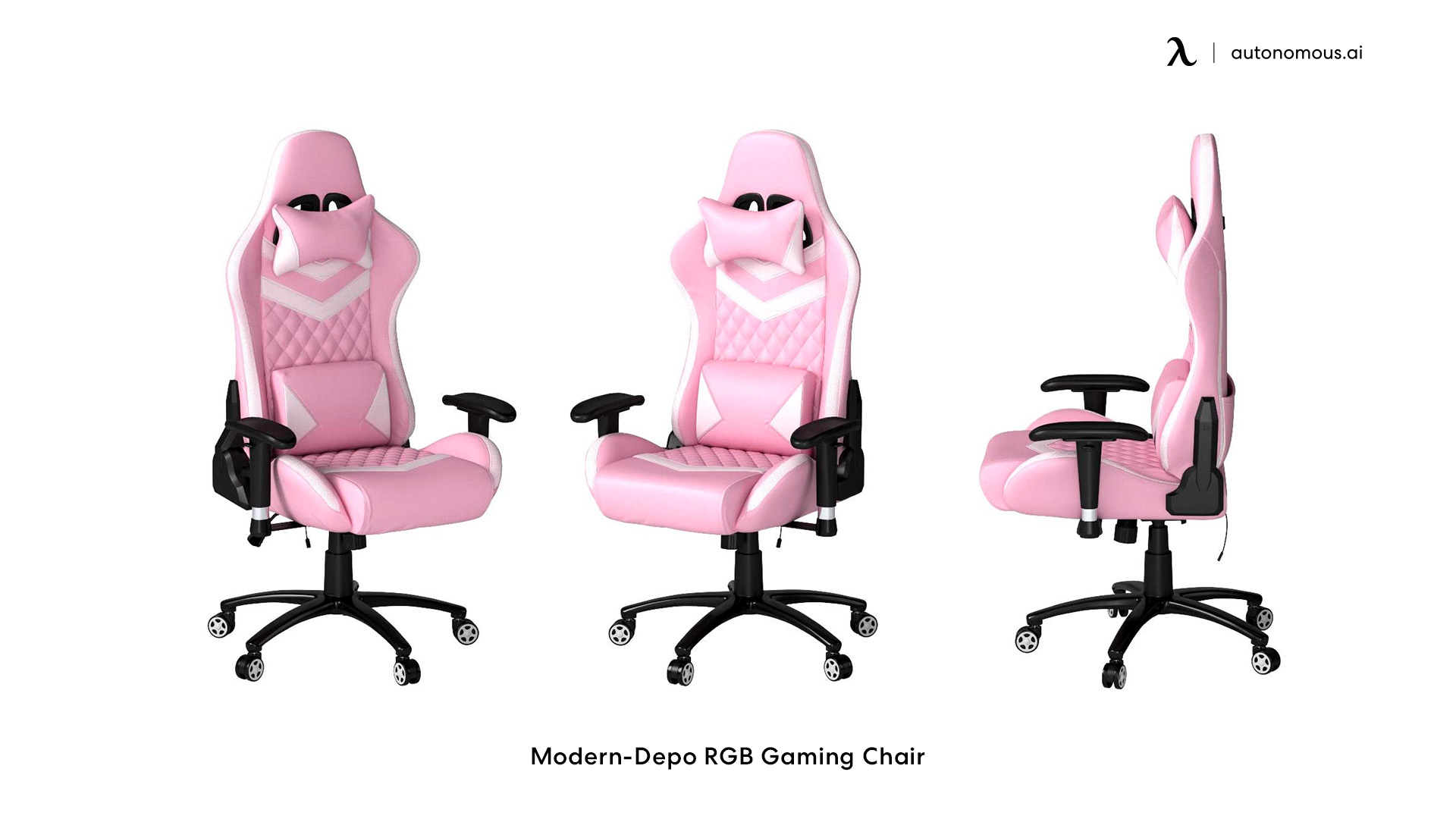 The Modern-Depo chair has a durable design that can be adjusted to fit practically any user's needs. Its brilliant RGB colors may be customized with the included remote control. 
If your long gaming session becomes tiring, you can recline the chair to 180 degrees to rest your back. This gaming chair with RGB lighting is constructed to last thanks to its high-quality metal frame. It is also easy to assemble on your own. 
Pros of Modern-Depo RGB Gaming Chair
Several color options to choose from

90 to 180 degrees recline

Neck and lumbar support with adjustable armrests

Bright lighting

The seat is well-padded for extra comfort 
Cons of Modern-Depo RGB Gaming Chair
The user manual is hard to understand

LED lights are not replaceable

Requires USB connection 
8. Ohaho RGB Gaming Chair
The Ohaho RGB gaming chair is a cost-effective entry into the realm of LED chairs. Customer support is excellent if you have any issues with the chair. While it does not offer as many functions as other chairs on this list, it is still a great option. 
Pros of Ohaho RGB Gaming Chair
Great customer support

30-day money-back guarantee

Made from high-density foam

Lumbar and neck support included

Attractive racing car seat design

Great value for money

Reclines up to 180 degrees 
Cons of Ohaho RGB Gaming Chair
Those with broad shoulders can find this chair to be uncomfortable

USB cable included isn't long enough to allow for unrestricted movement 
9. X Rocker Torque 2.1 Gaming Chair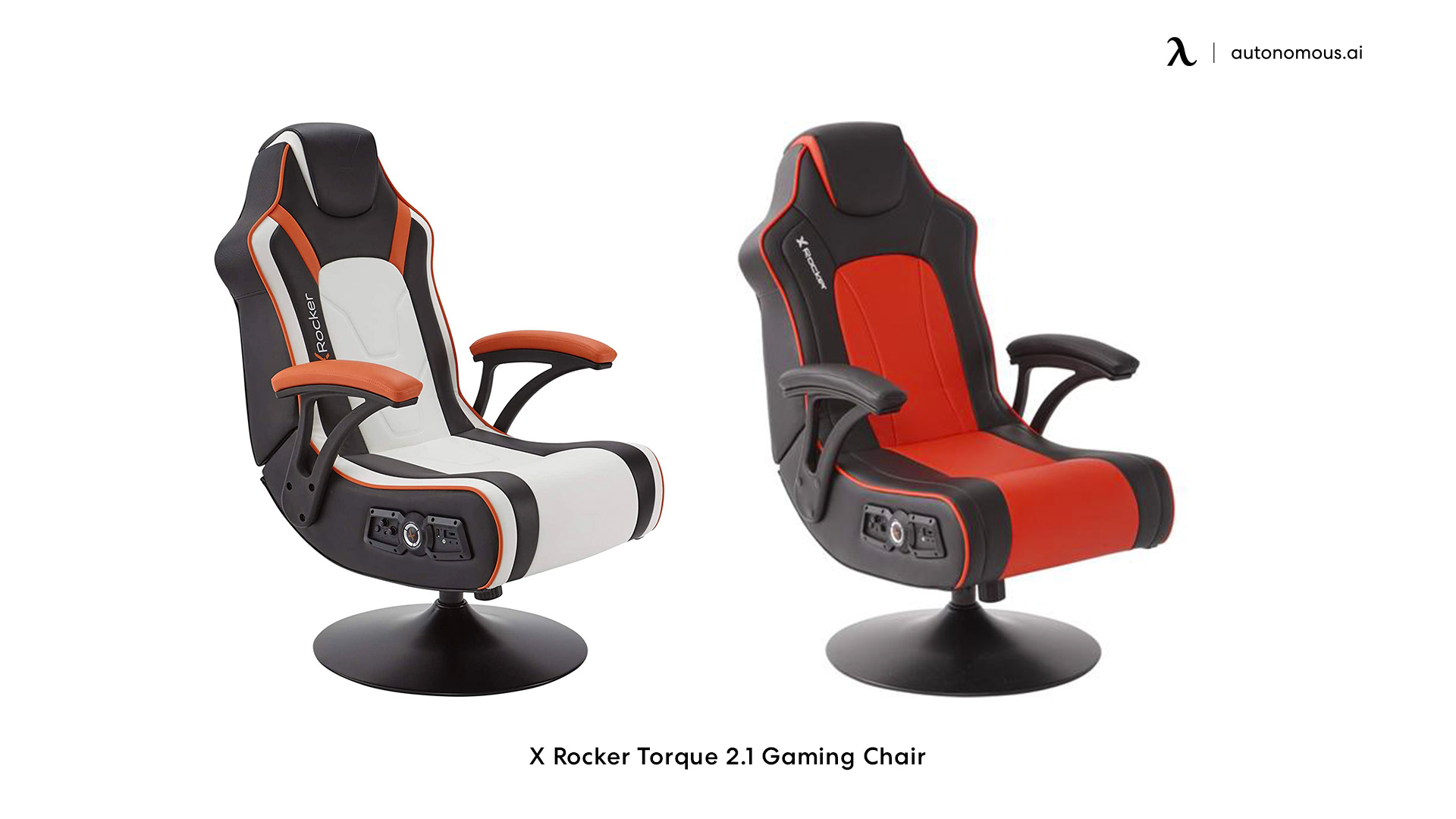 Those who require a RGB computer chair that doubles as an office chair may love the X Rocker Gaming Chair. This innovative gaming chair with RGB lighting includes features such as built-in speakers and wireless connectivity. It also has padded armrests and other ergonomic features that your body is sure to thank you for. 
Pros of X Rocker Torque 2.1 Gaming Chair
Speakers included as standard features

Wireless connectivity

Ergonomic features such as lumbar support and adjustable, padded armrests

Subtle RBB lighting makes it perfect for the office

Easy to store thanks to the foldable backrest 
Cons of X Rocker Torque 2.1 Gaming Chair
Bulky design that some may not like 
10. Riotoro Spitfire X1S Plus
Another great option with built-in speakers and wireless functionality is the Riotoro Spitfire X1S Plus RGB computer chair. It was designed to make the gaming experience more comfortable and enjoyable, and the initial setup is effortless. 
Pros of Riotoro Spitfire X1S Plus
Bluetooth speakers included in the design

Includes ergonomic support

High-quality racing seat design

Prism RGB lighting effect 
Cons of Riotoro Spitfire X1S Plus
It does not contain a subwoofer

No tilt lock feature 
11. Raidmax Drakon DK925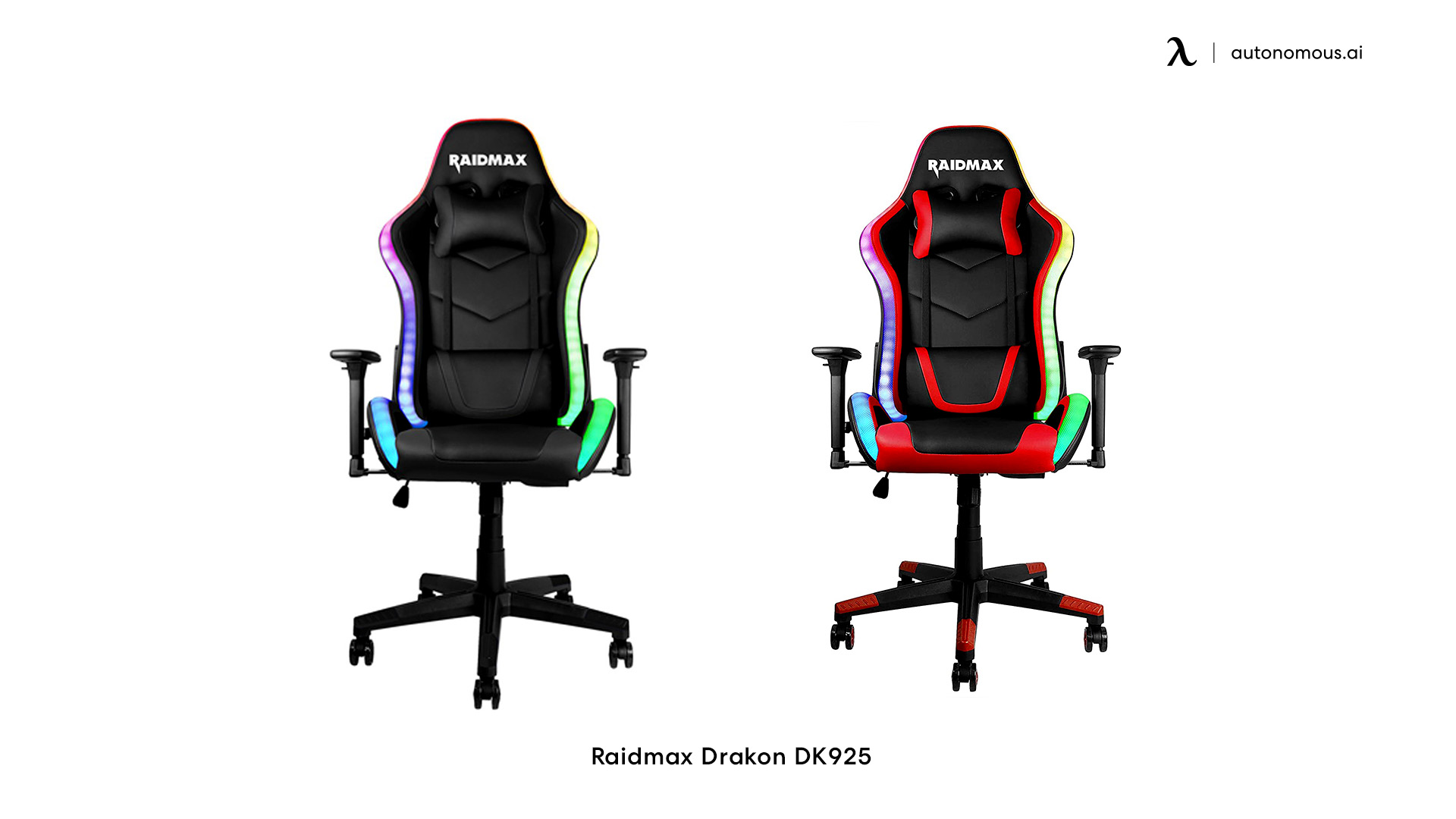 While the Drakon may have limited lighting effects than some of the other chairs on this list, it can set the mood for a good gaming session. The chair has adequate ergonomic support and offers comfortable seating. 
Pros of Raidmax Drakon DK925
Good ergonomic features

PU leather used in the design is soft, making the chair comfortable

Attractive design 
Cons of Raidmax Drakon DK925
Lighting is outdated

Some may not like the bright green design 
12. Homall Gaming Chair with RGB LED Lighting
This RGB computer chair has a high-quality, durable design that features a strong metal frame. With excellent lumbar support, this chair is sure to keep you comfortable and feeling great throughout your gaming experience. 
Pros of Homall Gaming Chair
Great support features

Durable design

Available in three colors

Bright, colorful lighting 
Cons of Homall Gaming Chair
It has more of an outdated design 
13. Gamdias High Back RGB Gaming Chair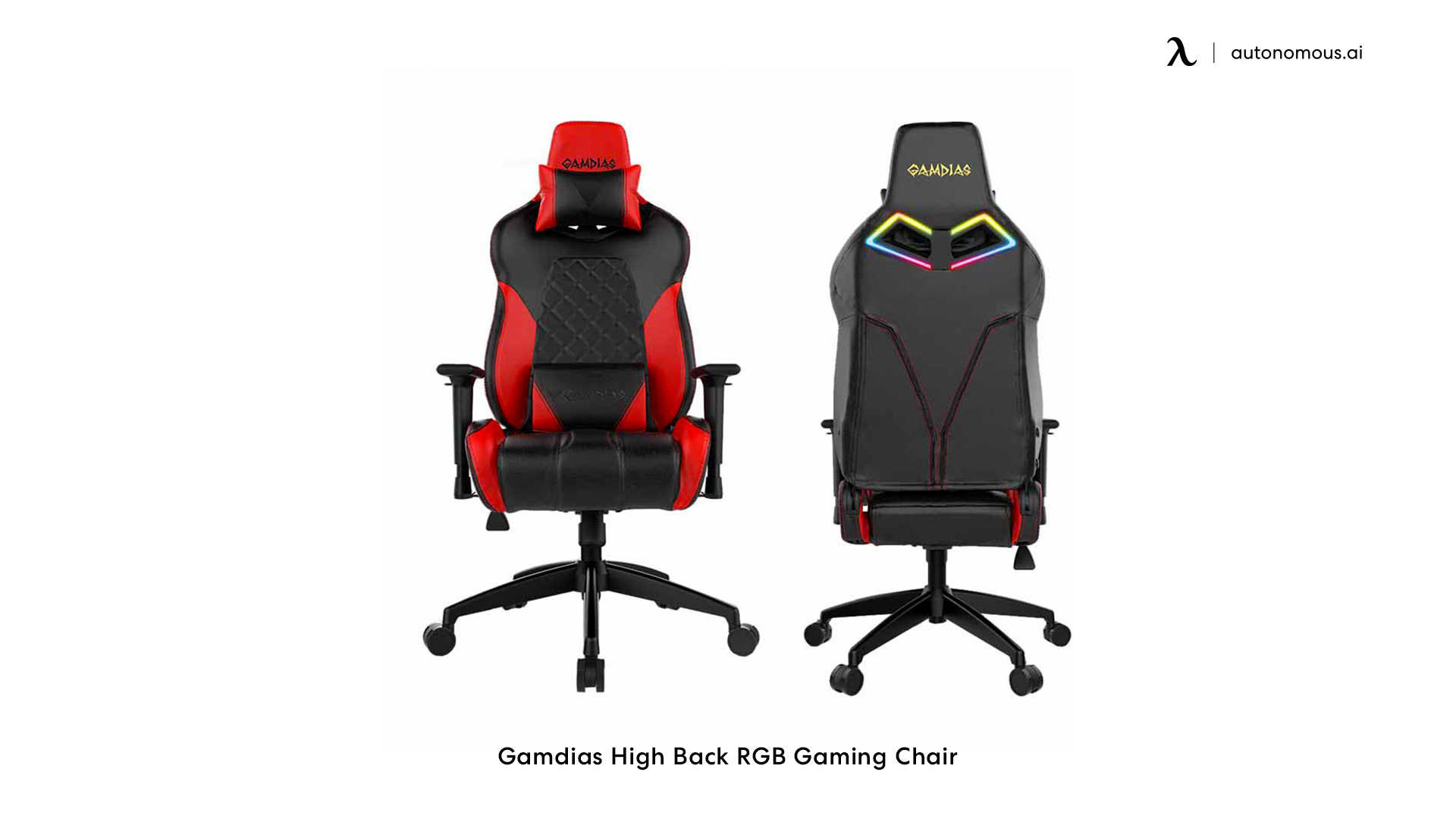 Breathable vinyl and good-quality foam make up the seating of this chair. The vinyl is breathable, preventing the buildup of sweat and odor in your chair, which is handy if you live in warmer climates. It is also available in a wide array of colors, so you can select a color that best suits your gaming setup or personal preference. 
Pros of Gamdias High Back RGB Gaming Chair
Has breathable vinyl seating

Fully adjustable

Available in several colors 
Cons of Gamdias High Back RGB Gaming Chair
It may not be suitable for short individuals

Lighting options are limited 
14. Paden Gaming Chair
Female gamers may love this gaming chair from Paden. It is one of the few gaming chairs that is available in pink. The fun RGB lighting adds to the experience, and a 180-degree seat recline, and an additional footrest make it just as comfortable as it is visually appealing. 
Pros of Paden Gaming Chair
Available in two great colors

Eco-friendly design

300-pound weight capacity

Bright RGB lighting 
Cons of Paden Gaming Chair
Neck and back support are not adjustable

No tilt lock feature 
15. Oufanpu Gaming Chair
Another simple, yet affordable gaming chair is the Oufanpu Gaming Chair. It includes prominent RGB lighting strips down the sides of the chair and reclines up to 150 degrees, making it comfortable, and its lighting can be synced to your games for a more personalized experience. 
Pros of Oufanpu Gaming Chair
Superb comfort and support

Prominent lighting

Attractive design

Includes a tilt lock function 
Cons of Oufanpu Gaming Chair
Lighting is conspicuous when not in use

No warranty 
Final Thoughts
RGB gaming chairs are the ultimate accessory for the avid gamer to take your aesthetic gaming setup to the next level. When looking for a chair, be sure to consider important factors such as the lighting, material, price, and ergonomic features. 
There are many RGB gaming chairs on the market, so knowing what to look for can help you narrow down your choices. Whatever your preferences are, you are sure to find the ideal RGB gaming chair on this list.
Keep up with Autonomous news
Stay informed, stay inspired with our new blogs.
WRITTEN BYAutonomous
We build office products to help you work smarter.