Smart Products
15 Ergonomic Foam Standing Mats for Standing at Work

Autonomous
|
Feb 19, 2023
1,063 Views
Back pains and leg strains? Well, try a standing desk. Other than just an affirmative to does standing burn calories, we would like to tell you that a standing desk does much more than that. It finally solves the curiosity of is standing better than sitting and how standing can help you all day. A standing desk is the best decision you could make in a workplace. With a standing desk, you can attain an ergonomic desk position, maintain a healthy working posture for standing desk, and also burn some calories just as a side Hussle.
This all happens without even trying, and you just need to get up from your chair and work while standing. But wait? Won't I get tired of standing? Well, if you are a human, then you definitely will. As each idea comes with a catch, foot fatigue is one thing that is inevitable with a standing desk. But this one issue isn't worth settling for an even unhealthier sitting lifestyle.
A foam standing mat or a memory foam mat for a standing desk is a great accessory that eliminates the problem of foot pain from prolonged standing. While you should be taking breaks between sitting and standing for the best results, using a memory foam standing mat is a must to get the most benefit from a standing desk. Below are our top picks for an anti-fatigue foam mat set to be used in unison with a standing desk.
15 Ergonomic Foam Standing Mats You'll Love
1. Autonomous Anti-Fatigue Mat
The pioneers of solving the case of foot fatigue in workplaces, the Autonomous anti-fatigue mat is textured to encourage micro-movements. The mat encourages an upright posture and prevents sciatica pain, a common issue related to excessive standing.
| | |
| --- | --- |
| Dimensions | 33"L x 20"W x 2"H |
| Colors | Black |
| Materials | PU (Polyurethane) + PVC leather + SBR anti-slip layer |
| Weight capacity | 331 lbs |
| Item weight | 4 lbs |
| Warranty | 1 year |
2. FinerCrafts Regular Standing Mat
Did you spill coffee again? This mat won't be one of many things you would be cleaning. The FinerCrafts standing mat is made of polyurethane, has a soft touch, is easy to clean, and is beveled at the edges, so you can find it easier to get used to it.
| | |
| --- | --- |
| Dimensions | 31.7"L x 19.9"W x 0.79"H |
| Materials | 100% Polyurethane |
| Warranty | 5 years |
3. Autonomous Flow Board
If mats are too boring and take you to the 80s, then have a little fun with the Autonomous flow board. Designed to enhance energy, movement, and flow, the flow board encourages blood flow and keeps you active all day. It engages your core muscles, so you feel less tired throughout the day.
The Autonomous flow board is perfect for those people who are used to staying in one position throughout their day, as it promotes movement, which will enhance your blood circulation and eliminate your joint pain.
| | |
| --- | --- |
| Dimensions | 12"W x 3.5"H |
| Colors | Black, Red |
| Materials | PP material and TPU pad |
| Weight capacity | 330 lbs |
| Item weight | 7 lbs |
| Warranty | 1 year |
4. FinerCrafts Anti-Fatigue Mat
Best buddy for your standing desk. The built-in massaging balls and rails keep you comfortable yet active enough so you don't doze off. The FinerCrafts mat also has beveled edges for a smooth transition and an anti-slip surface to keep you stable.
| | |
| --- | --- |
| Dimensions | 26.8"L x 20.9"W x 2"H |
| Materials | 100% Polyurethane |
| Colors | Black |
| Warranty | 5 years |
5. Burotic Flat Anti-Fatigue Mat: Made in Canada
You can stand at your desk for extended periods while working, thanks to the Burotic anti fatigue mat. This practical mat was created to reduce stress in your knees and lower back, which your body will truly love.
| | |
| --- | --- |
| Dimensions | 30"L x 18"W x 0.8"H |
| Materials | 100% Polyurethane |
| Colors | Black |
| Warranty | 1 year |
6. LifeSpan Fitness Contoured Standing Mat
The LifeSpan contoured mat is designed to massage pressure points and relieve stress from your feet throughout the day. This mat takes comfort to the next level and reduces strain build-up in your lower back and feet.LifeSpan Fitness Contoured Standing Mat.
| | |
| --- | --- |
| Dimensions | 29" x 24" |
| Materials | Polyurethane foam |
| Colors | Black |
7. Uncaged Ergonomics 20x34" Anti-Fatigue Mat: perfect standing desk mat
This Uncaged Ergonomics standing desk anti-fatigue mat offers a cushioned surface to help you stand comfortably and for longer periods. You can get the most out of your standing desk with the help of this essential standing desk attachment.
| | |
| --- | --- |
| Dimensions | 34"W x 20"D x 4.88 lbs |
| Materials | 100% Polyurethane |
| Colors | Black |
| Warranty | 3 months |
8. Mount-It! Adjustable Foot Rest with Six Height Settings
The Mount-It! adjustable footrest is ideal for a variety of workplaces. With six different height settings, it helps you achieve an ergonomic working position with your desk. The padded surface keeps you from slipping off, and you can raise one leg while the other can be rested lower. This helps attain multiple standing angles so you don't tire in the same position all day.
| | |
| --- | --- |
| Dimensions | 15.7"L x 9.85"D x 14.4"T |
| Colors | Black |
| Weight capacity | 55 lbs |
| Warranty | 10 years |
9. Mount-It! Ergonomic Footrest - Adjustable Height & Angle
Along with height, the Mount-It! adjustable footrest lets you play with the angle. So closer to the desk or at a distance, the mat will help you always attain an ergonomic position. You can use it with a chair or a desk, as it takes up minimal space and is designed for many applications.
| | |
| --- | --- |
| Dimensions | 17"L x 13"D x 4.25" - 6.75"H |
| Materials | Plastic |
| Tilt | +/- 30° |
| Warranty | 10 years |
10. ErgoFoam FootRest: Adjustable Height
Need help to reach the desk surface? Just kidding, the height adjustability facilitates ergonomics, although shorter crowds can be secretly happy about it too. The pet-friendly mesh cover encourages breathability and prevents any moldy growth. The high-density ErgoFoam provides firm yet comfortable support against the feet.
| | |
| --- | --- |
| Dimensions | 17.3"L x 11.8"W x 5.9"H |
| Materials | Pet-friendly breathable mesh |
| Colors | Black |
| Warranty | Lifetime |
11. Topo Comfort Mat
Staying in one position for too long can decrease blood pressure, promote unhealthy posture, and put an extra strain on the joints. The topo comfort mat solves this issue by encouraging sub-conscious movement. This mat is constructed with a texture, so your calves are stretched, and the feet must constantly move to maintain balance. Don't worry; it isn't uncomfortable.
12. Comfi-Life Anti-Fatigue Mat
The comfy-life anti-fatigue mat introduces comfort to your life. It is typically flat and simple and encourages subconscious magical movements, but do you know what it does? It gives you the right level of cushioning against the feet. This relieves pressure from your hip and spine, making you feel comfortable while working.
13. Sky Solutions Sky Mat
Already spent a lot of money on an electric standing desk? If you are broke for the month to purchase any other essential accessory, then the sky solutions mat might change your mind. This affordably priced standing mat comes for a good bang for your buck. Available in 15 colors, you can find something that complements your office theme.
14. iMovR Standing Mat
100% Polyurethane, this one doesn't attain the feet smell you hate. The desk mat is designed for prolonged desk use and is durable to resist the wear and tear of shoes and a desk stool. You won't have to worry about lifting the mat each time you switch to the sit position with your desk.
15. Imprint Commercial Anti-Fatigue Mat
It comes in black and espresso color options, designed for professional and serious office themes. The mat is 100% polyurethane, and though it doesn't have memory foam, it is great gentle support against your feet and keeps your heels from falling numb.
Conclusion
Concluding up, a standing mat eliminates around 50% of the fatigue you would normally experience working and standing throughout the day. With a standing desk mat, one subconsciously avoids standing in the same posture for too long hence there are lowered changes of nerve compression, sore feet and risk of developing joint pain. 
Moreover, an anti-fatigue mat is also a great pick for someone who is just a beginner with a standing desk as the mat would provide cushioning effect and ease the transition to working while standing. Using a standing desk without an anti-fatigue mat might make you change your mind about working while standing altogether, hence you could slip back to your old harmful ways of working while sitting.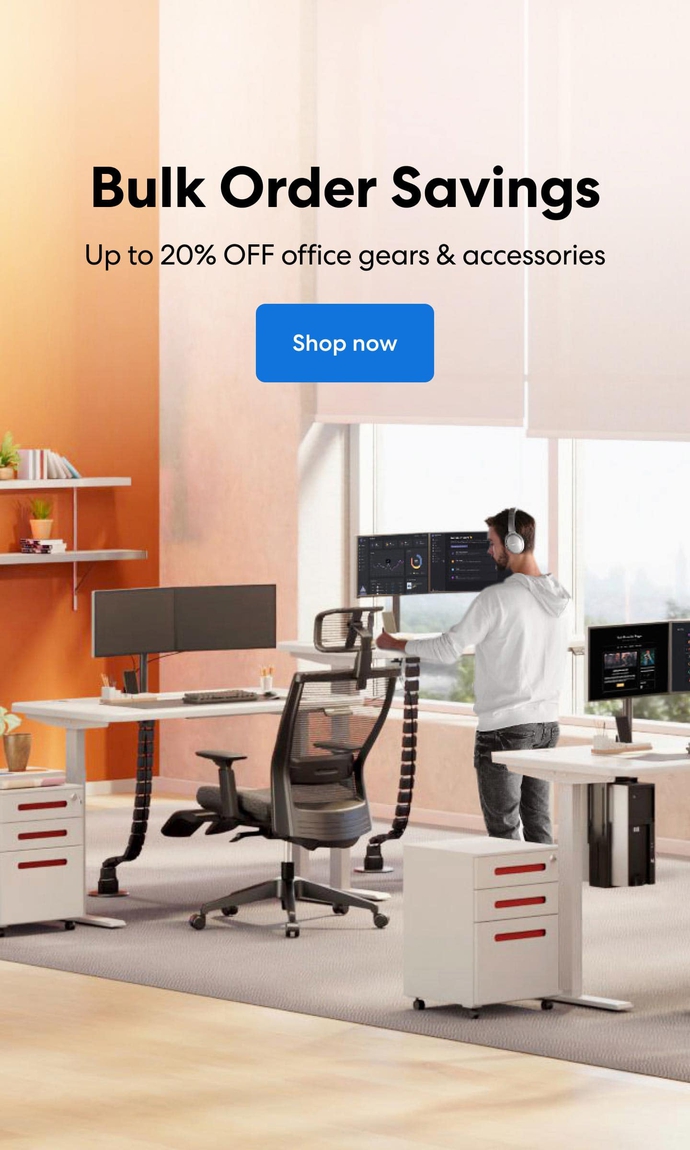 Subcribe newsletter and get $100 OFF.
Receive product updates, special offers, ergo tips, and inspiration form our team.