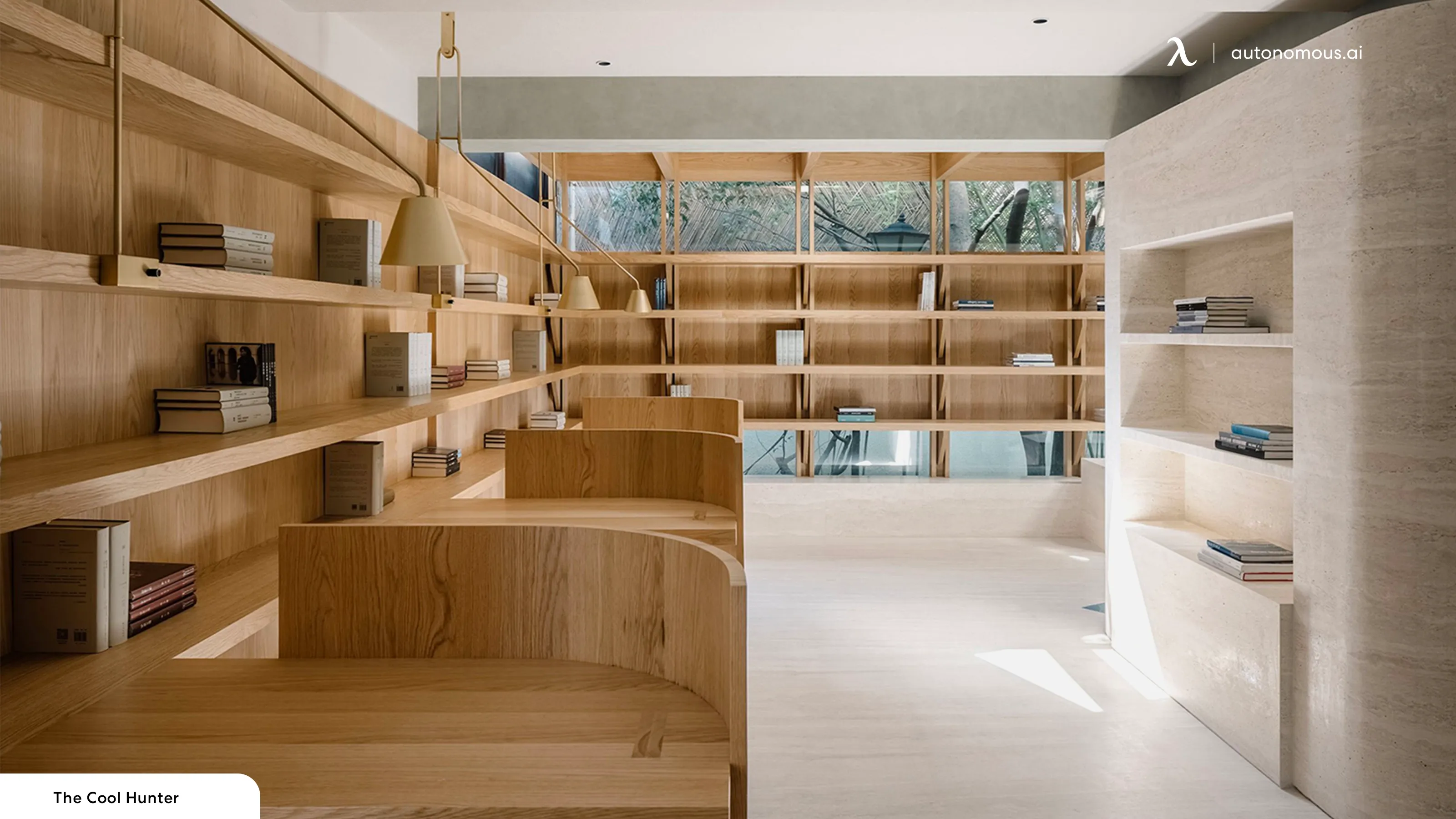 Workplace Inspiration
15 Inspiring Writing Room Design Ideas to Foster Creativity

Autonomous
|
Aug 6, 2023
363 Views
Decorating your writing room is fun, but remember that it can also affect how you feel while creating your stories. In this article, you'll learn some of the best ideas to foster creativity. 
The Best 15 Writing Room Design Ideas
Although there are many options to decorate your writer's corner, you need to try some of the following ones - they'll help you get your creative juices flowing! 
Maximize Natural Light
Writers don't need many things to engage in their craft. In many cases, you may require a pen and some paper.
However, having the best lighting possible is non-negotiable. If you don't, you won't be able to write. 
Before getting into the more aesthetic writing room ideas, you must take advantage of any natural lighting you have. Arrange your desk to benefit you while you're pouring over your manuscripts or laptop. Otherwise, you'll most likely get eye strain.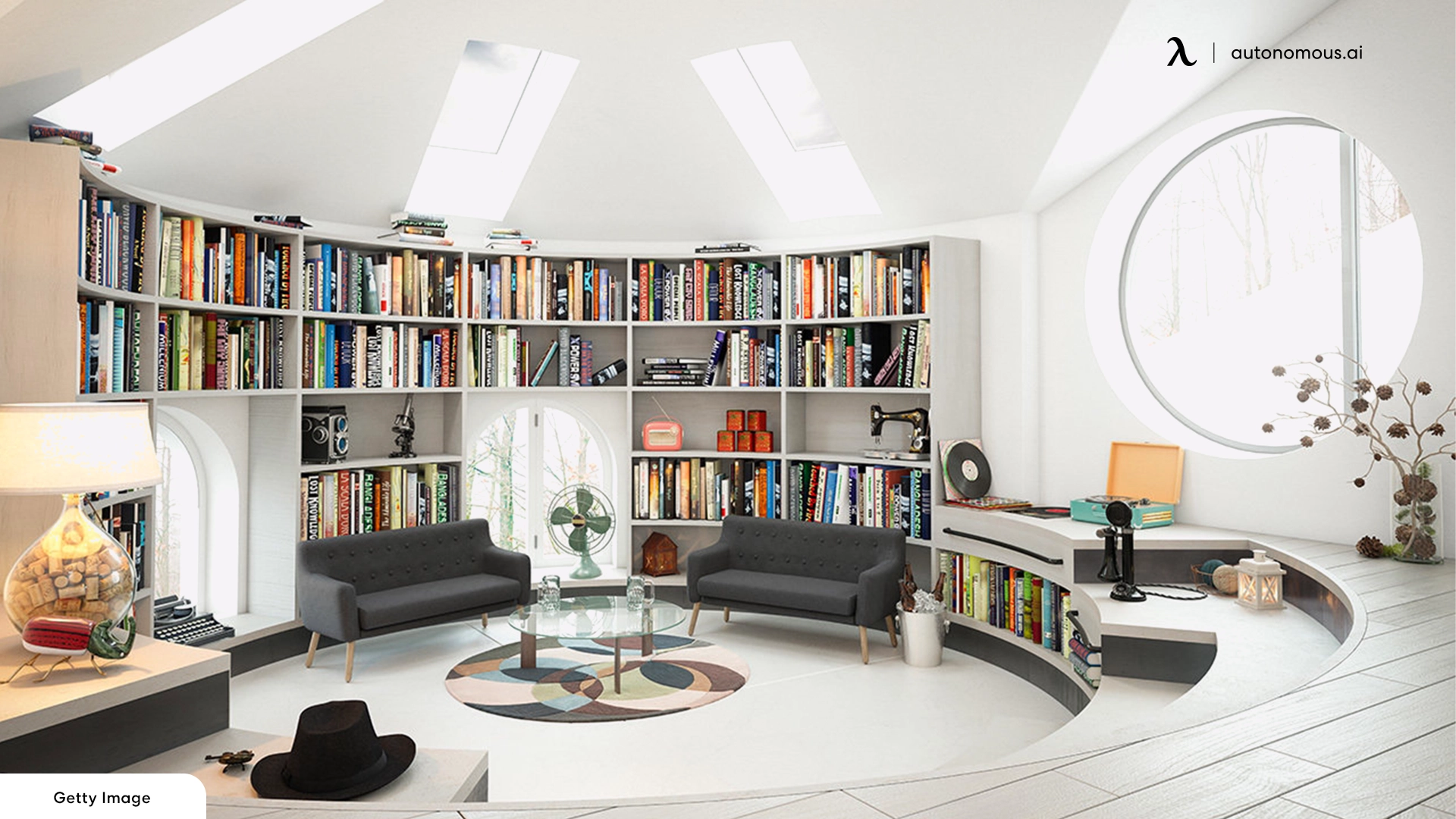 Create a Cozy Reading Nook
Writers need to read to improve, and on many occasions, they love doing so. If this is you, creating a reading nook in your writer's office could be a fantastic idea. 
The best part of this is that you won't have to put much effort into it to achieve it. You need a comfortable sofa or a couch and some shelves to keep your favorite volumes. Add some task lighting to make sure you're able to see, and you'll be ready!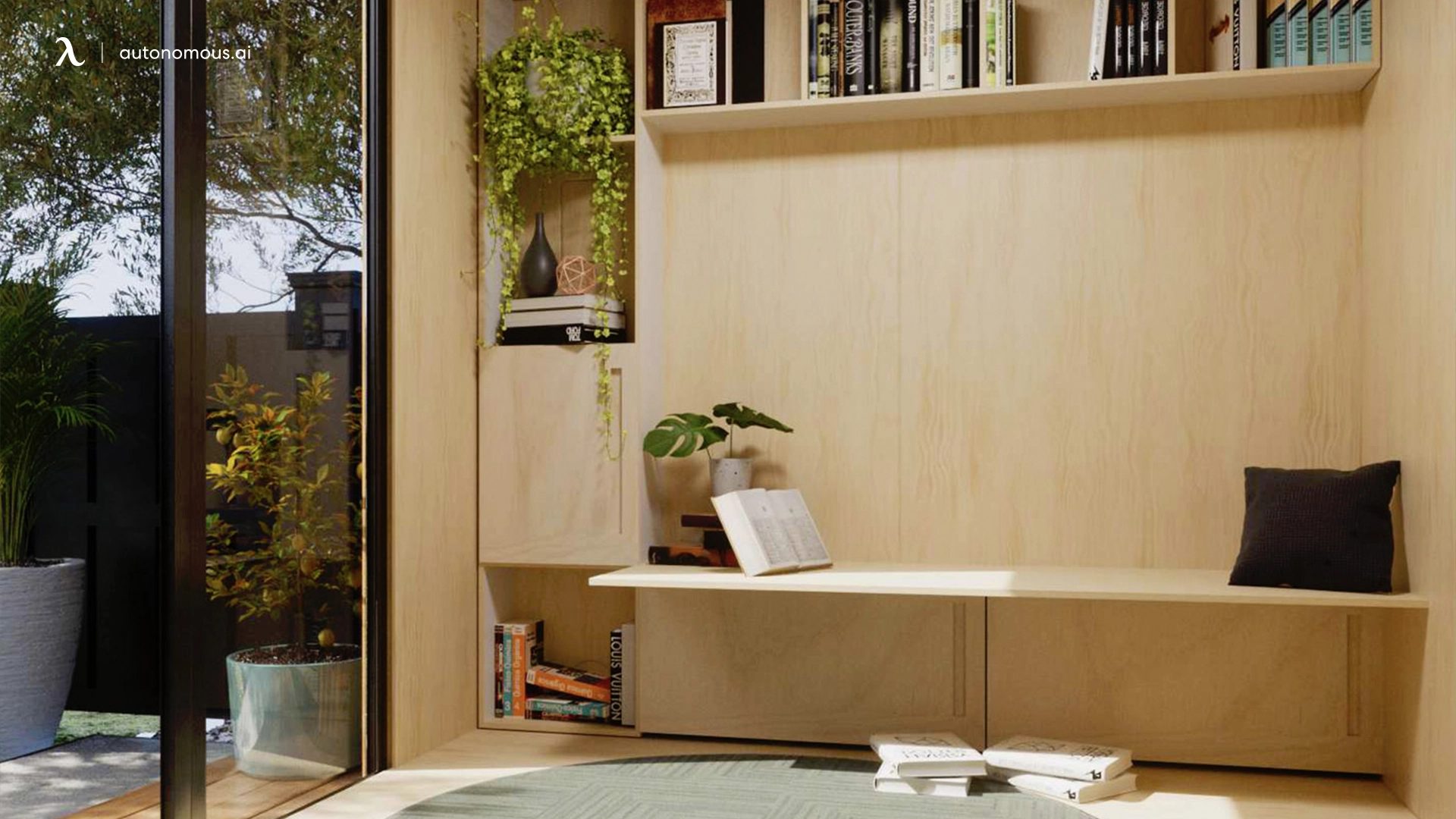 Get an Inspirational Wall
Although being a writer is a beautiful job, constantly trying to get inspired can be very stressful. Facing a blank page (or screen!) might lead you to feel demotivated and even abandon some of your favorite projects. 
Therefore, when it comes to writers' office ideas, putting together an inspirational wall is essential. You can arrange it however you want. 
While some people put up motivational quotes, others prefer adding some shelves and organizing their favorite books because looking at them makes them feel inspired to write better. In the end, it's up to you, so it can be as extravagant or as simple as you want!
Install Personalized Bookshelves
Writing space ideas often include bookshelves because they're essential to your craft. You'll not only need the shelves to organize your favorite books but also to arrange documents, resources, and more. 
Overall, the best option is to get a personalized alternative depending on the supplies you have. Some people take things to the next level and cover their writing room with ceiling-to-floor shelves, but if you don't want to go that far, you don't have to.
Buy an Ergonomic Chair and a Desk
Being comfortable is essential while you're writing because you'll spend hours in front of a computer (or a typewriter if you prefer the Hemingway route!), so you must guarantee you're reducing the risk of an injury as much as you can. 
Fortunately, many of the best chairs for writing are affordable or offer different payment options for you to buy them. 
Generally, you'll want to go for a chair that's comfortable but that also has the correct ergonomic features to ensure you won't get hurt, even if you spend hours sitting down on it, writing fiercely. 
Lastly, a high-quality desk is also crucial because you need a piece of furniture to organize your essential writing supplies and arrange your equipment (your laptop, computer, or any other device you use). Make sure you explore all the options before choosing the best one.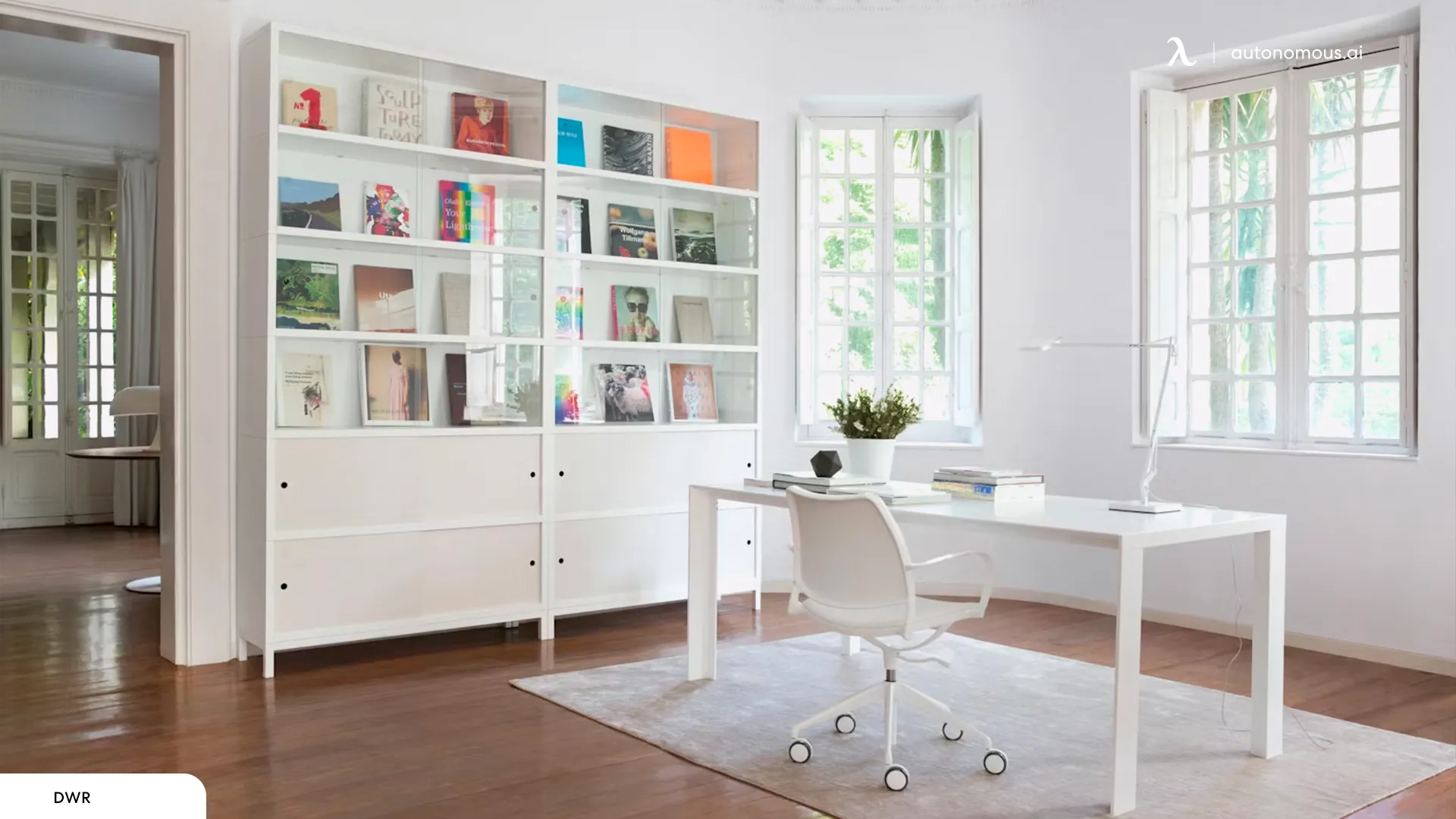 Use Mood Lighting
Having a properly-lit room is essential, but so is getting inspired. Sometimes, you may just want to sit there and think about your characters and plot, and for that, you might not need blinding sunlight coming in through your windows. 
Instead, you can rely on mood lighting and change things depending on what you're doing in your writer's room. You'll be able to switch from one ambiance to the other by clicking a few buttons, and it could help you feel inspired or motivated to write different scenes or chapters.
Get a Corkboard or a Whiteboard
Jotting down quick thoughts is essential when you're a writer, which is why many of the best writing corner ideas include getting a whiteboard or a corkboard to make things more straightforward. 
Instead of risking losing essential information that could help with your writing, you could add a corkboard or a whiteboard to one of your walls and use it to jot down reminders for your projects, plotlines, ideas, and more. 
Hang Beautiful Artwork
As the article mentioned before, there are numerous writing space ideas, but some of the most crucial ones focus on helping you feel inspired. 
Inspiration is like a cloud - it comes and goes. However, you can set your surroundings to try to make it easier for it to appear again, and this is where artwork and inspirational quotes come in. 
Hanging pleasant artwork will allow you to feel motivated to write because it will inspire you. At the same time, it's a very convenient option for your writing room because you don't have to spend much money on it - you could buy pieces from indie artists and support their small businesses.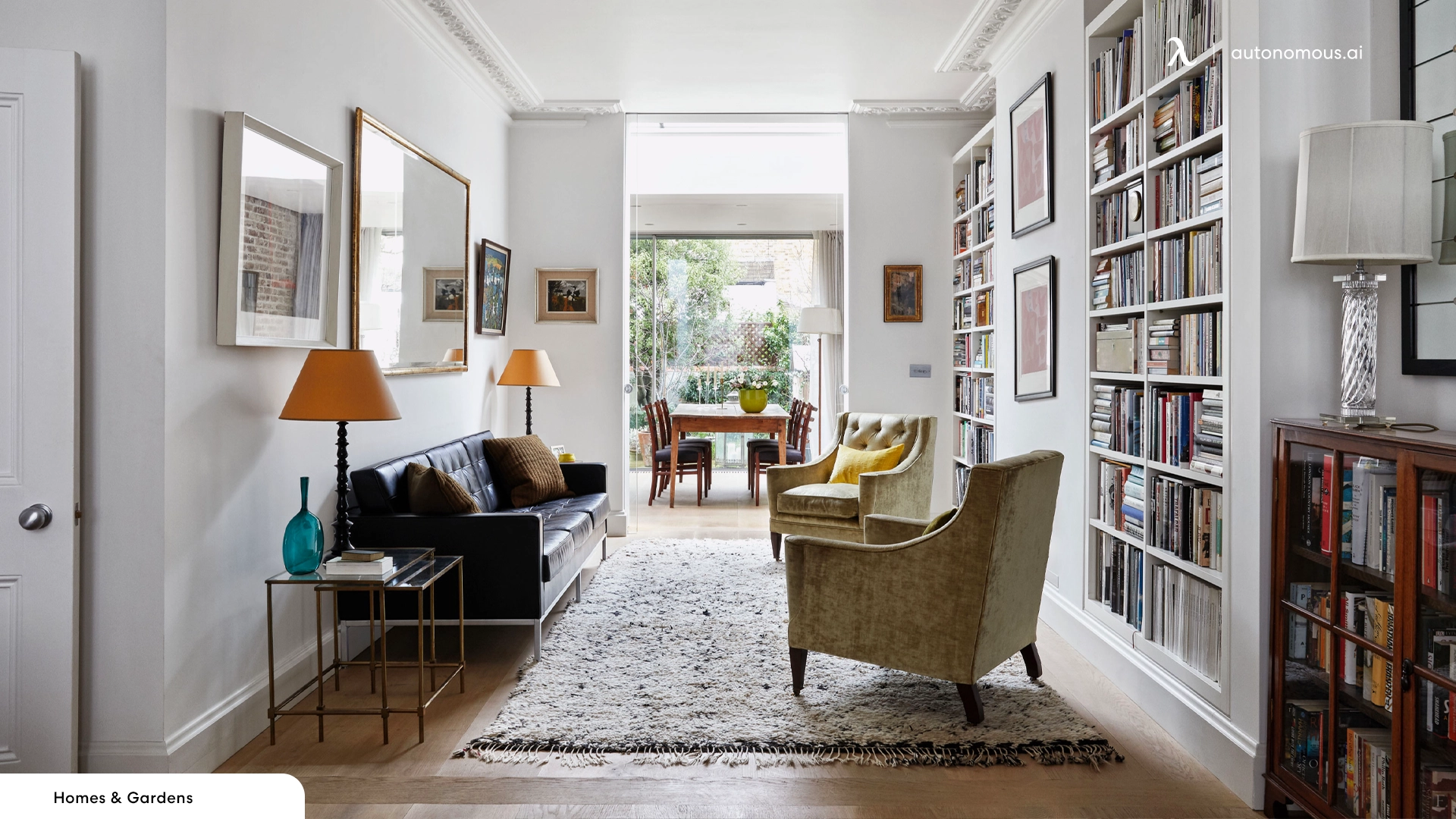 Plants, Plants, Plants!
Scientists have proven that being in contact with nature helps reduce stress, anxiety and depression symptoms, even if you're not outside walking in the woods. 
Therefore, it's no surprise that having some plants inside your writing corner ideas can help you feel better. Clearly, you probably can't have as many as you'd like to because you need space for your favorite volumes, documents, and other crucial writing equipment. 
However, adding some plants here and there or opening your windows to be in contact with nature could completely change how you feel when you're inside your writer's corner.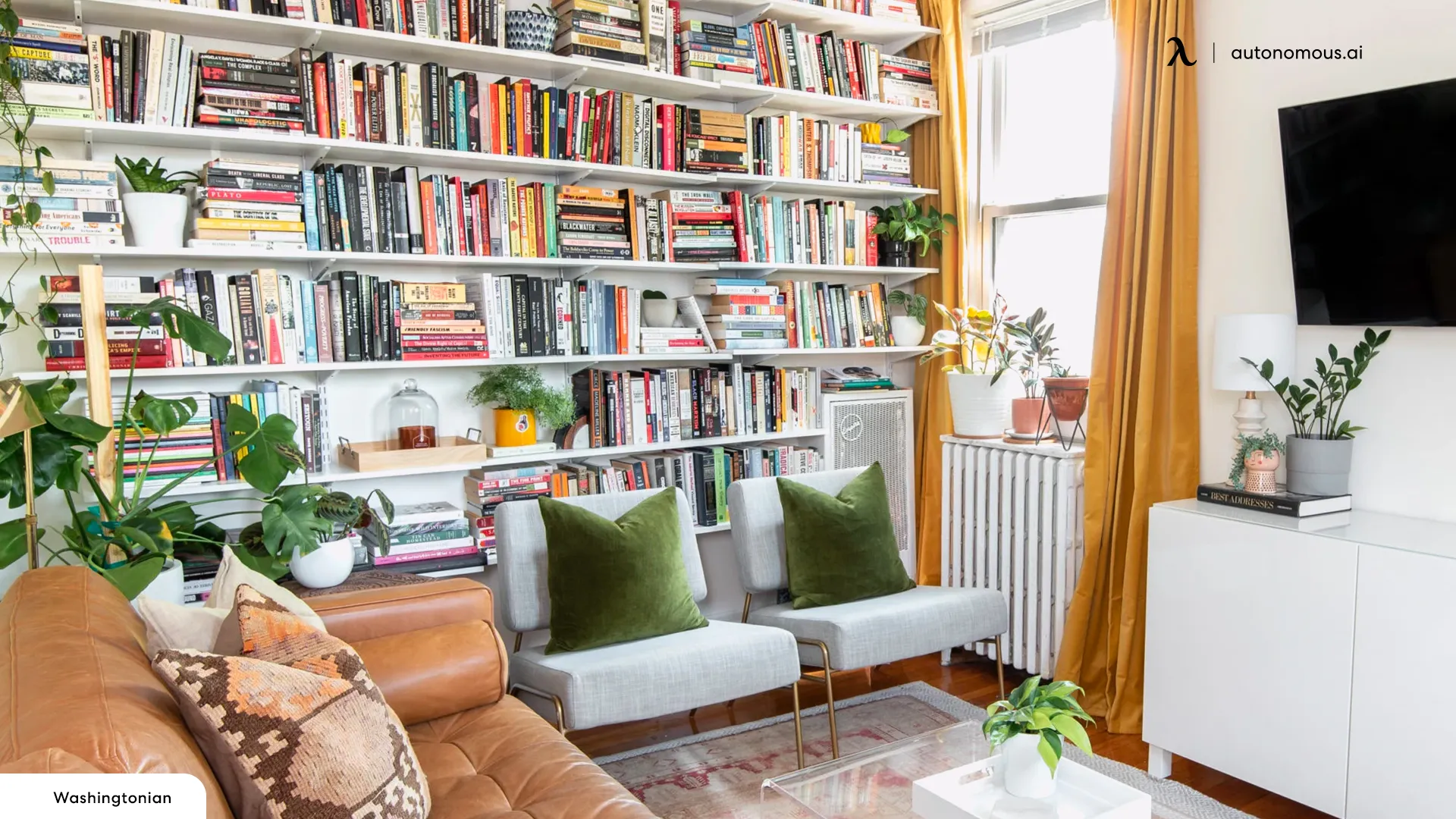 Rely on Color Psychology
Experts have done research on how different colors and patterns affect your mind, and now, this information is available for anyone to apply when decorating their interiors. 
To make the most out of your writing room ideas, you should choose colors that boost your focus and creativity. Blues, greens, and soft neutrals will probably work best.
In the end, you can choose the colors you want. However, keep in mind that you'll spend a long time in that room, so you should avoid neon or bright paint because it'll probably make you feel tired after a while. 
Make Sure the Room Reflects Your Style
There are many writers' office ideas you can try, but the most crucial aspect to remember is that the space should reflect who you are as a person and a writer. 
If you have to write somewhere you don't feel like yourself, you'll probably never be motivated or inspired.
Therefore, although there are numerous options out there, you should only choose the ones that fit your needs and individual preferences. 
Some people go for a minimalistic look because having too many objects around them is overwhelming. However, for others, it's the opposite - they prefer feeling as though they're inside a cozy nook full of new things. 
Your room should reflect your style, so don't be afraid to experiment with different options until you find the one you want.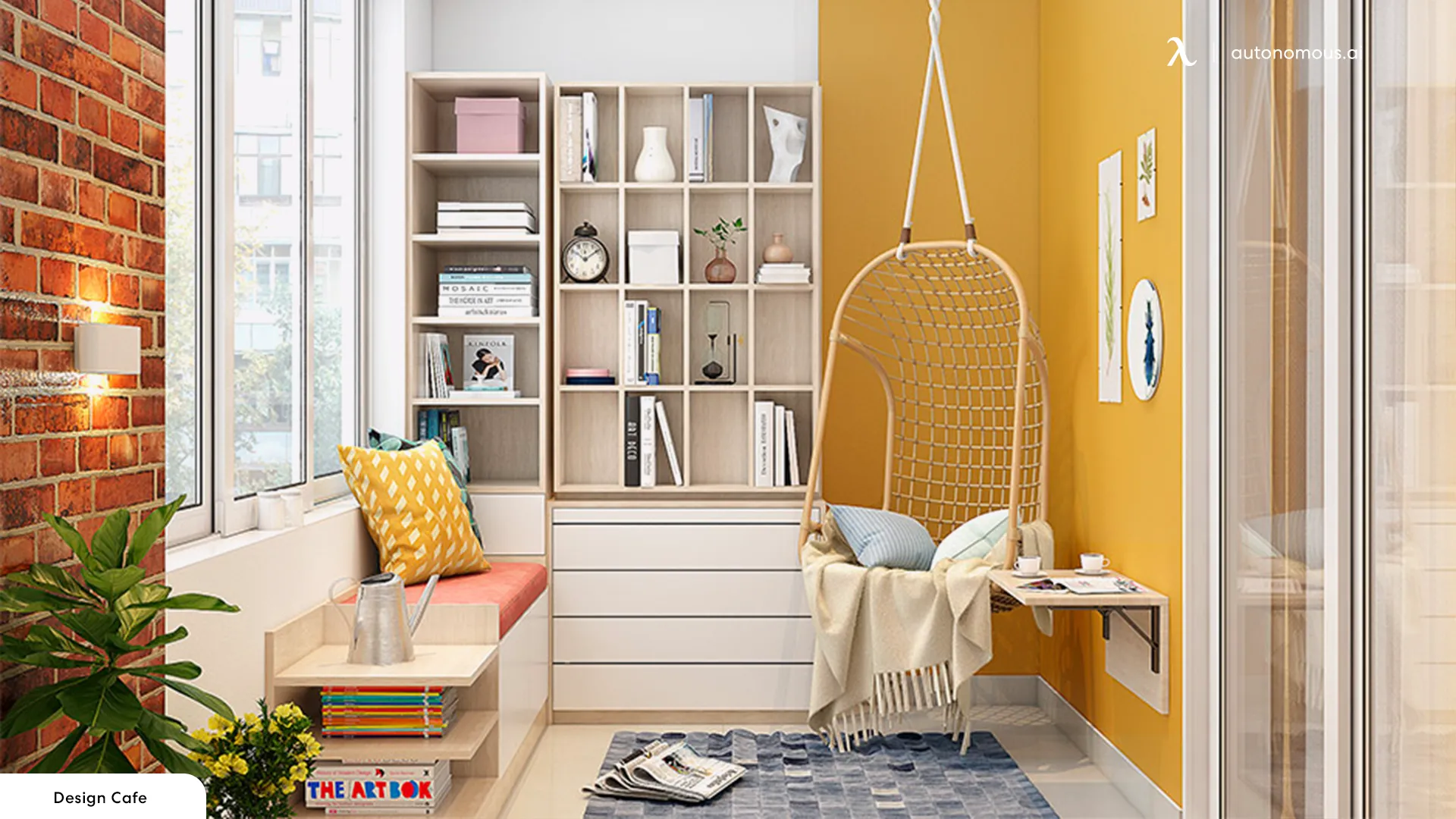 Soundproofing
Staying focused is essential when you're a writer, and unfortunately, it's one of the most challenging things to achieve. 
Concentrating can be an even more daunting task if you live with other people. They might distract you by accident, which is why having a private space for writing is so crucial. 
To guarantee you won't lose focus during your intense writing sessions, make sure the place is soundproof. You'll avoid unnecessary distractions and be able to think about your work. 
Get the Right Tools
Writers need to handle many documents, reference papers, books, and manuscripts. Therefore, you'll need various storage unit options to keep everything neat. 
A crucial part of focusing and feeling inspired is having organized and peaceful surroundings. Therefore, you'll need different storage alternatives, otherwise, clutter will take over your life.
Opt for a Comfortable Floor
Although you'll mostly be sitting on your chair, if you often spend long hours writing, you'll have to walk around for some time or even sit elsewhere. 
While some add a sofa to their writing room, others just prefer sitting on the floor. If you belong to the second group, you should make sure it's comfortable. 
Cork floors and soft rugs will be your best friends when you're setting up the ideal writer's corner. However, remember that there are many options, so go through all of them and choose one that fits your budget and style. 
Arrange a Music Corner
Last but not least, music might be essential for you while you're engaging in long and intense writing sessions. 
A music corner could be the perfect addition to your writer's room, and you don't need much space to put it together. 
Get a compact table and set up some speakers (or even a turntable!). While you're writing, you can play soft ambiance music or anything you need to help you get your creative juices flowing.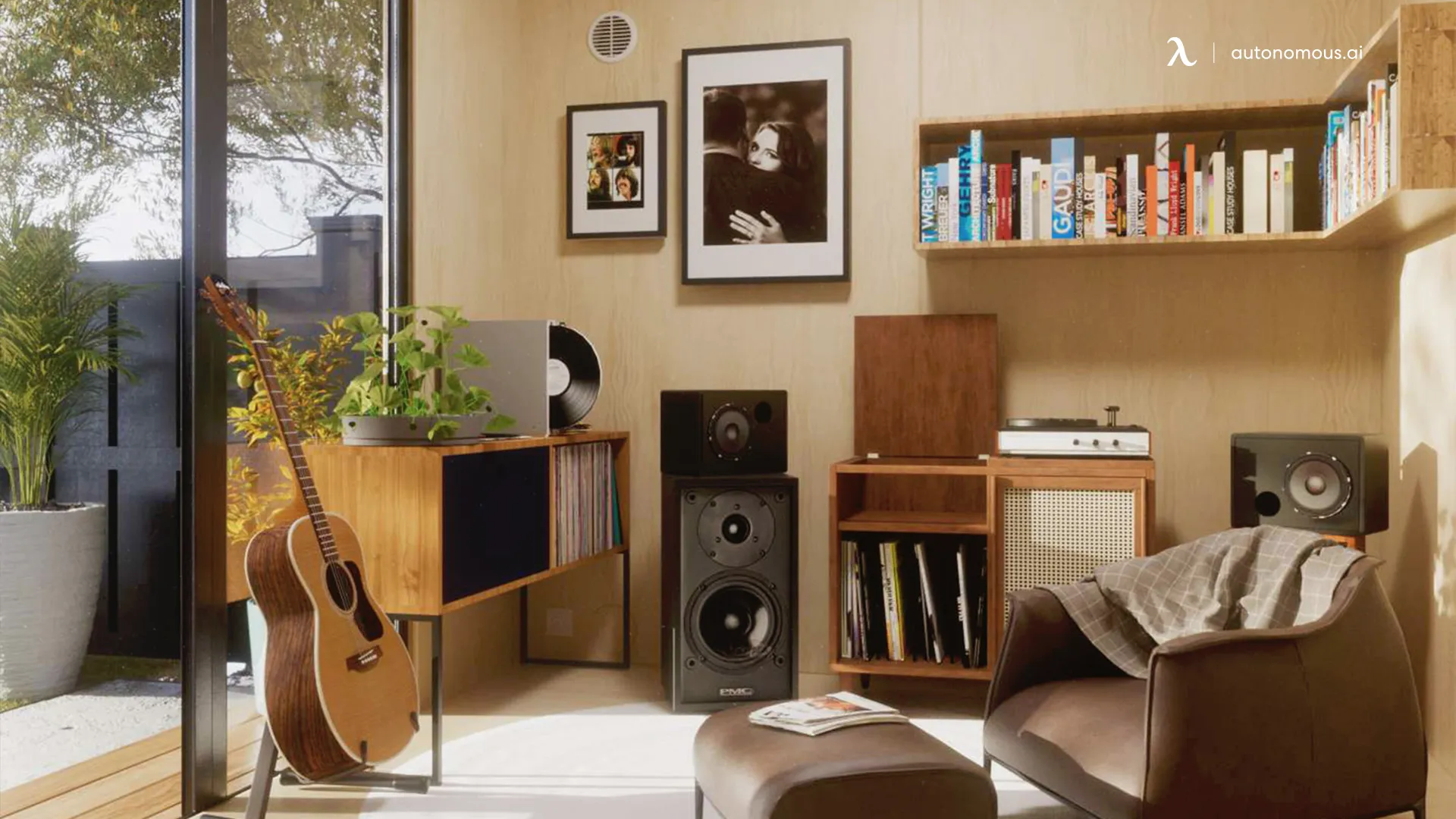 A Better Solution to Improve Your Writing Focus - Invest in a Backyard ADU
Although you can turn an extra room into a writing studio, the best alternative is to get a prefab accessory dwelling unit. 
With so many writers' office ideas out there, it's easy to get distracted by the numerous options and wish you had more space to try them all. Fortunately, you can do that if you have a tiny house in your backyard! 
Autonomous has different studio sheds for you to explore if you're looking for the ideal private space to enhance your writing. Here are some of the brand's top options:
WorkPod
This home pod is many people's favorite because of its convenient dimensions and modern design. 
Clients have said they're pleased with the WorkPod because it's spacious enough for them to arrange all their supplies and focus on their work without getting distracted by other things. 
Plus, if you choose the WorkPod, you won't have to worry about installation or anything about the process. Experts will get in touch with you as soon as you pay, and they'll visit your property and install the prefab ADU. 
Dimension
8'6''W x  11'9''L x 11'H
Ceiling height
6'10'' to 9'4''
Window material
Wooden frame, 5/16" tempered glass
Door material
Anodized aluminum frame,  5/16" tempered glass
Material
Siding: bitumen, housewrap, vinyl silding
Roof: bitumen, housewrap, shingles roof
Floor: plywood
Balcony: composite wood
Include
Optional: SmartDesk Connect, ErgoChair Pro+, Dual Monitor Arm, Cable Tray, Steel Cabinet, Anti-Fatigue Mat. Always included: Electrical Cabinet & Bookshelf
Floorspace
98 square feet
Capacity
2.9 tons
StudioPod
A versatile option might be what you've always needed if you're going through different writing space ideas and want to try some. 
Autonomous prefab studio is a multipurpose compact house that you can put in your backyard and use for work or to engage in your favorite hobby: writing! 
In most localities, you won't need a permit to install it in your backyard, and experts at Autonomous will help you throughout the process if there's something you want to know. 
Lastly, since it includes a sturdy desk and other additions, you'll get everything you need to start writing like you've never written before!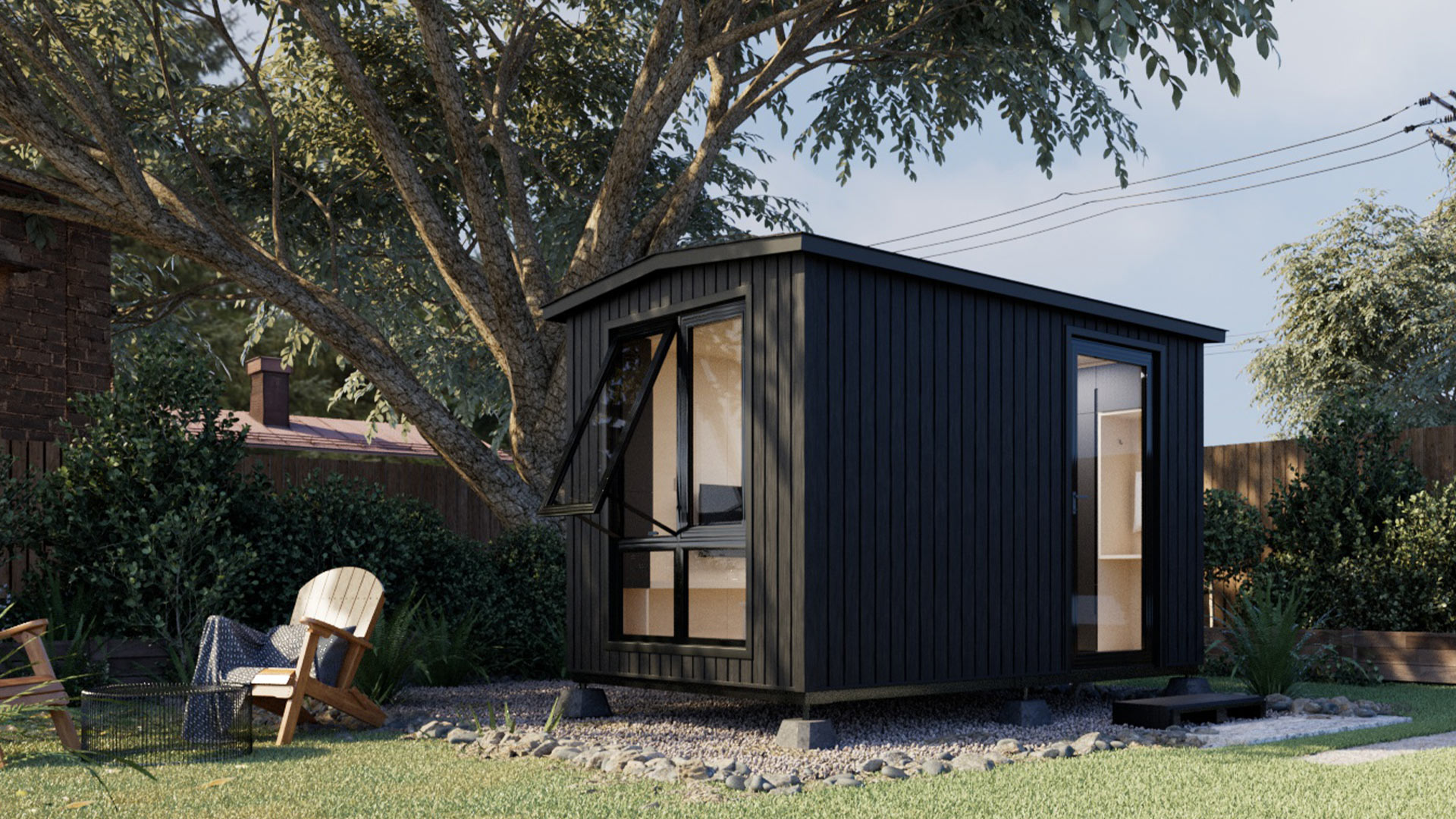 Dimension
8'4"W x 12'6"L x 9'10"H
Floorspace
105 square feet
Ceiling height
7'3"
Weight capacity
2.9 tons
Pedestal
18"W x 43"L x 7"
Window & door material
Powder-coated aluminum,  5/16" tempered glass
Material
Siding: plywood 1/2", steel frame, honeycomb paper, plywood 3/8", bitume, housewrap, vinyl siding
Roof: roof shingles
Floor: plywood
Pedestal: steel frame & wood plastic composite
Electrical devices
RCB, Wall outlet, Ceiling light switch, Ceiling light, Ventilator switch, Ventilator, Ethernet wall port, 66ft power cable with 2 connectors
Include
Optional: Cabinet, Desk, Small & Big Bookshelf, TV Shelf, Foldable Sofa Table, Convertible Sofa Bed. Always included: Electrical Cabinet
Power input
Maximum voltage : 110V AC (US standard)
Maximum current : 25A
Maximum power dissipation : 2750W
WorkPod Lite
Some people want a writing room but their budget is tight. If this is you, don't worry - you're not the only one, and Autonomous has the ideal option for you to explore.
The backyard pod (also known as the WorkPod Lite) is a versatile prefab ADU that's more compact than other alternatives but still has all the features you need to take your writing to the next level. 
Even though garage office conversion is always an option, a prefab ADU is a much better alternative, especially if you get the WorkPod Lite because it's a much more affordable model.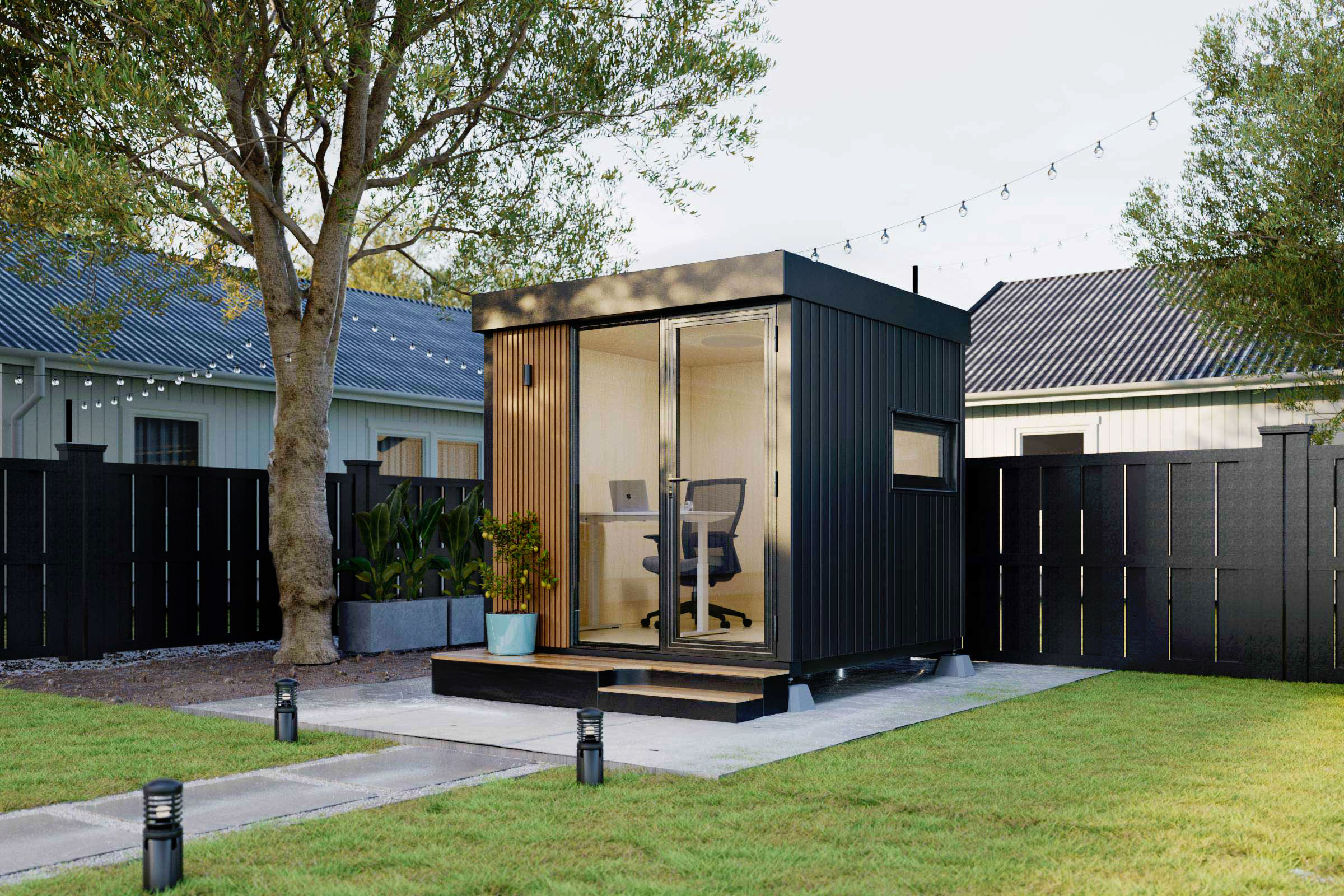 Dimension
8.7"W x 8.12"L x 9.3"H
Material
Window and door: powder-coated aluminum, 5/16-inch tempered glass
Siding: plywood 1/2-inch, steel frame, honeycomb paper, plywood 3/8-inch, bitume, housewrap, vinyl siding
Roof: metal roofing
Floor: plywood
Balcony and Pedestal: steel frame and wood plastic composite
Pedestal
24"W x 103"L x 9"H
Electrical devices
RCB, Wall outlet, Ceiling light switch, Ceiling light, Wall light, Ethernet wall port, 66ft power cable with 2 connectors
Weight capacity
2.3 tons (including Pod body)
Floorspace
80 square feet
Ceiling height
7.3-inch
Final Thoughts
Having a writing room is any writer's dream, and you can achieve it if you decorate it properly and make sure it matches your needs, preferences, and goals. 
The best option is for you to get prefab home additions, so now that you know about some of the versatile and high-quality alternatives Autonomous has for you, don't hesitate to pick one and have fun while writing!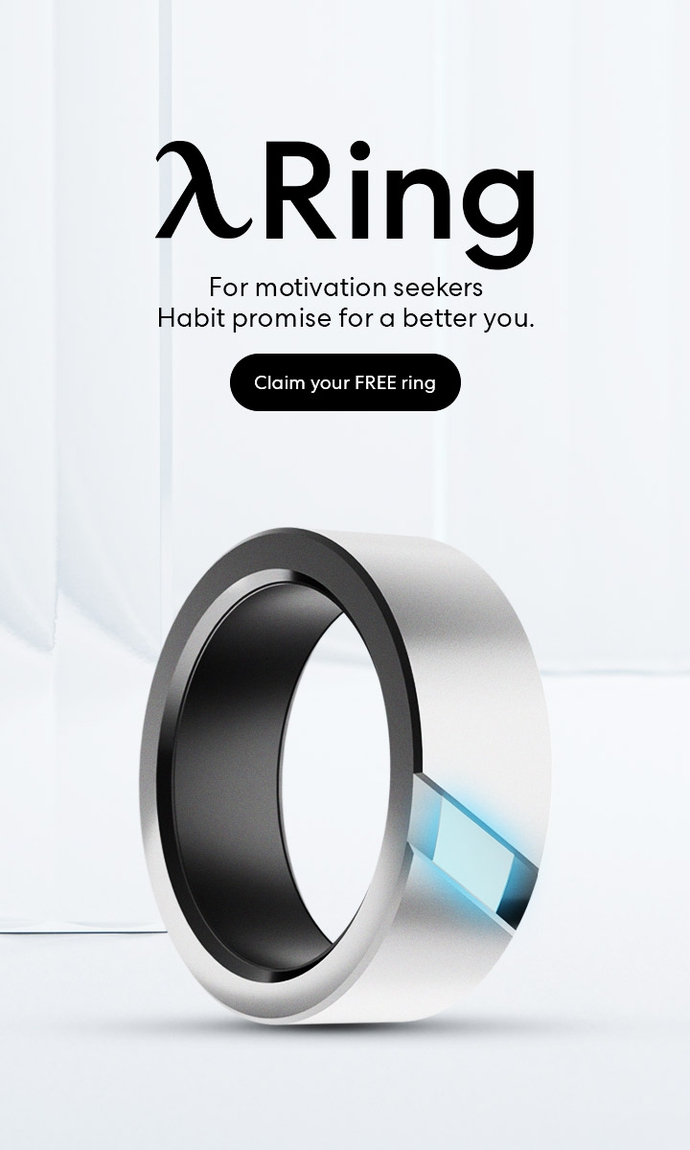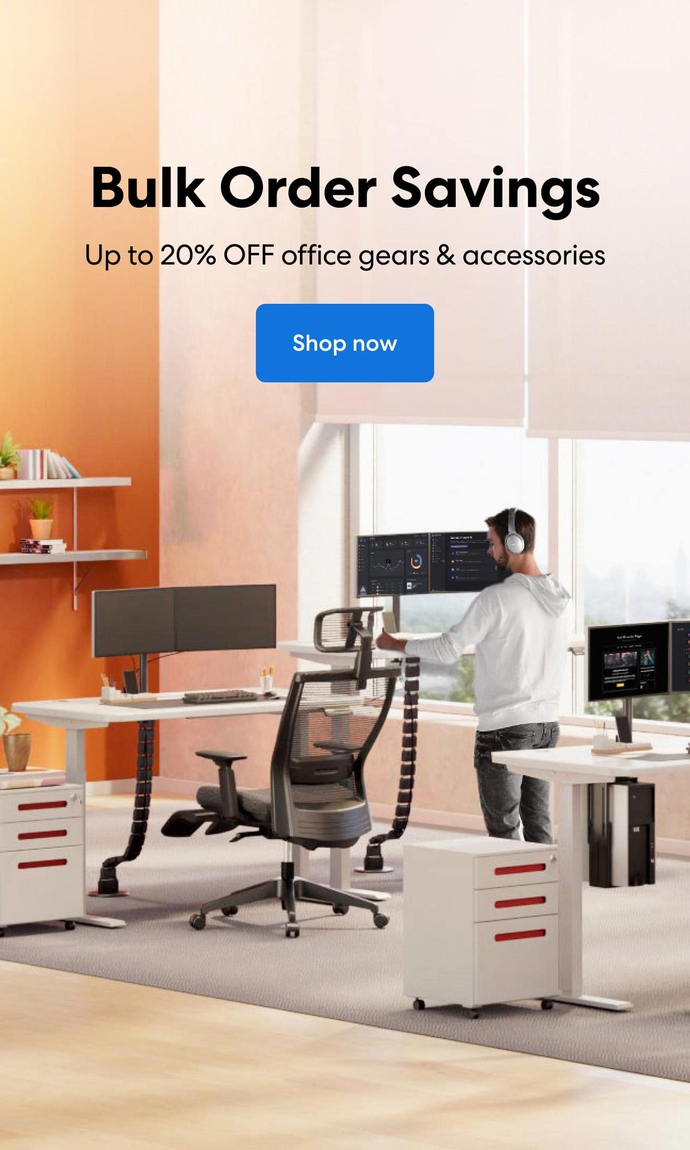 Subcribe newsletter and get $100 OFF.
Receive product updates, special offers, ergo tips, and inspiration form our team.