Smart Products
27 Best White Gaming Desks for Minimalist Gamers Setup
4,991 Views
One of the many beauties of gaming is that there are hundreds of different setup options for gamers. Thanks to this, people can be highly creative and create a setup that fits their personalities and needs. Currently, the most attractive option for making your gaming setup shine is a white gaming desk. 
Many years ago, people stuck with black, grey, or other opaque colors for their desks. While there isn't a problem with these colors, they may look outdated for some people. White office and gaming desk accessories have gained a lot of popularity recently, and it has been used for minimalistic setups. 
Getting a white desk for gaming can be an excellent option if you're looking for something to make your setup shine. However, with that many options on the market today, it may be hard to find something that fits your needs. On this page, we're going to take a look at the 18 best white gaming desks for minimalist gamer setups. 
Why Should You Go Minimalistic with Your Gaming Setup?
Whenever it concerns furniture, few shades are as beautiful as white. This shade is popular among trendy interior decorators because of its simplicity, homogeneity, and freshness. White is an excellent shade for a gaming table for these purposes. The calm tone is a great contrast to the vibrant colors and edgy patterns common in gaming computers.
The greatest white gaming desks are versatile enough for both gaming and business. They provide ample storage space for your PCs, monitors, and other devices. Such white gaming computer desks are worth considering, even though you're not an obsessive gamer who spends a lot of time at their computer. With almost all of us remote working these days, buying the correct white gaming setup is more crucial.
When it comes to gaming, it can be easy to fill your desk with way too many items. If you don't organize your desk correctly, it may end up looking messy and unpleasant for you. Working in a cluttered space can greatly decrease your productivity and energy levels, which is why it's important to assess this issue as soon as possible. 
A great way to solve this problem is to work with a minimalistic setup. In essence, it involves putting only what you need to work or game on your desk and leave the rest somewhere else. Some of these items may include your PC or laptop, headphones, microphone, and phone. 
Additionally, a decluttered desk setup can help reduce distractions by a significant degree. Considering that you're going to use your setup for gaming, it's important for you to stay focused on what you're playing instead of all the stuff you may have on your desk. If you combine a minimalistic approach with a white desk setup, you're going to gain many benefits from that. 
Correspondingly, people who require desks for both gaming and working may need a desk that helps them stay at ease. The only desks that can help people work or game either by sitting or standing are standing desks in various styles. Below, we will examine the numerous benefits of standing while gaming or working.
Benefits of Standing While Gaming
Standing desks or white gaming tables are particularly ideal for video gaming since they enable users to remain in a comfortable position while playing. They assist in enhancing your body alignment and make you more energized by preventing you from gaining weight from remaining seated for lengthy periods on a chair.
Standing at a table allows you to easily operate your pc keyboard or mouse while playing online games, which is a better method to concentrate. When working or playing games online, switching between standing and sitting positions on a white L-shaped gaming desk constantly helps to increase focus and blood flow, which improves cognition and response speed.
Several sit-stand gamers have discovered that utilizing an ergonomic standing desk allows for more precise wrist alignment while using a controller or joystick, whether they are seated or standing. Adjustment settings on a standing desk will allow you to keep your computer at a comfortable height for your tastes and needs.
Standing with a more active core and muscular use can help you have a more engaging gaming experience by keeping your metabolism active after restoring to a seated posture. You'll feel alert, refreshed, and energized.
Why Choose White for Your Gaming Setup?
As mentioned before, one of the best things about gaming setups is that you get to be creative with them. One of the most recent trends for desks is the white gaming desk. The main reason for this interesting color is that it makes your setup look fresher.  
The color white is often associated with cleanliness and simplicity, which are two excellent factors for your gaming setup. Additionally, the color white works with anything, so you're not going to have any issues with items looking weird in your white desk for gaming. 
Overall, if you're looking for a fresh, modern look for your gaming setup, consider going with a white gaming computer desk. 
What Gaming Setup Fits Your Needs the Best?
There are many desk options for you to choose from. All of them work great for gaming, but some options may be more attractive for you depending on what you're looking for.  
If you want to keep your gaming experience as comfortable as possible, you may opt for an adjustable standing desk. These desks allow you to change from a sitting to a standing position at any moment you consider appropriate. Additionally, you keep your body active, which is great for long-term health. You may combine your adjustable standing desk with an ergonomic chair to make the experience even more comfortable. 
On the other hand, if you're looking for a much wider space to place your things, a white L-shaped gaming desk may be the right fit for you. Also called "L-Shape Desk," this desk type has two main areas where you can place your gaming desk accessories. On one side, you may place your PC or laptop equipment, and on the other, you can place any other important items, such as a printer, journal, etc. Overall, an L-shaped gaming setup is a great idea if you have the budget for it.
Finally, if you're working with multiple monitors, you must look for a setup that can handle them without issue. In these cases, a white gaming computer desk for multiple monitors offers both the width and weight support you need to place as many monitors as you want. 
Pros and Cons of a White Gaming Desk
Pros of a White Gaming Desk
It provides a much cleaner look.
It's an attractive color.
It combines with anything.
Cons of a White Gaming Desk
It may require much more maintenance than a regular desk.
27 Best White Gaming Desks for a Minimalist Gamer Setup
Standing desks might be an excellent substitute for traditional workstations. Conventional desks force you to remain seated for long periods, impairing your alignment and creating neck, wrist, and back problems. Sitting for an extended period might adversely affect your metabolism and increase your heart disease and diabetes risk.
Standing instead of sitting strengthens the heart and boosts metabolism. It could also help with neck, spine, and shoulders discomfort. Some individuals focus and get engaged in their activities while standing upright. Electric elevation adjustments are available on the finest standing desks, allowing you to raise or perhaps, lower them as needed significantly.
They must be large enough to accommodate your computer, display monitors, and other gadgets. Most standing gaming tables have additional features such as headphone connectors with cup holders. We've compiled a selection of the top cool gaming desk ideas you can customize to your needs.
1. Autonomous SmartDesk Core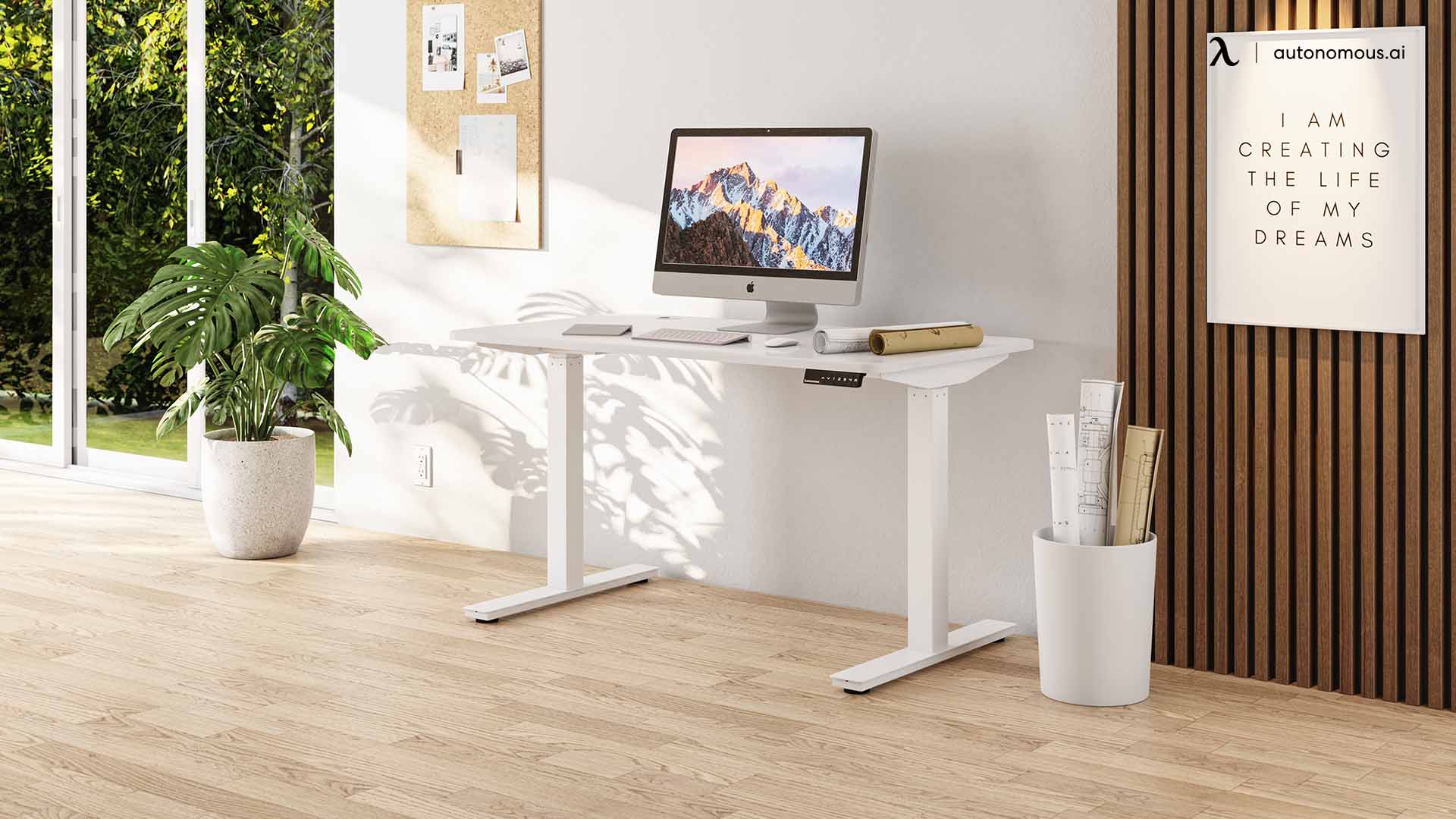 Autonomous SmartDesk Core is both an affordable and beautiful white gaming computer desk option you can get for your gaming setup. Overall, this adjustable standing desk offers up to four programmable height settings, and it supports up to 265 Lbs. at a time.  
The SmartDesk Core works with an electric dual motor to lift all your setup to the height you prefer, and the best part is that it goes at only 50 dB, which is a significantly low volume for a standing desk.
2. Autonomous SmartDesk Corner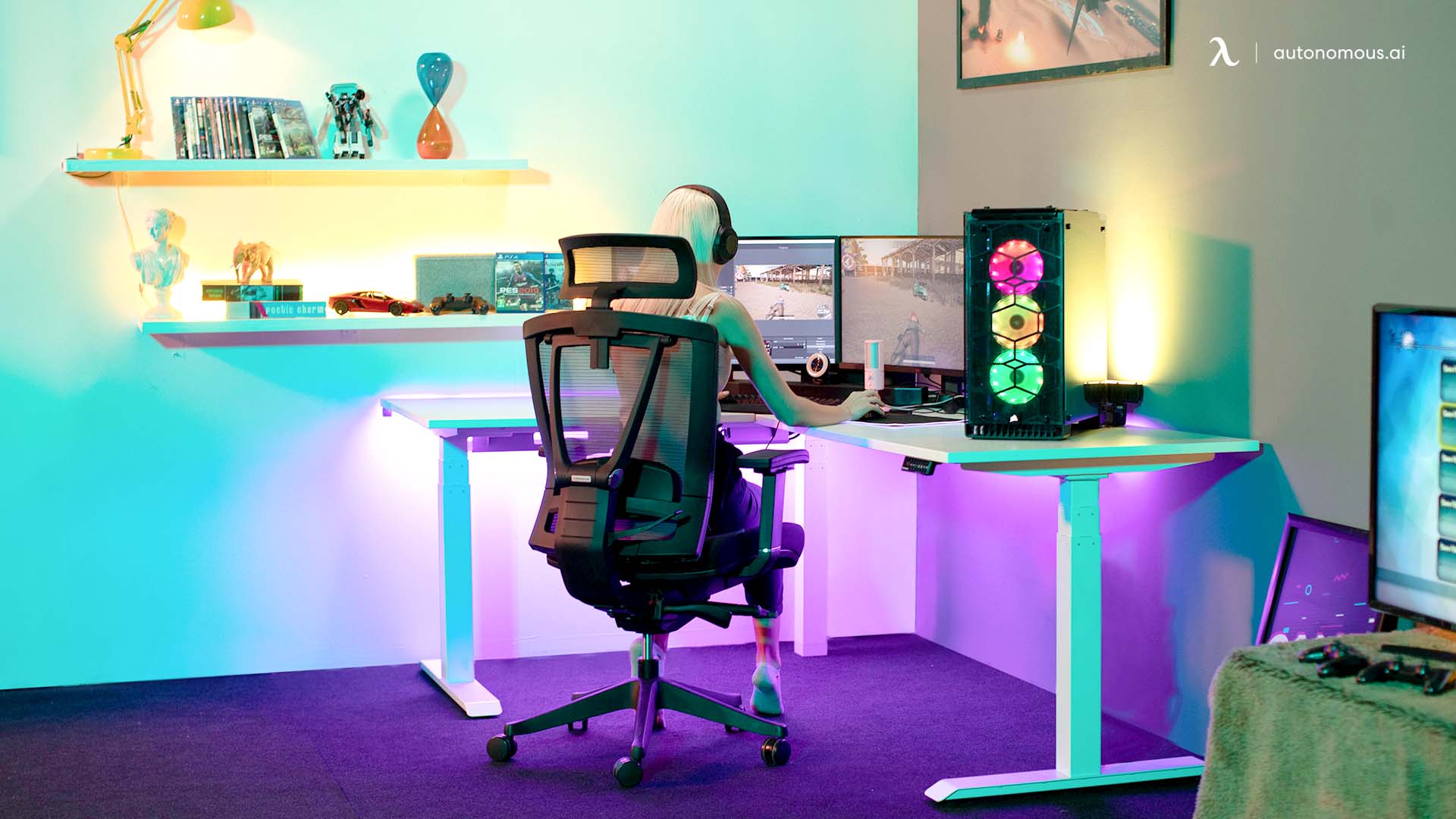 If you're looking for an L-shaped standing desk, the SmartDesk Corner is for you. This white gaming desk offers twice the space as a regular desk, making it ideal if you're planning to put several items on it. 
The SmartDesk Corner works with a quiet yet powerful triple motor, and it supports up to 400 lbs. Overall, this white corner gaming desk has everything you need to maximize your comfort and productivity during the day.
3. Autonomous SmartDesk Pro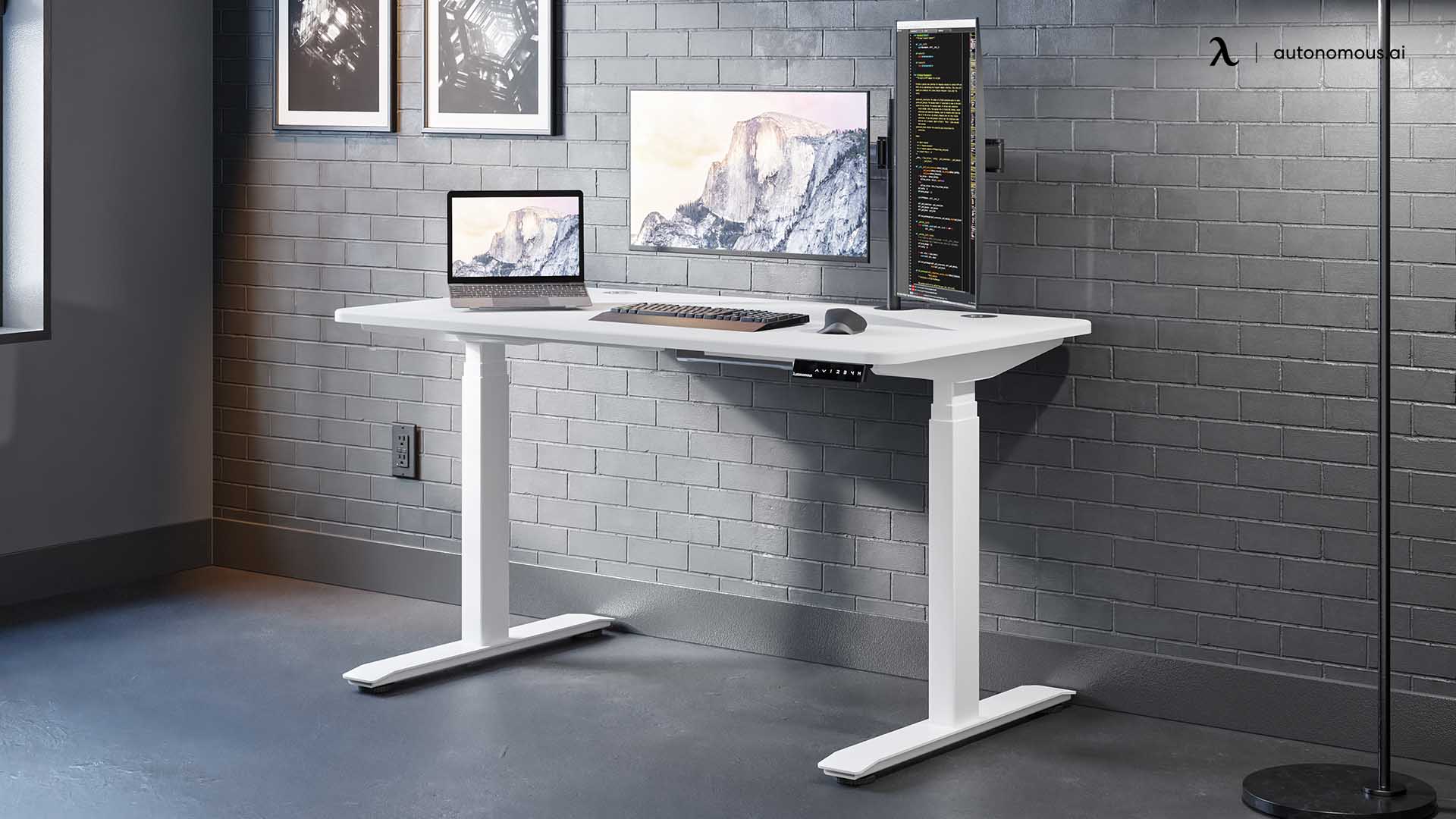 The SmartDesk Pro model offers a classic but modern approach to gaming setups. If your goal is to stay fully minimalistic with your setup, this may be the right choice for you.  
It features four programmable height settings, an electric dual motor, and a weight capacity of up to 310 lbs.
4. SmartDesk Connect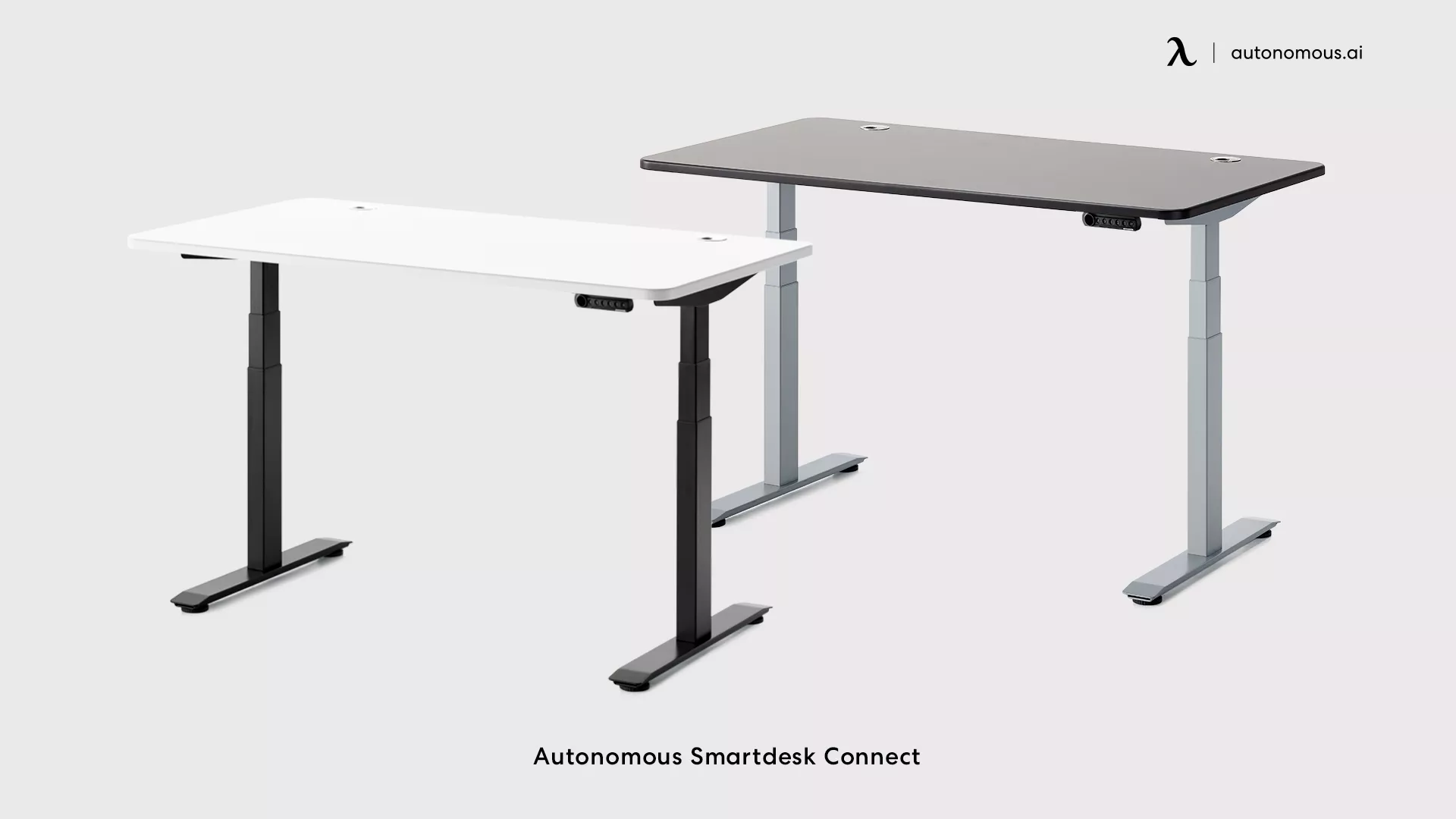 This is an adjustable gaming desk with a drawer which is one of the most advanced standing desks ever. The height adjustment levels on the standing desk connect can be adjusted on this desk through a convenient app that aligns with your personal preferences.
5. SmartDesk Core by Autonomous x Timotion - White top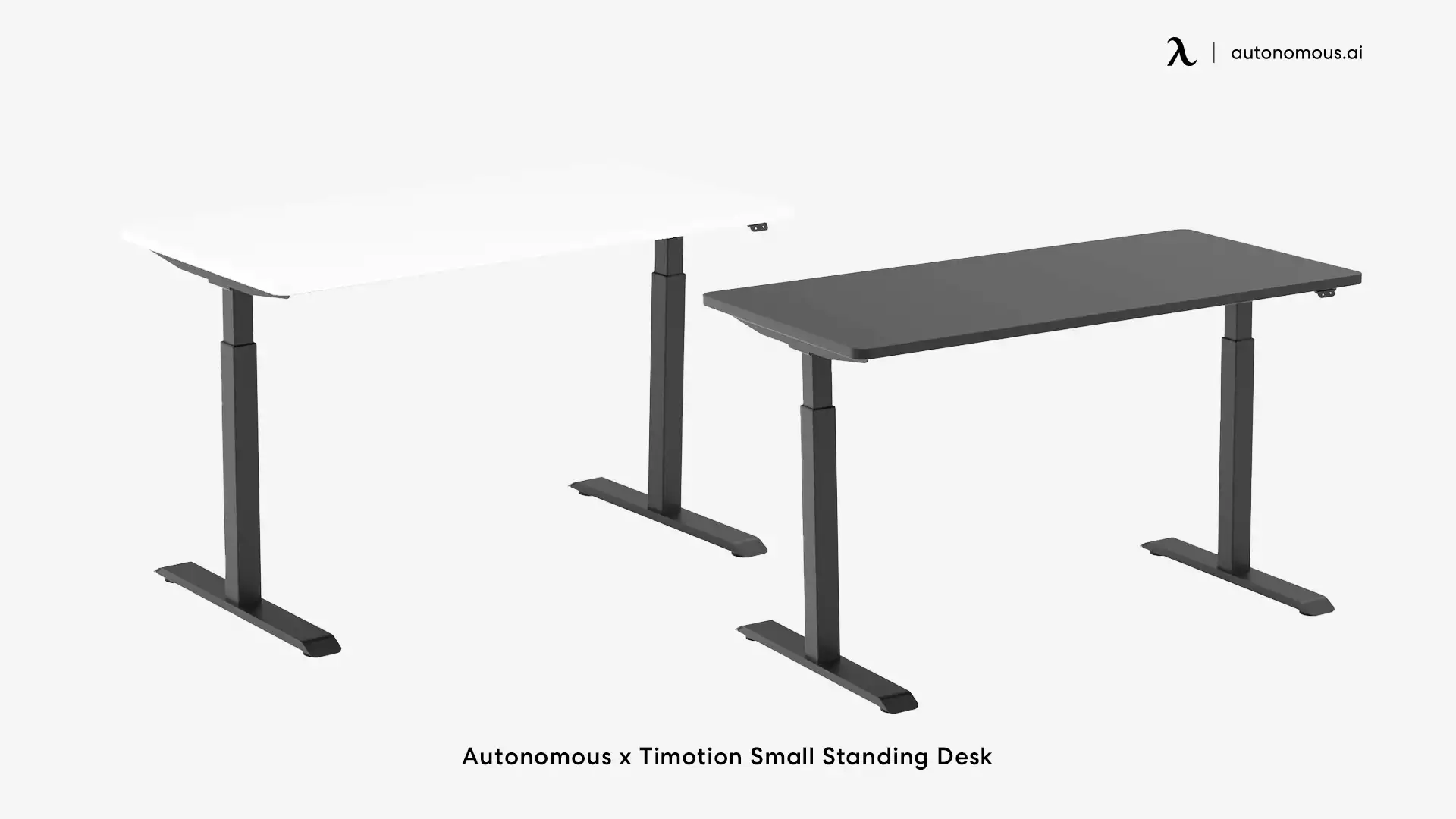 This white gaming desk is designed with a strong desk structure and a big desktop with a simple style. You can invest in your office with a long-lasting desk.
6. Compact Desk by Mount-It! Sit-Stand Reminder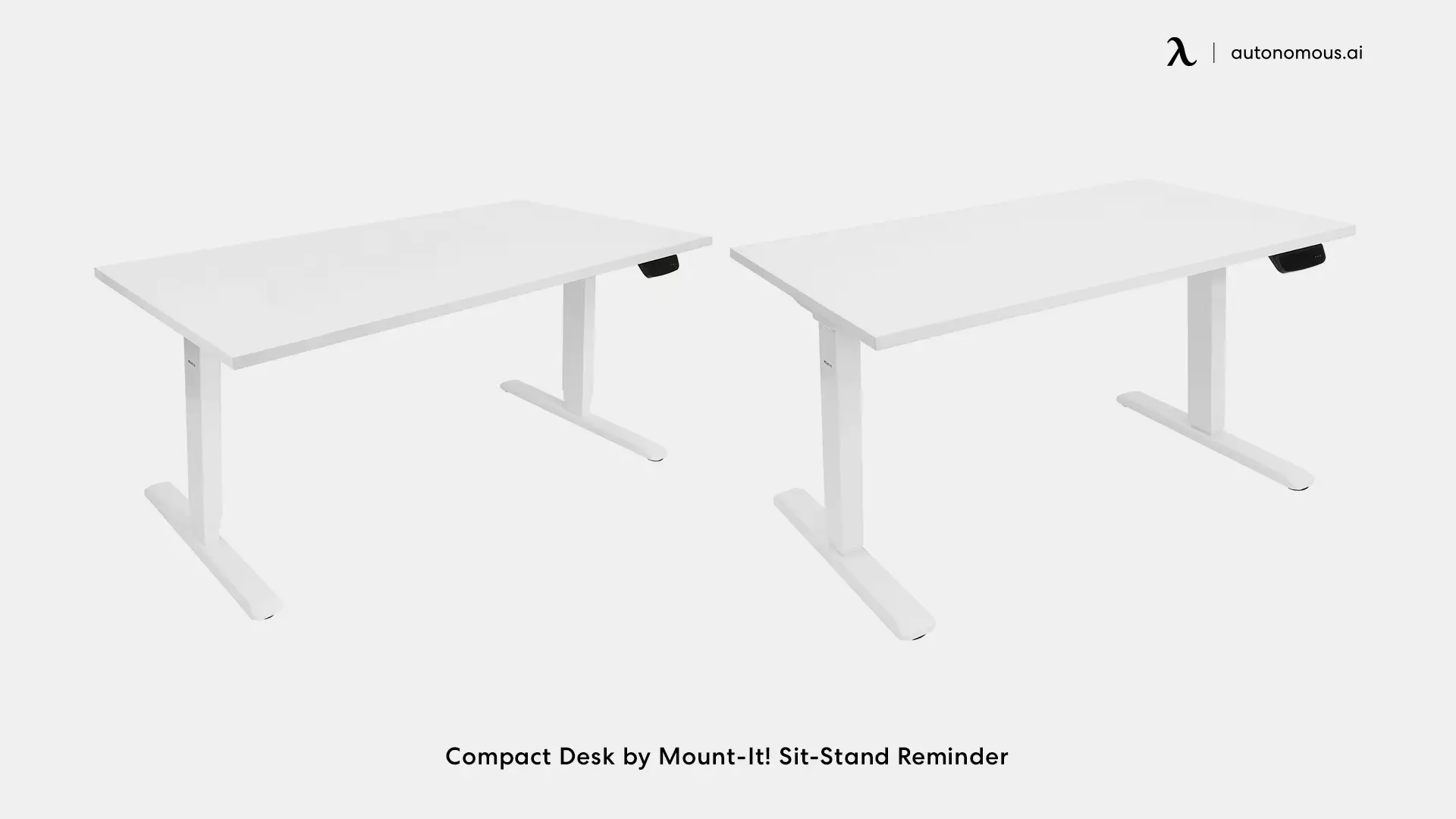 You can work swiftly and easily while remaining seated or standing with this white electric sit-stand desk. It is self-contained, meaning it does not need any drills or difficult assembly. For added stability, this white gaming desk riser features a broad base. Its height-adjustable display arm can install a display with further adjustability and complete motion capabilities.
7. Compact Desk by Wistopht: Wireless Charge Pad – White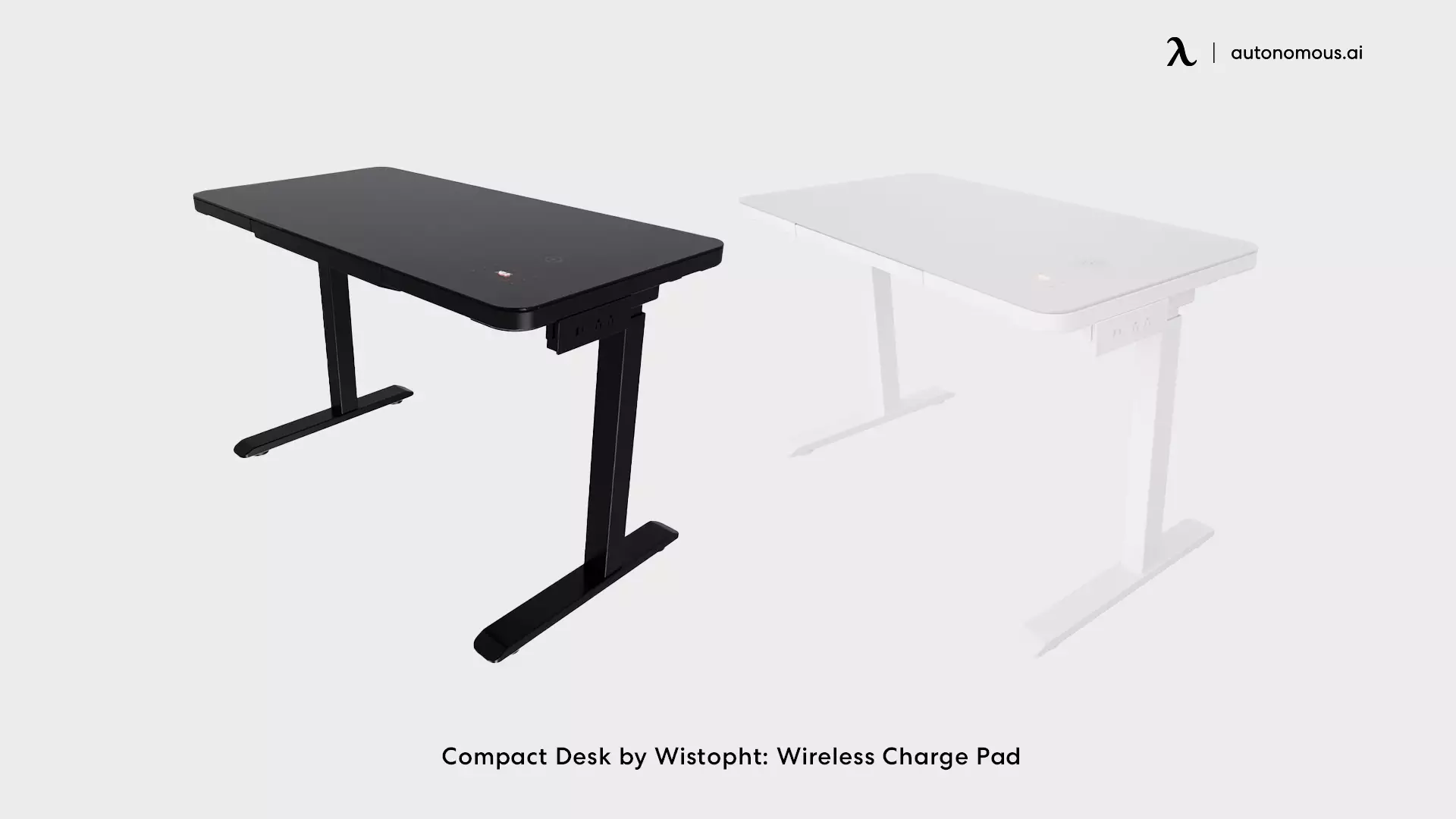 This small standing desk is a fantastic sit-stand workstation that lets you manage your arrangement right from your desk. The smart glass desktop of this white gaming desk has a digital screen with multi-touch keys and a cordless charger built within the desk.
8. Compact Desk by Happen: 2 Minute Assembly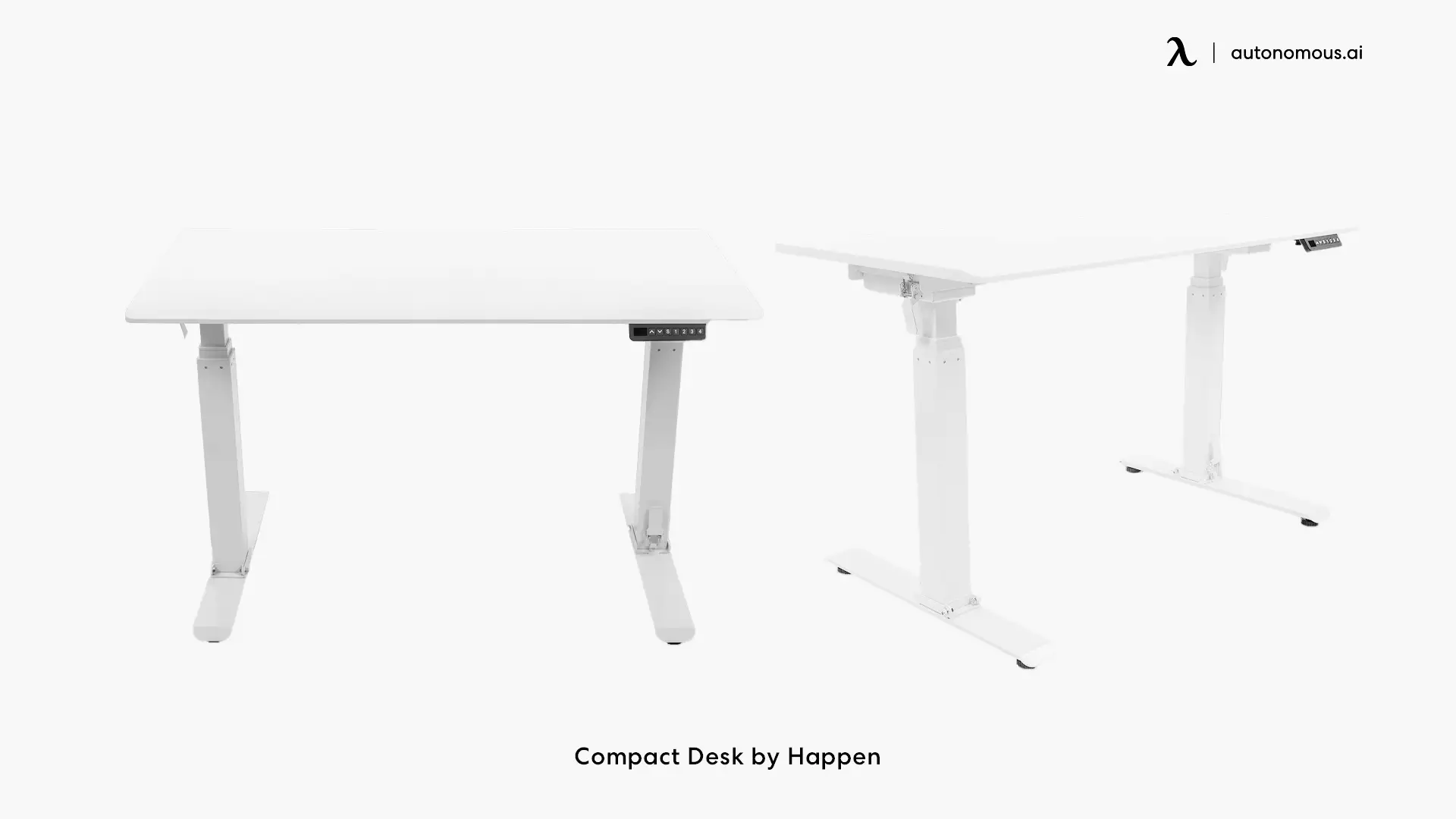 This DIY gaming desk is the ideal blend of functionality, durability, and ease of use. This freestanding desk features a superior teak wood laminated finish with ergonomically designed features, and you can install it in under two minutes with no hardware.
9. Manual Standing Desk by Mount-It! Hand Crank Control
To improve blood flow and posture, you may set this mechanized standing desk to your preferred height. When working, the flexible table can assist in decreasing neck as well as back discomfort. You may raise the desk from 29.2" to 47.7" inches in just a few moments. This mechanized white gaming desk does not require any electricity.
10. LUFEIYA L-shaped White Desk for Gaming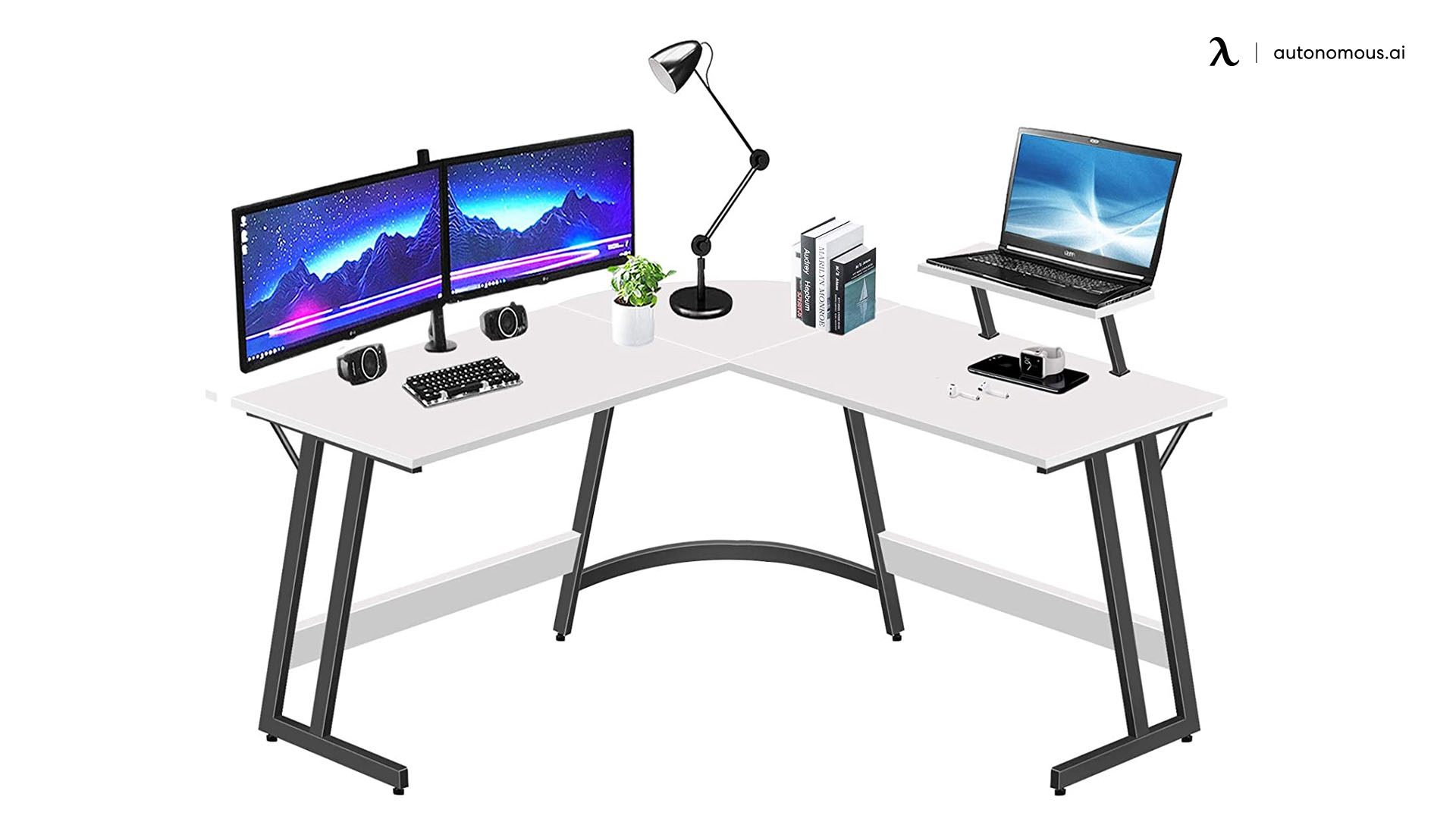 This white L-shaped gaming desk has one of the widest designs on the list since it features a 53" + 53" design. To put things in perspective, you can place two full computer setups on the same desk and still have space for additional accessories. 
The LUFEIYA desk comes at a reasonable price considering its width, so if your goal is to have as much space as possible, consider going for this model.
11. Tribesigns L-shaped White Desk
One of the greatest features of the Tribesigns white gaming desk is its built-in PC stand. The white gaming table itself has an L shape, making it comfortable enough for most gaming needs. Thanks to the PC stand, you can keep your case off the desktop and the floor. 
Additionally, this white L-shaped gaming desk offers a minimalistic and elegant design that may fit most home and office environments, making it suitable for many user types. 
12. DESIGNA White Gaming Desk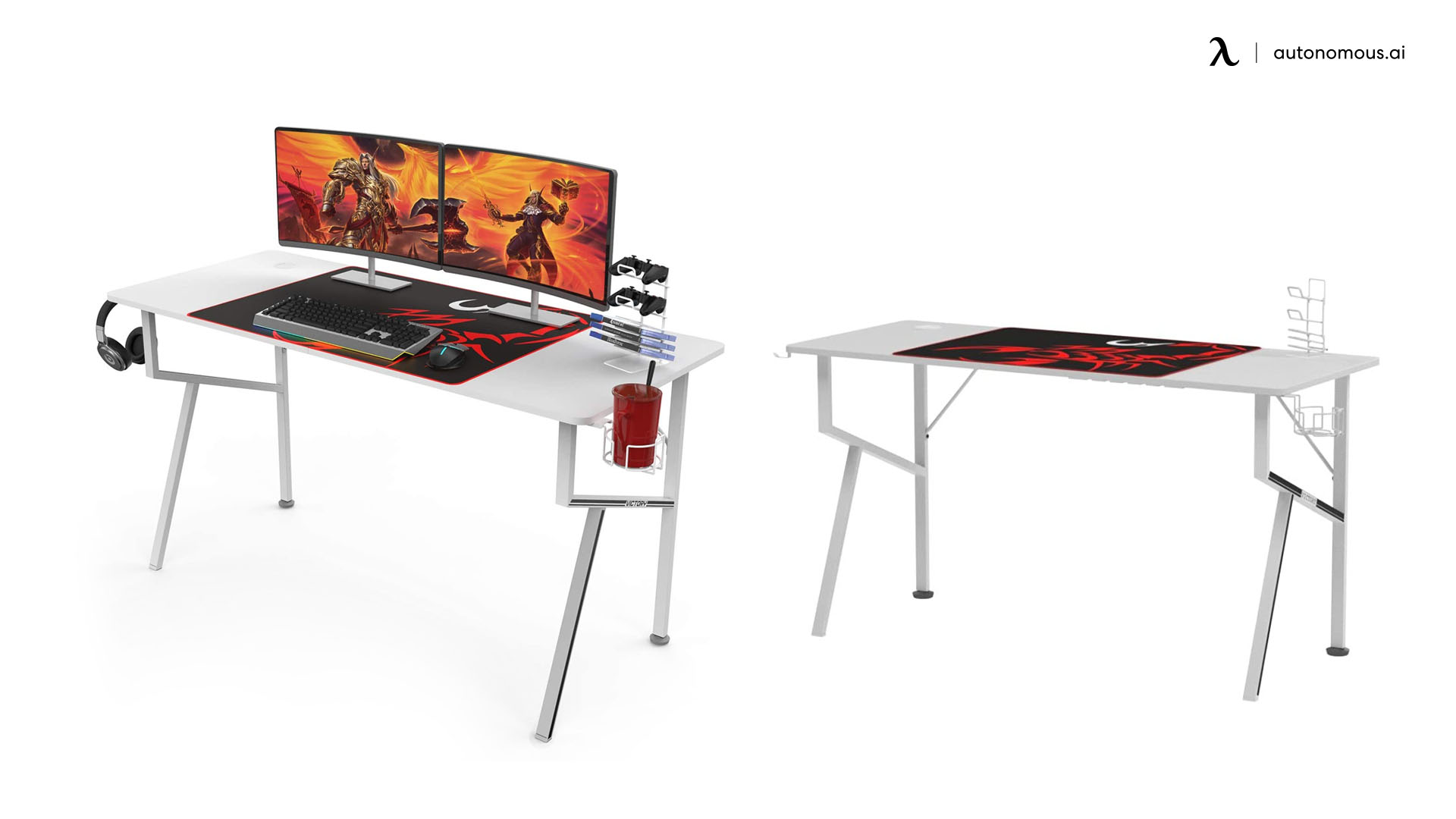 As opposed to many other white gaming computer desks on this list, the DESIGNA white desk for gaming is directed to gamers only. It features a wide 55" design, cup holders, a headphone holder, and a mouse pad. 
If you're looking for a simple design that offers a lot of space for your accessories, arms, and legs, this option may be great for you. 
13. Elephance L-shaped White Corner Gaming Desk
The Elephance white gaming table isn't directly marketed to gamers, but considering its 59" design, it makes it more than suitable for most gaming needs. Aside from its width, this corner gaming desk can support up to 450 pounds, meaning it can support several monitors.
14. Rockpoint Kora Desk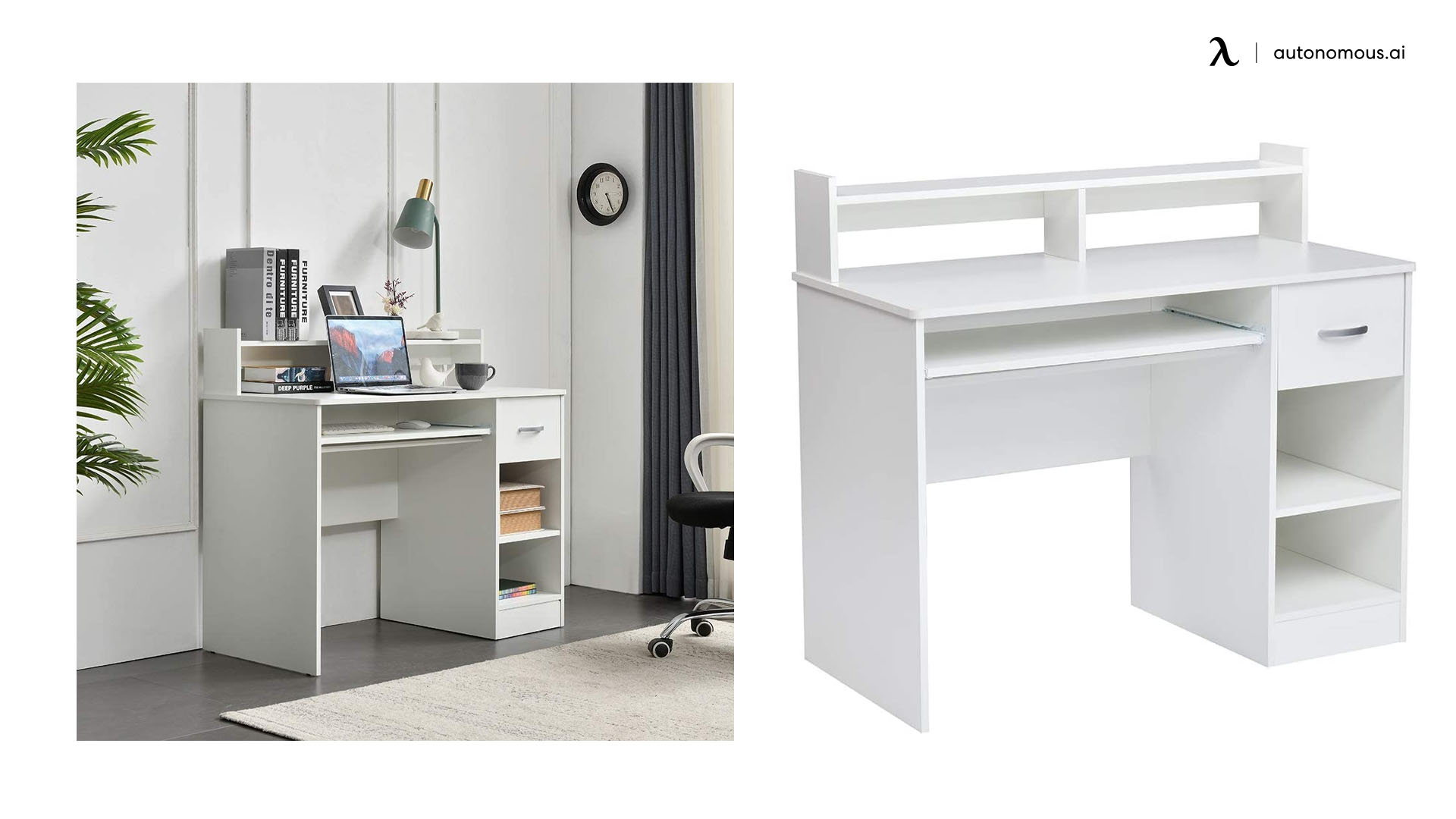 This is one of the smallest desks on this list, and some people may argue that it's not even suitable for gaming. However, this desk model features two shelves, a drawer, a keyboard tray, and a monitor stand, which not many desks today include. 
If you don't mind the little amount of space this desk offers, it may be a great option to organize all your gaming accessories. 
15. Walker Edison L-shaped White Desk for Gaming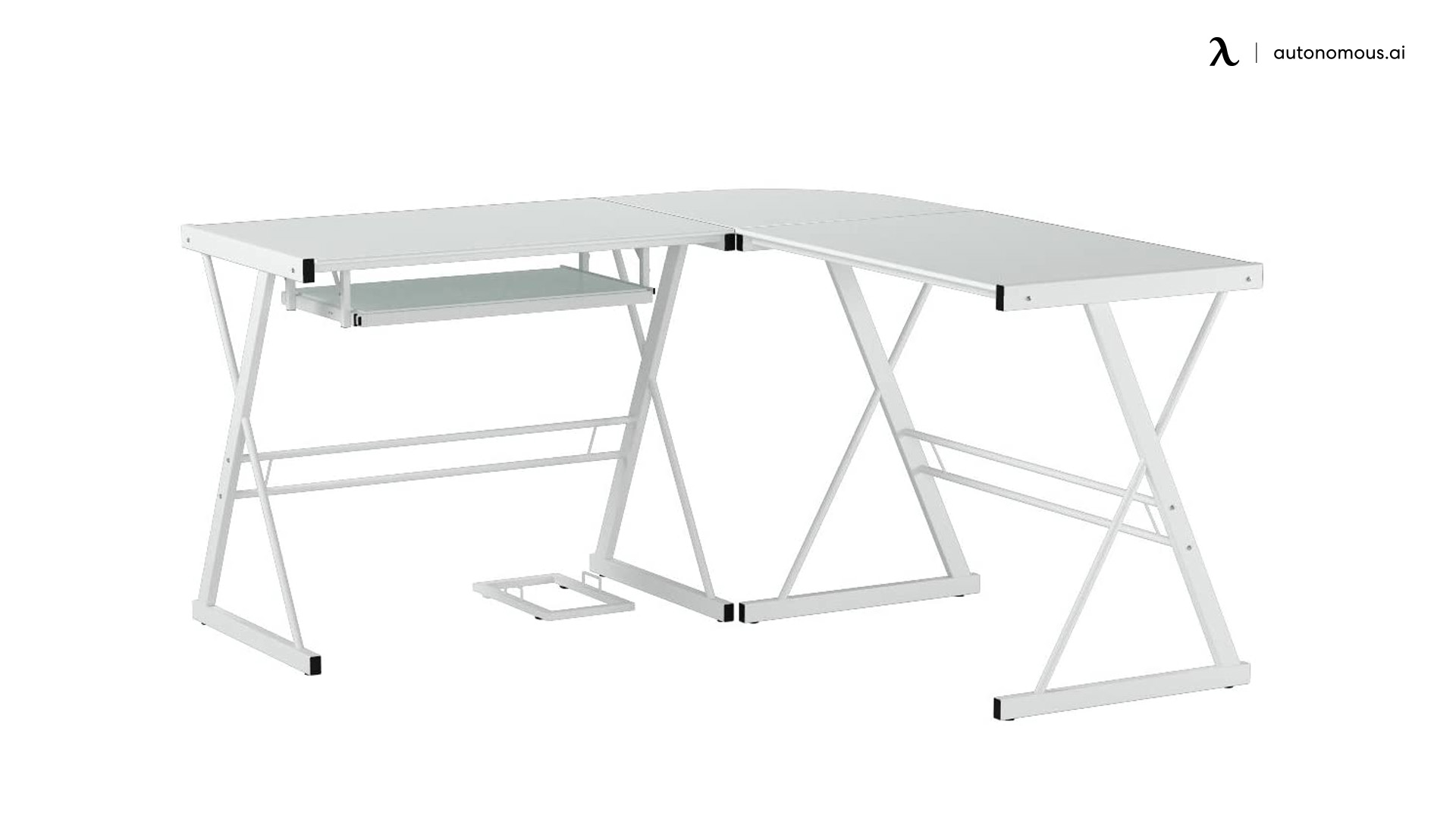 The Walker Edison white L-shaped gaming desk offers some of the sturdiest and highest-quality materials you can find on a desk today. Additionally, it has a beautiful design that appeals to modern L-shaped gaming setup. 
Unfortunately, this white gaming desk has a fairly higher price point than others on this list. 
16. Calico Designs Adapta White Desk
The Calico Designs Adapta has a minimalistic design that can suit basic gamer needs. According to its manufacturer, this desk can support up to 50 lbs, which may not be as much as other models. However, if you're planning on having a minimalistic setup, this may be an affordable option to consider. 
17. Gus Modern Computer Gaming Desk
An interesting feature about this gaming desk is that it comes with hutch and storage shelves. If you're someone with way too many gaming accessories, this option may be suitable for you. However, this desk may not be such a good option if you're planning on having several monitors due to its short width. 
18. Goldwing L-shaped White Gaming Table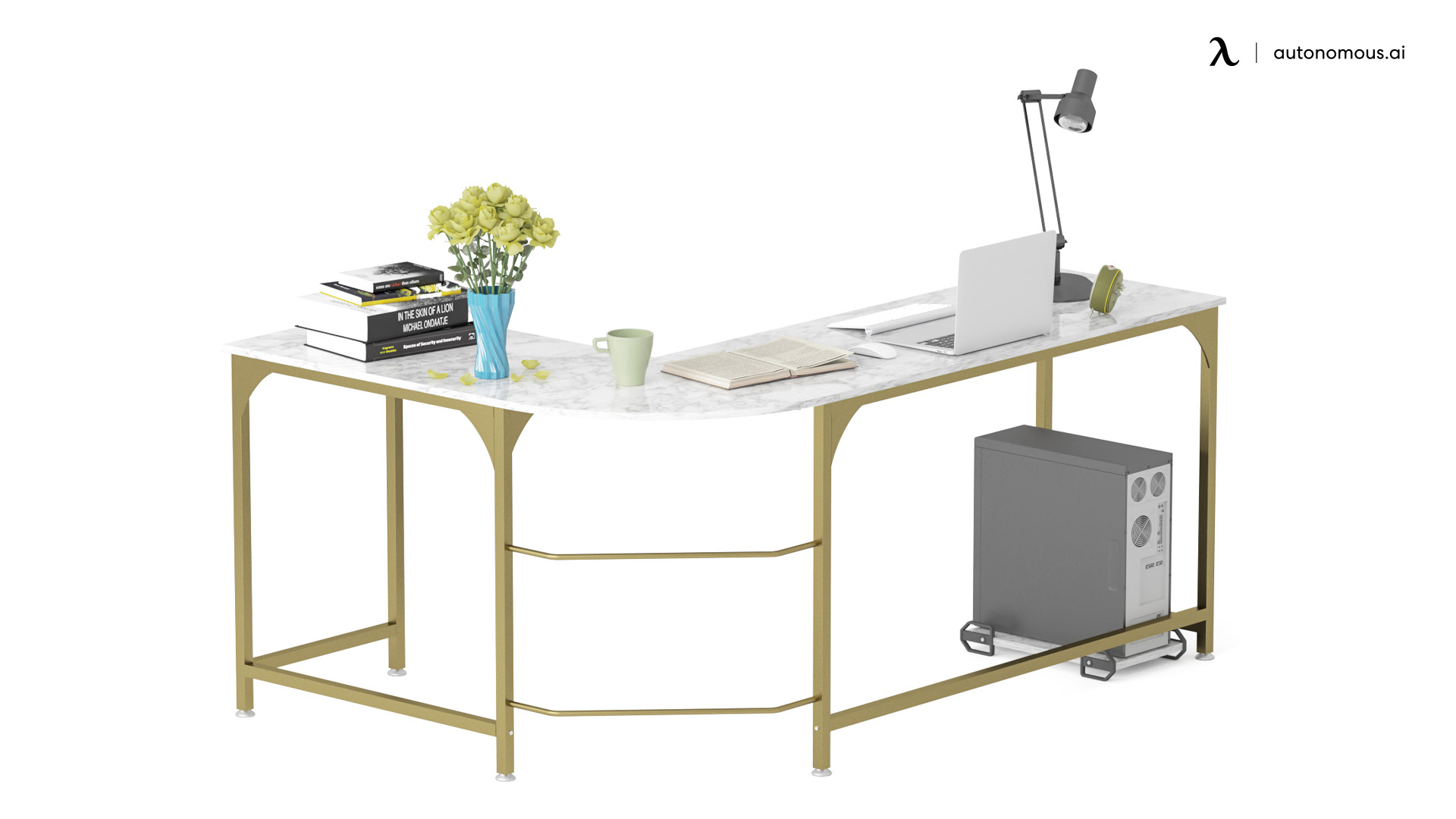 The Goldwing desk is for those who aren't looking to spend too much money on a desk but still want the widest setup possible. Overall, this white gaming computer desk has a 58" design, making it one of the widest on this list. Additionally, it has a reversible panel design, meaning you can set it up in any room with ease. 
19. NTENSE Xtreme Gaming Desk with Riser
This white gaming desk brings something unique to the table, and it's its "Riser" feature. Many gamers prefer to place their monitors or speakers a bit higher on their desks for more comfort; with the Riser feature, you may adjust your desk accessories in any way you consider appropriate.
20. ApexDesk Elite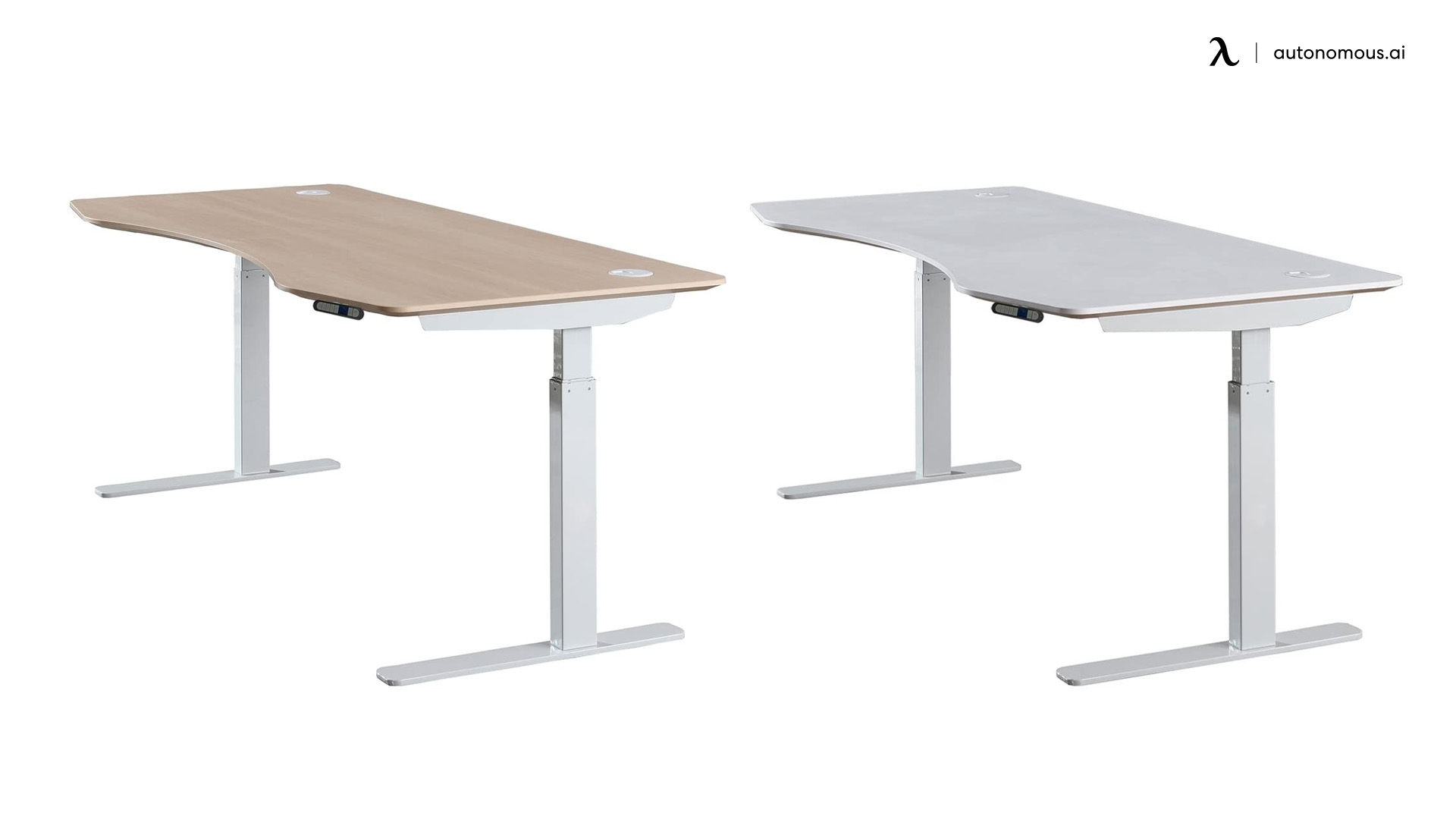 The ApexDesk Elite stands at a fair price point considering all the features it has for users. In essence, its electric motor, wire management system, and build quality is some of the best from this entire list. 
If space isn't a concern to you, the ApexDesk Elite may be enough for all your gaming setup needs.
21. AKRacing Sierra
The AKRacing Sierra white desk is an affordable option for those who want to save up a bit of money on their white gaming setup. This white gaming table offers the basic features most gaming desks come with, so you can easily set up everything with ease. 
A remarkable thing about the AKRacing Sierra is that it's wide; it can fit up to three monitors, so if you're looking for a gaming computer desk for multiple monitors option and is affordable enough, this is the one.
22. EvoDesk Gaming Desk
If you don't mind spending a bit more money on your desk, this white gaming computer desk model may be worth looking at. While it features most of the things that popular desks come with, the company also allows you to upgrade your desk up to four more times, including extra accessories such as a quad-monitor arm system, integrated sound systems, and much more.
23. Techni Sport White Gaming Desk
While this desk isn't entirely white, it features a great white frame that looks amazing. Overall, this white gaming desk comes with a steel frame-level up to place up to two monitors, a built-in headphone holder, and even a cup holder. 
24. Eureka Gaming Desk
The Eureka white desk for gaming offers a simple yet effective design for gamers. Thanks to its width, you can place up to two monitors without any problems. Additionally, this desk has outstanding building materials, making it a sturdy product that can last for several years if you give it proper care.
25. Jarvis Bamboo Standing Desk
One of our preferred standing workstations is this one. It is reasonably priced and has a stable, responsible, and attractive record. The exceptionally high lift capability of 300 lbs. is important to gamers. It is particularly necessary for many of us who have three or more monitors, big computer boxes, and loudspeakers (sometimes with a sub), among many other things.
26. ApexDesk Elite Series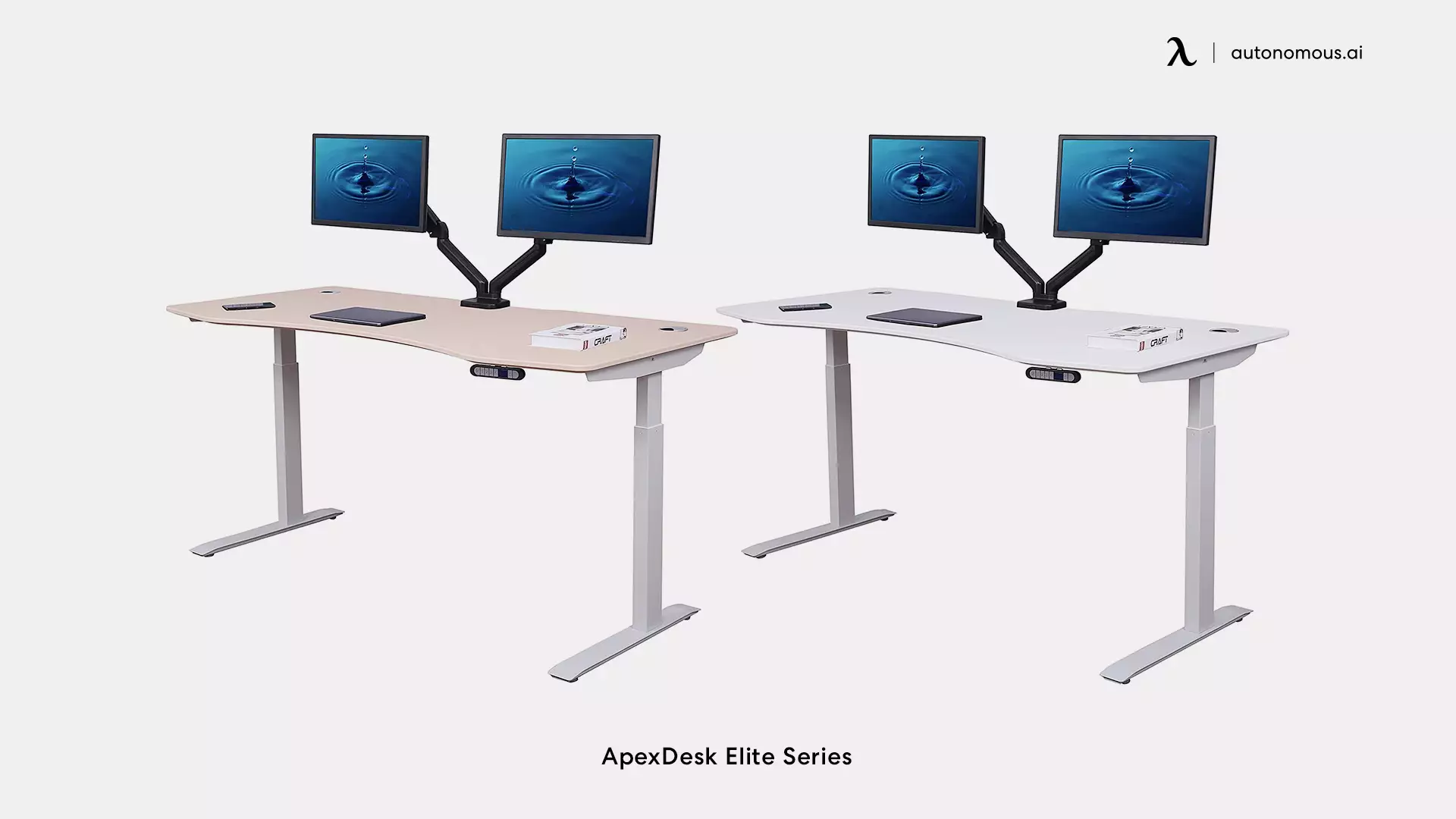 For gamers, this is a fantastic bargain white gaming desk. Although it has a lower lift capability of 250 pounds, it is considerably bigger than a typical 60-inch desktop. It also has two cable holes, which come in handy if you have two or more displays.
27. The MojoDesk Gamer Pro Standing Desk
It is a functional gaming desk with the major aspects that PC gaming enthusiasts value. A high-quality display arm along with a VESA mounting bracket and an adaptable PC hanger are included in this white gaming desk. The power cord management on this desk has been its main attraction.
Bottom Line
As you can see, there are white gaming table options for everyone. Whether you're on a budget or want to spend all your savings on the best white gaming desk, you're likely to find something that suits your needs. 
Remember to check your setup needs before making your purchase, and remember to give proper maintenance to your new desk if you want it to shine for a long time!
Keep up with Autonomous news
Stay informed, stay inspired with our new blogs.
WRITTEN BYAutonomous
We build office products to help you work smarter.