Workplace Inspiration
19 Cute Desk Decor Ideas and Accessories
1,642 Views
Desk decor is not always at the back of your mind as a worker. You always think about the big stuff and forget that little things matter too. A simple desk decor can display your style and personality while helping you stay organized and productive.  
There are various desk decor ideas and accessories you can go for to revamp your workspace from a sad, boring desk to a lively workspace, such as a white standing desk. You must decorate the space in a way that'll inspire and excite you, especially on the gloomiest of days at work.  
Don't know where to start? Well, you can go the minimalist way, the maximalist, or somewhere between. It doesn't have to be something fancy; it can be simple but still display your style and personality. Here's a list of some of the best aesthetic desk decor.
Top 19 Cute Desk Decor Ideas and Accessories
Adding a Pop of Color
Creating the cutest workspace doesn't have to involve a lot of things. A simple gesture of adding bold colors to your minimalist desk accessories on a simple, sleek desk might do the trick. Mural artwork can make a bold statement while adding colors to it. If you're going for a zen vibe, you can opt for dull colors like green or gray to bring a calm atmosphere to your space. 
Embracing Wanderlust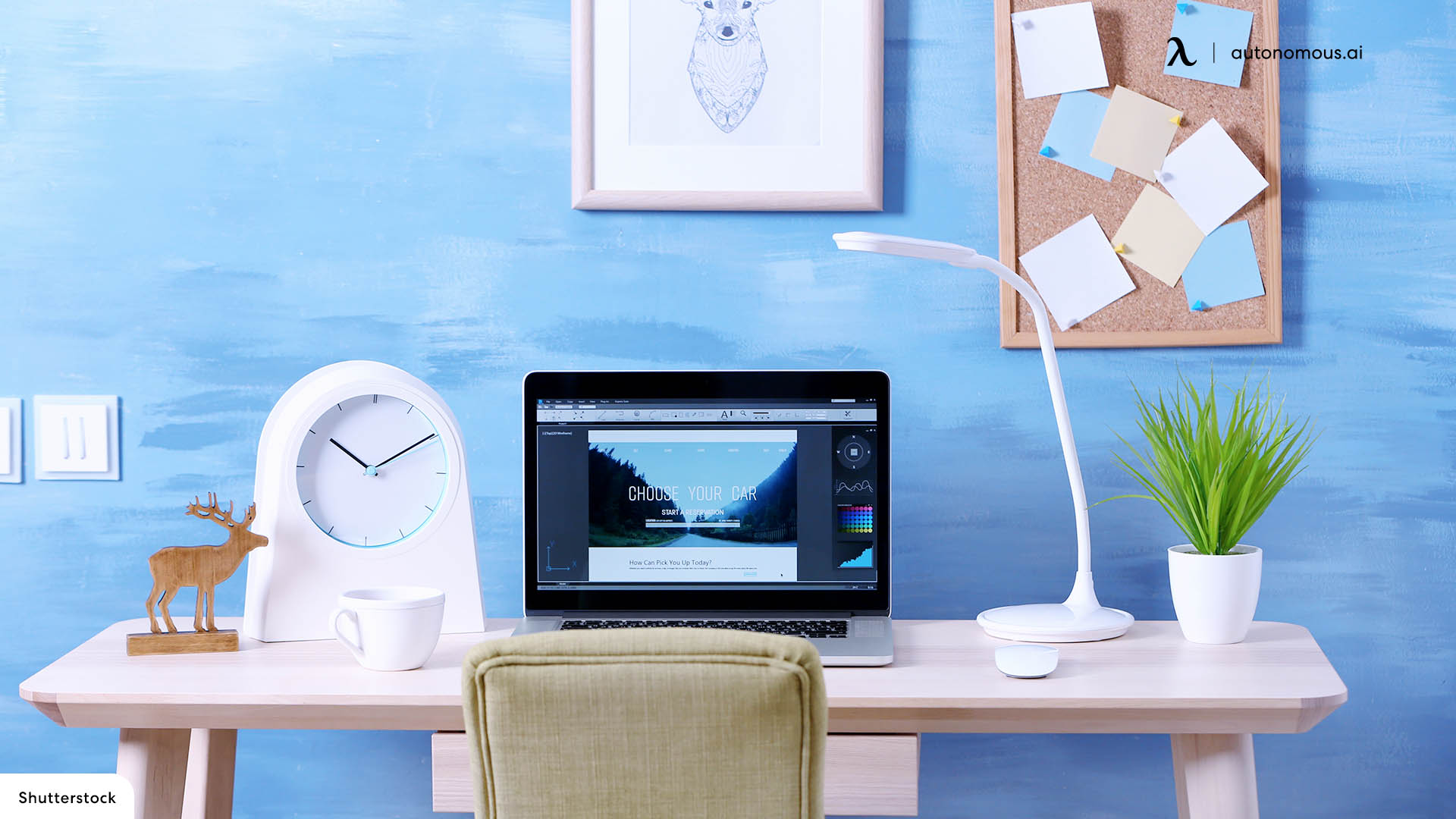 There's no time for vacations when you have a busy schedule plus an endless to-do list at work. Bring your vacation destination to you by creating wanderlust. It's definitely a cute desk idea you can easily incorporate. 
You can decorate your office area with a beachy vibe, like using cane or wood furniture if you love the beach. Want to seem like you're in your favorite city? Get an artwork that showcases all the breathtaking sites of the said city. You'll be physically at work, but your spirit is sipping on mojitos or visiting a historical museum. 
Show Your Holiday Spirits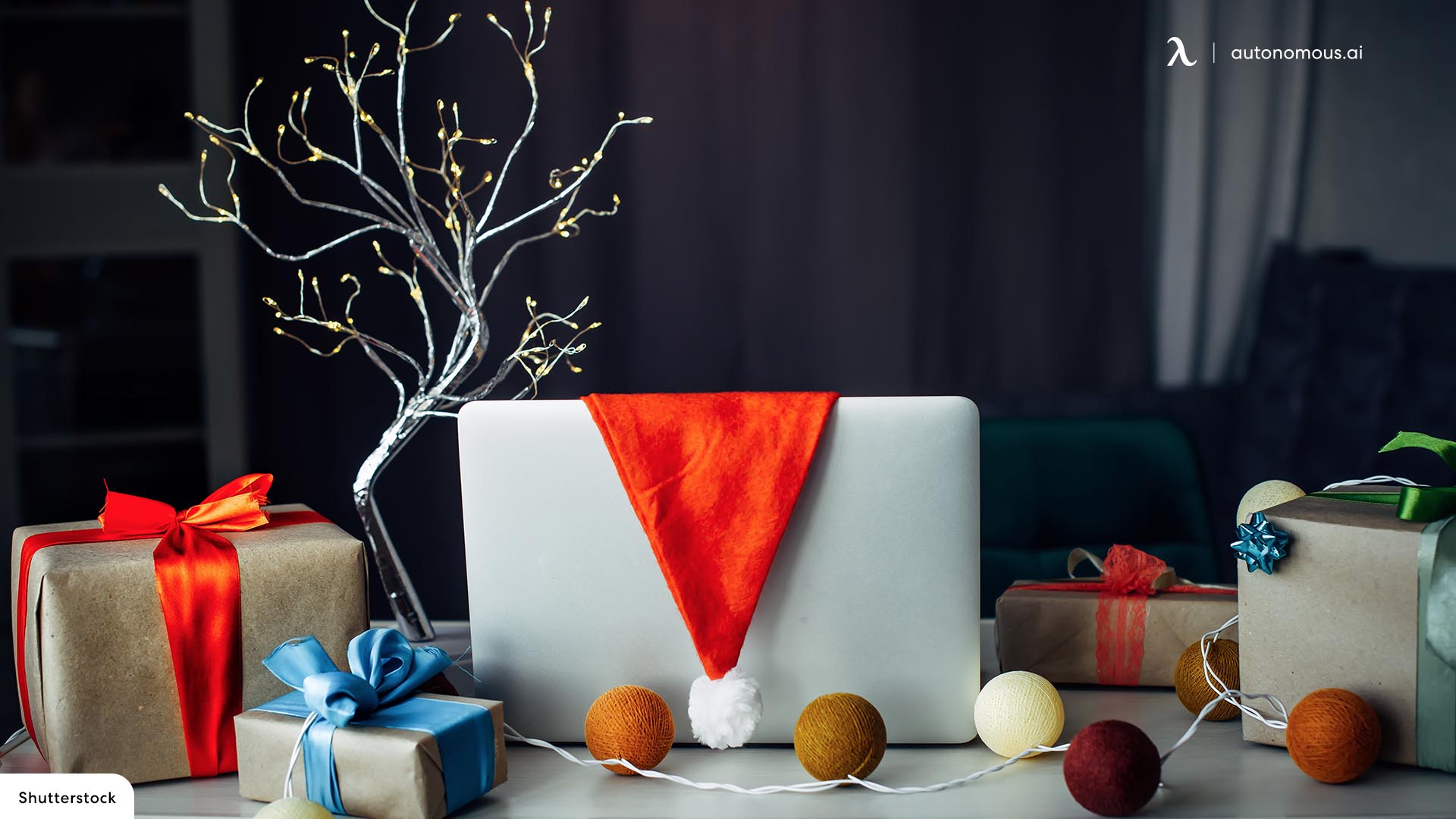 Getting into the holiday spirits, whichever holiday you're celebrating, is another cute office desk décor idea. You can add holiday cheer to your workspace by using cute desk accessories like a miniature pumpkin for Halloween holidays, a little tree with twinkling lights for Christmas, or creating a heart paper chain from a DIY project for Valentine's. You're not going on vacation to celebrate these holidays, but your cute desk accessories can tell that you're in the holiday mood in spirit. 
Soothing Color Palette
The tasks in your to-do list are already hectic enough; this doesn't have to reflect your workspace. You can choose a soothing color to bring that neutral feel to your workstation. Natural textures like a wood desk combine with miniature aesthetic desk decor that emanates different shades of colors like beige, white, brown, or cream. Moreover, you can add a small plant to give that fresh and natural outdoor feel. 
Fresh Flowers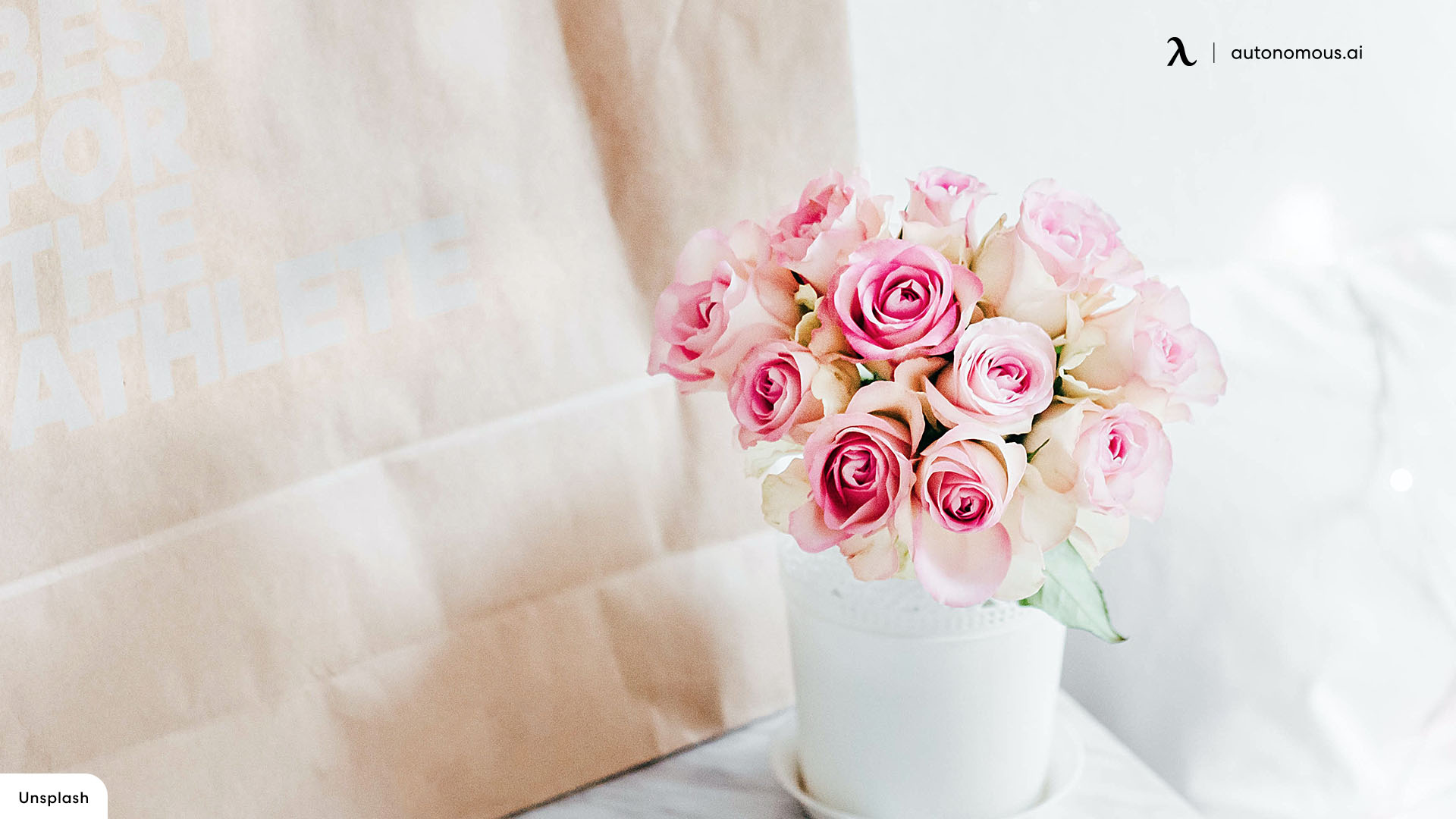 Flowers are your go-to desk accessories when you need a quick pick-me-up from the 2 pm slump. There are cute desk accessories that can light up your workstation by adding color and cheer. This is more so true when you're noodling away in the mid-afternoon. Why not let a cute decor idea like placing amazing lavenders serve as a quick pick me up on a lazy afternoon? 
Use Simple Color Palette with Various Textures
Among the many cute office desk decor you can try out for your office desk, using a simple color palette with various textures should be at the top of your list. This aesthetic desk decor can ooze out interest and inspiration by combining different textures from furniture and cute office desk accessories. 
An excellent option you can go for is combining a cane with a cute desk chair, which has the same color texture. Add a smooth, tall, short, textured dash of gold and everything in between. Throw in an easy-to-care-for place for the final touch. 
Go Minimal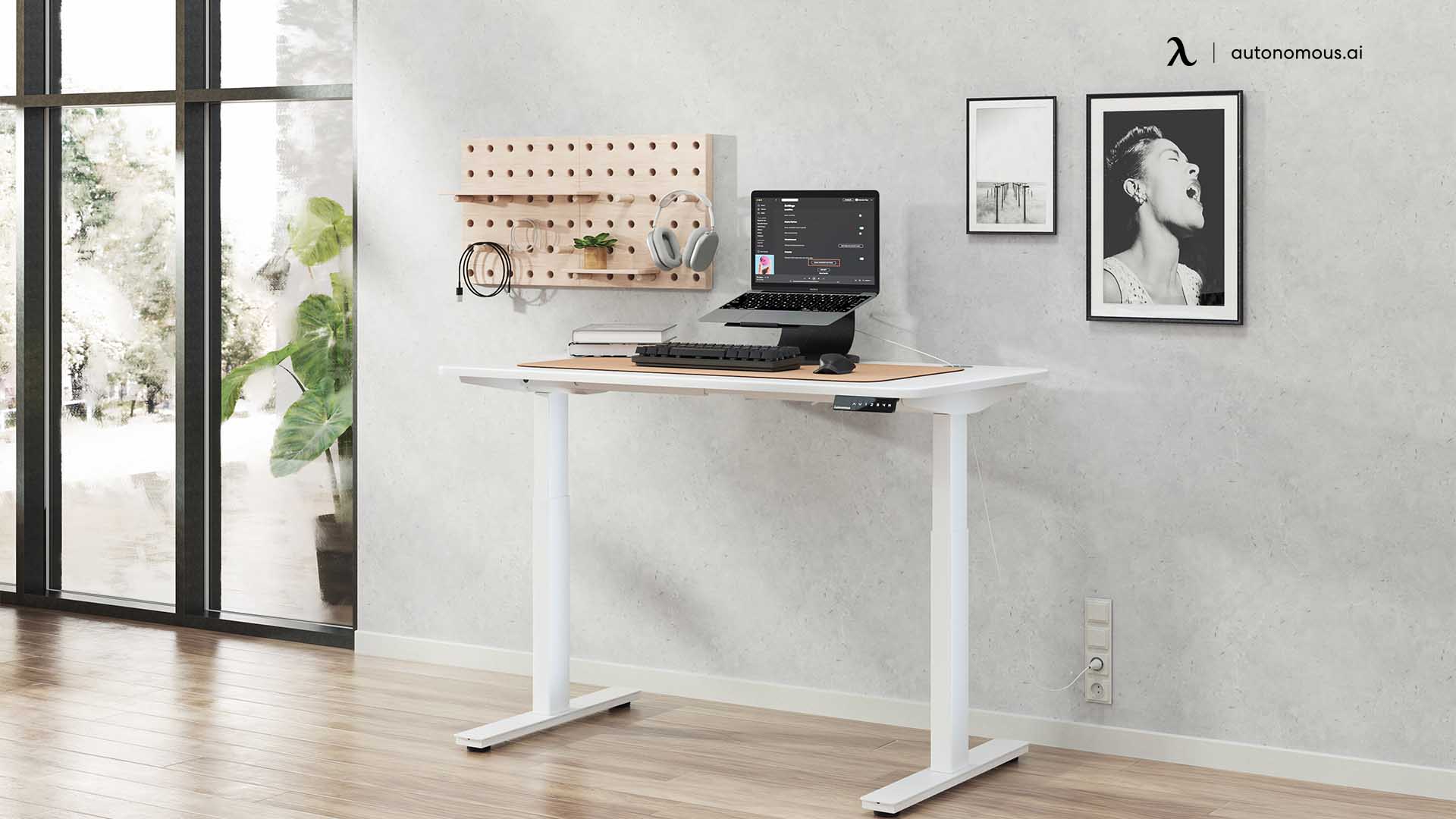 Cute desk ideas don't have to be grand. Simple, naturally colored accessories can be a point of inspiration. Ultimately, simplicity is sophistication. Therefore, it's wise to go for cute desk accessories to make your attractive office desk more interesting.  
You can never go wrong with a combination of black and white accessories that bring out visual interest, not clutter the area. Some artwork suffices, but you don't have the space for it? Adding wallpapers is an excellent way to display your personality. Apply to your existing office wall decor to bring out that stylish yet simple feel to your workspace. 
Maximizing Storage Space
Are you trying to double down your storage at your workstation? Buying a leaning standing desk to add to your workspace is an excellent way to add some storage space to put cute desk accessories, like hats, on display. This way, you don't have to sacrifice your walls to act as storage space. 
Experiment with Maximalist Aesthetic Desk Decor
Everything doesn't have to be toned down to be cute. You can still go the grand or extra route, especially if you seek inspiration. Overall, you can set up simple decor with everything that inspires you to easily revamp your workstation. It could stem from painting, art supplies, and cute desk accessories to plants to help you make it throughout the day. Anything that can lift your spirits is enough to be on something fantastic, like your pink SmartDesk Connect.
Adding Low Maintenance Plants
The only worse thing other than a sad Monday morning is waking up to dead plants at your workstation. Suppose you're not exactly a plant person because you don't have that green thumb; that's okay. However, you'll need to go for low-maintenance plants like snake plants, cacti, succulents, and aloe. They pretty much make the greenery statement. Another advantage is that such plants improve the quality of your air which is what you just need at the workspace. 
Bring the Outdoorsy Inside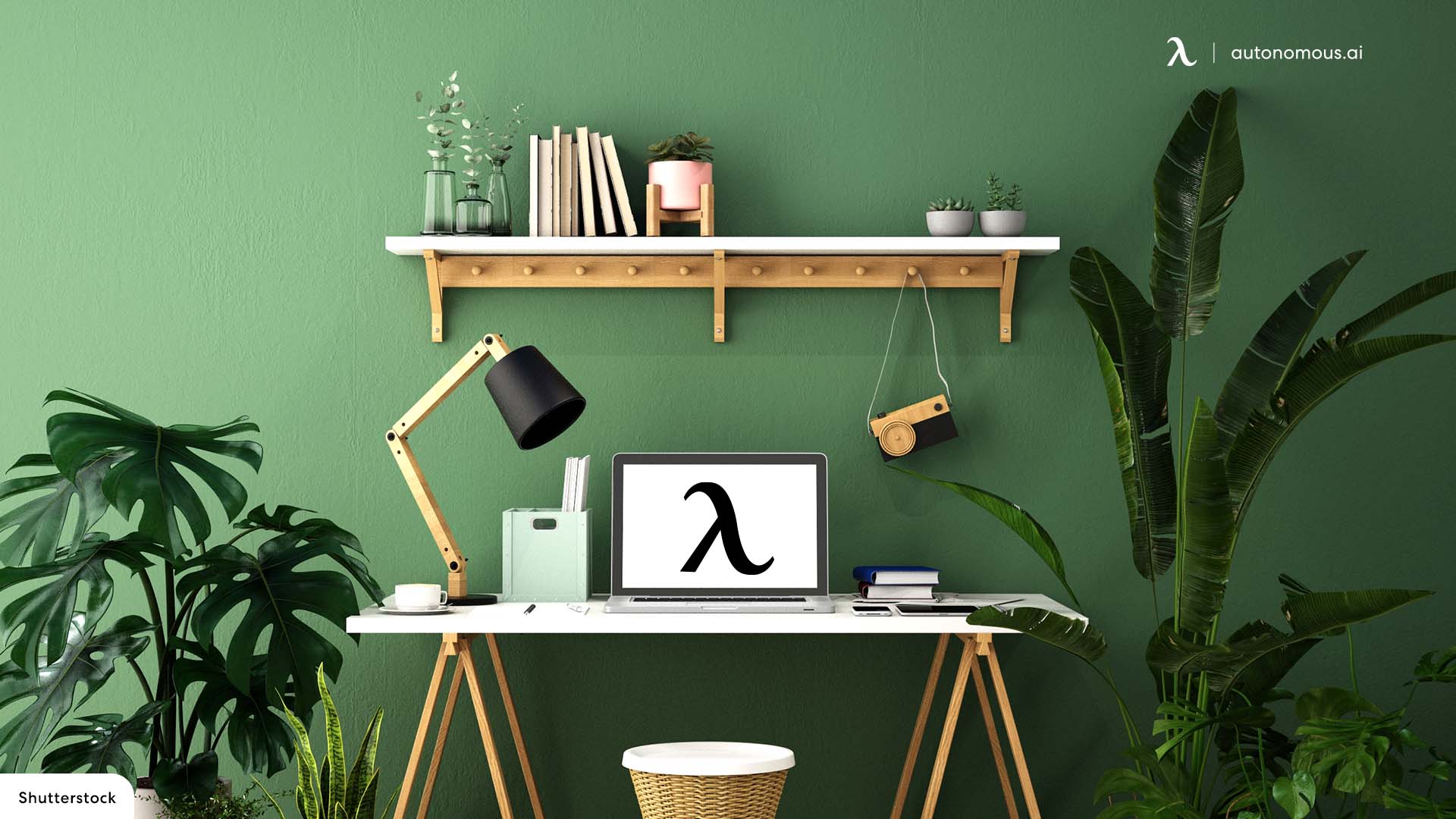 You're stuck at the office desk, but your soul is yearning to be outside with nature. A cute decor idea can help you incorporate the two together. Bring nature indoors into your workspace. Cute desk accessories that can make it feel like you are intertwined with nature are the best to have. Excellent examples of appealing decorative items include plants, wood-based furniture, photography of your favorite plants or animals, geodes, and your favorite natural places. Cute desk ideas like this can entice you enough to feel like you're one with nature. You can play around with various other natural accessories to give it a personal touch. 
Remove Distractive Items without Being Boring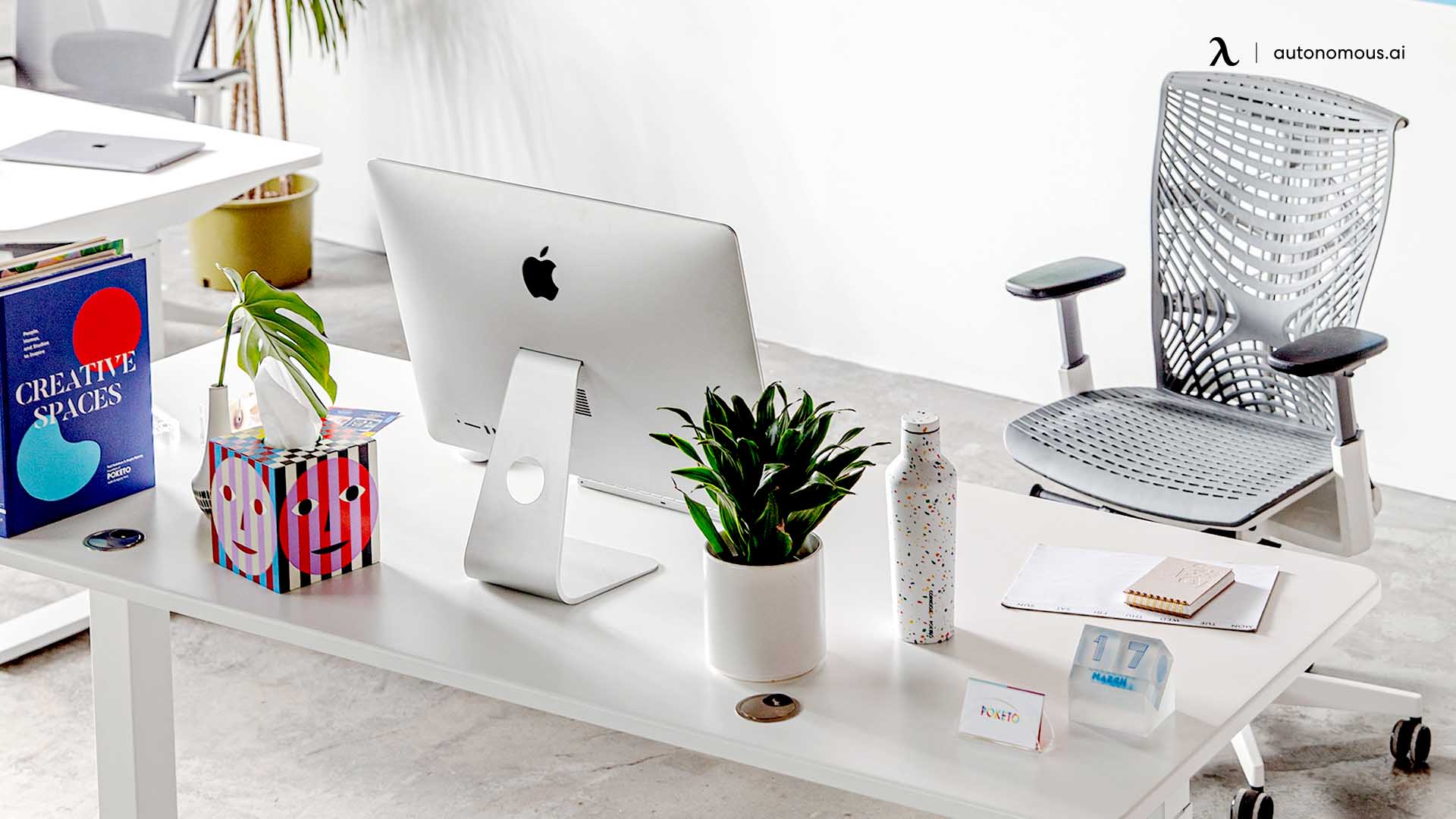 You've put your creative hat on to create a nice aesthetic desk decor. It's, however, important to know when to stop because there's a thin line between cute desk decor and a bunch of inspiring clutter. Maybe you've created magic and just made your office desk more interesting than the work you need to do. They, in turn, become distracting, leaving you to become unproductive at work. 
A good reason to de-clutter while still having some groove on as far as cute desk accessories are concerned is by using a simple white office desk with a comfortable chair and office supplies. Throw in cute office desk accessories like scented candles and flowers for that boom touch. 
Mount Your Favorite Artwork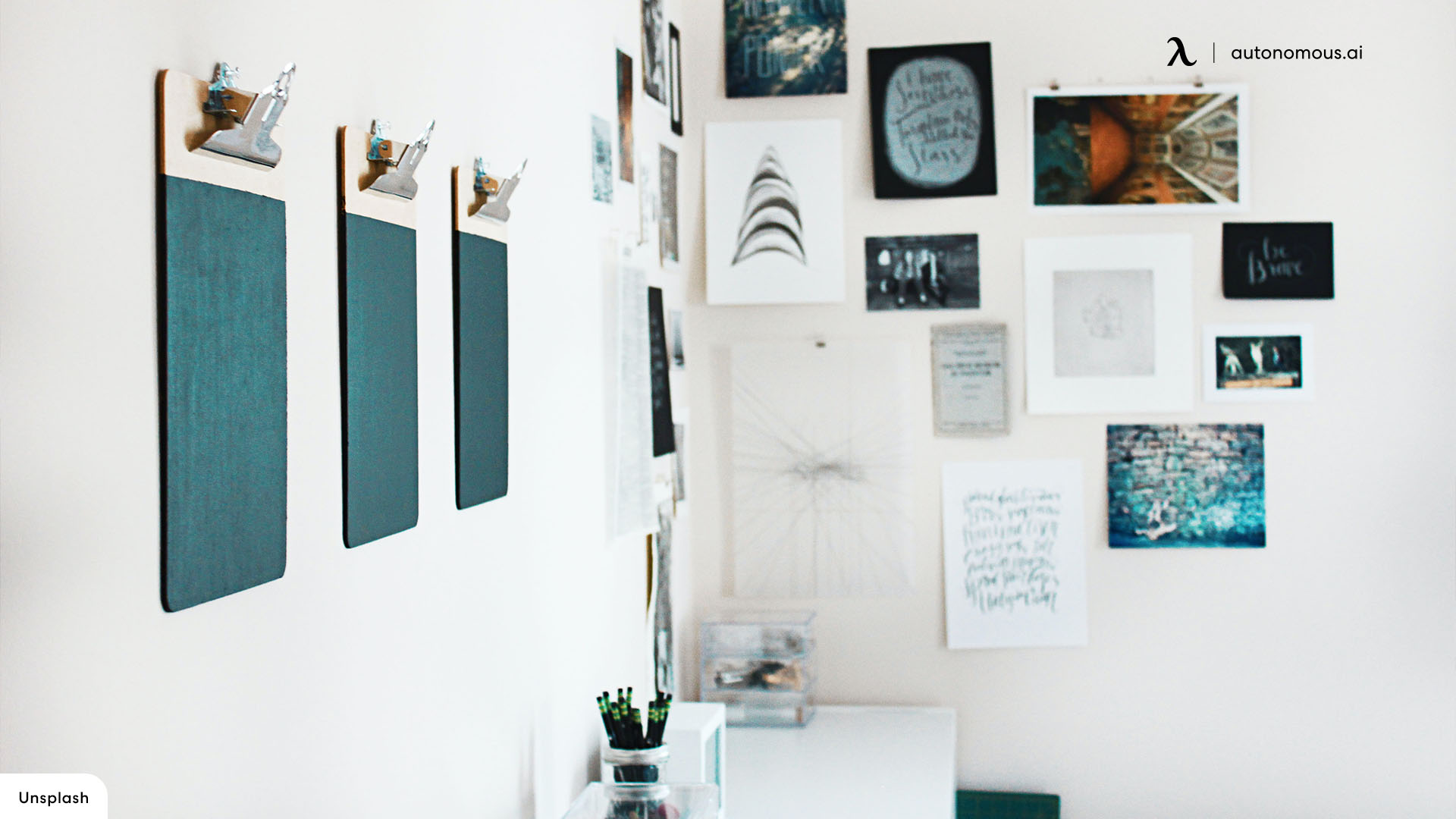 Art painting can do its share of boosting an ordinary workstation into a fancy hive. Don't underestimate the wonders of a simple painting on a frame. It helps add colors and personality to your workspace.  
It can be a painting of anything from a family photo, a lovely painting your child made at an art class, or a line drawing of your fur friend. Artwork at the office has proven time and time again that it has the substance to liven up your workspace to ensure you're inspired all day long. 
Embracing Small Spaces
Small spaces in your workstation can have the most impact on your aesthetic desk decor. With cute office desk accessories at your fingertips, you can easily create wanderlust with the best visual interest and an oozing personality in the workspace. Suitable desk accessories to go for may include woven long abstract artwork and low maintenance plants, among others. 
A good way of maximizing accessories in small workplaces is going for the same color pallet. When you decorate the office desk with too many colors, it leaves it vulnerable to visual jarring or distracting decor. Different colors will even make your workspace look smaller than it already is, which is not what you were going for in the first place. 
Blending Various Aesthetic Decor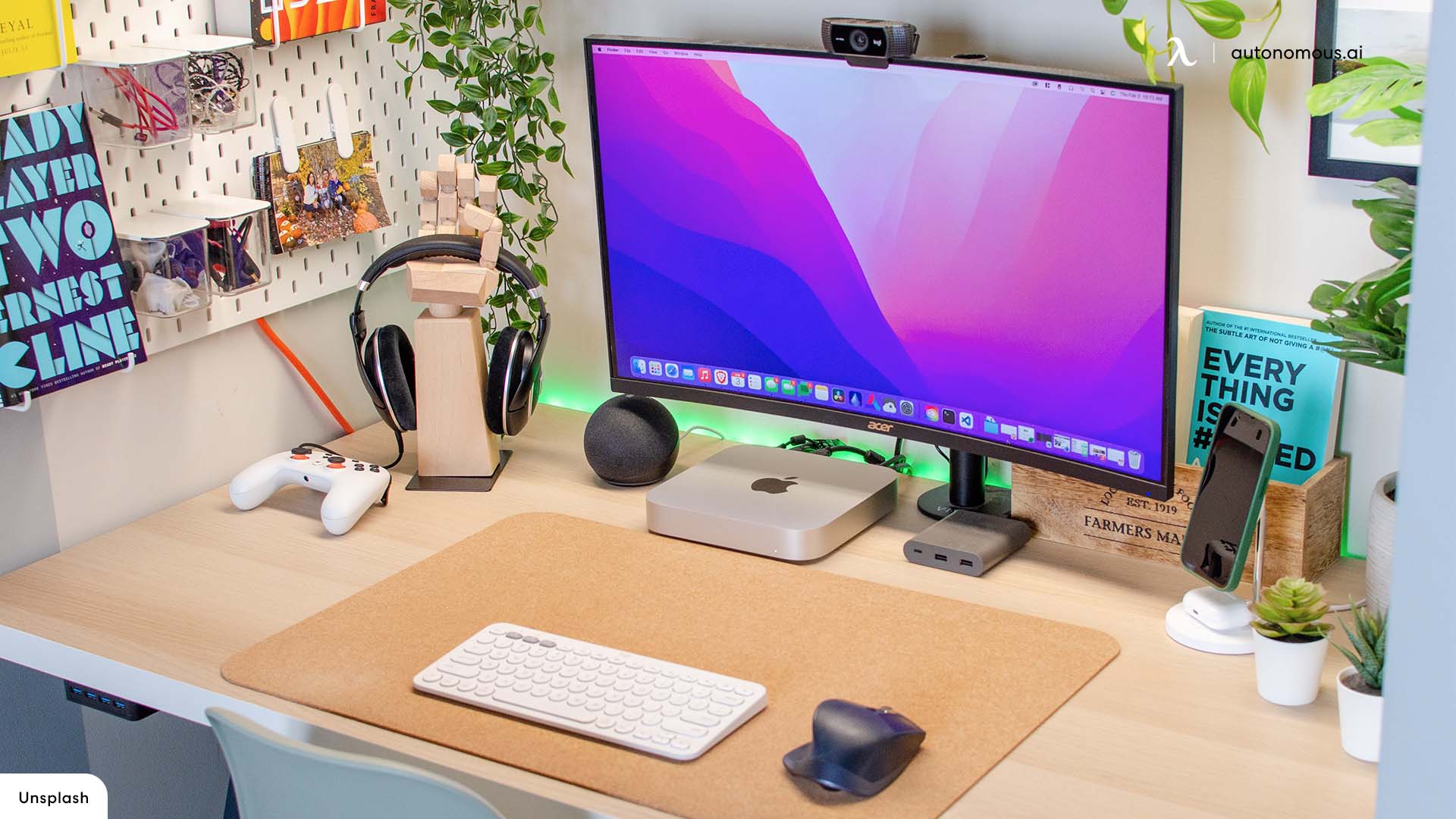 This is where you spend more of your day, and therefore, sprucing cute desk decor ideas to make it a fun place to be is equally important. While your office desk may be modern, your cute office desk accessories don't have to be. You can easily blend your modern aesthetic desk decor with vintage accessories. 
Get that vintage lampshade, traditionally styled vases you inherited from your mom, out of your garage storage and bring them back to your workstation. You can also install artwork that blends different colors, textures, and patterns. Finally, you can accessorize with modern decorative items if you have a traditional desk. 
Hanging a Pegboard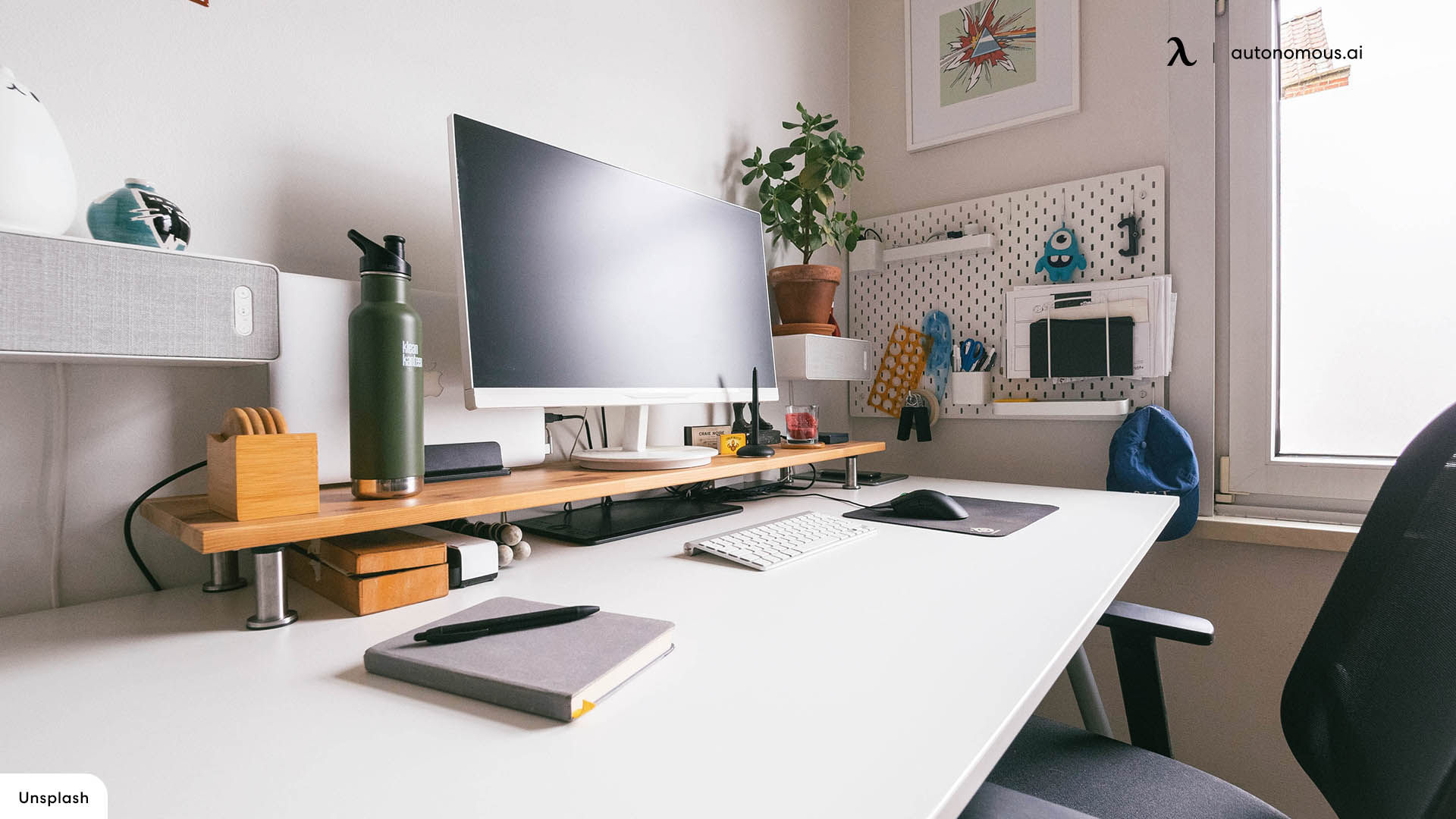 Trying to maximize your small workspace with cute desk decor ideas can become challenging. This is more evident when your desk aesthetics have important stuff missing, like desk storage. However, all is not lost as you can hang a pegboard in front or at the back of your desk. 
You can then customize your wall grid in various ways, adding add-on shelves, hooks, racks, and clips. This cute desk decor idea allows you to create space for calendars, pens, pencils, and clipboards. Add minimal quotes to boost your spirits up and a succulent for a pop of color. 
Adding a Modern Side Chair
A side chair at your office is not meant for guests alone. It can be one of those cute desk accessories you put at the office to display your personality. This is more so true when you go for a traditional, ergonomic, and cute desk chair for getting things done. These types are the most popular mid-century modern designs at different prices that can work for your budget. They're made from brightly colored woven fabrics and plastics to give your office that pop it needs. 
Personalize Your Mouse Pad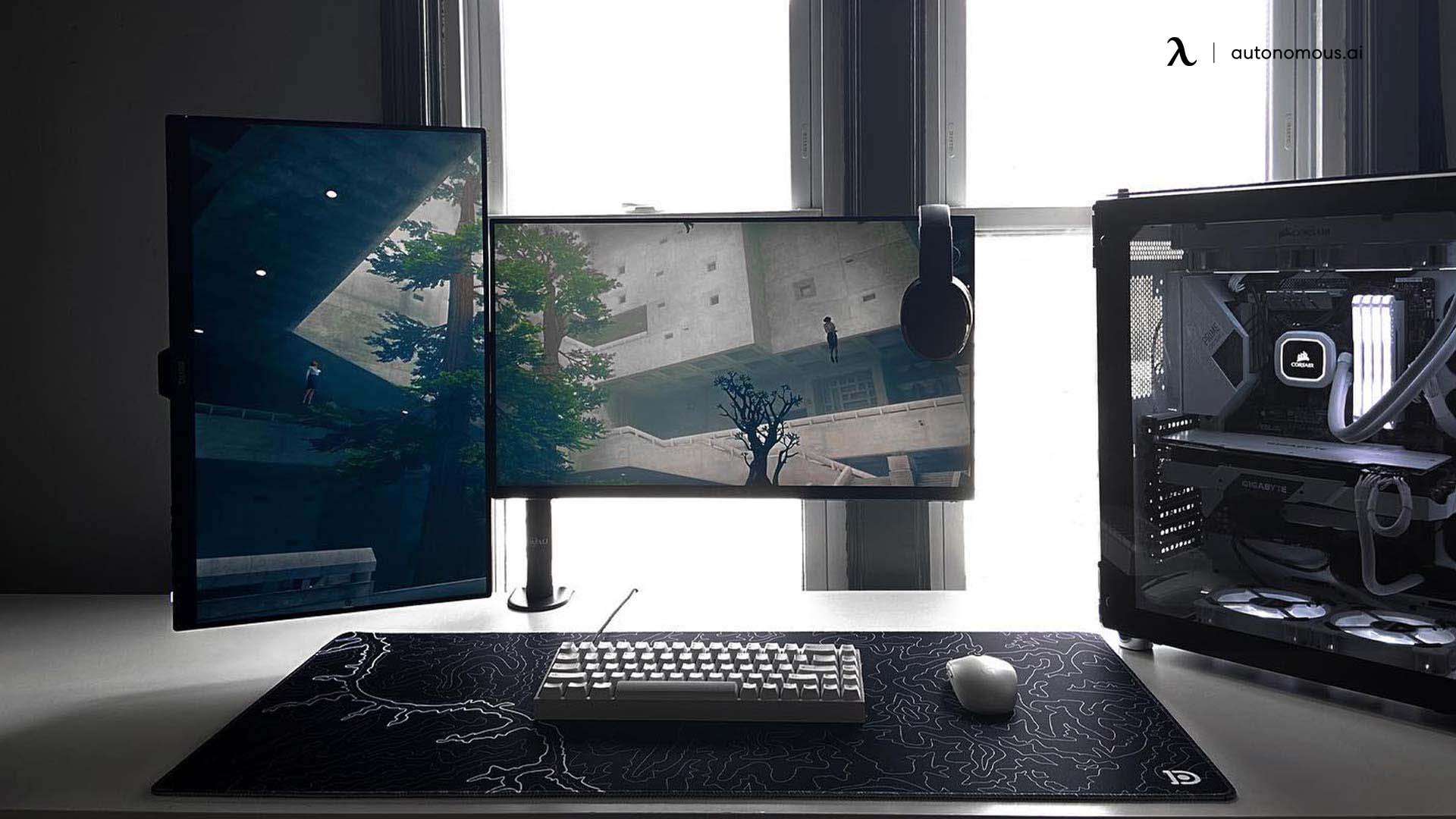 No written rule says you must use a black mouse. Using a different colored mouse is another cute desk decor idea that can showcase your personality. The mouse pad is the most ignored item on the office desk, which, when revamped well, can change the atmosphere of the entire office. 
They come in various colors, with other types being made of different materials and not just plastic, including agate, leather, cork, etc. Using such types on your desk can elevate the aesthetic desk decor of your office. Well, why not stand out from the rest and be unique? 
Organize Your Office Supplies with Trays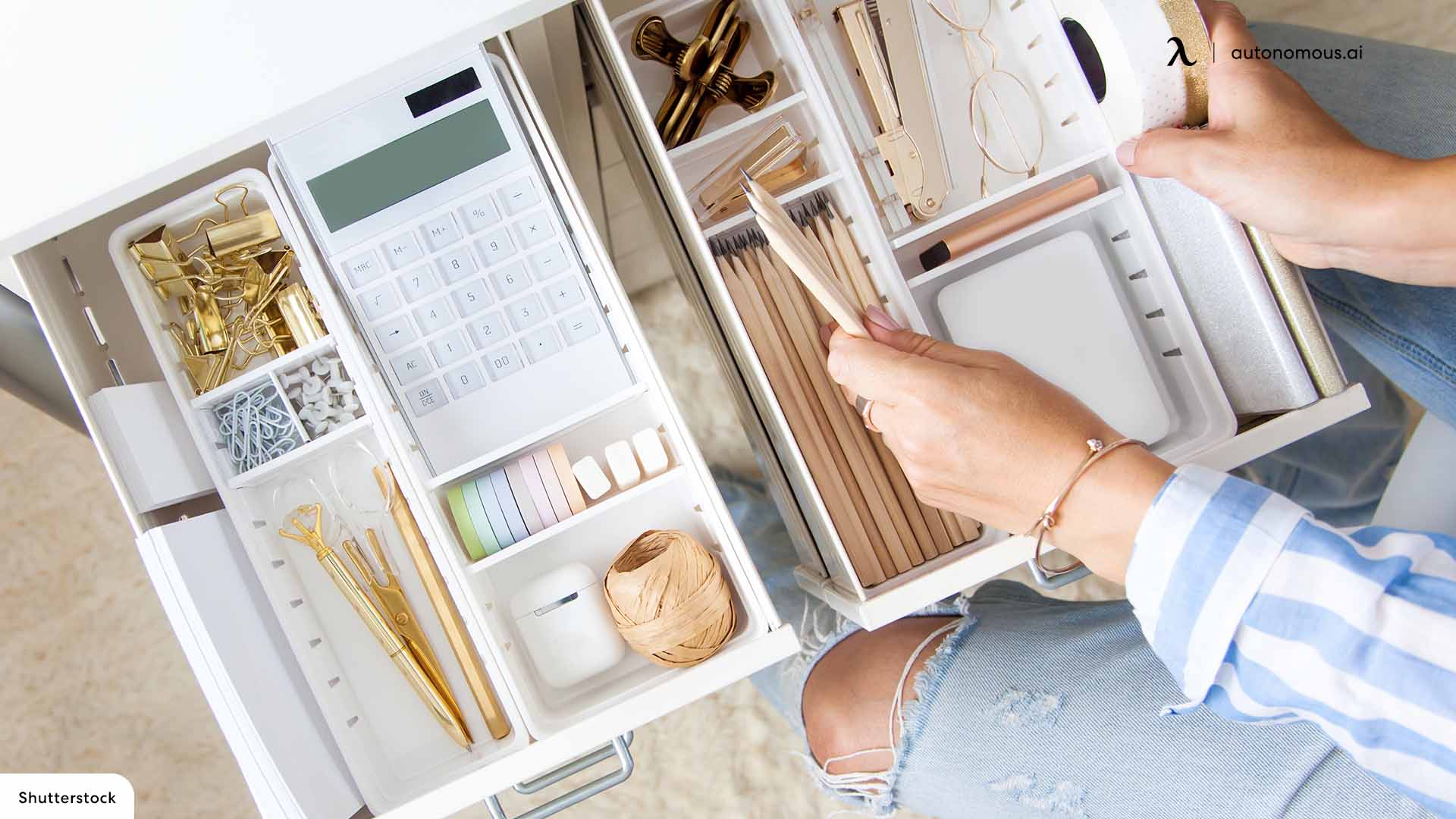 It's quite distracting and hard to feel at the top when all your office supplies are all over. Get office trays to help you sort and organize your office desk supplies. You can leave the tray on display at the desk. If you have nice supplies, you can look at them all day or put them in drawers.  
Wrapping Up!
The workspace should be comfortable and cozy, just the way you want it. With cute desk decor ideas at your fingertips, you're one step ahead to making your office area feel like home. Remember, adding greenery is the easiest way to add warmth to your office. The above aesthetic desk decor will help you revamp your office space in the best way possible. Check out this article on office desk decor for more information on cute desk decor ideas and accessories.
Subcribe newsletter and get $100 OFF.
Receive product updates, special offers, ergo tips, and inspiration form our team.
WRITTEN BYAutonomous
We build office products to help you work smarter.