People today are more concerned than ever before about the materials used in their furniture. Manufacturers are looking for materials that are long-lasting and do not hurt the environment. Outside of the world of Chinese furniture, bamboo has generally been overlooked. 
However, it is beginning to gain popularity among manufacturers worldwide. Bamboo is one of the most environmentally friendly natural materials that man has ever encountered. It grows at half the rate of traditional wood but produces 35 percent more oxygen and absorbs nearly 12 tons of carbon dioxide every year. 
The bamboo standing desk is an excellent alternative for environmentally aware office workers. 
Bamboo and Standing Desks
Bamboo has drawn the attention of many furniture designers because it can be used to make durable furniture, and its pulp can be used to make the fabric for the upholstery. Unlike trees that need between 10 and 20 years to grow before they can be harvested, bamboo can be harvested in three to five years. Bamboo also gives furniture a natural look that many are drawn to. 
Standing desks are an excellent addition to any ergonomic work environment. To avoid sedentary behavior that is responsible for many health conditions, they allow users to alternate between sitting and standing.
1. SmartDesk Pro
The best bamboo standing desk on the market is the SmartDesk Pro. It is one of the most innovative electric standing desks available, with a large top. Assembly is required after purchasing this desk; however, it should only take you around 30 minutes to assemble. The desk comes in a variety of colors and materials, including dark and natural bamboo. 
Additionally, the SmartDesk Pro is one of the quietest electric standing desks, with a sound level of only 40 decibels. If you are the type of person who is easily distracted by noise while working, this is a fantastic option. The SmartDesk Pro, like the other bamboo computer desks in this collection, comes in a variety of colors and finishes and has a contemporary look.
2. SmartDesk Core
This Autonomous bamboo sit-stand desk is one of the top picks for a bamboo smartdesk. The SmartDesk Core is available with a variety of top and frame selections, including a bamboo top with a grey frame or you can choose to customize your top with a range of colors. Its structure is built with solid steel, and the standing desk has a dual-motor system that runs smoothly and efficiently to allow for four customizable height adjustments. 
With a lifting capacity of 300 pounds, you can carry more on this bamboo smartdesk, depending on whether you have the standard or extra-large top. This Autonomous standing desk comes with a 30-day money-back guarantee and a 5-year warranty.
3. SmartDesk Corner
The SmartDesk Corner is a bamboo computer desk ideal for those who require additional workspace. This is a corner-standing desk with modular parts for a custom fit. It also boasts a whisper-quiet triple motor, and double the area of the SmartDesk Pro and SmartDesk Core. 
The SmartDesk Corner is a great option for an electric standing desk for your home and office needs. It comes with a five-year warranty, and a good height adjustable range. There is also an option to have the top made from high-quality bamboo, for the perfect eco-friendly office standing desk.
4. Bamboo Top Standing Desk by Autonomous
This bamboo adjustable desk is one of the greatest solutions for a standing desk. The bamboo top on the Bamboo Standing Desk can be customized with a variety of frame colors. Its frame is made of heavy-duty steel, and it has a height range of 29 to 48 inches.
Users of this bamboo office desk have access to four programmable height options, allowing for complete customization. The frame has a dual-motor system that allows for silent height adjustment at the touch of a button. A traditional or extra-large top is included in the design, and the desk comes with a 5-year warranty.
5. ZHU CHUANG's Electric Standing Desk
This bamboo computer desk has a dual-motor system that allows you to easily modify its height settings. The tabletop is offered in two shapes: normal rectangular and curved for a more comfortable working position.
There are 60-inch length contours available. You can also opt for rectangular 42-, 48-, and 72-inch versions. Steel with a white paint finish makes up the frame. The frame's height can be adjusted from 27 to 47 inches, and there are four memory options available. Additionally, the warranty lasts for seven years.
6. Jarvis Bamboo Standing Desk
Jarvis Bamboo is the ideal adjustable height workstation for standing desk users who are both environmentally and aesthetically aware. The desktop of this bamboo office desk is made with a strong UV-cured, water-based polyurethane coating. Its coating comes from sustainable bamboo farmed without chemicals or fertilizers, and it has a strong steel frame.
 The desk's motors are silent, and it takes roughly 1.5 seconds to adapt to a new height and the desk's frame is made of black steel and can sustain up to 350 pounds of weight. A 7-year warranty is also included with the purchase of this desk.
7. FlexiSpot's Electric Standing Desk
This bamboo computer desk is the ideal solution for you if you are looking for a low-cost standing desk with good functionality. The product has a straightforward design, and the frame is available in black, white, or grey. FlexiSpots's Electric Standing Desk is an alternative to consider if you are looking for a simple option that does not break the bank.
8. Crew & Axel Standing Desk Converter
The standing desk converter on this adjustable standing desk is made of natural bamboo and allows easy adjustments. It can also be used as a home office standing desk and comes with a phone stand. The bamboo office desk, unlike the others on this list, does not have a steel frame. It is made entirely of high-quality, long-lasting bamboo.
9. Electric Standing Desk by Frasch
This standing desk is an excellent choice for anyone searching for a bamboo desk with a stylish design that can be used in any bamboo desk setup. UV coding is applied to each desktop, highlighting the grain and natural characteristics of the bamboo.
 Frasch is an internationally recognized furniture brand that is known for producing some of the most attractive, and high-quality furniture available. The desk has a 275-pound weight capability and a silent motor.
10.  Uplift V2 Bamboo Standing Desk
The Moso bamboo used in the Uplift V2 Bamboo standing desk is of excellent quality. It boasts a one-touch height adjustment, is available in several colors, and takes only seven minutes to assemble. The best part about this desk is that it comes with a 30-day trial period, free shipping, and a 30-day money-back guarantee. 
11.  The Rise Up Standing Desk
Using a dual electric motor, the height of this bamboo computer desk can be adjusted to enable sitting and standing positions at a frame height of 26 to 51 inches. The desktop spans 48 by 30 inches and is framed in white by the Uncaged Ergonomics brand. 
This bamboo stand-up desk, like the greatest bamboo sit-stand desks, is made of solid and sturdy bamboo as opposed to veneer wood. The desk can support up to 250 pounds and comes with a 5-year warranty. 
12.  The Electric Flat Top Desk by the Stand-Up Desk Store
This bamboo standing desk has a black frame and a bamboo top. It is 48 by 30 inches in size, and its maximum weight capacity is 154 pounds. A programmable keyboard that remembers your top two height settings is one of its notable features. 
The three-stage extendable legs can accommodate a wide range of users and user preferences. These allow the bamboo office desk to descend or ascend as needed.
13.  FEZIBO's Electric Standing Desk
This bamboo sit-stand desk has a bamboo desktop that is 48 by 24 inches in size and includes a drawer for convenient storage. Thanks to four preset memory options, adjusting the desk is simple. The frame is black and composed of heavy-duty steel with a lifting capacity of 176 pounds. 
Other features include headset desk hooks, and a cable management tray to keep vital cords from tangling and getting in the way. There is a risk-free 30-day trial available. 
14.  College Originals' Standing Desk Combo
College Originals' standing desk is made of high-quality bamboo and has a wireless mobile charging station. It incorporates a thermal motor for increased stability and allows customers to adjust the height easily. It measures 47 by 24 inches and has gravity sensor wheel locks that let you move it around while keeping it in place when necessary. This electric bamboo standing desk is perfect for use as a study desk and comes with a three-year warranty.
15.  Juliet Rise Up Standing Desk
This simple bamboo office desk's selling qualities are a sturdy, black-colored bamboo desktop, and a 5-year warranty. The sleek desk comes with a highly configurable control panel that lets you program your preferred height settings for quick adjustments and accommodates a height range of 26 to 52 inches. Its sleek and beautiful form allows it to blend in with any productive working environment without looking out of place. 
16.  Stand Up Desk Store's Split Top Electric Stand Up Desk
The bamboo standing desk may be adjusted from 28 to 53 inches in height with the touch of a button. You also get an extra five to seven inches of additional height for your accessories and monitor thanks to the split top. Moving the desk is simple, and there are caster wheels with locking brakes to help you transfer it between locations or rooms. 
Stand Up Desk Store's electric bamboo stand-up desk has a black frame and a bamboo top, and it measures a standard 48 by 30 inches. Because of the split top for extra space and improved ergonomics, this could be one of the best bamboo sit-stand desk options.
17.  Ascent Height Adjustable Electric Standing Desk
On this list, this is most likely one of the tallest bamboo standing desks. The Ascent Standing Desk by Inbox Zero can be controlled with just one hand and is suitable for people of all heights. The desktop, despite being made of bamboo, is reported to be even harder than red oak. Red oak is one of the most robust and hardy woods available, making it an excellent choice bamboo desk for the home office.
18.  Progressive Desk's Height Adjustable Standing Desk
This bamboo electric standing desk is an excellent addition to any home or workplace environment. The durable bamboo tabletop is mounted on a sturdy steel frame and is waterproof and scratch-resistant. It has a 155-pound weight capacity and an eight-year warranty. Collision detection, gentle start/stop, and child lock mode are all included.
19.  Belpre Twin Motor Electric Standing Desk
This desk's bamboo finish is also available in black for a more elegant and sleeker look. The anti-collision feature on this workstation is a useful addition that stops you from lowering the desk too low. 
Two motors of this bamboo stand-up desk are integrated into the design of this ergonomic standing workstation, allowing for quieter and faster height adjustments. The desktop has been coated to make it easier to clean and to protect it from scratches.
 20.  Frasch's Sit Stand Electric Portable Standing Desk
This bamboo stand-up desk, which is designed to be used for giving speeches, is another entry by one of the leading furniture businesses Frasch. It can be modified to a sitting posture, if necessary. This is a good bamboo sit-stand desk option if you need something portable, small, and versatile, as it combines all these features into a compact standing desk. The wheels on this standing desk allow you to move it around easily.
Final Thoughts
Bamboo is an excellent choice for furniture like standing desks. It's one of the most durable and environmentally friendly materials on the market, and it only takes three to five years to mature. If you are on the lookout for the ideal eco-friendly bamboo standup desk, one of the options on our list is a good place to start.
Video ads for product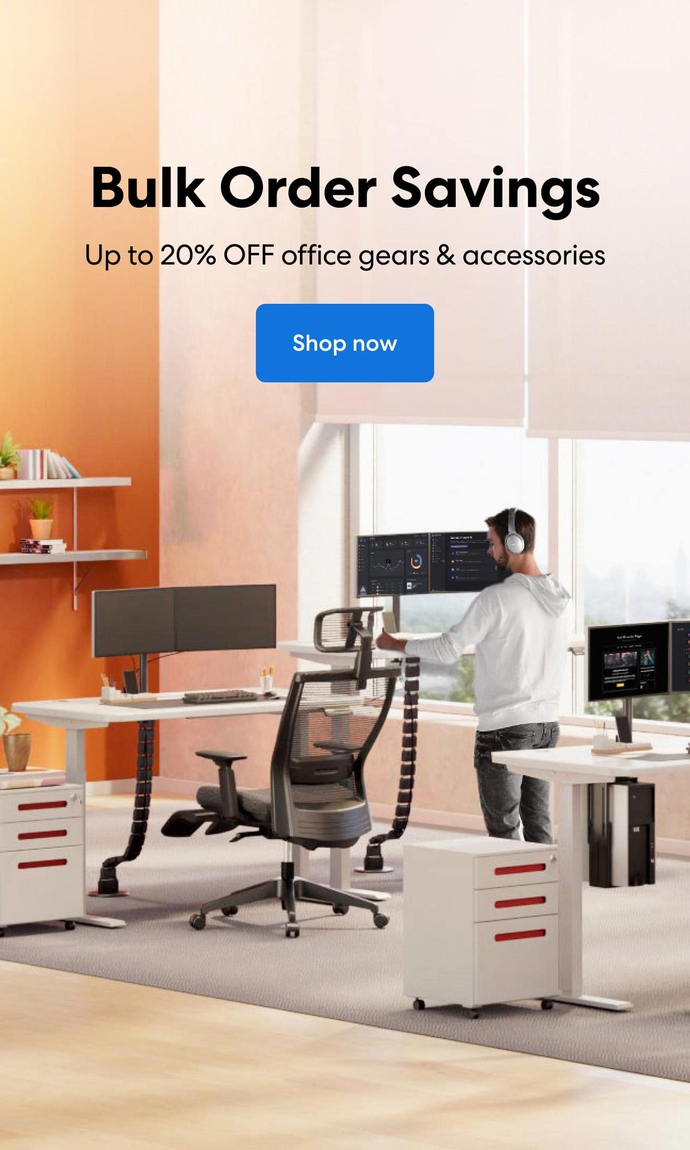 Subcribe newsletter and get $100 OFF.
Receive product updates, special offers, ergo tips, and inspiration form our team.