Smart Products
The 20 Best Corner Desks for Home Office Workers
1,683 Views
You must always find what makes a good setup for your working sessions. Remember that if you're comfortable while working, you're more likely to provide better results for your company. On the contrary, if you're experiencing discomfort, you may be at risk of lowering your overall work performance. 
Thankfully, office equipment manufacturers worldwide have worked hard to give us several different options to work more efficiently; it's a matter of choosing what feels more comfortable to us.  
Most workers focus on having the right desk rather than anything else. In essence, your desk is the place where you're going to do most of your work, so, logically, you want to have the right one. As a rule of thumb, your goal is to optimize space usage so that you don't feel you're working on a cluttered space. 
A great solution to cluttered desks is the corner computer desk since it offers much more space than other alternatives on the market. There are many home office corner desk ideas you can use, so make sure you read this article thoroughly to determine what may work for you. 
What Do You Need to Look for in a Desk?
As mentioned before, there are dozens of different product options available for you, so you must be careful of what you choose. Here's an overview of some of the most important aspects you must be on the lookout for to ensure you're purchasing the best corner desk for your office. 
Ergonomics
Ergonomics is the latest trend when it comes to a corner computer desk for home. In essence, ergonomics is a science that studies how you can adapt your working equipment to fit your natural body positions. Regardless of the desk you get, you should be able to sit with enough legroom, the right height, and other placement factors. 
Unfortunately, most traditional desks don't offer as much customization as you may think, leaving you with the option to adapt to the desk's properties or purchase a new one. In reality, the desk should be the one that adapts to you, not the other way around, and the office standing desk came along to solve that problem. 
The standing desk may seem like a regular desk at first. However, it has the option to adjust its height so that you can either work while sitting or standing. These features work wonders for most workers since they allow them to be more efficient with their work. 
Style
While it doesn't directly affect how you're going to work, having a desk that resembles your style may have positive effects on your mental health. As mentioned before, if you feel comfortable with the space you're working in, you're more likely to be productive and efficient with your daily tasks.  
Keep in mind that the desk is typically the focal point of your workspace, so you must try to get something that you feel comfortable with. Thankfully, there are hundreds of different designs available for you at the moment. 
Shape
As you may already know, there are several different shape options for a desk. Depending on what you need and what can fit your workspace, you may get a particular product. In this particular case, we're talking about the corner computer desk for home, which offers the most space among all desks. 
The main disadvantage about corner desks is that you're likely going to end up facing a corner of your room, which not many people like. However, if you have a window nearby, that would be a perfect place to place your desk and still get a nice view. 
Working Space
Corner desks do a great job at maximizing space usage, allowing you to place multiple monitors and other additional office desk accessories you may not be able to place on a traditional desk. 
Storage
While space is important, you may not want to have every single one of your items on top of your home office L-shaped desk at all times. Fortunately, many corner desks come with storage options that allow you to place everything where you want without any problems. 
Construction
Make sure to look for products that were made with sturdy build materials. If you purchase a desk without unreliable build materials, it may not last as long as other desks. 
Price
Finally, you must go for an option that suits your current budget. When it comes to the home office corner desk, there are options from a wide range of pricing, so you're not going to have any problems finding something that works for your budget. 
Why Choose a Home Office Corner Desk?
As mentioned before, there are many benefits that come from purchasing a small corner desk for the office. If you're looking to have more space in your home office setup, having the right desk is the right way to start. 
Here's an overview of the most important benefits you may get from purchasing a corner computer desk for home: 
More space

Under desk space

Simple adjustment options

Fresh and stylish options

Increased productivity 
There are also some disadvantages that come from purchasing a corner desk, and you must also keep them in mind: 
They're not designed to fit all rooms

Some models can be way too expensive

They're not as simple to install as regular desks 
Top 20 Best Corner Desks for Home Office Workers
1. Autonomous SmartDesk Corner
If you're looking for the best L-shaped standing desk at a reasonable price, Autonomous' SmartDesk Corner may be the right way to go. Overall, it provides dual monitor support, three different color options, and a powerful triple motor that allows the desk to change its height automatically. 
2. SmartDesk Frame L-Shaped
The SmartDesk Frame is for those who prefer a DIY approach to their desk. In essence, this standing desk frame allows you to place any custom desk top on top of the frame's height-adjustable steel frames, getting you a higher grade of customization. 
3. Bestar Hampton Corner Desk
Looking for a modern but solid style choice for your home office corner desk? This model provides a sense of luxury we haven't seen in other corner desk models. Additionally, it comes with a removable monitor stand, which is appreciated. 
4. Sauder Corner Desk
The Sauder corner desk is for those who are looking for a "traditional" look with their desks. This home office corner desk model is as wide as it can get, and it offers up to four different storage cabinets for your accessories. 
5. Ameriwood Home Pursuit L-Shaped Desk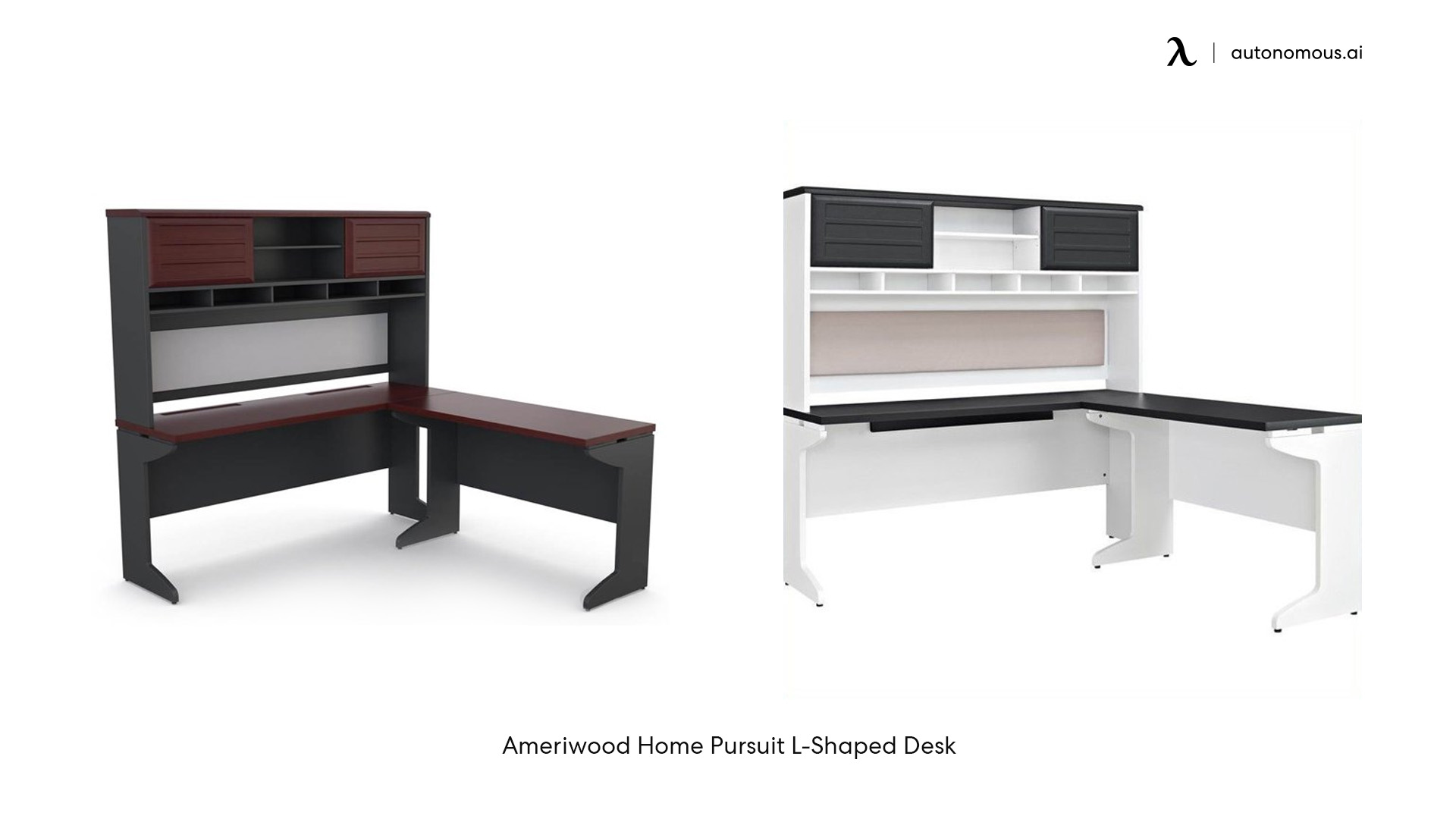 If you have a higher budget for your desk, you may consider this home office corner desk option if you tend to have too many items on top of your desk. Aside from the width of the desk, you're getting a hutch where you can place a considerable number of items.
6. Mr. Ironstone Computer and Gaming Corner Desk
Most gamers benefit from having a home office desk for dual monitors. If this is your case, the Mr. Ironstone desk is the right one for you. It features a large monitor stand, adjustable leg pads, and a powder-coated steel frame for an amazing and modern look. 
7. Monarch White Corner Desk
The Monarch corner desk is for those who want to prioritize storage over space. While this desk has enough space for you to fit most of your working setup, the most remarkable part about it is all the storage options it offers for you. 
8. Bon Augure L-Shaped Desk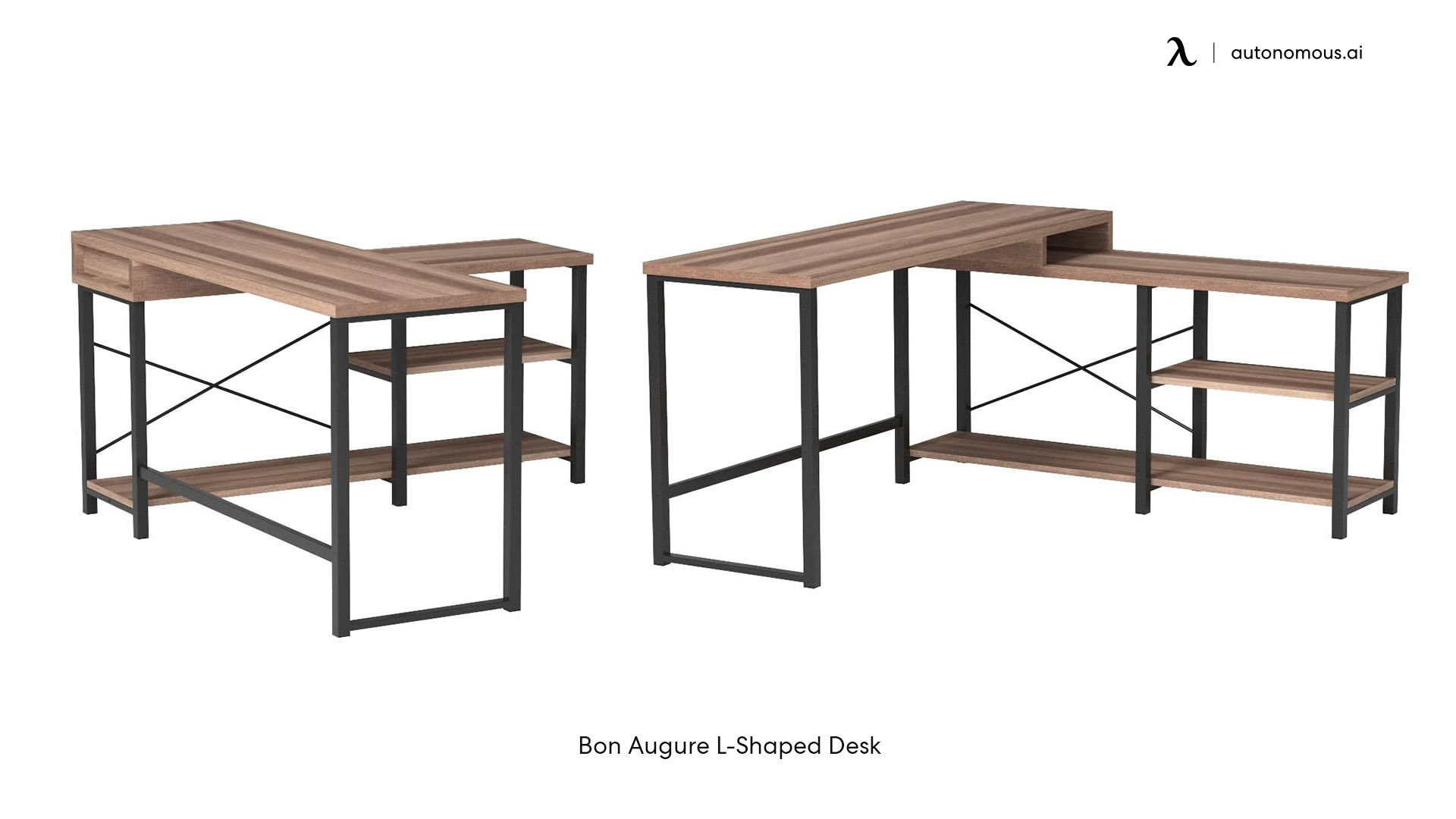 One of the things we love about this desk is its wood top. It makes the desk look much more modern and cleaner for people. Aside from the desk's oak grain finish, it can support up to 275lbs in weight, and it's fairly easy to assemble. 
9. SHW L-Shaped Desk
This option is also for wood finish lovers! Overall, this home office corner desk comes with two open shelves for storage, a grommet hole for organizing your cables, and a beautiful wood grain finish you're going to love. 
10. Sauder Beginnings Cherry Corner Desk
In case you're looking for something that looks "executive," this is the right one for you. Style is where this corner desk excels, so if that's your focus, you may go for this one. However, keep in mind that this desk doesn't provide as much space as other options on the list. 
11. Wheaton Collection Reversible Corner Desk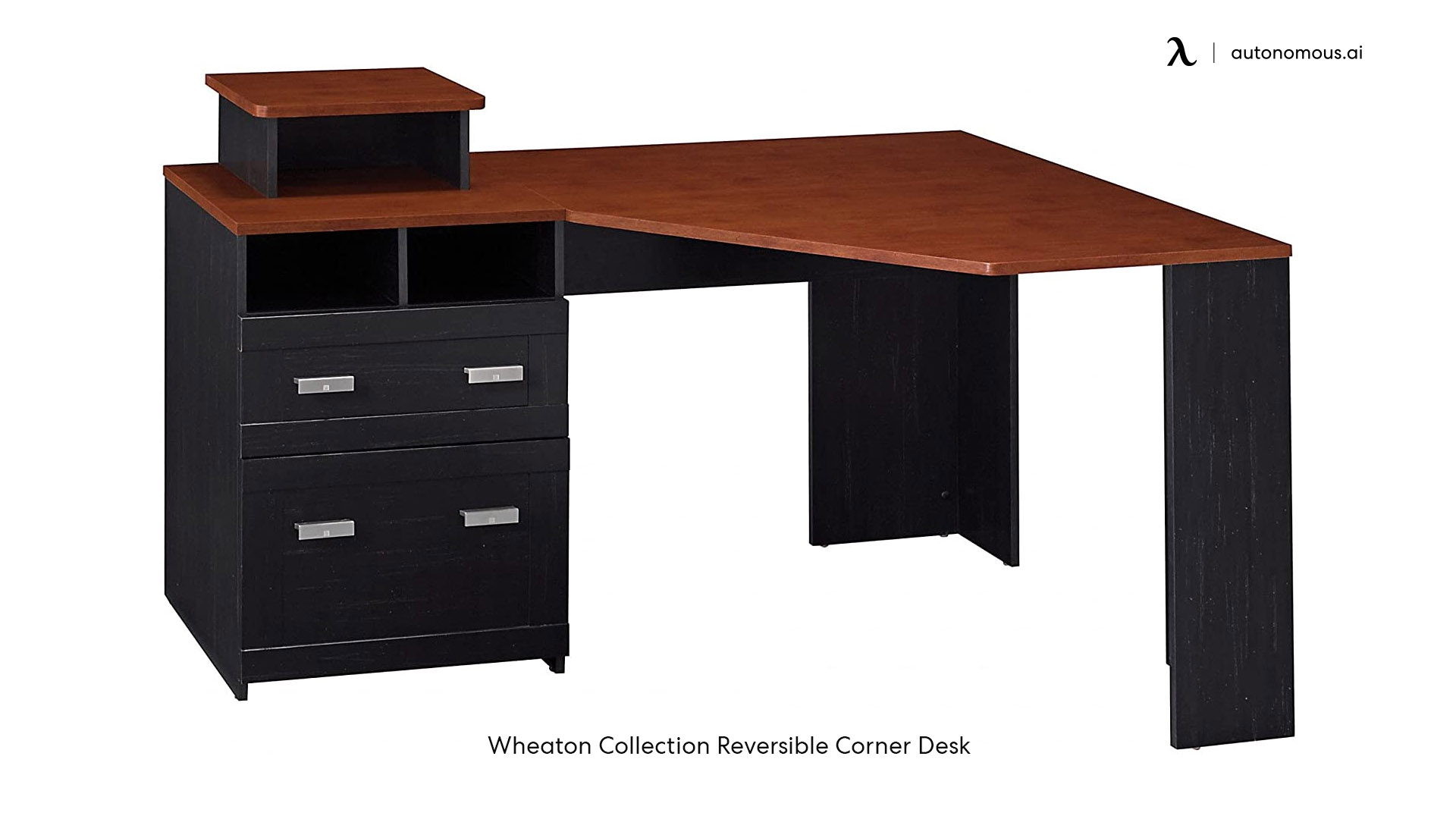 As the name of the product implies, this home office corner desk has a pedestal attachment that you can place on either side of the desk; this means you can easily fit the desk into any room of your home without any problems. 
12. Le Crozz L-Shape Corner Desk
This home office L-shaped desk model is for those who are looking for the most minimalistic design possible on their desk. Overall, it features a steel frame, an environmental particle board, and an adjustable footrest bar. The best part of this product is how easy it is to assemble. 
13. Topsky L-Shaped Corner Computer Desk for Home
While it may not look like it, the Topsky home office L-shaped desk comes with enough space to fit up to two monitors, a full desktop setup, and even some additional accessories, such as lamps, books, or plants. Additionally, it has up to 300lbs in weight capacity. 
14. Sauder Barriester Lane L-Desk
This product has one of the most amazing designs we've seen for a home office corner desk. Overall, it comes in a salt oak finish, making it one of the most durable options on the list. 
15. Soges Large L-Shaped Corner Desk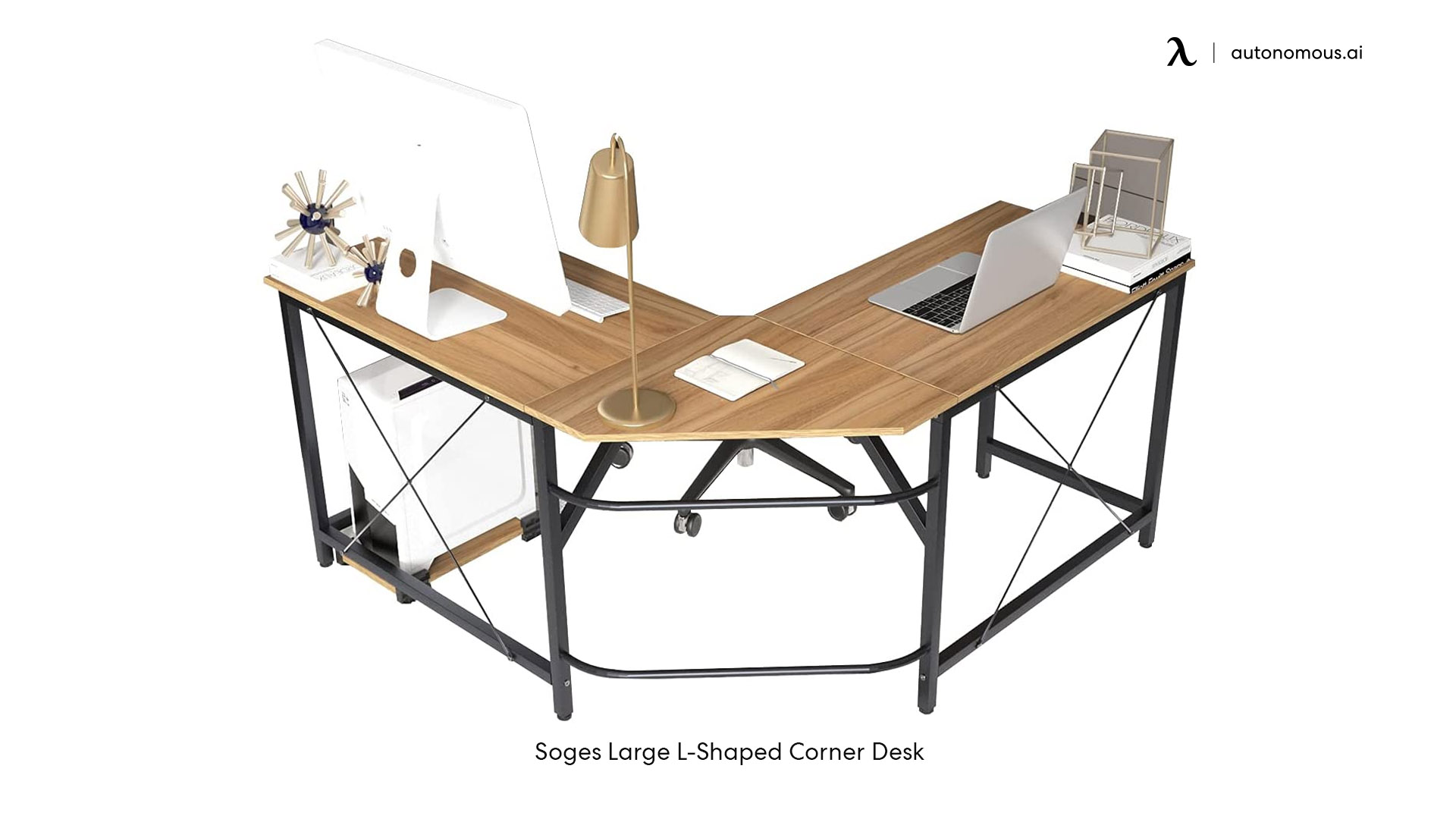 As the name implies, this desk is large enough to fit everything you may need. You may fit up to two different monitors and a laptop within the same space, which is amazing. Additionally, this desk features a CPU holder if you're working with a desktop PC. 
16. AuAg Modern L-Shaped Home Office Desk
This home office corner desk is fairly similar to the previous one. The main difference is that it comes with a built-in footrest, the board can support up to 450lbs in weight, and it's made from engineered wood boards, making it highly durable. 
17. Bush Furniture Fairview Desk
If you aren't looking for too many fancy features, this may be the right desk for you. Overall, this desk comes with a fresh, vintage look, and it has enough space for you to store as many items as you want. 
18. Glide Corner Desk
This model is for those who want to focus on having a lot of space on the top. In essence, it includes two small storage cabinets at the sides and a keyboard tray in the center. Other than that, this desk offers plenty of space for you to work in. 
19. Chalford Corner Desk
This is the best corner desk for office. The most remarkable thing about this desk it's its topper filing cabinet. There, you have up to four small cabinets to store any items you want, and you have a wide space at the top to place up to two monitors. 
20. Little Tree Rotating Corner Desk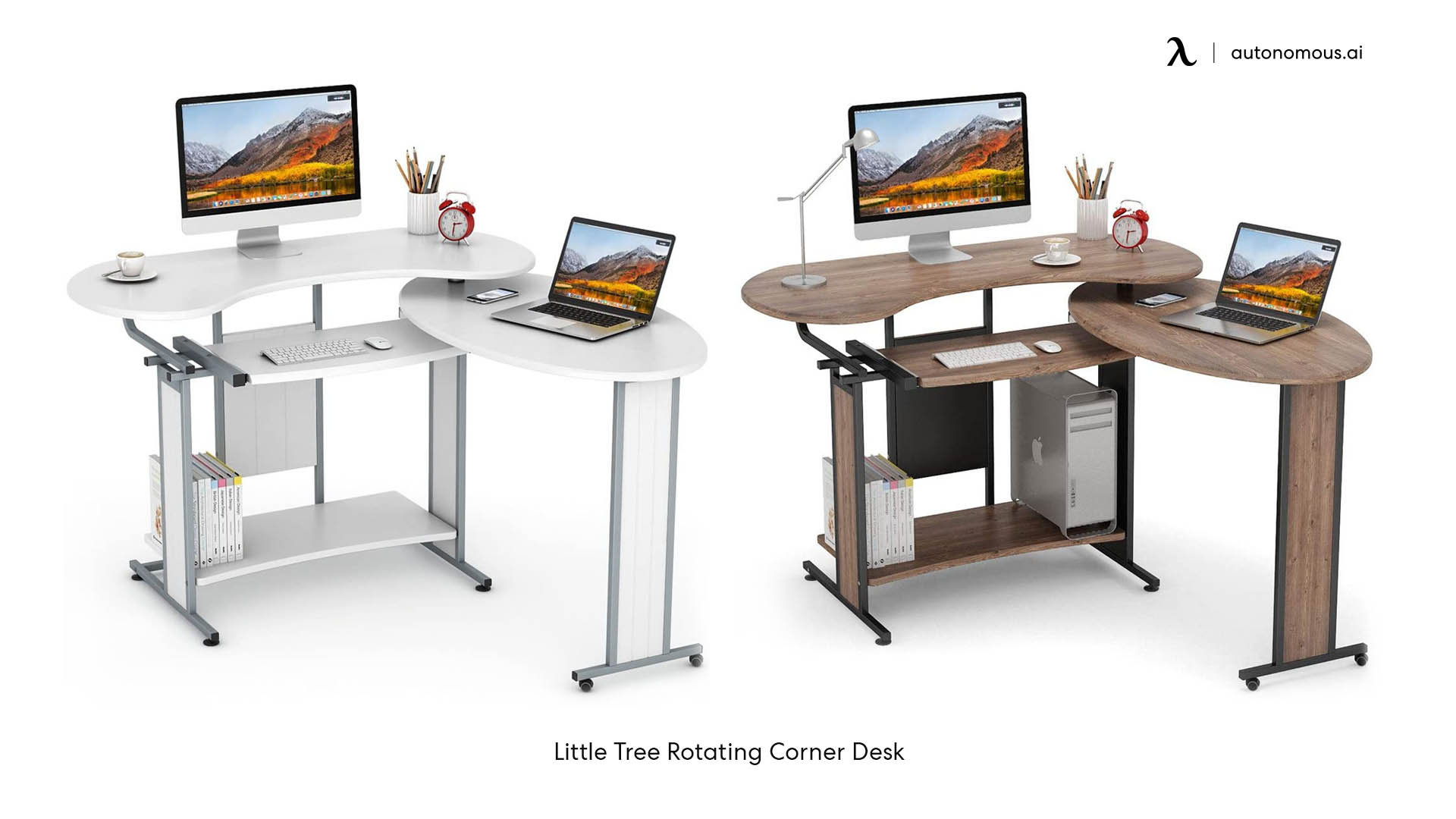 While a rotating corner computer desk for home may seem unusual, this product makes it work efficiently. Its side table allows you to rotate it up to 180 degrees, making it the perfect small corner desk for the office.  
Bottom Line
As you can see, there's a wide variety of home office corner desks you can currently get for your home office environment. Remember you don't have to go for the most expensive option to get all of the benefits. As long as you get an option that suits your needs, you're good to go! 
If you're looking to purchase a home office L-shaped desk today, make sure to go for one of the items shown above so that you get the most quality products possible.
Subcribe newsletter and get $100 OFF.
Receive product updates, special offers, ergo tips, and inspiration form our team.
WRITTEN BYAutonomous
We build office products to help you work smarter.