Smart Products
20 Best Minimalist Office Desk Chairs for a Productive Workspace

Autonomous
|
Nov 3, 2021
4,845 Views
Minimalism is more than just an interior design style. Many people feel overwhelmed when they enter their office space because of the sheer amount of furniture, paperwork, and other things that can be seen lying around. 
This type of cluttered work environment can hinder productivity and raise stress at work and anxiety levels. Adopting a minimalistic approach can provide many benefits.
If you are looking for a minimalist office chair, we have compiled a list of the 20 best choices. First, let's take a look at what minimalism is, and some of the benefits of adopting a minimalistic approach to office design are. 
What Is Minimalism?
Although the minimalist style has been popular in Western interior design for many years, the concept itself is a lot older. 
Compared to Western culture, where everyday life is controlled by the quest for worldly things and, consequently, accumulates things in excess, Chinese and Japanese cultures have associated emptying out with happiness. 
Minimalism in interior design is distinguished by a limited palette of colors and objects. Extraneous office accessories and decorations are out of the question here. However, a seemingly limited color palette does not imply boredom. 
White, which is generally a favorite in minimalistic design, can make a room appear bigger, and it can be softened with a darker color such as navy blue, black, or grey for contrast. Different shades of green and pastel colors could also work well. 
Furniture used in minimalistic design does not have to be dull – after all, it is the room's focal point. As a result, in the minimalist design, a great deal of emphasis is placed on furniture. Unique shapes, modular designs, or unusual edges can make a space appear modern and bright. 
The Benefits of a Minimalistic Office Space
Adopting minimalism in your workspace doesn't just make the space look better – it can also have a significant impact on your productivity. Here are some of the benefits of minimalism in the workplace:
A minimalist desk setup can help to improve your focus on the task at hand without becoming distracted by clutter.
When space is clean and free of clutter, it helps to clear the mind, making way for new ideas.
More Time to Do the Things That Matter 
Minimalism involves organization. When things are assigned a place, they can be easily found when needed, saving time.
When you are in a great mood, it's much easier to remain motivated and engaged. Minimalism can assist with this. It takes away all the stress-inducing clutter and replaces it with brightness, calmness, and positivity.
A minimalistic space can also be beneficial for your health because it reduces your exposure to bacteria through a clean workstation. 
20 Best Minimalist Office Chairs to Boost Productivity
Now that you have a good understanding of what minimalism is and why it is so beneficial, here are 20 minimalistic chairs to choose from for your minimalist office space. 
1. Autonomous ErgoChair Plus
As Autonomous' top-of-the-range ergonomic office chair, this chair has everything you could need to ensure that your body is fully supported. At the same time, you work without disrupting your minimalistic space. 
Because furniture is often the focal point of minimalist design, it is important to choose furniture that has an interesting design. This is what you get with the ErgoChair Plus, as it has a fishbone structure backrest that adds a unique look to the chair. 
There is no reason not to buy an ergonomic chair even when pursuing minimalism in the office space, and with the ErgoChair Plus, you never have to compromise on ergonomic support. With adaptive lumbar support and a fully adjustable chair, there isn't much this minimalist office chair doesn't provide.
2. Autonomous ErgoChair Pro
A minimalist ergonomic chair should have a well-balanced mix of soft and easy colors on the eye. This is what the ErgoChair Pro has. The chair is available in six different colors, and if you are looking for an ergonomic chair that pairs well with a white minimal desk, you should love the black and white or cool gray options. 
It is reclinable with a lockable tilt and has an adjustable height, headrest, armrest, seat tilt, and backrest for the ultimate support that fits your body without a busy design. 
3. Autonomous ErgoChair Recline
Simplicity is exemplified in the ErgoChair Recline, but don't let its simple design fool you. This minimalist office chair, like other Autonomous chairs, is packed with ergonomic features. 
It is a reclining ergonomic chair that is fully adjustable and supportive, with an optional head and footrest option available for those who need a little extra comfort and support when working long hours. The chair also ships within two days, which is handy if you need it in a hurry.
4. Alera Neratoli Mid-Back Office Chair
Alera produces good-quality, minimalist furniture, and this white minimalist swivel chair is no different. The chair's cushion is made of white faux leather that is stain-resistant. It is also available in black and red should you prefer a pop of color. 
The Neratoli simple office chair has an eye-catching chrome frame that contrasts nicely with its black under seat and casters. However, lumbar support and adjustable height aside offer little in the way of ergonomics and support for those who work long hours. 
5. Tribe Signs Ergonomic Minimalist Chair
Tribe Signs' office chair has a modern, minimalist design and is made with metal and nylon. It has a cushioned seat for added comfort and provides excellent lumbar support. 
The lumbar support of this minimalist office chair is adjustable and up and down by 2.75 inches, so that you can get the best-suited support for your body. It is also relatively straightforward to put together and glides well, even on carpeted floors. 
6. AmazonBasics Mesh Office Chair
The AmazonBasics Mesh Chair is a simple desk chair that gives any office space a professional and minimalist feel. It provides excellent value for money and includes adjustable height, lumbar support, and a breathable mesh backrest to prevent the buildup of odor. One thing to note is that its armrests are fixed, which could be a problem for those with long arms. 
Many complain that the seat's cushioning collapses after extended use, so it becomes hard and uncomfortable after prolonged use. Nevertheless, this small minimalist swivel chair is ideal for cramped spaces or when space is limited. 
7. Minimalist Office Chair by Inbox Zero
Inbox Zero makes chairs that are ergonomically designed at affordable prices. This minimalist computer chair has a thick padded seat and wing lumbar support with raisable armrests that let you store it conveniently beneath your desk. It is an excellent choice for the office, home office, or home use as a gaming or study chair. 
However, this minimalist ergonomic chair is only available in a black and white color variation. 
8. OFM ESS Collection Minimalist Office Chair
This OFM minimalist chair is the one for you if you're on a tight budget. It has a simple design, but it isn't as uncomfortable as it looks.  
If you must work remotely, this minimalist swivel chair could be ideal because it won't break the bank. It comes well-packaged and can be used for long periods without causing back pain. It is also small and space-saving. 
9. Zipcode Design Wyndid Conference Chair
The Wyndid minimalist office chair is an excellent choice for finishing your home office, office space, or conference room. It is made of metal and has a curved back to support the curvature of the spine. Open armrests provide extra support as you take on the day. 
It is upholstered in faux leather, available in four colors, and packed with foam to provide great comfort. It includes subtle channel tufting for an interesting, tailored look. 
10. Modway Edge Office Chair with Flip-up Arms
This contemporary minimalist swivel chair oozes elegance, functionality, and coziness. The Modway office chair may be the right choice if you need a compact, simple office chair that provides comfort while maintaining a "clean" visual space. 
It has thick foam padding on the seats and armrests and includes five casters for easy movement and back support to reduce and prevent back pain. The leatherette cover adds a vintage charm aesthetic. 
11. Wayfair Basics Mesh Back Chair
The advantages of a comfortable office chair are numerous and should never be overlooked. This mesh minimalist ergonomic chair provides support without the business, allowing you to work long hours without pain. 
Mesh task chairs like this one provide contemporary seating for your office or home. It supports the mid-to-upper region of the back and has a simple design that comes in various colors. The chair's swivel seat is padded with two-inch foam and upholstered in mesh. 
12. Art Leon Mid-Century Accent Chair
This minimalist desk chair is ideal for a small study room or home office space. Thanks to its unique design, it quickly becomes the focus of any workspace, desirable in minimalist furniture. 
It has a spacious depth and a cushioned backrest and seating area. The Art Leon mid-century swivel chair has been improved with a 360-degree swivel. To match your décor, you can select up to 10 different colors, and the chair has a slightly slanted backrest to help you achieve good posture at work. 
13. Alman Ergonomic Task Chair by Latitude Run
The Alman Ergonomic Chair from Latitude Run is both ergonomic and minimalistic. It includes an anti-microbial design to prevent the buildup of bacteria in the chair. The chair also has a tilt feature with a tilt lock for maximum comfort. 
Choose from four different colors and flip up the armrests at the end of the day to store the chair under your desk and out of the way. 
14. Gabrylly Ergonomic & Minimalist Office Chair
This best-selling home office chair is stylish and minimalistic. Perhaps its most appealing feature is its ergonomic structure. It has four support points for the hips, head, arms, hips, and adequate lumbar support. Adjustable height, neck support, headrest, and backrest, along with flip-up arms, are features of this chair. 
15. Wayfair Basics High-back Chair
The high-back chair from Wayfair Basics includes four different metal frame options, including rose gold and black, to help it blend in well with your office décor. Its upholstery is white, and the caster wheels allow the chair to be used on concrete, carpeted, and tiled floors. 
16. Brister Swivel Side Chair
Solid wood isn't always the preferred material for a minimalist design, but the Brister Chair may force you to reconsider. It has a vintage, but modern appeal that makes it trendy and homely. It has four beech wooden legs for stability and a striated quilted design. However, it does not have many ergonomic features, so it isn't suitable for prolonged use. 
17. Wade Logan Gurule Ergonomic Task Chair
This adjustable minimalist computer chair with pivoting arms is ideal for a minimalist office. It is available in four pastel colors, making it an ideal addition to any space that employs a minimalistic design. 
The chair also incorporates many ergonomic features such as seat tilt and lumbar support, making it a great all-rounder. 
18. Mercury Row Pinero Conference Chair
This minimalist office chair exudes luxury with its seamless, pliable leather surface and striated detailing. It's a great option because the seating and backrest are well-cushioned, and its PU leather upholstery is also waterproof, so you never have to worry about damaging your chair if you spill a drink on it. 
The minimal desk chair has a chrome-plated aluminum frame complemented by its armrests, making it both sturdy and fashionable. 
19. Modway Edge Minimalist Desk Chair
If you're searching for an ergonomic, but minimal desk chair that won't set you back too much, the Modway Edge Office Chair could be perfect for you. This chair is well sculpted and comes complete with a flip-up armrest and a mesh back for breathability and comfort. 
20. Kartell Spoon Task Chair
If unusual is what you are looking for, you should look at this minimal desk chair. It was the winner of the Good Design Award in 2007 for its strange, but minimalist appearance. A great feature is its adjustable armrests with a hidden mechanism that prevents it from taking away from the simple design. 
Final Thoughts
Minimalism has been trending lately, and for a good reason. Improve productivity and enjoy a host of benefits by incorporating a minimalist office chair in your office space. You are sure to find the one for you on this list.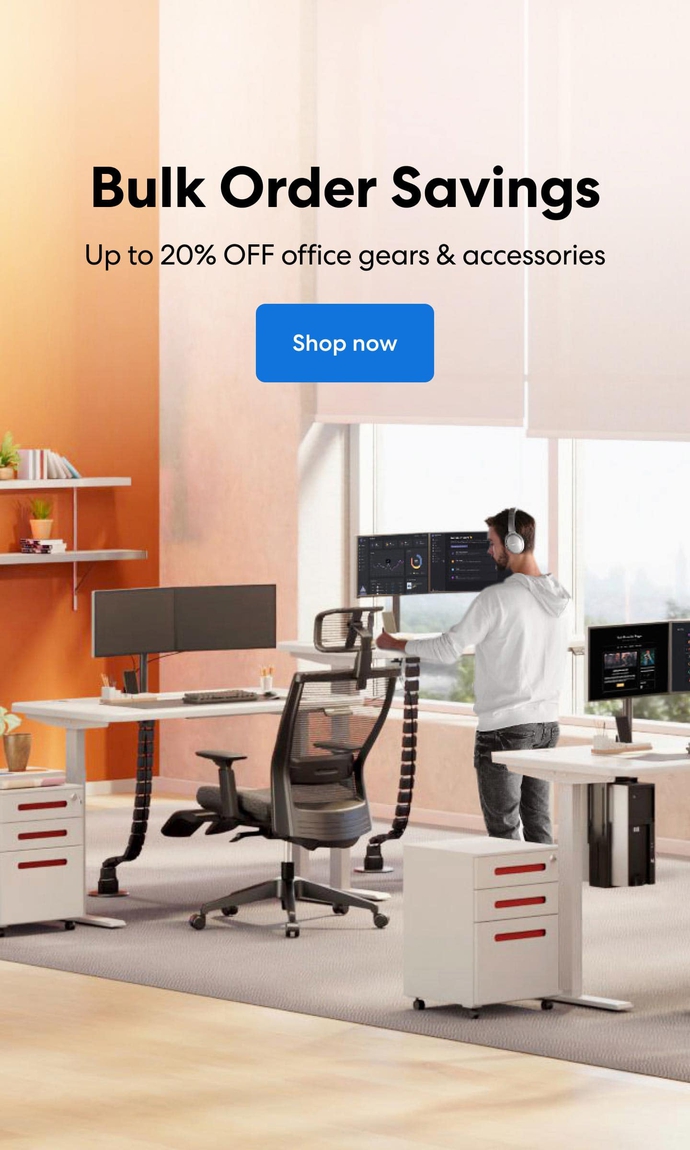 Subcribe newsletter and get $100 OFF.
Receive product updates, special offers, ergo tips, and inspiration form our team.