Workplace Inspiration
20 Best Prefab ADUs in California and Detailed Buying Guide

Autonomous
|
Jan 19, 2023
3,943 Views
If you're considering adding an accessory dwelling unit (ADU) to your California property, you may be hesitant due to the potential disruption of construction in your backyard. However, an alternative option allows you to bypass this issue: a prefabricated ADU. Prefab ADU in California is built offsite by a manufacturer and delivered to your property when ready for installation.  
This construction method is typically faster and more cost-effective than building an ADU from scratch on your site. Prefab ADUs are based on pre-designed plans, so the architecture and design process are eliminated, further reducing the time and cost of the project. 
Adding a prefab ADU to your property can provide additional value, generate passive income through rentals, or provide a place for older family members to live. In this article we'll discuss 20 prefab ADUs in California and help you know which one to choose. 
What to Consider When Choosing Prefab ADU
Here are a few things to consider when deciding which prefab ADU to choose in California: 
1. Floor Plan and Design
Although accessory dwelling units (ADUs) are typically smaller than traditional homes, they don't have to feel cramped or cluttered. When researching prefab ADU companies, look through their various layouts and design options to find the best one.  
One way to make your ADU feel welcoming and spacious is to choose an open floor plan that utilizes the space as efficiently as possible. You can eliminate partition walls between the kitchen, living, and dining areas, creating a more open and cohesive space.  
Consider incorporating natural light through large windows, a skylight, or sliding glass doors to make your ADU feel even larger. You might also consider using whole-wall doors made of glass to bring in more light and create a seamless indoor-outdoor living space.
2. Unit's Size
It's essential to have a clear idea of the size of your accessory dwelling unit (ADU) before choosing a homebuilder company. In California, ADUs typically range from 300 to 1,400 square feet, with an average size of 615 square feet.  
Some companies offer specific sizes for their ADUs, such as 400 square feet for a studio unit and 500 square feet for a one-bedroom unit. Keep in mind that you have some flexibility when determining the size of your ADU, so be sure to consider your specific needs and preferences.
3. Design and Planning Team
As you look around for ADU companies, it's essential to consider whether they offer planning and design services in-house or through external contractors. Regardless of how they handle these processes, it's crucial to ensure that the team includes reputable architects and building experts.  
This will give you confidence that your ADU will meet all necessary standards and be built to last. During the planning phase. It's also essential to establish clear lines of communication with the ADU company, as this will ensure that your ideas are accurately captured and implemented. 
List of the 20 Best Prefab ADU in California
Here is the list of the 20 best Modular ADU in California. 
1. Autonomous WorkPod
Step into the home work pod and escape the outside world's distractions. This prefab ADU sound-insulated workspace features floor-to-ceiling glass doors that allow natural light to flood in, giving you a sense of openness and freedom.  
Whether you're working or relaxing, the WorkPod is the perfect place to get things done and enjoy a sense of peace and solitude. 
Plus, with no commuting required, you can easily transition from work mode to personal time without the stress of a long commute. This workspace gives you the space to live your life to the fullest. 
Dimension
8'6''W x  11'9''L x 11'H
Ceiling height
6'10'' to 9'4''
Window material
Wooden frame, 5/16" tempered glass
Door material
Anodized aluminum frame,  5/16" tempered glass
Material
Siding: bitumen, housewrap, vinyl silding
Roof: bitumen, housewrap, shingles roof
Floor: plywood
Balcony: composite wood
Include

Optional: SmartDesk Connect, ErgoChair Pro+, Dual Monitor Arm, Cable Tray, Steel Cabinet, Anti-Fatigue Mat. Always included: Electrical Cabinet & Bookshelf

Floorspace
98 square feet
Capacity
2.9 tons
2. Autonomous StudioPod
The StudioPod is a compact and convenient solution for those looking for a versatile space in their backyard. With no need for disruptive and time-consuming home renovations, this prefab studio shed offers a convenient place to live, work, and play.  
The StudioPod has all the necessary features, including a closet, desk, bookshelf, TV stand, foldable coffee table, and convertible sofa bed. Whether you need a home office, guest room, or simply a place to relax, StudioPod has you covered.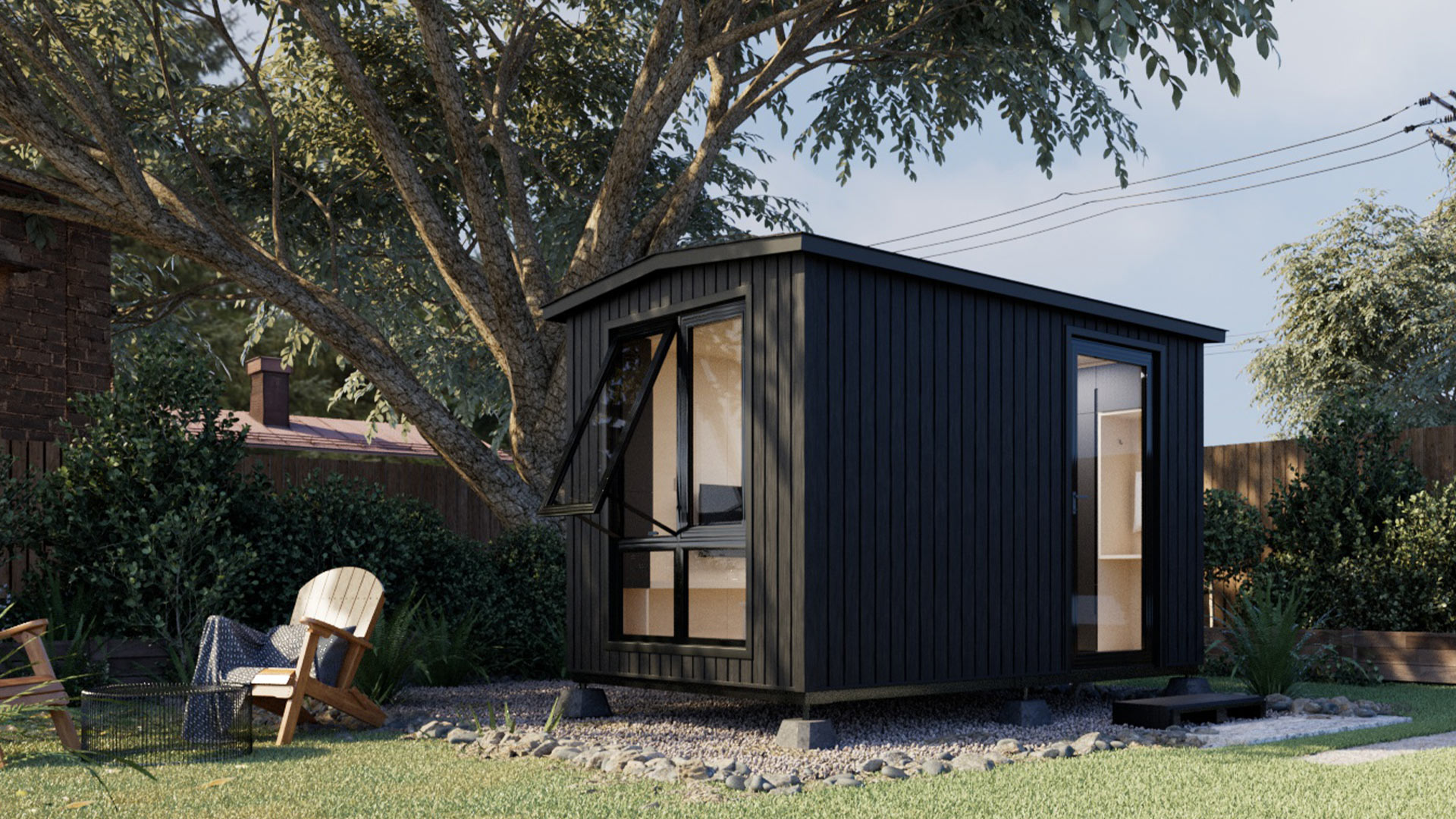 Dimension
8'4"W x 12'6"L x 9'10"H
Floorspace
105 square feet
Ceiling height
7'3"
Weight capacity
2.9 tons
Pedestal
18"W x 43"L x 7"
Window & door material
Powder-coated aluminum,  5/16" tempered glass
Material
Siding: plywood 1/2", steel frame, honeycomb paper, plywood 3/8", bitume, housewrap, vinyl siding
Roof: roof shingles
Floor: plywood
Pedestal: steel frame & wood plastic composite
Electrical devices
RCB, Wall outlet, Ceiling light switch, Ceiling light, Ventilator switch, Ventilator, Ethernet wall port, 66ft power cable with 2 connectors
Include

Optional: Cabinet, Desk, Small & Big Bookshelf, TV Shelf, Foldable Sofa Table, Convertible Sofa Bed. Always included: Electrical Cabinet

Power input
Maximum voltage : 110V AC (US standard)
Maximum current : 25A
Maximum power dissipation : 2750W
3. Autonomous WorkPod Lite
The Pod is a quick and easy way to add extra living space to your property. With a simple, flexible design and affordable price point, you can set up this unit within a day using the studio shed kit.
Whether you're looking to create a professional workspace or a leisurely retreat, the Pod can be transformed into a multi-functional space in your backyard. With the ability to adapt to your specific needs, the Pod is a bright and convenient solution for expanding your housing options.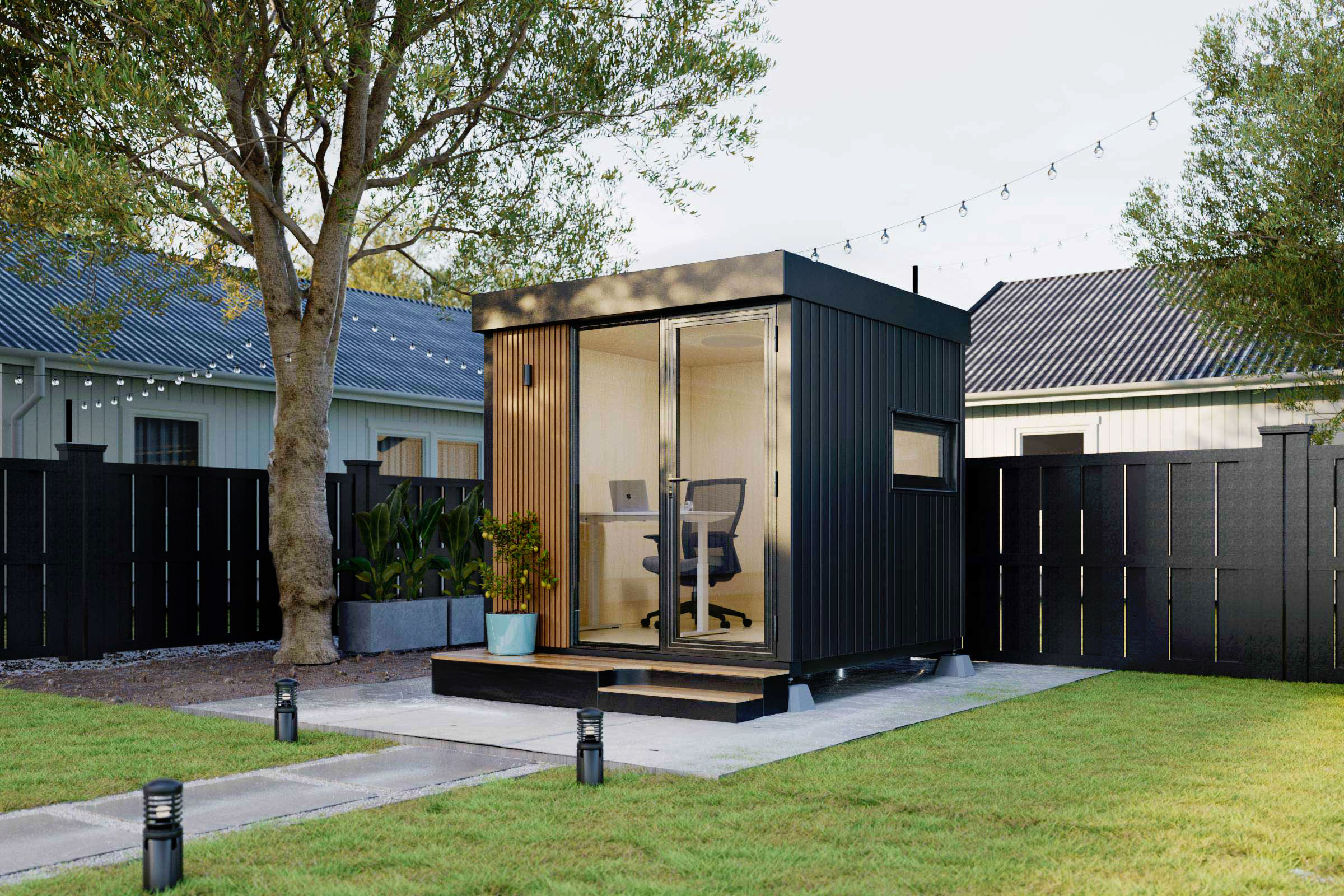 Dimension
8.7 W x 8.12 L x 9.3 H inches
Material
Window and door: powder-coated aluminum, 5/16-inch tempered glass
Siding: plywood 1/2-inch, steel frame, honeycomb paper, plywood 3/8-inch, bitume, housewrap, vinyl siding
Roof: metal roofing
Floor: plywood
Balcony and Pedestal: steel frame and wood plastic composite
Pedestal
24 W x 103 L x 9 H inches
Electrical devices
RCB, Wall outlet, Ceiling light switch, Ceiling light, Wall light, Ethernet wall port, 66ft power cable with 2 connectors
Weight capacity
2.3 tons (including Pod body)
Floorspace
80 square feet
Ceiling height
7.3-inch
4. Live Simply Pod
The LivPod is a sleek and stylish prefab office backyard. Measuring 164 square feet, this unit comes with a small design with white surfaces, cabinets for extra storage, and a sliding door that leads to a wooden platform. One of the benefits of choosing a LivPod is that it is fully customizable to your needs. 
5. Versatile Office Shed
This modular ADU in California offers a modern and convenient workspace solution. With plenty of space for your backyard office shed kits and the option to include a small kitchen or bathroom, this home pod is designed to meet all of your needs.  
The sturdy roof and additional amenities make it a comfortable place to work, allowing you to stay focused and productive without needing to leave the Pod frequently to return to the main house. Whether you're looking for a home office, guest room, or a private retreat, this DIY backyard shed is a great option. 
6. Modern Prefab ADU California Studio Backyard
A modern backyard studio cabin kit can provide a necessary separation between home and work for those working from home. By creating a dedicated space for work, you can avoid the distractions and stress of being in the same place where you relax and unwind. 
This can help you stay focused and creative throughout the day without feeling the tension of work spilling over into your leisure time.
7. LIV Pods
LIV Pods offer modular ADU in California designs for prefab backyard office spaces that seamlessly blend indoor and outdoor living. This can serve as a private retreat or a cascading office in any backyard, providing a peaceful and quiet workspace.  
With an easily assembled design, LIV Pods offer a convenient and flexible solution for creating a functional and stylish backyard office. Whether you need a quiet place to work or simply want to enjoy the beauty of the outdoors, LIV Pods provide the perfect solution. 
8. Glass Office Shed
This best prefab ADU in California may be the perfect choice if you appreciate the aesthetics of glass structures, natural light, and a beautiful view. 
In addition to its modern design, this Pod is spacious enough to accommodate meetings and can be outfitted with various office and personal items.
9. Comfy Backyard Pod
The Comfy Backyard Pod is finished with microporous paint that adds to its beauty and helps regulate the temperature inside. Whether you're looking to create a dedicated workspace or simply a place to relax and unwind, this backyard office shed can be a significant investment. 
10. Private Office Shed
The private backyard office shed is a great choice for those seeking a private and attractive home office. With a design that allows you to focus on your work, this shed provides a secure and safe place to store confidential documents. 
11. Friendly Office Shed
The modern prefab ADU California Friendly Office Pod is a stylish and contemporary prefab office shed that can be customized to meet your specific needs. With room for upgrades and improvements, such as beautiful flooring, windows, and roofing, you can create a space that perfectly fits your style and preferences. 
12. Micro Unit
The Unit from Drop Structures could be a good option if you're looking for a budget-friendly prefab office solution. This best prefab ADU in California features a vinyl flooring with metal exterior and Baltic Birch interior, making it a more lightweight and affordable choice. 
13. KitHaus K3
KitHaus is a prefab manufacturer that offers a range of work pods, ranging in size from 81 square feet to 169 square feet. These pods are constructed using structural insulating panels (SIPs), which provide a high level of insulation and energy efficiency. 
14. Bauhaus Office Unit
The Bauhaus unit is a luxurious and modern backyard prefab office that also serves as a functional and stylish bedroom and all that thanks to the built-in bed. Constructed using a shipping container, this modern prefab ADU in California features big folding panels that can open up into the backyard, allowing you to enjoy the outdoors while you work or relax. 
15. Whimsical Office Shed
This prefab office shed design is popular among those working from home due to its natural appearance and beautiful design. It's more than just an ordinary working pod, offering a unique and stylish solution for those looking to create a dedicated workspace. 
16. Tiny Office Shed
If you're working from home and miss the social aspect of a traditional office setting, a tiny prefab office shed could be the perfect solution. Cozy and engaging, this design offers a beautiful and aesthetically pleasing space that can help to motivate you to get work done.
17. Kanga Room
The Kanga Room could be the perfect solution if you require a little extra privacy. This modern prefab ADU in California comes with lightning, electrical wiring, and outlets, making it a convenient and functional workspace. 
18. Yardadu Turnkey
The Yardadu Turnkey range of prefab backyard offices is another option for those willing to invest in a higher-end unit. If you're looking for a high-quality prefab office shed that stands out from the rest, the Yardadu Turnkey range could be a perfect choice. 
19. She Shed Office Pod
The She Shed Office Pod is an excellent choice for art lovers and those with a creative touch. This best prefab home in California offers a natural and conducive workspace with plenty of space to accommodate your needs. 
20. Essential Eichler Shed
With Backyard Eichler, you can customize your Essential Eichler Shed to create the perfect home office. Options include skylight, a pine ceiling, a pop-out nook, and French doors, allowing you to create a workspace that fits your needs and style. 
Why Should You Choose the Best Prefab Homes California?
If you want to make the most of your property investment and add structure, a prefab accessory dwelling unit kit (ADU) could be the solution you're looking for. Prefab ADUs are a cost-effective option for homeowners who want to add backyard office shed kits and extra space to their homes, such as a granny flat or play area.  
They are also excellent for those who want to leverage every space in their new home without breaking the bank. Compared to the base price of properties available through real estate companies, a prefabricated ADU is a much more affordable option. 
Final Takeaway
There are many excellent prefab ADUs in California that can provide additional living space for homeowners. From small and budget-friendly options to luxurious and customizable units, there is a prefab ADU to suit every need and preference.  
When choosing the best prefab homes in California, it's essential to consider factors such as size, design, cost, and the company's reputation and track record. 
With the right prefab ADU, you can add valuable space to your home, create a rental opportunity, or simply enjoy the benefits of an extra living area. Whether you're looking for a simple and functional space or a more luxurious and stylish unit, there are many fabulous prefab ADUs in California.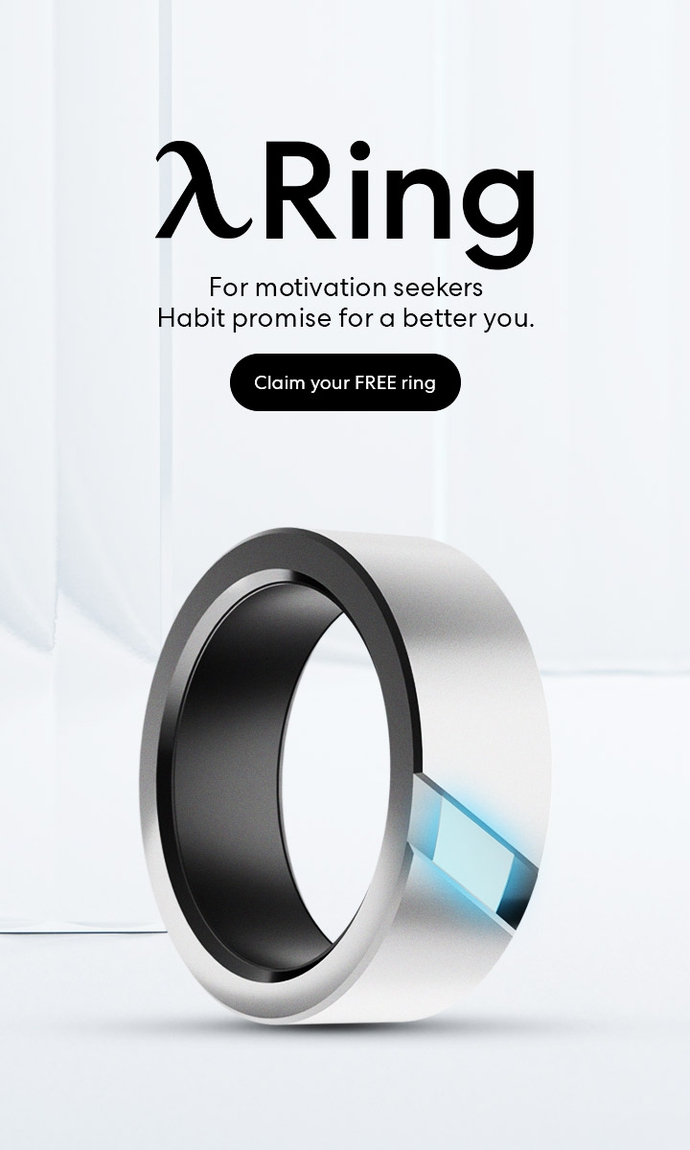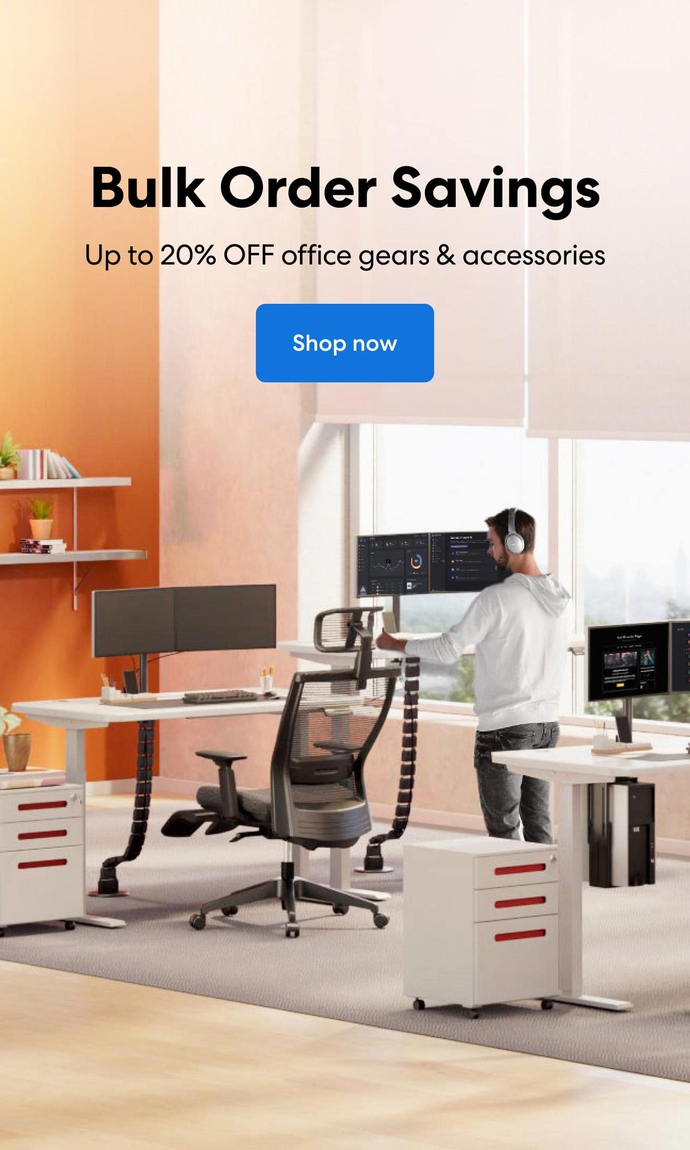 Subcribe newsletter and get $100 OFF.
Receive product updates, special offers, ergo tips, and inspiration form our team.