Smart Products
20 Best Sellers Swivel Desk Chair for Ergonomic Office

Autonomous
|
Sep 8, 2021
2,235 Views
Does your job involve moving a lot when seated in the office? If yes, are you currently able to move as you wish? If not, then you need to invest in a swivel desk chair. This type of seat makes it easy to move from one location to another within the office. You can comfortably chat with your colleagues on either side without having to walk up to them. All you need is to swing on your swivel desk chair, either side. You can also move the swivel desk chair closer to your desk or towards your cabinet to pick a file. 
List of 20 Best Swivel Desk Chairs
There are several ergonomic swivel chairs on the market that you can consider. Do your research on what you need in a swivel desk chair and how long it can serve you. Below are some of the swivel office chairs for your consideration. 
1. ErgoChair Plus
This seat is a high-back desk chair inspired by movement. Meaning, the chair's engineering resulted from people who want to move more in the office. The chair is frameless to grant unhindered movement supported by its swivel. With its high-back backrest, your body gets sufficient support. It supports your head, shoulders, and neck comfortably. Breathe easily as the chair does not trap heat. It has thermoplastic elastomer strands that ensure heat passes through. 
ErgoChair Plus encourages natural movement with its adaptive spinal support. The seat's breathable mesh back offers a cooling system to your back. This eco-friendly swivel chair for desk can support a weight capacity of 300 pounds. It is very wide and higher than normal office chairs. With its several practical adjustment options, your support and comfort are guaranteed. If you are tall, your best bet in a seat is ErgoChair Plus. 
2. AvoChair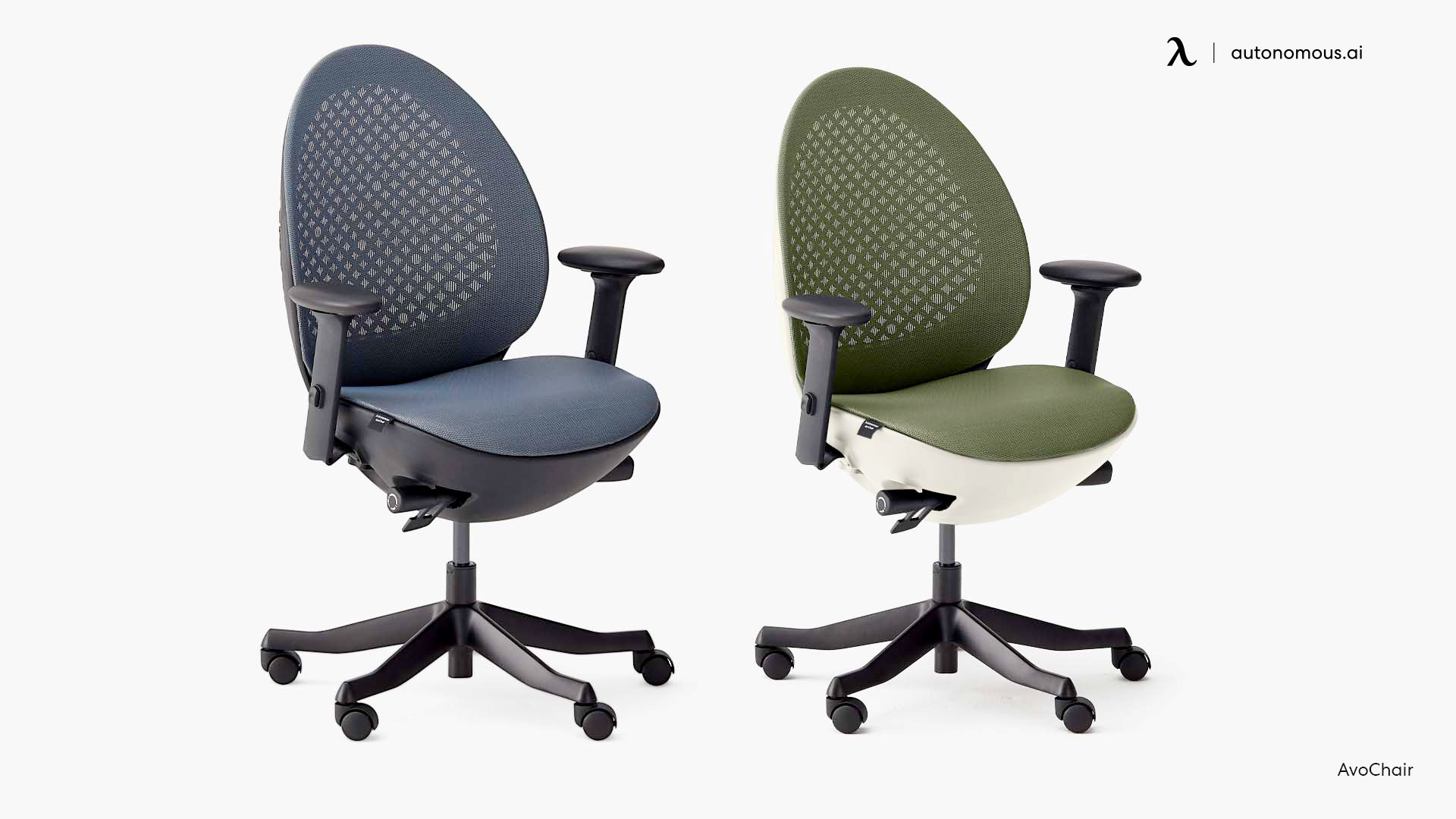 This is a very sleek ergonomic swivel chair made from recycled materials. It is very environmentally friendly. The seat is curvy and comfortable for a personalized positioning experience in the office. With its clean and minimal flowing lines, the seat's construction had its users' health in mind. This eco-friendly swivel office chair seat is a solution for promoting modern healthy sitting posture. You have your spine supported with the seat's airy elastomeric mesh back. 
The seat has no hard edges that could limit tilting or moving about in the office. This mesh office chair has a sturdy base that locks in your preferred reclining tension. The seat's swivel enhances movement in all directions. You can comfortably adjust the seat's height and arm position. 
3. ErgoChair Recline
This is one of the most outstanding ergonomic swivel chairs for a desk. The seat's plastic frame is made from durable nylon. The seating area is all polyester fabric with a molded foam in its interior. Body support and comfort are provided by the seat's adjustable armrest and height. 
The swivel of this swivel office chair ensures the seat tilts in any direction you want. You don't have to worry about your leg and headrest. The seat of this ergonomic computer chair covers them through its adjustable head and leg rest options. Adjust your body position using the chair's lumbar support. Reclining has support from the seat's mesh back.
4. ErgoChair Pro
Let's buy an ergonomic chair that supports your comfort, anh ErgoChair Pro is your move. This is a high back swivel chair for desk that offers comfort and relaxation at work. The chair has key features that support your sitting posture and spinal alignment. An ErgoChair Pro is adjustable and supports your lower back. The chair has an element of mobility. It also enhances blood circulation through its wrist, leg, and neck rests. This chair is covered with a breathable mesh that enhances your sitting posture. ErgoChair Pro has five key lockable positions that bring support to your lumbar.
5. Tempur-Pedic TP9000
This executive mesh chair is designed with lasting memory foam for added comfort. The foam provides a good back resting position, eliminating the possibility of back pain. An ergonomic swivel chair with a cooling mesh back that supports you to sit for long. Its simple controls enable width, height, and tilt tension adjustments. These controls help in configuring the right seat frame. 
The chair's contoured armrests support your upper body. A curved seat back helps in relieving your sores and tired muscles. This is a swivel office chair seat for everyone; its sturdy base makes it carry up to 250 pounds. The chair's swivel supports movement in all directions. 
6. Zipcode Mesh Chair
A Zipcode Mesh Chair is an optimized chair that offers maximum back support. This swivel desk chair is well equipped to support your lumbar and lower back. The chair is well designed, has a backrest, and follows the curve of your spine. The Zipcode Mesh chair is cost-effective and easy to use. 
7. Herman Miller Ergonomic Chair
This ergonomic swivel chair has appealing customization. The seat is ideal for employees who wish to take their activities to another level. The Herman Miller Ergonomic Chair has many ergonomic features that provide back support and motion. This chair's seat swivel permits movement in all directions and body relaxation. 
8. OHAHO Gaming Chair
This is a swivel office chair that is ideal for gaming and computer users. The ergonomic seat is designed to offer support to your body and enhance good posture. The OHAHO Gaming Chair is among the best desk chairs for back pain and lumbar support. The seat's adjustable lumbar support helps to cradle bodies of all sizes and shapes. You don't have to worry about standing to pick things up or move to a colleague. All you need is sideways swirling on the seat, and you are home and dry. 
9. Serta Ergonomic Executive Office Chair
This swivel chair for desk is luxurious and flexible. The seat is created with a modern design and leather bind. To provide comfort and support, this ergonomic computer chair offers maximum lower back support. The Serta Ergonomic Executive chair gives versatility and ample mobility through the swivel design. This chair has impressive features such as an adjustable armrest and actuated levers. The chair's base guarantees full body support, weight, or height notwithstanding. 
10. Humanscale Ergonomic Chair
When you go shopping, buy an ergonomic chair that can support your body. In Humanscale, you have an ergonomic office chair that supports your movement. You can swing in any direction you wish to and keep your body refreshed. This is one of the best swivel desk chairs for back pain due to its available comfort. 
The seat's multiple adjustable features help in supporting your body. The armrest not only supports your arms but keeps your body balanced when sitting. Head and neck rest massages your body to enhance blood circulation. 
11. Capisco Puls
If you like saddle chairs with backrests, then you have it all in the Capisco Puls by HAG. The seat has cushions for comfort and a plastic back for support. With a swivel controlled by two levers, you can sit in any direction on this seat. 
The choice is yours however you want to sit; forward, backward, stretch, sideways, or even lean on the seat. You can adjust the chair's depth and height using its pneumatic lift. It is possible to tilt the seat's back to find your best sitting posture. 
12. SOHO Soft Pad Drafting Chair
This swivel office chair is one of the most used drafting office chairs. It is ideal for adjustable standing desks as its features work well with standing. With its sturdy aluminum base and frame, the seat can carry up to 400 pounds. Dangle your feet at will using the steel foot ring. 
The seat's swivels and tilts support moving sideways at will. Adjusting the height is possible through an easy-to-operate gas lift lever. Your back support is guaranteed by the three supportive pads; two back and one seat cushion. You can either use the chair's adjustable armrest or not. Either way, the seat still functions without them. 
13. HON Volt Leather Drafting Chair
This seat stands out from the rest when looking at swivel desk chairs. With a foot ring, you can suspend your feet to enhance blood circulation. The chair's cushioned back is a soft landing for your lower back and good for controlling back pains. 
If you seek to move a lot, then this is the chair for you. It swivels in any direction you want, and the lever below the seat enhances height adjustment to match your desk level. Though it has no armrests, HON Volt has a seating base that holds your body in place.
14. LexMod Edge Drafting Chair
This is a very comfortable leather office chair that you can adjust to your desired height. Whether you are working on a high or low office desk, it fits the bill. The adjustable lever allows you to adjust the seat to your desired height. The breathable mesh back gives you the comfort to sit for long hours without getting tired. 
The tilt tension of this swivel desk chair permits reclining backward and moving forward to refresh your body. A circular chrome foot ring enables foot suspension to enhance blood circulation. Further, the seat has a swivel that permits motion in all directions.
15. Gabrylly Ergonomic Mesh Chair
This ergonomic office chair has a back mesh and mesh headrest. The mesh helps in body and head breathing even when you are working long hours. Adjustable headrest means you can slip to a lower seating posture to relax. Padded and adjustable armrests provide comfort to your elbows and wrists. 
The seat's PU Wheels are smooth when moving the chair. With an adjustable tilting system, the seat reclines to match your needs. This swivel chair for desk allows the seat to move in all directions. The stout lumbar system supports the entire body when working. You can adjust the seat's height to match your working desk. Impressively, you can tuck back the armrest to give you more sitting room when necessary. 
16. Tivoca Ergonomic Chair
This adjustable mesh chair offers resilience to a personal comfortable position and office chair lumbar support. The chair is highly adjustable; it has a headrest, armrest, and a comfortable backrest. The Tivoca Ergonomic Chair is curved to enhance comfortability, and it has a swivel feature that facilitates motion. 
17. Black Modway Attainment Drafting Chair
This ergonomic swivel chair is ideal for the studio, reception area, and the office. The seat is adjustable and comfortable. The Black Modway Attainment Drafting Chair is a swivel desk chair that enhances movement while working. This ergonomic chair has a breathable mesh back that supports your lumber and core. 
18. Alvin 90DH Leather Drafting Chair
The Alvin 90DH Leather Drafting Chair is ideal for professionals and executives. This ergonomic drafting chair is a high-end model that is made of high-quality leather. The chair has a thick and comfortable seat cushion that makes it look beautiful. This swivel desk chair is comfortable, high quality, and appealing. 
19.

 Hylone Standing Desk Chair
This seat is among the most comfortable swivel office chairs to use. The chair has a breathable mesh that offers back and lumbar support. This Hylone ergonomic swivel chair has an adjustable lever that helps in adjusting the seat's height. This ergonomic chair has nylon-dual wheels that provide stability and easy mobility. The seat is customized with an adjustable armrest, backrest, and a mid-back alignment. The chair has natural spine support for your lumbar support. 
20. Modway Articulate Ergonomic Mesh Chair
This swivel desk chair is one of the reliable and supportive chairs to use. The chair has a breathable mesh that offers lumbar support. In terms of design, the seat is well designed to provide comfort and productivity. The chair has several levers that help in adjusting the seat's height and armrest. For easy movement, this chair has a dual wheels' caster that supports the chair. The five dual-wheel enhances mobility around the office. 
Final Take
Why would you continue walking from one colleague to another when all you need is a single swing? Better yet, do you have to always stand to get a file? With a swivel desk chair, you can turn in any direction you desire. Importantly, your body is guaranteed comfort and support by this chair. Invest in a swivel office chair to improve your health.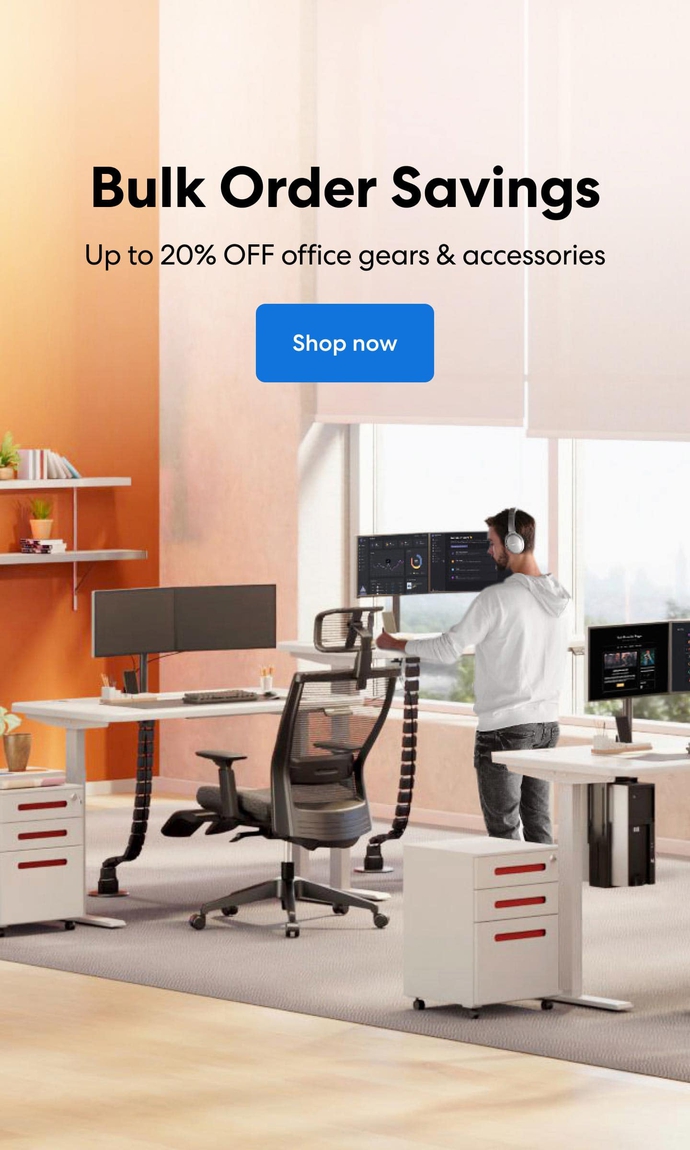 Subcribe newsletter and get $100 OFF.
Receive product updates, special offers, ergo tips, and inspiration form our team.