A contemporary desk is a staple in just about any modern office aesthetic. Certainly, traditional designs have their place, but there is a reason why improvements and new elements have been consistently introduced over the years., 
The modern standing desk concept is an excellent example. Not only do these designs bring a sleek look to the workspace, but with the adjustability, office workers can now enjoy sit-stand sessions, which translate to tremendous health benefits. 
While all the pieces of the office puzzle come together to create the feel you end up with, your table is arguably your centerpiece. That's why so many people purchase their desks first and then purchase other items to compliment them. 
Whether you're doing the same or you are changing an old fixture for a contemporary office desk, you've come to the right place. First, you are going to be introduced to 20 lovely options that can suit a modern office design extremely well. 
Next, you get to hear about quite an interesting program that could save you some cash in your contemporary computer desk purchase. By the time you're finished, you should have tremendous clarity and there should be no reservation in your choice.
20 Best Contemporary Desks for Your Home Office
1. Autonomous SmartDesk Corner
This is where you now become acquainted with the definitive corner standing desk experience. The frame of this contemporary office desk is available in black or white, while your tabletop can be white, black, or walnuts.  
It's effectively twice the space of your typical standing desk design, and the motor has been improved from the SmartDesk Core's. Now, you have an extremely quiet and even more powerful triple motor providing adjustability for the solid steel frame. 
The weight capacity here is 400 pounds, so your equipment should be very well supported by this one.
2. Autonomous SmartDesk Connect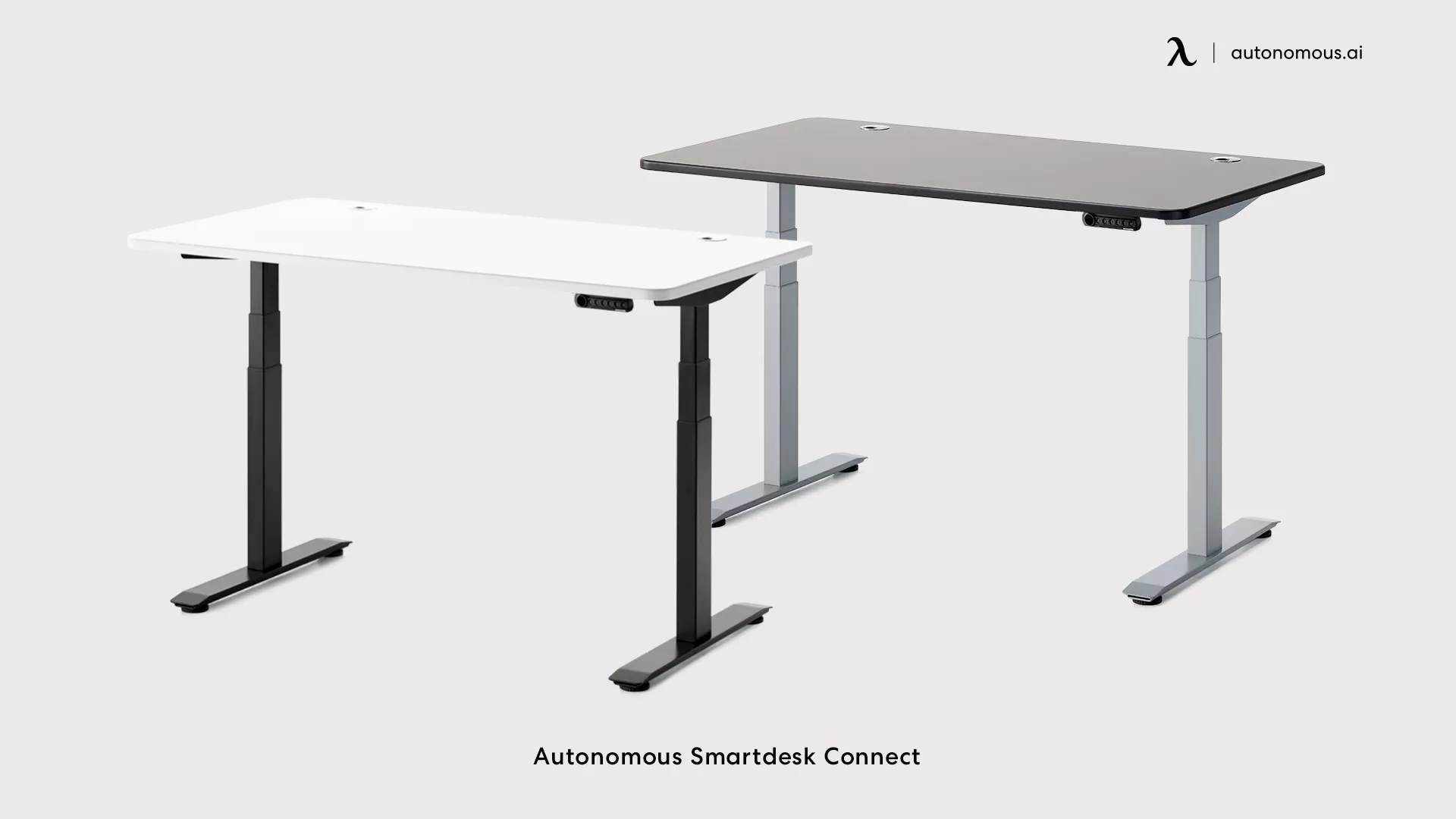 The final contemporary desk is the Autonomous SmartDesk Connect, which is the most futuristic of them all. Now, control is not left only up to manual intervention.
Instead, you get a mobile app that not only helps you adjust, but also remembers your preferences. The app allows for fine-grained control that you may not be able to get otherwise. 
No, you can schedule your sit-stand sessions, so you don't even have to think about making the swap yourself. The electric motor of this contemporary office desk is upgraded, and there's even an anti-collision feature that stops the desk from hitting anything during adjustment.
3. Autonomous SmartDesk Core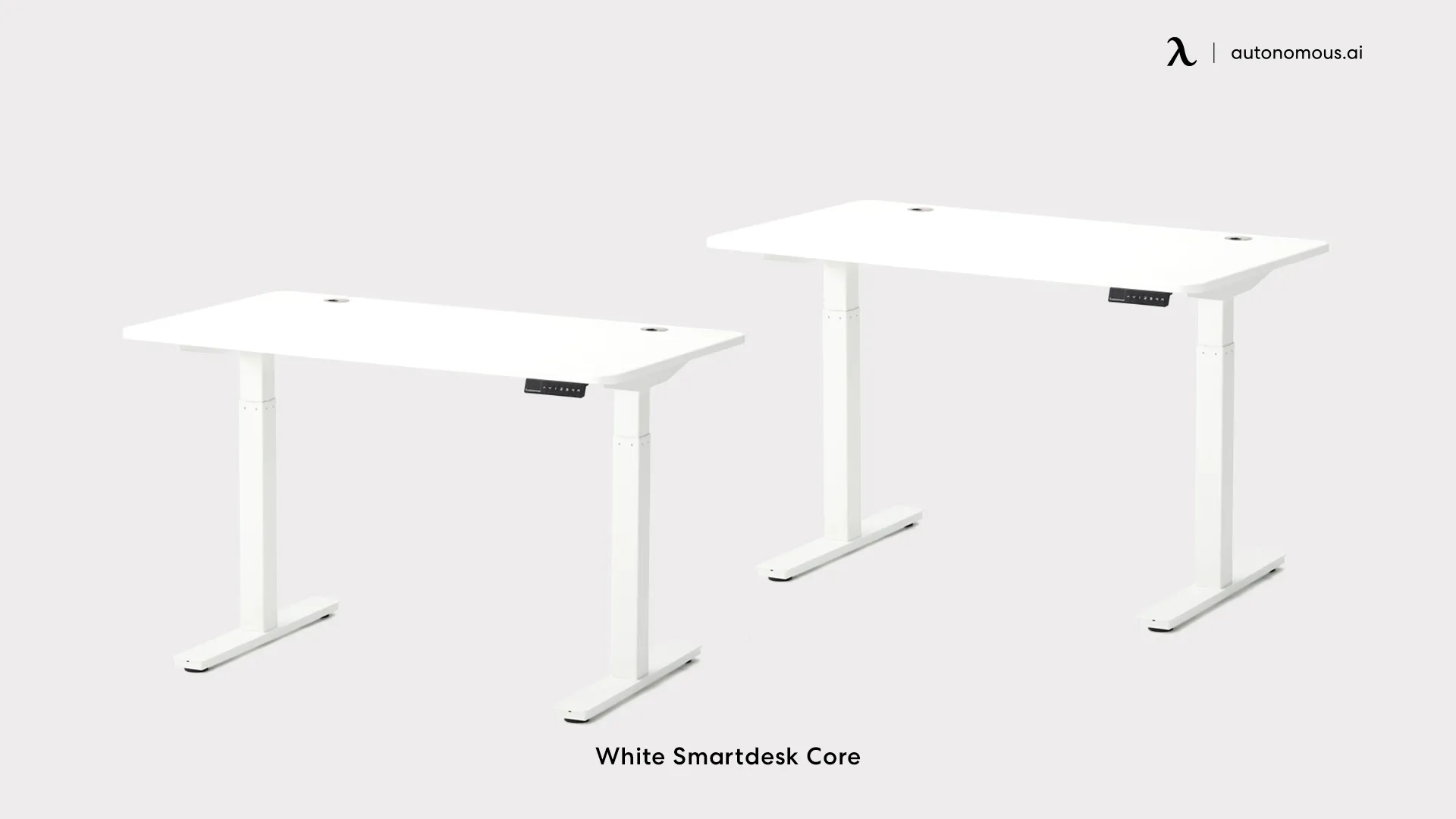 This is one of the simpler home office standing desk options from a visual perspective. However, with a programmable keypad allowing for four settings, three size options, and an electric dual motor allowing for quiet and efficient adjustments, it is anything but simple. 
If you work remotely, you would be hard-pressed to find a better contemporary desk option than this one.
4. Walker Wall Mounted Desk
Traditionally, it would have been difficult to imagine a table that features no legs. However, contemporary desk designs are often wall-mounted. This Walker desk falls under that category. 
There's an outstanding visual contrast of the white tabletop protruding from the walnut wood veneer backplates. Though the latter's purpose is securing the former, there's quite the visual flair to enjoy. Note that the tabletop is made of white lacquer and includes two pencil drawers. 
5. Madison Avenue Writing Desk and Chair Combo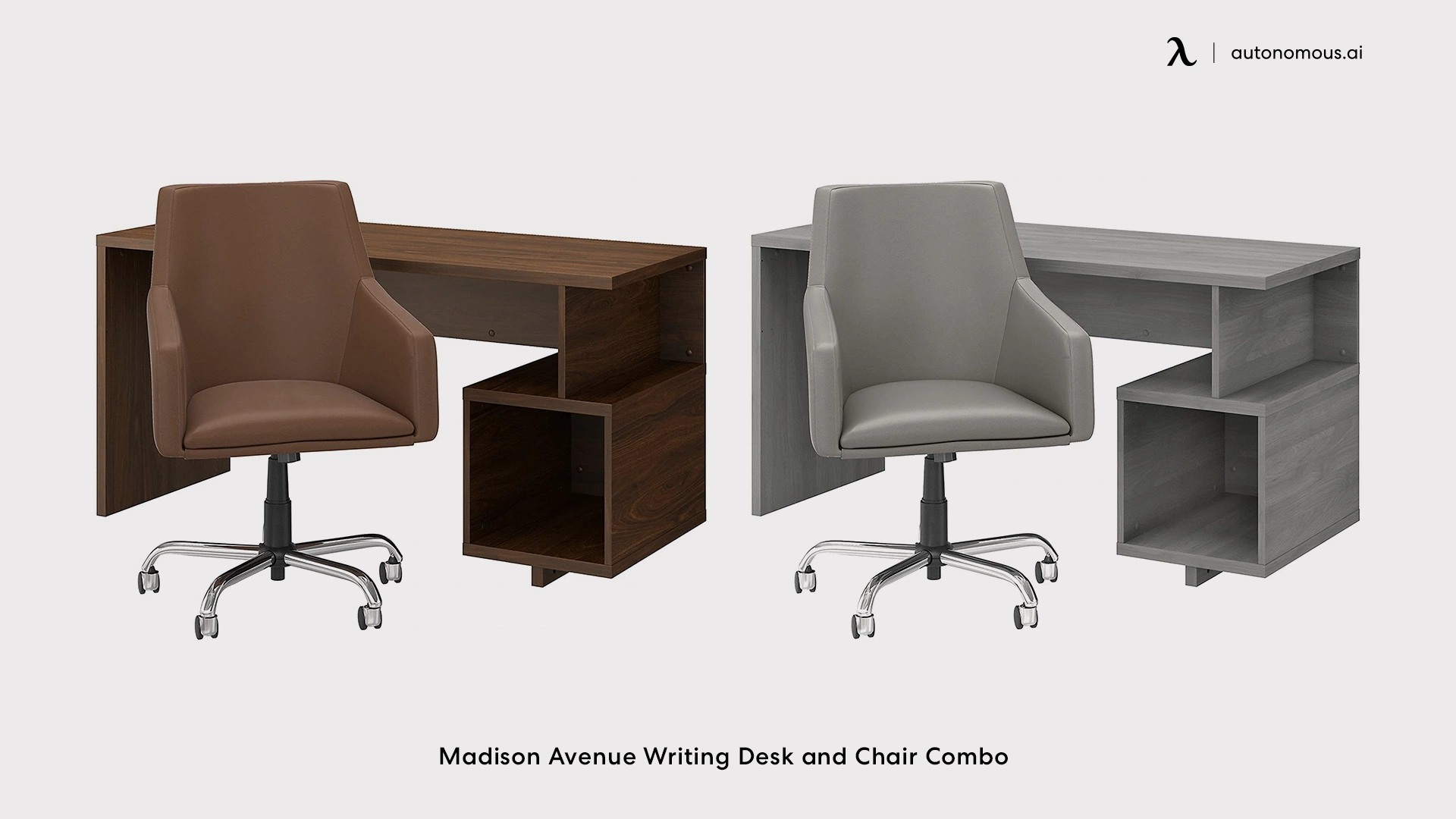 This is the only combination deal on the list, and it's quite an interesting one. Desk finishes include walnut, modern gray, or pure white. It may not look capable of handling a computer workload, but it has a weight limit of just about 200 pounds. 
A shelf in this modern executive desk is included that you can install on the desk's right or left side to suit your needs. This visual stunner can certainly withstand the test of time, thanks to its scratch-resistant work surface.  
6. Ida White Height Adjustable Desk
Sometimes, it's so impressive to see the extent of beauty that you can derive from simplicity. Any modern home office ideas that require something with a small footprint yet subtle and beautiful can take full advantage of this white adjustable desk. 
The sheen of its legs is outstanding, and the white tabletop is highly suited to those who may wish to opt for a minimalist design. 
7. Barrow Desk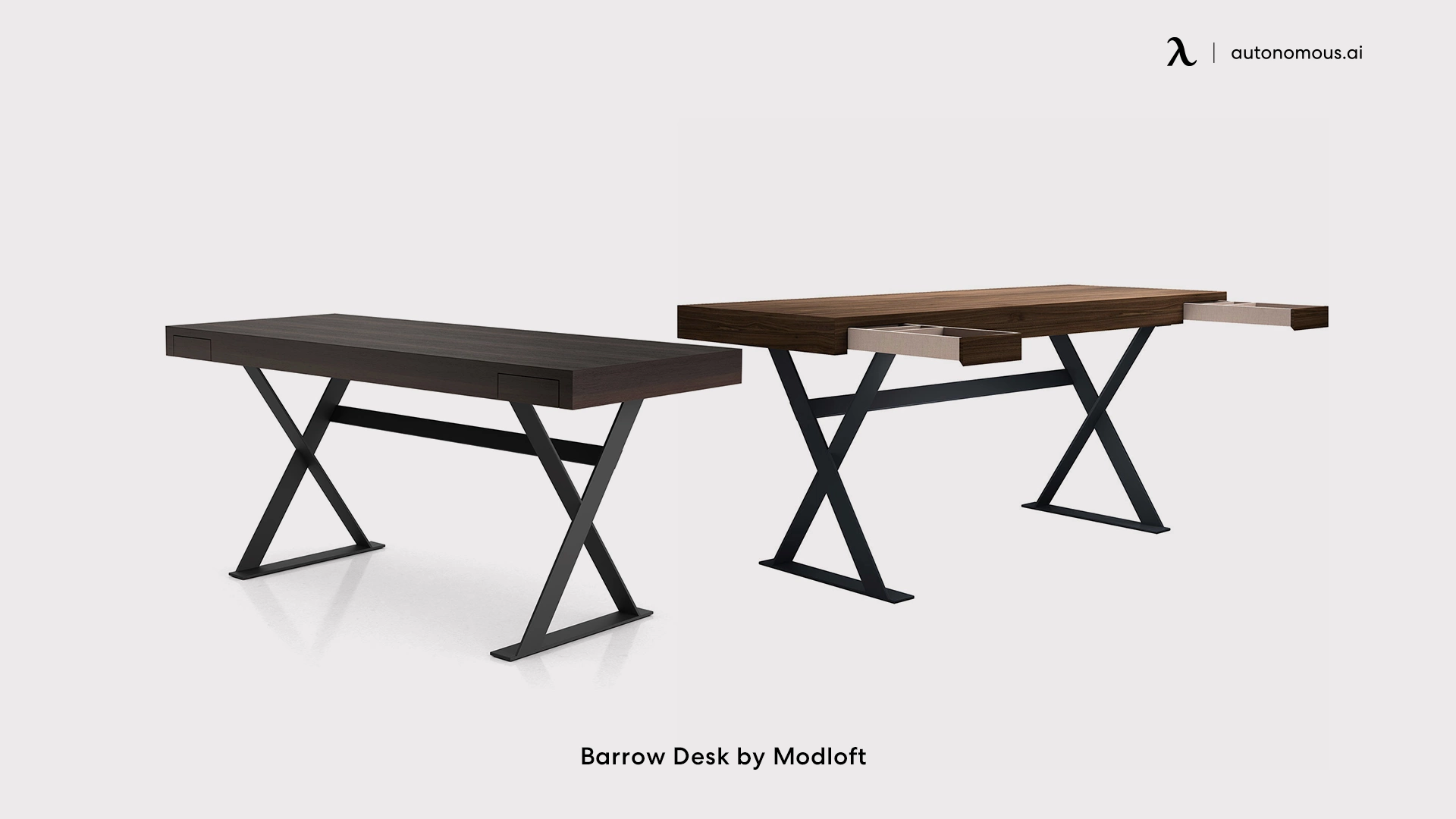 Like the previous model, this modern office design is very simple. However, instead of featuring a white tabletop, you get a warm wood veneer. Another difference is the X-pattern that the legs feature. 
There is a stability bar that runs across the steel frame, preventing you from having to deal with any kind of wobbling. Note that there are two linen-lined pencil drawers included too.
8. HSH Rustic Desk
Everyone knows the kind of color palette you're dealing with when you go for a rustic design. This one combines wood and metal in a beautiful mixture that creates quite a stylish look. Even the legs are not your typical design. 
You also may find out this one is surprisingly spacious, as you would not expect it to handle the amount of equipment it does. This is further reinforced by the incredible 300-pound weight limit. 
9. Currant Writing Desk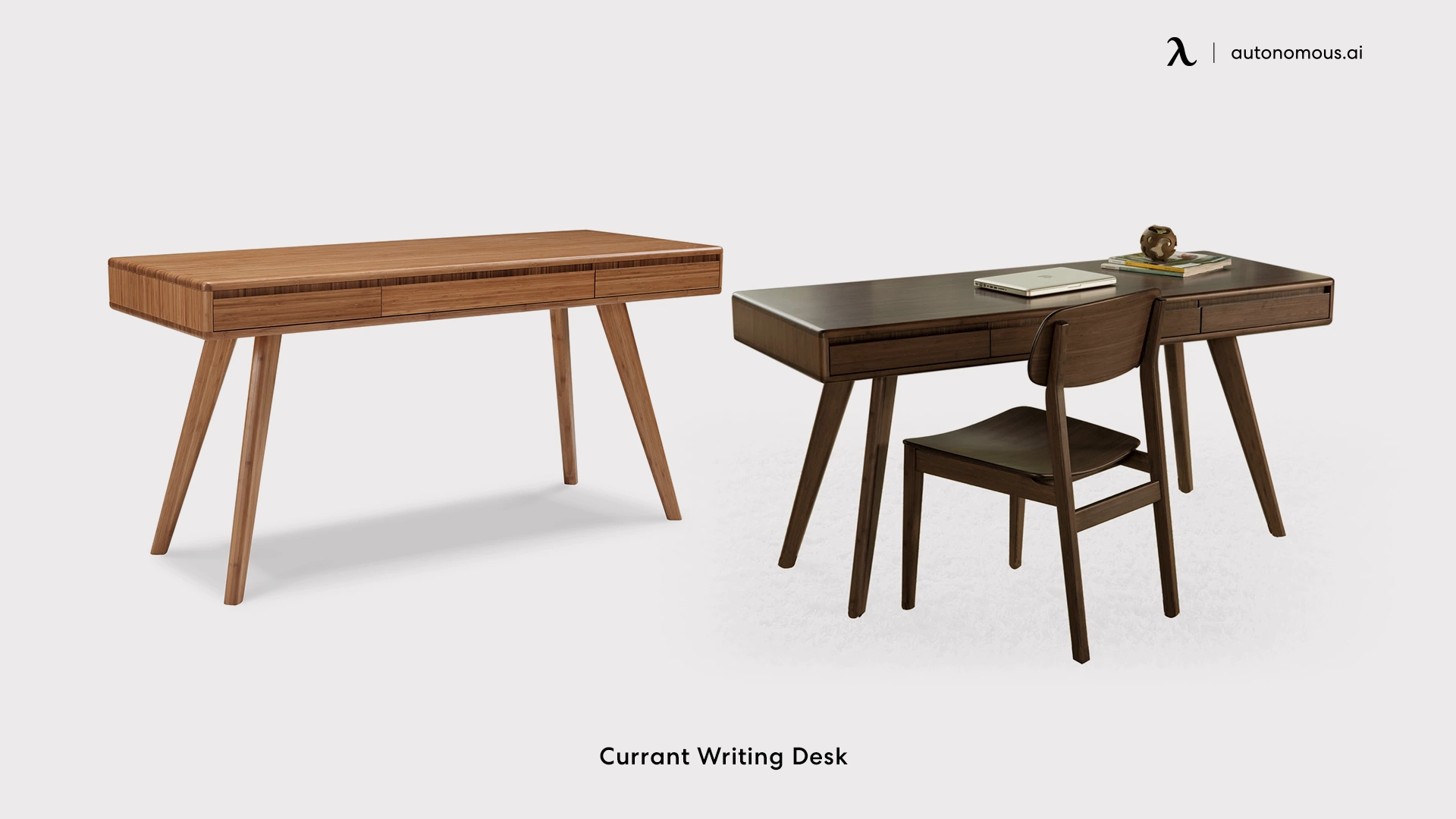 This modern executive desk design from Currant is a contemporary desk with a bit of a twist, as its design inspiration comes from the mid-century. Bamboo is used in its construction, which already tells you the kind of durability that you are dealing with here. 
While it can accommodate your computer equipment, it's more suited to be a writing desk or at least one being used with a laptop. Two drawers are included to give you some storage space to work with, enabling a clearer tabletop. 
10. Bon Augure Rustic Wood Desk
Now, it's time to meet the second rustic design on the list. There is quite a lot of tabletop space for you to take advantage of since this does happen to be a 55-inch design. With well over 300 pounds of weight capacity, it should be able to stand up to whatever office needs you have. 
This one also happens to be very easy to assemble, and you get a couple of built-in storage spaces to complete what is undoubtedly an impressive package.
11. Bristol Sit Stand Desk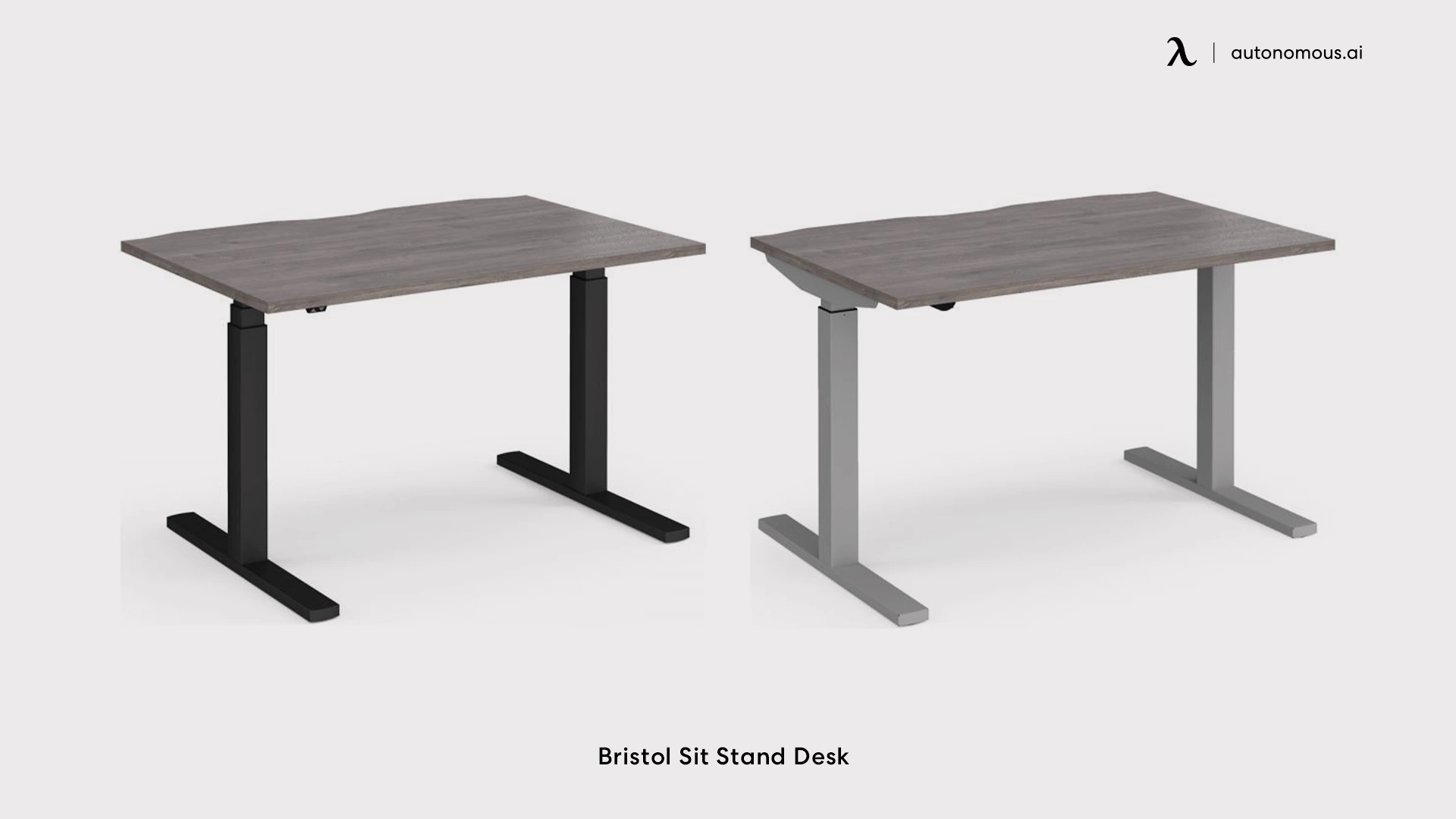 As the name implies, this is a height-adjustable standing desk that you can use when you are ready to take advantage of sit-stand sessions in the workspace. Two options are available for this contemporary computer desk, as you can select from 55 or 65-inch sizes.
It's a basic adjustable desk design, but one that is likely to meet the typical needs of an office worker. 
12. Amici Desk
As simple as the Amici modern home office desk looks, it is potentially the most unique design on this list. That's because brushed steel tubing areas are separated at intervals by clear Lucite spacers. The resulting aesthetic is nothing short of exquisite. 
You get 48 inches of tabletop space, which is more than enough for your computer set up. If contemporary is your objective, then this would be a perfect acquisition for you. 
13. Tribesigns Computer Desk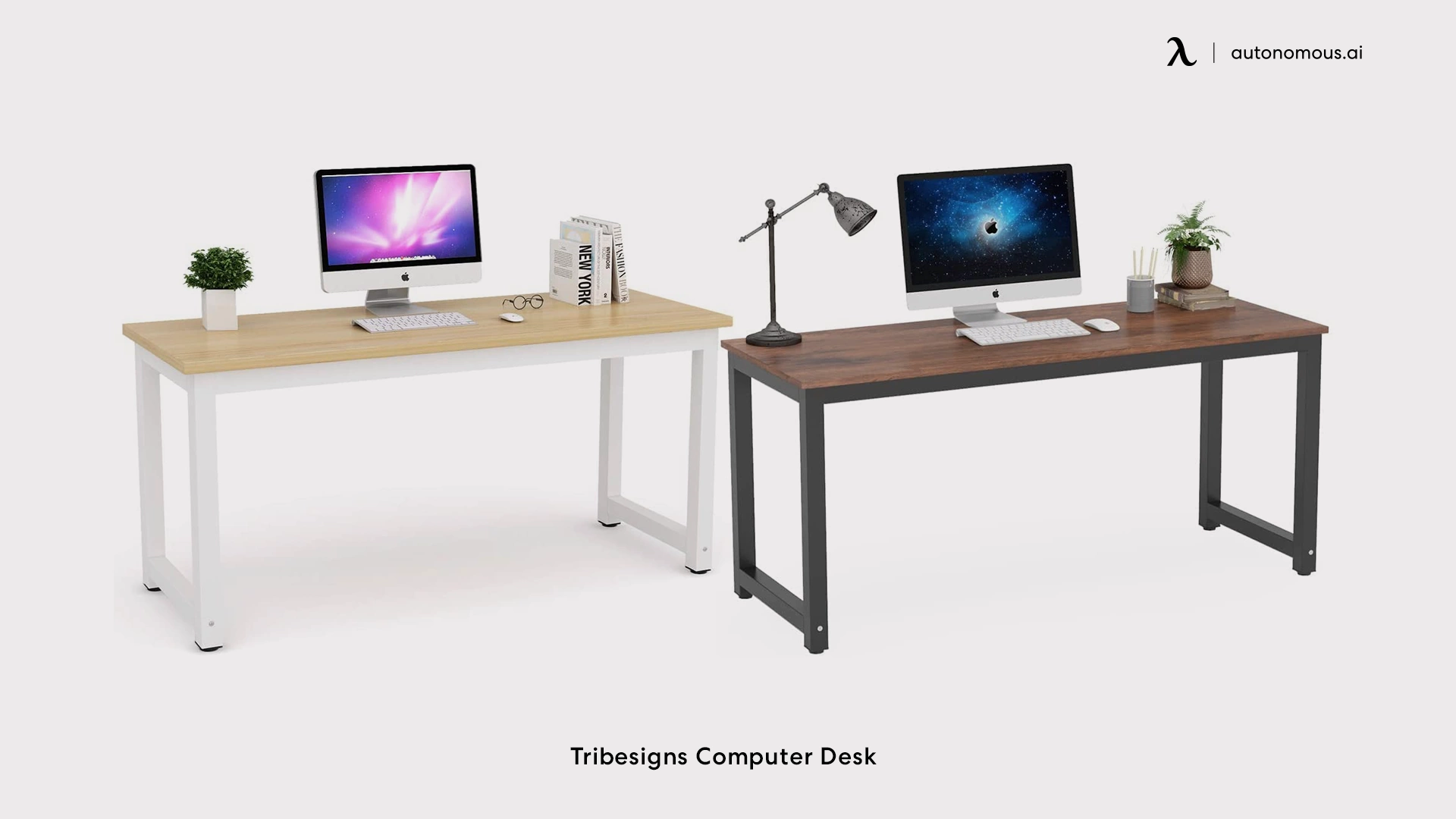 One of the markers of many contemporary desk designs is the inclusion of additional components or features that go beyond the base needs. Tribesigns include a bookshelf underneath the desk area and a hutch above it, which means you have loads of storage space to take advantage of. 
The combination of wood and metal with a black finish is also very impressive. You may be concerned about stability, but the thickness and strength of the frame can stand up to any load. 
14. Plymouth Writing Desk
If you were to imagine a simple desk design that is suited for a space that can only accommodate a small footprint, the Plymouth Writing Desk is possibly what you would think of. A powder-coated steel frame makes both assembly and disassembly quite straightforward. 
Of course, white is always an elegant look, and when you have a glass tabletop to compliment it, what more could you ask for? 
15. AuAg L-shaped Office Desk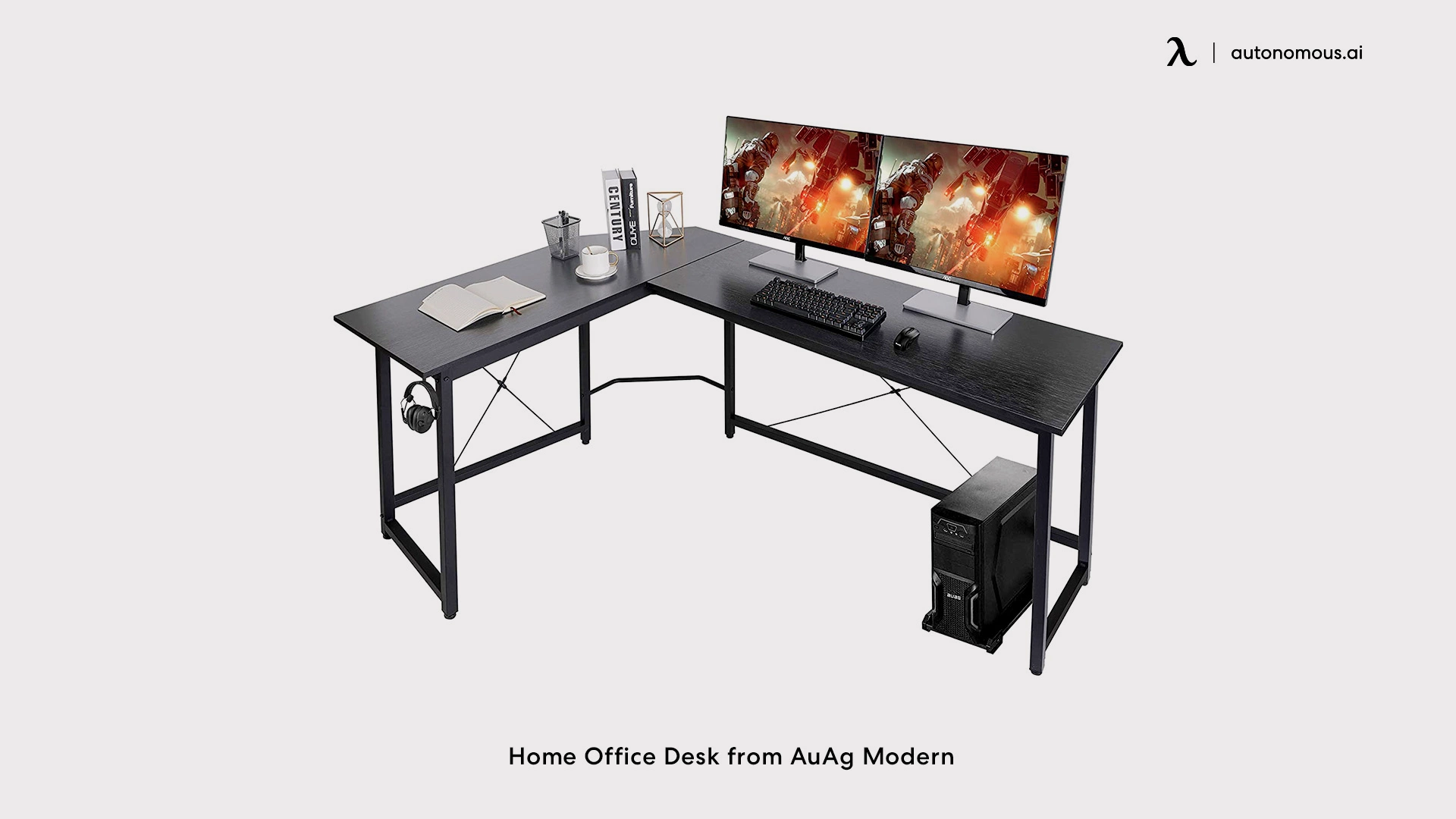 Here, you have the first modern L-shaped desk on the list. You can see the detail put into making the frame as stable as possible, especially with the inclusion of multiple stability bars. A maximum weight capacity of well over 400 pounds is nothing to laugh about. 
The design itself is quite simple, though it has a modern feel. The metal frame has a black finish, and there is a standard wooden tabletop. Note that you get a platform for your system unit if you happen to be using a desktop. 
16. Alpha Battlestation Gaming Desk
Gaming desks often double as great office designs, and this one is no exception. The matte carbon fiber top is certainly the highlight, though the ability to host two screens and designated cable management and headphone areas are very much appreciated. There is even a built-in USB power hub for charging your devices. 
17. The Lucid Desk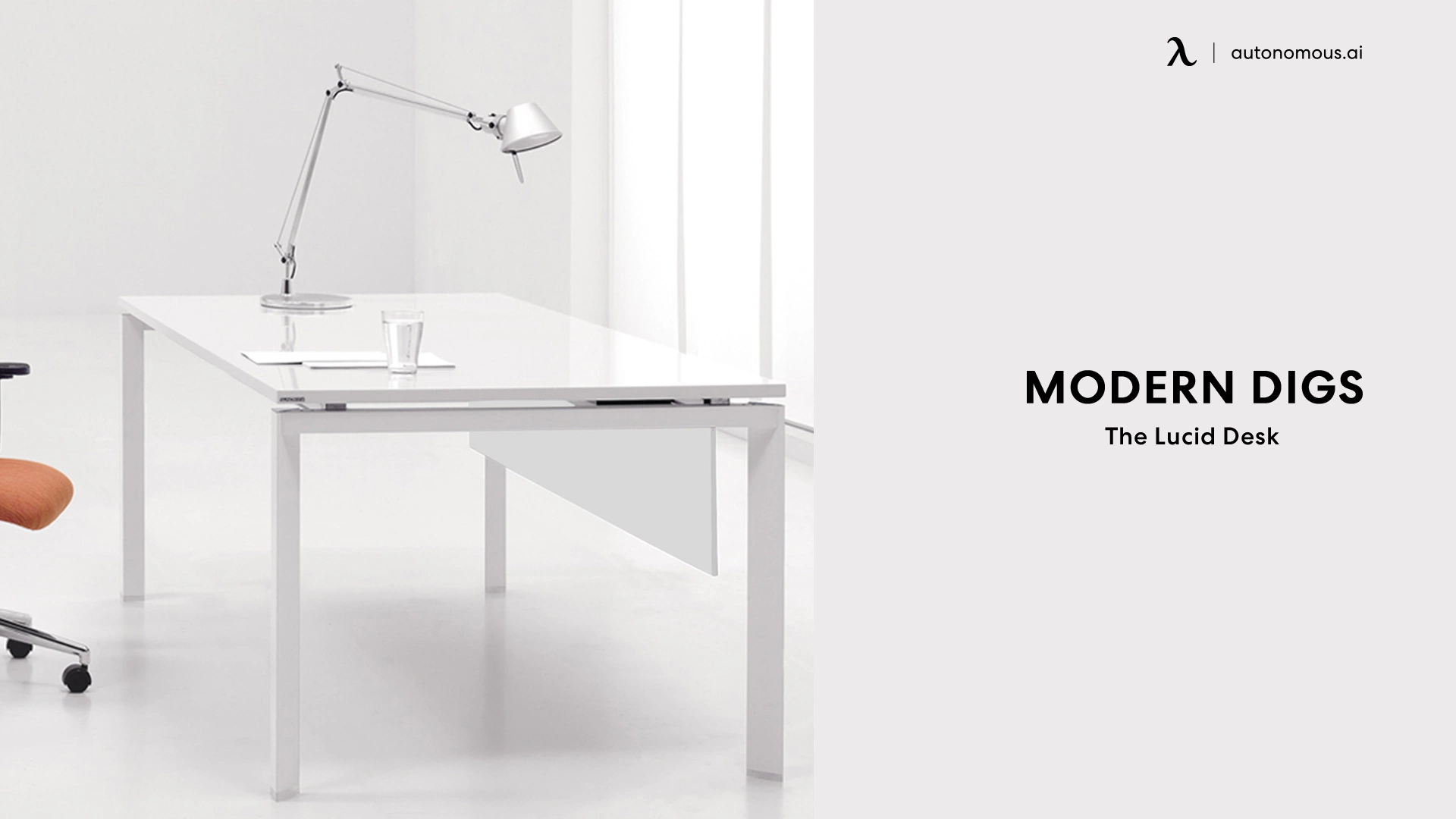 This contemporary desk has been popular for many years, and it's not hard to see why. It's an all-white design featuring built-in power management and an aluminum frame. The simple yet elegant high-glass white lacquer finish is simply beautiful. 
There are 60 inches of tabletop real estate too, so have no fear about dealing with space concerns. 
18. Liverpool Sit Stand Desk
The plethora of options you get is where this desk really shines. Additionally, you can see the detailed craftsmanship in just about every element. The black steel legs are incredibly powerful, and the adjustment mechanism happens to be super quiet. The desk also features built-in cord ports for greater convenience. 
19. Ashley Baraga L-shaped White Desk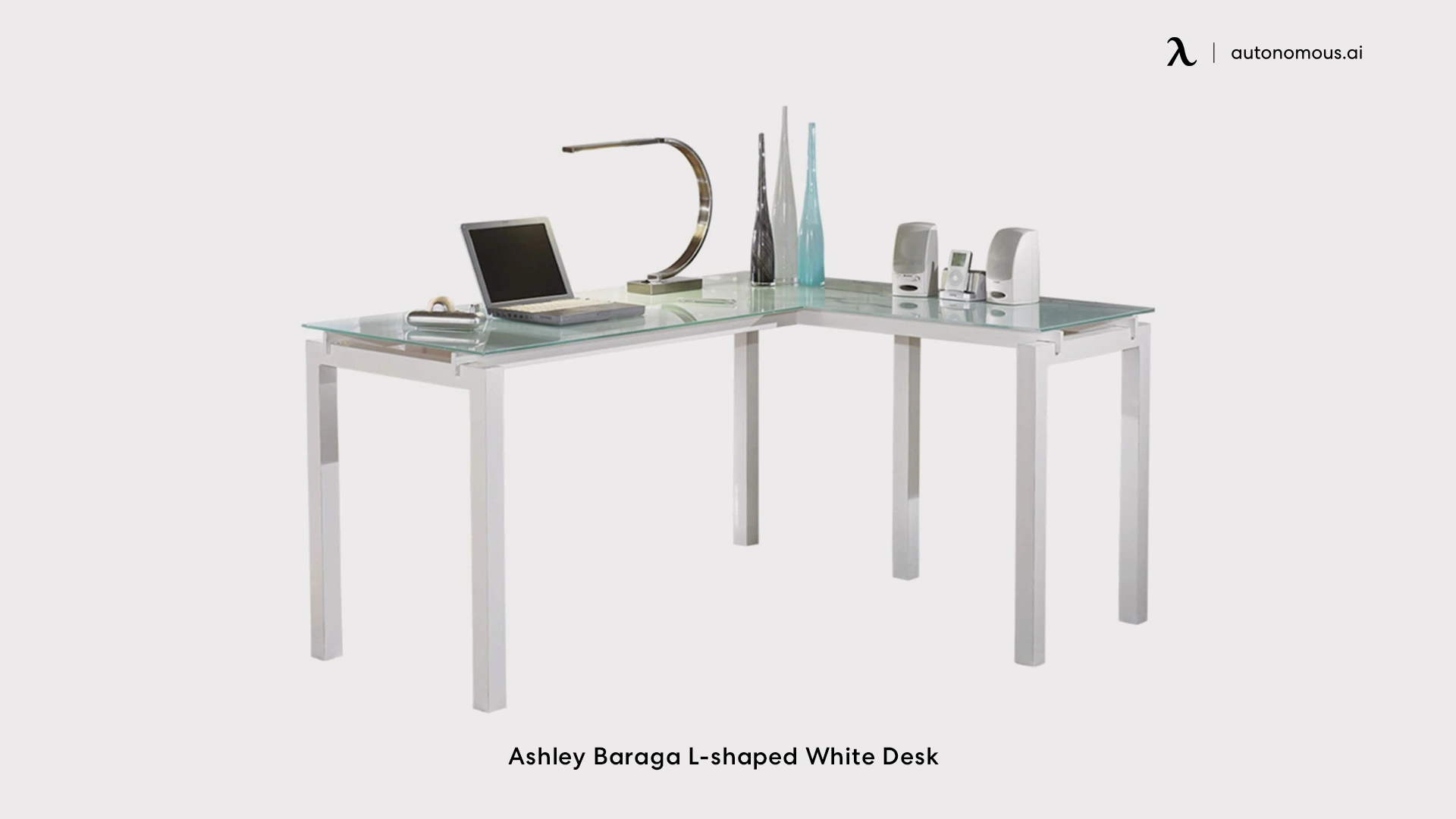 Here is another L-shaped design, and it's certainly more visually impressive than the last. This is usually the case when you have a white frame and a tempered glass tabletop. The result is a clean appearance that you must experience for yourself.  
Its footprint is not incredibly large, meaning its utility is great in a variety of different kinds of spaces. 
20. Cubiker Computer Desk
At first glance, this looks like nothing more than your typical rectangular modern home office desk. However, its sturdy design, storage area, stability considerations, and effortlessly elegant aesthetic make it quite desirable. 
MDF wood is used for the tabletop to ensure longevity, and you can also choose different sizes or colors. 
The Autonomous Employee Purchase Program

Whether you're an employee who makes use of office furniture or you're on the management side of the fence, you may want to take a second look at the Autonomous employee purchase program. Of course, this information only applies to the Autonomous items on the list above.  
The basic workflow is straightforward. Once a company enrolls in the Autonomous EPP, there is a dedicated webpage area for that firm's employees to use. The said workers can browse the Autonomous collection and choose the items that would make them most comfortable in the workspace. 
Though today is all about contemporary desks, chairs and other accessories are available. Still, if the focus is to be kept on getting a modern executive desk, then there are L-shaped and standard rectangular options to choose from. 
When the employees are finished with their selections, these need to be approved by management staff before any purchases are finalized. Autonomous handles all the delivery. Therefore, if a company is looking to get home office standing desk designs for its remote staff, it gets to save on delivery charges. 
Note that using the employee purchase program also yields discounts on all the items being purchased too. It's a win-win situation as the company gets to save on the purchase price of furniture while employees get to work in more comfortable and productivity-enhancing situations. 
Final Remarks
Now, whether you want a modern home office desk or a contemporary desk for your traditional office space, the choices have been greatly narrowed down to a series of the best 20 available on the market today. 
If you happen to be interested in one of the Autonomous products that come highly recommended, then maybe you want to think about capitalizing on the Autonomous employee purchase program highlighted above.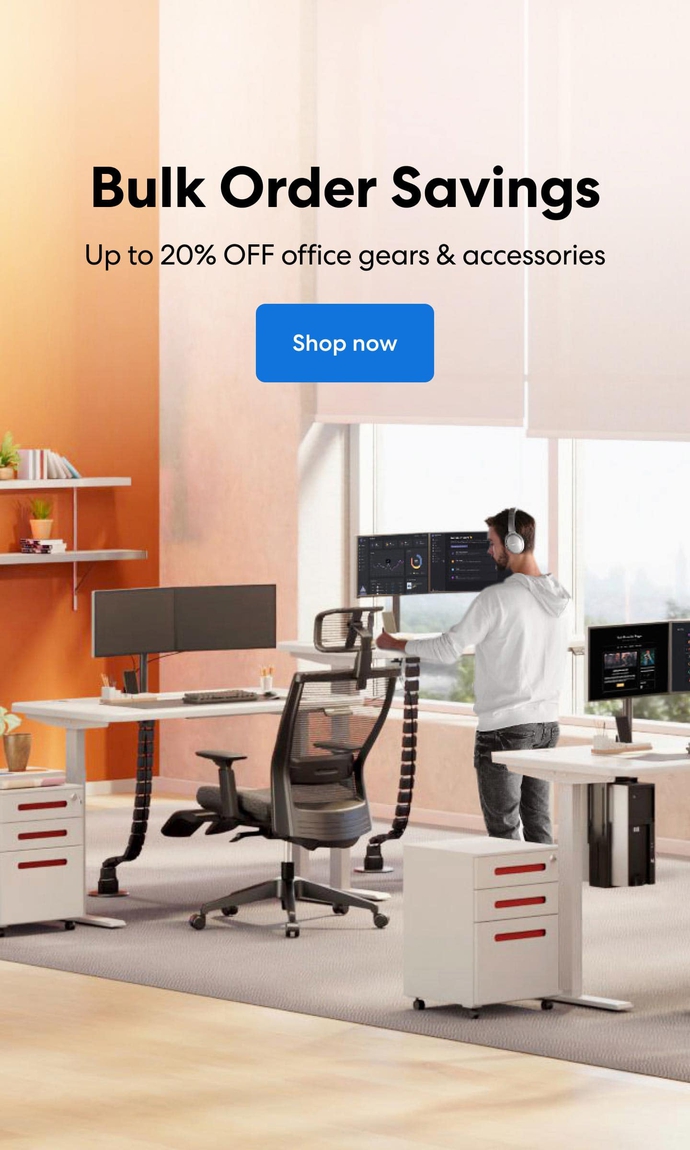 Subcribe newsletter and get $100 OFF.
Receive product updates, special offers, ergo tips, and inspiration form our team.