Does your back hurt? Have you been diagnosed with chronic back pain? Are you an office worker stuck at your desk for eight hours a day? Then, it might be time to think about orthopedic back support for chairs. 
Your standard office chair most likely doesn't have proper back support. As a result, your lower back pain might not seem like a big deal right now, but over time it can become chronic if it hasn't already. That's why having the best support for your back is crucial to a balanced and healthy lifestyle. 
What Is Orthopedic Back Pain?
First, it is important to understand orthopedic back pain. Orthopedic back pain is a chronic condition that you would seek help from an orthopedic doctor. This type of pain affects the bones, muscles, tendons, and connective tissue in your back. 
When Should I Seek a Doctor?
You should seek medical attention if the pain does not subside. It would be best if you never tried to self-diagnose either. If your pain is so severe, it limits your movement or ability to perform your daily activities. It is best to seek help from a doctor before trying any new products. 
What Causes Back Pain?
Back pain can be caused suddenly or gradually over time. Unfortunately, both aren't good, and both may require professional medical attention. 
Typically, sudden pain is caused by strenuous activities such as improper heavy lifting or sudden movements causing muscle strain. This sort of pain generally subsides over time. However, if the trauma is great enough, it will need more than just an ice pack. 
Gradual pain is caused without noticing in day-to-day life. Often, orthopedic back pain occurs in office workers and others who are constantly sitting at desks. It occurs with improper posture, lack of movement, or inadequate support from your office chair. You might need an orthopedic back pillow for your chair. 
How Does Back Pain Affect Me?
Back pain, whether it is chronic or not, can change one's life. It makes it harder to complete simple tasks and makes activities like just getting out of bed nearly impossible. 
The rest of your body can also suffer from back pain. When your pain is consistent enough, you may find that your legs start to hurt and your shoulders. Research also shows that chronic pain can lead to memory and attention span problems. 
Before Your Pain is Chronic
If your pain is not chronic, it is best to start implanting daily practices to help the pain stop getting worse and begin to get better. 
Posture
Keeping good posture is the first most important part of keeping your back from constant pain. Try to be mindful every day about if you're slouching or if your back is fully aligned. It can seem weird at first but becomes easier over time. 
Stretching
Making sure you stretch during your days of sitting at a desk is also extremely important. Keeping the blood moving to the muscles in your back will help promote healthy stimulation, and you're less likely to strain your back doing other activities. 
Getting Support from Your Office Chair
Finally, a huge help to ensure your office life doesn't make your personal life tragic is getting the proper lumbar support from your chair. Start by getting a product like an orthopedic back cushion for chairs or opting into a chair for orthopedic back pain. 
How Does Lumbar Support Help?
Proper lumbar support helps by supporting good posture. The product helps by filling the gap between the lumbar spine and the seat. It supports the natural curve of your spine without you having to think too much about it. 
Daily lumbar support can help you when you don't have it either. Your brain and muscles will slowly train to take that position naturally, meaning that even when you aren't in a chair with the support, you will naturally assume proper posture. 
Chairs For Orthopedic Back Pain
There are all sorts of products out there that help support your back pain. 
First, there are some of the best office chairs for back pain. Chairs for orthopedic back pain are great. These types of products are life-changing. However, they are pricey, and most of the time, your office manager probably isn't going to let you bring a chair from home. 
What Are Your Other Options?
If you can't afford or bring in a chair for back and hip pain, one great option is to get an accessory for your chair. Accessories tend to be easier to travel with and typically are much more affordable than buying a whole chair. 
A well-crafted accessory like an orthopedic backrest for chairs is hard to find but well worth the search. They can help turn an old, uncomfortable chair into one that gives you all the support you need to get through the day without pain in your back. 
How do I Pick Out the Right One?
Finding the right office accessory for you doesn't have to be difficult. Anyone can Google search products, but here is a list of five of the best orthopedic back support items for chairs. 
5 Best Orthopedic Back Support for Chairs
1. ErgoFoam Lumbar Support Pillow
Price: $39.95 
Dimensions: 15.35" L x 3.75" W x 15" H 
The ErgoFoam Lumbar Support Pillow is a great option for budget but doesn't want to compromise on quality. 
Crafted by Autonomous, this orthopedic back pillow for chairs gives maximum support through their specially engineered Ergofoam. ErgoFoam is made to follow the natural curve of your back. 
The ErgoFoam Lumbar Support Pillow is also made with a breathable mesh fabric so that the user won't overheat in those hot offices. 
Finally, this pillow has tended to reach, so it not only supports your lumbar, but supports your upper back as well, making it a must-have for not just lumbar support, but also thoracic support. 
Pros
You can get the Ergofoam at an affordable price.

It is made of specially engineered Ergofoam.

This product is made of breathable fabric. 
Cons
This pillow may be small for the typical office chair, typically 17-20 inches wide.
2. ThermalComfort Temperature Lumbar Support
Price: $269 
Dimensions: 11" L x 7" W x 1.9" H 
The bell of the ball, the granddaddy of them all, is the ThermalComfort Temperature Lumbar Support. This orthopedic back pillow for chairs is as good as they get. It offers a caravan of different features that will help ensure the best lumbar support you can find. 
First, this pillow has personal climate control. You can keep warm with the heat setting. It gets up to 122 degrees with three different heat settings. Suppose you're hot-natured, then you can keep your back cool with the three built-in fans. There are six different levels of climate control! No matter what your preference, this lumbar support pillow has it. 
A vibrating massager is the star of the show with the ThermalComfort. This built-in massager has three intensity levels. It also has an automatic feature that turns it on and off every 15 minutes. The massager helps circulate the blood flow to your muscles. It is like getting up to stretch every 15 minutes without having to get up and stretch. However, it is recommended that you still get up and stretch despite the built-in massager. 
This pillow has more than just heat control and a massager. It also travels easily. It weighs just over a pound and a half. You can take this pillow anywhere you need to. 
With all that traveling, it can easily get dirty, so it also comes with a washable, durable cover keeping the ThermalComfort hygienic. 
Finally, if you are traveling with it or if you aren't sitting near a convenient plug, ThermalComfort has that covered too. It has a battery life of six hours! It can last your entire workday. 
This product has it all for orthopedic back support for chairs. 
Pros
The thermal comfort has a personal climate control system.

There is a built-in vibrating massager.

It has a long battery life.

The product has a washable and durable cover. 
Cons
This item is very expensive. 
3. Fellowes Office Suite Mesh Back Support
Price: $25.99 
Dimensions: 17.5" L x 5" W x 15" H 
The Fellowes Office Suite Mesh Back Support is an orthopedic backrest for chairs that offers curve support for your spine. 
This product is made with mesh and steel, making it breathable and supportive in all the right places. The mesh helps keep your back cool, while the steel frame supports the structure. 
This product is also great for travel as it is lightweight and easy to attach and detach from any chair you choose. 
Pros
The Fellowes Office Suite Mesh Back support is lightweight for travel.

It attaches and detaches easily.

This product comes at an affordable price. 
Cons
The steel frame and the mesh covering make it easily breakable. 
4. McKenzie Super Roll
Price: $39.99 
Dimensions: 16" L x 2" W x 6" H 
Get yourself a traveling orthopedic back pillow for chairs. The McKenzie Super Roll is a powerful accessory in a small package. This orthopedic back support for chairs offers a soft, plush feel making it one you'll want to lean back on to help your back. It is made of quality foam and has adjustable straps to fit any chair you choose. The McKenzie Super Roll even comes with its carrying case. 
Pros
This product is lightweight and great for travel.

The McKenzie Super Roll comes with a case.

It is made from foam. 
Cons
This roll is small and doesn't offer a full range of support for your back. 
5. Lumbar Cushion from Walgreens
Price: $25.99
Dimensions: 4.5 L x 1.43 W x 15 H 
If you're pressed for quick relief, the Lumbar Cushion from Walgreens might be your best option. This orthopedic back cushion for chairs is an easy and convenient choice for those who don't like to wait. 
The cushion offers a washable cover, elastic, adjustable straps, and molded foam. 
Pros
This product is convenient.

It is affordable. 
Cons
Remolded foam won't offer the customized support that other cushions do. 
Quick Tips for Getting the Most out of Your Lumbar Support
It is very important to make sure you use your orthopedic back support for chairs correctly. If you aren't using them right, they become ineffective and can also be damaging. 
Furthermore, it can be hard to figure out where your lumbar support should be. The short answer is to sit properly in your chair, find the gap between your back and the chair, usually just above your waistline, and put your lumbar support accessory there. 
You should also ensure that you are sitting back on your new accessory when using your new accessory. If you aren't sitting back on the product properly, you won't benefit from the item. Moreover, if you are sitting on the edge of your chair, for example, you're not touching the orthopedic back pillow meaning you won't be offered the proper support. 
If you feel major discomfort with your lumbar support accessory, you should always consult a doctor and make sure you're properly using the product. 
Conclusion
Back pain is no joke. If you're stuck at a desk all day, you will know that firsthand. Orthopedic back pain can cause more than just irritation. It can change your life, limiting your daily activities and making it hard to enjoy your life. 
Getting professional help is always recommended. However, it is important to ensure you're getting proper orthopedic back support for chairs that you sit in for long periods. The right product can help ease the pain of being seated in one spot for hours on end. 
Don't continue to suffer from back pain every day! Instead, find the perfect support for you and see how it can help change your posture, reduce pain, and help lessen the chances of your pain becoming chronic.
Video ads for product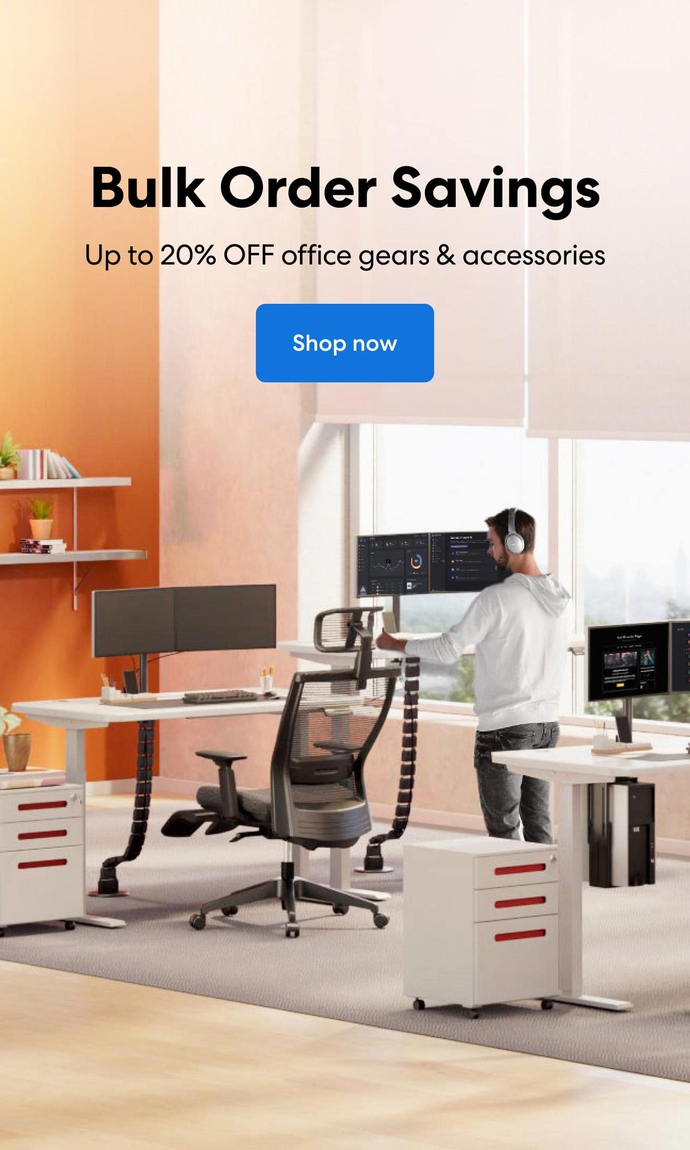 Subcribe newsletter and get $100 OFF.
Receive product updates, special offers, ergo tips, and inspiration form our team.