Workplace Inspiration
60+ Home Office Ideas to Inspire Your Productivity

Autonomous
|
Jul 8, 2022
1,335 Views
When moving to a new house or deciding to redecorate your apartment, it can be difficult to choose a style that's visually appealing but that also enhances your productivity. 
That's why we gathered the following 60+ home office ideas for those who want a beautiful studio.
60+ Home Office Ideas for Your Productivity
1. Minimalist Working Area
Sometimes keeping it simple is the way to go, and a monochromatic white home office is the perfect example of that. It also features small accents of colors scattered around the elegant white room to make it appear longer. 
2. Space Efficient Study
If you live in a small apartment, a tiny home office with a floating desk and wooden accents is perfect for you. It gives you enough space to store all your books and even have a guest with you during your study sessions. 
3. Neat and Polished
Don't shy away from your room's natural light. Instead, take advantage of it with neat and polished white furniture, and turn your boring guests' room into an exciting and elegant home office. 
4. New and White
If you prefer closed spaces, you can still use the color white to make them appear wider. This small studio gives you enough space to work with, and you can fill it up with interesting home office desk decor that suits your personality. 
5. Smart and Unique
We love to play with shapes and movement, and wood is the perfect material to do so. That's why your cozy home office should be filled with unique curves allowing you to move around it with your swivel chairs. 
6. Midcentury Loft Office
Make any office look sleek and aesthetically pleasing by taking advantage of its natural lines and light. You can also bring all elements together with one or two colorful decorations. 
7. Manhattan Wooden Penthouse
Wood and natural light are fantastic elements that allow you to focus on essential details, such as the great art pieces covering your home office. 
8. Elegant Home Office Inspiration
If your budget is a bit larger, you can enjoy an elegant study room's cabinetry and pocket doors.
9. Splashes of Color
Green isn't everyone's favorite color, but it represents creativity and innovations, which is why you should integrate it into your room's furniture to help you think outside the box. 
10. Furstenberg's Sunny Working Area
If you like gleeful and colorful spaces, this yellow decoration is going to be a fantastic addition to your studio, especially with all its great pieces of office wall decor. 
11. Kardashian's Playful Studio
This home office was inspired by famous figures, such as Frank Sinatra, Batman, and Mia Farrow. Still, it keeps the elegant aesthetic we love with its colorful flower details. 
12. Shields's Neoclassical Home Office
Italian decoration is always one of the most popular styles for our home office spaces. This green and brown combination gives us all the energy we need to get through our days. 
13. Geometrical Maison Bureau
Pilati is a fantastic Parisian designer who offers fascinating geometrical pieces that tie together in a captivating and exciting home office. 
14. Bold & Blue Yacht Office
There's no reason you shouldn't be able to have an office in your yacht, and this fantastic home office design integrates all the natural yacht elements into an incredible studio where you can focus on yourself. 
15. Creative Station
This creative station is the perfect workplace for those home office workers who specialize in creative fields, such as marketing and design, as it helps ideas flow freely with its smart office accessories. 
16. Idyllic 18th Century Home Office
All art lovers are going to be fascinated by this elegant home office, as it is filled with shapes and colors that turn it into a delightful experience. 
17. Green & Navy Combo
Those who enjoy a darker aesthetic may prefer this green and navy combination in home office design, which turns a simple library into an elegant and cozy study room. 
18. Make It Colorful
There's much that can be done with primary colors, and this home office design proves it. It uses red, blue, and yellow in the most elegant way possible to create a wide space for working from home. 
19. Tapestry Look
If you're bored of the traditional wall decorations, you can try using a tapestry and turn it into the statement piece you need to catch people's eyes. 
20. Blue Season
Many people associate the color blue with sadness, but it can also be one of the most elegant colors in your pallet if you know how to use it for your home office design. 
21. Shades of Blue
Monochrome looks don't have to be boring, as you can play with shades and textures to make your aesthetic look as cozy as this office decoration idea. 
22. Museum Vibes
Art lovers are going to want to be surrounded by their preferred paintings and portraits all day, and they can achieve this by simply arranging them in their home office. 
23. Art Deco Studio
A Mediterranean art deco aesthetic takes us back to the 50s with its vintage colors and vintage office furniture. 
24. Hybrid Master Bath
Mixing home office ideas with a master bath is something that only the most creative people dare to try, and you can be one of them. 
25. Christmas Season
Red and green decorations take us back to that wonderful time of the year, but they can be used all the time if you know how to style them. 
26. Cushioned & Comfortable
This is another home office idea for you. A mix of cushions and wallpapers can make your home office turn into a pastel and peaceful environment. 
27. More Is More
If minimalism isn't your thing, you are going to love a mix of colors and textures that create a home office that looks like a work of modern art. 
28. Statement Pieces
Another way of eliminating minimalism is by choosing several statement pieces and creating a wall that catches your attention. 
29. Dark & Bold
You can also use dark colors to make your home office look elegant while maintaining your bold personality. 
30. Around the World
This office decoration idea may not be for everyone, but we highly recommend it if you like to experiment and mix textures. 
31. Hollywood Style
You can have home office ideas inspired by the old Hollywood style by adding a striking couch and extravagant decorations. 
32. Art Makes It Better
Another innovative way of making your walls stand out is by hanging your favorite art pieces. 
33. Bold Black Lines
You can make a solid contemporary statement with this black and white decoration. These home office ideas will attract you for sure.
34. The View of the City
If you're lucky enough to have a window with a nice view in your home, you can integrate it into your office's aesthetic. 
35. Just for Gentlemen
A leather and wood combination is perfect for those looking for a masculine yet modern home office inspiration. 
36. Neutral Look
You can never go wrong by choosing neutral colors, especially if you want to stay focused throughout your day. 
37. Shine & Shadow
This is a fantastic way of mixing dark colors with bright illumination to create an elegant aesthetic. Let's try this home office idea!
38. Vintage & Modern Vibes
The home office space of Chanel's president is the perfect middle ground between vintage and modern decorations, which perfectly describes his brand.
39. Modern West
Sometimes all you have to do to create the perfect home office is redecorate your already existing terrace. 
40. As White as Snow
This type of design is meant to create the perfect environment for peaceful working hours while enjoying gorgeous art pieces. 
41. Window View Office
There's nothing like nature to help you focus throughout the day, which is why this office features a huge window that allows you to see the fantastic green view of your garden. 
42. Seashell Decor
Have you ever thought about mixing seashells with black paint? This home office space would give you a fantastic result. 
43. Margulies's Shades of Brown
Brown is one of the most neutral colors we can use in an office, so this mix of steel and walnut is ideal for any traditional home office setting. 
44. Yellow Gallery
Yellow can help you feel more active throughout your day, so if you lack energy, this decoration can help you. 
45. Vintage Military Vibes
Many people love thrift shopping, and that's how you can find beautiful statement pieces such as military desks that you can mix with modern elements to create a unique home office. 
46. Serene Oak Study
If you're looking for something simple and sophisticated, using oak furniture is the way to go with these office decoration ideas. 
47. Renaissance-style Bookshelves
This home office idea is perfect for those book lovers who have always wished to have a library in their homes. 
48. Fresh & Soft Home Office
Home offices should have enough light and storage to be as functional as possible, and this monochromatic design provides enough space to keep everything safe. 
49. Ralph Lauren's Headquarters
This may not be the perfect office for everyone, as it is everything but minimalist. Still, it is filled with all sorts of art pieces that inspired Ralph Lauren to make his creations. 
50. English Antique Study
If you enjoy rustic aesthetics, this eclectic study is perfect for you as it features vintage sewing chairs and other workshop elements. 
51. Faux-bamboo Home Office
There's no reason why you shouldn't turn your room into a home office, especially if you follow this fantastic faux-bamboo aesthetic. 
52. Make It Stand Out
Another way of turning your bedroom into a home office is by separating each area. You can do this by simply using home office accessories that stand out and create a different aesthetic.

53. All-in-one
If you want to go one step further, you can have everything you need in one room. This includes a bedroom, a living room, a balcony, and a home office. That way, you can turn a reduced space into an all-in-one paradise. 
54. Pretty in Pink
Your kids are also going to need their own home offices so that they can do their homework and read. In those cases, you can opt for this beautiful pink decoration that's sure to make them feel like little princesses. 
55. Jasper Pearls
These inspiring and relaxing colors are fantastic for sleeping and working, which is why we highly recommend them for your bedroom and home office. 
56. Minimalism Master
Sometimes all you need is a chair and a desk to create the perfect home office setup, especially if you have a wide window in front of you that brings enough natural light into the room. 
57. Double-purpose Home Office
We already talked about turning your room into a home office, but in this case, you can turn your bed into a handy desk where you can take care of all your work duties. 
58. Bourgeois Bohème
This home office was inspired by the 18th century, which is why you are going to see several bourgeois-themed pieces of furniture arranged in a modern way. 
59. Master Bedroom Home Office
If your bedroom features ample space, there's no reason why you shouldn't be able to fit a standing desk and an ergonomic office chair to set up your home office and work as comfortably as possible. 
60. Boston Residence Work Space
This home office idea features pieces of furniture from several decades, which turns it into a museum of interior decoration that somehow ties wonderfully together. 
61. Vintage Bahamas
If you love the beach and its aesthetic, you are going to love a fantastic mix of blue, green, and white that takes us back to old movies set on popular beaches. 
Bottom Line
We know that it can be difficult to find inspiration for your home office, but now you have several modern office ideas that you can follow to make your room look as wonderful as you've always dreamed of. 
If you're interested in decorating your home office, please don't hesitate to check out the rest of our page and our fantastic deals.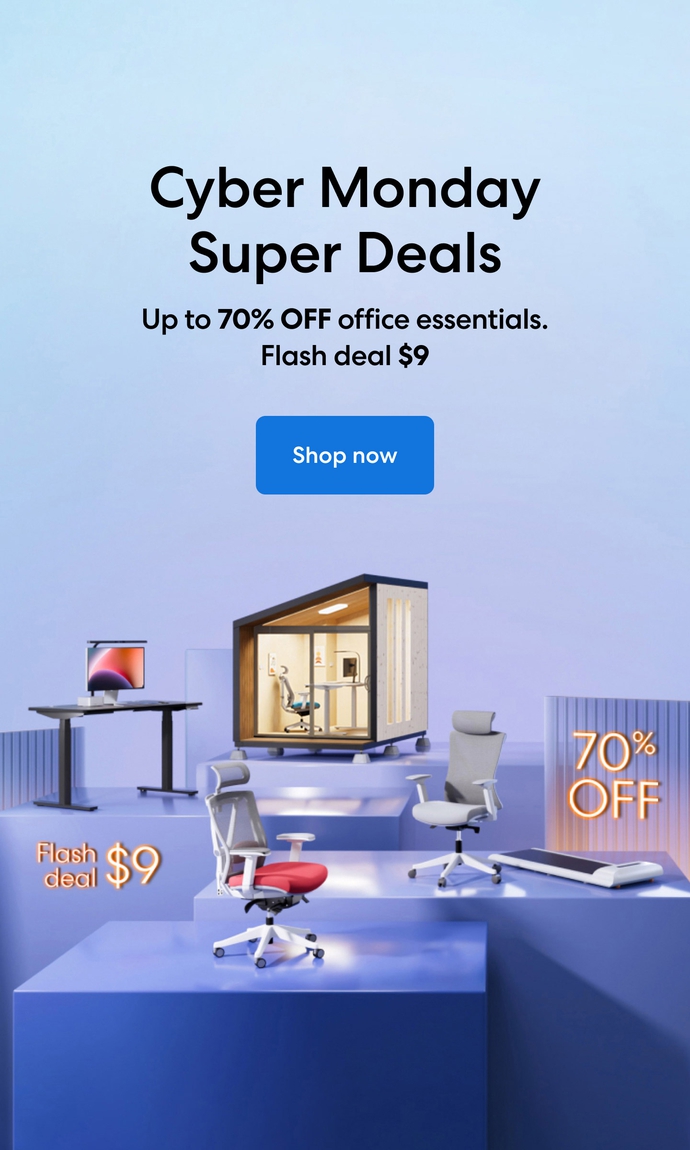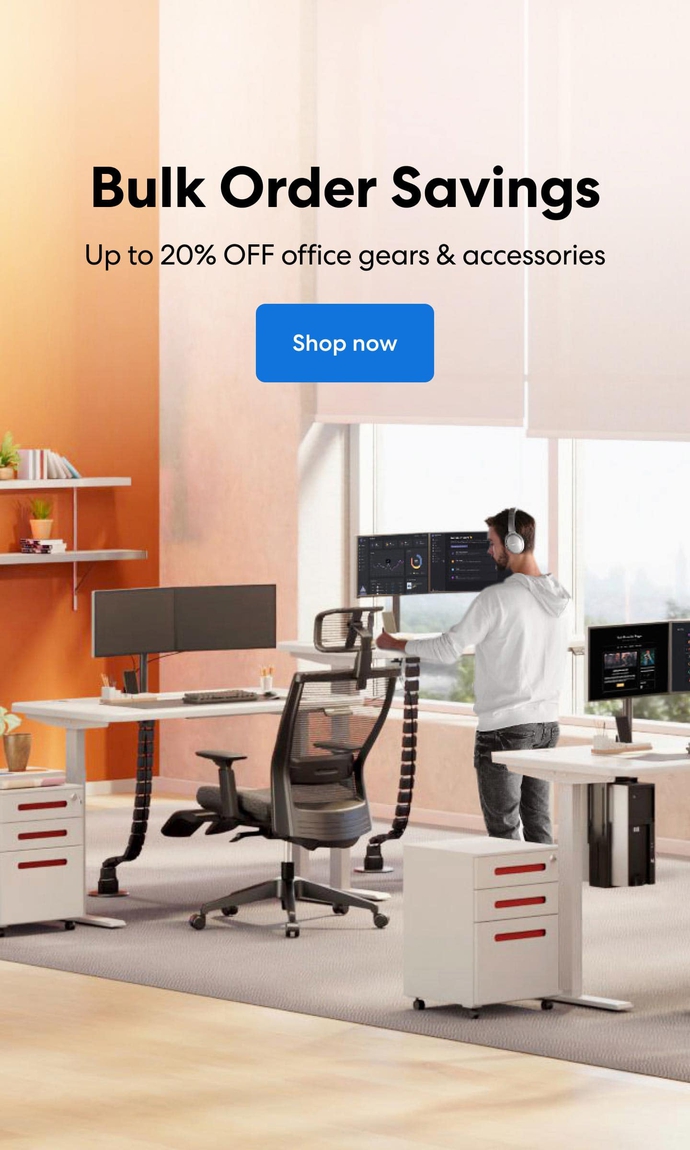 Subcribe newsletter and get $100 OFF.
Receive product updates, special offers, ergo tips, and inspiration form our team.