Workplace Inspiration
7 Masculine Small Home Office Decor Ideas
999 Views
In designing an office space, you may want to give it a particular theme, which is not an uncommon thing for people to do. One that you may consider is a masculine small home office design. What would that even look like, though? 
It's not like you can embed actual testosterone into the design, can you? So, what do you do? Well, what is required is a visual that makes people feel a masculine vibe. This may be easier to achieve than you think. 
The thing that may make it difficult for you to pull off is that there are not many design tropes that you see in mainstream media or around office spaces that are intended to give off a masculine look. 
On the contrary, you can use shades of pink, petite furniture, and items with curved edges instead of straight edges to bring off a feminine look. The moment you think "feminine," a couple of those ideas likely run through your head. 
Don't worry though, as everything you need where small office ideas for men are concerned is below. Note, however, that you are not necessarily looking at an exhaustive list. 
Therefore, if you think of or stumble across anything else that is appropriate, feel free to throw it into the mix. While this may not necessarily need to be said, if there is a male in your life and you want to design a small home office for him, then heed these tips as well. 
After all, the person who is going to be using the space doesn't necessarily have to be the one designing it for this to work out. 
Masculine Small Office Ideas
Furniture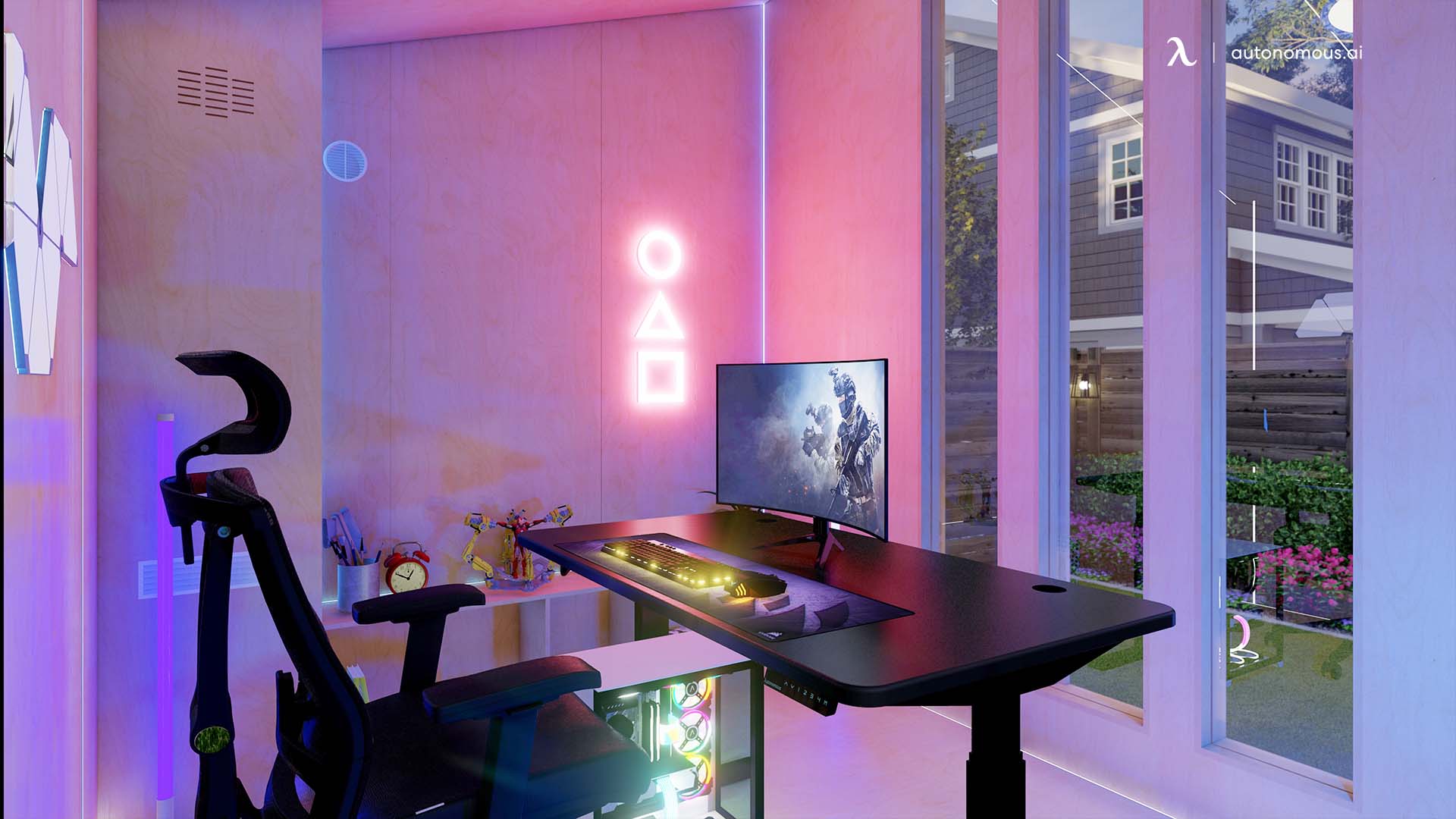 Furniture is the foundation of any office design, including masculine small home offices. No matter how over the top everything else is, without these fixtures to hold it all together, don't be surprised if it all falls flat. 
The good news is that these items don't have to rely on other accessories and decorations to get the festivities started. Even before you start adding the bells and whistles, you can choose furniture designs that get the masculine small home office look started right off the bat. 
As far as colors go, black tends to be incredibly solid. So, a black standing desk and probably a black chair should do the trick.
Note, however, that this is not all about the look. While you are trying to create a specific vibe, you also need to take care of your health while you are doing it. After all, not many things are more appealing than a man who chooses to take care of himself. 
To that end, you want to ensure that this desk is an adjustable one, so you can take advantage of sit-stand sessions, preserving your health as you work.
Chairs, such as the Autonomous ErgoChair Pro and ErgoChair Plus are great complementary choices to add to your standing desk. These provide comfort and adjustability to a great degree, offering features such as armrest adjustment, recline, seat height adjustments, tilt tension, etc. 
The ErgoChair Plus even takes things to another level, implementing a frameless design that is conducive to continuous motion, so you never feel restricted. Imagine a chair that somehow manages to move with you while being sturdy enough to support you and even put your body into an ergonomic position. 
Accessories
Though the accessories cannot make the office on their own, they do have a big hand in doing so, so you must be incredibly careful with your choices. What you want is to stick with office accessories that give you function without adding too much elegance in the form of an aesthetic flair. 
Don't take this to mean that you don't want anything around that looks good. Instead, what you're being told is not to think of "beautification." Some exotic items can indeed fit well in a masculine small home office setup, but it's often not easy for people to identify where to draw the line, so leaving them out entirely is not the worst idea in the world. 
The Mount-It! adjustable keyboard tray is an incredibly useful accessory, offering function and slotting well into any office space without giving off a feminine feeling.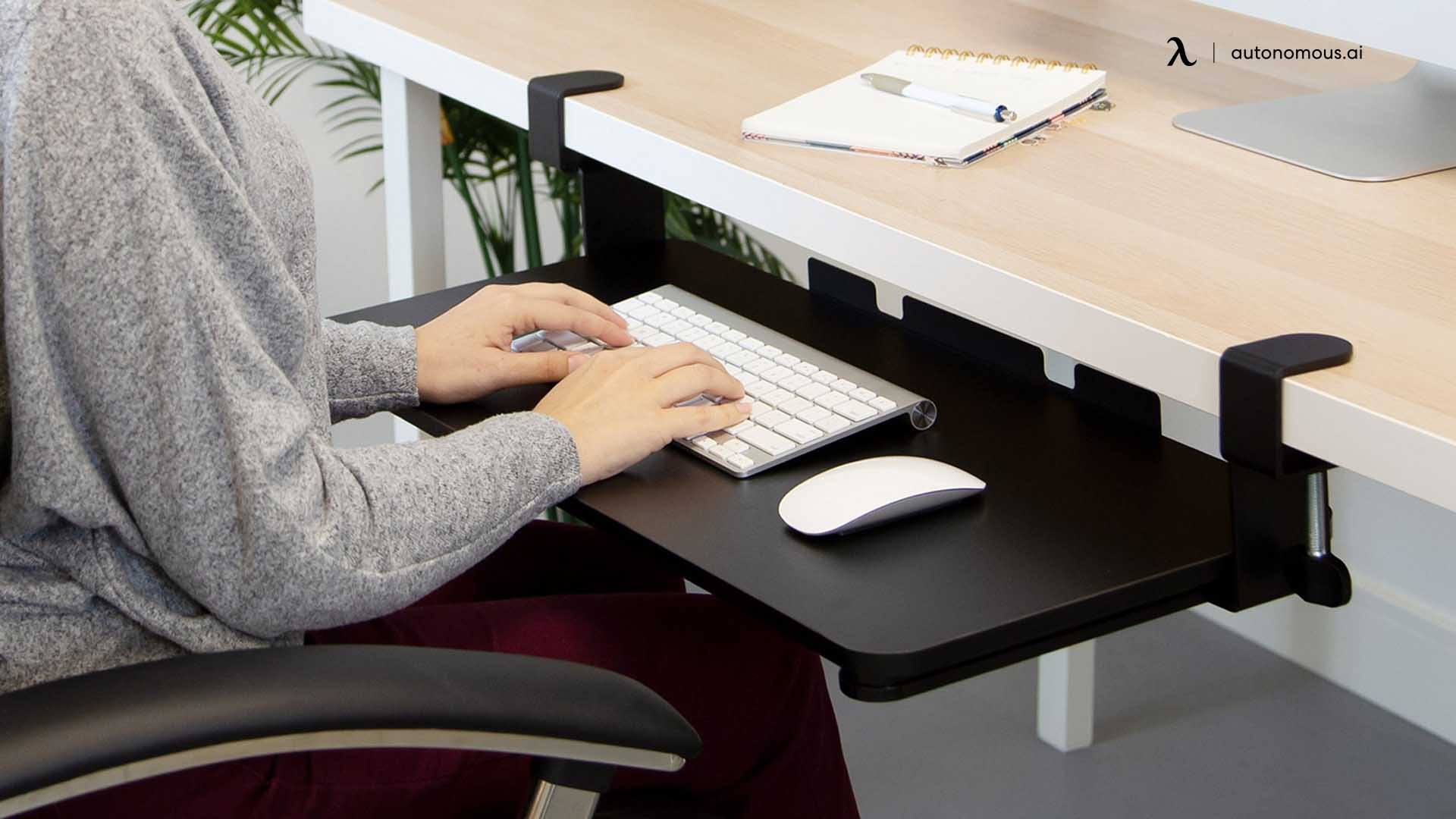 From a practical standpoint, the adjustability allows you to remain comfortable as you work and tuck your keyboard out of sight when needed. Additionally, it is a super durable product, and Mount-It! includes its standard 10-year warranty with each purchase. So, if you ever have a manufacturer fault on your hand, getting redress is straightforward. 
The Deltahub wrist rest is another incredibly solid choice with its contoured silicone pads that contribute to proper wrist position during your work. Additionally, if you happen to be a gamer, you can use this to avoid strain or wrist injury too.  
Conditions, such as carpal tunnel syndrome are a real pain to deal with, and avoiding them with an accessory that looks sleek is a great way to go. The size options are small or large, and you can choose whether you want it for a right hand or left. 
It moves naturally with you, and the men small office décor and design come from a tremendous partnership with medical experts. 
As far as the aesthetic is concerned, it's incredibly simple and gives off no feminine vibes at all, making it the perfect addition to the masculine setup. 
Texture is something that is going to be spoken about a bit later, but this Deskr desk pad gives a tremendous visual contribution to a men's small office decor. From a functional standpoint, it's intended to help you protect your desk surface from scratches or other damage that it may sustain during regular use.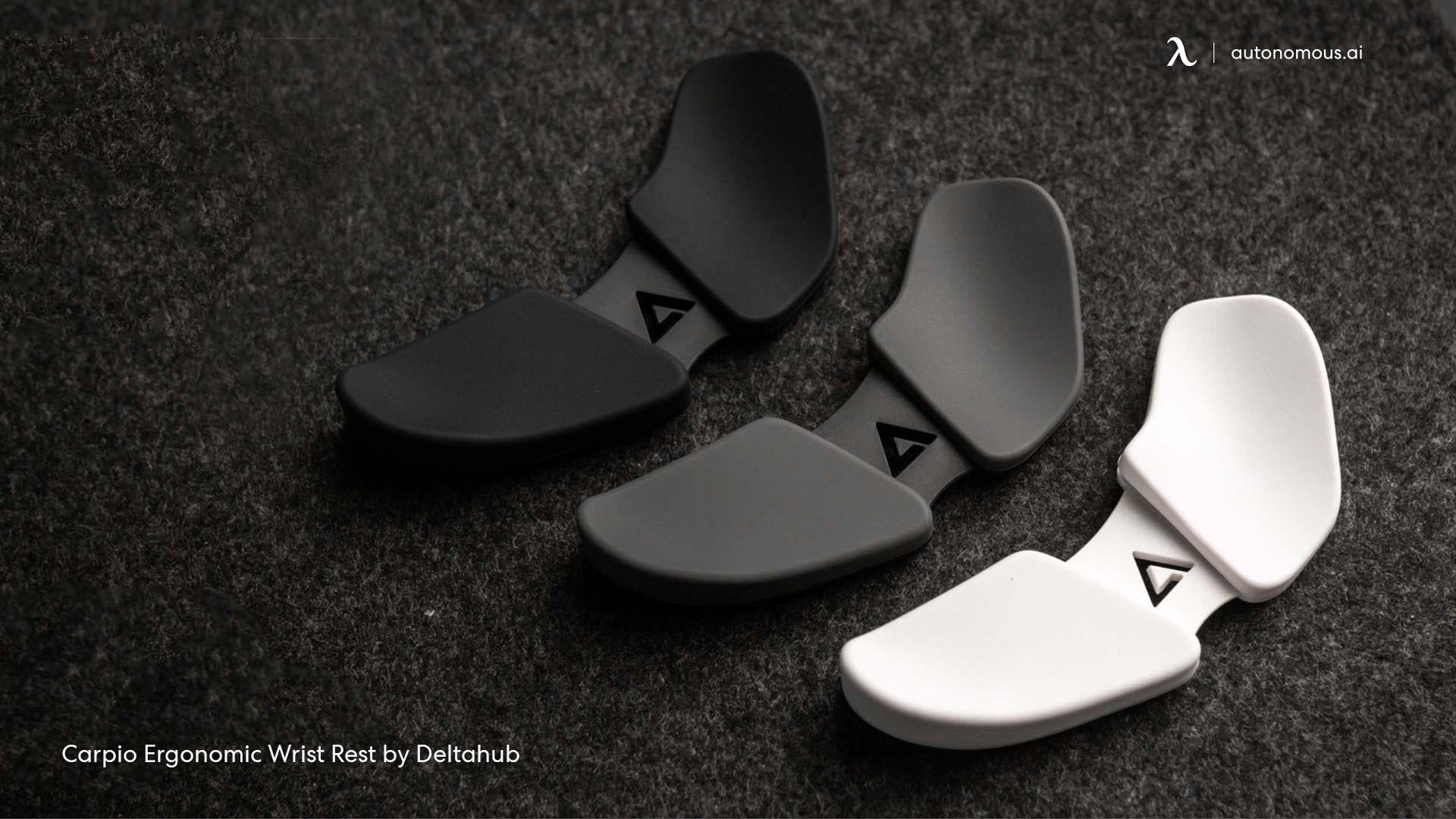 However, the rugged visual that the pattern creates is perfect for the look you want for your masculine small home offices. 
The composition makes use of eco-friendly rubber and polyester, and the pattern is inspired by the Grand Canyon. It's highly suited to both work and gaming needs. 
Men like things to be straightforward, especially when it comes to keeping surfaces and other areas clean. So, you should be happy to know that this one is machine washable, which means it's easy to maintain whenever the time comes.  
Don't worry about your pattern fading as dye sublimation is used to create a professional print with durable image quality. Expect it to be around for a while, providing the perfect surface for your keyboard and mouse. 
A great rule to apply in your masculine setup is that "less is more." You want to apply this whenever there are two or more things that can be combined into one. 
For example, you are going to have a desk in your office space. Depending on your preferences and the kind of mobile device you use, you may also be interested in having a wireless charger present. 
However, you can simplify things by making this a desk wireless charger. What does this mean? Well, instead of going out and purchasing a charging unit, you could have a desk that already provides wireless charging functionality.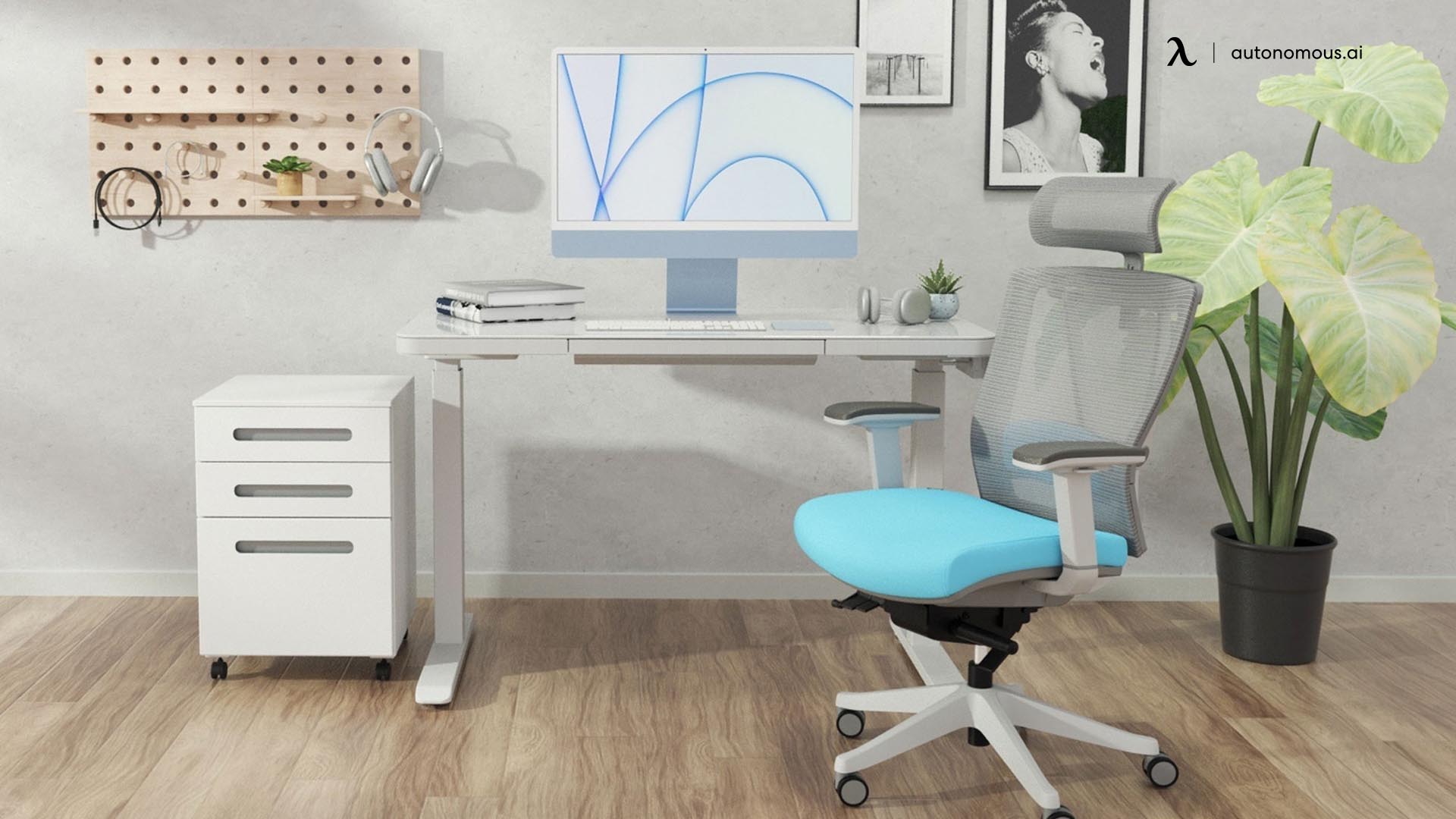 The Wistopht compact desk is a great example of this, with its inclusion of a wireless charging pad. It's available in black, which is perfect, and gives you a glass tabletop to give off an even more premium visual than you could imagine. 
Color Scheme
This was briefly discussed above, but your color scheme can make or break a masculine visual. What you don't want is to use anything that feels too soft or bright. Instead, you want to stick with neutral or simple tones that are conducive to a minimalist office design. 
The safest color choice you can make for your men small office décor is black. However, you may be one of those people who think that black is dull. In that case, a dark color such as navy blue may do it for you. 
No matter how creative you want to get, going with an orange or a lime green is not necessarily the best idea. Additionally, as neutral as white may be, it doesn't give the same solid feel that black does. 
If nothing else, you find that office desk accessories are more widely available in black than they are in white, so even if for coordination reasons, consider settling on the black road. 
Personality
So, this is a bit of a weird one to include on the list because there are no tips that can teach this. it is all internal, meaning it's up to you to harness it as much as possible. If you're here looking for masculine small home office ideas, then a fair assumption is that a male is going to be the one using the office space. 
If that is the case, then injecting personality into the space should make it feel even more masculine. This is the part where you take whatever your interests may be and slowly inject them into the room. 
Who knows? Maybe you're interested in a bit of currency trading on the side. A couple of portraits with graphs couldn't hurt. 
If you have an interest in football, then a replica World Cup trophy or a couple of football-related posters should do the trick. You could even frame your favorite jersey. The point is, beyond just having the office space feel masculine, it should feel like you. 
Texture
You can do a lot with your texture even if it's artificial. Earlier you got introduced to a desk pad that is inspired by the texture of the Grand Canyon. A masculine small home office feel is typically associated with rugged textures, and you can take advantage of that in your office space. That's not to say you need to have your office looking like the Australian Outback. 
Remember that you can give the illusion of these masculine patterns too by using prints. The desk pad is a great start. Additionally, you can use posters or wallpaper to texturize your walls partially or fully, respectively. 
A rug on the floor can also help with this, and you want to proceed along the same line, selecting a texture that is conducive to the visual.
Finally, if there are any of your accessories or anything else that you can put a bit of a pattern on without it disturbing the rest of your aesthetic, then go for it! 
The View
For seemingly no discernible reason, capitalizing on a great view is another solid way to reinforce that masculine feel. Not everyone is going to be able to take advantage of this one, but if you can, you certainly should. 
If your windows are large enough and the view outside is desirable, a good idea is not to use anything that could potentially block it. You can even take advantage of this implementation when the time comes. 
Should you ever feel like things are getting overwhelming and a little bit on the annoying side, feel free to get up, take a breather, walk over to the windows, and enjoy the view for a moment. 
Good Liquor
This one is almost non-negotiable, even if you don't drink alcohol. After all, it doesn't have to be for you. You would be surprised how many wine cabinets there are in offices that exist for nothing more than the aesthetic. It's a tactic that you can capitalize on too, particularly because it is typically associated with males. 
While some people keep a bottle on their desks, this is not necessarily advised, because it can give the wrong idea that you're a bit of an irresponsible individual. 
To complete the look, you are going to need to get yourself our wine cabinet or something comparable that allows you to store your bottles in plain view but in an organized manner. 
You had best believe that people are going to notice the moment they walk in. Even if you are a casual drinker or you don't drink a lot, you may want to at least know something about the bottles that are present. 
As visitors to your office space, even when remote, may want to know a thing or two about why you chose the bottles you did. 
Final Remarks
As you can see, there are a lot of subtle touches that constitute masculine small office ideas. The real challenge was that people never really conceptualize what this would look like, nor do you often see anyone trying to give it a shot. 
Now, if you're interested in creating that masculine look, you should no longer have any inhibitions if you did before.
Subcribe newsletter and get $100 OFF.
Receive product updates, special offers, ergo tips, and inspiration form our team.
WRITTEN BYAutonomous
We build office products to help you work smarter.