Workplace Inspiration
7 Zen Office Décor Ideas for a Calming Workspace
3,209 Views
Zen office décor has become widely popular in recent years, especially with the rising numbers of remote workers. Many people are looking for ways to accustom their spaces to be more harmonious, minimalistic, and organized. These are some of the characteristics associated with this type of office décor.
Zen office décor is a good alternative to the modern office design, but both styles can coexist together without problems. It can also work pretty well with cubicle office décor ideas.
Whether you prefer one option over the other, today's articles will give you several Zen office décor ideas that you can use in your workspace to bring calm and peace of mind to your workday.
What is Zen Office Décor?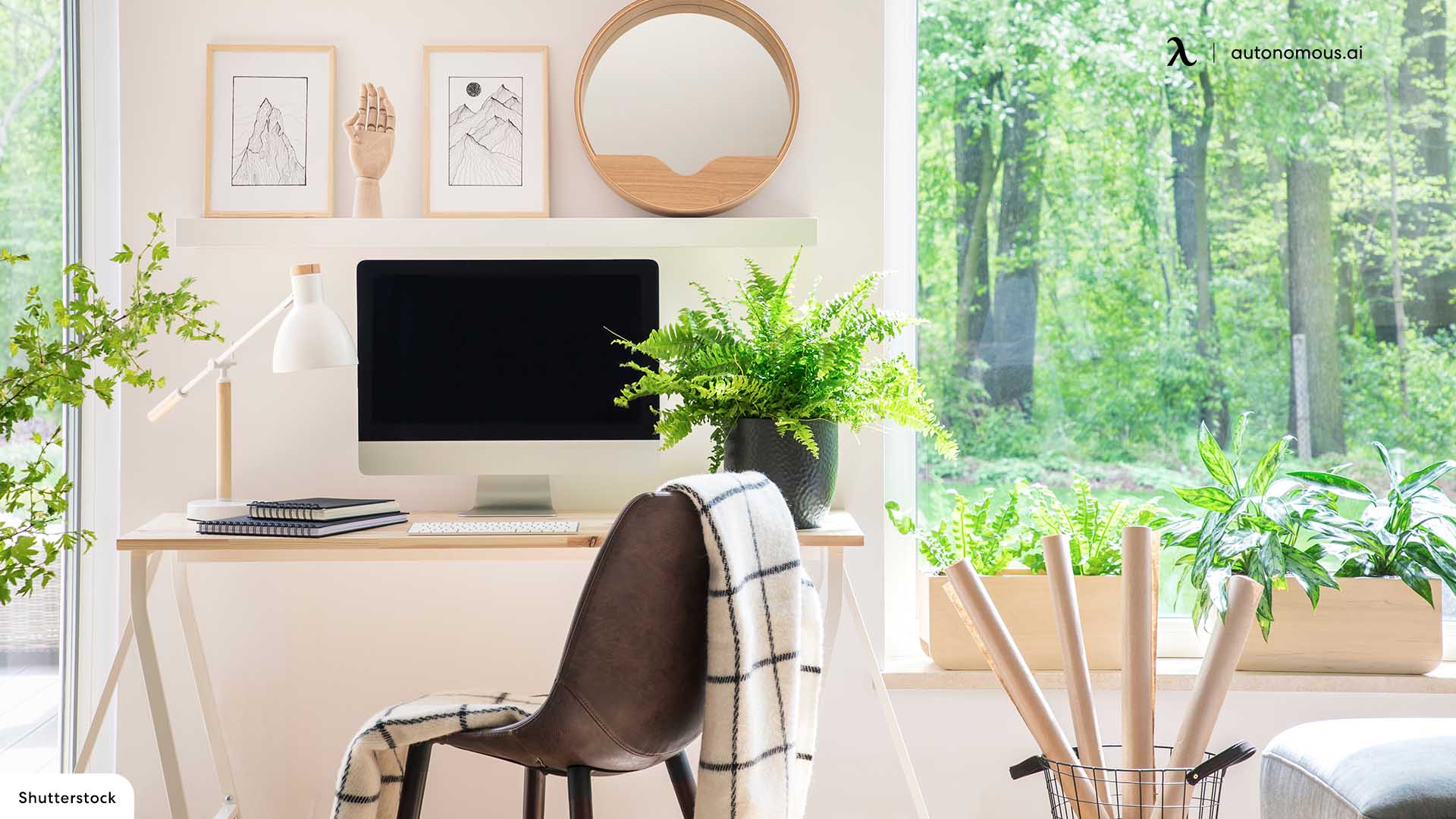 Zen office décor, often referred to as calming office décor, is a form of minimal office design that implies removing the clutter and unnecessary items of your workspace while also enhancing the illumination and use (or presence) of natural items. It can help you bring more organization to your workspace, helping you concentrate on what really matters.
How to Integrate the Zen Office Décor Into Your Workspace
Here we'll list several Zen office décor ideas that you can implement in your workspace. Remember that you can adapt these tips to your preferences and needs.
1. Find the best spot for your office space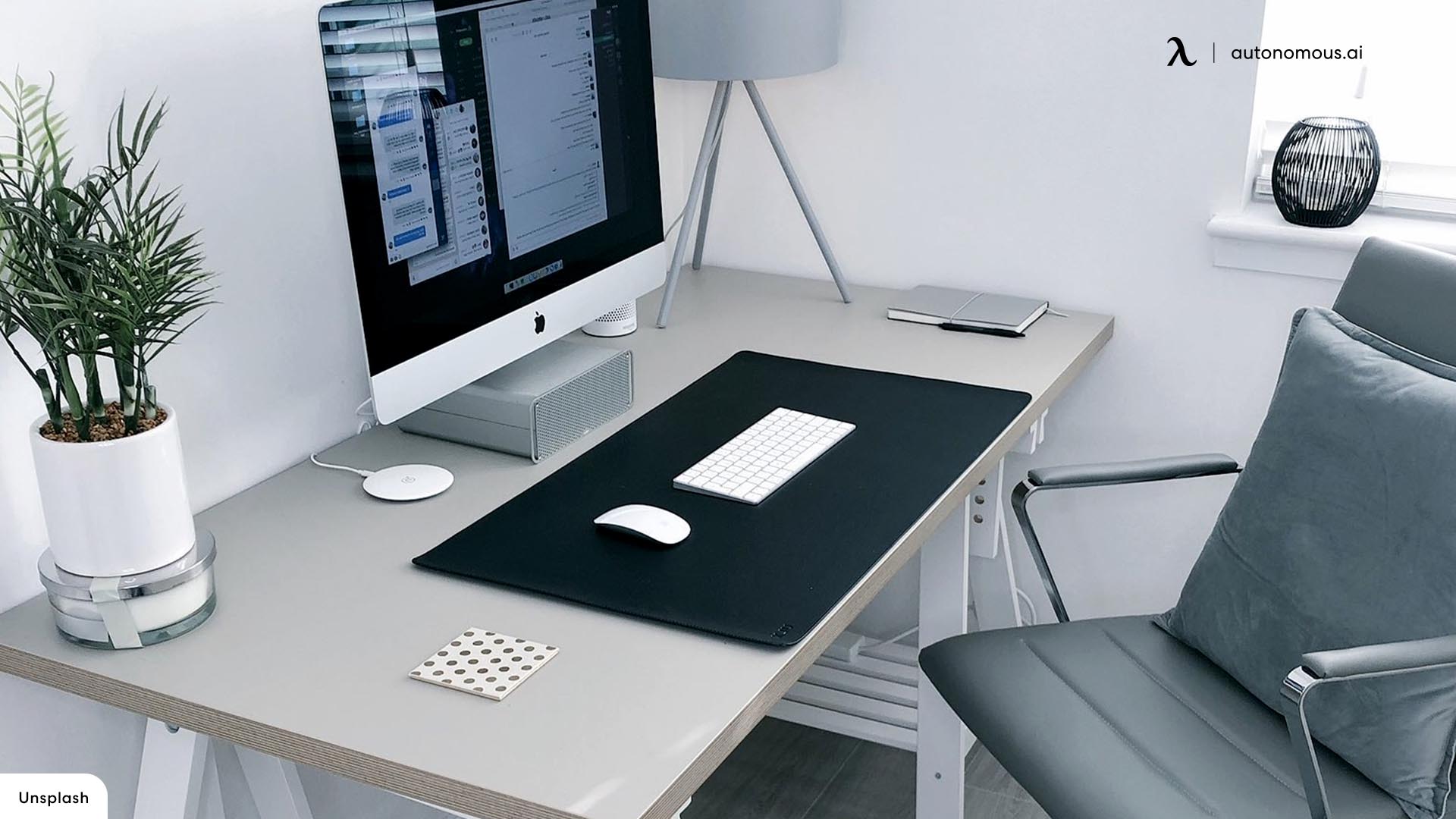 If your surroundings are quite noisy or crowded from time to time, we highly recommend you to find a different space that is inviting and feels like a "refuge" to you. This space should be as quiet as possible to eliminate distractions and potential stress triggers.
Sometimes, finding a quiet space is a bit challenging. In that case, we recommend you use white noise while you're working to block all potential distractions and disturbances that may prevent you from enjoying the tranquility of your space.
2. Take advantage of illumination
Natural and ambient lighting is the best option for relaxing office décor. Harsh lighting can be very harmful to your eyes and can lead to problems like eyestrain. Hence, if you have fluorescent lights in your office, it is time to replace them with other options to prevent such issues.
Additionally, please note that a single overhead light may not be the best option for you. It's highly recommended to keep a desk light so you can maintain your workstation thoroughly illuminated at all times during your workday.
3. Remove the clutter from your office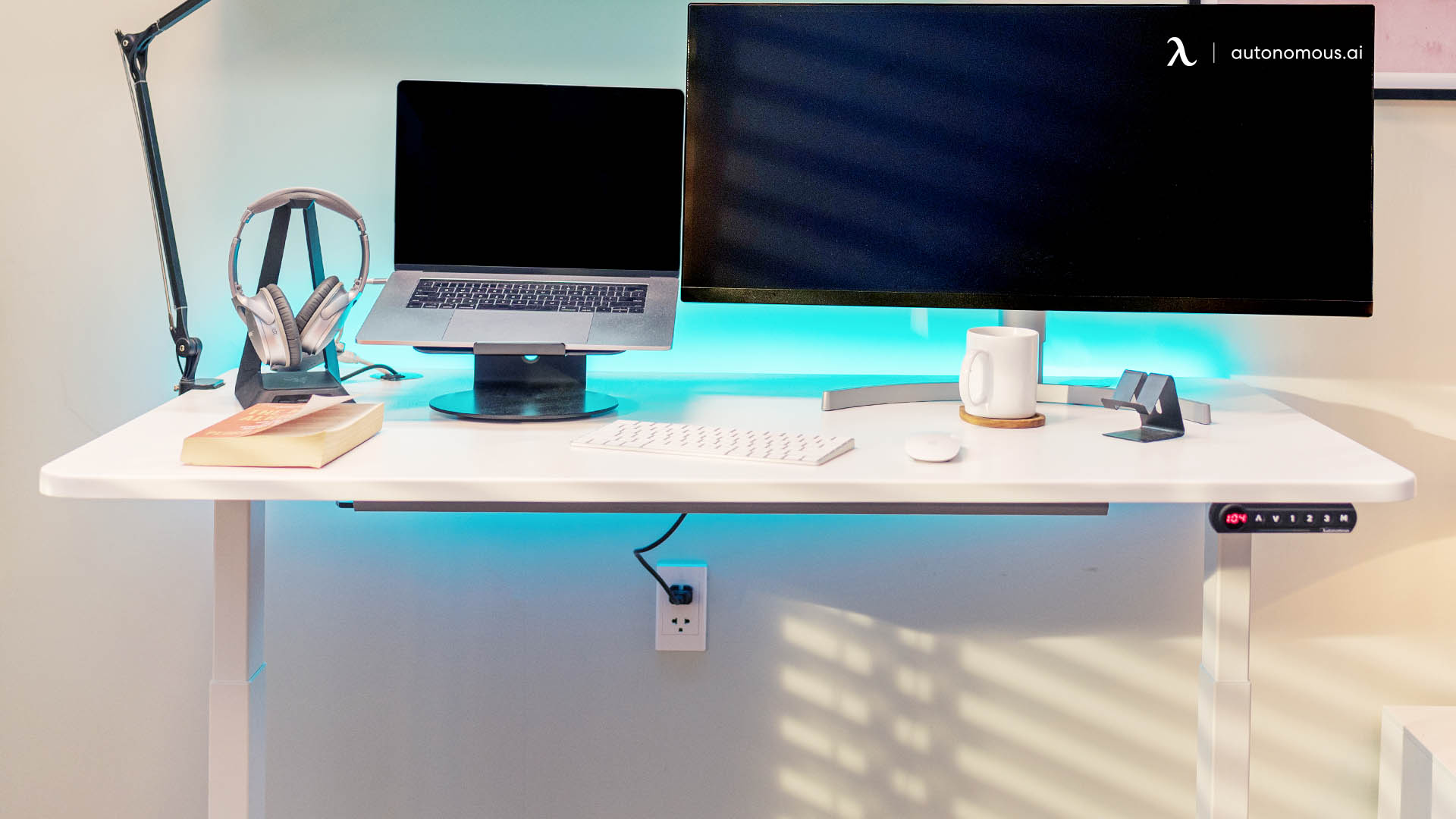 The main goal of Zen desk décor is to provide you with a calm, peaceful space that allows you to focus on what you want while also helping you reduce the stress you feel on a daily basis. Hence, start analyzing all the items you usually keep on your office desk and try to remove all the things you don't use from such a space.
If you're having trouble at this point, you can take a look at tips for minimal office design.
4. Redecorate your workspace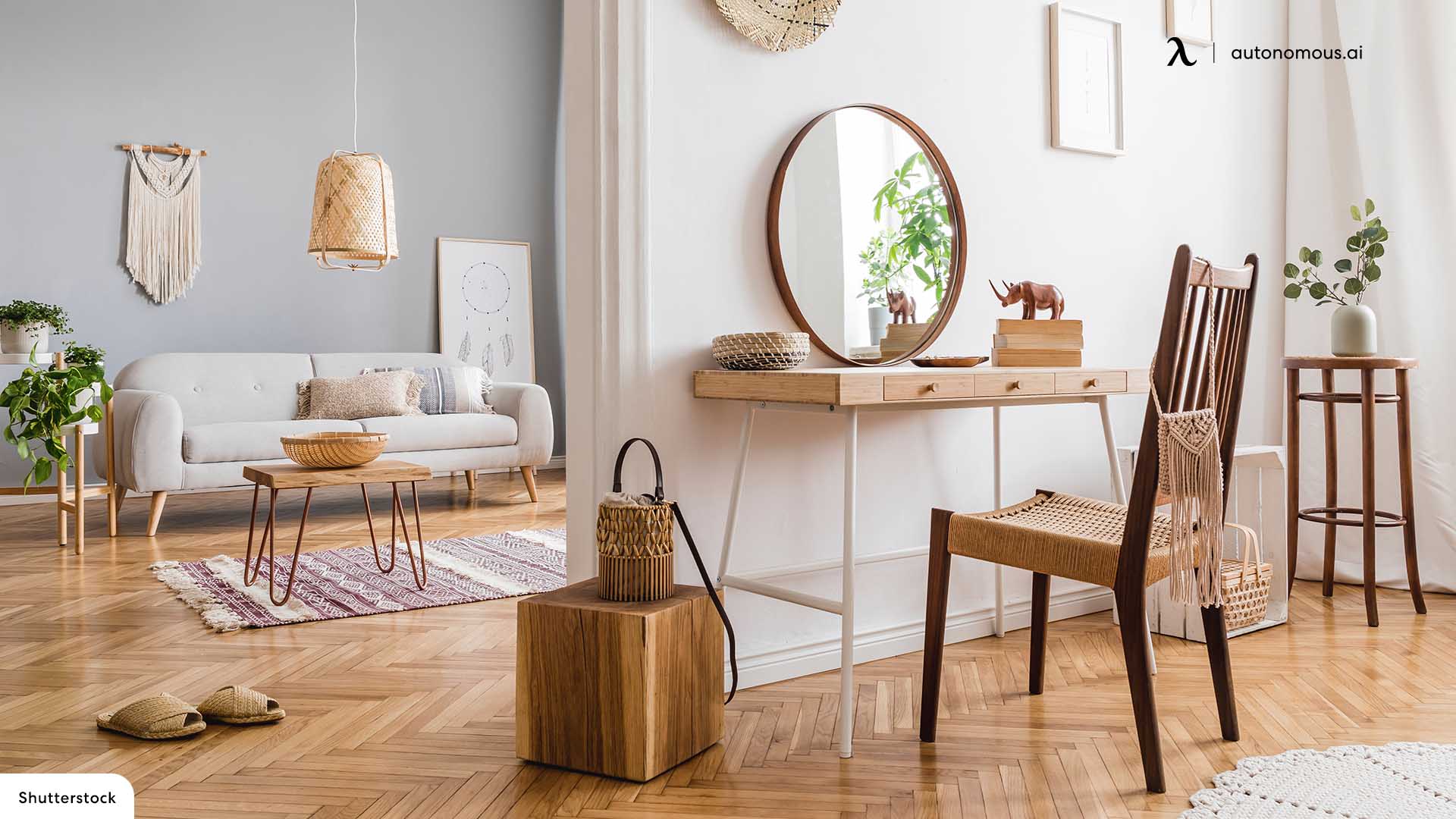 Relaxing office décor implies following certain style guidelines so you can bring that sense of refuge and tranquility to the room. Hence, it is important for you to be careful when it comes to the color, lines, and textures. You can try to follow it as described below:
Color
We recommend you use earthy or neutral colors. You can use white, beige, or even gray, for instance. Soft neutrals work best and are easy to combine. Remember that this isn't only about the walls and flooring. It also includes the furniture and pieces of decoration.
Lines
It's very recommendable to choose clean and minimal lines. While detailed decoration or pieces of furniture are very attractive, they can be quite overwhelming. Choosing a minimalistic approach to furniture is a great option, but keep in mind that your furniture doesn't have to be so plain – as long as you keep things elegant and simple, your workstation will look harmonious.
5. Don't include too many decorations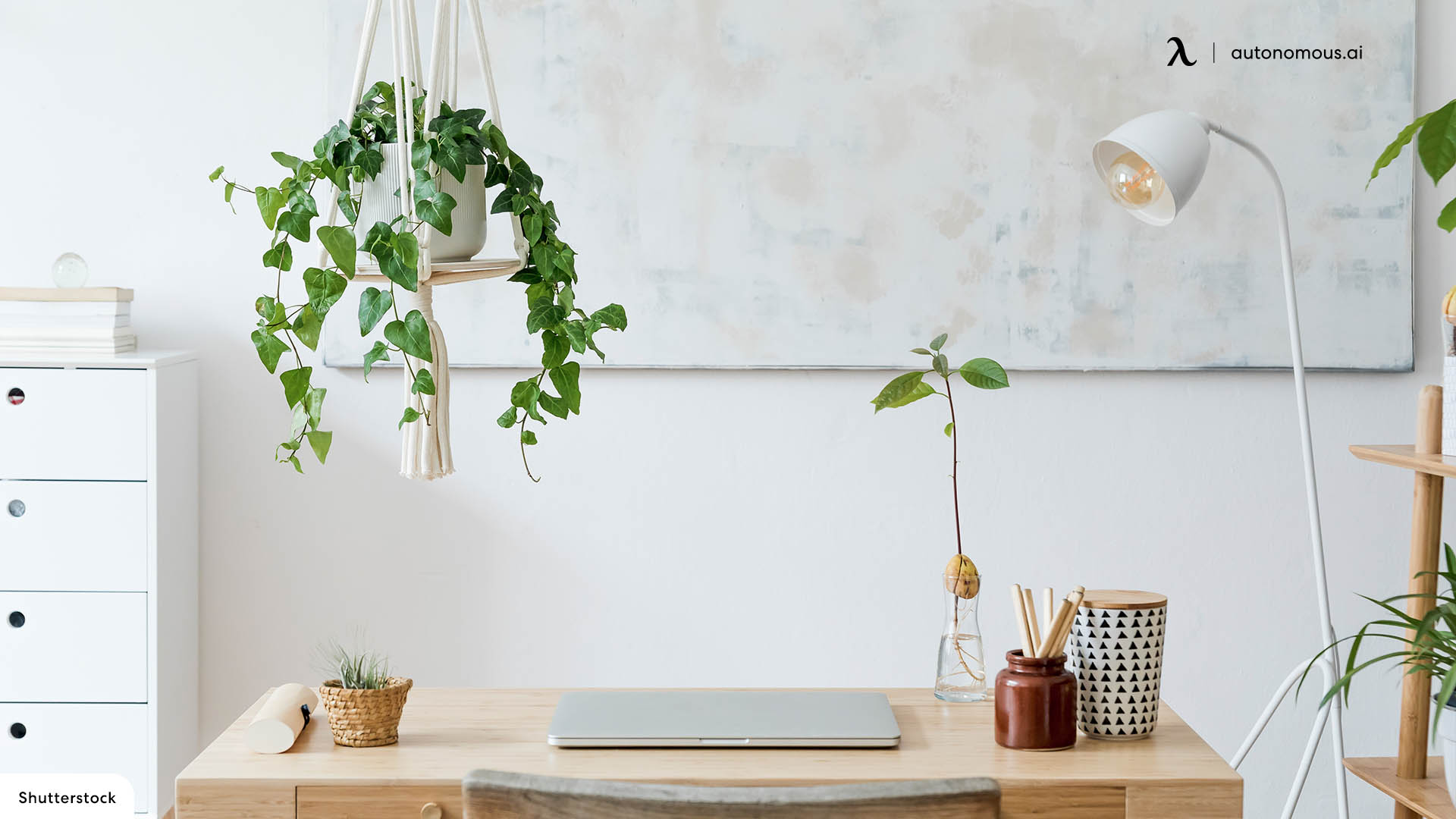 Again, including too many decorations in your workstation can make it seem too overwhelming and can be distracting. Plus, you will need to take care of them now and then to keep them in great shape. Hence, we highly recommend you keep all the decorations at a minimum so you can keep the space as tranquil and relaxing as possible.
Try to choose items that complement your furniture and illumination choices. You can take a look at a few minimalist office design ideas if you're having trouble with this part.
6. Integrate nature into your space
Some people recommend installing a moss wall, and although that can be quite helpful for multiple reasons, it is not an option for everyone out there. However, there are other ways to bring nature to your workspace, such as the inclusion of wooden furniture plants, among many other choices.
For instance, cacti tend to survive pretty well in office spaces and look very good. There are other plants you can include in your workspace that will help you keep the air in your office as clean as possible.
If possible, try to include stone decoration. These pieces can give your office an interesting and differentiating look.
7. Inspiration walls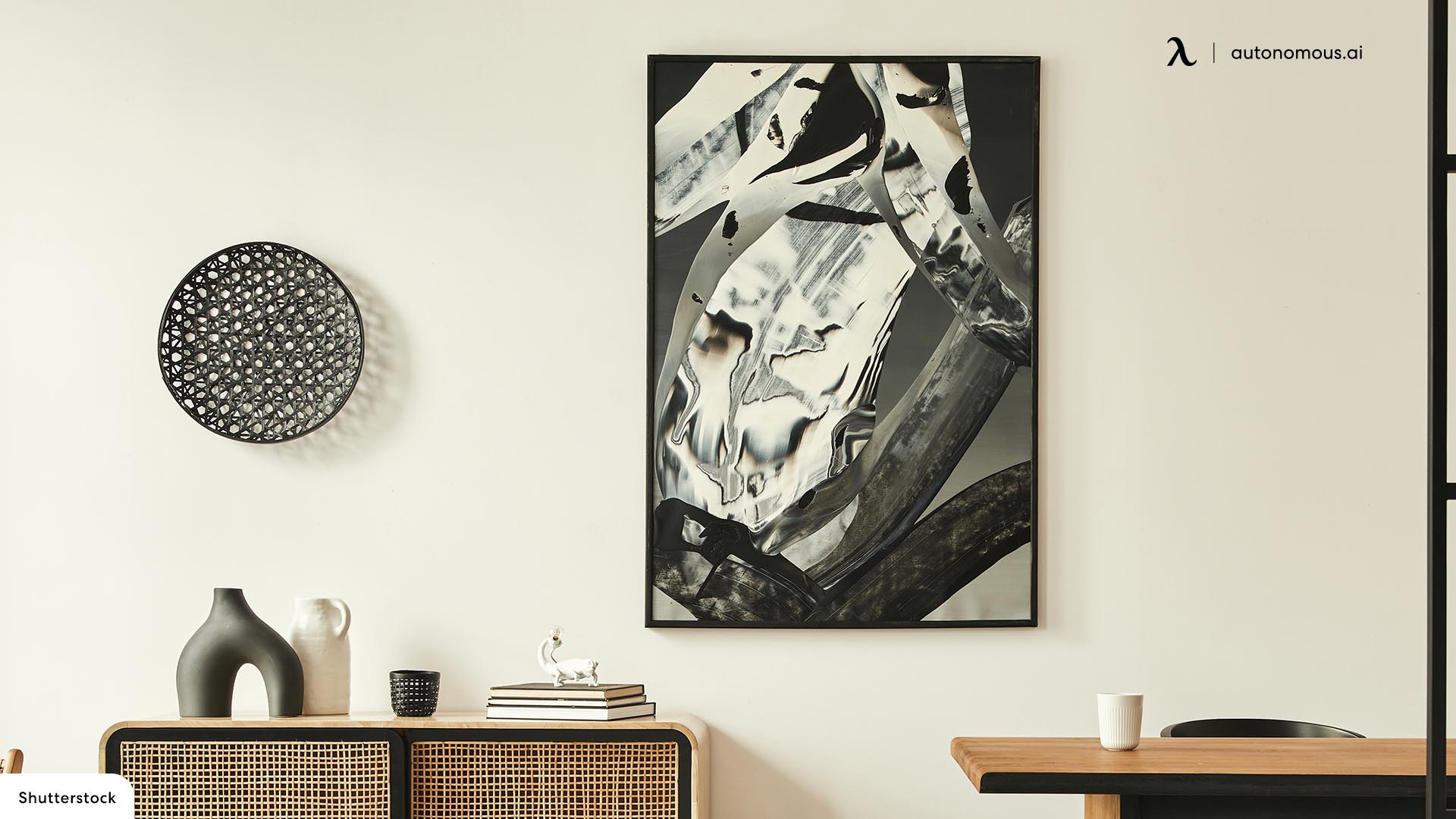 Remember that your workspace doesn't have to be plain and monotonous. You can play around with the style so you can keep yourself motivated and concentrated throughout the day. An inspiration wall can help you with this purpose. Here you can include inspirational quotes, images, or sayings that resonate with you.
Conclusion
You can find many office décor ideas at work that can help you bring calmness and harmony to your space. This way, it'll be possible to reduce your stress levels and prevent burnout while you still can. It's an excellent way of keeping your workspace as organized as possible without necessarily implementing a hugely minimalistic style.
Again, remember that you can adapt these ideas to your preferences and budget. This way, it'll be possible for you to take advantage of your workspace as much as possible without it supposing a "bigger" problem for you.
Subcribe newsletter and get $100 OFF.
Receive product updates, special offers, ergo tips, and inspiration form our team.
WRITTEN BYAutonomous
We build office products to help you work smarter.